We use affiliate links. If you buy something through the links on this page, we may earn a commission at no cost to you. Learn more.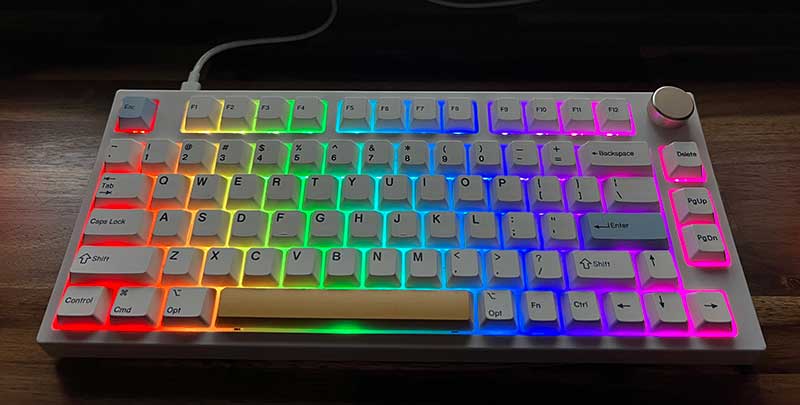 REVIEW – I have a problem. I'm addicted to testing mechanical keyboards with tactile switches. The clickity clackity sound of my typing has a way of putting me in the zone when I'm writing my reviews. I love it. But I'm also picky when it comes to my keyboards. So let's check out the Keydous NJ80-AP wireless mechanical keyboard and see if it passes my perfect mechanical keyboard tests with flying colors.
What is it?
The Keydous NJ80-AP is a mechanical keyboard that can be connected to your computer via Bluetooth 5.0 (up to 3 devices), the included 2.4 GHz wireless dongle, or hard wired with the included USB-C cable.
Price: $119.99 | Where to buy: Keydous and Amazon
What's in the box?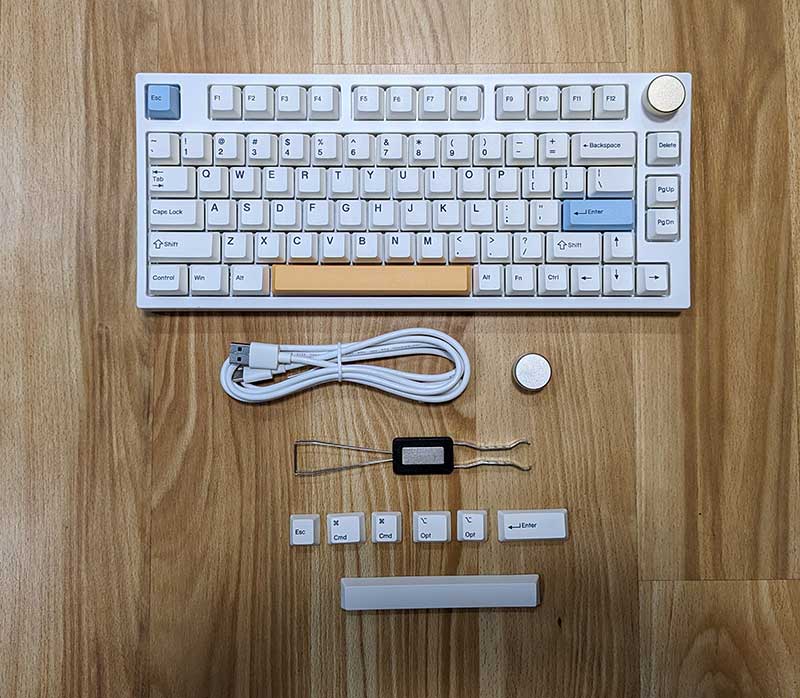 Keydous NJ80-AP
USB cable
Switch/Cap puller
Mac keycaps
Extra knob (random color)
Design and features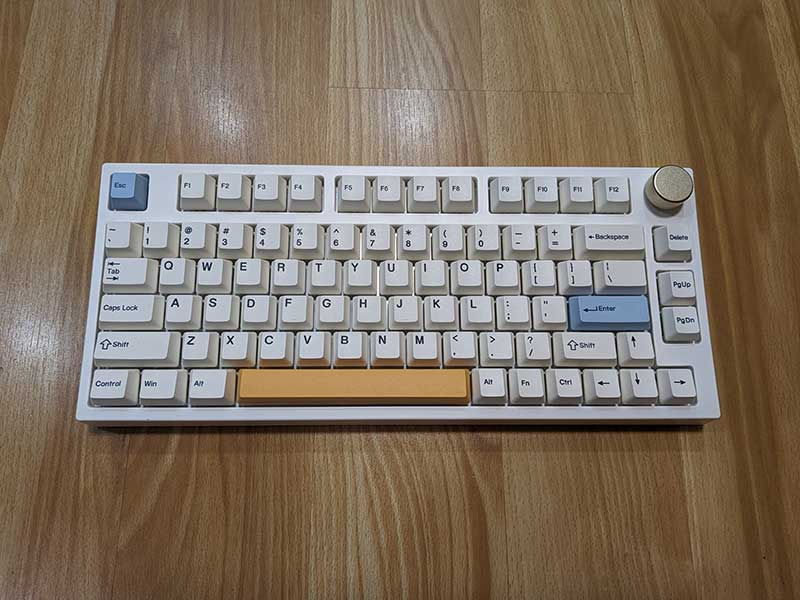 The Keydous NJ80-AP is available in several colors, but I was sent the white version that has white Dye-sub PBT keycaps with extra blue ESC and Enter keycaps and a mustard yellow spacebar. Also included are two knobs. A gold one and a random-colored one (I was sent a silver knob).
The size and layout of the Keydous NJ80-AP mechanical keyboard are perfect for me. I like that there's a dedicated function key row up top. There's also a narrow row of keys on the right for delete, page up, and page down. It took me a while to build up some muscle memory for the location of the delete key as it's a bit different than what I've been used to.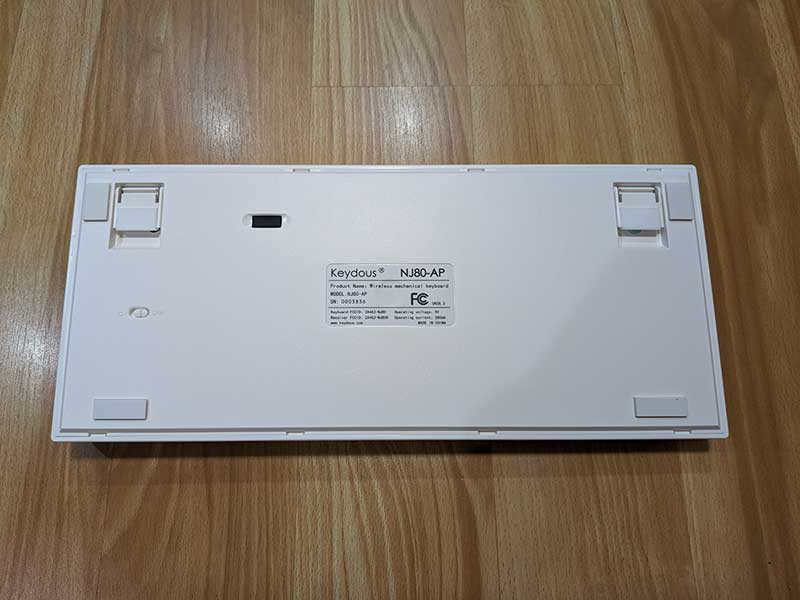 If we flip the Keydous NJ80-AP over, we'll find fold-out feet and a slot that holds the 2.4 GHz USB dongle.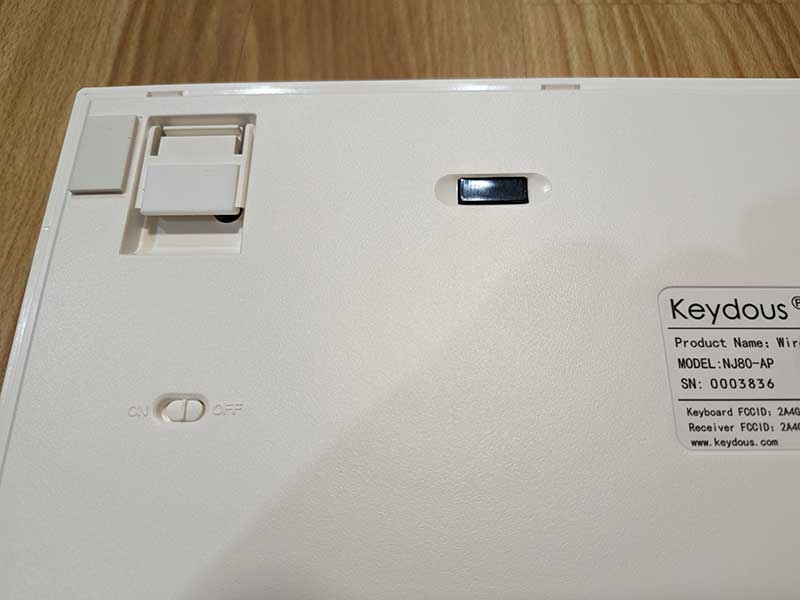 The feet on the back edge of the keyboard have rubber grips on the bottom to keep the keyboard from sliding around on your desk. It also helps that the keyboard has a nice weight to it due to the steel plate (you can choose from steel, aluminum, or brass).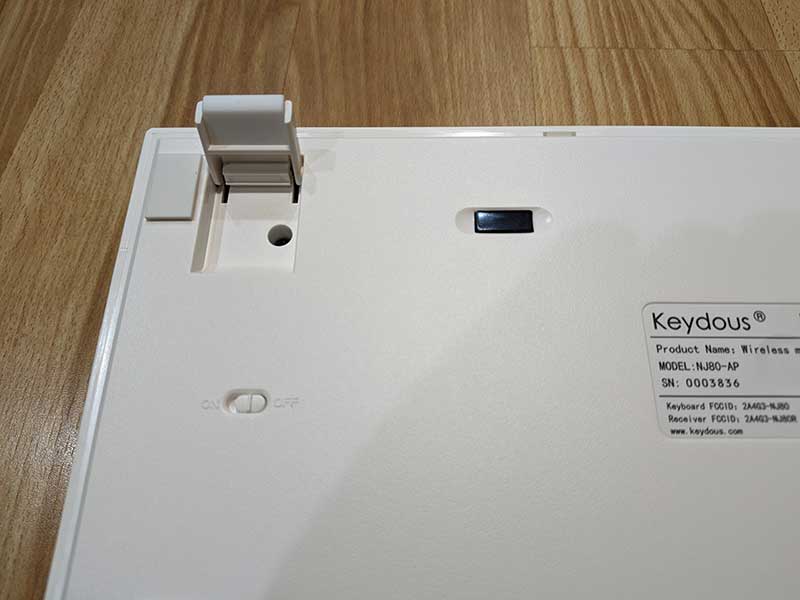 The power switch for the Keydous NJ80-AP mechanical keyboard is also located on the bottom of the keyboard. You turn this switch to ON when you're using Bluetooth 5.0 or the 2.4 GHz dongle to connect to your computer, phone, or tablet. If you decide to connect using the included USB-C cable, you can leave this switch in the OFF position.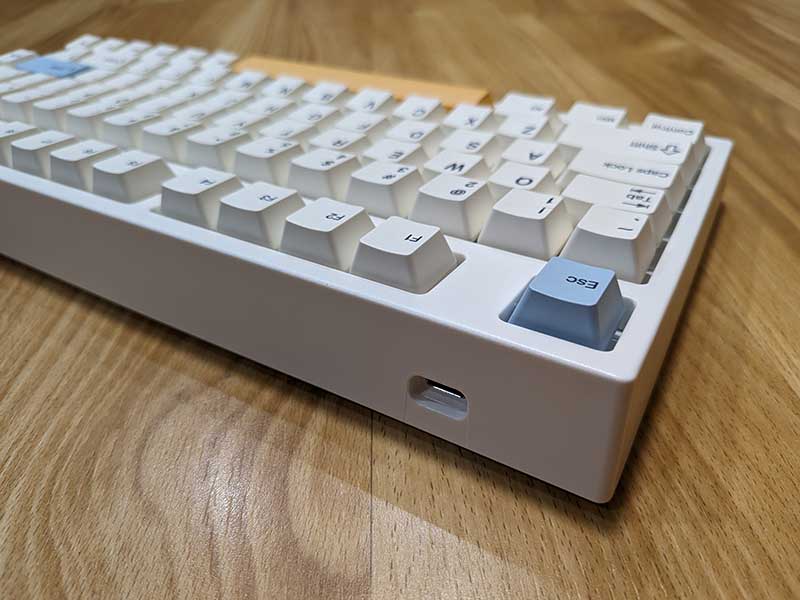 The USB-C connector is located on the left "shoulder" of the Keydous NJ80-AP. For all of my testing, I hardwired the keyboard to my MacBook.
Let's talk switches!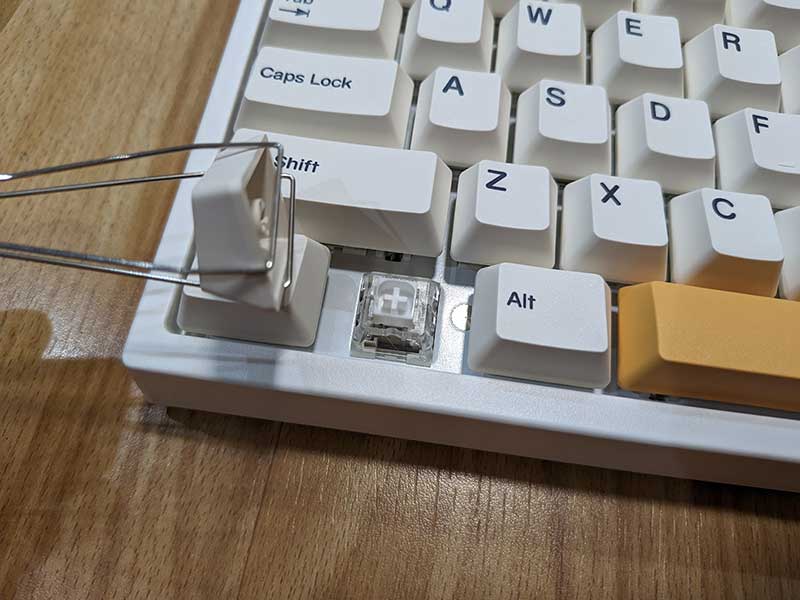 The Keydous NJ80-AP is available with a choice of switches. The keyboard that they sent me came with BOX Strawberry Ice Cream Pro linear switches but I personally like a tactile clicky switch, so they included Kailh BOX White switches for me.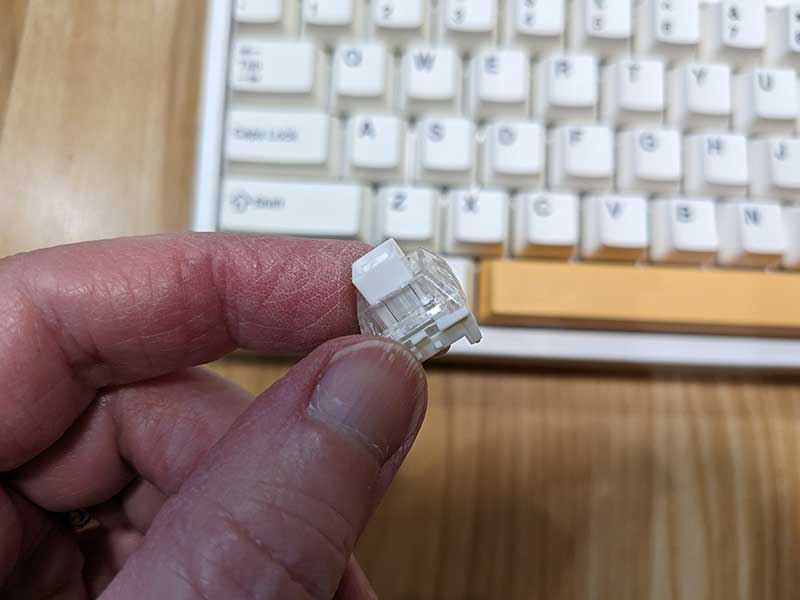 These switches are so satisfying to type on. I just love them! Check out the short video below where I demonstrate typing on this keyboard so that you can hear what the switches sound like.
This keyboard has south-facing RGB backlighting which you can see in the image above where I've removed one of the switches. You can check out the video below where I show the different lighting effects that you can do with the Keydous NJ80-AP.
Typing perfection!
I'm really picky when it comes to keyboards. I like a tactile switch that gives me that satisfying clickity clack with a good thonk. The Keydous NJ80-AP with the Kailh BOX white switches does that for me. I can really get in the zone when typing on this keyboard. Luckily, I work from home with my better half working outside the home, or she'd probably get annoyed listening to the sound of me typing all day 😉
Even the analog knob in the upper right corner is fun to use. It is tactile when you turn it to adjust volume and when you press it to toggle mute.
I did all of my testing with this keyboard hardwired to my MacBook. I realize that I might be in the minority, but I am old school when it comes to keyboard connectivity. I don't want to deal with the keyboard going dead in the middle of typing and I don't want to deal with lag or wake time lags that can come with Bluetooth.
If you want to remap any of the keys or customize the lighting effects, you can use Keydous driver which is available on the keyboard's product page.
See and hear it in action
What I like
Great layout
Nice weight so it doesn't slide around
The Analog knob is great for adjusting the volume
I also love the Kailh BOX white switches (which you have to order separately)
What I'd change
Final thoughts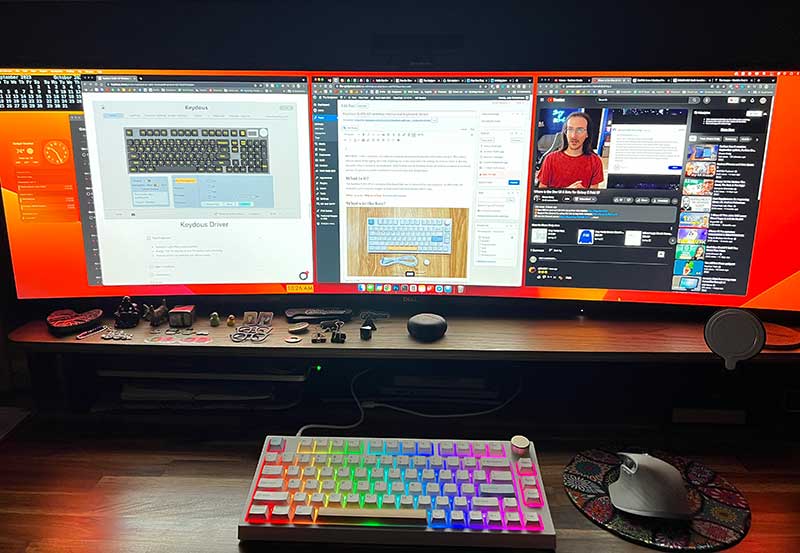 At this point in time, I can confidently say that the Keydous NJ80-AP is my favorite mechanical keyboard. The size is perfect for me, the keyboard layout is perfect for me, and with the optional Kailh BOX white switches, the typing feel and sound are awesome. I'd never heard of Keydous until they asked if I would like to review their keyboard and now it's a keyboard company that I'm going to keep my eye on.
Price: $114.99
Where to buy: Keydous and Amazon
Source: The sample for this review was provided by Keydous.