We use affiliate links. If you buy something through the links on this page, we may earn a commission at no cost to you. Learn more.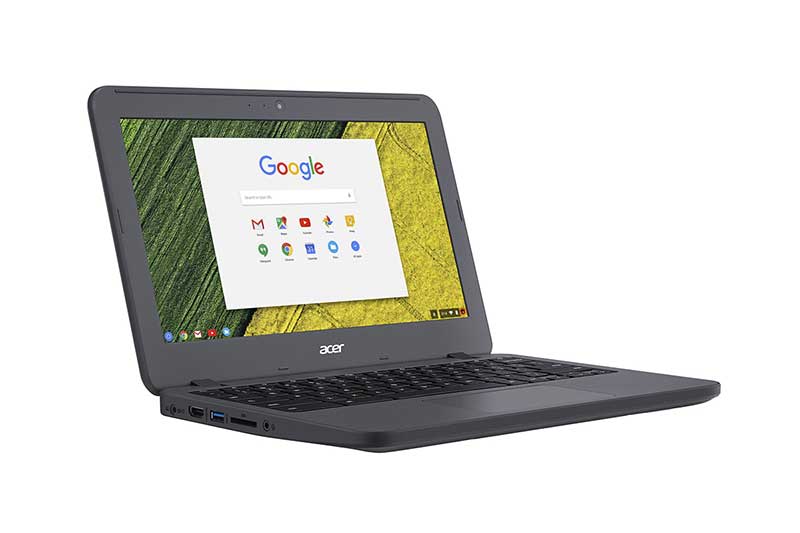 DEAL NEWS – Get one of the year's best deals on a refurbished Acer N7 C731 Chromebook now at the extreme Deal Days price of just $50.97 while this offer lasts.
Maybe you're one of those methodical shoppers who wait patiently until Black Friday or Amazon Prime Day sales to buy those cool tech upgrades you want. Or maybe you just stumble on great deals as they happen and pounce. Either way, Gadgeteer's Deal Days is one of those prime shopping moments, offering some of the best stuff we've got at some of the best prices of the year.
Like when a refurbished Acer N7 Chromebook goes on sale for $50.97. 
Combining the power of a traditional laptop with the portability of a tablet, this 2017 model-year Chromebook is ready to serve as your primary work or home device for all your basic computing needs.
Need to run multiple apps at once? The N7's 1.6GHz dual-core Intel Celeron processor can get it done seamlessly. Want to stream videos or play graphics-intensive games? The 4GB of memory and the crystal clear resolution of the 11.6″ display bring that media to life. 
Along with full Bluetooth 4.2 and WiFi connectivity, a full array of accessible ports, and a formidable 13-hour battery, this Chromebook is versatile.
Each laptop has been thoroughly inspected and tested with a grade "B" rating. That means you may see some light scuffing or mild scratches or dents, but nothing to detract from this Chromebook's impressive performance.
As a refurbished Chromebook, you get all those premium abilities at a seriously cut-rate price – a price that gets even more attractive during Deal Days. Plus, buying refurbished is better for the earth, creating less e-waste, according to an Epoka article.
Your take-home cost for this refurbished Acer N7 Chromebook laptop is down to just $50.97 (reg. $289) if you order by 11:59 p.m. PT on October 15.
Prices subject to change.
Update 10/3/23
After posting this deal, it has come to our attention that this particular Chromebook received its last security update last year (June 2022) and will not receive new security updates. If this concerns you, you will probably not want to buy this Chromebook.