We use affiliate links. If you buy something through the links on this page, we may earn a commission at no cost to you. Learn more.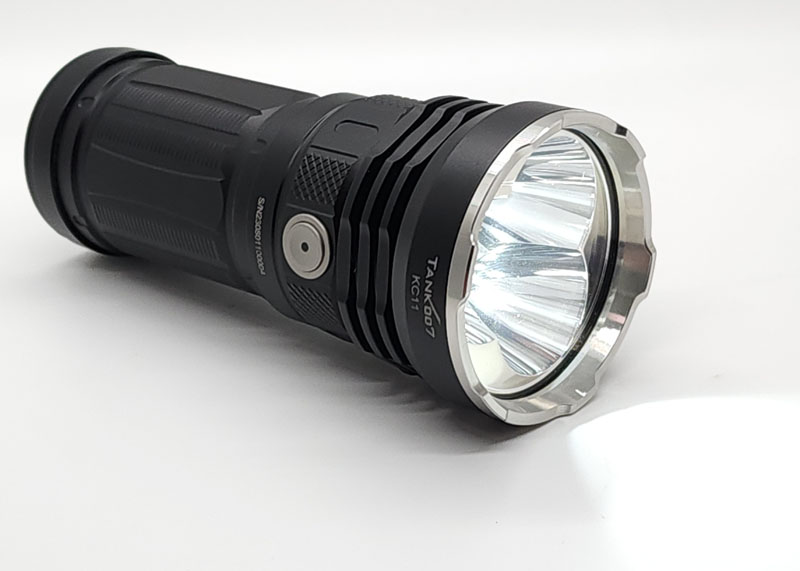 REVIEW – A good flashlight is something everyone should have.  Perhaps you need to walk the pup at night. Perhaps you're a hunter or outdoors person.  Perhaps you live in an area prone to power outages.  The list goes on and on.  There are a ton of choices out there for your lighting needs.  Today, we're going to check one out from a company called TANK007 -the KC11 LED 6400-lumen high-power EDC flashlight.
What is it?
The TANK007 KC11 is a flashlight sold as an EDC (everyday carry) flashlight. It has four lighting levels including a 6400-lumen turbo mode plus strobe and SOS modes.
What's in the box?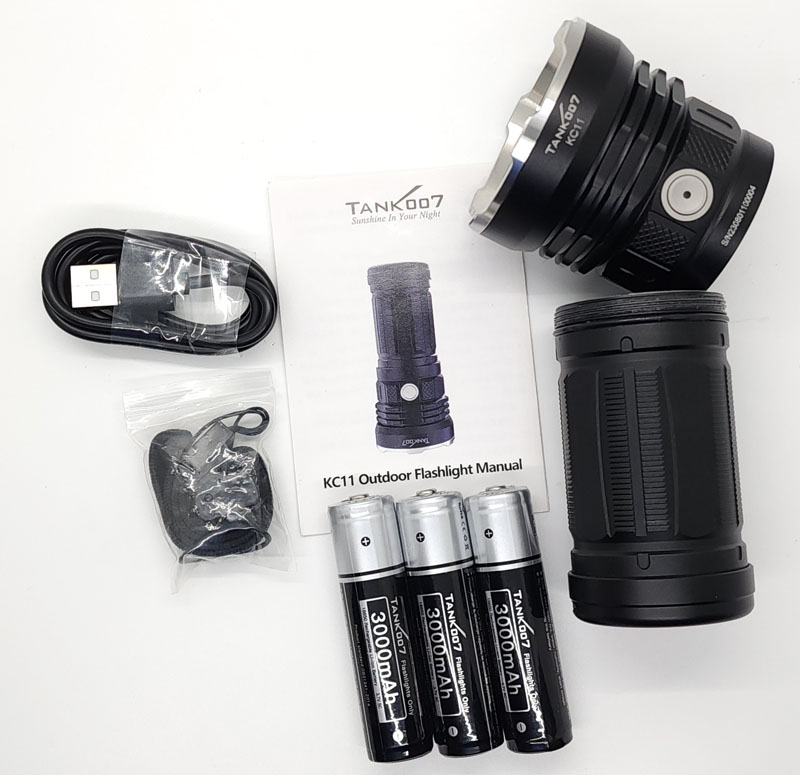 KC11 flashlight(handle plus lamp assembly)
3000 mAh 18650 lithium batteries (x3)
Wrist strap
USB-A to USB-C charging cable
User manual
Hardware specs
Dimensions: 5.375″ long x 2.375″ wide
Weight: 16.5 ounces
LEDs: SST-40 (x3)
Body material: 6061-T6 aluminum alloy with military-grade level 3 hard oxidation treatment
Power: 18650 3000mAh lithium batteries (x3)
Intensity and runtime:

Turbo: 6400lm (2h) (drops to 2000lm based on temperature)
High: 1300lm (5h)
Medium: 410lm (15h)
Low: 65lm (80h)
Strobe: 3000lm (3h)
SOS: 2200lm (5h)

Maximum beam throw: 700m
Water resistance: IPX8 – up to 3 meters deep for up to 30 minutes
Drop resistance: 1m
Design and features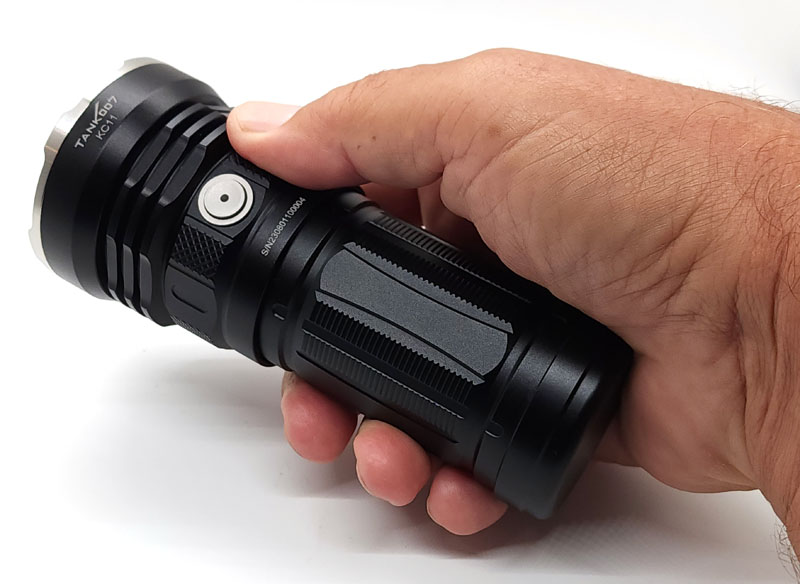 The KC11 is billed as an EDC flashlight, but as you can see in the photo above, it is relatively large and weighs in at just over a pound.  Couple that with the fact that TANK007 doesn't include a holster and I have a hard time considering carrying this every day. It feels heavy enough that I would be constantly pulling my pants up! Let's ignore the EDC aspect because other than that, this is a solid performer.
The aluminum alloy body feels solid and is nicely knurled without being rough.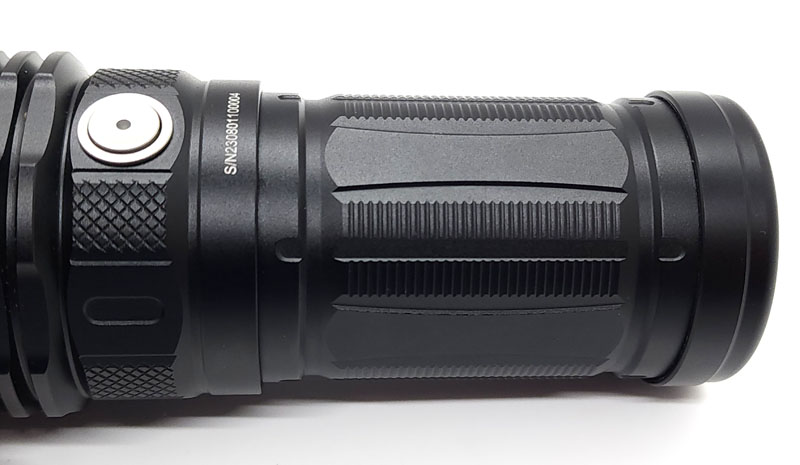 The single button has a center status LED that changes colors to indicate the charge level.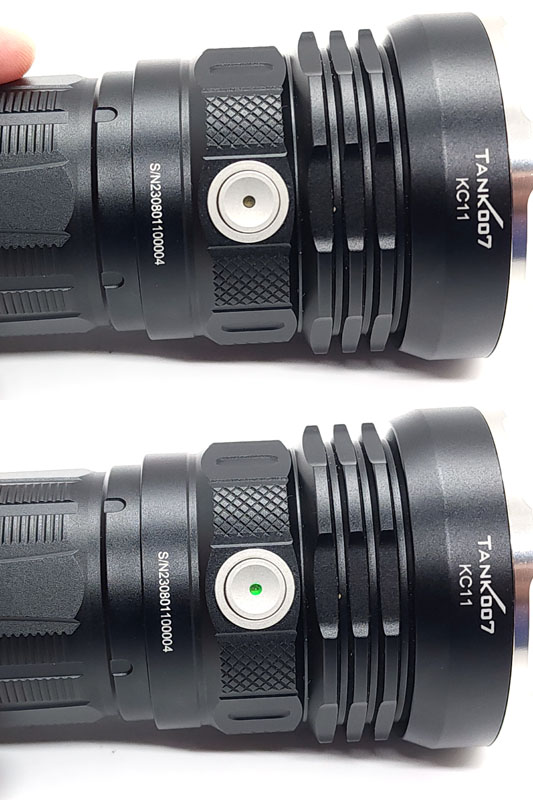 When charging, it glows red, and then green when fully charged.  When the light is off, a quick button press turns on the light as follows:
Green: 60% – 100% charged
Flashing green: 30% – 60% charged
Red: 10% – 30% charged
Flashing red: <10% charged
If I wanted to complain, I would say that the placement of the LED relative to the hole in the switch isn't optimal.  When the LED is glowing red, you have to look at exactly the correct angle to see it.  That doesn't seem to be an issue when it glows green.
The USB-C charging port is covered with a beefy rubber cover that lifts easily when it is time to charge.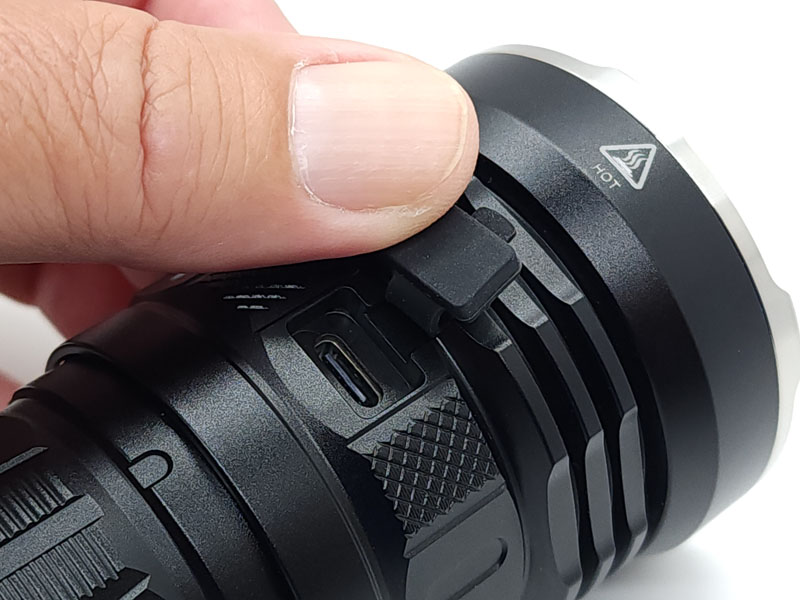 The base end has a small pass-through where you can attach the included wrist strap.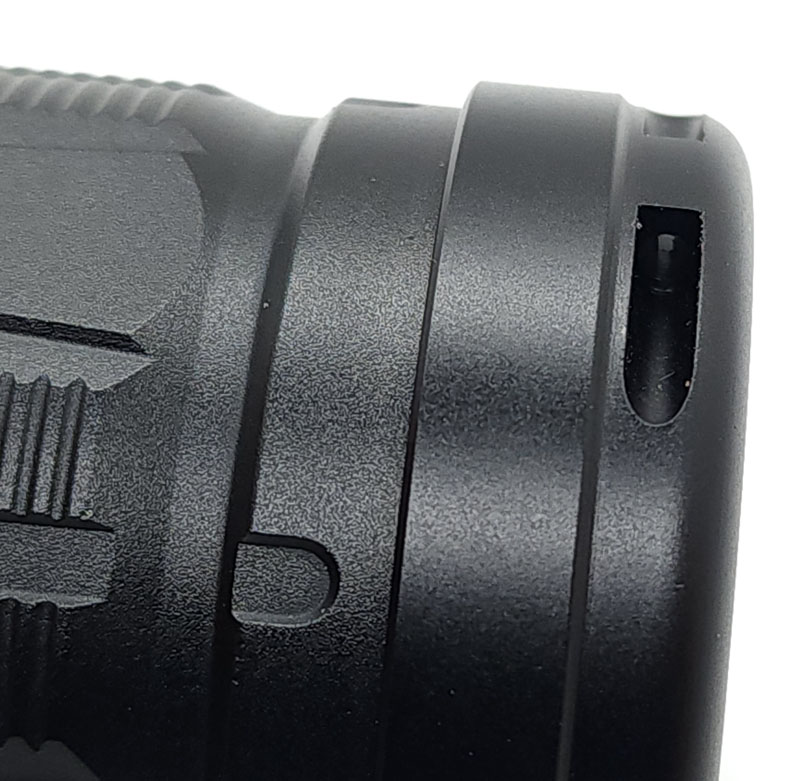 The KC11 includes a polished tactical strike bezel around the lens.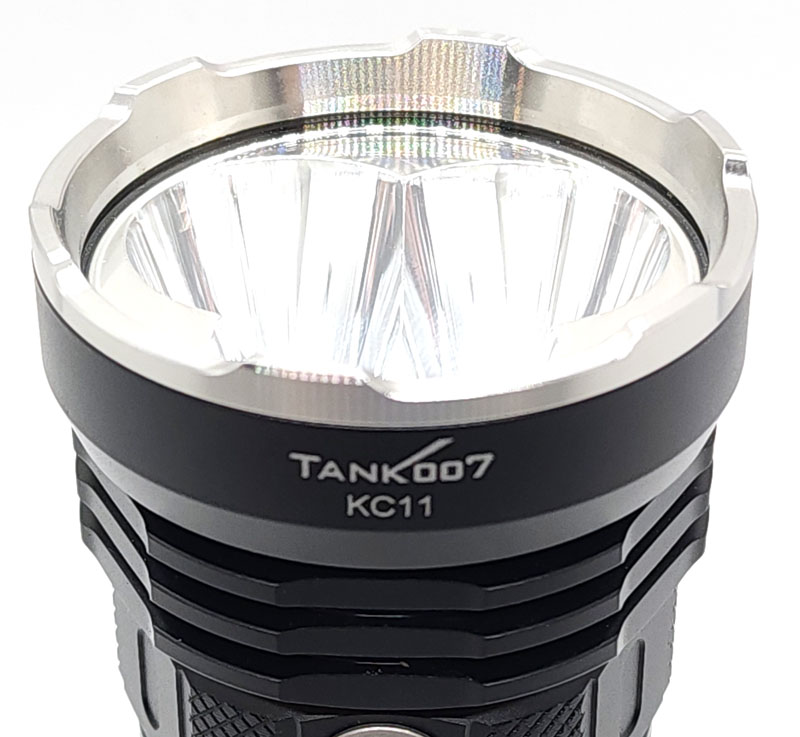 This sturdy strike bezel could be used as a defensive tool in a pinch, or be used to break out a window.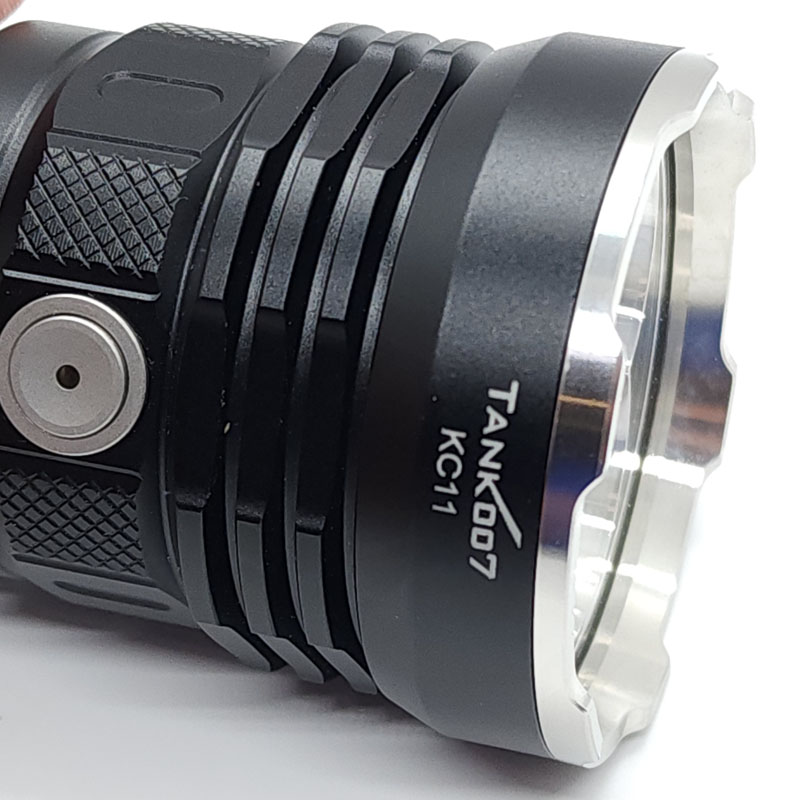 The business end holds three SST-40 LEDs. The design of the reflector produces a narrow spot-style beam.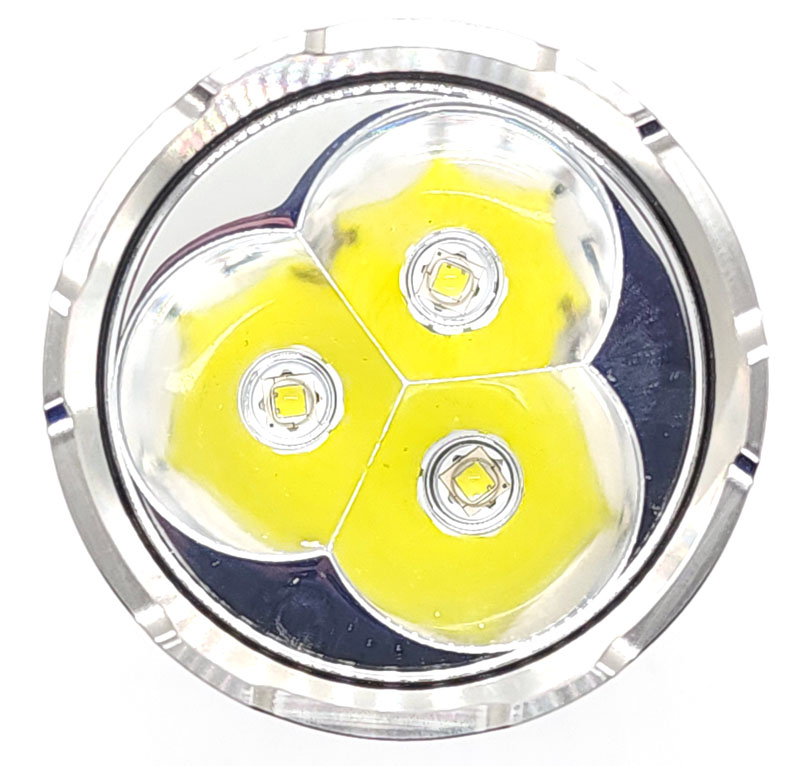 These provide up to 6400 lumens of light output focused in a long-throw spot pattern.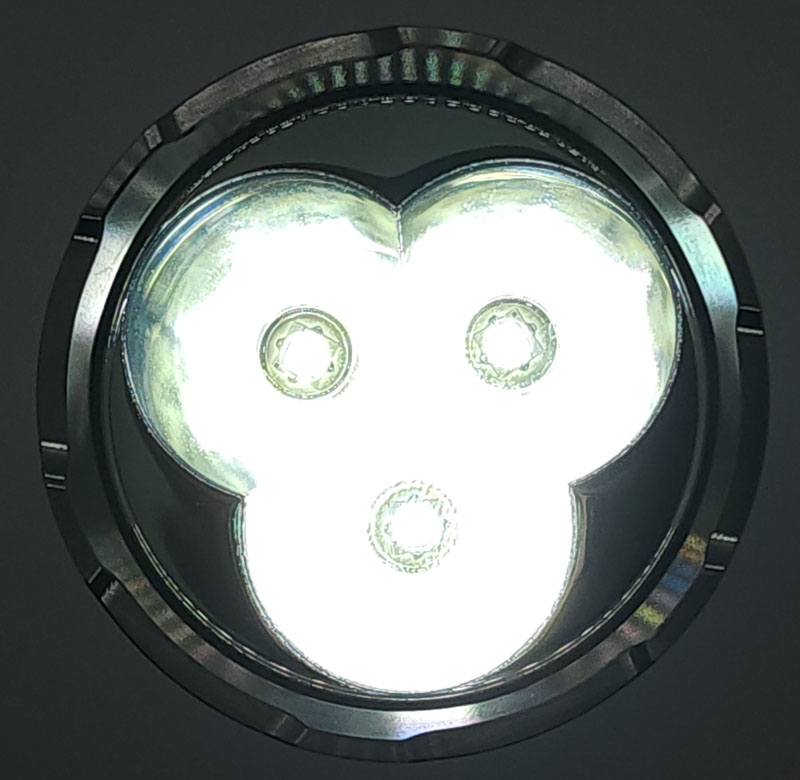 Setup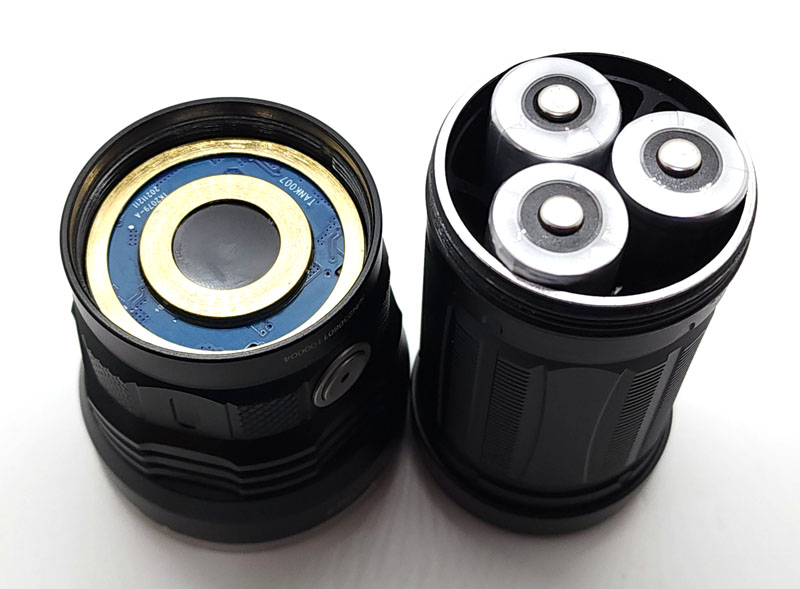 The flashlight comes with the two sections unscrewed and a protective sheet between the battery contacts and the flashlight contacts.  To get it going, pull out the protector, screw together the parts, charge the light, and get to lighting things up.
Performance
Using this flashlight is mostly intuitive.  Some lights I have tested had a mind-numbing of button pushes to get to all the operating modes.  Thankfully, the KC11 has a simple interface.  In short:
Hold for about 0.5 seconds to turn on or off – it always comes on in turbo (I don't like this)
At any time, double-tap to activate the strobe – double-tap again to active SOS mode
When on, tap to cycle from turbo–>high–>medium–>low–>turbo
When off, triple tap to lock the button – triple tap again to reactivate the button
Simple, right?  The one shortcoming, in my not-so-humble Gadgeteer opinion, is that the light should turn on to something other than turbo mode.  6400 lumens is roughly equivalent to a modern LED automotive headlight.  Why not turn it on at a lower intensity and then choose massive output if you need it?  While I'm at it, let me state that I would rather see each press increase the light level rather than decrease it. Oh well, just one guy's opinion.
Like all LED flashlights, heat is an issue and the KC11 is no exception.  Like all quality lighting devices, the KC11 has built-in temperature management.  As the heat comes on in turbo mode, it will automatically step down to 2000 lumens so it can maintain a reasonable temperature.
I charged the light, turned it on turbo mode, and started a timer.  After about a minute, the output dropped as expected.  It maintained that 2,000-lumen output level for about two hours.  I noticed that the light felt pretty toasty.  I grabbed the Teslong Thermal Imaging Camera for Android and measured it.  The head was pushing 130°F.  Like I said, toasty.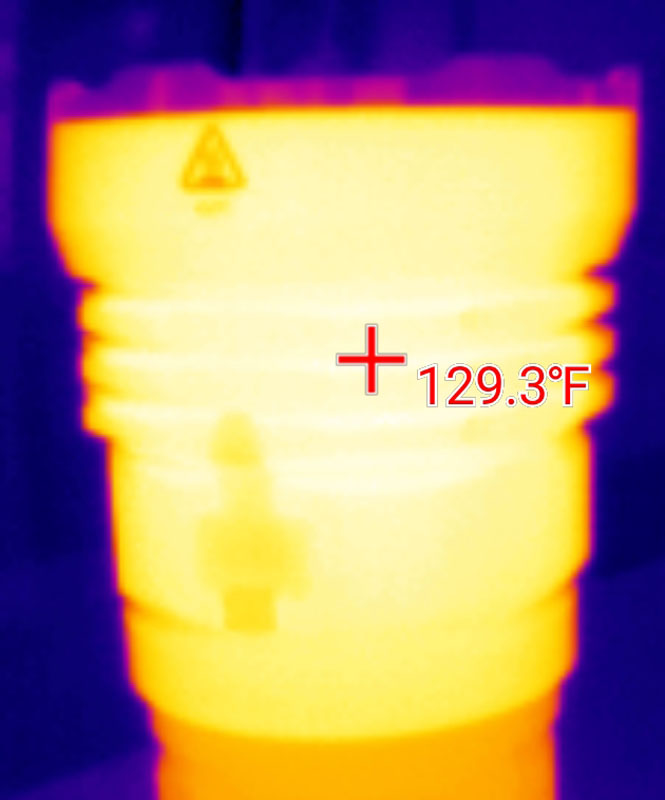 Even the body was warm, hitting nearly 110°F.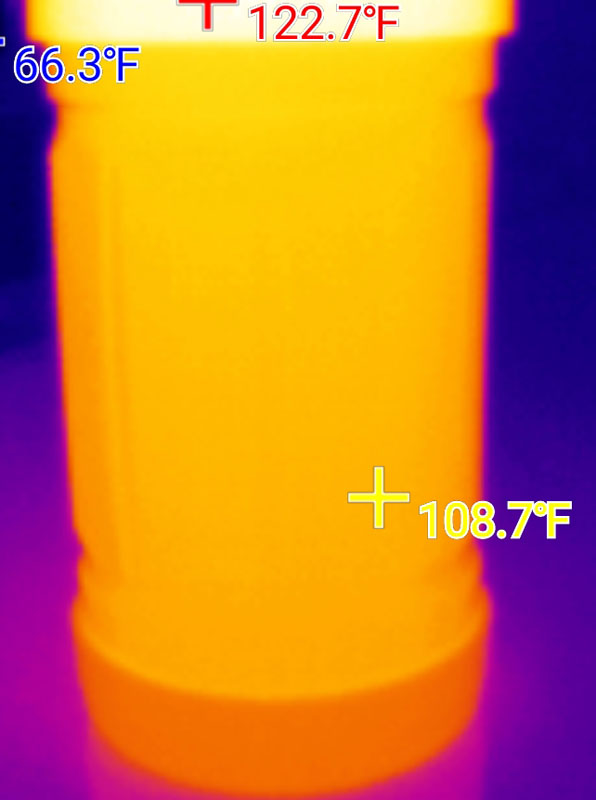 I let it continue to burn away.  At some point well after two hours, the light stepped down again.  It appeared to be in medium mode and it wouldn't get any brighter.  I checked the charge and we were somewhere under 10%. It was still running, albeit not very brightly, after three hours.  I like the fact that as the battery gets depleted, the light adjusts the intensity to maximize runtime.  In an emergency, having some light is more important than having the brightest light. The battery gave up the ghost after 3:15.  I plugged in the USB-C cable and just under four hours later, the LED flipped from red to green and we were fully charged once again.
One thing to consider is their runtime claims.  They claim two hours of runtime at the highest brightness.  Maybe, but…after about a minute, the thermal circuitry steps the brightness from 6400 lumens to 2000 lumens, so there is no way to run for two hours at full brightness.  Well, I guess theoretically you could if you ran it for a minute, turned it off and let it cool, turned it on for a minute, turned it off and let it cool, and so on.  The light was a little under 100% charged when I ran the test.  Getting over three hours out of it at the brightest intensities allowed by either temperature or charge level seems pretty fair, even if the runtime claims don't really make sense.
Here's a look at the light output. As you will see, this is a spot rather than a flood, meaning that there is a central bright area rather than a wide area of illumination.
What I like
USB-C charging – woo!
Solid build quality
Good selection of lighting levels plus strobe and SOS
Nice single-button control
Good runtime
Low levels of light are still available, even when the batteries are nearly discharged
What I'd change
I don't like that the light always turns on in its brightest mode – I'd like an option to choose the initial brightness
I wish the light levels went up with each button press rather than down
It is a bit large and heavy for EDC use and doesn't come with a pouch or holster
The status LED is hard to see when it is red
It gets pretty warm at higher intensities
Final thoughts
The TANK007 KC11 is a solid performer. If they want to bill it as an EDC flashlight, they should include a belt holster. At more than a pound, I can't imagine putting this in a pocket or even a backpack for daily carry. Beyond that, there is a lot to like about the KC11. Its decent light output, good light level options, rugged build quality, good runtime, simple user interface, and standard USB-C charging make the KC11 a good choice for anyone looking for a flashlight that can take a little abuse while still shining brightly.
Price: $139.99
Where to buy: Firetreelight; $199 direct from TANK007
Source: The sample of this product was provided by Firetreelight.