We use affiliate links. If you buy something through the links on this page, we may earn a commission at no cost to you. Learn more.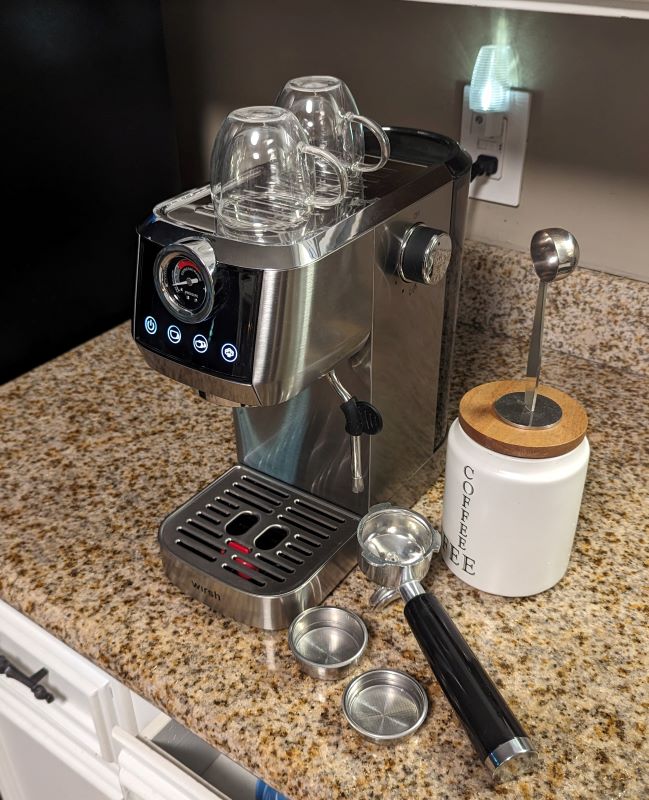 REVIEW – I love coffee! I take it black. I like cappuccinos, espressos, macchiatos, cold brew, and pretty much every other way you can get it. But, like everything else these days, coffee can get expensive especially if you go to the local coffee bar often to get your fix. So when the Wirsh 20 bar Home Barista Plus Espresso machine came up for review, I had to have it. It looked to be simple enough that even I could create great coffee even though I've never owned or even operated an espresso machine before.
What is it?
The Wirsh 20 bar Home Barista Plus is an espresso machine that takes all the guesswork out of making delicious coffee drinks.
Price: $159.99 | Where to buy: Wirsh and Amazon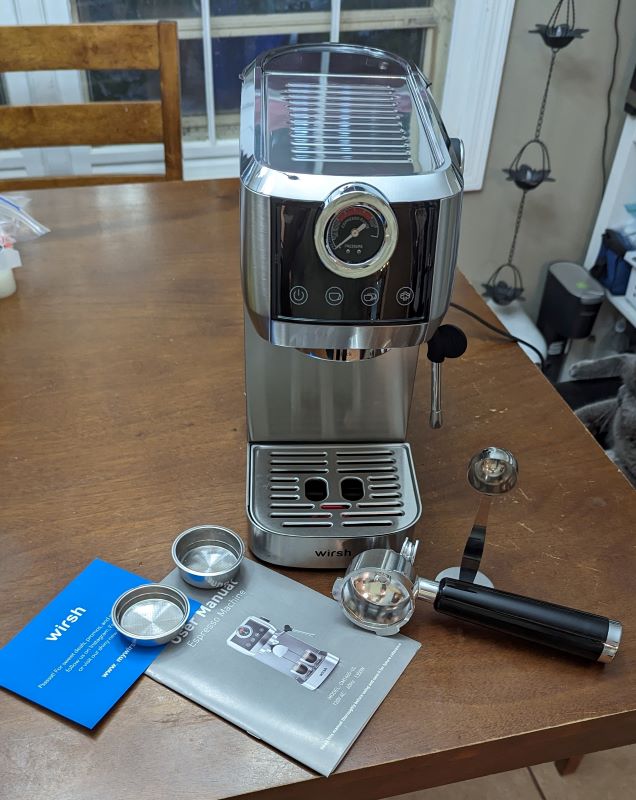 What's in the box?
Wirsh 20 bar Home Barista Plus Espresso Machine
1 – scoop/tamper
1 – single serving steel filter
1 – double serving steel filter
User manual
Wirsh service card
Hardware specs
20 bar pump pressure
42 oz water tank
51 mm portafilter
Dimensions: 13 in x 6.5 in x 12.1 in
Weight: 9 lbs
Design and features
The Wirsh Home Barista Plus espresso machine really struck me with its size.  I was quite surprised to see how small it was. Every espresso machine I've ever seen has been huge and looked like it needed its own pit crew to operate and maintain. This thing is tiny in comparison, which is a good thing in my home.  Countertop space is at a premium and if the wife doesn't like it, then it doesn't stay. Luckily, she loves coffee as much or more than I do.
The Wirsh Home Barista Plus has a 20 bar pump in it. Not being a barista or familiar with espresso machines, I had no idea what that meant. Google told me that it meant this little guy had enough oomph to push hot water through tamped-down coffee at 20 times the Earth's present atmospheric pressure. Is that good? I honestly couldn't tell you, but Wirsh says it'll do it.
The next convenient feature of this espresso machine is the water tank. It's removable and has a wide mouth making it easy to fill. Most times I don't even remove it from the machine. I take the water pitcher from the fridge and just pour it straight in. Due to its size, there's plenty of room between the top of it and the bottom of the cabinets in my kitchen.
On top of the unit, there's actually a cup warmer. I'm a big believer in heating my mug before pouring my coffee. I mean, I want it hot. Why would I let the mug leech the heat away? So having this cup warming feature built-in is great.
The Wirsh Home Barista Plus espresso machine fits right in with our kitchen appliances with its brushed stainless steel body and black accents. No, it's not copper and full of old-world charm but it'll blend right in with most kitchens. I think it's rather smart-looking.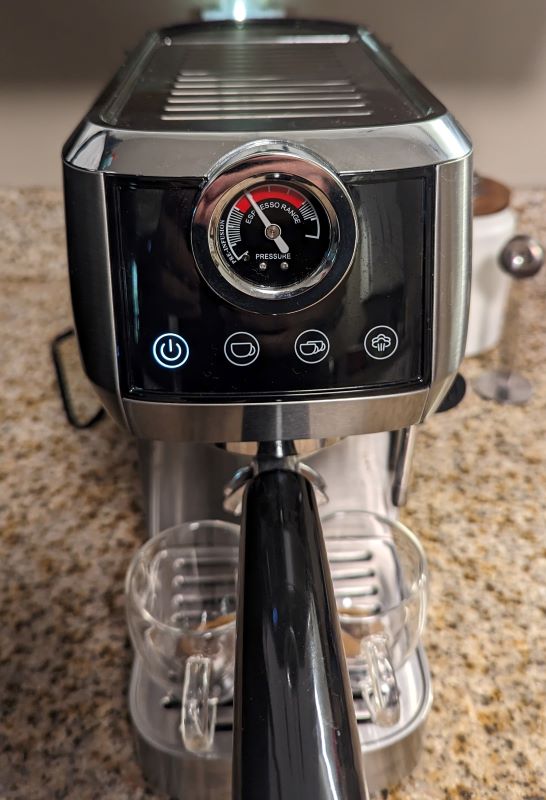 Operating the Wirsh espresso machine is made simple with the touchscreen controls.  Power it on by touching the icon, choose one cup or two, and then the final selection is for the frother. Yes, it even has a built-in milk frother. That big dial controls the amount of steam.  It'll even dispense hot water from there for those who prefer a cup of tea.
Setup
Alright! Time for coffee! Setting up the Wirsh Home Barista Plus espresso machine was very simple. Obviously, you'll want to give everything a quick wash to be on the safe side. Now, fill up the water tank and install it on the rear of the machine. Next, power on the unit so it can warm up, which takes all of about 30 seconds before it's ready to go.
Now it's time for the portafilter. That's the handle/spout that mounts to the machine. First, you'll need to get one of the steel filters, the single or double serving, and place it in the portafilter. Then, using the included scoop/tamper, fill that puppy up and tamp down the coffee so that it comes up to the fill line.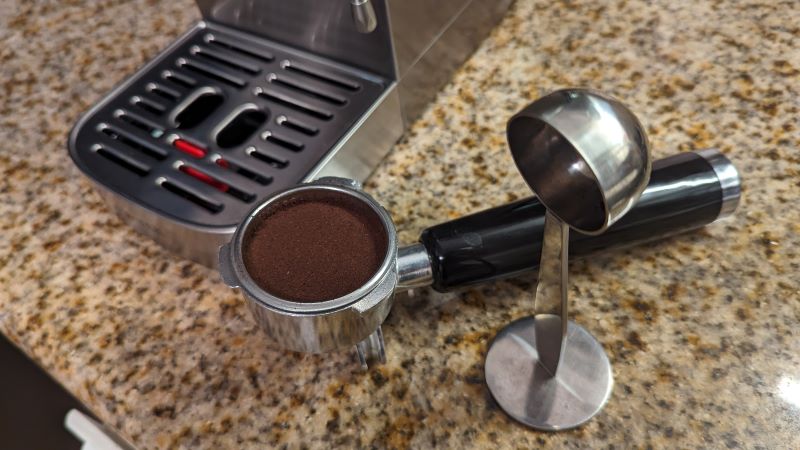 Be sure to clean any loose grounds from around the lip so you're sure to get a proper seal. Next, install the portafilter by starting at about the 8 o'clock position or around 45 degrees so that the lugs or tabs on the portafilter fit into the espresso machine head.  Grab your mug(s), place it under the spout, simply touch the single or double cup icon on the front, and watch the magic happen.
If for some reason the default temperature is not quite right, you can change it. If you touch and hold the Steam icon for about 5 seconds, you'll hear a beep and the current temperature setting will blink. By that I mean, the default setting is represented by the double cup icon. If you want it cooler, select the single cup, hotter select steam. It's that simple.
Performance
I'm impressed with the Wirsh Home Barista Plus espresso machine. It makes a wonderful espresso even from some of the cheaper stuff found at my local grocery store. The coffee is rich with a nice amount of crema on top and it's hot!  It's nothing like one of those pod systems. None of those that I've ever used gave me more than a warm cup of coffee. We had one briefly. It disappeared one day never to be seen again. But what if you want a true full-sized cup of coffee? You can touch and hold one of the cup icons for about 3 seconds. The unit will beep and the icons will blink. Touch one of the icons again and it'll continue to force water through the portafilter until you touch it again to stop it.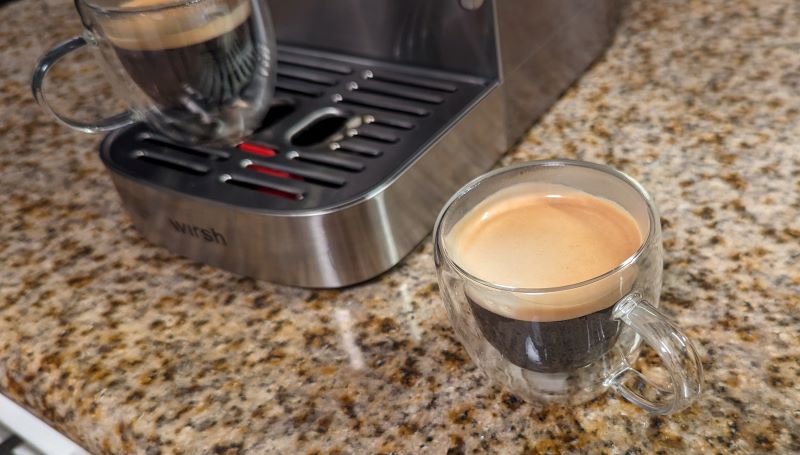 The frother and I, however, have a love/hate relationship and I take all the blame. The spout has a black rubber tab on it so you can move it around to get a good position and you need it. Like a dummy, I wasn't paying enough attention, reached for the spout, and missed most of that tab. Let me tell you, I only did that once. That sucker was HOT! Something to keep in mind if you have small children or big dummies like me. The large knob on the side controls just how much steam it pumps out, so do yourself a favor and go slow with it. It's a slow go at first but then it really amps up the output, so if you don't know what you're doing, you can easily make a hot mess. Ask me how I know.  I'm getting better at it but I still don't have the knack for getting a good, thick foam for my drinks. That's ok. I'm willing to keep trying.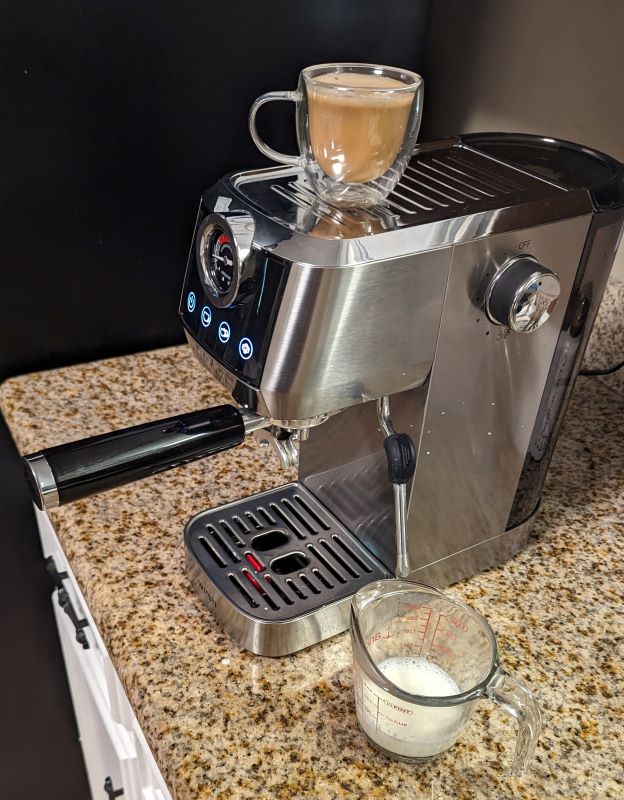 Speaking of the frother, even after using it, you can go right back and make another coffee. From what I understand, there aren't that many other machines out there that can do that. Typically you have to wait for water from the tank to heat back up before going from frothing to brewing again.
The only real issue I've had with the Wirsh Home Barista Plus espresso machine is with the double-serving steel filter and the portafilter. Once the filter is inserted, it's hard to get it back out. I have to get something to pry it out.  The single-serving one isn't like that so I'm not sure what's up with that.
What I like
Small but powerful
Makes great coffee
Reasonably priced
Well built
Easy to use
What I'd change
Include a tool to remove the filters or ensure they can be removed without one
Final thoughts
I have been pleasantly surprised with the Wirsh 20 bar Home Barista Plus espresso machine. My wife has always wanted an espresso machine but we felt there was too much of a learning curve and the price too prohibitive. I'm happy to say Wirsh has taken care of both of those issues for us. We like it a lot and my wife has deemed it countertop worthy.
Price: $159.99
Where to buy: Wirsh and Amazon
Source: The sample of this product was provided by Wirsh.