We use affiliate links. If you buy something through the links on this page, we may earn a commission at no cost to you. Learn more.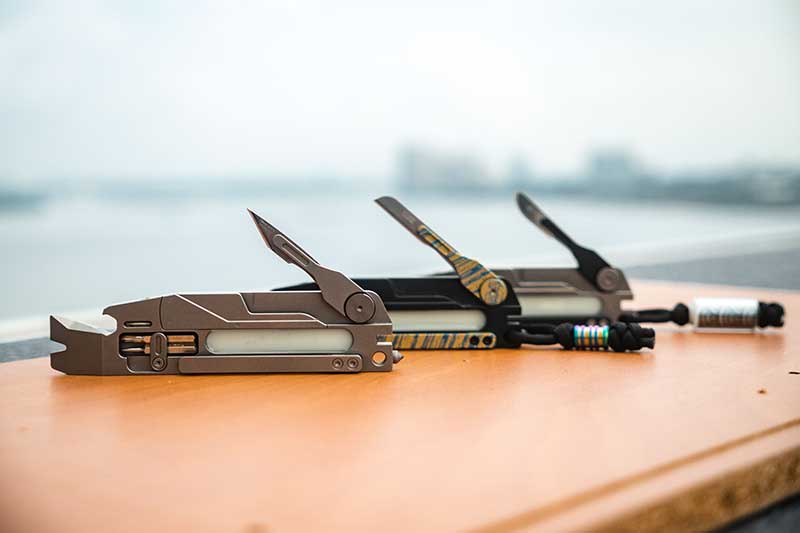 CROWDFUNDING NEWS – Most EDC prybar tools are designed for one task – prying. The PRYTIUM prybar is a titanium multi-tool with a lot more functionality and pizazz than a typical prybar. The functionality comes in the fact that you get a prybar, a nail puller, a ruler, a glass breaker, a bottle opener, a can opener, a nail file, and a pocket clip. But that's not all you get with the PRYTIUM. You also get a utility blade that can work with a variety of replaceable #11 scalpel blades so it will always be sharp when you need it. This tool also has 3 different bit holders depending on the torque you need (including T-handle style usage). It even holds and includes 2 bits. But I think the coolest feature of this tool is the LARGE hyper glow bar in the handle. It also has Tritium slots if you want a little extra bling (vials not included), but the hyper glow bar is awesome because the glow will last approximately 7-8 hours after charging with a UV or bright light.
The PRYTIUM campaign ends on 10/24/23 and they have already passed their funding goal of $5,107. You can pre-order a PRYTIUM starting at $106. After the PRYTIUM campaign ends, rewards are estimated to start shipping in January 2024. Visit their Kickstarter page for all the details.
.