We use affiliate links. If you buy something through the links on this page, we may earn a commission at no cost to you. Learn more.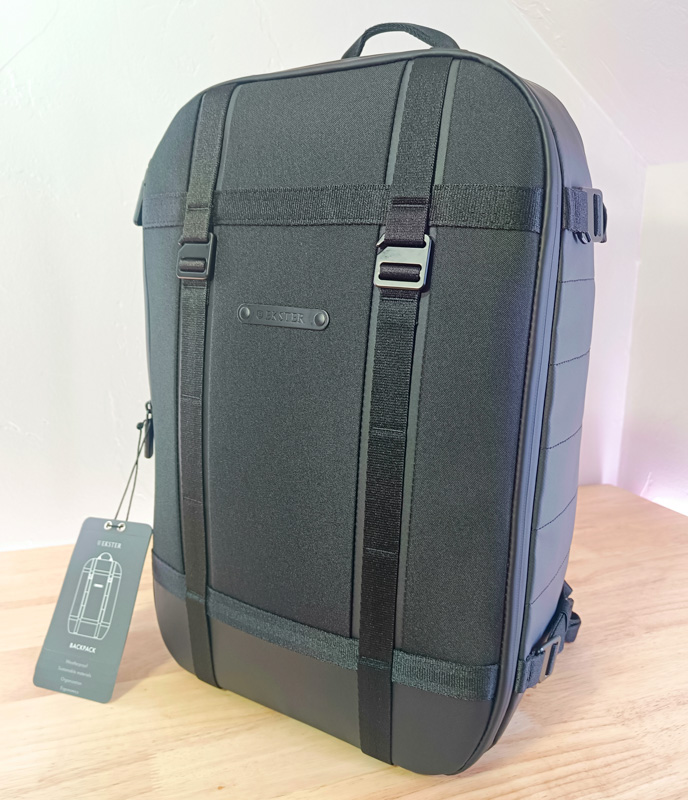 REVIEW – I've had a string of reviews come to me lately with serendipitous timing, but the EKSTER GRID Backpack and power station takes the crown of the "perfect review at the perfect time". I haven't travelled since the great pandemic of 2020, so to have my first business trip right after the EKSTER bag arrived was fantastic to give a real world review experience. I took the bag on public transit, as well as through air travel, and will now attempt to gather my findings into a coherent review.
What is it?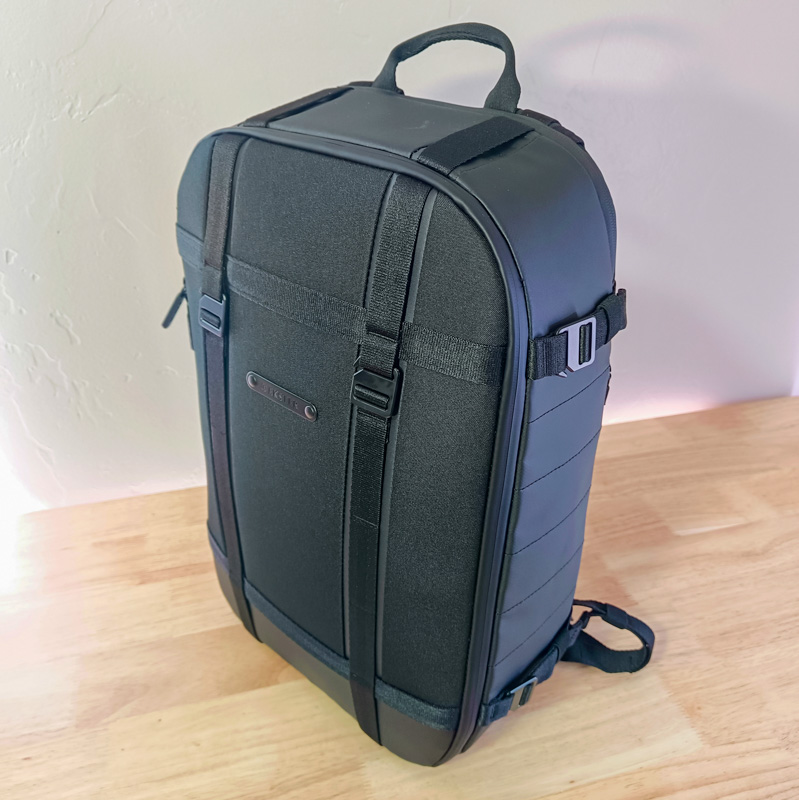 The EKSTER GRID Backpack is a stylish smaller travel bag designed with storage pockets for laptops, tablets, phones, and all sorts of other items. They also sell a variety of accessories like a camera travel bag, small electronics organizer bag, laptop power station (which was also sent to me for this review), and other items as well. The bag is made from recycled materials, and is water resistant.
What's in the box?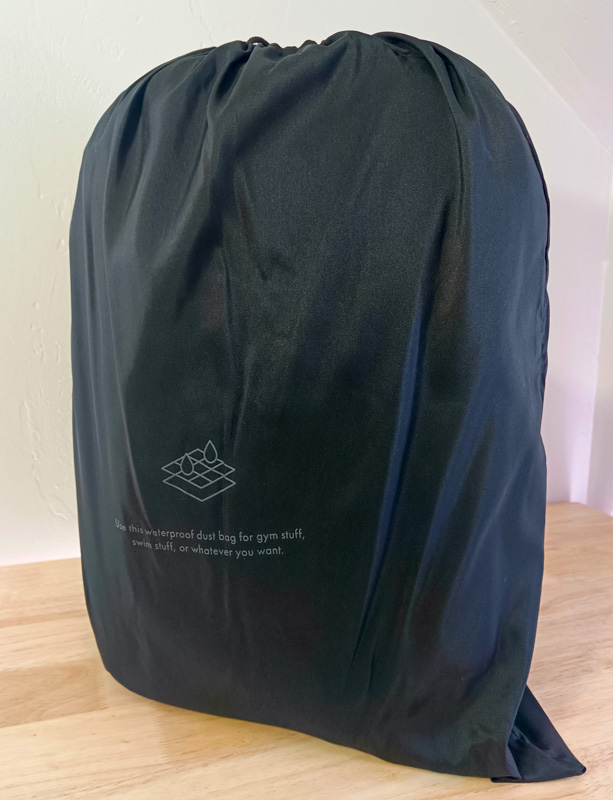 EKSTER GRID Backpack
Waterproof dust bag (can protect the backpack or be used separately)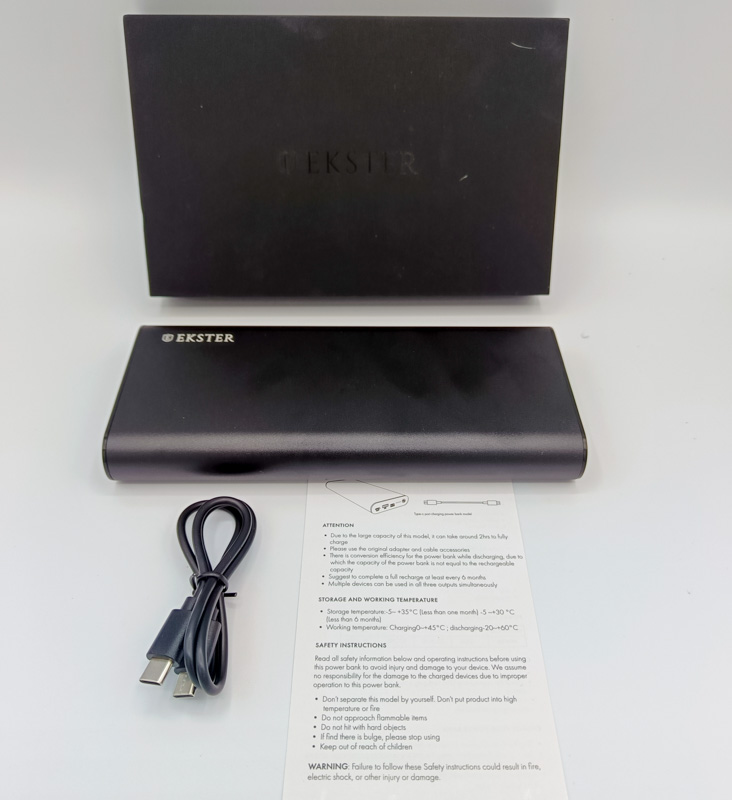 Laptop power station
USB C-C charging cable
Features (Backpack)
180° easy access opening
Dimensions: 12 x 18 x 6″
Internal volume: 21L
Weight: 1.2 Kg
Top loading padded laptop compartment (up to 16″)
Soft-lined tech or sunglasses pocket
Compression straps / MOLLE-style webbing for extra gear
Luggage passthrough strap
Elastic water bottle pocket
Internal iPad/tablet sleeve
Pocket for laptop power bank and tracker card
Air mesh ventilated back panel
Padded back and shoulder straps
Shoulder strap equalizer
Material: Water-resistant 600D body (made from recycled PET bottles)
Waterproof zippers
Hardware specs (power station)
Maximum flight-safe battery size (26,800 mAh)
2xUSB-C + 1xUSB-A output (one USB-C doubles as input/charging port)
Smart LED indicators
Dimensions: 6.9 x 3.1 x 0.8″
Weight: 500g
Maximum output: 140W (distributed between the three outputs), up to 100W on a single USB-C
Design and features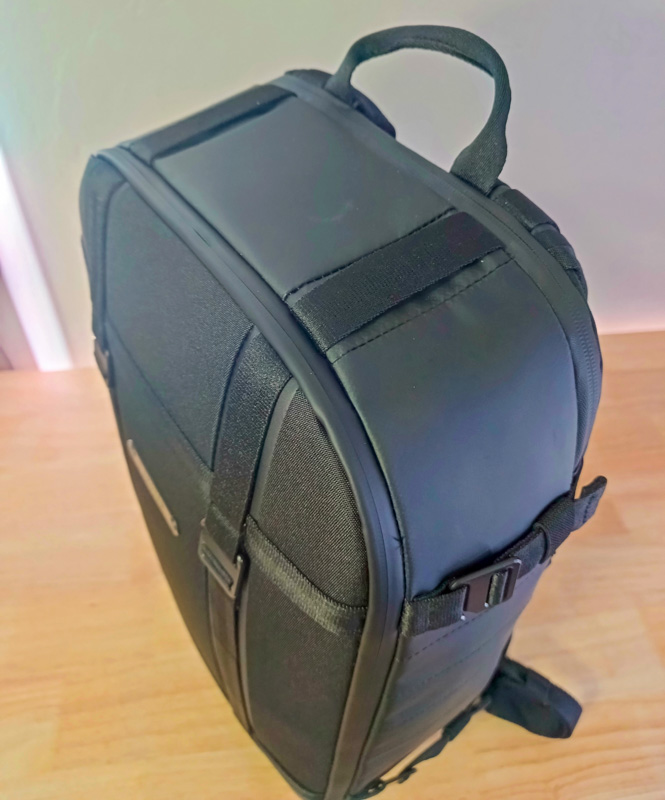 From the moment I pulled the EKSTER GRID Backpack out of the shipping bag, I could tell this was a high quality bag. The material feels great, the stitching is perfect, I couldn't find any flaws or imperfect seams anywhere. The buckles and straps are all rugged, none feel like they'll fail with prolonged use like on cheap bags.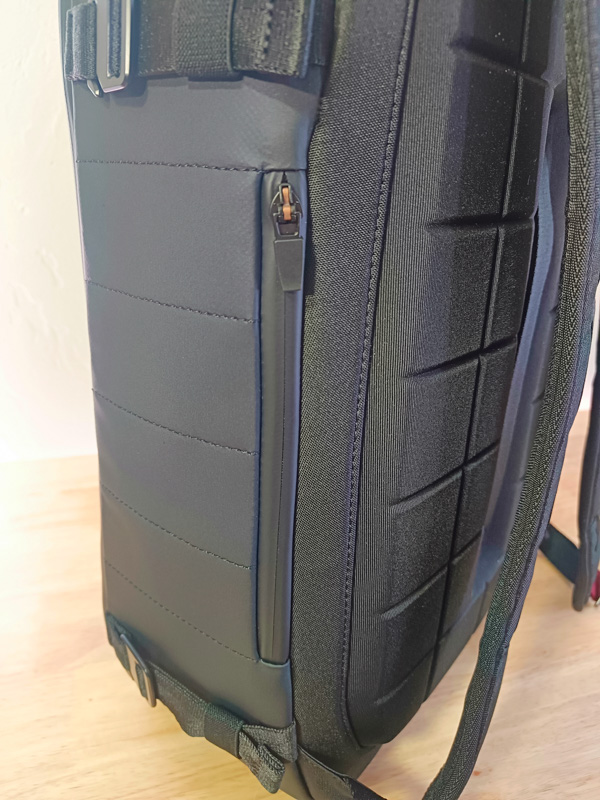 The zipper pulls are a soft rubber material, and all of the zippers are water resistant (my biggest fear when travelling is getting caught in a downpour with my laptop and no umbrella, this bag helps alleviate that fear greatly).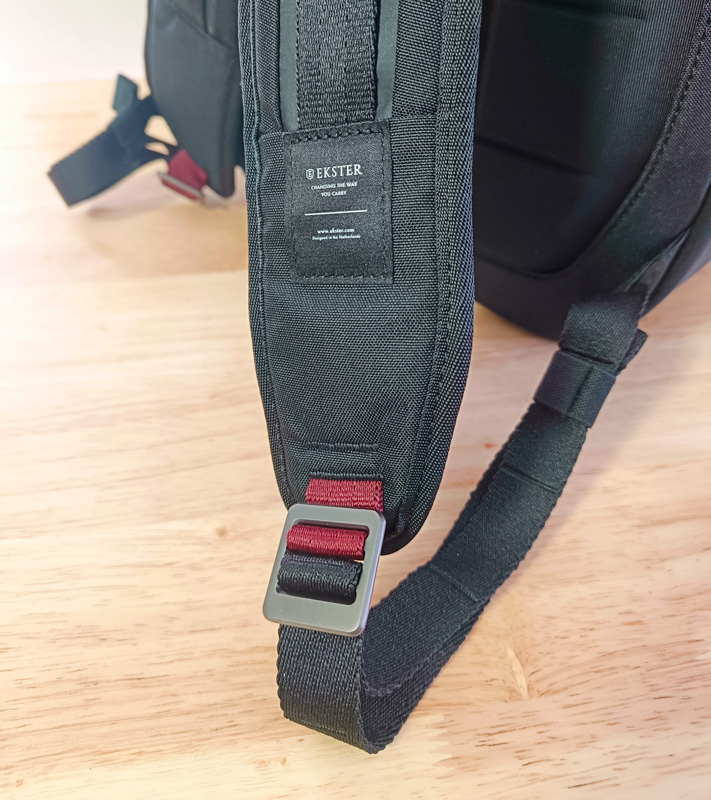 The bag is mostly black on the outside, except for the red bits shown above. I like the understated design a lot, and there aren't giant logos anywhere either.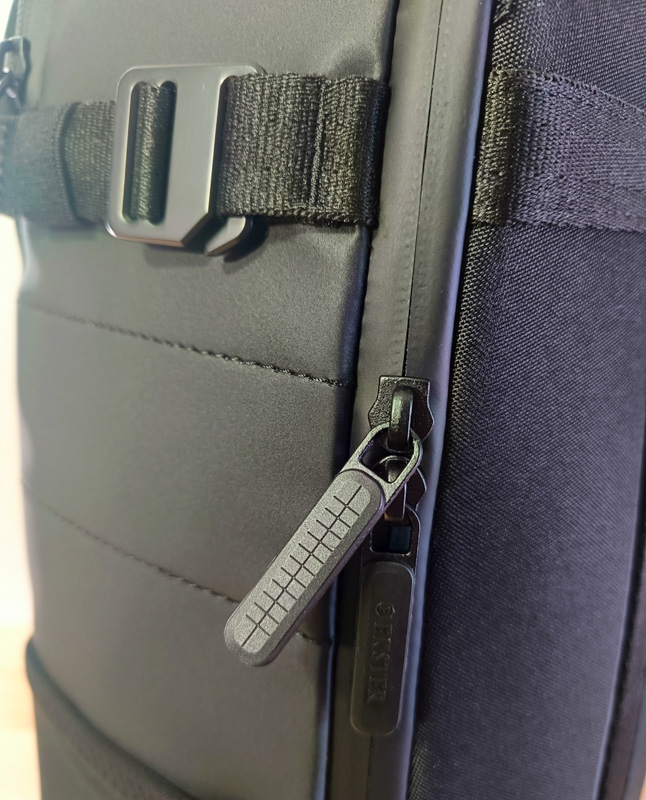 The photo above shows the main compartment's zipper pulls and zipper, look at how nice that stitching is, and the zipper water resistant flaps are flawless.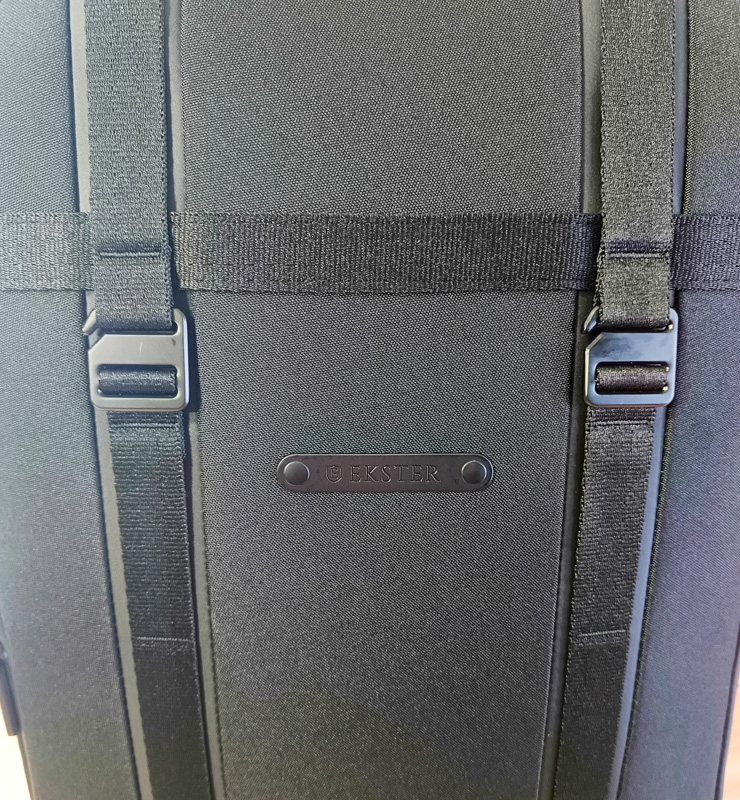 The small EKSTER logo and MOLLE style webbing are shown above.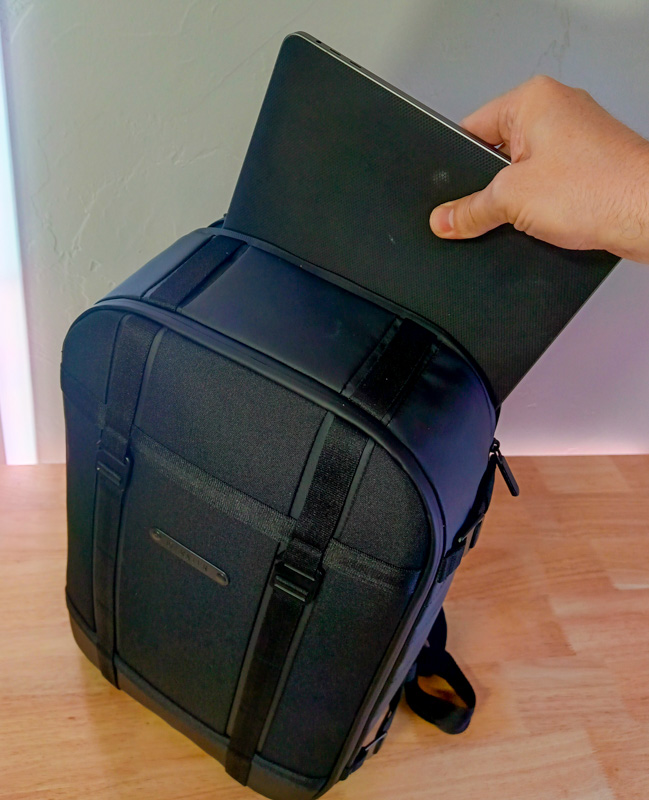 The laptop compartment is nicely padded, and cradles the laptop in padding on both sides. The laptop rests just a bit above the ground when shoved all the way in.  A 16″ Macbook Pro slides in easily, while my 16″ slim Asus X16 gaming notebook is a bit more of a squeeze. Most 15.6″ and smaller laptops will work fine (especially slim non-gaming models), but if my gaming laptop was as thick as most gaming laptops are, it probably wouldn't have fit.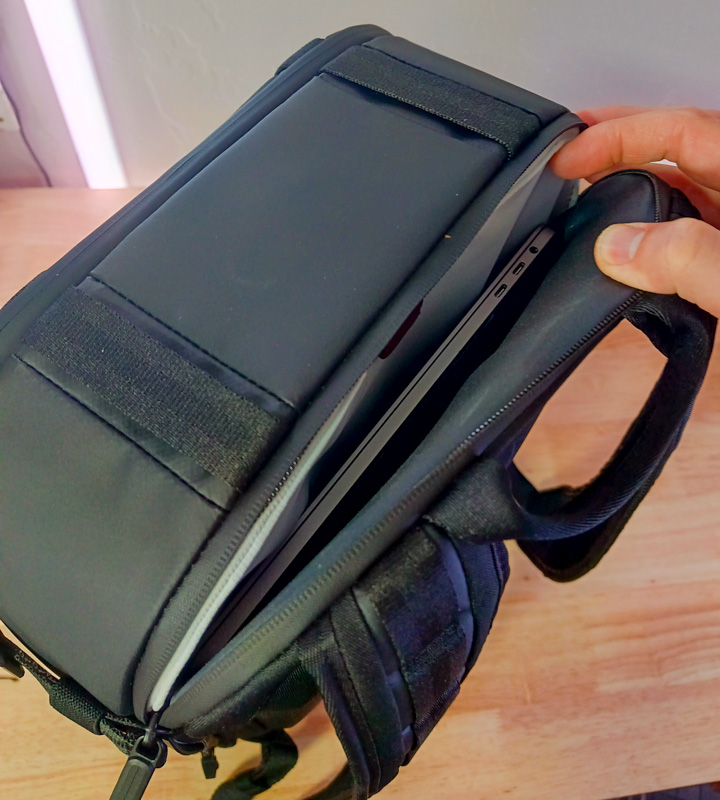 A peek into the laptop compartment.
Inside the laptop compartment is also a small padded area for your phone or sunglasses or something of similar size.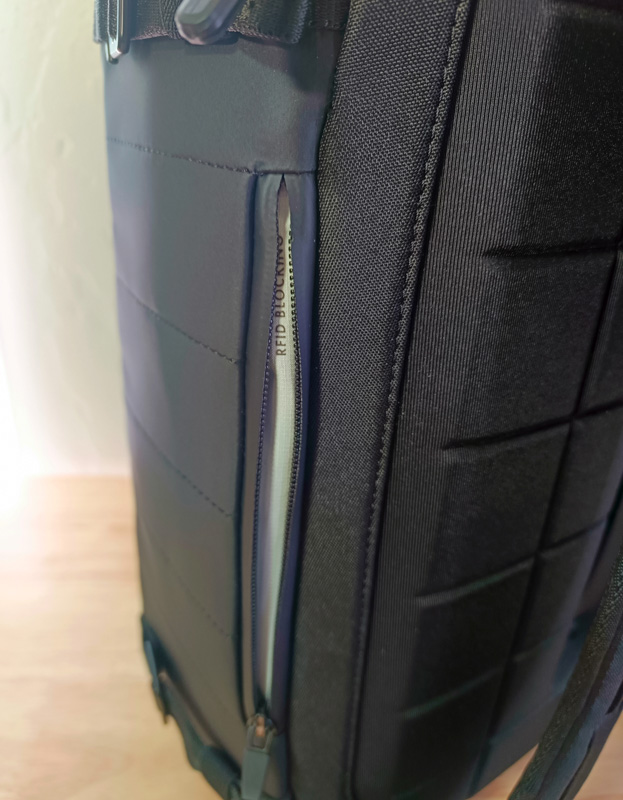 The side pocket is RFID blocking, so it's a good spot to stow a wallet or other similar items.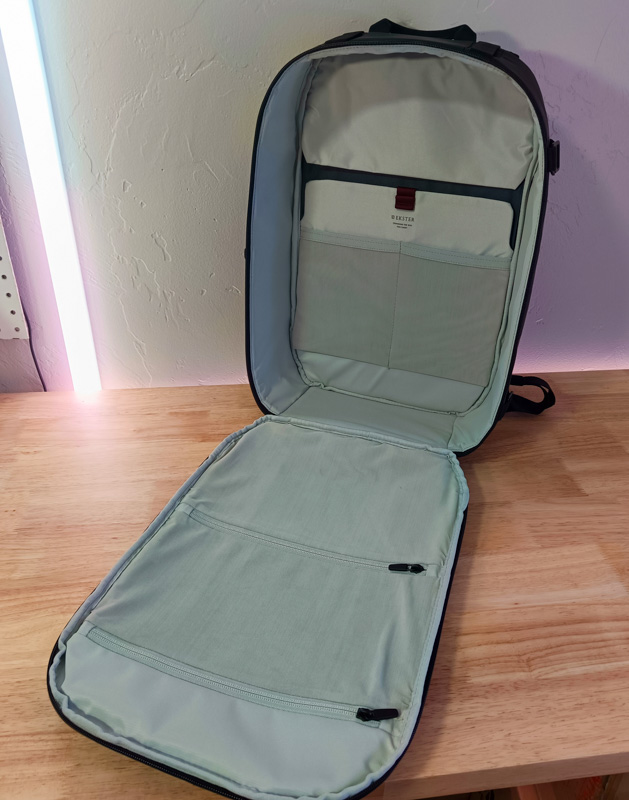 The main compartment fully opens, and has two soft pockets in the outer liner, two inner pockets (perfectly sized for the laptop power bank or a laptop charging brick or other similar items.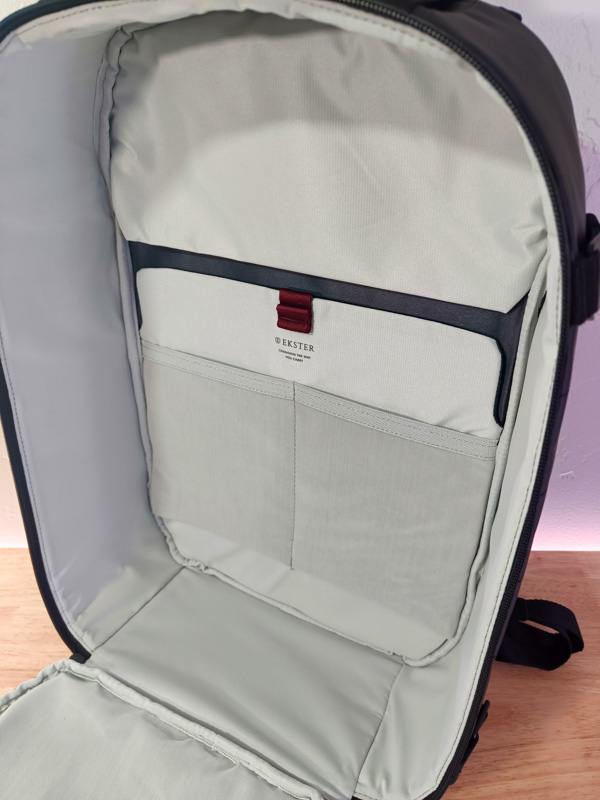 The red pull tab gives access to the tablet storage sleeve, your iPad or similar items won't be loose in the main compartment but rather are snugly stored in a soft sleeve there. My 12.9″ iPad Pro with a case fits snugly in here. The rest of the main compartment can hold the camera and/or tech bag, or packing cubes of your choice. I easily fit my toiletries bag and two days of clothes for my trip, and the easy open design made getting through TSA a breeze.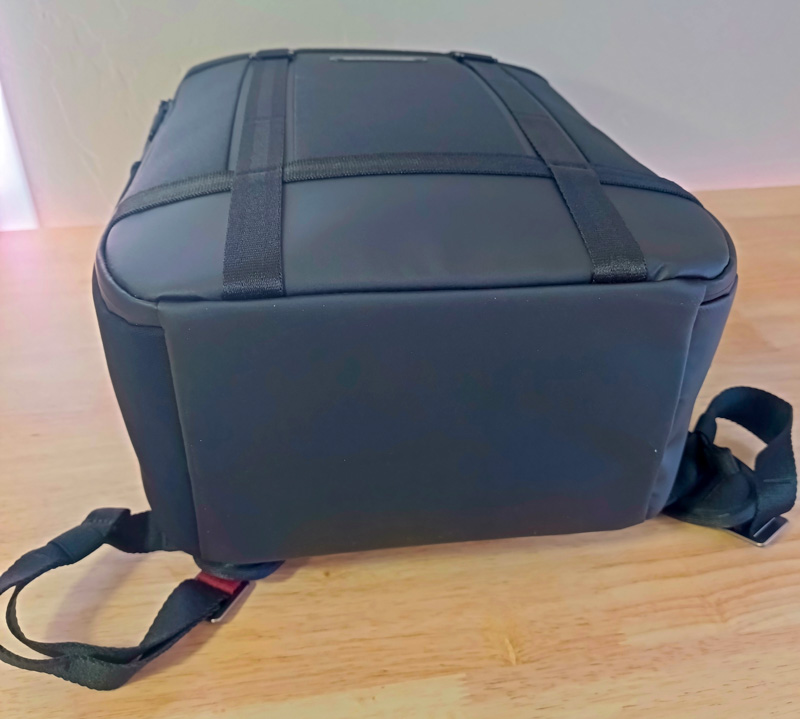 The bottom of the bag has a bit of extra padding.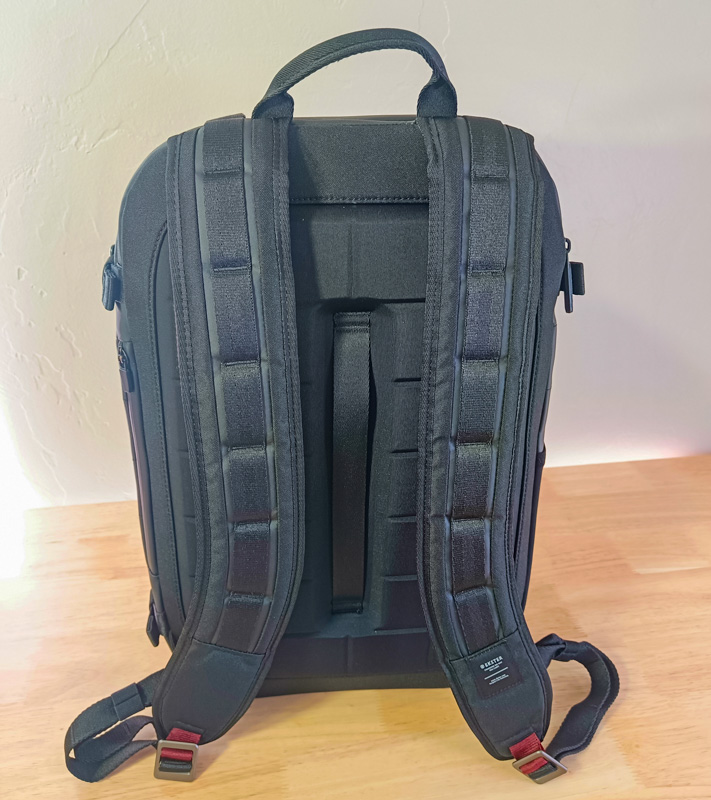 The shoulder straps are comfortable, and I love the extra carry handle in the center of the back of the bag. The back is padded and ventilated, and never felt too hot or uncomfortable.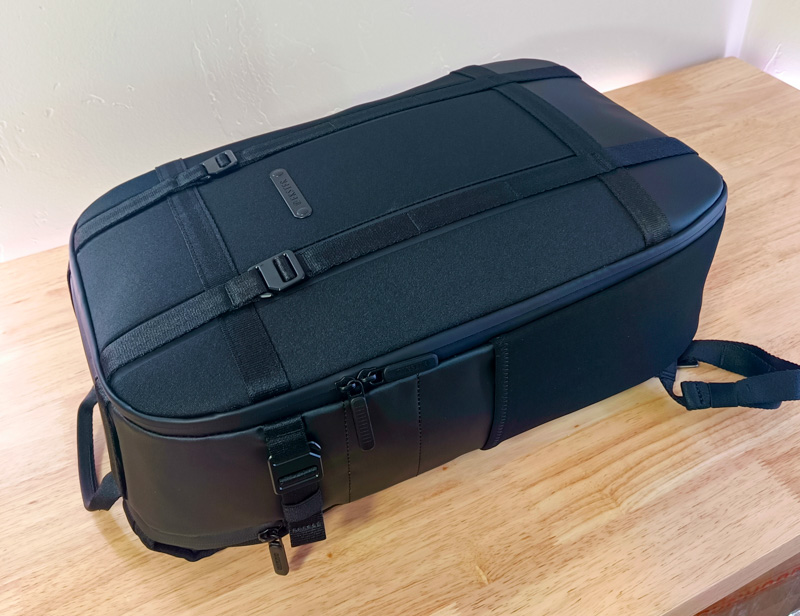 On one side is a soft elastic water bottle holder. Being the healthy person I am, I tested it with a 20 oz. Coke Zero and it fit perfectly.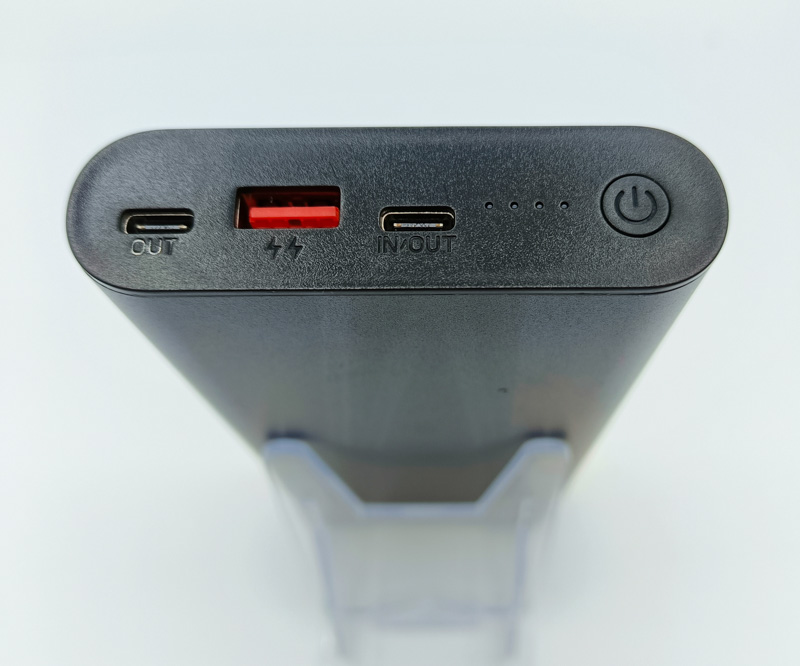 The laptop power bank is a very familiar size and shape, I've owned several models from other companies that could be twins. There's a power button and LED indicators to give charge status, and a trio of output ports: two USB-C ports with Power Delivery, and one USB-A port with quick charge. All three can be used simultaneously with up to 140 total watts output.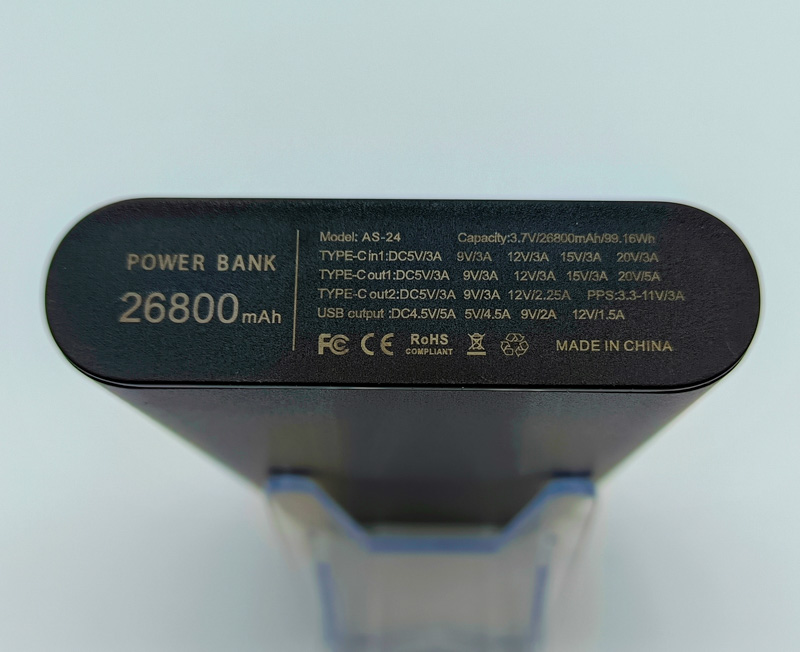 A handy specifications list on the bottom can be referenced when using the device (I always forgot if the USB-C in/out or just-out could do higher wattage – it's the in/out port that puts out up to 100W).
Setup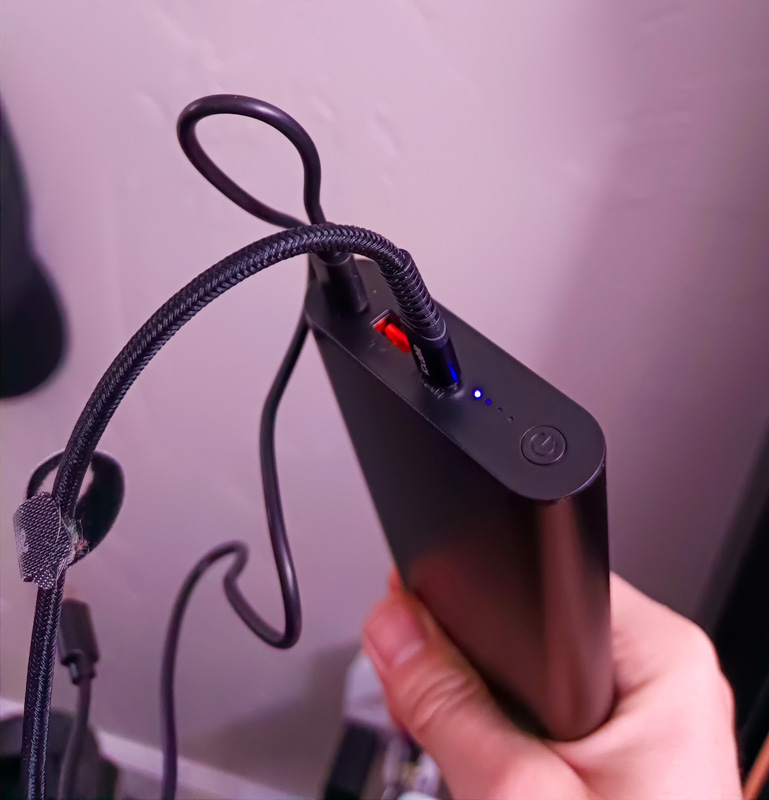 Setup on the EKSTER GRID backpack is as simple as cutting off the tag, while the laptop power station merely needs to be charged.
Performance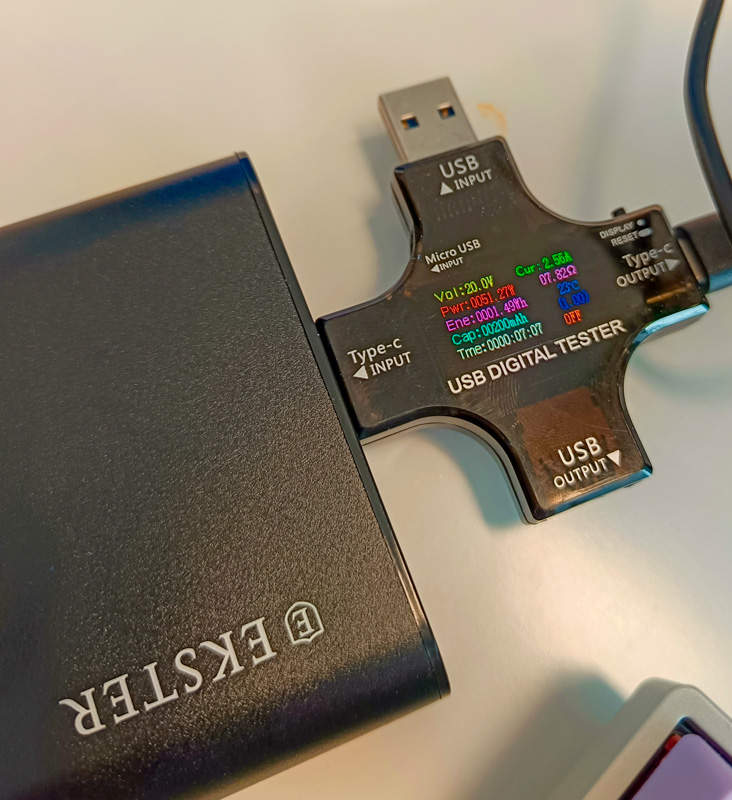 I tested the laptop power bank, and it delivered up to 100 watts of power when one USB-C device was connected. I also tested with all three ports to three different phones/tablets/laptop and all work simultaneously.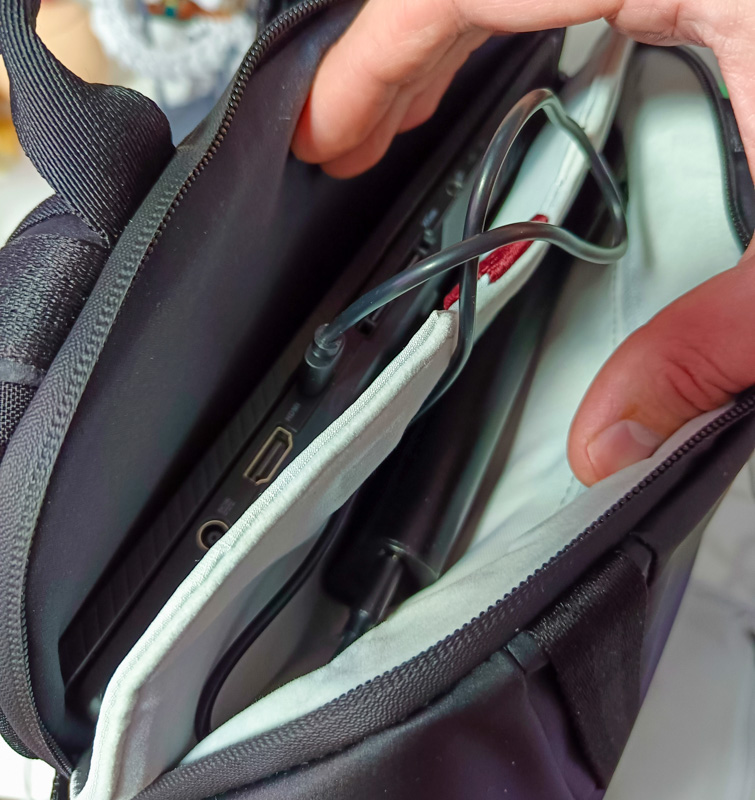 I was also able to put the power bank into the padded compartment of the bag and charge my laptop as I travelled to the airport after my last meeting.
What I like
Lots of storage space for a small bag
Ample purpose-built pockets
Good laptop storage compartment – padded, water resistant, and doesn't rest the laptop on bottom of the bag
Optional camera/tech/accessories designed to fit this bag perfectly
What I'd change
Nothing!
Except for maybe adding EKSTER's tracking technology built into the bag – but I like that they sell the tracking cards separately: lots of people are invested into different tracking ecosystems like Apple's FindMy or Tile, so letting you add your own is probably the better solution.
Final thoughts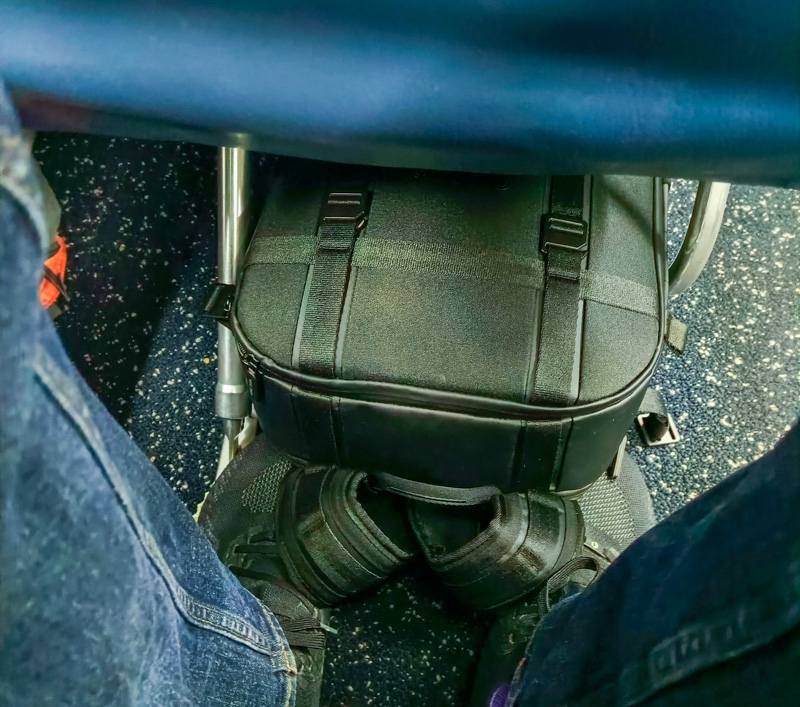 I really couldn't think of any cons when writing up this review of the EKSTER GRID backpack. It's a bit more than I usually would spend for a laptop travel bag, but after using it on a trip I think it's worth every penny. I especially like that it even fits on the small foot storage of an aisle seat on the airplane (pictured above). I could pack everything for a 2 day trip and still not use a carry-on luggage. If it was a longer trip, this bag still makes the perfect "personal item" to go under your seat, while a larger bag could be checked or go in the overhead bin. I like the water resistance and padding, and the overall build quality leads me to believe that this bag will last me for years of sporadic travel (or should hold up well for frequent travelers), all while looking great.
Price: $195 (bag) and $140 (laptop powerbank)
Where to buy: EKSTER (bag) and EKSTER (laptop power bank)
Source: The sample of this product was provided by EKSTER