We use affiliate links. If you buy something through the links on this page, we may earn a commission at no cost to you. Learn more.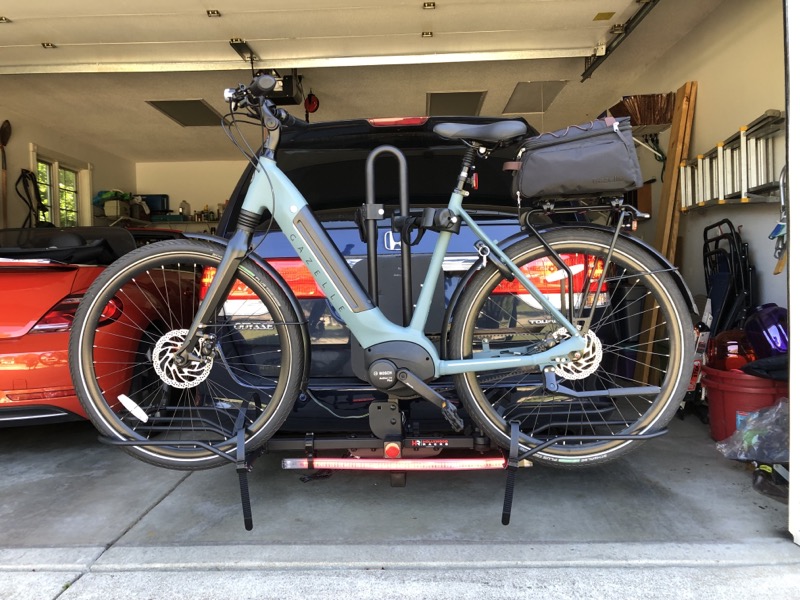 REVIEW – If you haul bikes on the back of your vehicle, you might be interested in improving the visibility of the rig for those behind you, especially when you have bikes in tow. Depending on the bikes and the bike rack, it is highly likely that some or all of a taillight could be blocked by the entire rig. The Hollywood Racks Safety Light Bar solves that issue. By plugging into your car's electrical system, it provides running lights, blinker support as well as brake lights below and sometimes to the back of the stored bike setup. Read on to find out how well the Hollywood Racks Safety Light Bar performed for me.
What is it?
The Hollywood Racks Safety Light Bar is a multi-color LED light bar, integrated into the vehicle's trailering system and can be added to virtually any rear bike rack to provide not only rear running lights, but also blinker and brake light support.
What's in the box?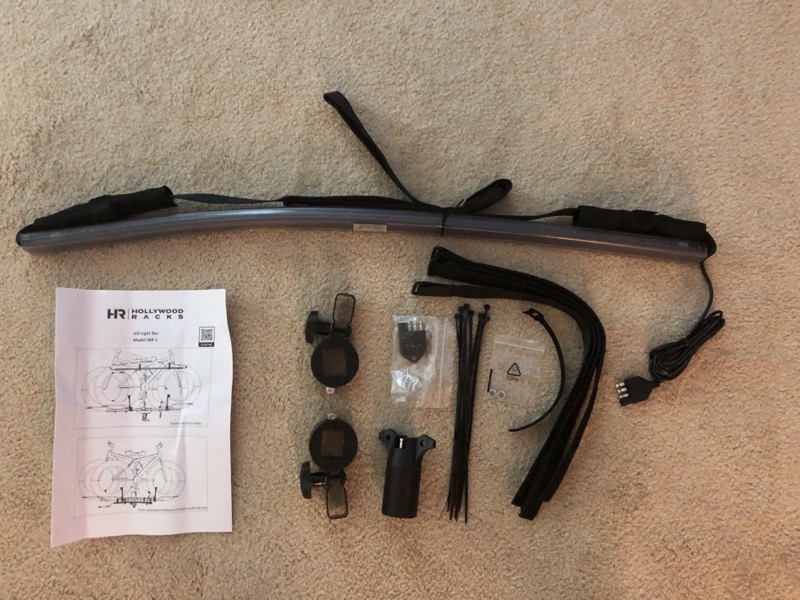 Bicolor LED Light Strap Assembly – Includes 4 Pin flat trailer connector.
4 Pin flat trailer connector tester
4 Pin flat trailer connector to 7 pin round connector adapter.
Hollywood Racks Metal Clamps X 2
Extra Lock Washers for Clamp X 2
1" X 18" Velcro Strap X 4
Cable Strap
Assortment of zip ties.
Hardware specs
Input Voltage: 12VDC +/- 15%
Operating temperature: -15 °C to 60 °C (5 °F to 140 °F)
Waterproof/Dustproof Rating: IP67
Brake lights (flash amber, then high brightness red)
Running (low brightness red)
Left turn signal (driver-side amber)
Right turn signal (passenger side amber)
Emergency flashers (both driver and passenger sides amber)
Note: Reverse/backup lights are NOT included in the light bar, nor can they be added
Design and features
The basic design of the Hollywood Racks Safety Light Bar is very straight forward. The LED light strip has two colors, red and amber, with the red LEDs having both regular and bright capabilities. The light bar's connector is a standard 4-pin flat trailer connector, however the setup ships with the 4-pin to 7-pin round adapter, already populated so if your vehicle has the 7-pin round connection, you should be good to go by just plugging the Hollywood Racks Safety Light Bar 4-pin connector into the adapter, and then that straight into your 7-pin round socket.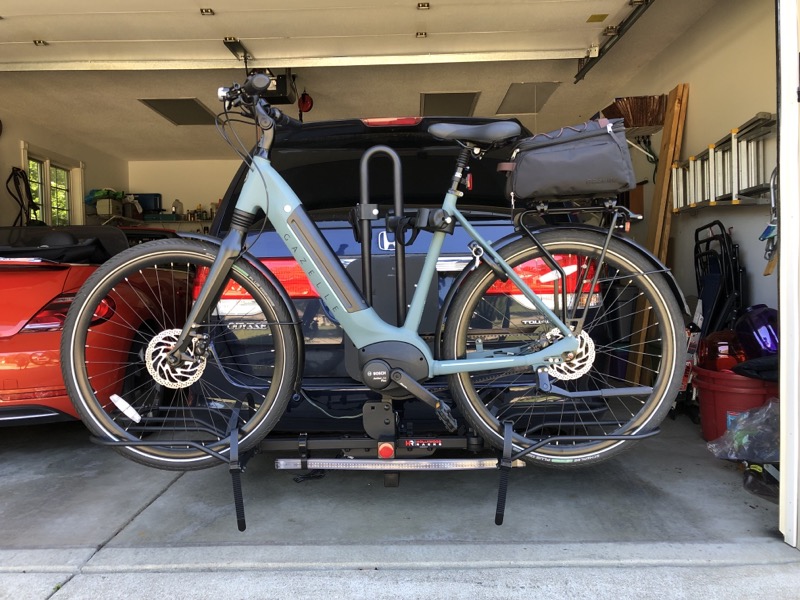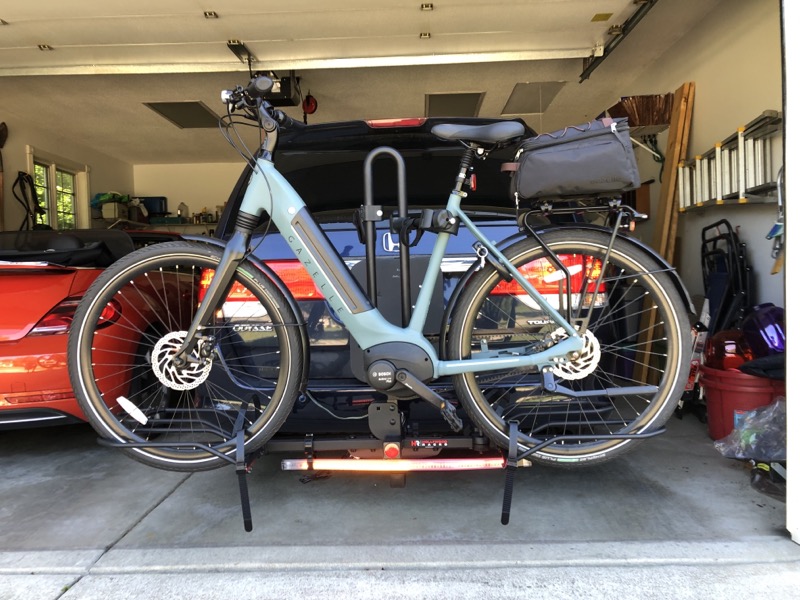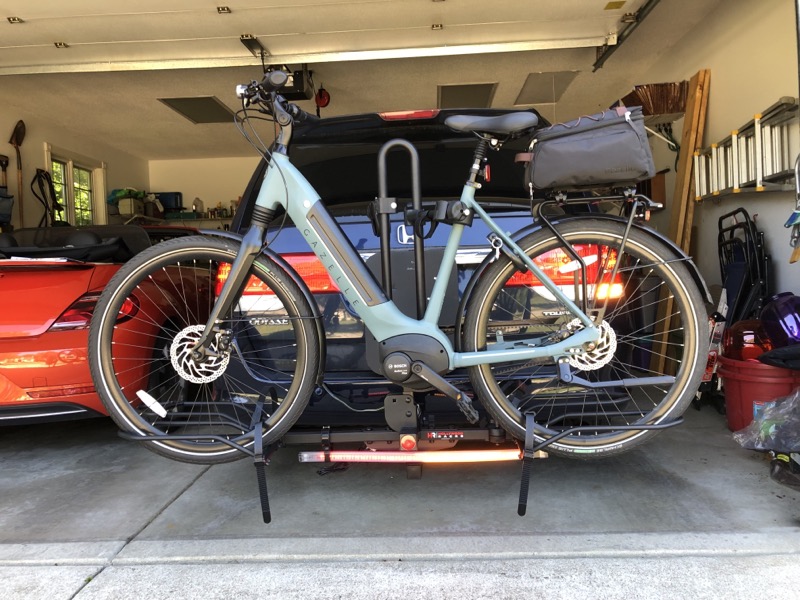 One very nice touch is the 4-pin flat trailer connector tester which aids in the wiring of one's vehicle if no trailer wiring is present or allows one to check the existing wiring if you have an issue. The tester is simple having 3 LEDs, coded with the LED closest to the ground connection being lit when the running lights are on, the middle LED, for the left-turn signal and the last LED for the right-turn signal. Both the middle and the last LED are lit to indicate a braking situation.
The manual contains connector wiring diagrams to aid in the wiring of one's vehicle to the connector should you need it.
Setup
The installation video from Hollywood Racks is a very good place to start. That said, the setup was very straight forward with the installation guide, especially since I am installing onto one of the supported Hollywood Racks, bike racks, the Hollywood RV Rider EBike Rack, in this case. For those needing to install a non-Hollywood Racks bike rack, the Hollywood Racks Safety Light Bar really comes with all the Velcro straps and a single sling like strap, to mount the light bar onto just about any bike rack. Again the installation guide is very useful in this situation as well.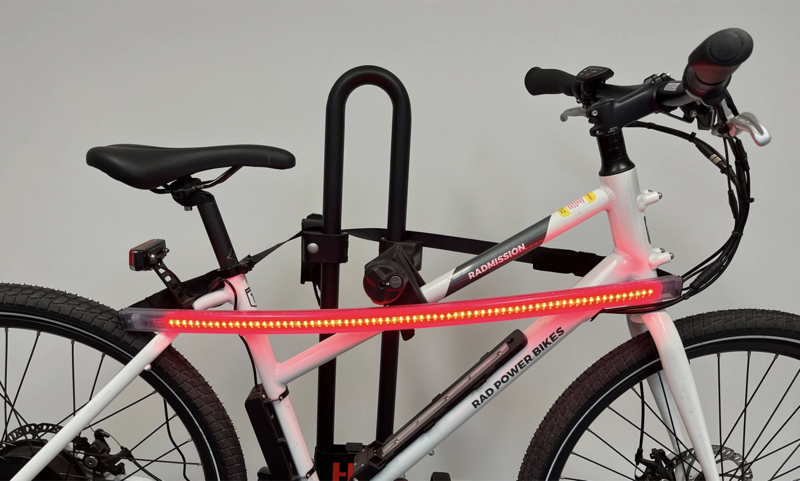 If the Hollywood Racks Safety Light Bar is mounted to one of the supported Hollywood Bike Racks one can simply use the two included metal clamps which are specifically designed to work on their own bike racks. The installation guide specifically mentions Hollywood's Sport Rider and RV Rider racks. I would contact product support if you were planning to use it on a different bike rack from Hollywood Racks to see if the included metal clamps will work with their other models.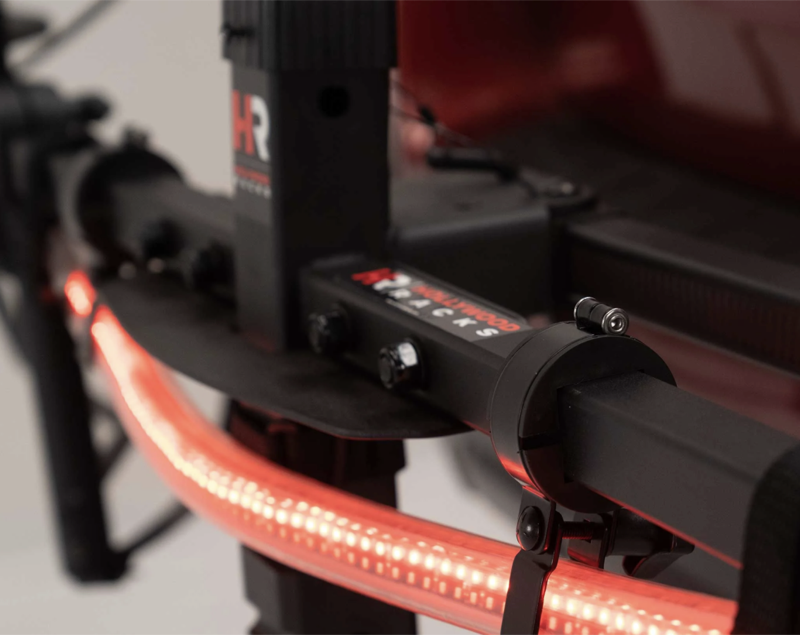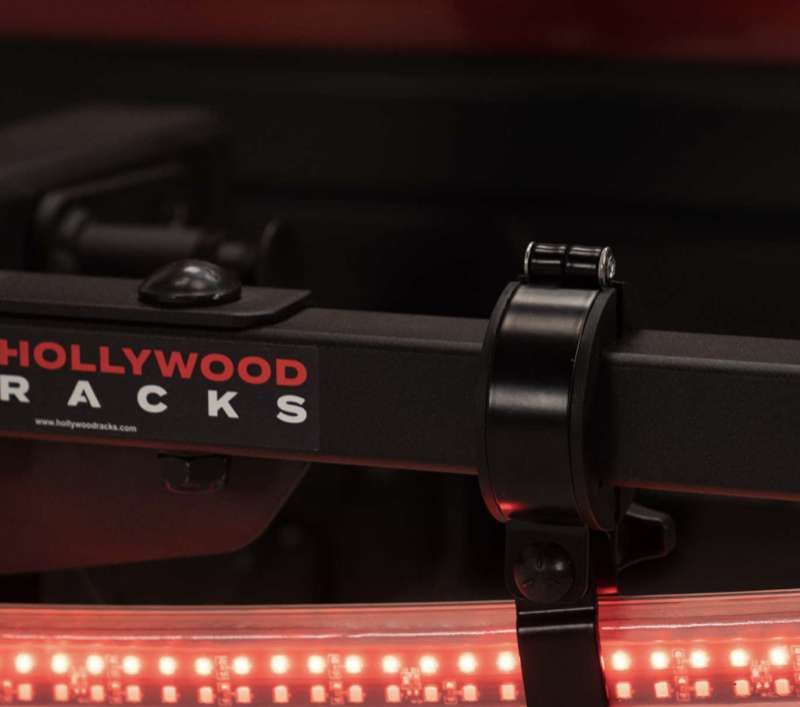 Since my vehicle was already wired with the 4-pin flat trailer connector, the installation was even easier. I simply positioned the two included metal clamps, detached the large sling strap from the light bar (I won't need it), and slid the light bar through the two clamps. For my pictures and the video of the product, I did not use the two 1-inch Velcro straps on the ends to firmly secure the light rack to the bike rack. You will need to do this in the actual setup as those straps will keep the light bar from sliding out of the clamps.
Performance
While I can't speak to what the lights look like on the road behind me, I did take some footage (old film term) of what the Hollywood Racks Safety Light Bar looks like in operation on the back of my vehicle in the garage with the short video below. I have been very impressed with this addition to my bike rack. I especially see this as an almost mandatory addition if one uses one of the large bike rack bike covers as it would almost assuredly blank out the entire rear of the vehicle.
Even if you do not have a Hollywood Racks bike rack, I think the Hollywood Racks Safety Light Bar is a great addition to any bike rack and feel confident that the assortment of straps and tie downs would allow the rack to be attached to just about any hitch mounted bike rack out there.
It is worth pointing out that the light bar is not just a stagnate set of LED lights, but instead has animations that draws those following's attention to the light bar whenever it is activated. In the case of the blinkers, the light bar will animate from the center out to the end in the direction of the turn, and in the case of the braking event, both blinkers will animate out from the center to the end, and then the red LEDs will illuminate up brightly.
Finally, there is what I feel is an important possible issue mentioned on the Hollywood Racks web page for this product that I will duplicate here for convenience and completeness' sake. It has to do with using the Hollywood Racks Safety Light Bar with vehicles that utilize LED lights as the light bar was designed to be used with conventional incandescent automotive lights. Please reference this section below:
Some newer vehicles, including the Ford F-150 with a factory-installed tow package, are not compatible with the LED Bar or other LED trailer lighting systems. This is because the vehicle's tow package or electrical system has been designed to be used with automotive light bulbs. These light bulbs require more electrical current than LED lights. For these vehicles, the LED Bar will either not function at all or function incorrectly. They may also produce a warning light on your dash that one of your light bulbs is out OR cause your turn signals to flash faster than normal. This is because the vehicle "thinks" there is a bulb out due to the low electrical current of the LED.

These vehicles include:
2016-2023 OEM tow package equipped Ford F- Series trucks, sprinter vans,
Expeditions, Excursions, Explorers, Rangers, Broncos, and Mavericks.
Other vehicles include newer BMW, Audi, Volvo, Chevrolet, and GMC with OEM tow packages.

For LED Bar users experiencing dashboard warnings or rapidly flashing turn signals, you need to purchase a 4-pin flat to 7-pin round adapter with a built-in electrical resistor. This adapter mimics automotive bulbs' electrical current, potentially resolving compatibility issues. While we cannot guarantee universal compatibility, it has proven effective in most cases. Purchase the adapter at Etrailer.com or Amazon for seamless integration.
What I like
Animated Lighting
Very Flexible Mounting Support
Robust Build
Great Customer Support
What I'd change
Really nothing, simple product, great implementation
Final thoughts
The Hollywood Racks Safety Light Bar is a simple product. That said, there is no doubt that adding this bike rack accessory will greatly increase the visibility of your vehicle from behind both when you have bikes in tow, or even if you have the bike rack folded up into the vehicle.
I must give a shout out to Hollywood Racks customer support for the way they handled a mishap I had during my testing of the device which was 100% my fault and they were very responsive and great in coming up with a solution. Without going into any detail I want to add that they did not know I was doing a review on their product while they were helping me out. Thanks Hollywood Racks!
While I do not have a cover for my bikes yet, I do plan on getting one and the Hollywood Racks Safety Light Bar will be an essential part of my bike toting rig!
Price: $149.99
Where to buy: Hollywood Racks Safety Bar Store.
Source: The sample of this product was provided by Hollywood Racks.