We use affiliate links. If you buy something through the links on this page, we may earn a commission at no cost to you. Learn more.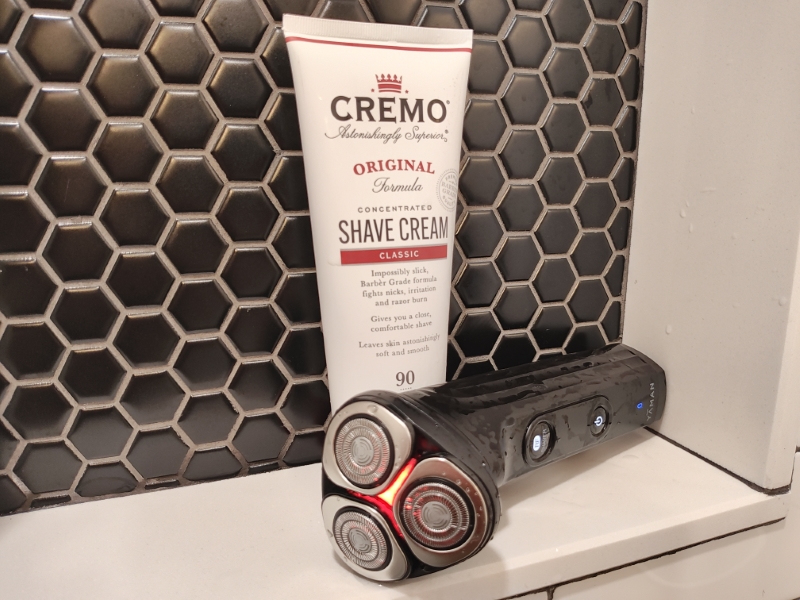 REVIEW – Electric shavers offer great convenience, but lack some of the luxury that a traditional hot shave offers.  YA-MAN has brought to market a unique shaving product in the Hot Shave to try and bridge the delta.  This tech packed shaver makes some bold claims, and we'll see if they can live up to the marketing.
What is it?
The Ya-Man Hot Shave Heated Electric Shaver is a six blade electric razor, made by Japanese company YA-MAN.  YA-MAN has been in the beauty and personal grooming space since the late 70's.  This is the only shaver in their lineup presently.  What makes this shaver unique is the application of Radio Frequency technology in the shaver head, which can be used to warm the skin to deliver a more comfortable shave.
Price: $299.00 | Where to buy: YA-MAN and Amazon
What's in the box?
Ya-Man Hot Shave Heated Electric Shaver
AC adapter
Trimmer attachment
Head cover
Cleaning brush
User manual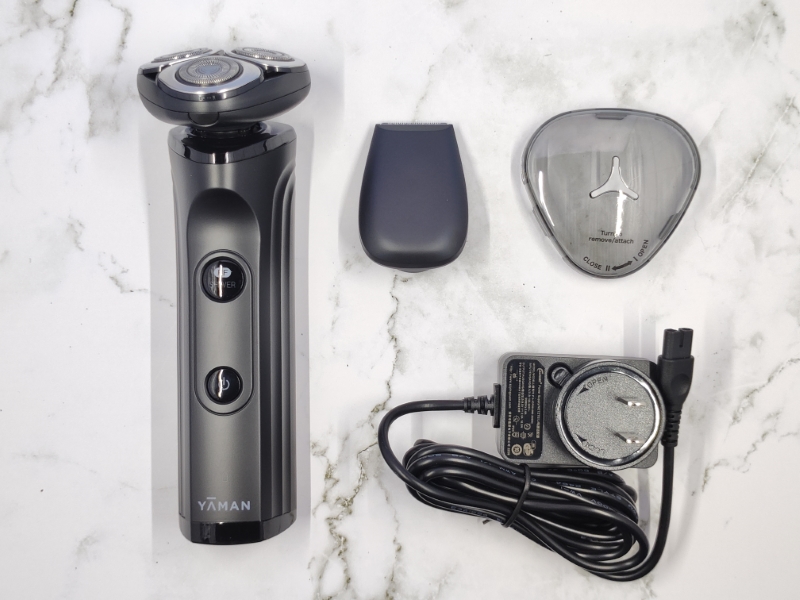 Hardware specs
Six blades (two blades in each of the three shave heads)
Battery: Rechargeable Lithium Ion
Battery life: Five to six shaves (at 5 min/shave)
Charge time: 3 hours
Shave heads pivot: up to 10* central concave
Weight: 9oz
Dimensions:

Width 2.5″
Depth 2.5″
Height 7.2″

Warranty: 1 year
Design and features
About ten years ago I gave up on fighting my receeding hairline, and started shaving my head.  Starting that journey led me down the road of trying different shave techniques, from the typical cartridges and gel foam to double edged safety razors with a badger brush and shave bowl.  I eventually settled on a Panasonic Arc5 as my go to – sacrificing some of that 'closeness' of the DE safety razor for the convenience of electric.  The Hot Shave is an interesting proposition – offering the benefits of heat as part of the shave experience in a waterproof, electric package.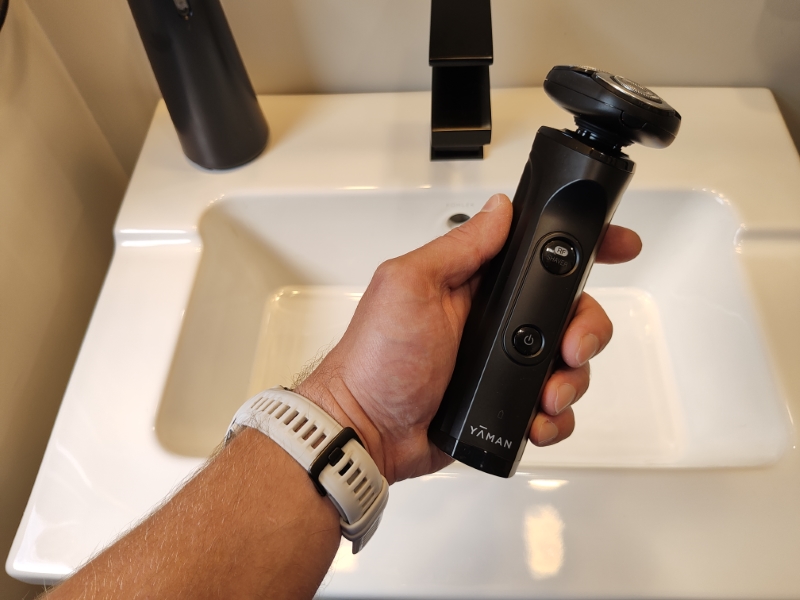 The Ya-Man Hot Shave Heated Electric Shaver has a familiar six blade design, with two blades in each of the three shaving heads.  While the heads are removable, YA-MAN does not yet readily offer replacement parts as far as I can tell.  The RF unit is built into the shave head, and glows red when in use.  There are two interface buttons for power and RF mode, and a single LED battery indicator.  The battery indicator is a bit disappointing as it's either blue when in use/charging, or red when the battery is low.  Having some semblance of battery percentage is helpful to know if you're about to get caught with a low battery mid-shave.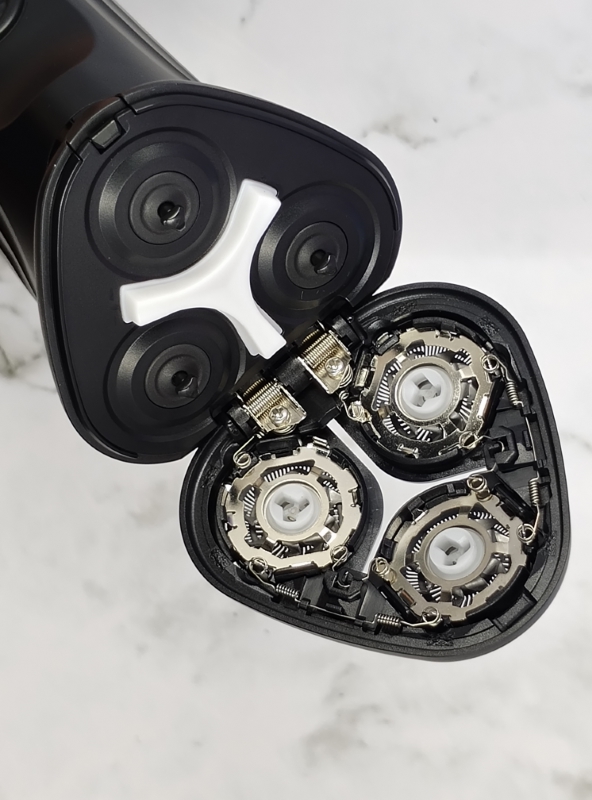 Included with the Hot Shave is a single blade trimmer accessory for sideburns, beard shaping, or reducing beard volume.  Swapping between the shave head and trimmer requires removing the head assembly entirely from the shave handle.  This is typical for this style of shaver, but I find it to be suboptimal for travel as it's an extra component to account for.
Performance
There are a couple key aspects of the Ya-Man Hot Shave Heated Electric Shaver, so I'll break this out by shave experience, and efficacy of the RF.
Shave
The Hot Shave consistently delivers a smooth, comfortable shave – regardless of what mode it's running in.  One of the benefits I've found with electric razors is the ability to pull off an effective dry shave, and this is no different with the YA-MAN.  I generally don't do that, but it was nice to know it was capable for those lazy days.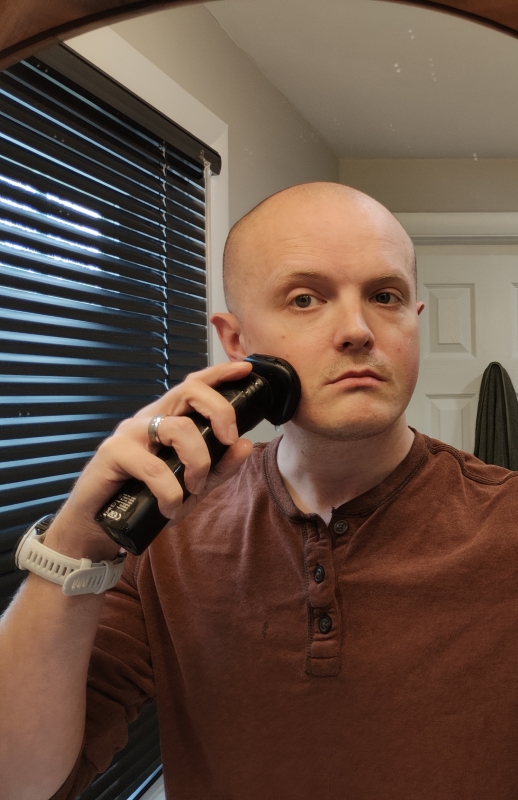 I found the flexible three head design to actually be superior to my Arc5 at getting around the jawline and chin, and it delivered a faster face shave as I spent less time going back over areas.  I blame the design for it's struggles with head shaving – while it certainly delivered a close shave, I found I was consistently missing spots.
Minimal pressure is needed, and only during dry shaving did I notice any pulls – which isn't unusual in that situation.  Over the past month of using this shaver I have had no issues with nicks or cuts.  It's worth reiterating that I've been using an electric razor for a while, and some folks have issues with irritation when they first start using them.
I must admit some reservations at trying a new to market electric razor, but those reservations were quickly put to bed.  The YA-MAN Hot Shave is an excellent shaver.
Radio Frequency Heat
What makes the Ya-Man Hot Shave Heated Electric Shaver unique is the delivery of heat through their integration of a RF unit within the shave head.  YA-MAN suggests limiting usage of this to three minutes during a shave, and also allows you to run the shaver head with an RF-only mode (not running the blades).  In RF-only mode, the cap is suggested at six minutes.  I'm not sure why there is a difference.
This idea isn't without merit.  The hot towel and hot lather you get at the barbershop serve two purposes.  It's relaxing, but more importantly, it helps prepare the skin for the shave by softening the beard.  It's a process that takes time, which is why it's always recommended to start with a hot shower to get the process rolling if you're doing this from home.
In order for the RF heat to work effectively, the skin needs to have a layer of water or shave cream applied.  I found a viable technique was to work in the shaving cream on the skin with the razor head in RF-only mode before actually shaving.  This is similar to the effect you'd get with a badger brush, but with far more heat generation from the RF.  Using the RF mode at the same time as the shave just didn't really seem to have the same effect – applying heat a split second before the blade touches the beard is not enough to really do anything.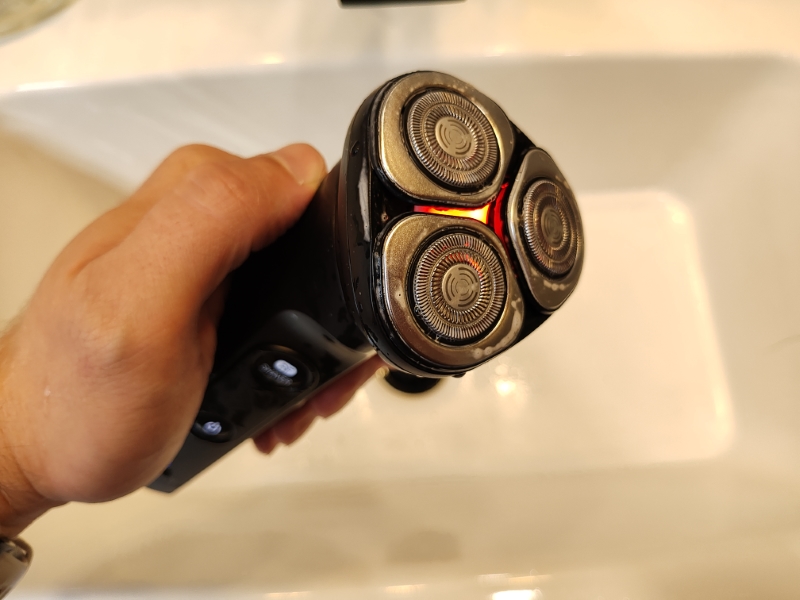 While I can say that the RF mode works well at preparing the skin, if done in a similar fashion as a traditional shave, it's difficult to substantiate the other claims made by YA-MAN.  I did not notice any difference in the condition of my skin over the past month.
What I like
Excellent shave quality
RF feature is effective at generating heat to soften facial hair
Waterproof for use in the shower
User serviceable battery
What I'd change
Large footprint with separate components for travel
Battery status indicator is a bit limited
Hopeful to see replacement shaver heads
Lack of charging base or cleaning station
Final thoughts
YA-MAN has an interesting, and unique product in the Hot Shave.  It manages to succeed in delivering an electric shaving product that can offer an approximate experience in comfort to a traditional barber shave.  To be clear – I'm not saying this is better than a hot towel shave.  That alone is an experience in and of itself, and you won't get that in an electric razor.  The YA-MAN does however give you the ability to tangibly heat treat your skin to deliver a more comfortable shave.
I'd love to see YA-MAN continue this line with some tweaks to UX, and to introduce a base station/cleaning station in a future iteration.  The only hesitancy I have in suggesting this is the lack of replacement shaver heads at the time of this review, especially given the price point.  Otherwise, it's a solid shave system.
Price: $299.00
Where to buy: YA-MAN and Amazon
Source: The sample of this product was provided by YA-MAN.