We use affiliate links. If you buy something through the links on this page, we may earn a commission at no cost to you. Learn more.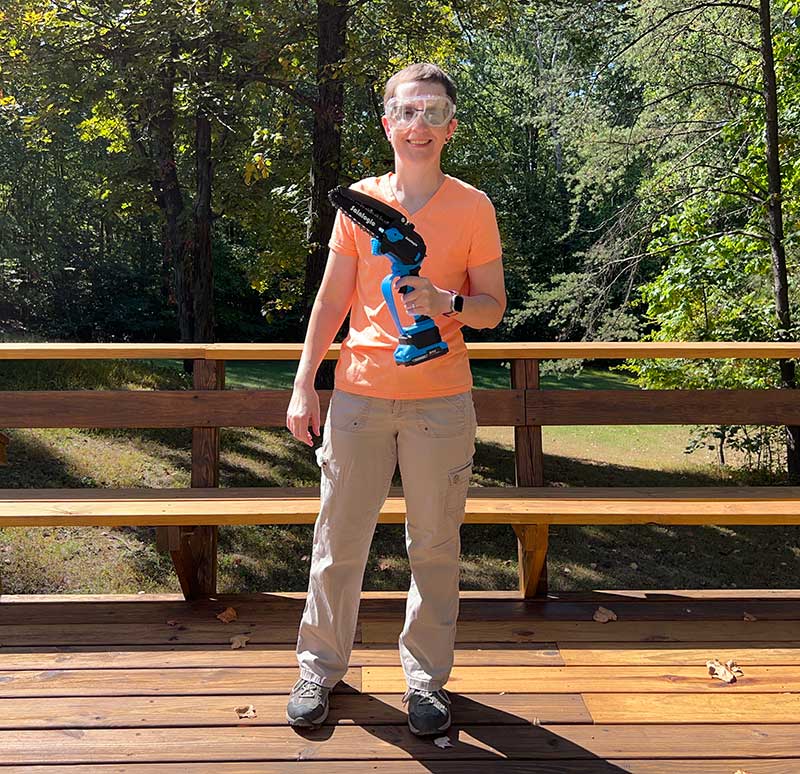 REVIEW – I have 12 acres of mostly wooded property and that means there are always trees that need pruned and limbs that need to be disposed of. In the past, I've used a small handsaw to do this kind of work but when I was offered the Sainlogic electric mini chainsaw for review, I realized that this could make things a whole lot easier and faster. Let's see if that's the way it turned out.
What is it?
The Sainlogic electric mini chainsaw is exactly what you think it is, it's a small chainsaw that is powered by a rechargeable battery.
Price: $89.99 | Where to buy: Amazon (save $63 by getting a coupon code here)
What's in the box?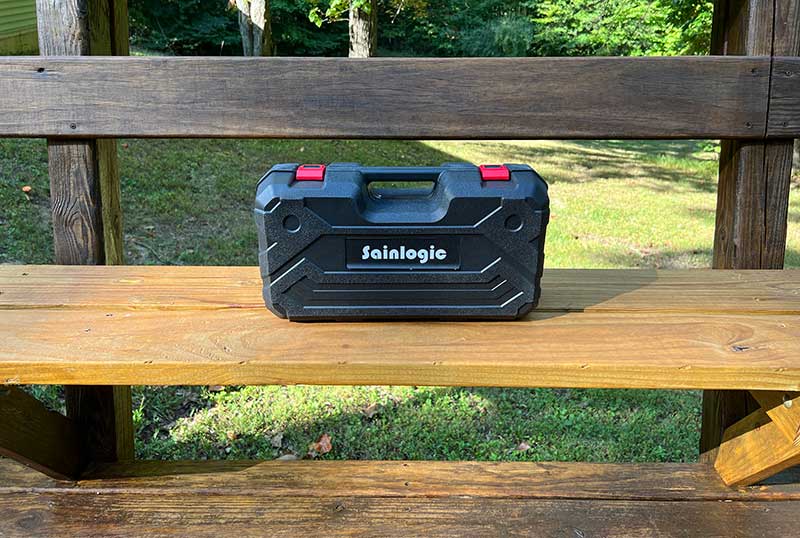 Everything comes packaged in a handy plastic storage case.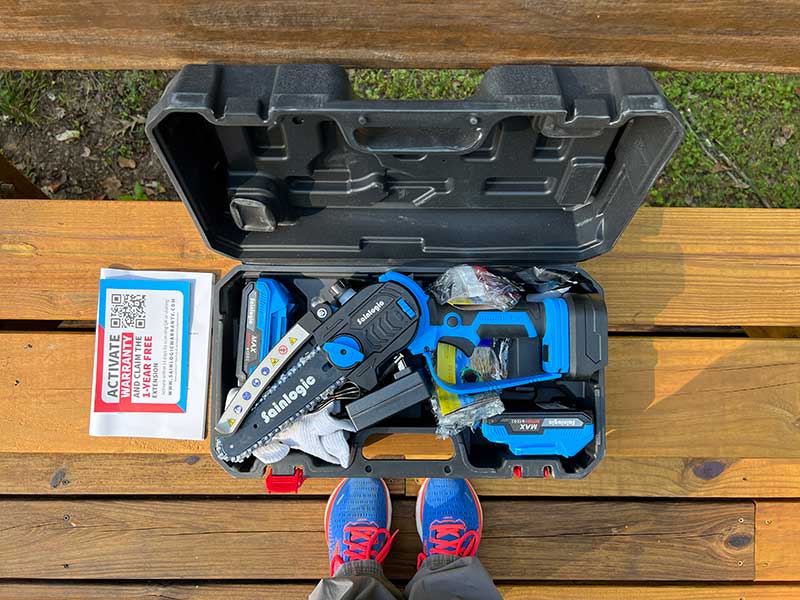 Sainlogic electric mini chainsaw
2 rechargeable batteries
AC charging adapter
Extra chain
Lubricant bottle (empty)
Gloves
Protective goggles
Manual
Design and features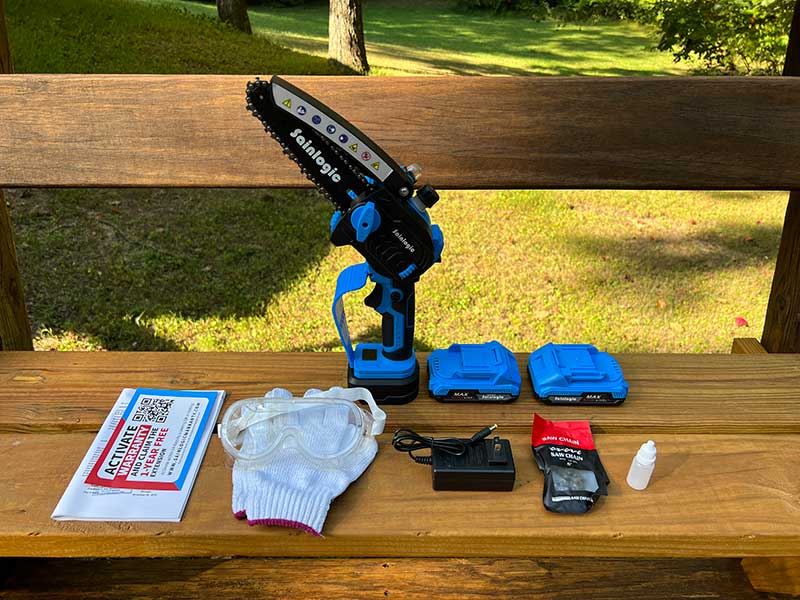 The Sainlogic electric mini chainsaw is mainly made of plastic, but it feels rugged enough for most smaller cutting jobs. You obviously are not going to use this chainsaw to cut down a huge tree with its small 6 inch blade. At least, I wouldn't advise trying it 😉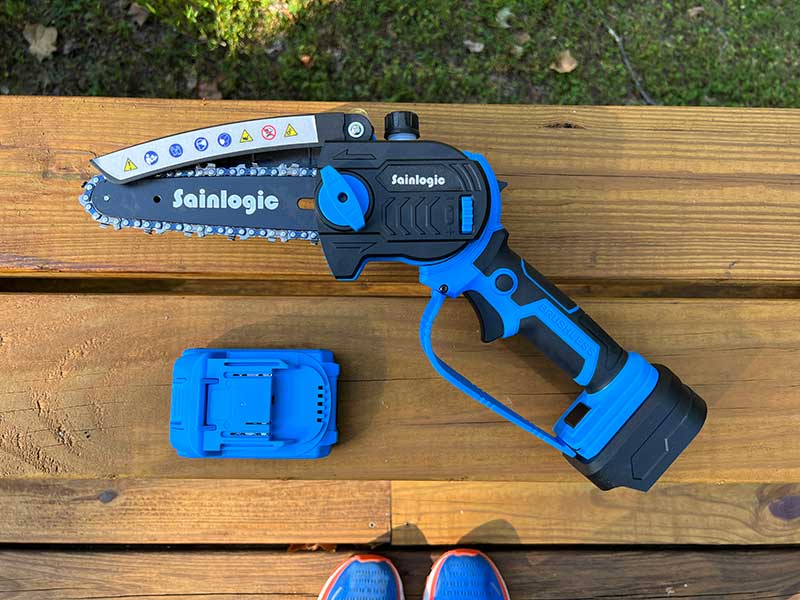 The controls for this mini chainsaw were easy to understand even for someone (me) who has never used a chainsaw before.
The first thing to know is that the included battery packs need to be charged when they aren't installed in the bottom of the chainsaw's base/handle.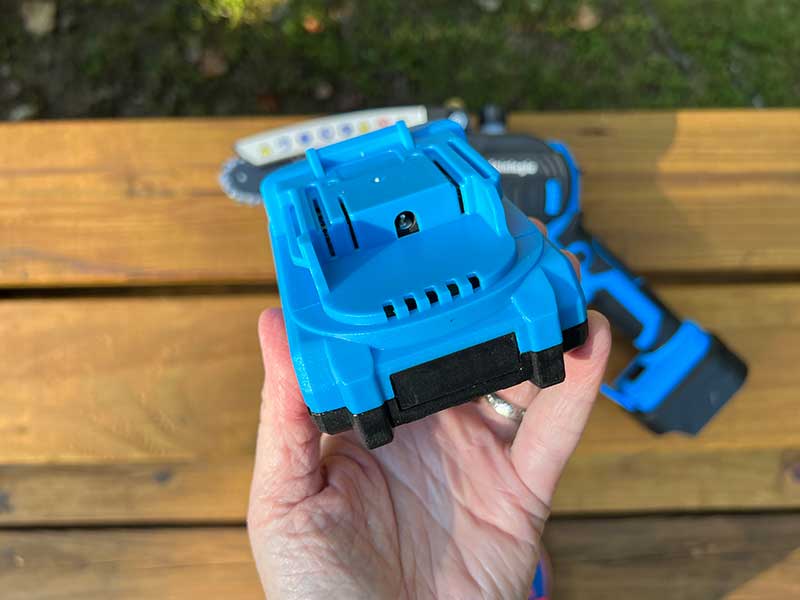 The AC adapter has an LED that glows red while charging and turns green when charging is finished. Each 2000 mAh battery pack should power the Sainlogic electric mini chainsaw for approximately 30 minutes. Since 2 batteries are included, that gives you about 60 minutes of work time. Note that recharging the battery packs takes a couple of hours from my experience.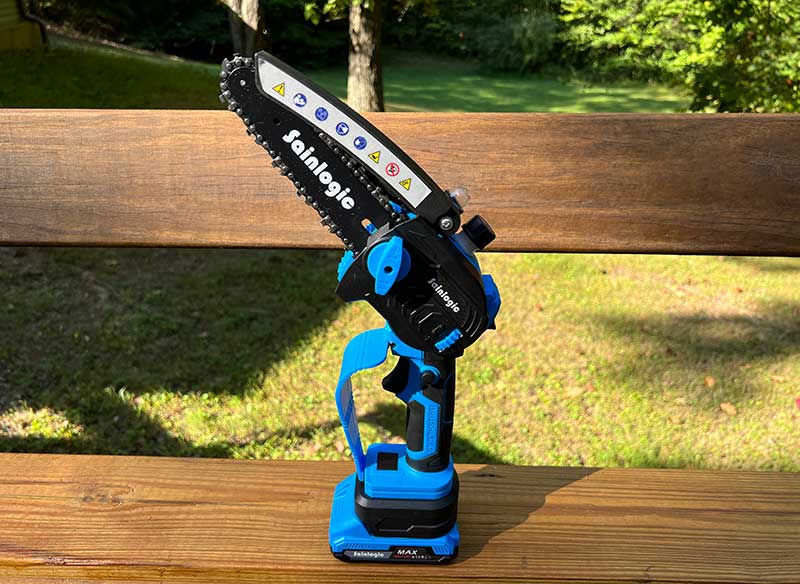 With the battery charged and attached to the bottom of the chainsaw, it serves as a nice base/stand.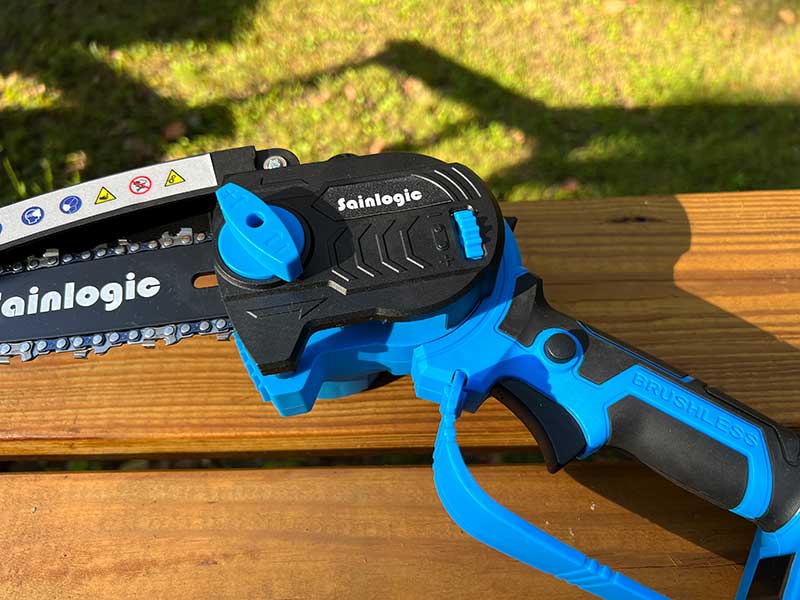 The large knob near the blade holds the compression cover over the gears that turn the chainsaw. You remove the cover when you want to install a new chain.
The thumb wheel to the right allows you to tighten or loosen the chain.
Just an FYI, but I took off the cover and had a difficult time getting it back on correctly. It took several tries to get everything lined up so that the chain tightener wheel would work.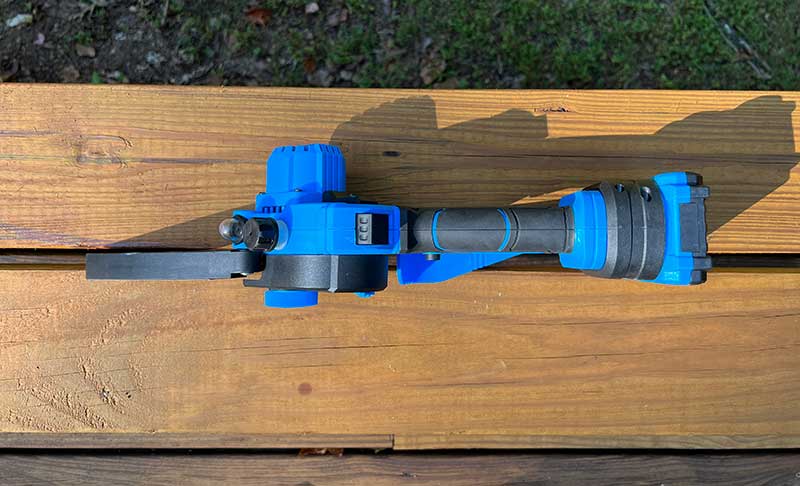 There's also a rotary lock knob above the handle/grip that you can use to change the angle of the head/saw. I didn't even notice this feature until after I had used the Sainlogic electric mini chainsaw a few times. I guess I prefer to use it in the default angle which is also needed to fit properly in the storage case – so I left it as is.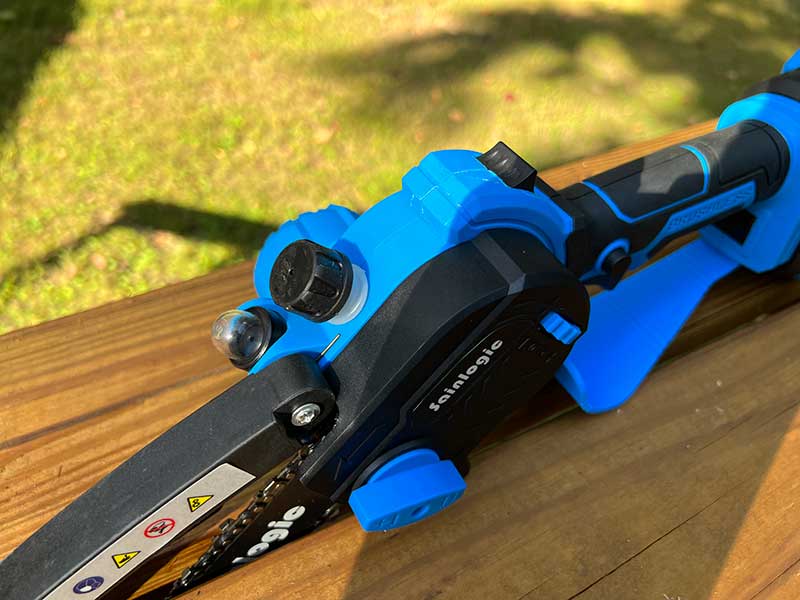 It's important to note that you will need to add lubricant built-in oil "can". It's up to you to purchase the oil. I just went to my local Menard's and bought a quart of bar and chain oil for less than $4. Once filled (use a small funnel) press the bulb next to it a few times to draw in the oil to lubricate the blade. It's best to push the bulb a couple of times every time you're going to use the chainsaw.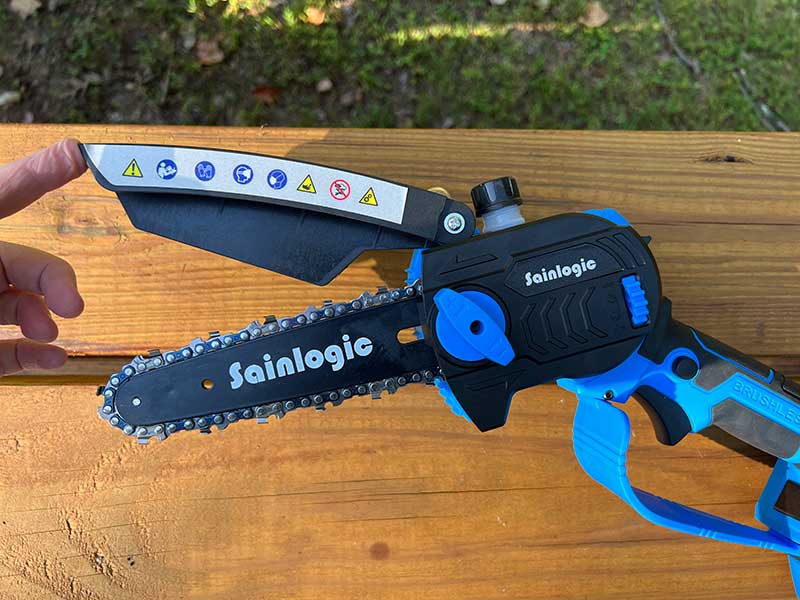 The Sainlogic electric mini chainsaw has a protective cover over the blade.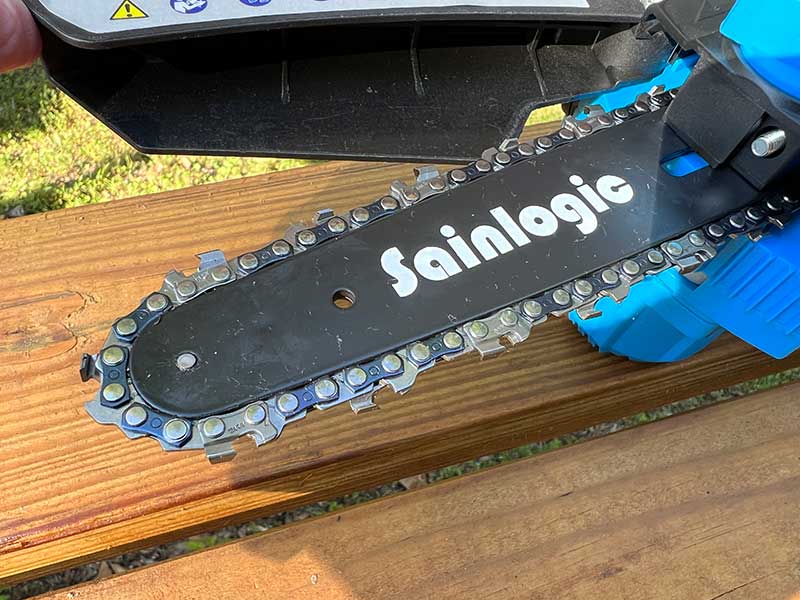 The cover will lift out of the way as you are cutting through limbs.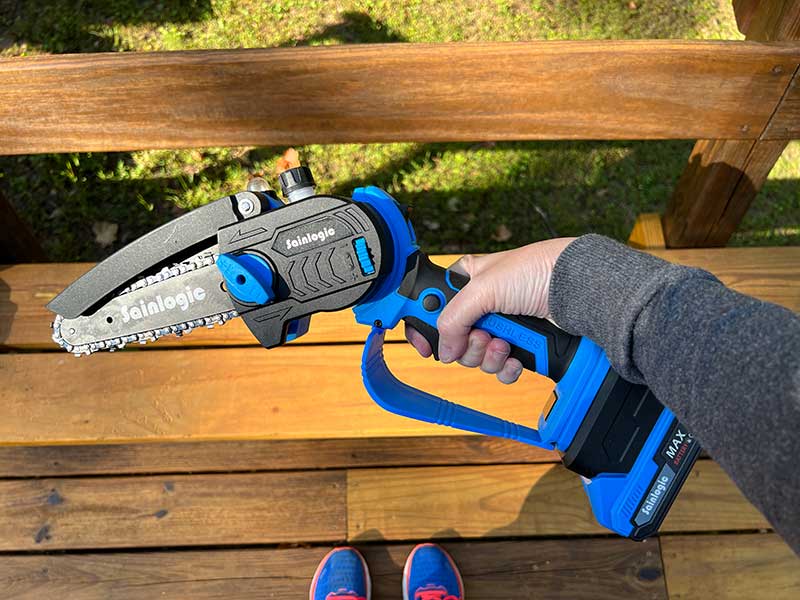 To use the chainsaw, you press the trigger lock on the side with your thumb and then you can pull the trigger with your index finger to start the saw. It's easy to do and as soon as you let go of the actual trigger, the saw will stop.
See it in action
What I like
Easy to operate
Cuts quickly and easily
Long battery life
What I'd change
It would be nice if a small amount of lubricant oil was included with the purchase
Final thoughts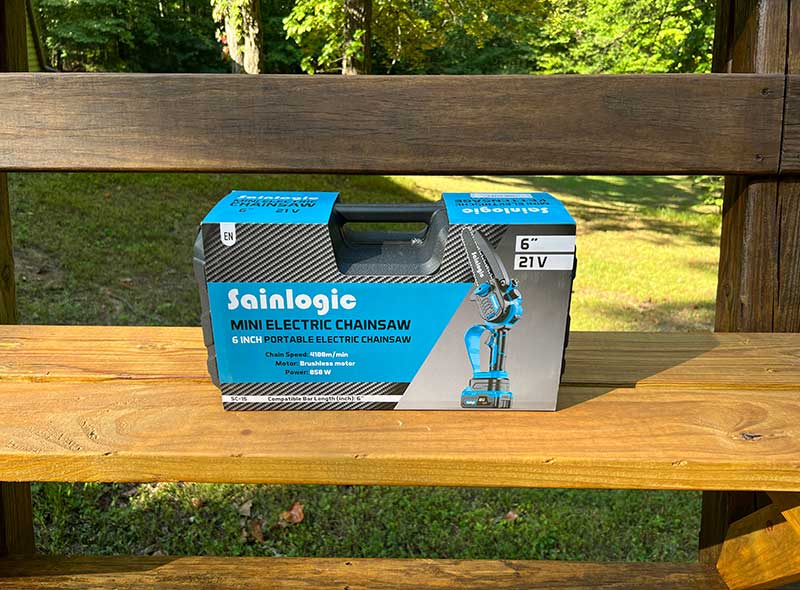 I don't know why I waited so long to get a chainsaw. I guess was a little intimidated by a regular full-size traditional chainsaw, but the Sainlogic electric mini chainsaw was easy and fun to use. The best thing is that it doesn't require gasoline or a pull cord to start it. As long as you pay attention to what you're doing and keep safety in mind, you can use this tool to easily cut through branches and brush.
Price: $89.99
Where to buy: Amazon (save $63 by getting a coupon code here)
Source: The sample for this review was provided by Sainlogic (you can also visit them on Facebook).