We use affiliate links. If you buy something through the links on this page, we may earn a commission at no cost to you. Learn more.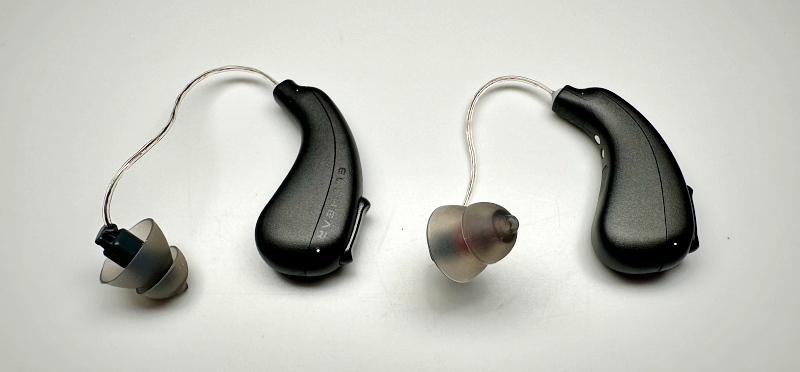 REVIEW – Late last year (2022) the FDA issued a final rule that improves access to hearing aids with the creation of a new category OTC or Over-The-Counter where devices can be purchased without medical approval. The Alpha Pros from ELEHEAR fall into that category and at $999 they seem like a bargain compared to the industry norm of 3x that and more. Here's a look at how they perform so you might be able to know if they're for you.
What is it?
ELEHEAR Alpha Pros are hearing aids that don't require a visit to the ear doctor for a test or fitting. They come with a battery charging case and use AI to improve hearing over time.
What's in the box?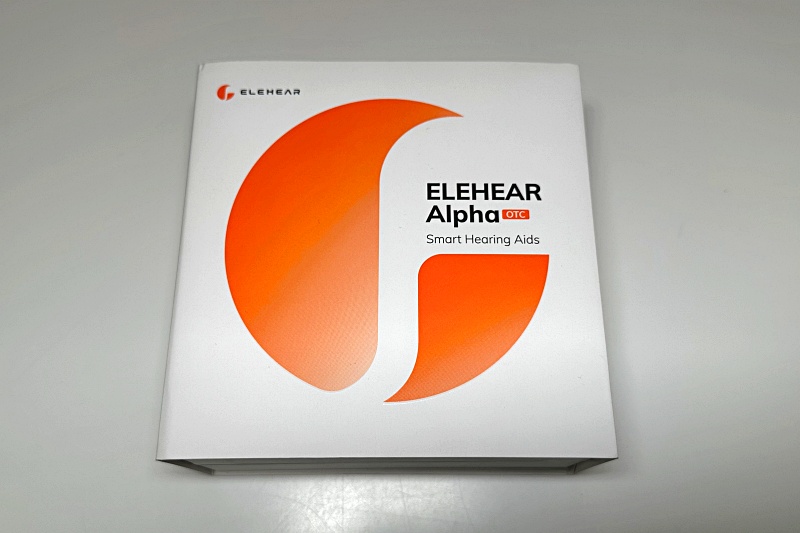 I was sent a demo version of the ELEHEAR Alpha Pro hearing aids, so the above packaging is a pre-production sample and does not reflect the Pro branding.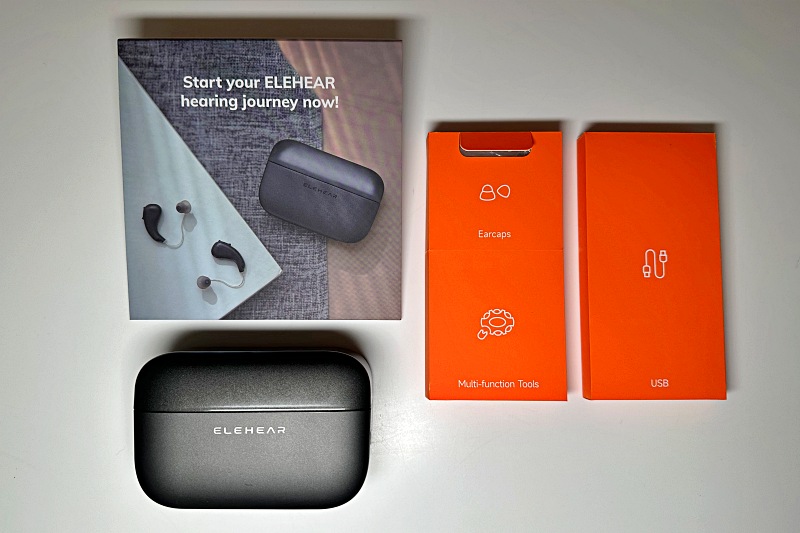 ELEHEAR Alpha Pro Hearing Aids

Charging Case

Ear Caps (S, M, L)

USB-A to USB-C Cable

Multi-function Tool Pen

Wax Cap Tool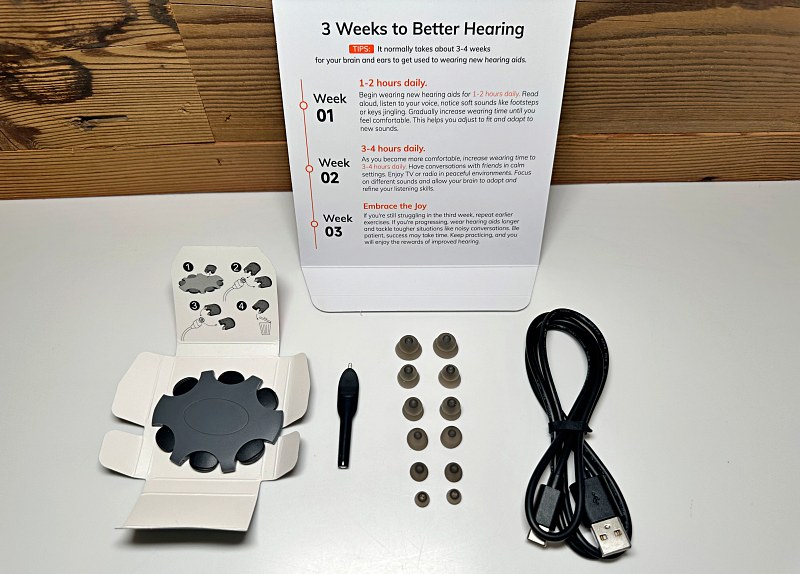 Hardware specs
Frequency Range:
300Hz ≤ F ≤ 6000Hz
Max-OSPL90: ≤ 112dB + 3dB
THD: 500/800/1600Hz ≤ 2%+3%
EQ Input Noise: ~ 32dB±3dB
Design and features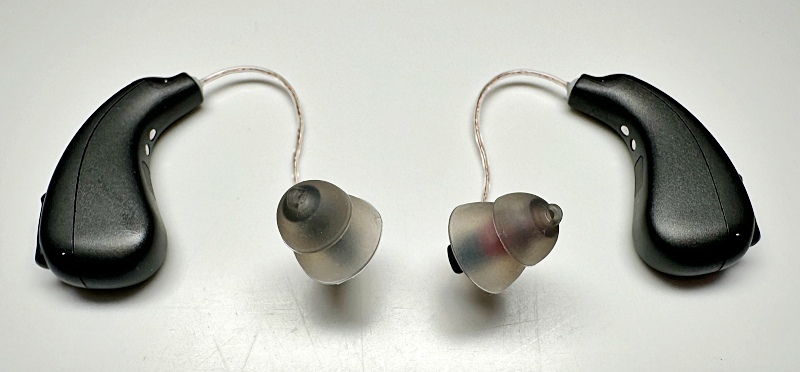 The ELEHEAR Alpha Pro hearing aids are small, have physical volume controls on each ear piece (a welcome addition for discrete adjustments) and easily hide behind most ears. Interchangeable ear caps fit most users.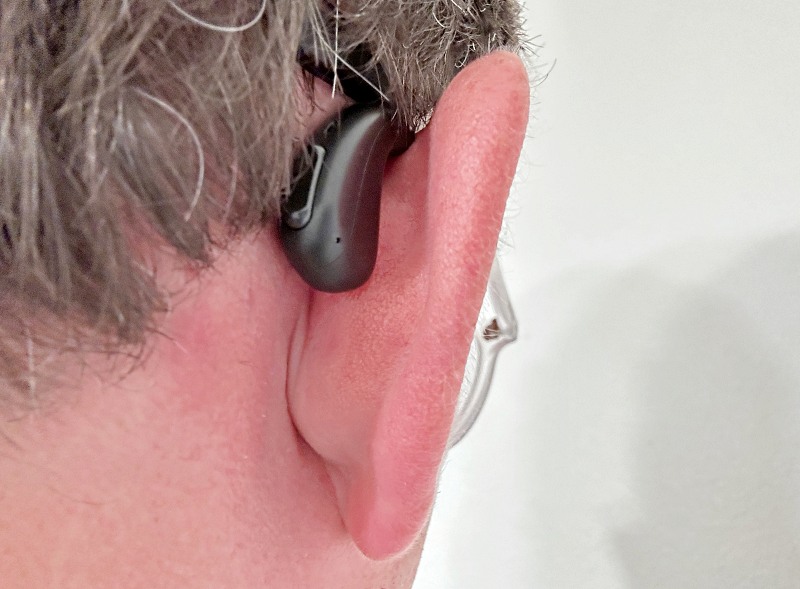 Clear-ish wires help to hide the fact you're wearing hearing aids.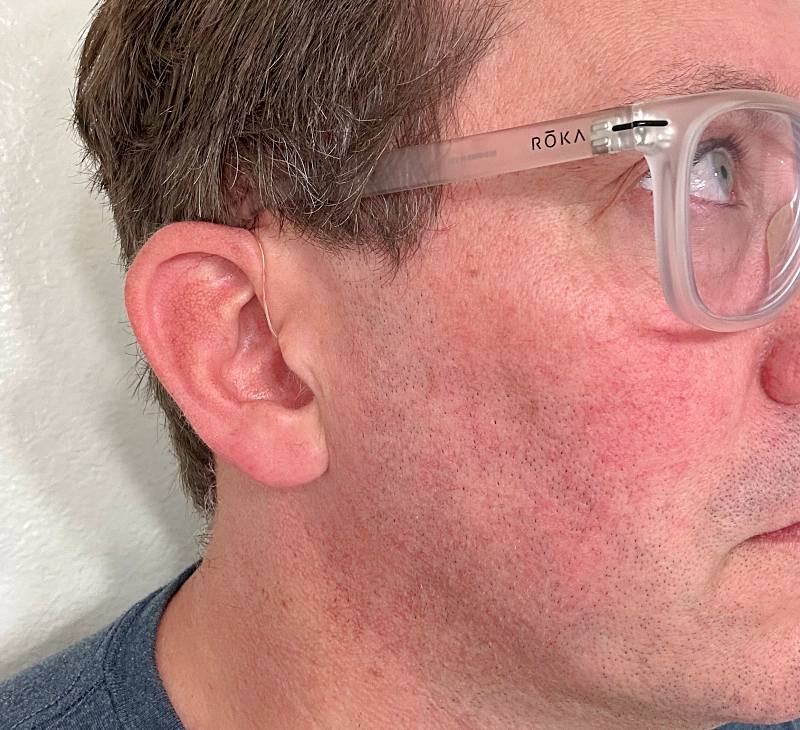 The charging case houses both hearing aids and a significantly large battery to charge both aids any time they're placed back in the case.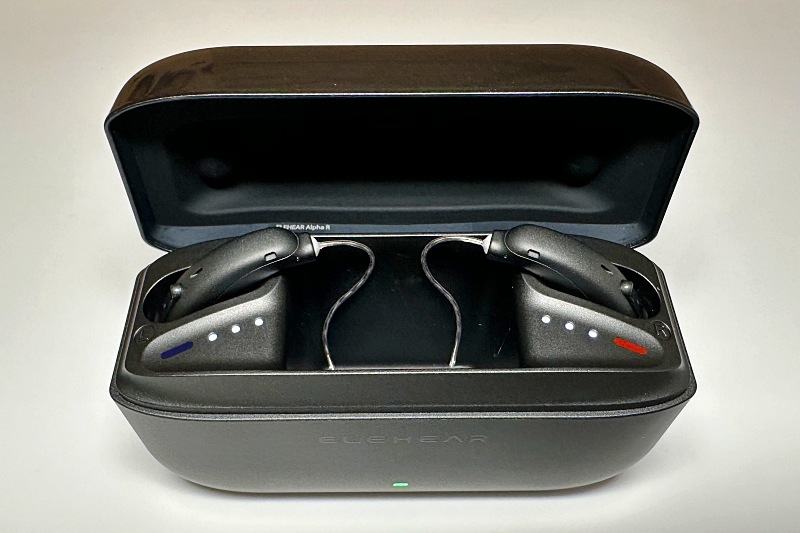 Setup
Plug the included USB-C cable into an available power supply and to the charging case until both the case and the ELEHEAR Alpha Pro hearing aids are fully charged.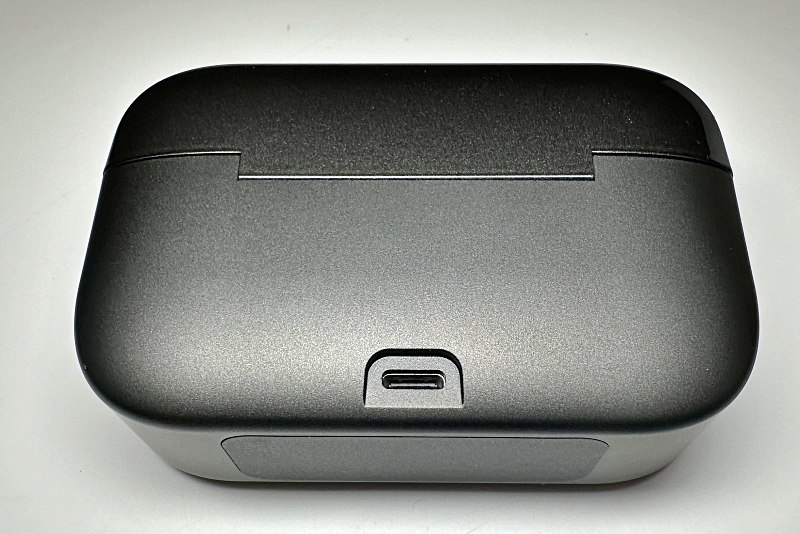 When ready, remove one hearing aid from the charging case and while holding it close to your ear so that the ear cap is close enough to hear. Press the volume down button and it will beep. Repeat this until you hear a double beep. It is now at the lowest setting. (This shouldn't be necessary, but more on that later).
To place an aid in your ear, rest the body behind your ear and then route the wire over and down towards your ear before gently pushing the ear cap into your ear canal. You may need to use a fingertip or even a fingernail to fully seat the ear cap. Repeat with the other side.
Download the ELEHEAR App, create an account and pair your Alpha Pros.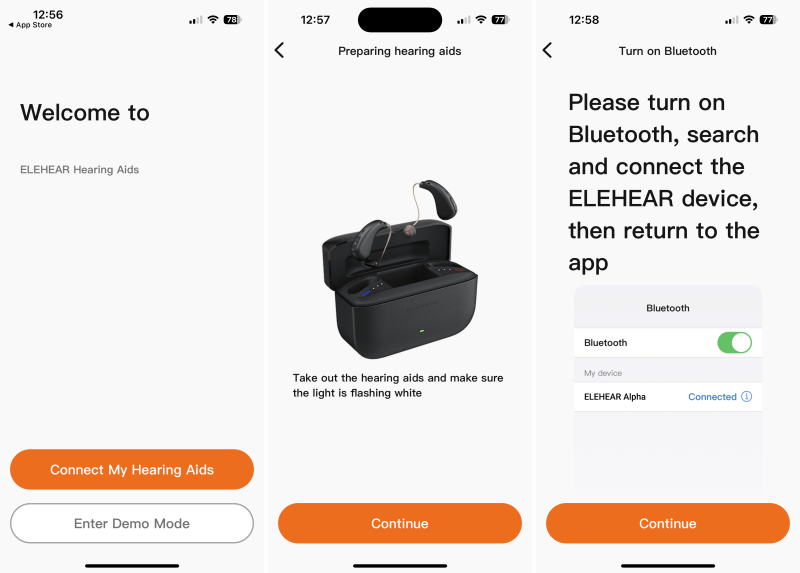 Once in the App, it should auto-launch into settings to create a baseline for your experience. Then you're free to move throughout the app and explore.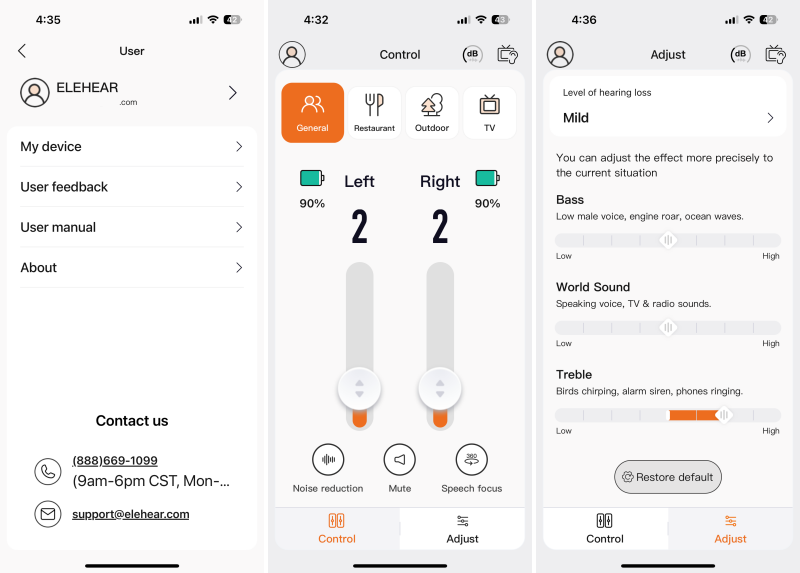 The App has a User Profile area and two tabs on the main screen with the active one in orange text. The Control Tab will let you control levels for left and right individually along with noise reduction, speech focus and mute controls. Additionally, there are sound profile settings across the top for General, Restaurant, Outdoor and TV. The Adjust Tab lets you select your level of hearing loss along with adjustments for Bass, Treble and World Sounds.
The upper right has icons that lead to environmental noise and remote sound capture which lets you set your phone closer to a source as a microphone. This could be a TV speaker or passing your phone down to the other end of a table.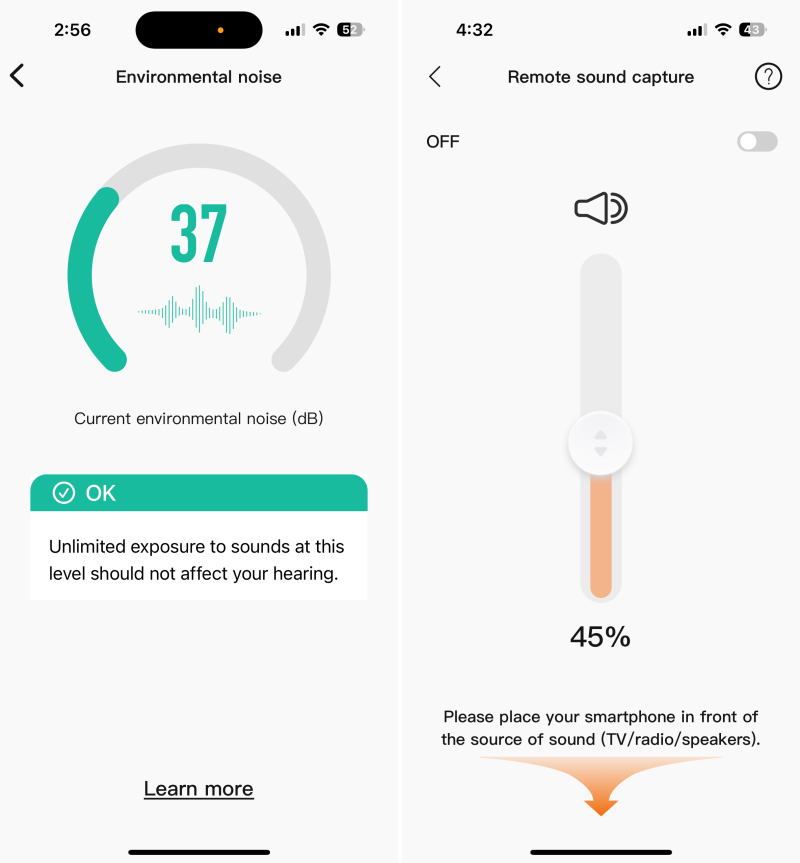 Performance
Time to shoot straight. During the testing period, I had been struggling to find settings that worked well for me and even at level 1 they were too loud. A recent App update (Sep. 16th) completely changed my opinion. When I launched the updated App, it forced me to go through the settings on the Adjust Tab which was not available in a previous version, and the result was a significant improvement.
Some quick background for all of you. I have mild to moderate hearing loss as of my last assessment which was back in April of 2021. I have tinnitus (ringing) and lose some higher pitch sounds like f, s and th. As a result, I always find conversations are easier with them in, but sometimes go a few days without wearing them.
The ELEHEAR Alpha Pro hearing aids are set as follows for me…
Level of hearing loss: Mild (Mild, Moderate, Severe, Profound)
Base: Zero (-4 to +4)
World Sound: Zero (-4 to +4)
Treble: +2 (-4 to +4)
Volume: Left 2 | 2 Right
With these settings, the ELEHEAR Alpha Pro hearing aids worked really well for me on the General Mode. Occasionally I'd bump them up to 3|3, but otherwise easily able to wear them for long periods of time without discomfort. If you haven't worn hearing aids before you should know that they can be quite tiring at first as your brain is processing all these sounds that haven't been there for a while or maybe ever depending on your hearing needs. Start off for short periods of time and gradually increase duration. Make sure to clean them between wearing sessions as well.
One thing I'd like to point out is that all ear caps provided with the Alpha Pros are solid domes. This means that if you pick a large enough cap it will seal your ear canal and effectively make the hearing aid do all the work. That might work well for someone with profound hearing loss, but for me, it's not a great option. I chose the smallest caps so that sounds can get past, letting me hear like I normally do but with the aids assisting with that improved treble. My other hearing aids have caps with multiple holes in them allowing sounds to get through while sealing the canal for a better fit. Would definitely like to see that approach here.
Another thing to mention is the connection to your phone. It's a standard Bluetooth process that you should all be familiar with, but it's worth noting that these cannot be used as MFI hearing aids in the accessibility section of the settings of your iPhone.
You don't need the app to pull the ELEHEAR Alpha Pro hearing aids out of the case and start using them, even if you want to stream music from your phone. As long as you've paired them once, they should begin an auto-pair upon removal from the case. If you get them into your ears fast enough you'll hear the power on sound which is inexplicably the "Deck the Halls" holiday tone.
Anytime you launch the ELEHEAR app, you'll need to hit "Connect my hearing aids" and clear a couple more screens before you get to a 15 second timer that seems to connect within 2 seconds. Once in the app, you can use the volume sliders to independently change the levels (or use the rocker switch on the aids themselves).
The four modes across the top are General, Restaurant, Outdoor, TV. Switching between them results in 4 seconds of non-hearing aid use while a recorded voice announces the new mode. If I'm switching modes it's because I'm trying to hear better and that pause does not help, nor does the voice. Overall, the profiles appear to just have different configurations of the noise cancellation and speech focus settings, so you can use those two buttons instead to make changes without the 4 second interruption.
The app can be a little buggy. Occasionally the volume settings shown can be out of sync with the levels on the aids themselves. I also managed to get it into a mode where it was showing a single volume slider and single battery. Power cycling the Alpha Pros did not fix it, but force-quitting the app and relaunching did. Any volume level adjustment is accompanied by a clear beep in the corresponding hearing aid. The volume of that beep is the same, regardless of which volume level you're adjusting to. Seems like that beep should correspond.
Overall, the ELEHEAR Alpha Pro hearing aids work very well after the app update which launched a better setup process. When I first set this pair up the levels were set at 7 and 4 (out of 7), and were painfully loud when they kicked on. My point in showing this is that the company is actively making changes and that scenario should no longer occur.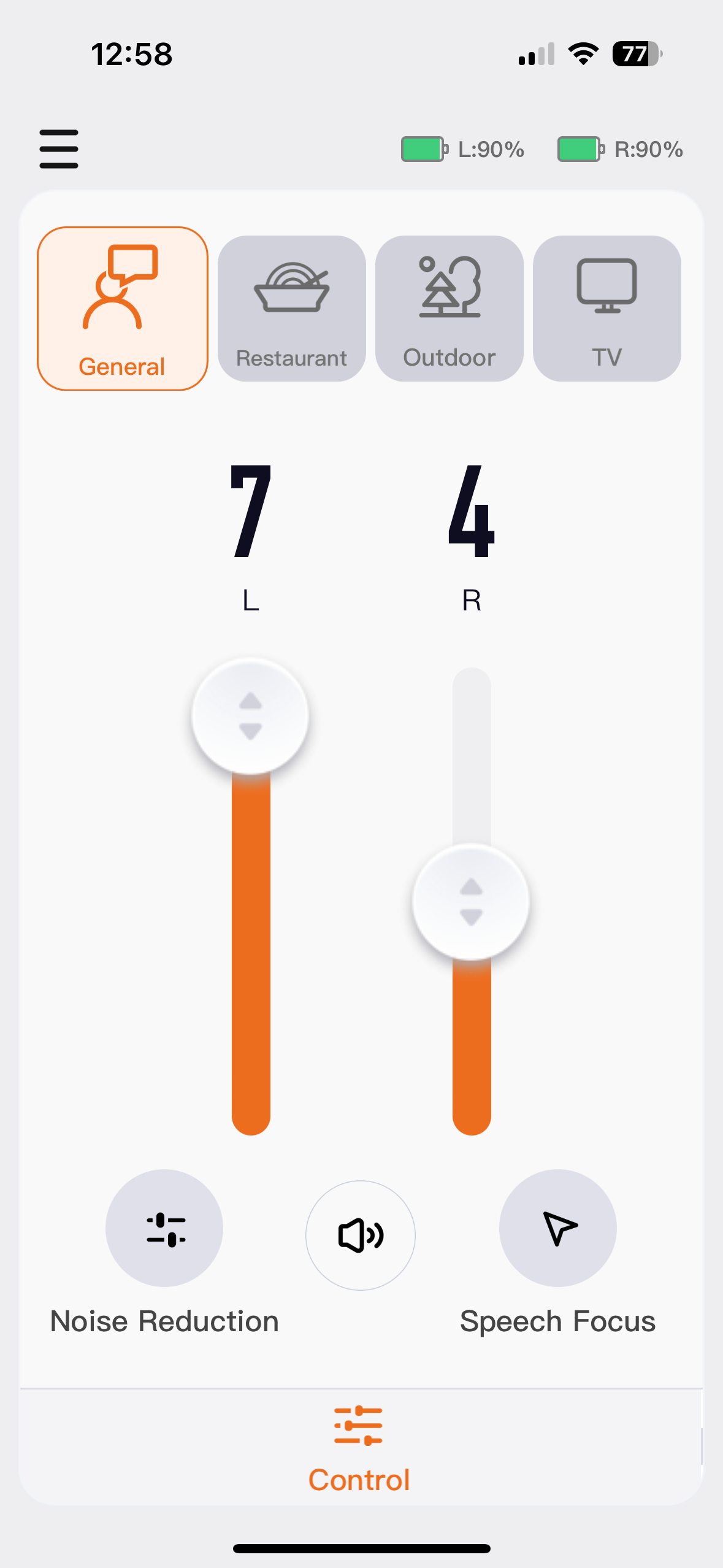 I believe that future updates will continue to improve the performance and would recommend these to users who need an over-the-counter solution for their hearing needs.
As far as the AI claim… I'm sure they're using some solid algorithm or even some AI trained algorithm to focus on extracting voices from the environmental sounds, but it seems doubtful that it's happening in real time especially since the app frequently likes to disconnect. There's also no way to interact with any AI to help it learn what you do and don't like, so it feels like AI is really just being used as a buzz word. That doesn't take away from the performance which does really feel strong.
Last thing though, is the size of the carrying case for the ELEHEAR Alpha Pro hearing aids. It's WAY too large. This photo shows it compared to AirPods Pro and my current daily hearing aids. What you can't see is that the ELEHEAR case is thicker than 4 iPhones stacked together. The size of this alone is a dealbreaker for me and relegates them to leaving them on my desk at work on the off-chance I forget the pair that fit in my pocket.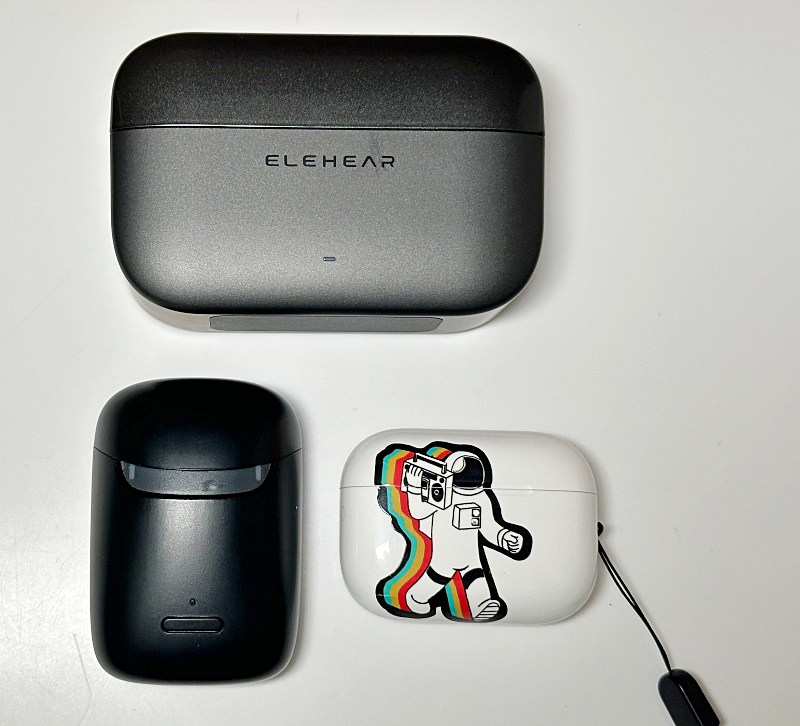 What I like
Comfortable and lightweight
Good audio quality
Good battery life
Great price
What I'd change
PLEASE make the case AirPods sized. This thing is ludicrously large and a reason not to buy.
Wider variety of ear cap types, not just sizes.
Voice announcements of Mode should not create 4 seconds of not hearing.
Why is the power on sound "Deck the halls"?
Final thoughts
The ELEHEAR Alpha Pro hearing aids are great hearing aids. The app is useful, occasionally buggy and will get better with updates. The charging case works, keeps your hearing aids charged and at almost half the size of a soda can, a complete dealbreaker. Hopefully, ELEHEAR can downsize this to something that can provide one extra charge cycle and actually be pocketable.
Price: $999
Where to buy: elehear.com
Source: The sample of this product was provided by elehear.com.