We use affiliate links. If you buy something through the links on this page, we may earn a commission at no cost to you. Learn more.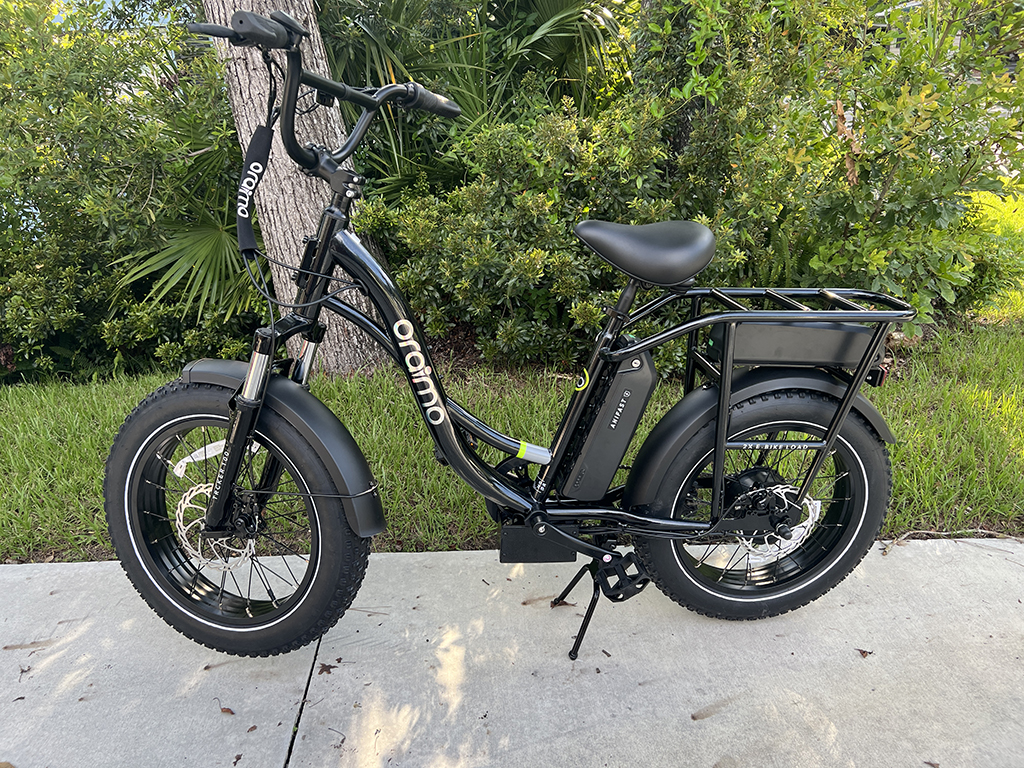 REVIEW – The world of e-bikes is growing larger and larger every day. I have been fascinated by them since they started to become more mainstream. When the Oraimo TRCKER 100 (yes, it's spelled that way by the manufacturer) came up for review, I knew I had to jump at the chance. Boy, am I glad I did…
What is it?
The Oraimo TRCKER 100 is Oraimo's latest addition to their growing line of e-bikes. The TRCKER 100 is a fat-tire e-bike, which is to say the tires are 4 inches (101 mm) wide. Great for riding for long distances on almost any surface. Almost 100 miles (161 km) of streets, sidewalks, compact sand, grass, or light gravel are easily conquered with the Trcker 100 on a single charge.
Price: $999.99 | Where to buy: Amazon (Save 6% with code: gadgeteer920 expires 2023-10-31 23:59 PDT)
What's in the box?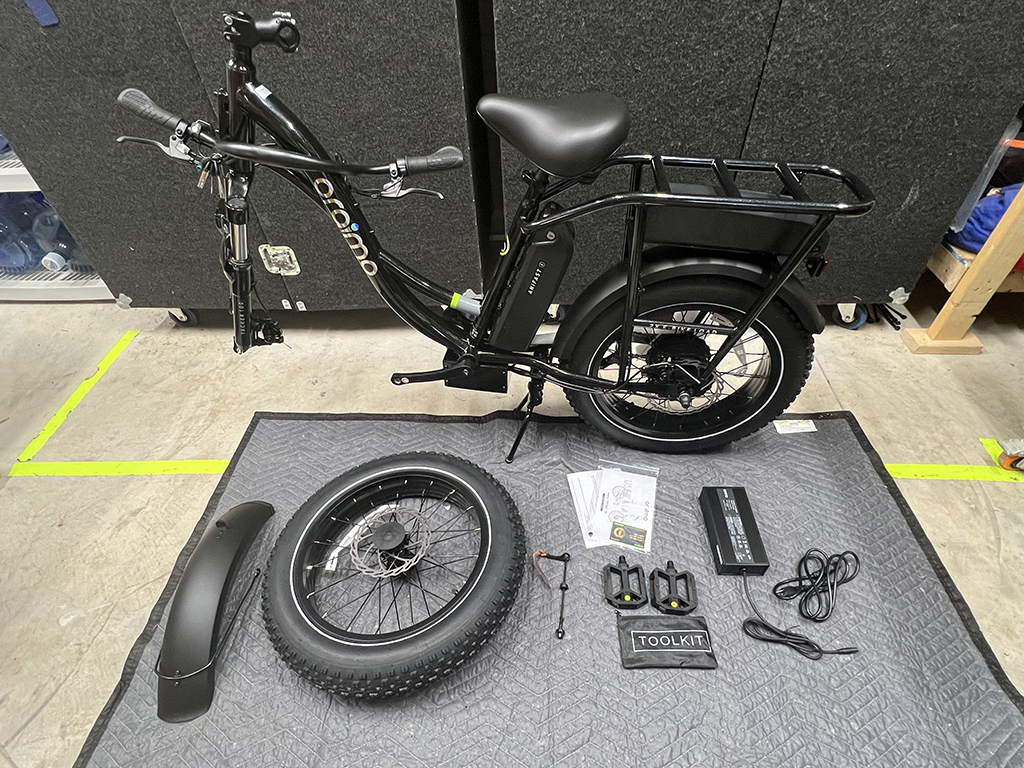 Partially assembled Oraimo TRCKER 100 ebike
Front fender
Front-wheel/tire
Quick-release front wheel axel
Pedals
Assembly toolkit
4.0A battery charger
Instructions and warranty information
Hardware specs
750W (Peak 1000W) rear hub brushless motor
48v/20.8 AH dual battery (10.4 Ah each)
20 mph/32 kph maximum speed (Class 2)
70-100 mile (112-160 km) range (100 miles is achieved using pedal assist – see below)
3-4 hours to fully charge each battery
550 lb/250 kg (rider and cargo) maximum load capacity
85.1 lb/38.6 kg bike weight
20" (51 cm) diameter, 4" (101 mm) wide tires
Single gear
5 pedal assist modes, cadence sensor
Throttle for pure power with no pedaling needed
Front and rear mechanical disc brakes – 180mm discs
34"/86 cm minimum, 44"/112 cm maximum seat height
Accessories: A rear cargo rack
Installation and setup
The Oraimo TRCKER 100 ebike arrived in a fairly large box which was over 100 lbs (45.5 kg). I highly recommend having help to move and unpack it. For me, there was no way to remove the partially assembled bike from the box without cutting the box open. I hoped I didn't have to ship it back for some reason. Spoiler: I didn't.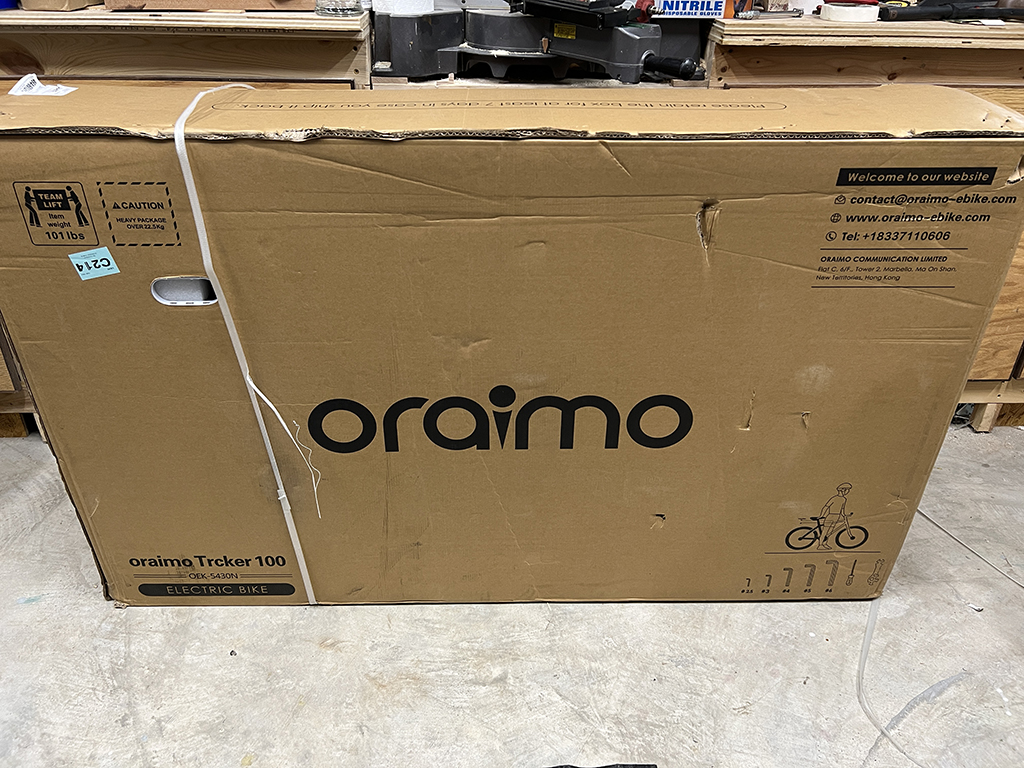 The Oraimo TRCKER 100 comes about 75% assembled in the box. It is very well packaged with plenty of foam to protect the mechanicals and wrapping to protect the excellent finish. In the box, the handlebars were dangling on the brake and controller cables which made me worry about damaging the wires. But that was unnecessary as they are very tough.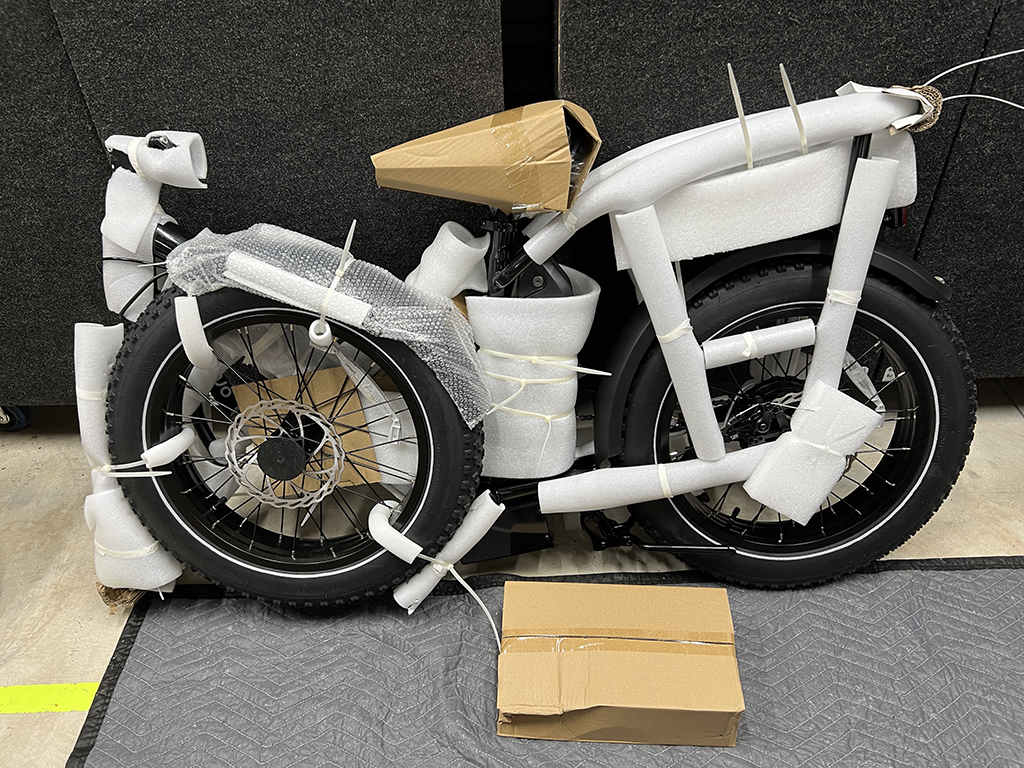 The Oraimo TRCKER 100 comes with fairly minimal instructions for assembly which were somewhat confusing in places. For example, the illustrations are not done with very much detail. However, the Amazon listing for this bike, as well as the Oraimo webpage for this model, have an easy-to-follow video that walks you through the assembly.
The kit comes with the basic tools you will need to assemble the bike. Including a very nice multi-function wrench that fits several sizes of nuts. This was a nice addition to the tool kit.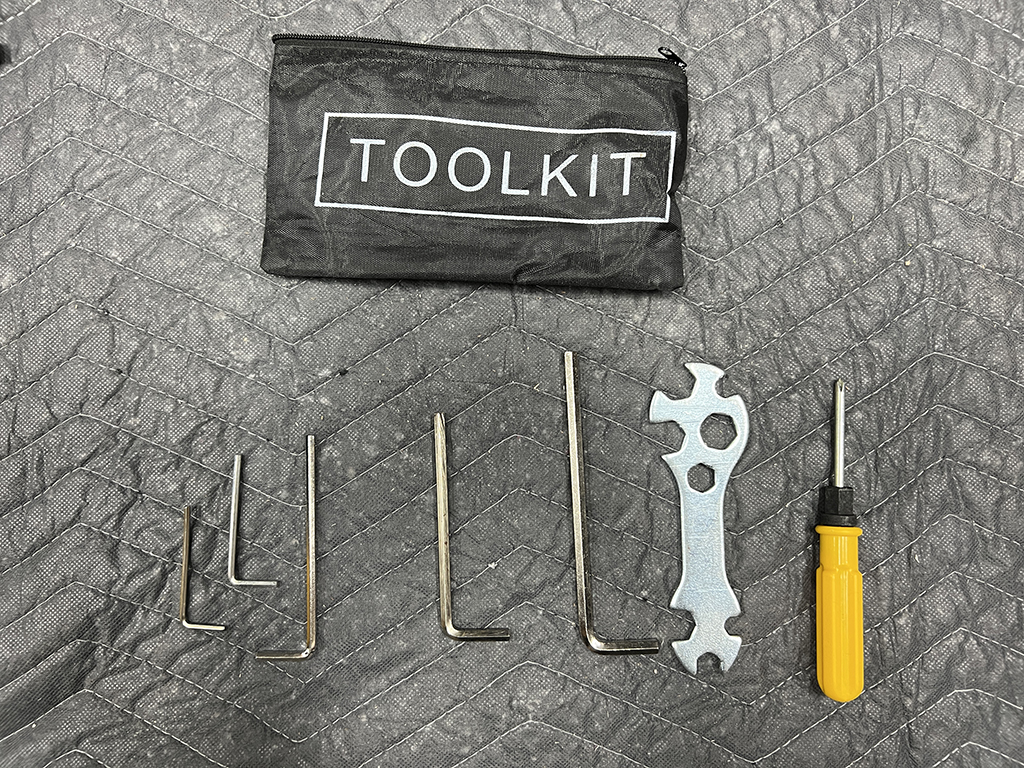 The front tire uses a quick-release axle. This quick-release front wheel is a nice feature that not all similarly priced e-bikes come with. However, it was a little tricky to install and tighten. Again, the video saved me, and I got it put together in no time.
After assembling the Oraimo TRCKER 100 electric bike, you'll need to adjust the seat to a comfortable position for your height and leg length. The seat also has a quick release that allows very simple adjustments until you find that sweet spot for yourself.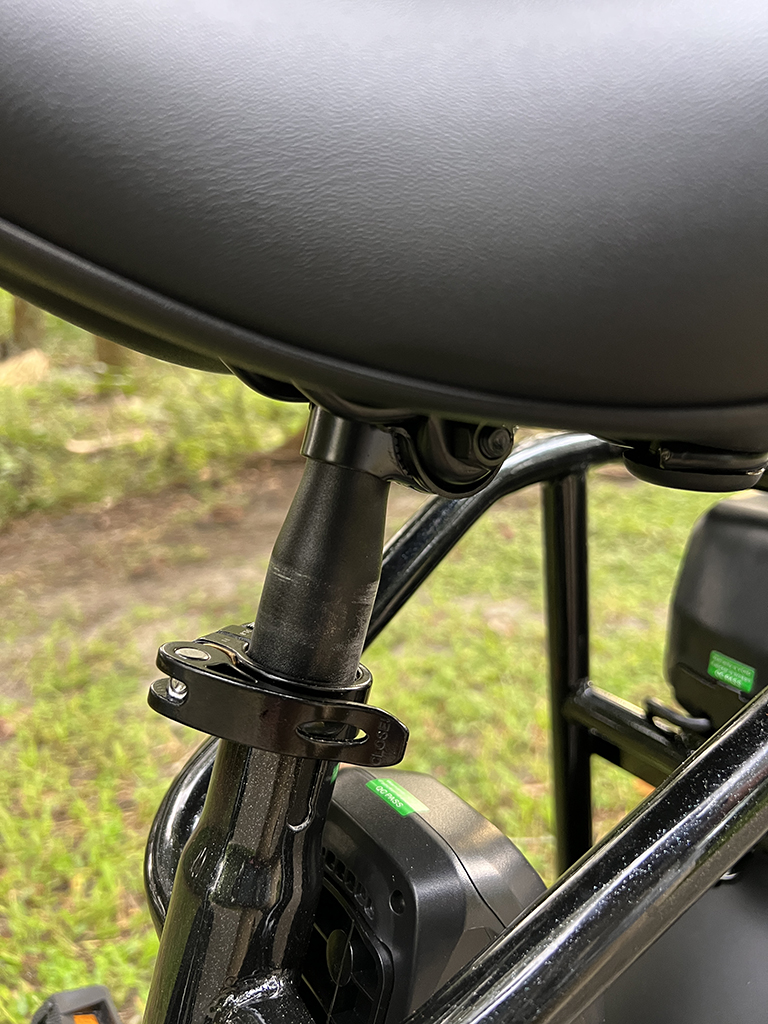 Before you can ride, fill the tires with air. I filled them to about 20 psi/137 kpa. This seems to be a good compromise between a too mushy and too hard (back-breaking) ride. (Note: Tires with lower air pressure consume more battery power, but can navigate sand easier.)
The batteries come partially charged and should be completely charged before operating the bike. My batteries took about 2 hours to get them to a full charge.
Design and features
The e-bike is very simple to operate. After turning on one of the batteries, and then the bike itself, you're ready to ride. The batteries and the bike come with separate on/off switches. This was a little confusing to me at first but becomes second nature after a few rides.
Many e-bikes in the same price range as the TRCKER 100 come with a digital display that shows you the percentage of battery remaining, speed, sometimes distance, and other pieces of information. Unfortunately, the Trcker 100 does not. The TRCKER 100 keypad has a simple 5-LED arrangement to indicate your battery charge remaining.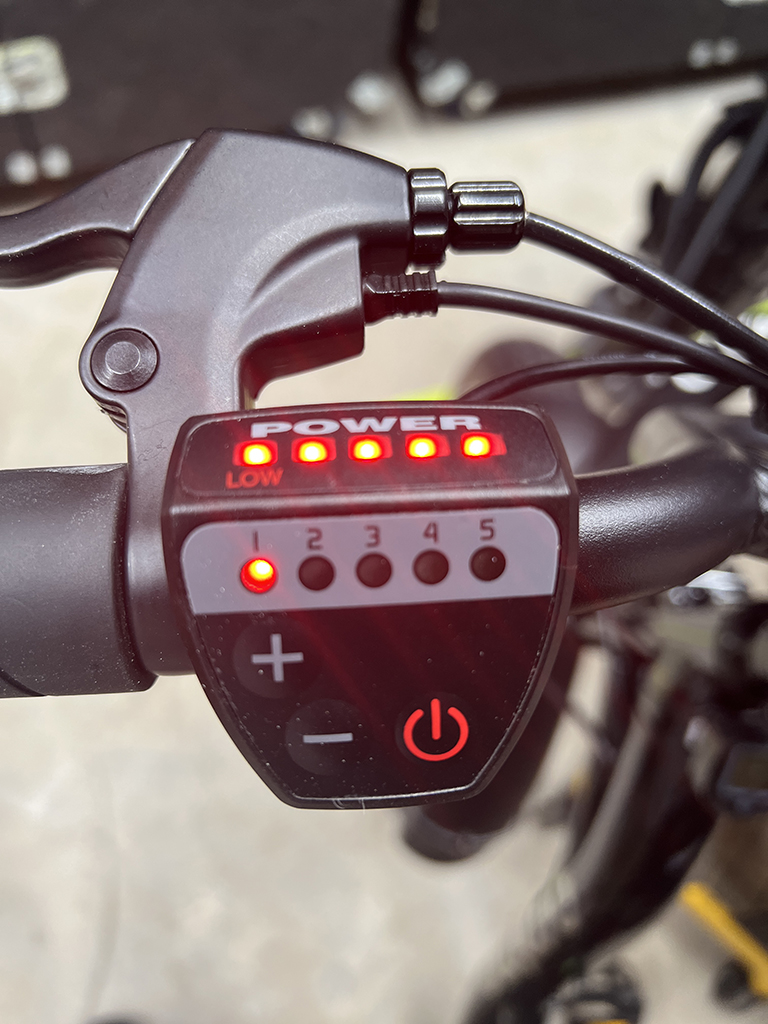 In the US, the maximum speed you can go on a Class 2 e-bike (this model) is 20 mph (32 kph). Without a digital display, you don't have any indication as to how fast you are going. I purchased an inexpensive speedometer from Amazon to test that top-speed limiter. The bike tops out at precisely 20 mph (32 kph) just as it should.
Some e-bikes come with adjustable front (and/or rear) shocks so you can select the stiffness of your ride. The shocks on the TRCKER 100 are front-only and not adjustable, but I found the ride to be smooth and very enjoyable. These shocks and the springs in the very comfortable seat compensated for rough terrain.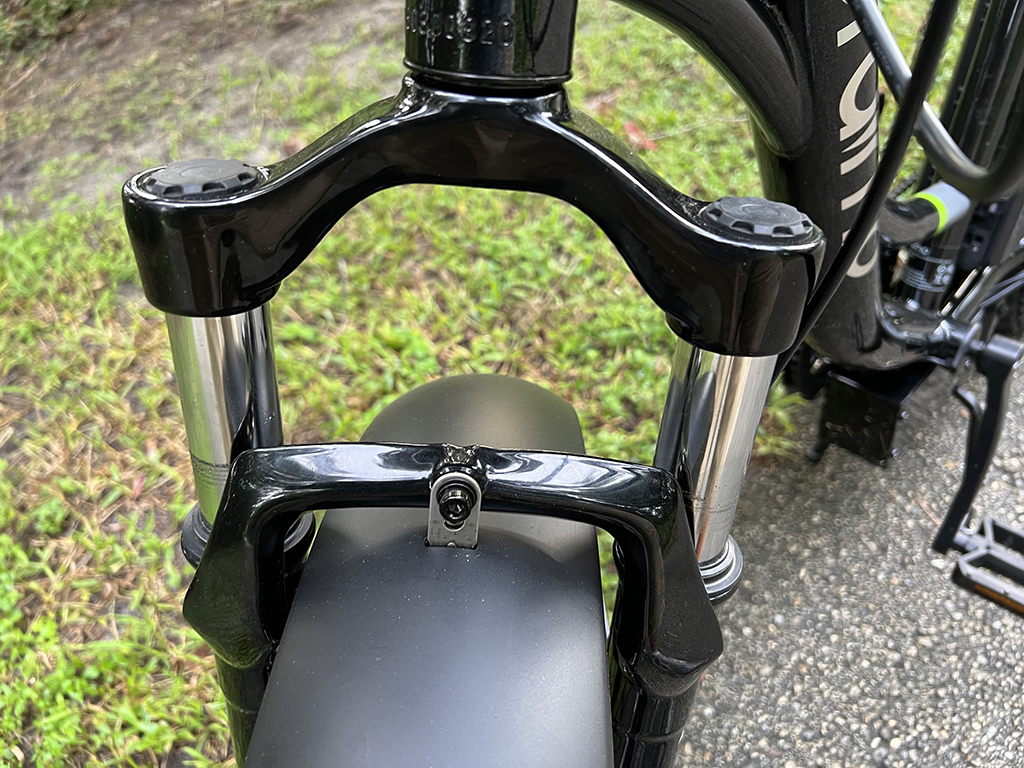 As with most e-bikes, the Oraimo TRCKER 100 is very heavy (around 85 lbs/38 kgs). Maybe a tad bit heavier than most because of the dual battery configuration. It is much heavier than a non-electric, traditional bike of equal size. So with this in mind, braking is different than a traditional bike. The TRCKER 100 has 180mm mechanical disc brakes which help dramatically with stopping force. Stopping the TRCKER 100 always felt safe and reliable. Even braking pressure on the front and rear brakes stopped the bike and me very easily and quickly. I was satisfied with the stopping distance and never felt unsafe.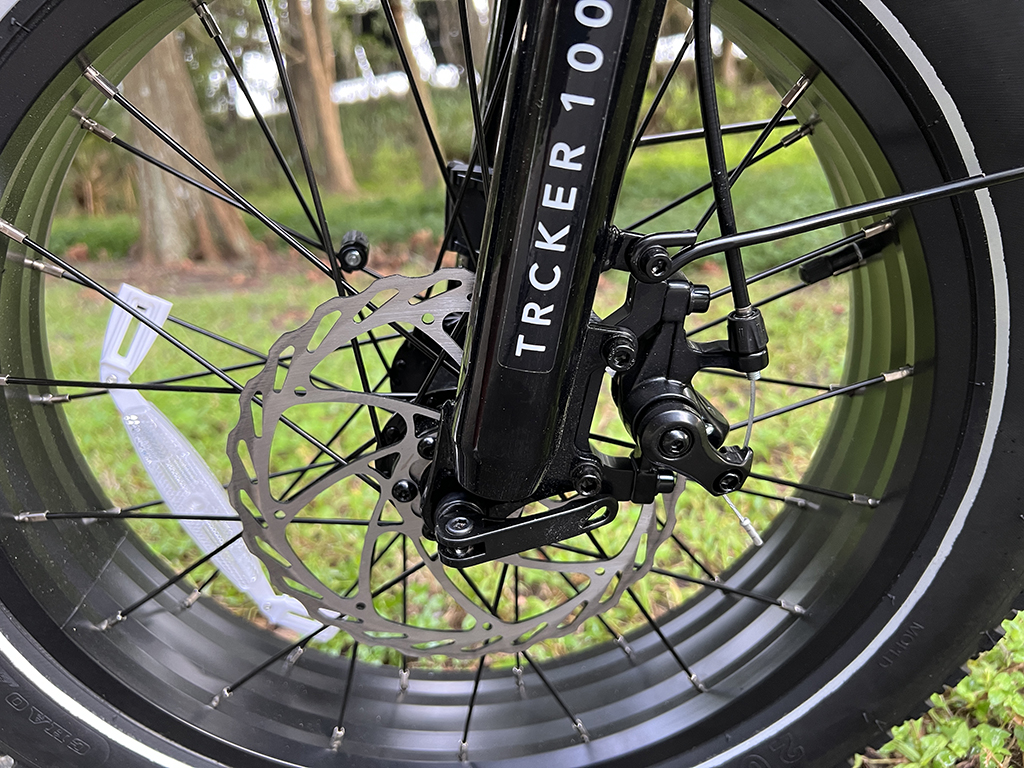 The Oraimo TRCKER 100 ebike is almost completely silent in its operation. If it weren't for the whirring of the knobby tires on the road, it would make very little noise at all.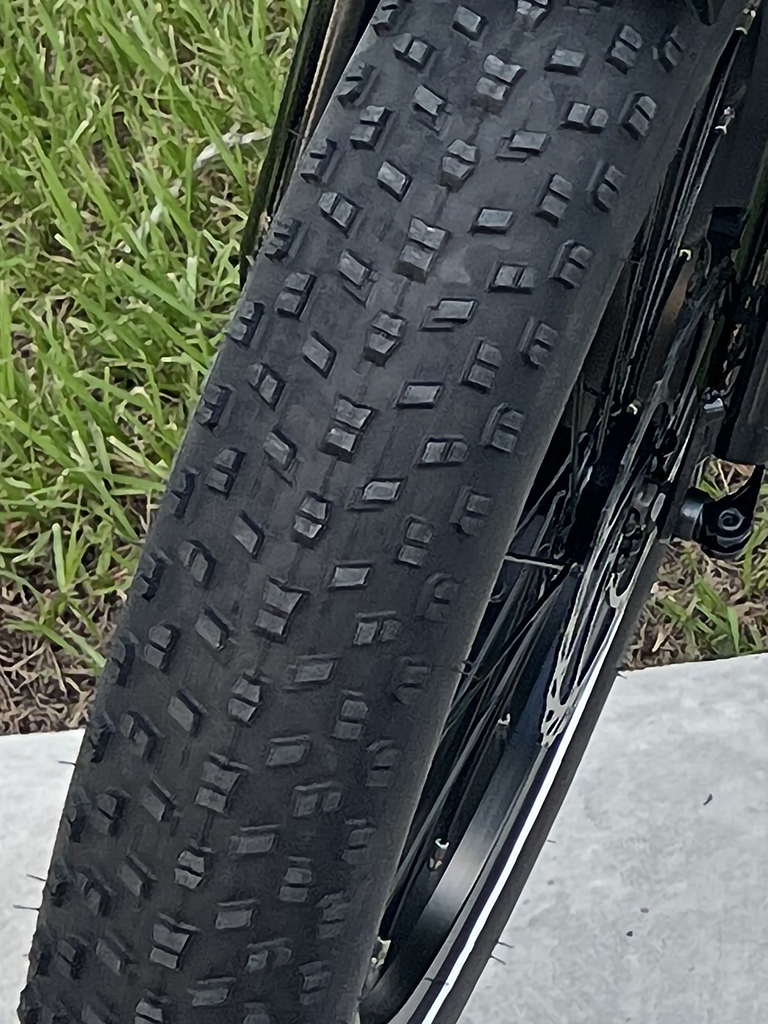 On the bike I received to review, the front wheel was making a scrapping noise on the brake pads, as it spun. With the help of a YouTube video, I was able to make a simple adjustment to the front brake caliper and the noise disappeared.
"Pedal assist" was something new to me. When I first got on the bike, I had the pedal assist turned off (level zero). The bike just moved under pedal power. Being a single-geared bike, it didn't go very fast. I switched the pedal assist to level one, and turned the pedals about a quarter turn, and ZOOOOM! You take off and before you know it, you're going 10 mph (16 kph). Each of the five levels multiplies your pedaling effort into super-human ability and an even higher speed. However, with the bike only having a single gear, pedaling on levels 2-5, for me, actually felt unsafe. Your feet are just flying around with little to no resistance from the bike. It felt like at the higher levels my feet could slip off the pedals.
If you'd like the motorcycle effect, use the throttle that is part of the hand grip on the right side.  The quarter-turn throttle gives you control of the bike's speed in a very safe manner.  I actually used the throttle each time I started off from a standstill. This helped me to balance the heavy bike and get going much easier than using the pedals. Going 20 mph (32 kph) on a bike is an exhilarating feeling. I highly recommend it to everyone. Always wear a helmet!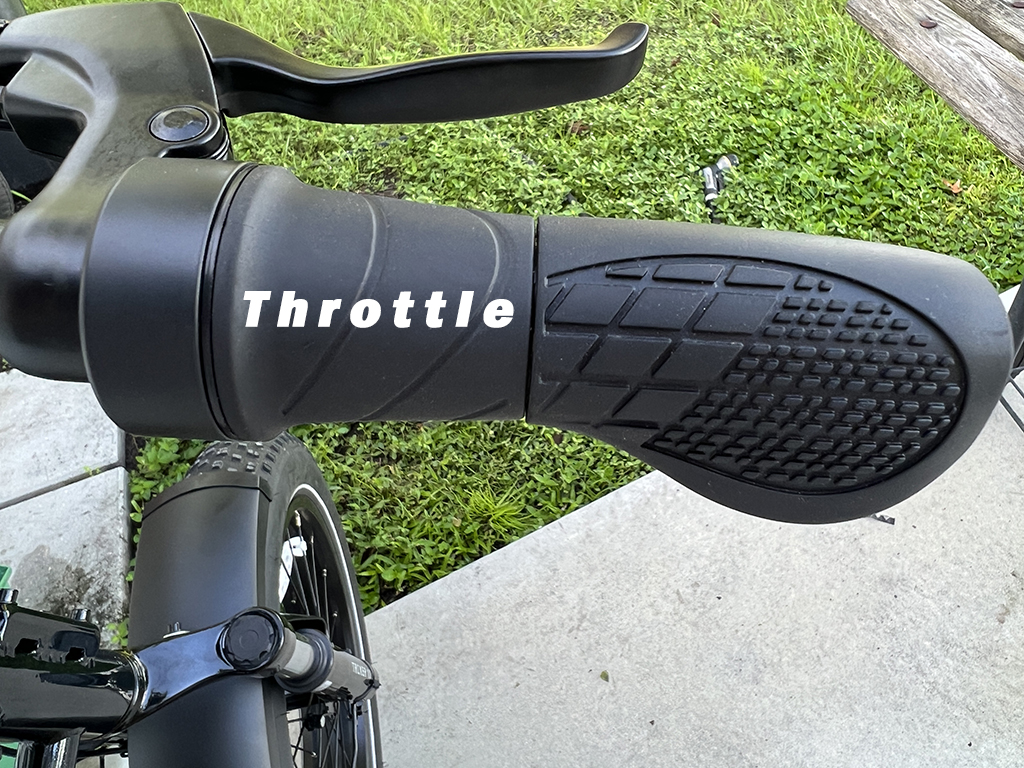 Battery life
Of the 50+ miles (80+ km) I put on the bike in the first few weeks of having it, I never had any worries about the batteries. I only had to recharge one of the batteries during that time. The batteries are large and powerful and should provide all the power and range you'll need in most environments. Being in Florida, my rides were mostly flat and smooth. If you are in areas with more changes in elevation, the battery range will most likely be different than I observed. Riding through sand or grass will also affect battery range as will rider and cargo weight.
The bike comes with a 4-amp charger and it takes about 3 hours to charge one of the batteries. Oraimo claims a 15-minute charge will give you 7 miles (11 km) of range. I don't see myself bringing the charger with me on very many rides to test that claim, because the charger is bulky and heavy.
Etc.
The Oraimo TRCKER 100 comes with a very sturdy cargo rack on the back that will hold nearly 200 lbs (90 kg) of cargo. A cargo bag would be an excellent addition and I will be adding one soon to hold tools, water, and my phone.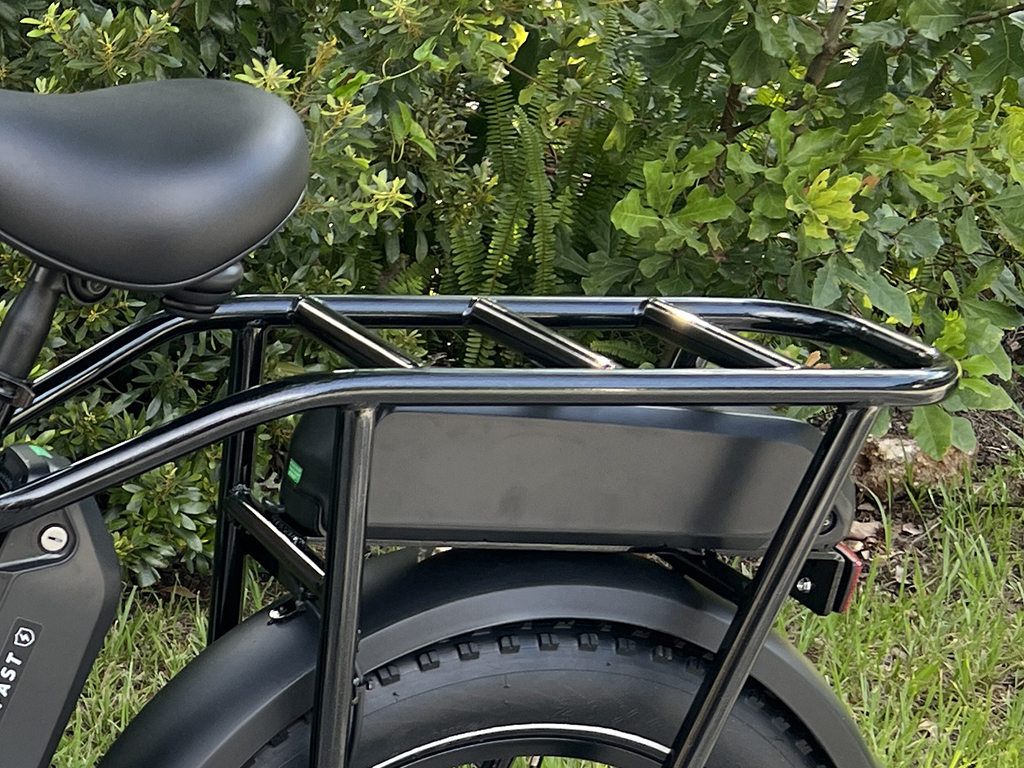 I had a good experience with customer service from Oraimo. A part had been damaged in shipping so I reached out to customer support for help. They responded quickly – just a few hours, and after a bit of back-and-forth with emails for clarification, they sent me a new part. Problem solved.
What I like
Very sturdy and well-made bike
Very nice metal flake paint job
Fairly easy to assemble
Great customer support
Easy operation
Excellent battery range
Endless grins while riding
What I'd change
Lack of digital display
No headlight or taillight provided
Mechanical disc brakes (hydraulic would be better for such a heavy bike)
Final thoughts
The Oraimo TRCKER 100 is an excellent entry-level fat tire e-bike. The battery range and construction make it stand out in an increasingly crowded field of e-bikes. Although some standard features for e-bikes in this price range are missing, the fun factor is off the charts.
Price: $999.99
Where to buy: Amazon (Save 6% with code: gadgeteer920 expires 2023-10-31 23:59 PDT)
Source: The sample for this review was provided by Oraimo.