We use affiliate links. If you buy something through the links on this page, we may earn a commission at no cost to you. Learn more.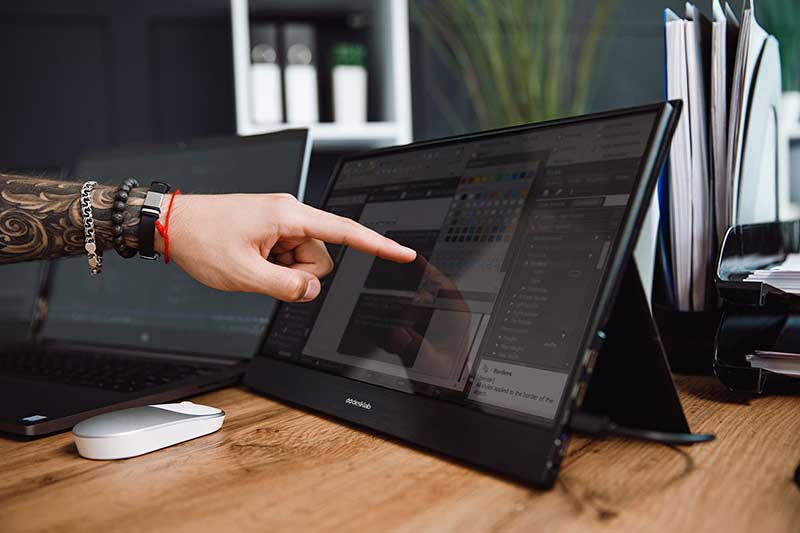 DEAL NEWS – Experience all the benefits of a second monitor with the enhanced touchscreen capabilities of the Desklab Portable 4K Touchscreen Monitor for $289.99 (reg. $375).
There's no denying the benefit of an extra monitor. For starters, they're highly effective in the workplace and educational settings. Their use as a dual screen can amp up productivity levels. 
They're also staples for avid and social gamers, as they lend themselves well for streaming, chatting, and other helpful additions. 
While there's no denying their benefits, the same can't be said for many of their price tags. Thanks to this discounted deal, owning a high-performing second monitor at a fiscally appealing price is possible — purchase this high-performing Desklab Portable 4K Touchscreen Monitor for $289.99 (reg. $375).
While this device comes with all the options that make a second monitor appealing, it takes the technology up another notch with its touchscreen capabilities. While you can still use your mouse or trackpad to navigate its screen, apps can be navigated with the simple swipe of a finger. It should be noted that the touchscreen function will only work with devices designed to receive a touchscreen signal.
This dual touchscreen monitor features a vivid 4K display, bringing eye-catching detail and clarity to videos and apps. Gamers and those in the photography/videography arena will appreciate the resolution. The monitor also is equipped with built-in high-fidelity speakers.
Additional specs include a 60Hz refresh rate, ten millisecond response time, low blue light/ anti-glare, and more. A second tech device is only as good as its compatibility. This one works well with others. It is plug-and-play ready and outfitted with two USB-C ports, a Micro USB, and a Mini HDMI port, among others.
"Pretty slick piece of tech. No brainer to install. Truly plug-and-play. Colors so bright I have to wear shades" writes a verified 5-star reviewer.
Take advantage of this offer today and purchase the high-performing Desklab Portable 4K Touchscreen Monitor for $289.99 (reg. $375).
Prices subject to change.