We use affiliate links. If you buy something through the links on this page, we may earn a commission at no cost to you. Learn more.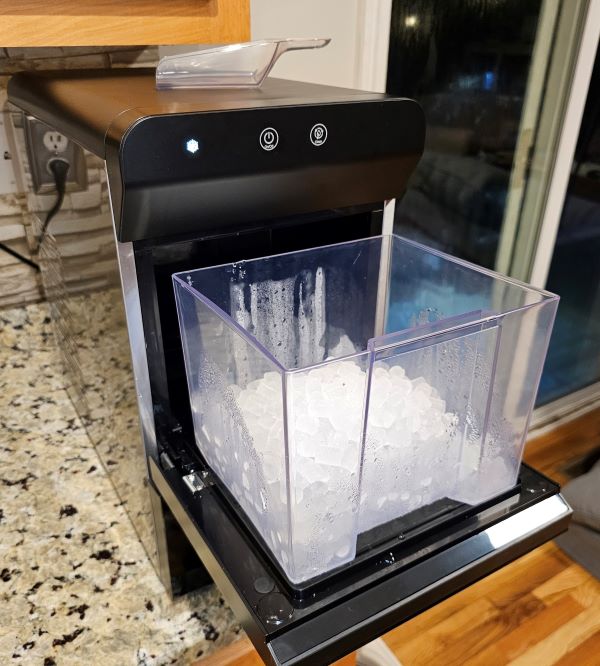 REVIEW – Did my secret stop on my commute home just get eliminated?! I understand that secrets are not the best policy in relationships, but if my partner was aware of how many times I've driven out of my way to get a Route 44-sized cherry limeade (IYKYK) after a really hard day in the office, I'm pretty sure he'd crack a rib laughing so hard. Problem is, the nearest place to obtain this nectar of the gods is two whole towns away, on one of the busiest routes in my state, and even further away from my actual office. Why do I make this specific pilgrimage? The. Nugget. Ice. The nugget ice! There are so many reasons to love nugget ice but if I can name the best one, in my opinion, it's the texture. I am a lifelong ice chewer and because of this, I have had more than a few conversations with my dentist about finding a better coping mechanism for my teeth's sake. But with nugget ice, it's softer and still satisfyingly crunchy – so I make the trek under cover of my home commute to crunch on my ice and decompress. I think Gevi is here to change all that. Will the Gevi household countertop nugget ice maker V2.0 satisfy my icy needs? Let's find out!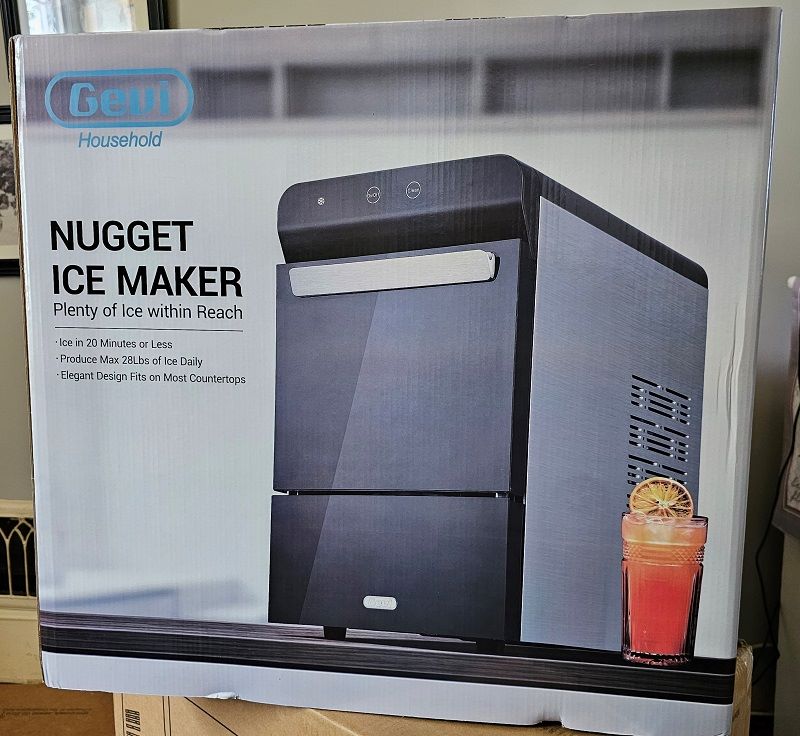 What is it?
The Gevi Nugget Ice Maker (GIMN-1000B) is a stand-alone, countertop ice maker that, as you may have guessed, makes nugget ice.
Ice makers have become ubiquitous in modern refrigerators. We're all familiar with the solid, crescent-shaped ice, dispensed accompanied by noise measurable on the Richter scale. The future of ice-making is on our countertops, in the basement, or even in the bedroom (Please try not to judge, WaterTok sucked me in, HARD).  The Gevi Nugget Ice Maker seems like the next logical step. It is an independent machine that produces small nugget-shaped ice cubes, similar to Sonic or hospital ice.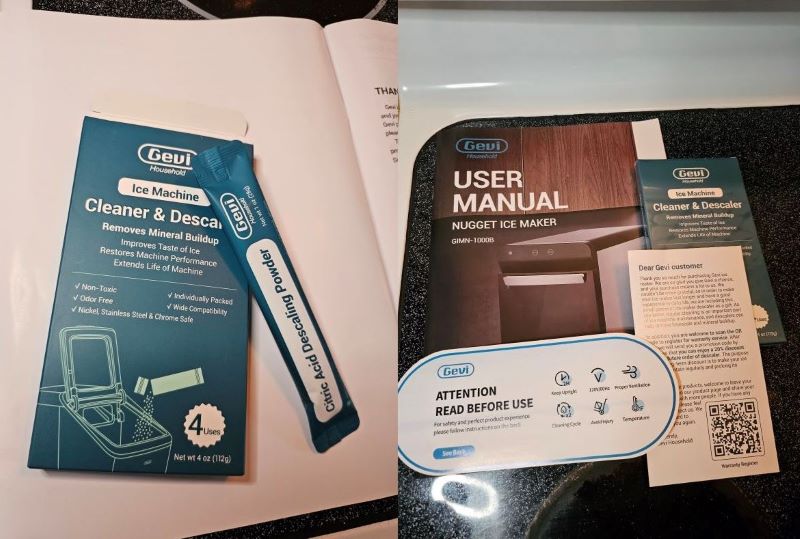 What's in the box?
Gevi Household GIMN-1000B Nugget Ice Maker
1 plastic ice bucket
1 User manual
1 Plastic ice scoop
10 feet of 1/4″ hose (for direct plumbing into a water line if desired)
4 packages of cleaning powder product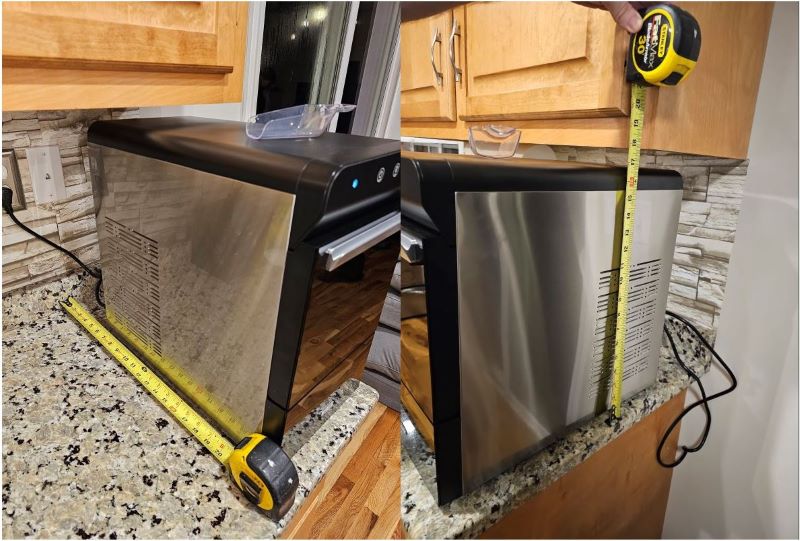 Hardware Specs
Height: A little under 17 inches
Width: 9.5 inches
Depth: A hair less than 17 inches
Weight: 36.4 pounds *
Refrigerant/Refrigerant Amount: R600a/24 grams
Water Reservoir: 2.8 liters or 3 quarts
Cord length: About 72 inches
*The weight given is only for the unit and does not include the added weight of water. Through testing, we were able to drain about 10 cups of water from the machine, but the ice bucket was full, so it could be a little more. 10 cups of water weigh about 5 pounds, so fully loaded, this unit weighs in at over 40 pounds, which could be a consideration for where you keep it.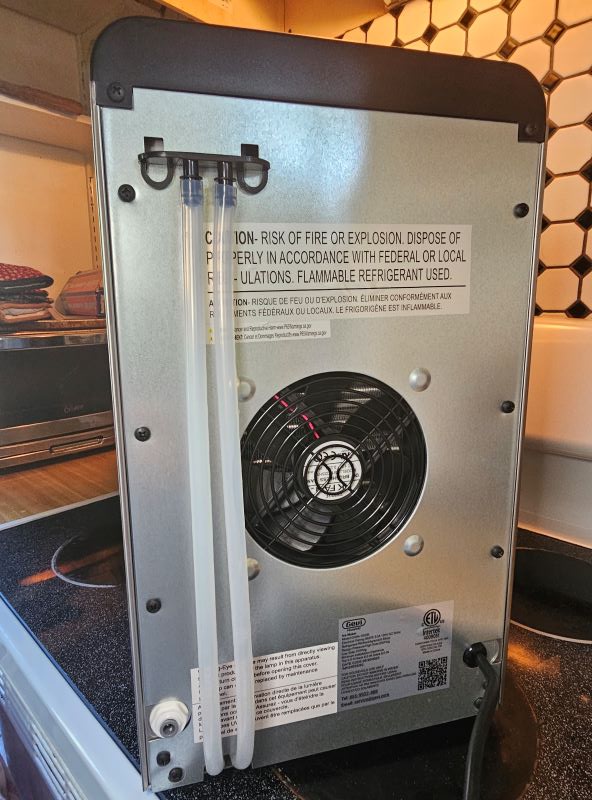 Design and features
The Gevi Household Nugget Ice Maker comes in two different color variations a sophisticated black unit with stainless accents as photographed here, and a sleek-looking white with gold-esk accents. This higher-end model has a couple of upgraded features that other models aren't equipped for. Once filled with water and activated, it takes about 15 minutes to start producing ice. You will hear the telltale crash as the ice is released from above the bucket. There is no viewing window, so you'll have to crack open the door to take a peek at the progress, but this is for a good reason. The manufacturer has insulated more of that front surface area, allowing for longer, colder holding temperatures. The unit itself is operated by backlit touch panel buttons. There are two ways to provide water. It's designed in such a way that it funnels the water into the reservoir and minimizes spillage AND allows the ice bucket to slide directly onto it and access the ice without worries of drips. The second option for water is the ability to connect the machine to a water source for continual, automatic ice-making (which is triggered by the magnetic door opening and closing). Gevi even includes this with your purchase so it's always an option. With a few modifications, I've seen some people hook their units up to 5-gallon jugs of water, and with the way the unit uses any ice that melts you could have UNLIMITED NUGGET ICE!!! Ok, maybe not unlimited but it is super-efficient that the ice bucket is designed with slits along the back bottom to allow any water that comes from melted ice to drip directly into the reservoir to be used to make more ice. HUGE fan of that, especially as a manual water-adder, it means I do it less and I like that.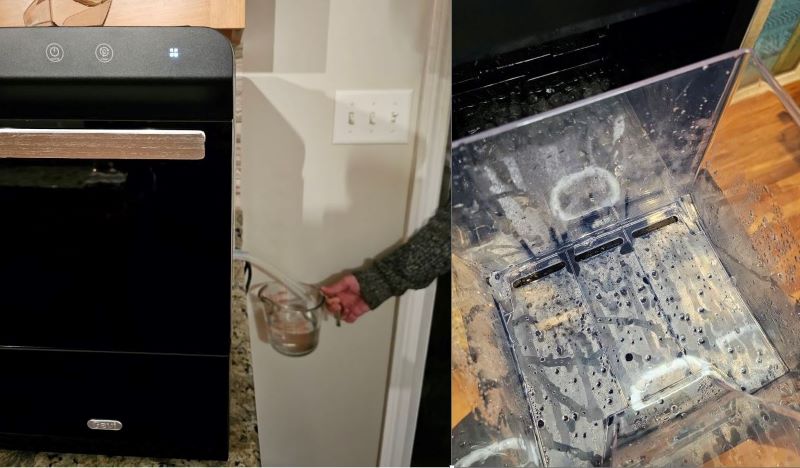 Obviously, the BEST feature about this machine? The Nugget ICE!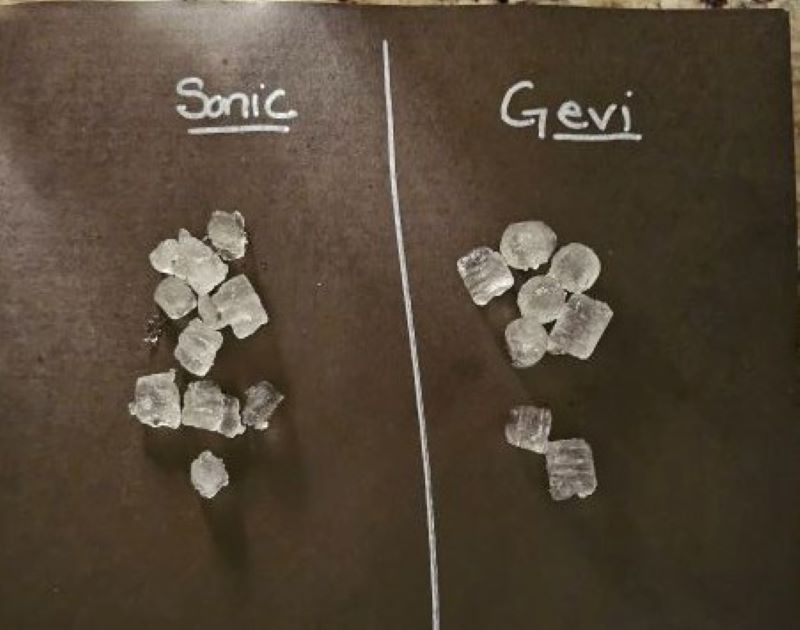 Look at it! It's so consistent and crunchy. Both my partner and I can confirm it is extremely satisfying crunching these ice nuggets along with whatever tasty beverage we've got. I will say, it is a little different than hospital ice. I think hospital ice may be a smidge bigger but just as crunchy. From our experience, the ice maker makes about 60 ounces of ice before it fills up the bucket. There is a sensor inside that tells the machine to stop so you're not greeted with a surprise mini avalanche, which is a sentence I never thought I would write and mean literally. Of course, after my opening admission, I couldn't NOT compare Gevi's ice nuggets to Sonic's.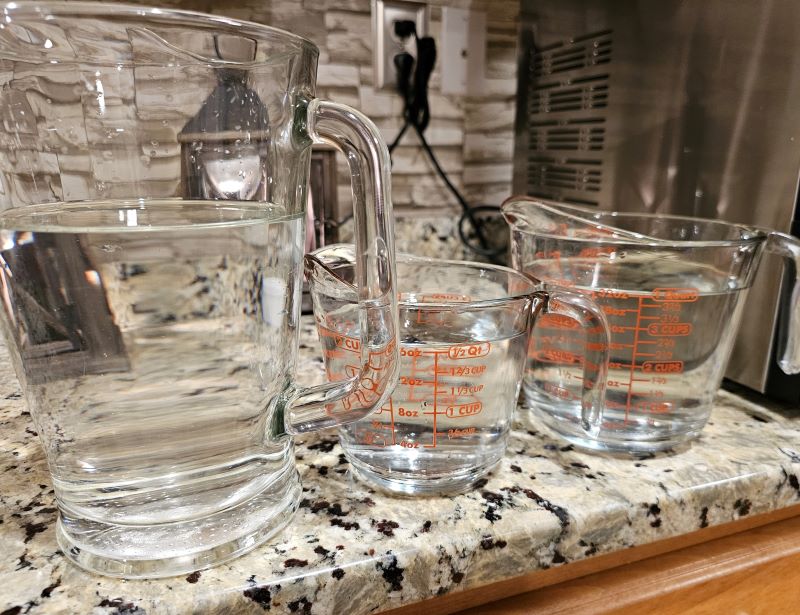 Now, Sonic's are commercially made and slightly wetter. While I do like the crunch of this ice, I personally do like the Gevi ice a little better. But you get a great product either way.
Setup and use
Before you even get the Gevi unit out of the box, there are warnings on the outside cardboard box to keep the unit upright for a minimum of 2 hours before beginning set up. I will admit, I had college room mini fridge flashbacks (which did result in multiple trips to that blue and yellow box store multiple times before realizing how fickle refrigerant could be). Once your 2-hour upright timer goes off, you can continue with the setup which includes cleaning the scoop and ice bucket by hand and running the unit's clean function twice. Something I found super interesting is the instructions mention that there may be water in the unit once unpacked and that's because every unit is tested before being sent out; I love the quality control. The cleaning function was super quick – about 8 minutes each, and draining the water was a breeze using the evacuation tubes on the back of the unit. Once that was done, we poured in 3 quarts of filtered water and waited for those first nuggets to drop.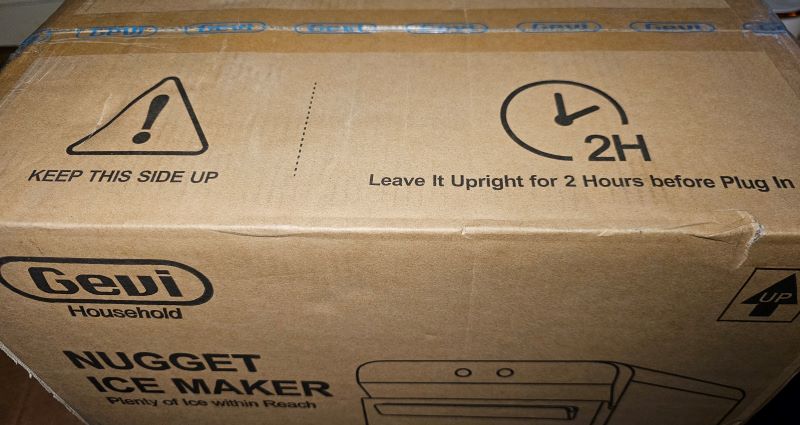 Now upon first use, no, you cannot use the first bunches of nuggets that drop because they're kind of slushy and have the same feel as the first pancake; they're sacrificial. But wait 28 minutes and you'll have a full enough bucket for 2 drinks and then some.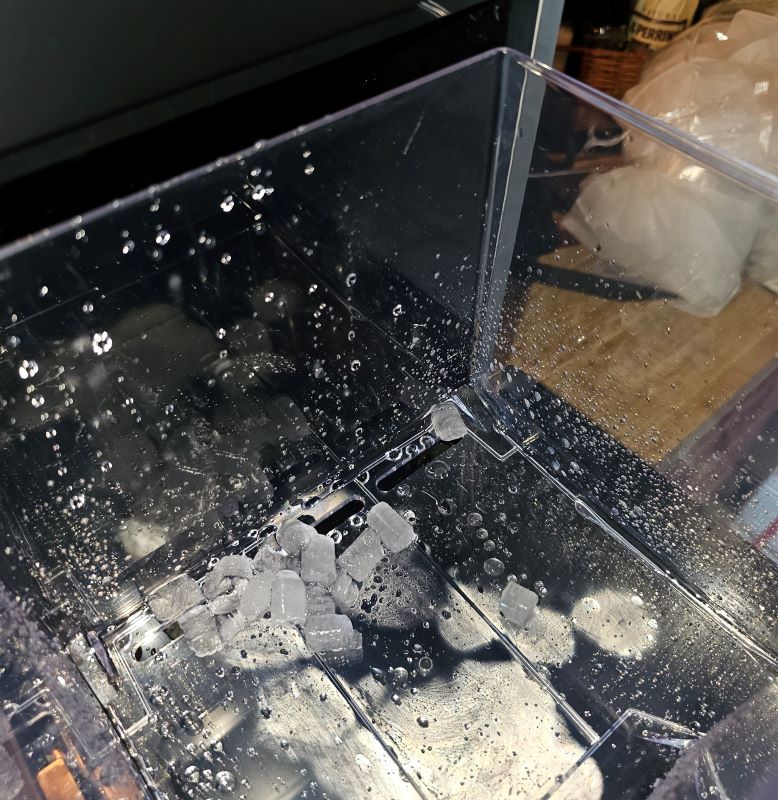 I think I was most surprised by the noise levels of this unit. I am not exaggerating at all when I say, it is quieter than my new-ish refrigerator's icemaker. No, it's not silent; of course, the unit is at its loudest when making ice, and still not bad at all. In fact, I've had to actively check a few times if it was still running (it always was) just to quell my own anxieties.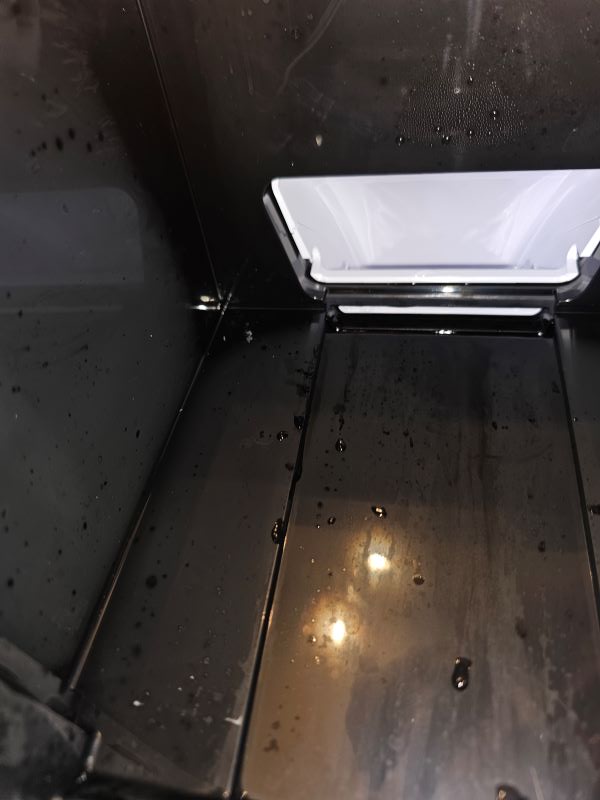 What I like
Intuitive: With a quick perusal of the included user manual, you will be making ice in no time after unboxing. I love the ability to connect it directly to a water supply and appreciate the added 10-foot hose.
Cleaning: The cleaning process could have been so much more complicated, but Gevi Household gave serious consideration to the health and safety of its users. The inclusion of 4 cleaning packets out of the box is just so nice and takes off some of the immediate pressure of cleaning the unit as you're getting used to it.
Aesthetics: Don't get me wrong, the white panels with the gold accents look absolutely mint. But the black front with the stainless-steel side panels just works everywhere. It does show fingerprints, likely more so than in white, but a quick wipe-down is all it takes to get it looking new again.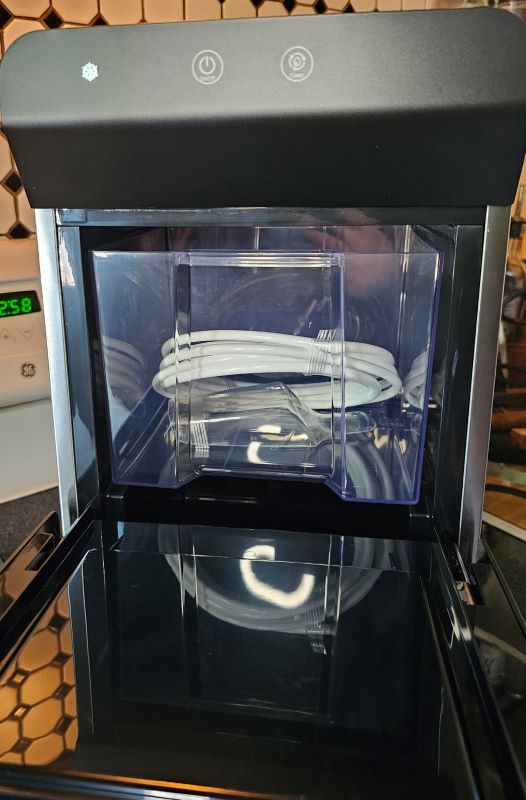 What I'd change
I'd love a small LED light in the unit. I know that that 80 percent of the time I don't need to see what's going on in the magic place that makes the icy nuggets, but when I'm filling that reservoir, it's impressively hard to read the raised MAX line in the dark black on black plastic of the unit.
My public health-loving husband has recited the reasons for not keeping the scoop inside the ice bucket about 10,000 times. I will spare you that speech, but, that being said, please don't keep your scoops in the ice bucket. Maybe a little command hook included to attach next to the unit would be nice. (I think I would even sacrifice one of the cleaning packs for a small clear command hook.)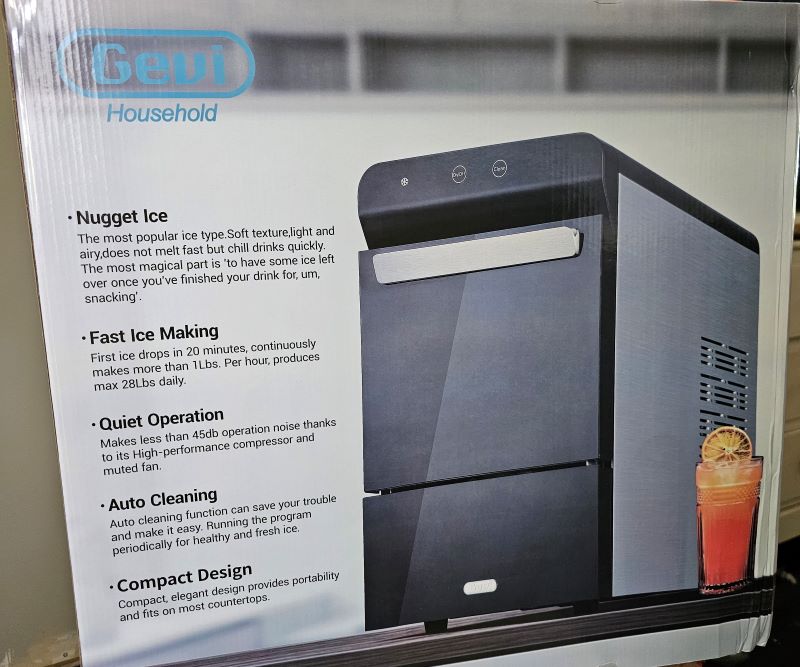 Final thoughts
I've had the Gevi ice maker for about a month and I know everyone is dying to know: have my secret adventures to Sonic subsided? Yes. In fact, thanks to the Gevi Nugget Ice maker and my super-insulated water tumbler (and all those WaterTOK recipes), I feel like the only reason I'd go out that way is for a corn dog. I use the ice from this machine every day. Iced coffee on the way to work? Gevi. When my friends come over, the nugget ice has become the first thing they help themselves to. At night, the bedside water is always refreshed with a scoop of "Gevi nuggies" as my partner calls them. I'm so excited for the holidays, for festive cocktails, and even just displaying the shrimp cocktail on a fancy bed of nugget ice. As a final note, the unit does come with a warranty, which might not always be the case when purchasing a standalone ice maker. 30 days from purchase, Gevi will replace the entire unit if anything goes wrong. If any part of the machine fails within one year of purchase, Gevi will replace that part. The website offers the opportunity to purchase warranty extensions, and you get three months for free just for registering your machine. Taking all of this into consideration, this unit is very much an investment, not just for your kitchen, but your household in general. I would love to say I've saved the cost in gas money and cherry limeades but it's not quite that much. My partner and I are self-proclaimed foodies, so we prioritize quality in the kitchen and Gevi has been steadfast in a high-usage environment. So, if you can, I say treat yourself.
Price:  $599.99
Where to buy:  Gevi (save 40% off all their nugget ice makers with the code: Cat40)
Source: The sample for this review was provided by Gevi.