We use affiliate links. If you buy something through the links on this page, we may earn a commission at no cost to you. Learn more.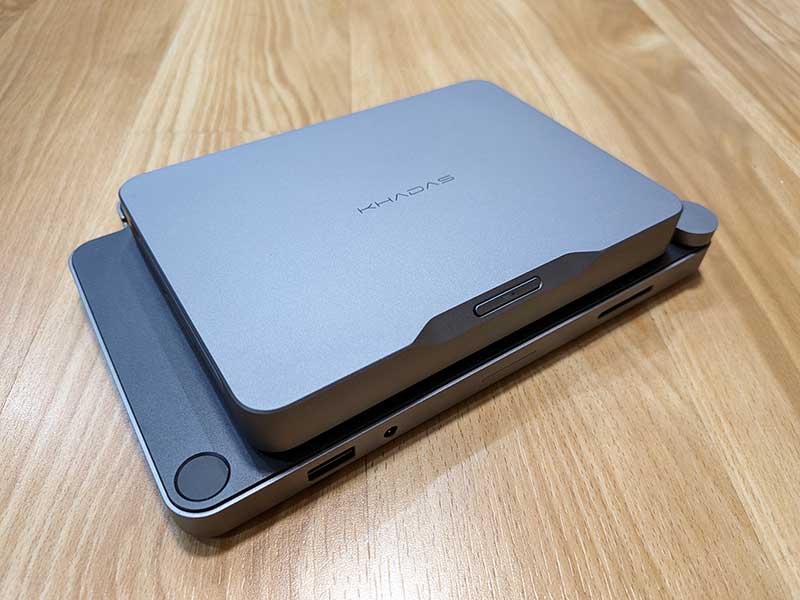 CROWDFUNDING REVIEW – We've been reviewing several mini PCs in the past year and it's no wonder that this form factor has become so popular because they are both portable and powerful. With a mini PC, you don't need a lot of room on your desk for one, and at the same time, small doesn't have to mean wimpy. Mini PCs can do all your regular daily tasks and some of them can even entertain you as a gaming machine. Today I want to introduce you to one of the most interesting mini PCs that I've ever tested. It's the Khadas Mind portable workstation which is currently seeking funding on Kickstarter. Let's take a look.
What is it?
The Khadas Mind portable workstation is an Intel-based mini PC powered by Windows 11.
What's in the box?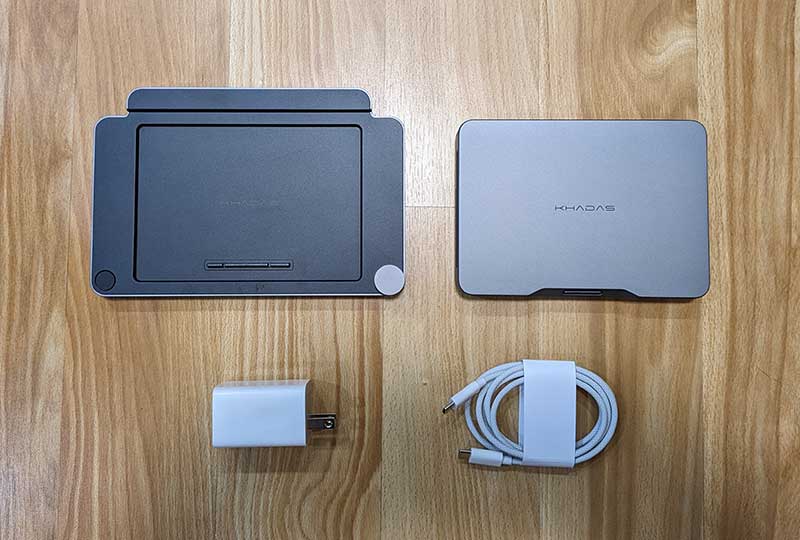 Khadas Mind
Khadas Mind mini PC
USB C to USB C cable
USB C AC adapter
Khadas Mind Dock (optional purchase)
Khadas Mind Dock docking station
Hardware specs
There are two configurations of the Khadas Mind mini PC to choose from:
Mind Standard configuration: Intel i5-1340P, 16GB RAM, 512GB ROM
Mind Premium configuration: Intel i7-1360P, 32GB RAM, 1TB SSD
For this review, I was sent the Khadas Mind Premium. Here are the specs for the Premium config.
Processor: Intel Core i7 – 1360P
Total cores: 12
Total threads: 16
Max turbo frequency: 5.00 GHz
Operating system: Windows 11 Home
Memory & storage
Included storage: 1TB Dual Channel PCIe 4.00 2230 SSD
Included memory: 32GB LPDDR5-5200 on board memory
M.2 Card Slot (storage): PCIe 4.0 M.2 2230 SSD *1 / PCIe 3.0 M.2 2230 SSD *1
Battery & power supply: 65W GaN power adapter / 5.55Wh (only activated when the DC input is off)
I/O
Multi-purpose Port: Mind Link *1 (122-Pin socket connector that supports USB 3.2, Gen2, HDMI 2.1, PCIe 5.0, 10A power supply with up to 10,000, plug-in and plug-out cycles)
Graphics Output: HDMI 2.0 *1 (up to 4K/60Hz), DP 1.4a via Type C *2 (up to 8K/30Hz)
# of Displays Supported: 4 (up to 4K/60Hz simultaneously with additional graphics output on the Mind Dock )
USB Configuration: USB-A 3.2 Gen2 *2, Full-featured USB-C *2
Connectivity: WiFi 6E (802.11ax) 2×2, Bluetooth 5.3
Dimensions: 5.75 x 413 x 0.79 inches (146 x 105 x 20 mm)
Weight: 15.87oz (450g)
Design and features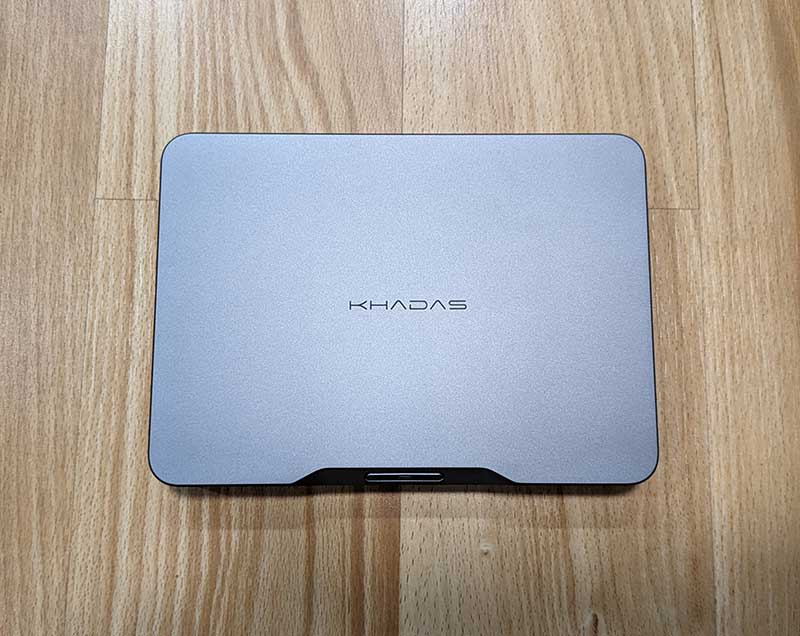 The Khadas Mind mini computer looks like it's been carved out of a solid chunk of matte grey aluminum. I really dig the style. It's rectangular with one button front and center along the top edge. This button has a status LED in the center that allows you to see if the computer is awake (white LED) or idle (blue LED).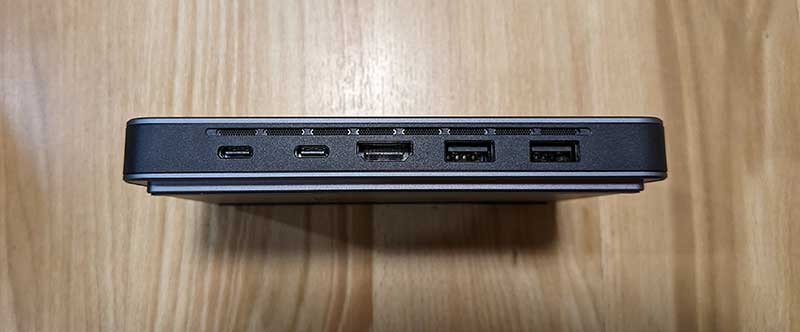 On the back edge, you will find 2 USB-C ports that support DP output and PD charging, an HDMI 2.0 port, and two USB-A 3.2 Gen 2 ports.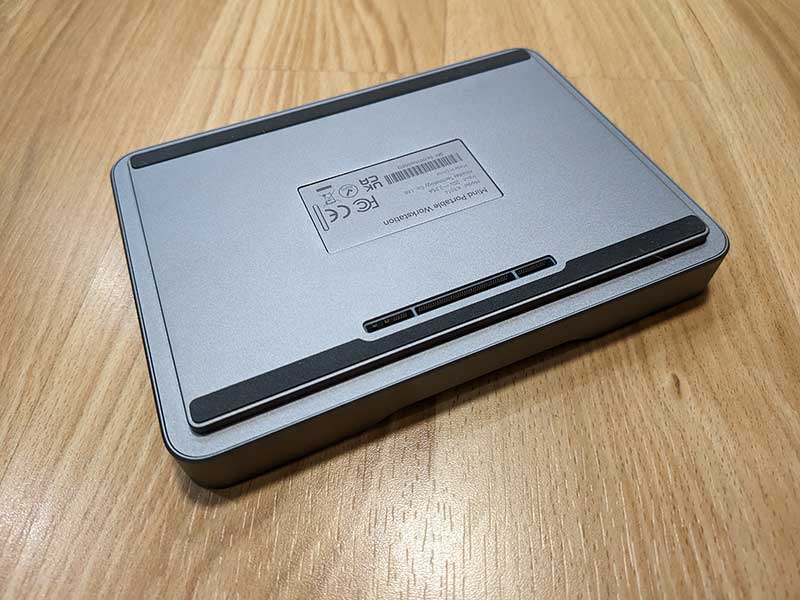 The bottom of the Khadas Mind portable workstation has two non-slip strips that will keep the computer from sliding around on your desk.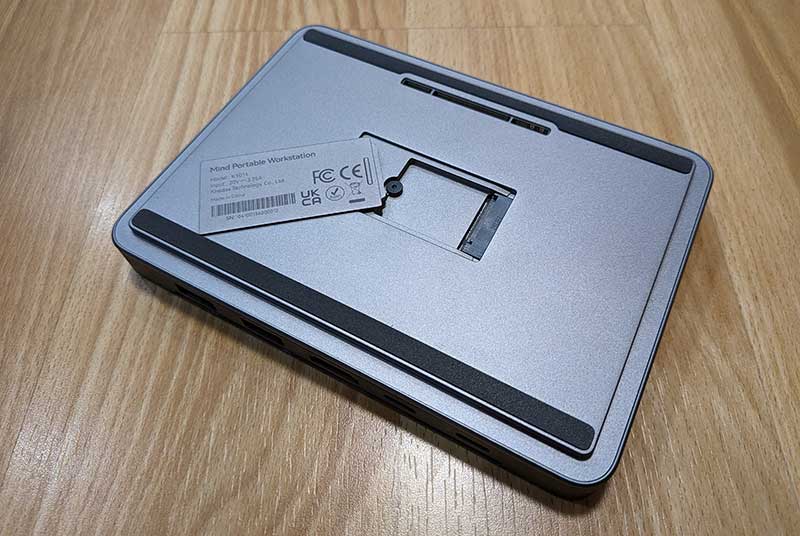 Also on the bottom of the computer is a small magnetic cover for the SSD drive expansion slot (compatible with most capacity 2230 M.2 NVMe SSD memory available on the market) and if you notice the three slots along the edge, that's the Mind Link interface that is used to connect the Khadas Mind Portable Workstation to other accessories like the Mind Dock.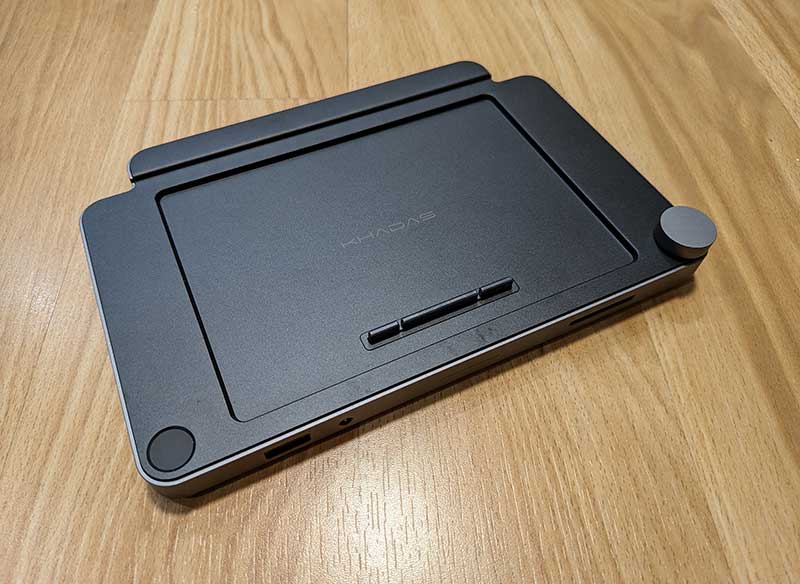 The Khadas Mind Dock is a docking station (optional purchase) that adds additional expansion ports, speakers, a physical volume knob, a fingerprint scanner, and more.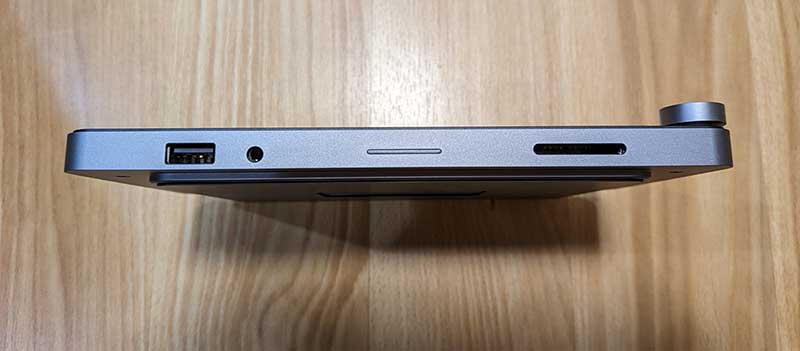 The front edge has a USB-A 3.2 Gen 1 port, a 3.5mm headphone jack, a status LED, and an SD card reader.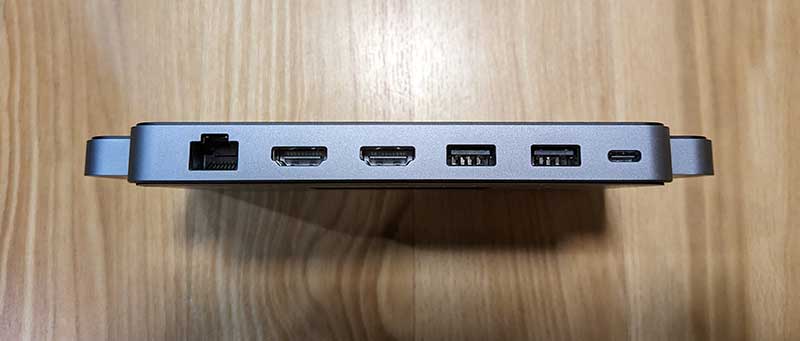 On the back of the Mind Dock, you'll find an Ethernet port, two HDMI 2.0 ports, 2 USB-A 3.2 Gen 1 ports, and a USB-C port. When you add the Khadas Mind workstation to the Mind Dock, you have a LOT of ports! You can connect up to 4 4K/60Hz displays to this computer when you use the Mind Dock.
Eventually, you'll be able to connect the Khadas Mind Portable Workstation to other accessories like the Mind Graphics external GPU, or the Mind xPlay which is a portable and flexible display.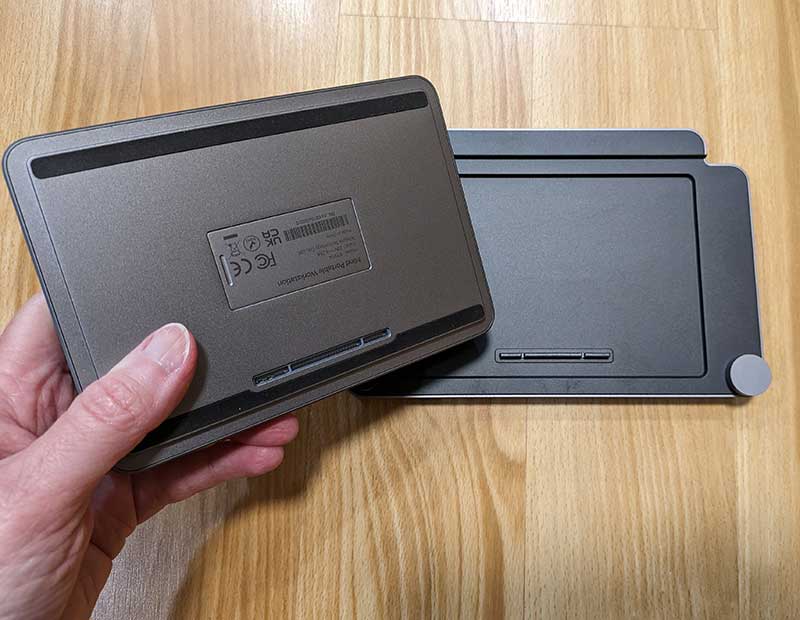 I love the modularity of the Khadas system and can't wait to see and try all of the accessories that they are planning to create for it.
Setup
Setting up the Khadas Portable Workstation is simply a matter of plugging the included USB-C cable into it and the power adapter. If you're using the Mind Dock, you can snap the Mind onto the top of the Mind Dock and either plug a USB-C cable into the Mind or the Mind Dock. Either way will provide power to both devices. You'll also need to add a monitor using an HDMI cable (not included), or a USB-C monitor. I tested the Khadas Mind Portable Workstation with my 49-inch Dell monitor and it worked great.
Once everything is connected, you can press the button on the center edge of the Mind to boot it up. It will boot up into Windows 11 Home and from there you can install apps and use it like you would any other PC.
Performance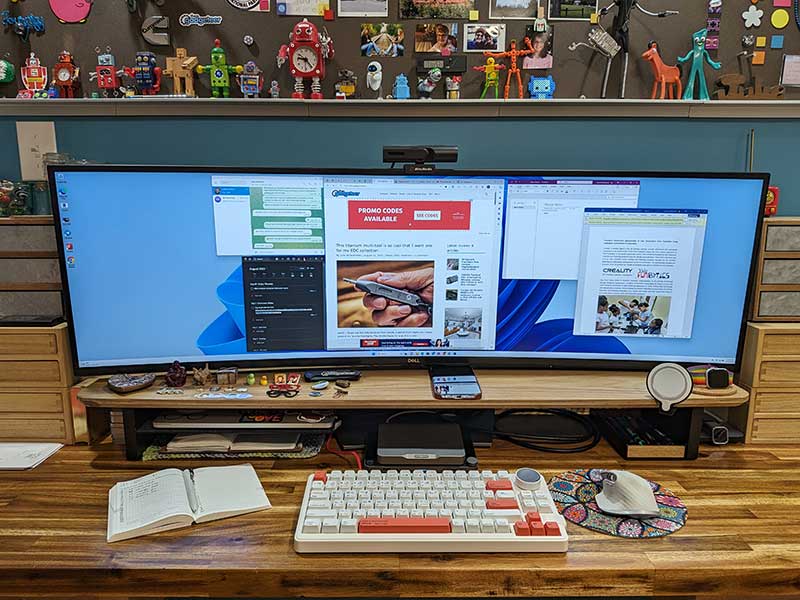 I'll say right away that I'm not a power user when it comes to using my MacBook as my daily driver and that's the same with a Windows PC. My daily work is mainly done in the Chrome browser (Gmail, writing reviews in WordPress, Google Sheets, Discord, Feedly, a billion other sites, etc.) and Photoshop. I also use apps like Telegram and Todoist. When it comes to editing and rendering the videos for my Gadgeteer Podcast, I use CapCut.
I'm not a gamer either, so I can't really comment on how well this computer will perform with various games, but their upcoming Mind Graphics module should allow you to play any game you like with no problems at all.
So in my day-to-day work, I wasn't pushing this computer past its capabilities. That said, I did notice that the fans would come on from time to time and warm air would blow out of the vents on the side. This is probably due to having too many tabs open in the Chrome browser.
When it comes to heat dissipation, the Khadas Mind Portable Workstation uses three methods. It uses VC liquid cooling, pure copper cooling fins, and a magnetic levitation cooling fan. That last one sounds like witchcraft 😉 Seriously though, this little computer performed very well for the type of work that I do day in and day out. Loading apps, switching back and forth between apps, loading webpages, scrolling long webpages, etc. was smooth and effortless.
I'm not really into benchmarking tests as much as I'm into how I feel about the overall performance of this computer during my daily tasks. But for those who do like benchmarks, here are a few for your viewing pleasure from Cinebench, Novabench, and the built-in task manager in Windows 11. Don't ask me to interpret them though…
Battery life but it's not what you think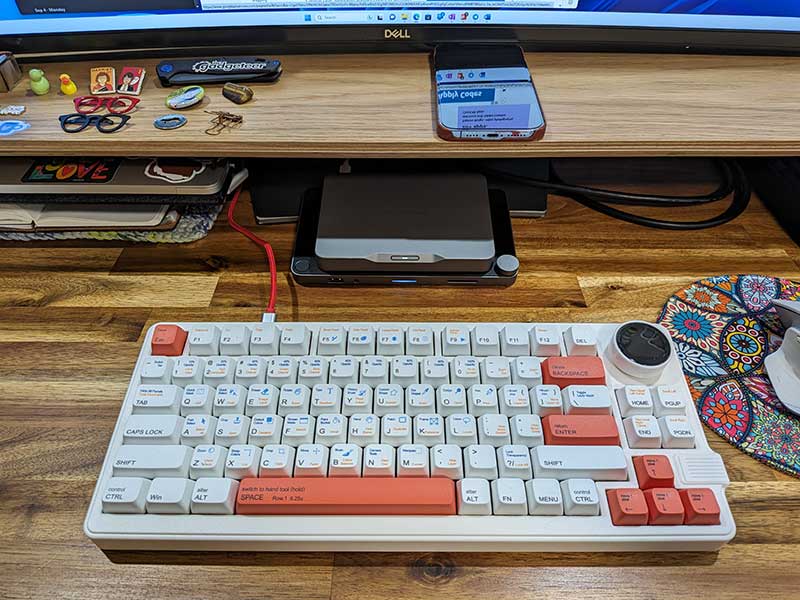 Yes, the Khadas has a built-in battery. But the battery does not allow you to run the computer all day without plugging it into a wall outlet. The 5.55Wh standby battery saves the state so you don't need to power down when you're moving it from place to place.
So it's like a laptop where you close the lid and it goes to sleep while saving your place/work. Without being plugged into AC, the Khadas Mind's built-in battery can support normal operation for a maximum of 20 minutes, but it's best suited for up to 5 hours of standby time and up to 25 hours in sleep/hibernation mode. That means that you can unplug it from your desk at work, put it in a bag, go home, plug it in and it will resume from the same place where you were working when you were at the office.
What I like
Tiny!
Modular
Expandable memory with SSD slot
Mind Dock adds even more ports
Up to 4 4K monitor support (with Mind Dock)
Standby battery
What I'd change
More modules, please!
Add a USB-C port on the front of the computer or dock for easier access
Final thoughts
It's been over a year since I've used a Windows PC and I have to say that testing the Khadas Mind has made me wonder if I should consider switching to Windows from macOS because I like this little computer so much. It's incredibly well designed and the expansion options from adding an SSD to offering ports for any peripheral that you can think of and the ability to connect up to 4 4K monitors is over the top great. If I were working outside my home, I can see how the Khadas Mind would be a great computer to take to and from work. Imagine having the Mind Dock at home and at work. You could remove the Mind workstation from the Dock, throw it in your bag (or even your pocket if you wear cargo pants) and then go to the next place home/work where you could plug it into another Dock. This one gets 2 thumbs up from me. Great design, great quality PC.
The Khadas Mind campaign ends on 10/23/23 and they have already blown past their funding goal of $5098. You can pre-order a Khadas Mind starting at $599 (early bird deal). After the Khadas Mind campaign ends, rewards are estimated to start shipping in October 2023. Visit their Kickstarter page for all the details.
Price: Starting at $599.00 (early bird)
Where to buy: Kickstarter
Source: The sample for this review was provided by Khadas.