We use affiliate links. If you buy something through the links on this page, we may earn a commission at no cost to you. Learn more.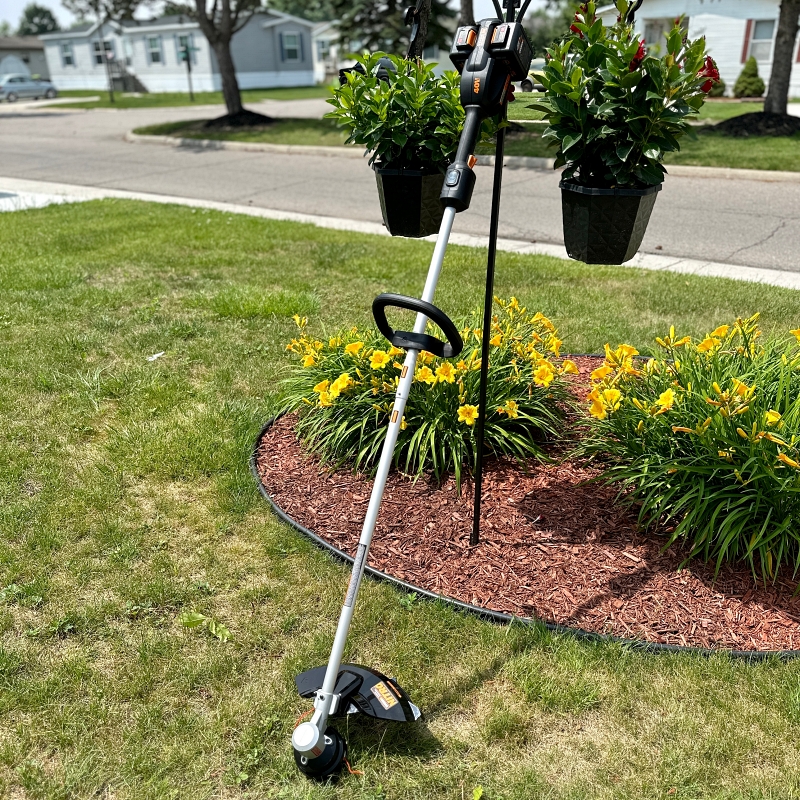 REVIEW  – I reviewed the WORX 20″ cordless lawnmower back in 2019. It was the first electric-powered lawn tool I had ever used, and I'll never go back to gas-powered alternatives. I'm happy to say that the lawnmower has proven to be durable and reliable, requiring minimal maintenance, with only the cutting blade needing replacement. Since then, I've added an electric blower and wanted to finish my collection with an electric trimmer. As luck would have it, WORX offered their Nitro 40V Brushless 15″ Cordless String Trimmer for a review. Given my excellent experience with their lawnmower, I was excited to try this trimmer.
What is it?
The WORX Nitro cordless string trimmer is a 40V weed eater powered by 2-20V 4.0-amp hour batteries. It has a brushless motor, a 15″ dual-exit cutting head, a bump-feed line system, and variable speed control.
What's in the box?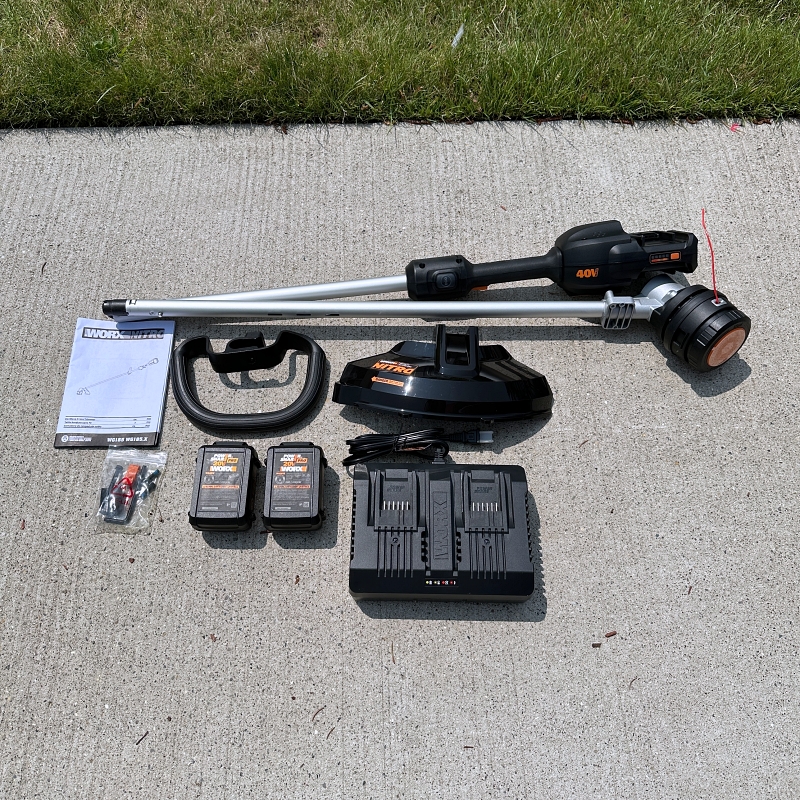 40V 15″ Grass Trimmer
2- 20V Batteries
4A Dual-Charger
Auxiliary handle
Safety guard
Specs
Voltage- 40V MAX
Battery Capacity- 2 X 4.0 Ah
Cutting Diameter- 15 in.
Motor- Brushless
Line Feed- Dual-Exit, Bump-Feed
Line Diameter- 0.095 in.
Weight- 9.20 lbs.
Design and features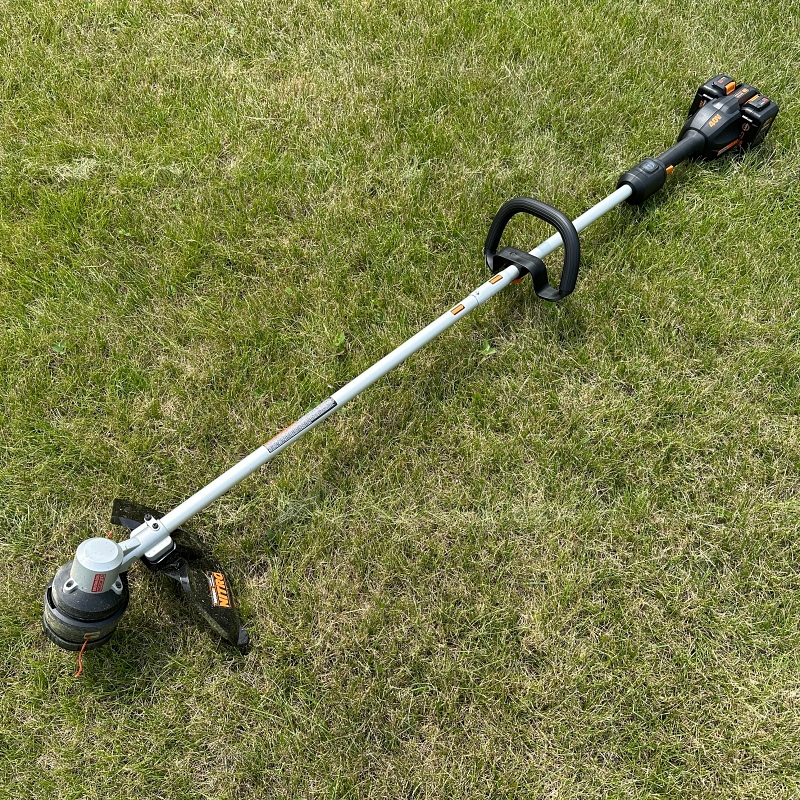 The Worx Nitro 40V Brushless 15″ Cordless String Trimmer comes pretty much preassembled.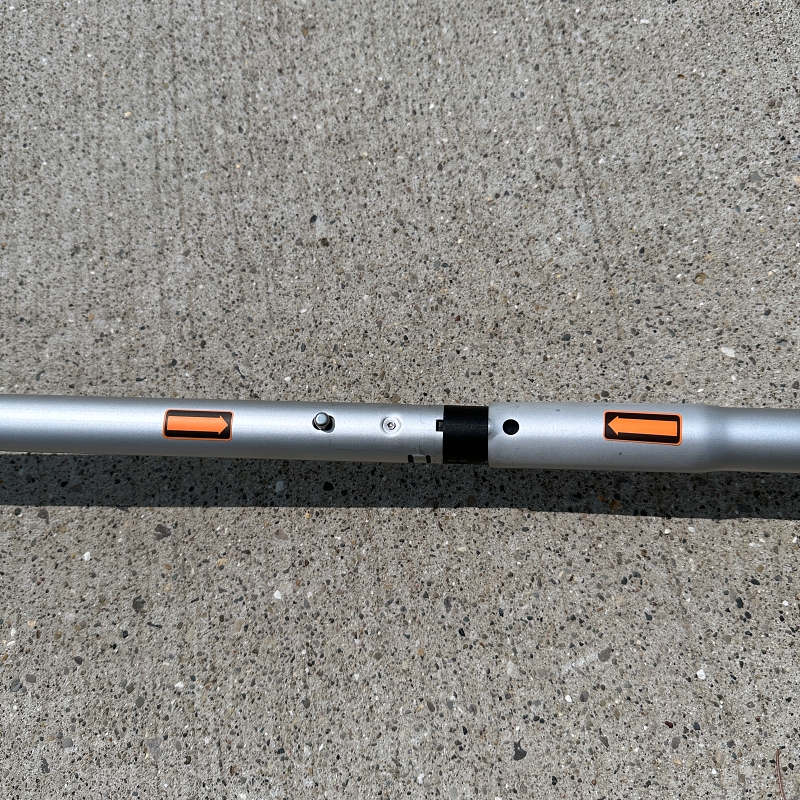 You only need to snap the upper and lower shaft together and attach the auxiliary handle and safety guard. When assembled, the trimmer is 66.5 inches long and weighs just over 9 lbs.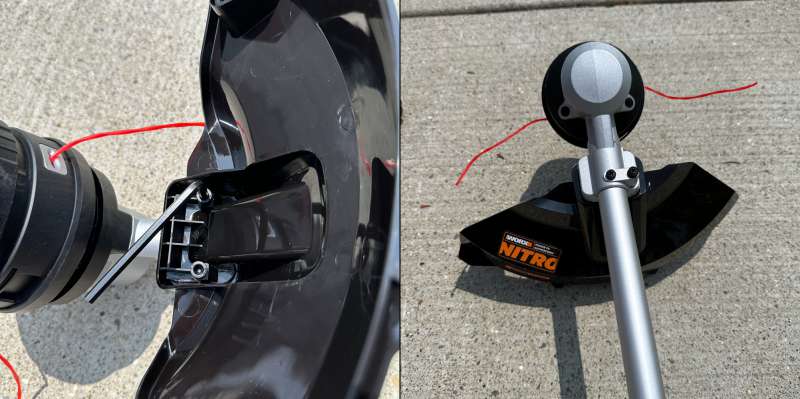 The auxiliary handle is made of flexible plastic and can easily be adjusted up or down and rotates 360º.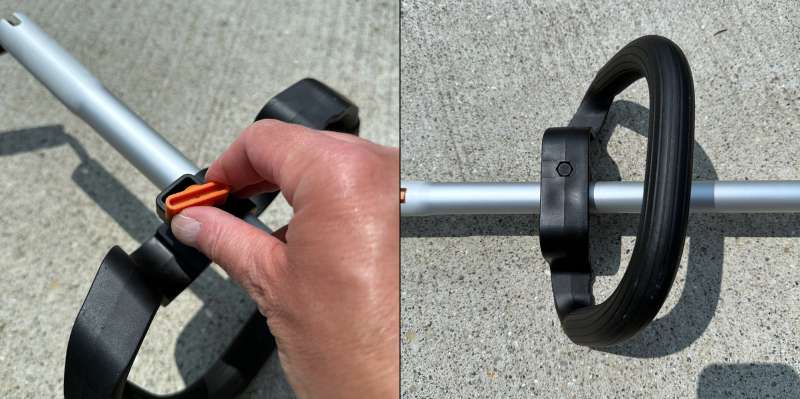 The Worx Nitro 40V Brushless 15″ Cordless String Trimmer has variable speed control that lets you choose the best trimming pace for various applications. There is also an ECO mode button located near the throttle. ECO mode offers a lower-power option, saving battery power and extending run time.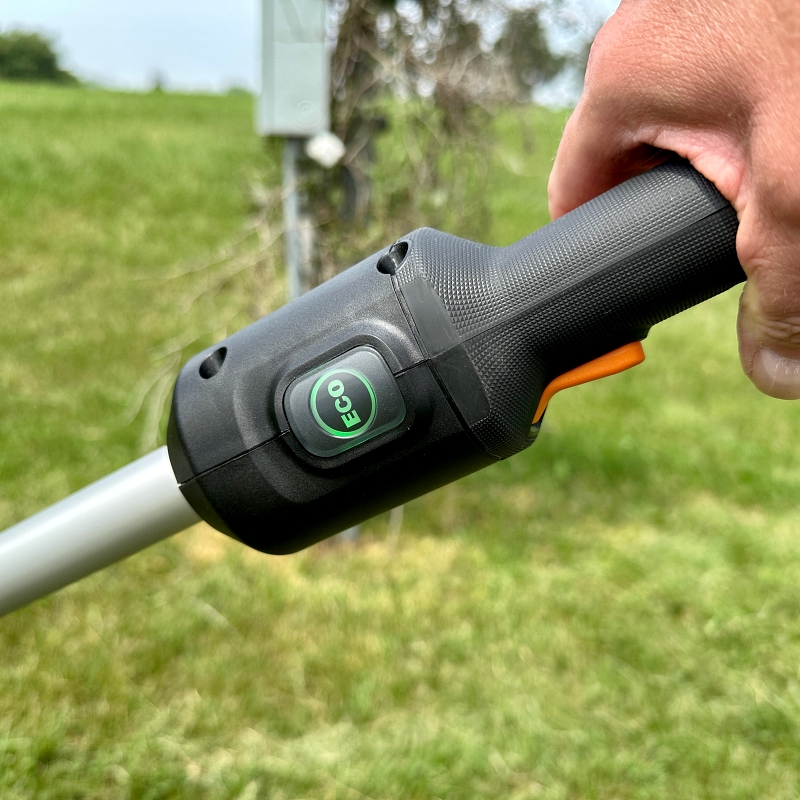 A safety button must also be depressed to engage the throttle.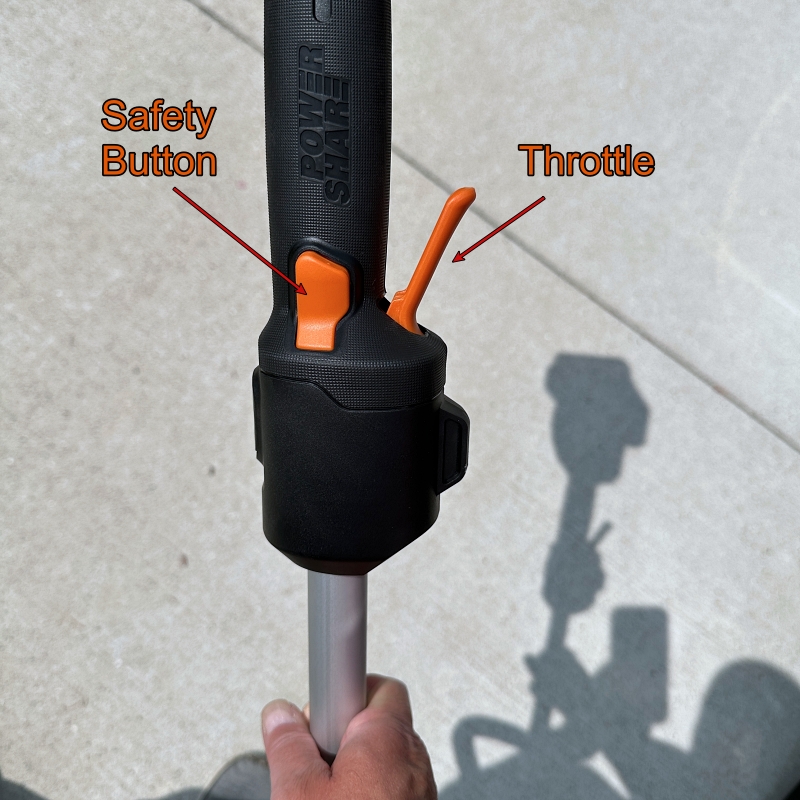 The battery compartment is located at the top end of the trimmer. It holds two 20V batteries and a single charge level battery indicator monitors the combined charge levels of both batteries.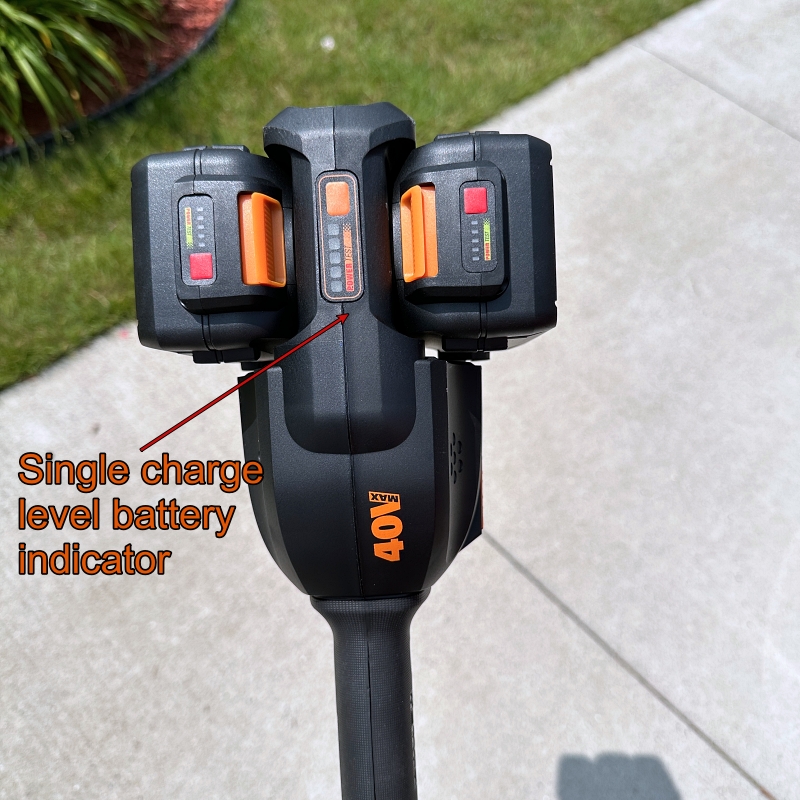 The WORX Nitro is built with a high-efficiency brushless motor. The brushless motor runs 50% longer, is 25% more powerful, and has a 10X longer life than brushed motors.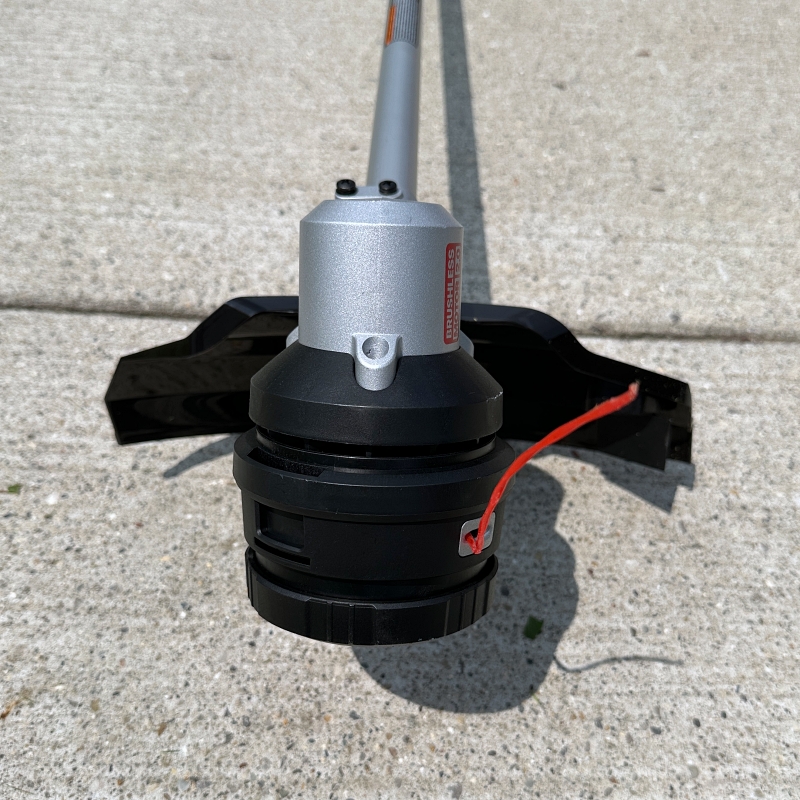 For trimming, the Worx Nitro 40V Brushless 15″ Cordless String Trimmer uses a 15″ dual-cutting head and comes preloaded with 13- feet of 0.095″ twist line. It also features an easy-load spool system that simplifies trimming line installation. Thread the line through the spool until equal length on both ends and then twist the spool until the trimming line is at the proper length. During my first use, one side of the line broke off at the spool, so I had to remove and reload the line. What could have been a real mess was made simple using the easy-load feature.
The WORX Nitro also has a bump-feed system that advances the trimming line when you tap it on the ground.
The trimmer is powered by not one but two 20V power share batteries. And it comes with a dual charger so you can charge both batteries simultaneously. With the dual charger, the charge time is approximately 2 hours. The nice thing about the Power Share batteries is that I can swap them with my WORX lawn mower.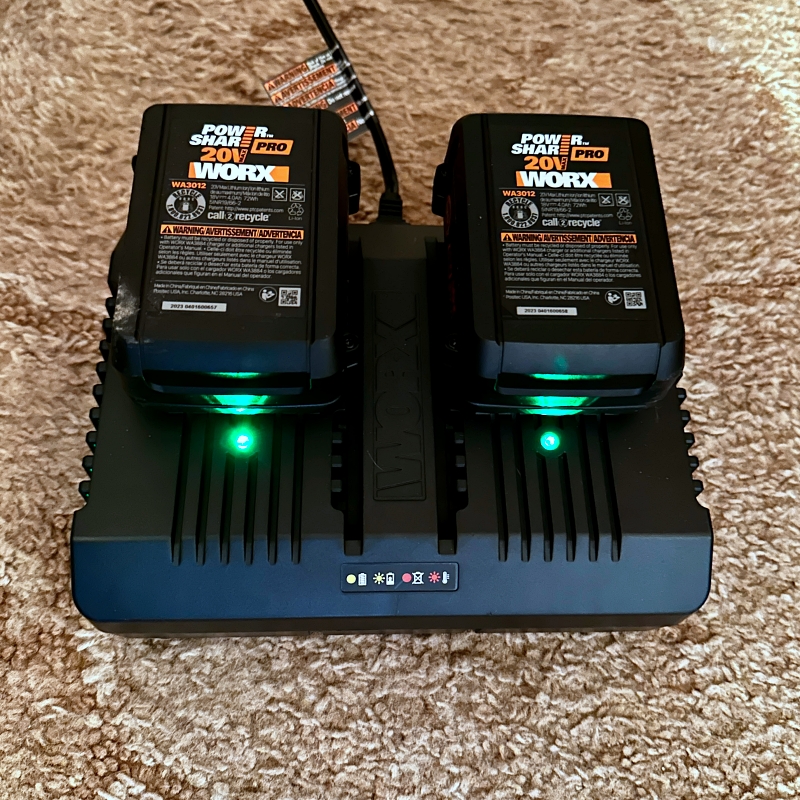 Performance
The Worx Nitro 40V Brushless 15″ Cordless String Trimmer performed exceptionally well in my testing. I've used it three times, and I'm thrilled with the results. The trimmer is well-balanced and lightweight, and the brushless motor is whisper quiet. As far as power goes, this thing is a beast. The variable speed control throttle and the ability to increase power while edging or dealing with dense overgrowth are fantastic. And the bump line feed worked as advertised.
I found the ECO mode perfect for trimming light grass around the house and flower beds, but not much else. It's like putting the trimmer into cruise control at a low speed. But if you have a large, not dense area to trim, the ECO mode will definitely extend the trimmer's battery life.
Edging is where many trimmers struggle, but not the WORX Nitro. The power of the dual 20V batteries and dual exit cutting head shined here. It made edging my lawn and breeze. Below is a short video of the WORX Nitro in action.
As far as battery performance goes, I had zero issues. It took me approximately 45 minutes to trim and edge my lawn, and the battery indicator still showed 4 out of 5 bars.
Overall, I couldn't be happier with the Worx Nitro 40V Brushless 15″ Cordless String Trimmer. It's very user-friendly, and the results are pro-level. Honestly, the WORX Nitro might be overkill with my medium size lawn. But like they say, go big or go home.
What I like
Well-balanced and lightweight
Easy to operate
Powerful
Bump line feed
Variable speed control and ECO mode
Dual-exit cutting head
Excellent battery life and Power Share ability
Easy-load spool head system
What I'd change
Final thoughts
If you're looking for a battery-powered trimmer with power and pro-level performance, the WORX Nitro 40V Brushless 15″ Cordless String Trimmer should be at the top of your list.
Price: $269.99
Where to buy: Worx and Amazon
Source: The sample for this review was provided by WORX.