We use affiliate links. If you buy something through the links on this page, we may earn a commission at no cost to you. Learn more.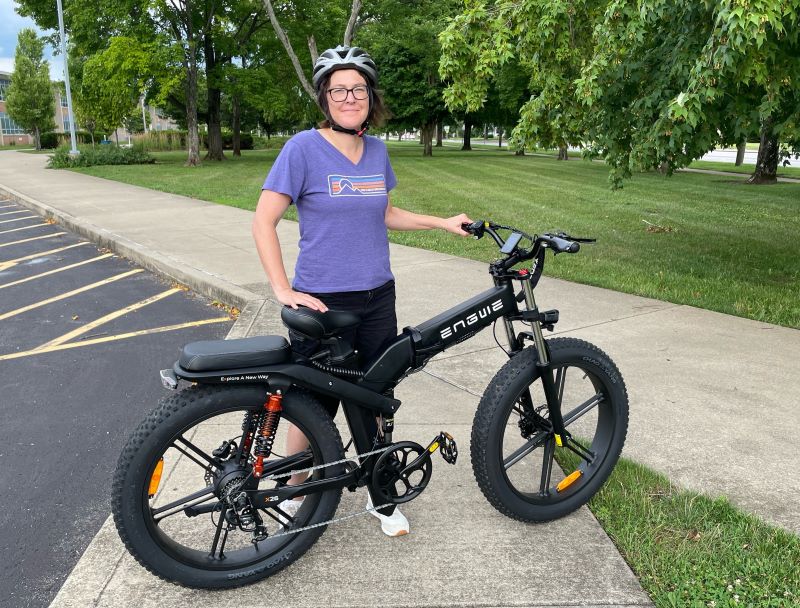 REVIEW – When my co-reviewer Mason needed to have his car repaired, and we knew it would be in the shop at least 10 days, we asked to review the ENGWE X26 e-Bike as an alternative way for him to get around. He really liked the back rack with seat cushion and the overall look of this bike. I liked that it folded up for easy storage. We decided to give it a try.
What is it?
The ENGWE X26 1000W folding electric bike has 26″ fat tires, a triple-shock system, and reaches speeds up to 31 mph.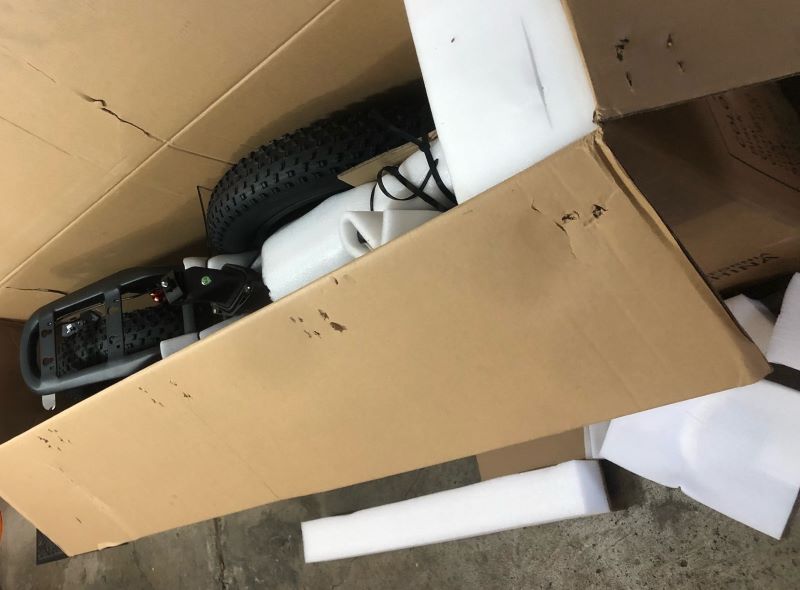 What's in the box?
ENGWE X26 e-Bike
48V 19.2 Ah battery
48V 10Ah battery
Battery charger
Assembly tools
Pedals (2)
Handlebars (shipped installed on bike)
User manual
Tool kit
Hardware specs
Brand: ENGWE
Model: X26
Body material: Aluminum alloy
Maximum load: 330lbs / 150KG
Weight:  90 pounds/41KG
Maximum speed: 50KPH / 31MPH
Maximum gradient: 30 degrees
Read derailleur: 8 speed
Suspension: Triple suspensions
Power: 1200W (Peak), 1000 (Rated)
Tire Size: 26×4 Inches
Riding modes: Eco, Normal, and Sport
Range Per Charge (electric Mode): 62 Miles pure electric/93 miles pedal assist
Working temperature: -4 to 140 degrees F
Rated voltage: 48V
Battery Capacity: 19.2AH (Main Battery), 48V /9.6AH (Extra Battery)
Service life: 500 times
Motor type: Brushless gear motor
Maximum torque: 70Nm
Charger parameters: Input voltage 100-240V;  54V; 3A
Charging time: 6 hours
Brake: Hydraulic front & rear brake
Acceleration: 46s 0-50 KMH/27 MPH
Suitable for: 5'5.7″-6'8.9″
Size: 192x72x120
Color: Black/Grey
Warranty: One year for motors, batteries, and controllers
Design and features
Setup
The ENGWE X26 e-Bike showed up on our doorstep while we were on vacation. My son's friend very kindly hauled it into our garage for us… but now that I know the bike weighs 90+ pounds, not including all the packaging, I would recommend having two people for the job!
And the same goes for set-up, even though it comes 90% pre-assembled, there's still some work to do after you remove it from the giant box it arrives in.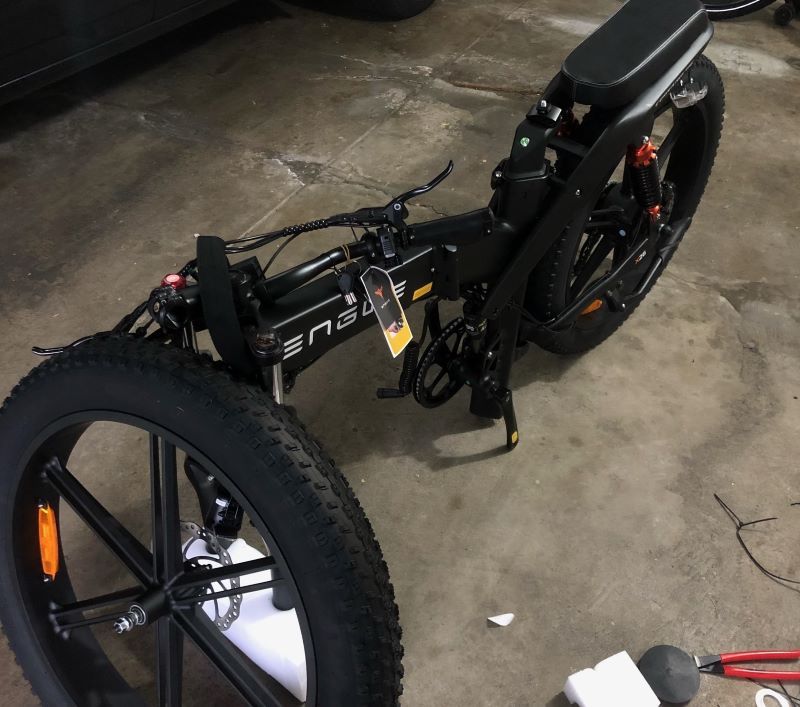 Once you've unpacked the electric bike, a good first step is to charge up the battery, which takes 6 hours from zero charge.
On the handlebars, you need to position the instrument panel and put the bracket on with four bolts to hold it in place.
You also need to put on the saddle by first putting on the bracket that it sits on, using a long screw.
You just need one screw to affix the headlamp.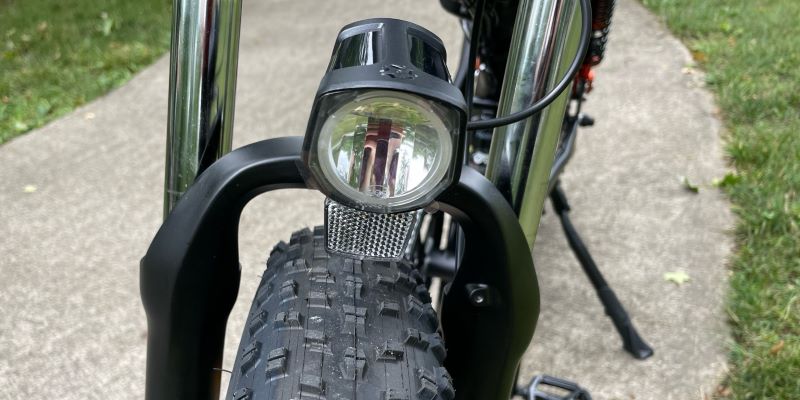 You slide the cushion into place on the rear rack.
You manually install the pedals (marked "R" and "L") by turning either clockwise (left pedal) or counterclockwise (right pedal) and then tightening them with a wrench.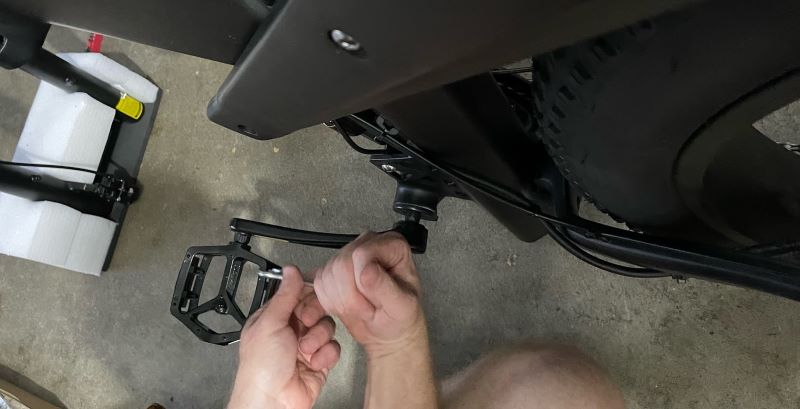 You also need to clamp the front wheel with the front fork, and lock the front wheel screw with a wrench.
Then, like with any bicycle, you'll need to air up the tires and adjust the seat to your liking.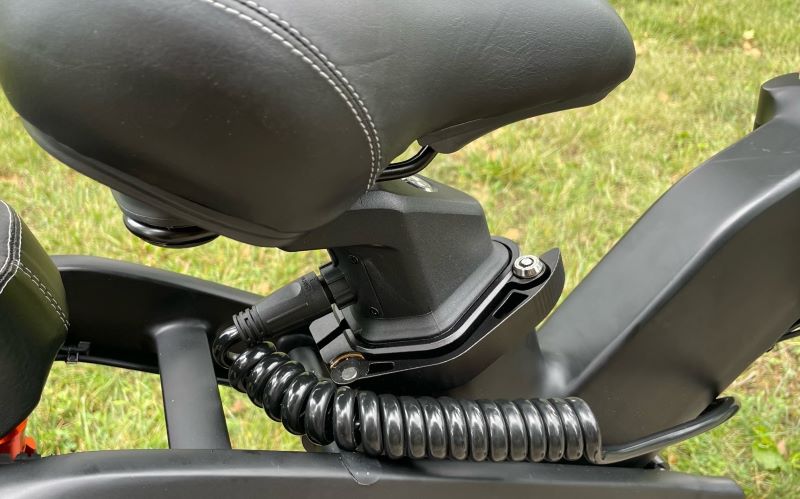 I think it's important to add that the ENGWE X26 e-Bike is a very sharp-looking bike. You will get noticed. Every time we take it out, we have people yelling to us from the bike path, "Nice bike!" or turning to catch a glimpse. I'm sure part of the interest is that we're pedaling nice and easy and reaching speeds up to 30 mph. Yet, even when we parked them outside a favorite pub, we watched from the window as every single person walking inside looked this bike up and down; one couple even sought us out to ask questions about the bike, and when we happened to see them again a week later, they pointed us out as the "eBike people." Trust me, the ENGWE X26 e-Bike turns heads.
Performance
This eBike is a very smooth ride, with a triple-shock system. I've never felt such a comfy bike ride. I used to need biking gloves for longer rides, but not on this bike. It has a front hydraulic shock, rear air shock, and middle mechanical shock.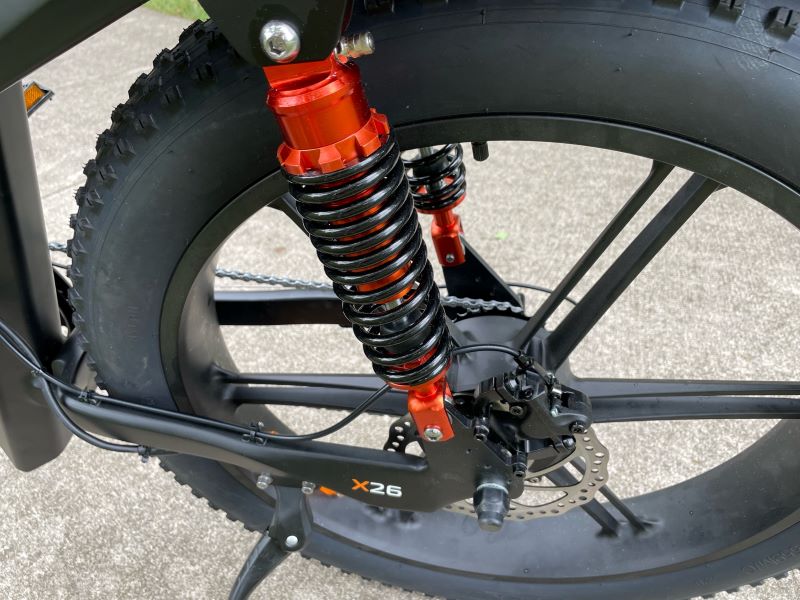 You can also adjust the shocks to your liking.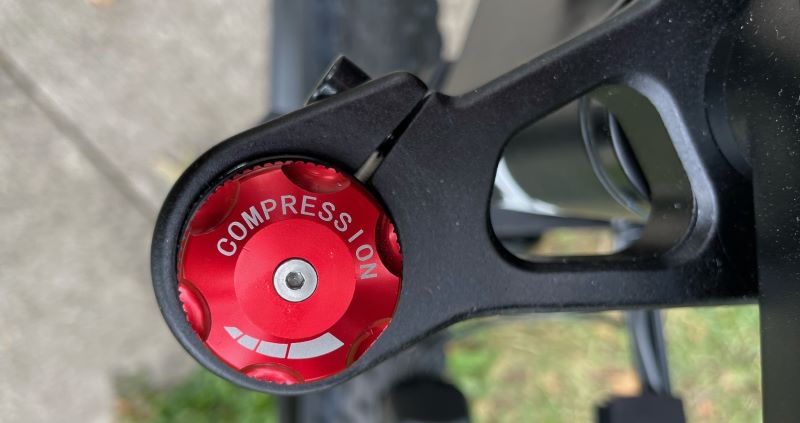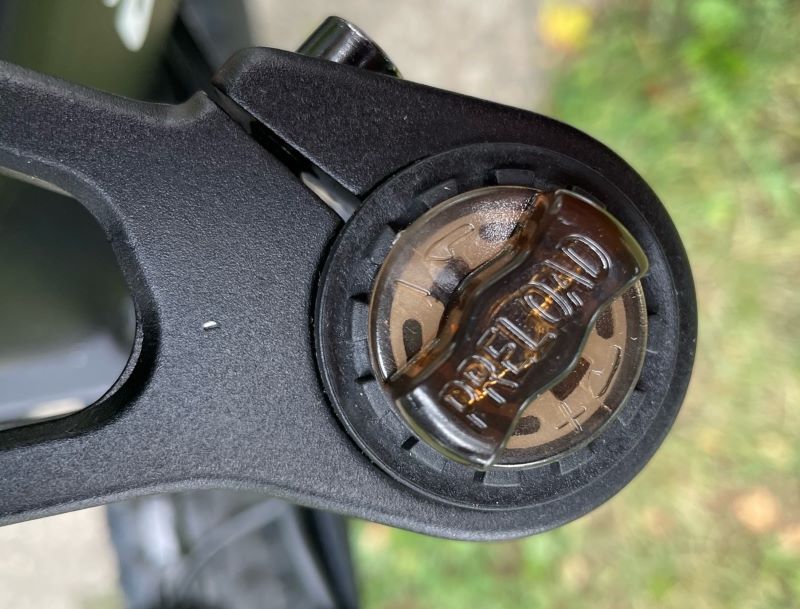 The integrated rear bike seat/rack, heavy-duty kickstand, and built-in front and back lights are very nice touches, and frequent riders will appreciate not having to get additional accessories.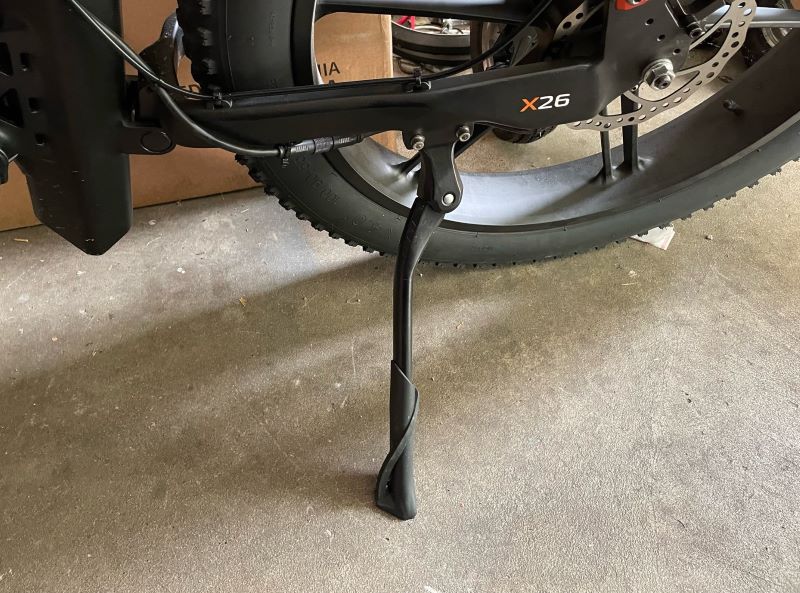 The ENGWE X26 e-Bike is a big bike! It's listed as fitting anyone 5'57"-6'89." I'm just a hair under 5'8″ and feel it's a little too big for me. That could be because I'm used to lighter, lower profile bikes. The three men in my household are between 5'9″ and 5'11" and they are very comfortable on this bike.  (ENGWE does make a low-profile model, the L20, and the M20 have a smaller wheel size, so if I were to pick a model just for me to ride, I would have chosen one of those.)
You can see how the ENGWE X26 e-Bike fits next to Mason, who is 5'10" (below) compared to me (in the top photo and video).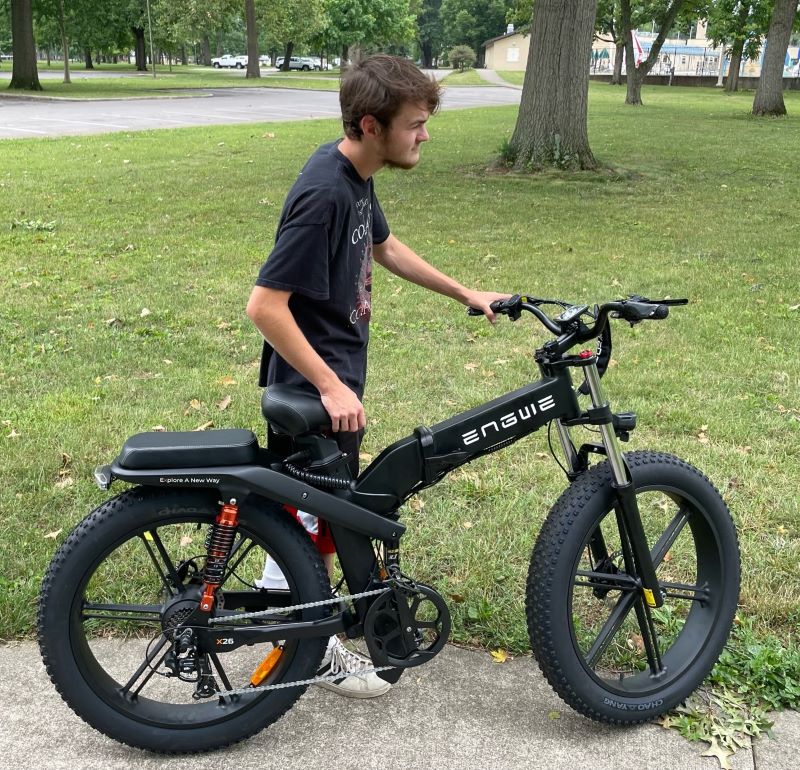 Sound wise, you can hear the bike coming but it's not loud. It's much more stealthy in the power-assist mode, louder with just the throttle, and somewhere in between when you use both. In the video, I'm using the power assist in the clip where I beep the horn (also a fun feature).
Without power, it's a cool-looking 8-speed bike, with a shifter on the right handlebar.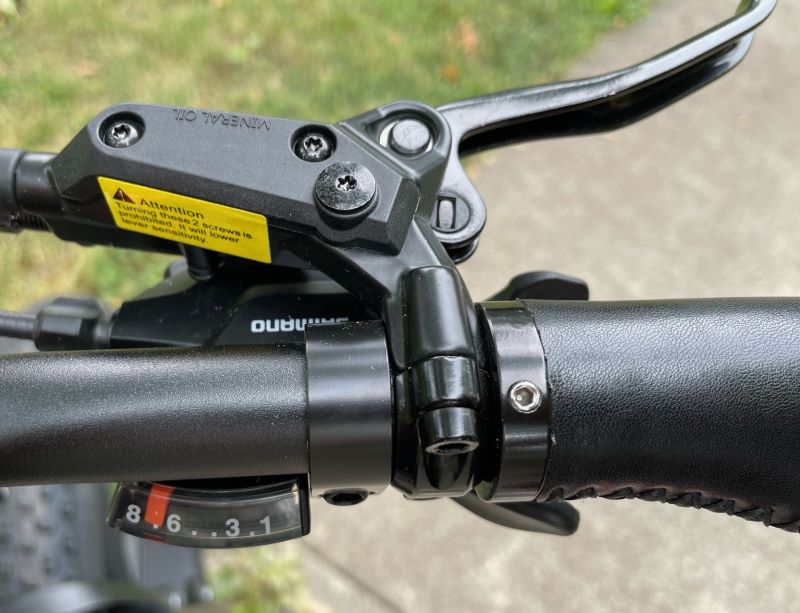 When using the power assist, there is a slight delay before it gives you an extra push of power every time you pedal the bike. It's a very nice feature, which I use every time I ride this bike, but it takes a little getting used to. I've learned that it's better not to pedal around corners or when you're maneuvering tight spaces, at least in the beginning when you're getting used to that extra push of power with every pump.
Let's talk about the controls for this e-bike. The control buttons are easy to reach and intuitive to use.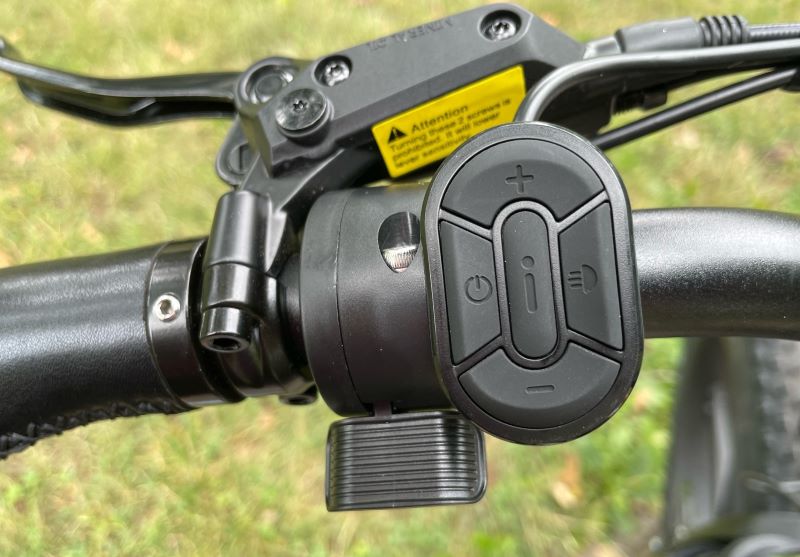 The power and light buttons are just click on and click off.
You click the "+" button once to increase your power assist level or for menu operations. You click "-" to decrease your power assist level, and to turn the pedestrian mode on/off (which is a little boost when you're walking the bike).
The "i" button gets you into the display interface. Press and hold the "i" button to change modes.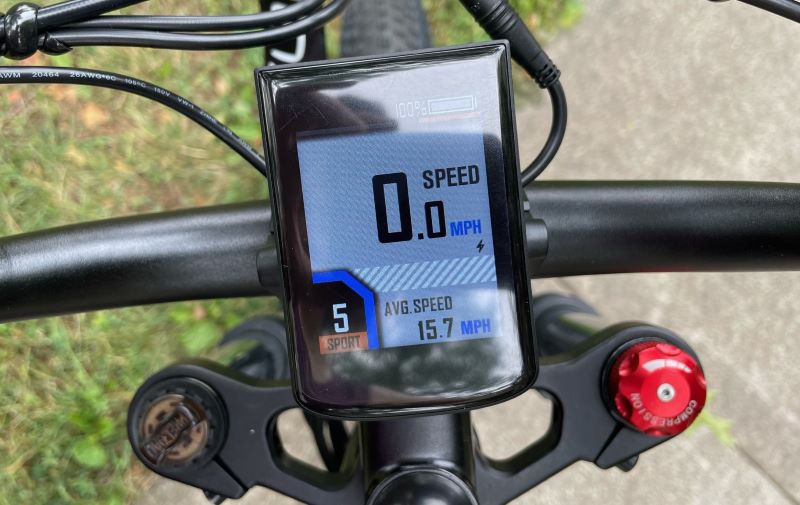 The riding interface lets you see your battery level, lets you know if your bike lights are on, shows your speed, which level you're in (Eco, Normal or Sport) and what power assist level (1-5). The multi-functional display area at the bottom has the option to show: total distance, trip distance, power, average speed, max speed and trip time. Switch between these by clicking the "i" to  view the options.
Click "+" and "-" at the same time to get into the user menu. In the user menu, you're able to clear data, do a factory reset, set your preferred unit of measurement, adjust the brightness, adjust your auto-off settings/timing, and set a speed limit. Additional personalization includes setting cruise control (CRU), reversing the charging current (ACF), turning on/off an automatic headlight, and adjusting the power assist.
You press and hold "i" to switch between Eco, Normal and Sport mode. You must be going over 9.3mph/15 kmh to switch into Sport mode, and you can only ride in Sport mode for 3 minutes, after which time it automatically shifts to Normal and won't go back to Sport for another 10 minutes.
I love that the ENGWE X26 e-Bike folds up for easier storage, and this bike folds in a way that I've never seen before. With a lever, it hinges in half sideways. It's a neat feature, but I disagree with the website that says it can be done by one person. Maybe if the person is extremely strong, but for an average person my opinion is this bike is much too heavy for one average person to fold up alone.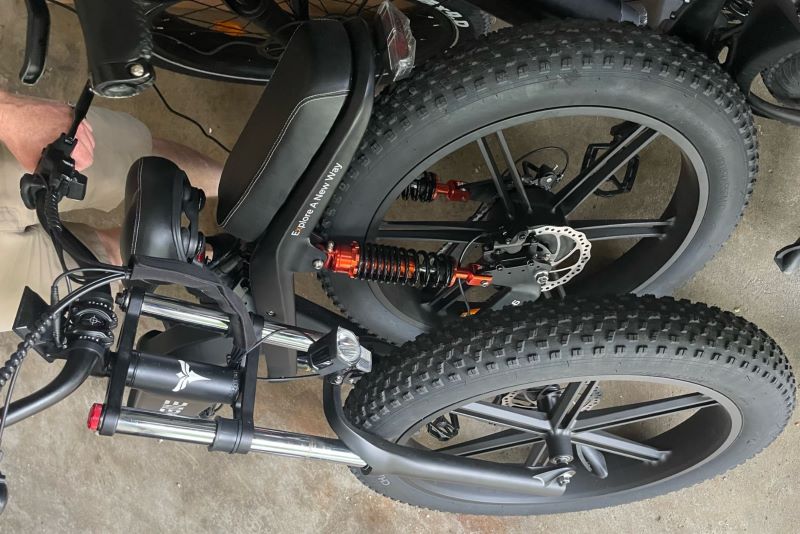 A small comment on the hinge where it folds in half: One of our four testers complained that it hits right at his knee, and sometimes bumps him when pedaling. This depends completely on the size of your rider and the way the bike's been adjusted, but it's something to note when considering one of these.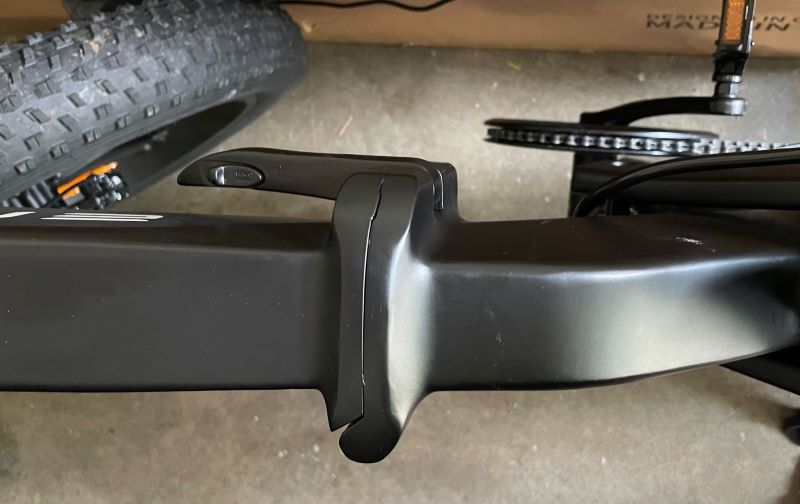 Another point to consider is that you need to be able to park it fairly close to a power outlet, since the charging port is just under the seat.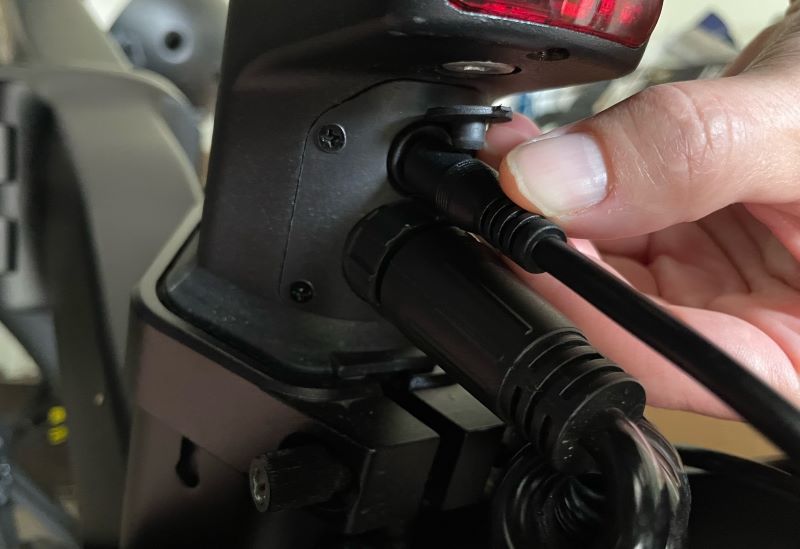 As I mentioned earlier, the ENGWE X26 e-Bike is a big and heavy bike, so it's also important to think about where you plan to park it and if/how you plan to transport it; the spot you park your regular bike and the bike rack that hooks to the back of your car may not work for this e-bike.
Battery life
The battery life on this e-bike is shockingly impressive. We thought we burned it out once, when my son ended a ride at 2 percent battery and my husband started it reading 0 percent battery, but then it popped up to 5 and then up to 14 percent battery. It will automatically switch down from Sport to Normal mode, and then he manually moved it to Eco at 14 percent battery to see how much longer it would last: Another 8+ miles! Once it was consistently below 5 percent, the power level started dipping dramatically.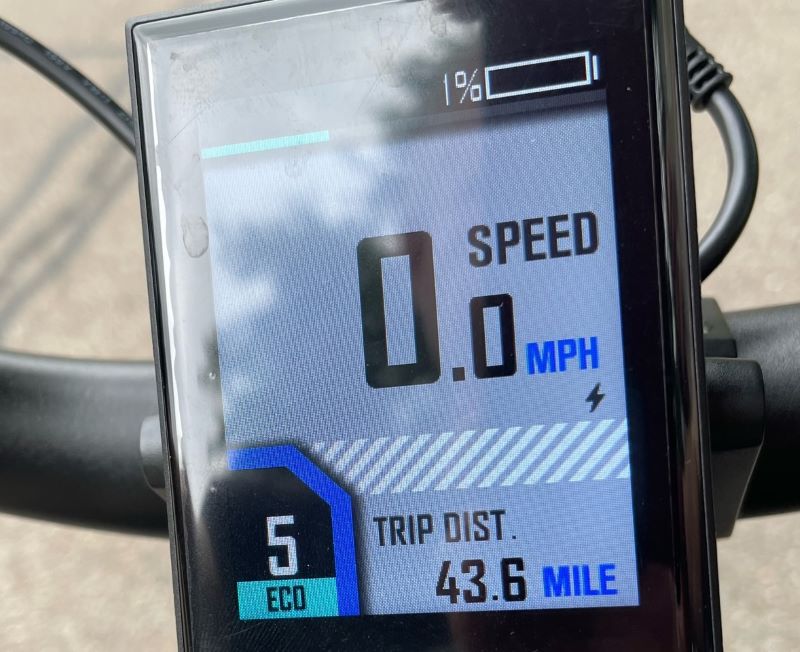 At the bitter end, it was only doing about 2 miles per hour and getting just 31 watts of power… but that was after a total of 43.6 miles since being plugged in!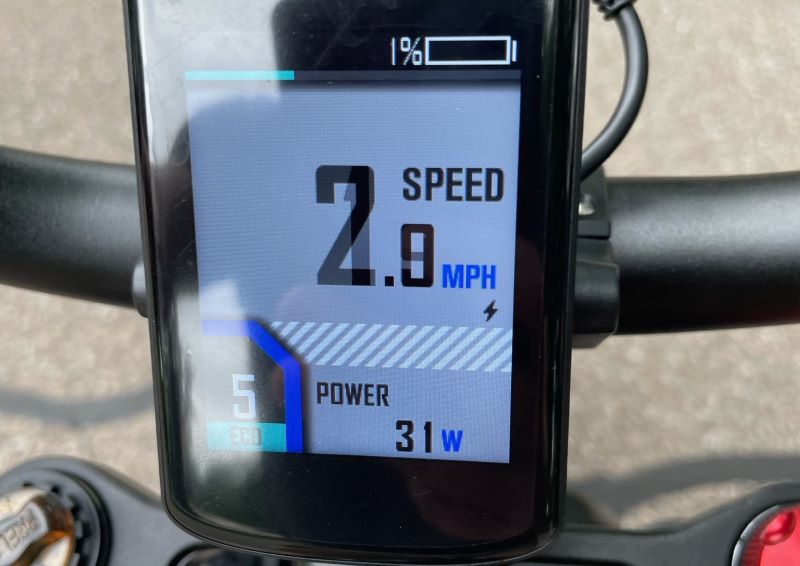 We typically ride using a combination of power assist and full electric using the throttle. If you're riding 30, even 40 miles at a time, you shouldn't have any issues with the battery on this bike. And if you're keeping it in Eco mode and on a lower power-assist setting, you'd probably go a lot further. The manual says it goes 62 miles full electric and 93 just using power assist.
See it in action
What I like
Comfortable ride
Extraordinary battery life
Folds up
What I'd change
Lighter
Faster response time with power assist
Final thoughts
The ENGWE X26 e-Bike is a very cool-looking eBike that's fun to ride and has a lot of features. Just be aware that it's bigger and heavier than a traditional bike.
Note: ENGWE is celebrating its X series release, and you will get $100 off on the X series and have an opportunity to win your ENGWE X E-bike and one of 100 pcs gifts! Sign up here.
Price: $1,899.99
Where to buy: Amazon or Engwe website
Source: The sample of this product was provided by ENGWE.