We use affiliate links. If you buy something through the links on this page, we may earn a commission at no cost to you. Learn more.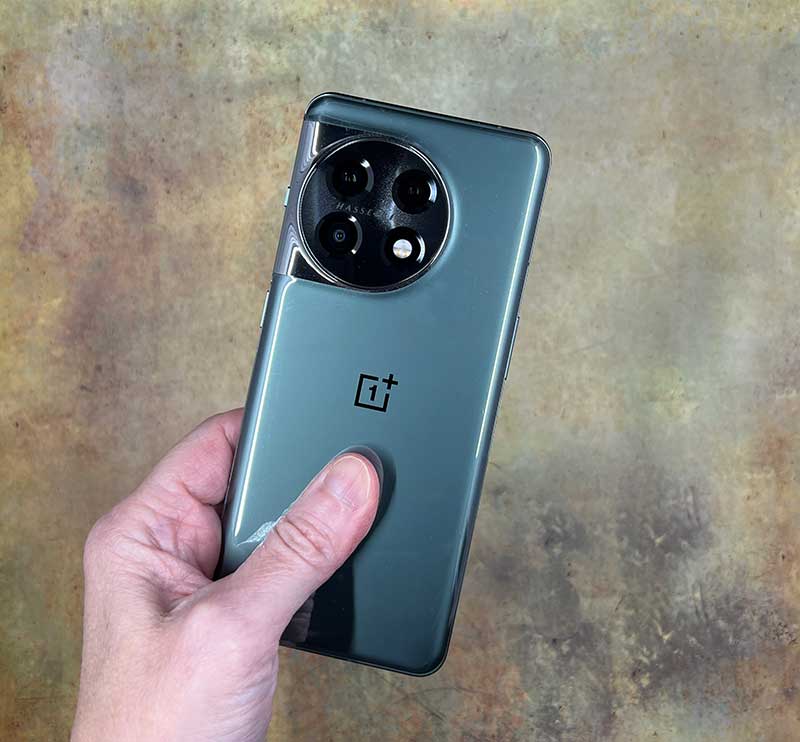 REVIEW – Last year, I had the privilege of reviewing my first OnePlus phone, the OnePlus 10 Pro, and now over one year later, they have sent me their latest flagship phone, the OnePlus 11 5G. The 10 Pro wasn't enough to make me want to switch to it from an iPhone as my daily driver. Let's find out if the OnePlus 11 fares better than the 10 Pro in that regard.
What is it?
The OnePlus 11 5G is the latest flagship smartphone from OnePlus that is powered by OxygenOS which is based on the Android 13 operating system.
What's in the box?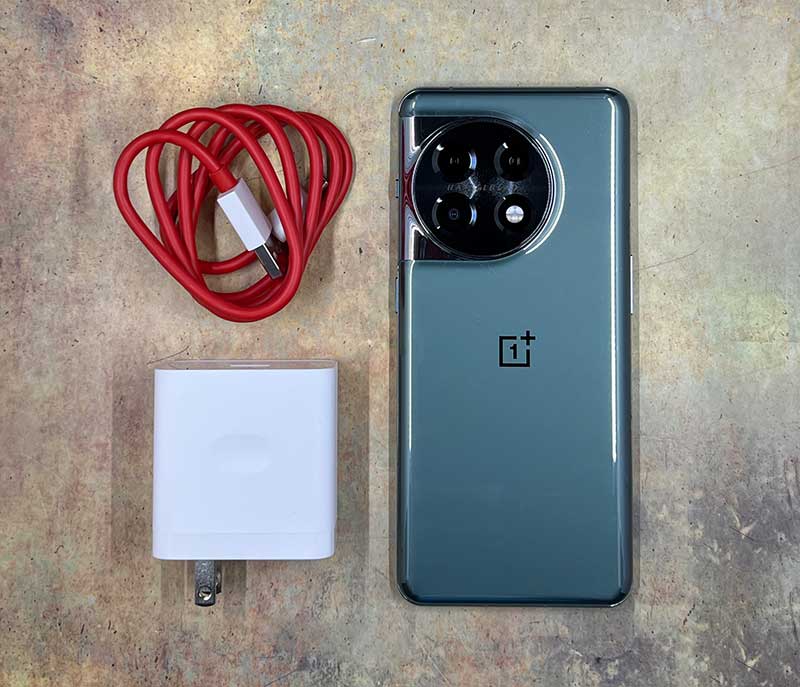 OnePlus 11 5G
80W SUPERVOOC Power Adapter
USB Type-A to Type-C Cable
Quick Start Guide
Welcome Letter
Safety Information and Warranty Card
OnePlus Stickers
Screen Protector (pre-applied)
SIM Tray Ejector
USB Dongle (Type-A to Type-C )
Tech specifications
Operating System: OxygenOS 13.0 based on Android™ 13
CPU: Qualcomm® Snapdragon™ 8 Gen 2
5G Chipset: X70
GPU: Adreno 740
RAM: 8GB/16GB LPDDR5X
Storage: 128GB UFS 3.1/256GB UFS 4.0
Display Size: 6.7 inches (Measured diagonally from corner to corner.)
Display Resolution: 3216 X 1440 pixels 525 ppi
Display Aspect Ratio: 20.1:9
Display Type: 120 Hz Fluid AMOLED with LTPO, Support sRGB, Display P3, 10-bit Color Depth
Display Cover Glass: Corning® Gorilla® Glass Victus
Battery: 5000 mAh (Dual-cell 2,500 mAh)
Main Camera Sensor: Sony IMX890
Sensor Size: 1/1.56″
Megapixels: 50
Pixel Size: 1.0µm
Focal Length: 23mm equivalent
Aperture: ƒ/1.8
Dimensions: Width: 74.1 mm, Thickness: 8.55 mm
Weight: 205g
Design and features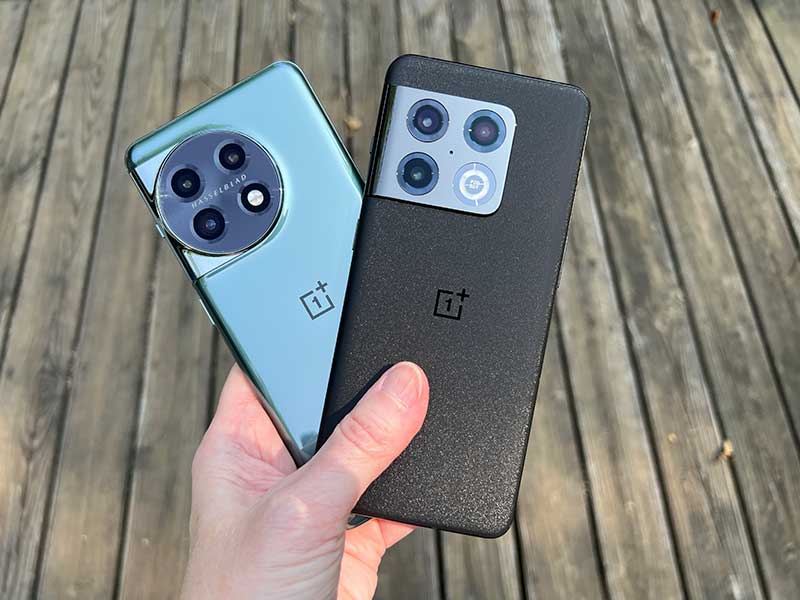 OnePlus phones have a unique style that is all their own. I personally like the style of the new OnePlus 11 5G because they actually updated the style so that it doesn't look the same as their previous model (I'm looking at you Apple).
The OnePlus 11 5G is available in black or Eternal Green like the one that was sent to me. Although I don't have the black version of the OnePlus 11 5G, I've been told that it has a matte finish similar to the previous OnePlus 10 Pro. The green version of the OnePlus 11 5G is not matte. It's really slick and slippery so I suggest a case. I ended up spending less than $15 on an easy-to-insert and remove Spigen Liquid Air Armor case from Amazon that looks good and prevents me from dropping the phone.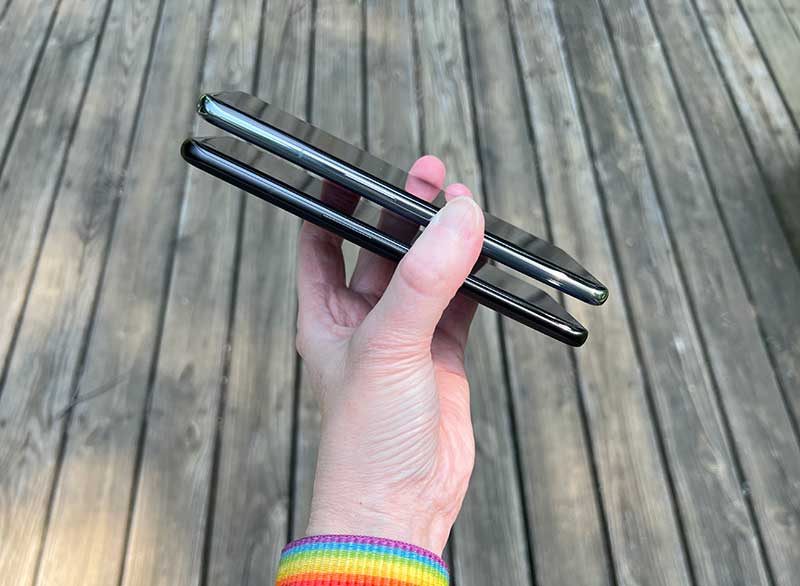 The left side of the OnePlus 11 still has a one-button volume rocker switch like the previous OnePlus.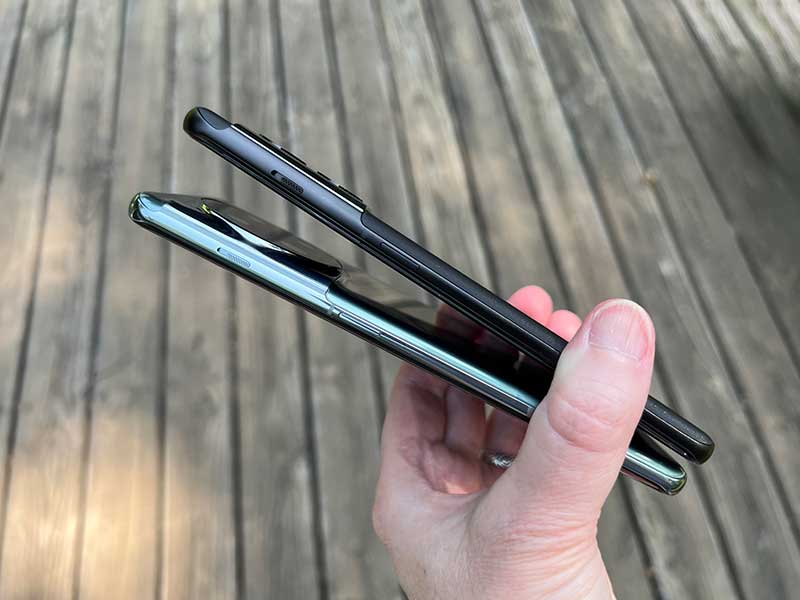 The opposite side of the phone has a knurled mute switch at the top and a power button below it. Does anyone else out there love physical mute switches just as much as I do?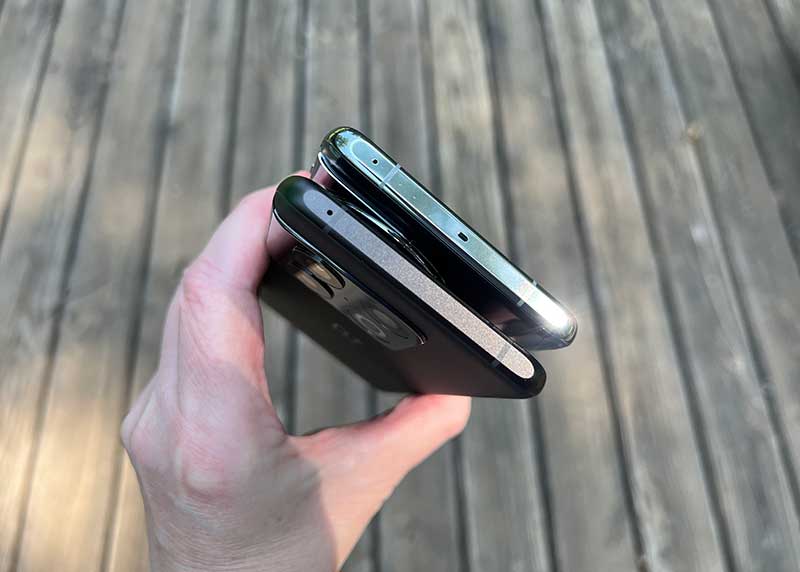 On the top edge of the OnePlus 11 5G, you'll find a speaker (middle hole) and microphone (smaller hole on the left). You can also see the antennas in the image above.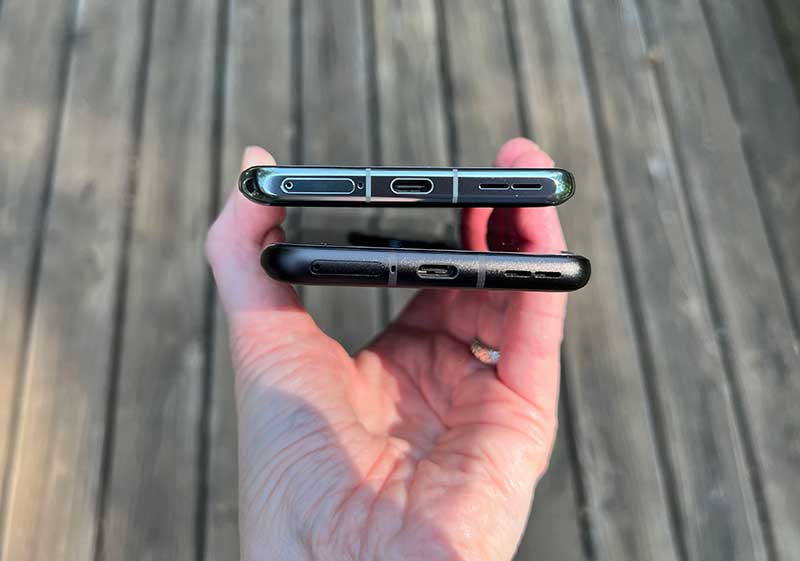 On the bottom edge of the phone, you'll find the SIM card tray, microphone, USB-C charging port, and speaker.
Display
To my eyes, the display on the OnePlus 11 5G looks pretty much identical in clarity, brightness, and vividness compared to the previous model. It also has slightly curved sides like the previous model. My preference is for a flat slab screen, but the curve on the OnePlus didn't really bother me. In the past, I've had problems with the palm of my hand inadvertently activating icons or controls on phones with curved displays. I didn't have this issue with the OnePlus.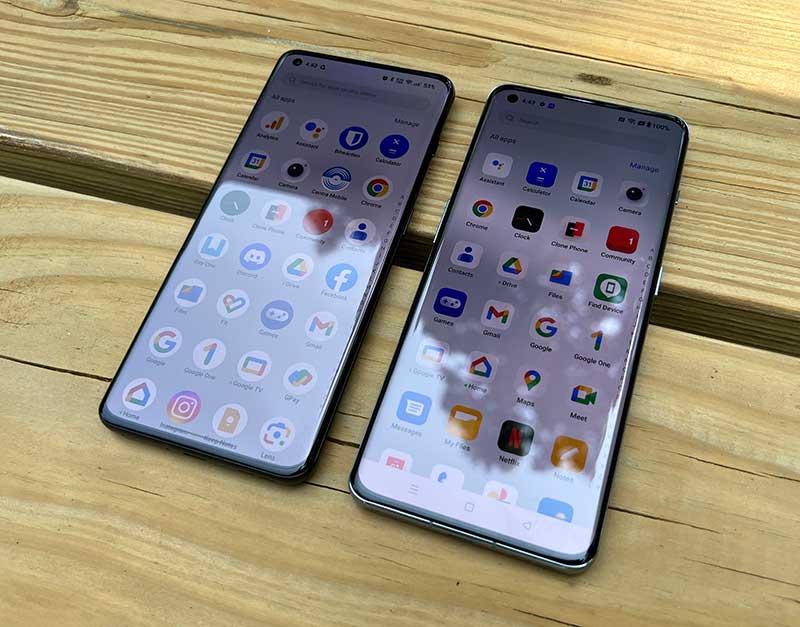 In the image above, the image was taken outdoors on a bright but overcast day with both phones set to max brightness. Could the display be even brighter for outdoor use? Sure. But I didn't have any problems reading text or interacting with the phone while outdoors on bright sunny days.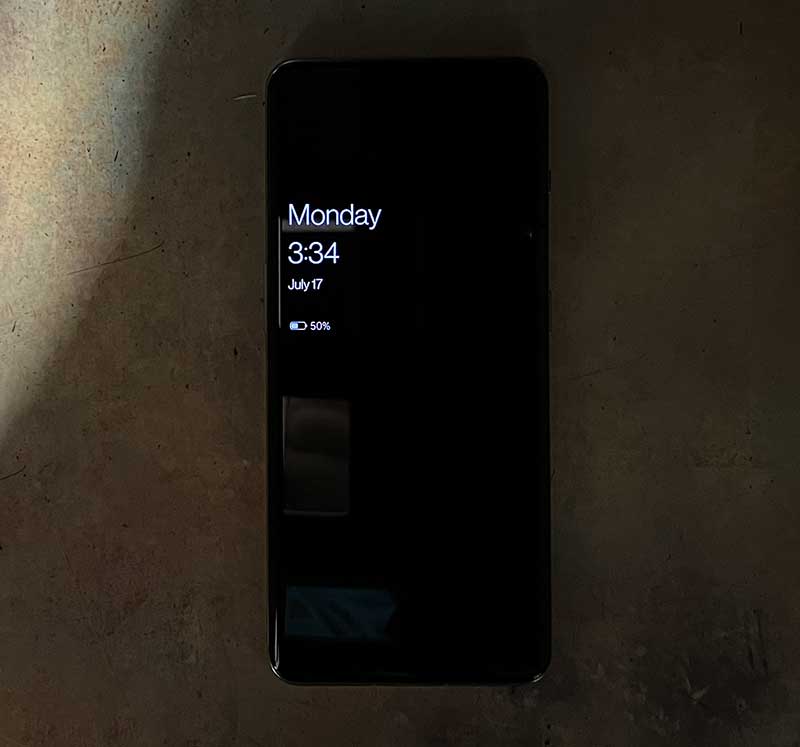 You have the option of enabling the always-on display to show the date, time, battery level, and notification icons when the phone is locked.
Camera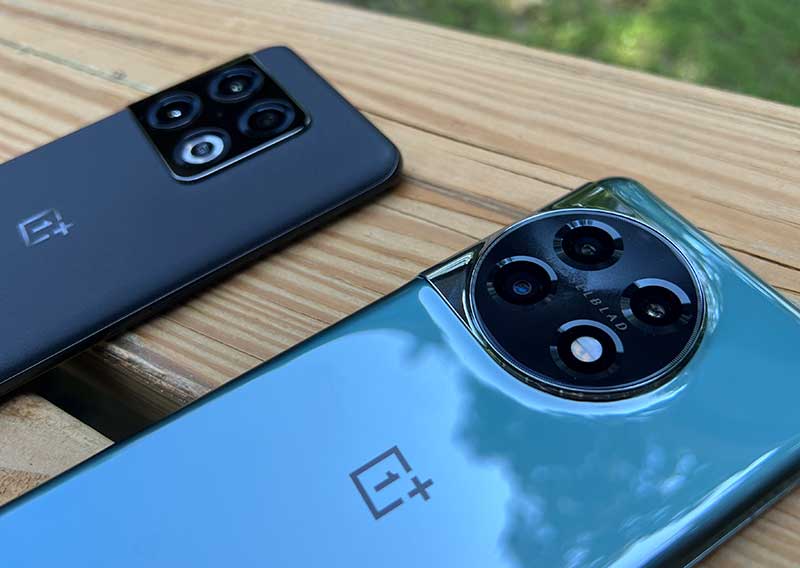 Like the previous version of the flagship OnePlus phone, the new 11 5G features a Hasselblad tri-camera setup. This time, there's a circular bulge instead of a square bulge. Some people will like this change, while others will not. But regardless of how it looks, let's check out some photo examples.
OnePlus 11 5G photo samples
These images are straight out of the camera/phone with no retouching, cropping, etc. I also used all default/auto settings for all of the images.
I would say that 80% of the images I take are close-up shots. I like to capture a lot of nature shots of flowers, and mushrooms that I find on my daily walks around my property. If a phone can't do close-ups well, then that's a deal breaker for me. I'm happy to say that the OnePlus 11 5G does a decent job of close-up photography.
I also enjoy taking pictures of buildings and cool architecture of which there is plenty of opportunity where I live in Columbus, Indiana.
A photo gallery would not be complete without a selfie and a cat pic! Feel free to click on any of the example images above to see their full-sized version.
Considering the fact that my phone is also used as my main camera for all of my day-to-day shots, Gadgeteer product review shots, and video, it needs to have an above-average camera. I think the OnePlus 11 5G does an admirable job. It doesn't seem to have the same cartoonish saturated color scheme as the 10 Pro has, but it's possible that some of the images may look slightly drab (at least to me). As a day-to-day camera, this phone gets the job done but it didn't wow me.
One main thing I really didn't like about the front-facing camera is that it made me look terrible in the Marco Polo app (above left) which I use all the time. Everything has a reddish cast to it compared to what it looks like on my iPhone (above right).
User interface and apps
The operating system that OnePlus uses for their phones is called OxygenOS. It's Android with an extra layer of features on top similar to Samsung's One UI. Just like last year when I reviewed the OnePlus 10 Pro, I've been away from Android for a while, so I didn't have a lot of experience comparing OxygenOS with stock Android. But I did remember using the OnePlus 10 Pro and the experience with the 11 hasn't changed from what I remember. It still feels like regular Android but with some extras.
OnePlus still has the Shelf screen which is accessed by pulling down from the center of the home screen. This screen can be customized with a selection of widgets and like before, I kept activating it inadvertently which annoyed me. You can't completely deactivate it, but you can change the gesture to either go to a global search or the notification/settings display. 
The phone has other gestures that you can use to do all sorts of things like drawing an O on the lock screen to launch the camera, answering a call, turning the flashlight on and off, and more.
Other gestures allow you to do a split screen so you can run two apps at the same time one above the other where I have the Day One journal app and below it is Instagram.
You can also do resizable floating windows, and there's also a Smart Sidebar which is a slide out launcher window that you can customize with your most used apps. I wish the iPhone had these options!
When it comes to bloatware, OnePlus doesn't fill the phone with a bunch of unnecessary apps as some other phone makers do, so that's a thumbs up for OnePlus.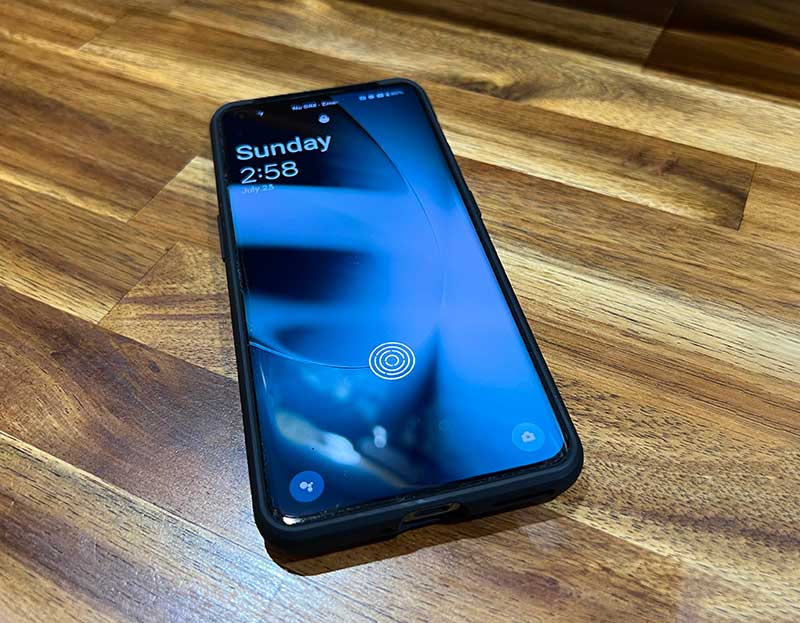 I normally use face unlock for all of my phones because I find it to be quick and easy, and I find that fingerprint readers almost never work consistently for me. With the OnePlus 11 5G, the face unlock worked great EXCEPT if I was in the dark. I had this same issue it the 10 Pro and I was disappointed that OnePlus didn't fix this problem on this new phone. I like to use the phone under the covers when I wake up in the morning but don't want to disturb my bed buddy. I didn't even think to test the fingerprint reader since they almost never work for me but I decided to go ahead and test it and was very surprised that it works for me. Yay! Another thumbs up for OnePlus!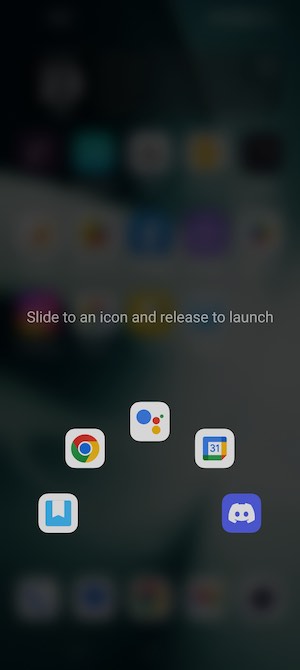 There's even a special gesture that you can enable that when you hold down the fingerprint scanner, it will popup an app launcher with some of your favorite apps allowing you to unlock and launch with one gesture.
Overall performance and battery life
I have no complaints about the performance of this phone. All my favorite apps launched quickly, and scrolling through webpages and apps felt smooth.
When it comes to battery life, I had no problems getting through a full day using the OnePlus 11 5G for all of my normal tasks (email, reading ebooks, watching YouTube videos, Marco Polo sessions, Instagram scrolling, etc).
When it did come time to charge the battery, I was super bummed that OnePlus removed wireless charging capability. I mean, what the heck! The only saving grace is that this phone charges crazy fast if you don't mind recharging it using a cable and the included 80W SUPERVOOC charger. It can charge from 1% to 100% in about 25 minutes which is insane! I still miss wireless charging though.
Making and receiving calls with the OnePlus 11 5G
Making and receiving calls is probably the least used function on smartphones for me, but I tested this feature and had no issues with either side of the calls that I placed or answered. Volume levels and clarity on both sides of the call were fine.
OS and security updates
OnePlus promises 4 years of Android OS updates and 5 years of bi-monthly security updates.
What I like
Insanely fast wired charging
Gestures are fun and useful
Comes with a screen protector already installed
The in-display fingerprint sensor works for me!
Good price for a flagship phone
What I'd change
Face ID needs to be updated to work in the dark
Bring back wireless charging
Final thoughts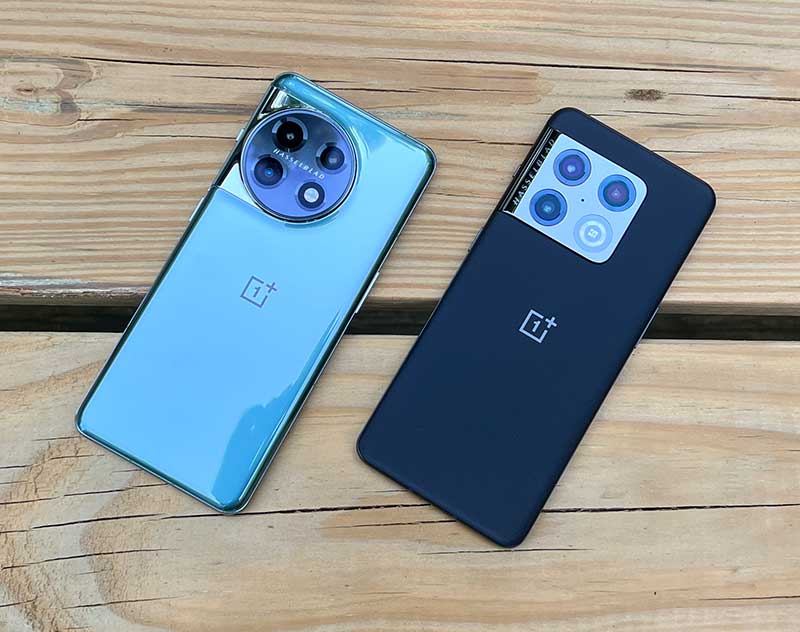 If you want a flagship quality Android smartphone that isn't from Samsung or Google, the OnePlus 11 5G is worth a close look. I really enjoyed testing and reviewing the OnePlus 11 5G and I think that it looks great, feels great, charges in the blink of an eye, has unique software features that are both useful and fun to use, has a nice camera, and has a nice price. This time, the OnePlus 11 5G is a phone that could replace my iPhone. It has rekindled my love of Android.
Price: $799.99
Where to buy: OnePlus and Amazon
Source: The sample for this review was provided by OnePlus.