We use affiliate links. If you buy something through the links on this page, we may earn a commission at no cost to you. Learn more.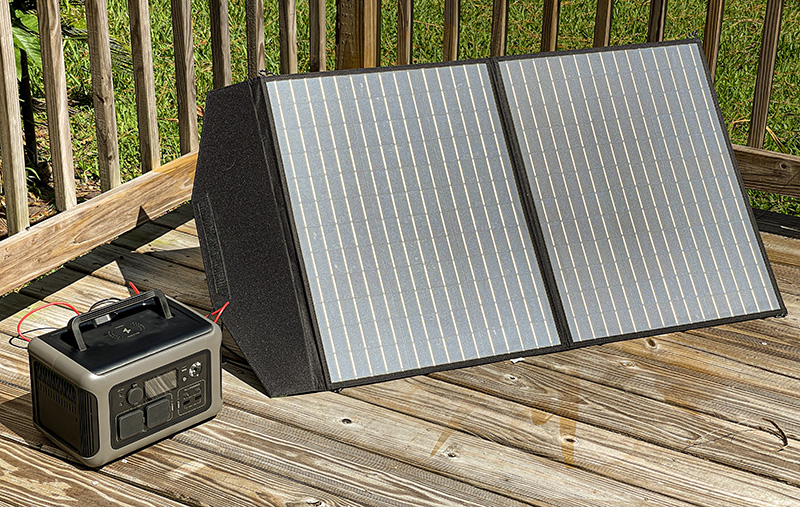 REVIEW – If you are looking for a power station today, the choices available can quickly become overwhelming. It seems like everyone and their uncle is selling these things. So how do you sort it out? What I do when evaluating a power station is to try and decide what the buyers' needs are. Sometimes, a large 1,000 – 2,000 watt monster power station is needed. Sometimes a more modest-sized unit is preferable—especially if you only want to charge some portable devices while "off the grid" or something to get you through a minor power outage. For these instances, I recommend a smaller power station in the 600-700 watt range. That's become the sweet spot in size, functionality, and price. The old "$1 per watt" rule no longer applies, which brings us to the Allpowers R600 Portable Power Station. Is the bargain price justified?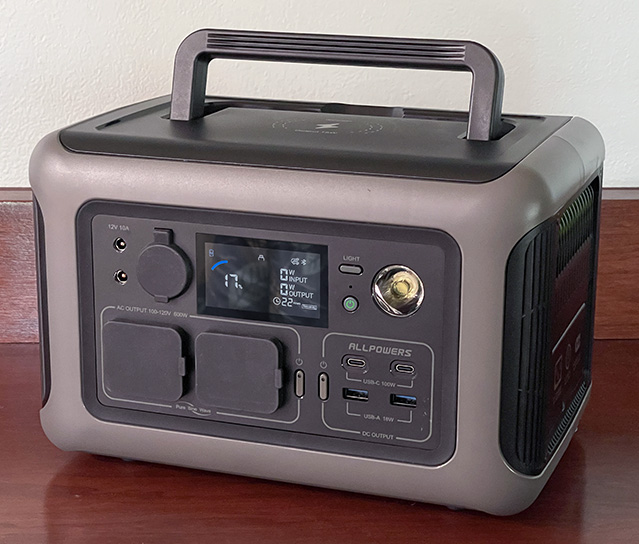 What is it?
The Allpowers R600 Portable Power Station is a LiFeP04 Battery that puts out 300 watt-hours of power. This means that if you have a device that uses 100 watts, the R600 will power it for 3 hours. A 50-watt device will run for 6 hours. It's math. It may not sound like much, but it will charge a smart tablet 3-4 times and a smartphone even more.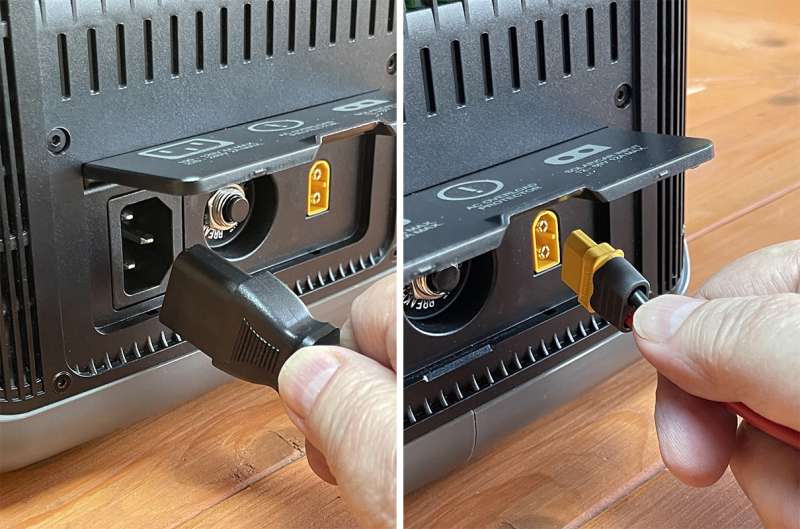 Recharging the R600 (via AC wall outlet) only takes one hour. Note that the built-in fan may come on during recharging. While it's not overly loud, it is noticeable.

A good selection of ports is available on the front face of the R600. Two 18W USB-A and two 100W USB-C ports should not only charge any portable device but do it quickly. Along with USB, there are two AC outlets, two DC ports, and a 12V "cigarette lighter" port. There's also a built-in LED bulb which is kind of useless. It lights up well, but it makes the R600 a cumbersome flashlight. A small On/off button powers up the R600. Note that none of the ports will work unless the whole unit is powered on first. The AC and DC ports are protected by soft-rubberized flaps, but the USB ports are not protected. It seems like a strange decision.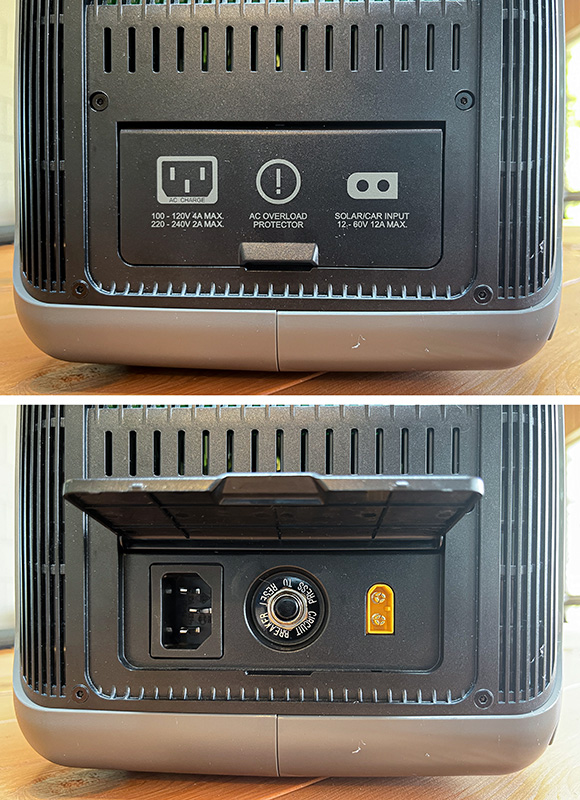 The side of the Allpowers R600 Portable Power Station sports the AAC recharging port (there is no power brick), a solar panel port, and an overload button that will reset the unit should it become necessary.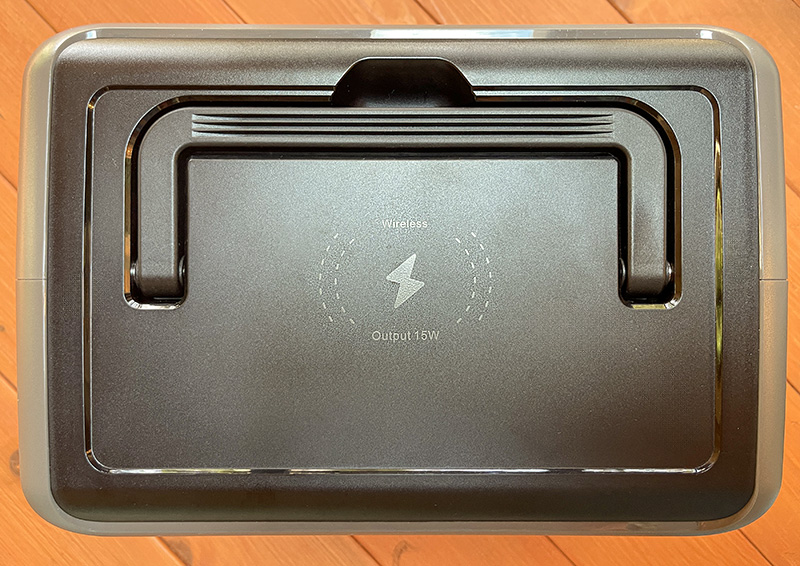 Finally, the top has a built-in wireless charger as well as a fold-out carrying handle. Unfortunately, due to the camera bump, it will not wirelessly charge newer iPhones.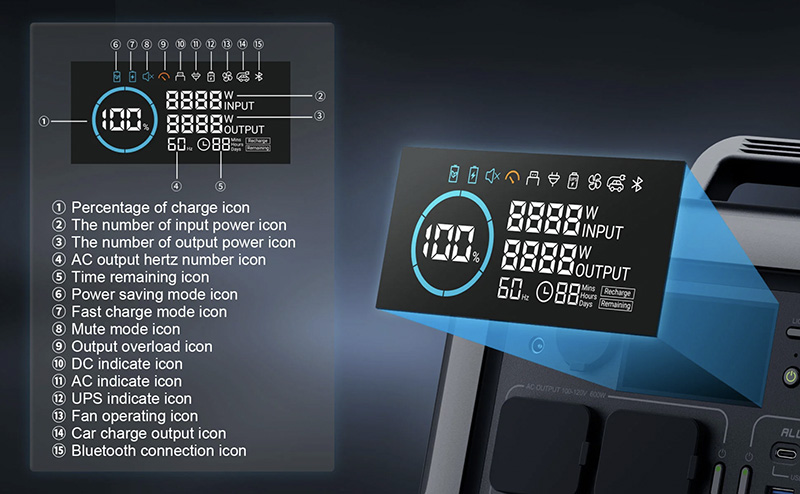 The Allpowers R600 Portable Power Station has an LED screen on the front panel that contains a lot of info—too much to mention in this review. (See photo) The more important numbers are its battery life, wattage output, and Bluetooth—yes, Bluetooth!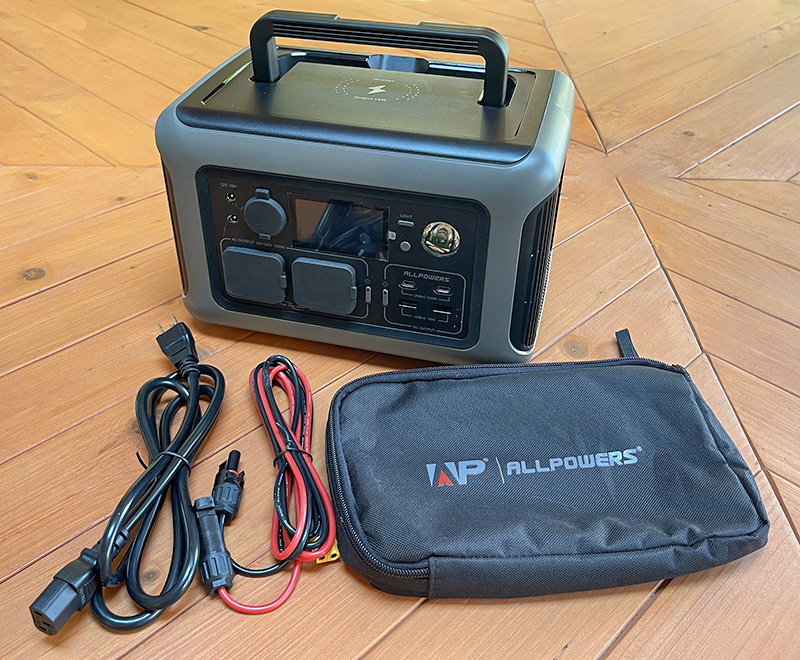 Specs
Capacity: 299Wh
Battery type: LiFePO4
AC Input: 400W
Solar Input: 300W
Cigarette lighter Input: 200W
AC-Output: 600W (2)
USB-C Output: 100W (2)
USB-A Output: 18W (2)
DC-Output: 120W (2)
Cigarette Output Port: 120W max.
Wireless Charging: 15W max.
LED lighting
Bluetooth app
Weight: 16.13 pounds
Size; 7.6 x 7.5 x 11.2inches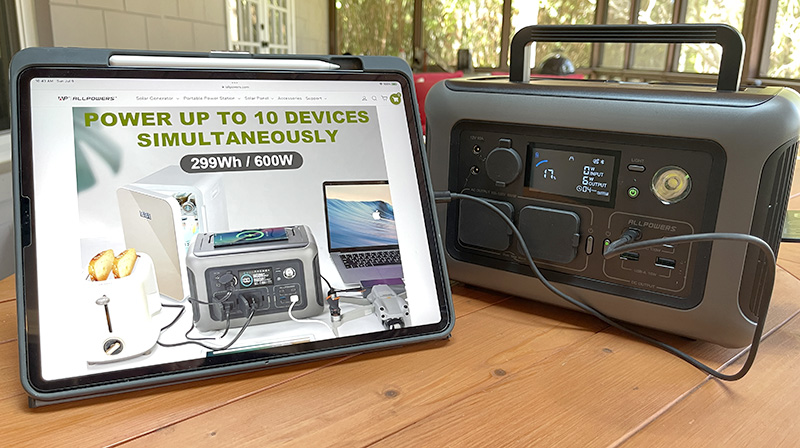 Design and features
Note that all of my testing is anecdotal. I don't have an engineering degree or voltage measuring instruments or other testing equipment. I'm using the R60 as any homeowner might—without giving a second thought about how it works or its limits. It's just grab it and use it when needed.
The design of the Allpowers R600 Portable Power Station is nothing special. It has a subtle army-green and black colorway that says "rugged". The exterior is made of hard and tough plastic. The handle makes it easy to carry. It also only weighs 16 lbs. 
The battery used in the R600 is LiFePO4 (lithium iron phosphate).
LiFEPO4 is safer than lithium-ion batteries. Plus the R600's lifecycles total 3500 before it will only charge to 80%. This equates to 10 years of discharging and recharging daily.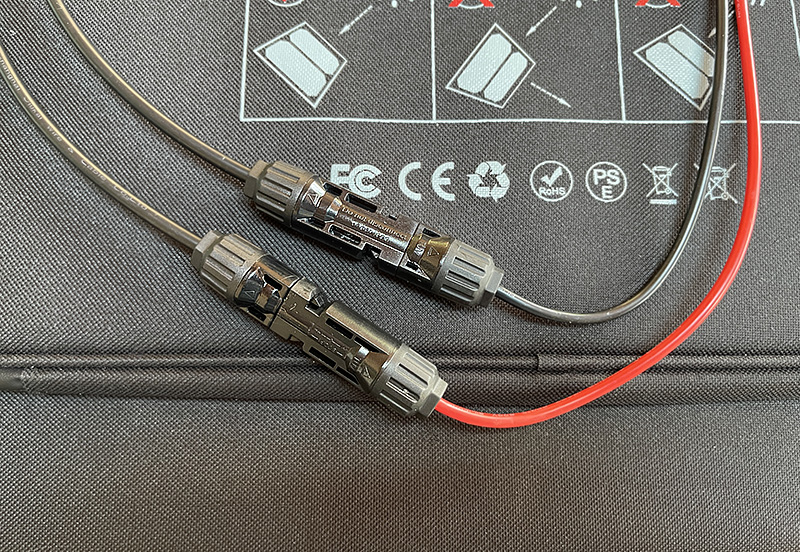 The R600 can be charged three ways: wall outlet, 12V car ("cigarette"), or solar. The wall outlet is the fastest at about an hour. The 12V car connection isn't practical unless it's charging on a long trip.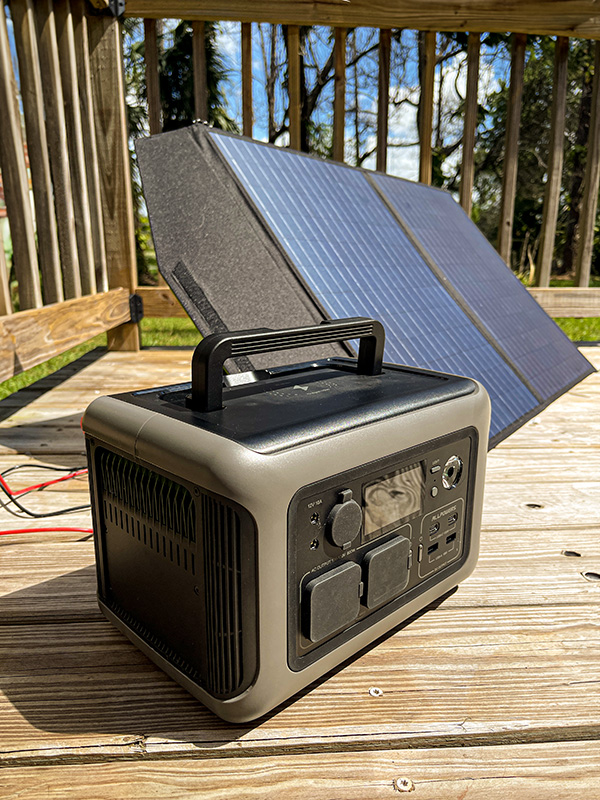 Solar is a good option if there is plenty of sun where the Allpowers R600 Portable Power Station is located. I live in Central Florida. Florida may be the Sunshine State, but it's also a cloudy, rainy state—and solar panels do not like clouds or moisture. The R600 is only going to charge if continuous sunlight is available. Solar panels are great for people in the Southwest, but in the East, they can be an expensive charging alternative. Allpowers sent a 100 Watt solar panel to try. A 100W panel will usually take about 3-4 times longer to charge the R600—in pure sunlight! The good news is that the solar panels can be daisy-chained to double the wattage or even more depending on the number of panels—up to 300 watts max. Solar panels can be an expensive option, but if you are off the grid (camping, for instance), then solar panels may be the only solution.
Once the R600 is charged (it's recommended that it be fully charged when unboxed), it's just a matter of connecting whatever you want. Keep in mind that large, power-hungry appliances will be too much for the R600. If your needs are for more power, a 1500W-2000W power station is recommended.
Charging my iPhone 12 Pro Max from 15% to 100% via the R600's 100W port took less than an hour. That's a lot faster than my USB-C wall outlet.
I noticed that charging a device using the R600 won't happen unless the unit is powered up first and then the device that needs charging is connected. It's a "First A, then B' sequence.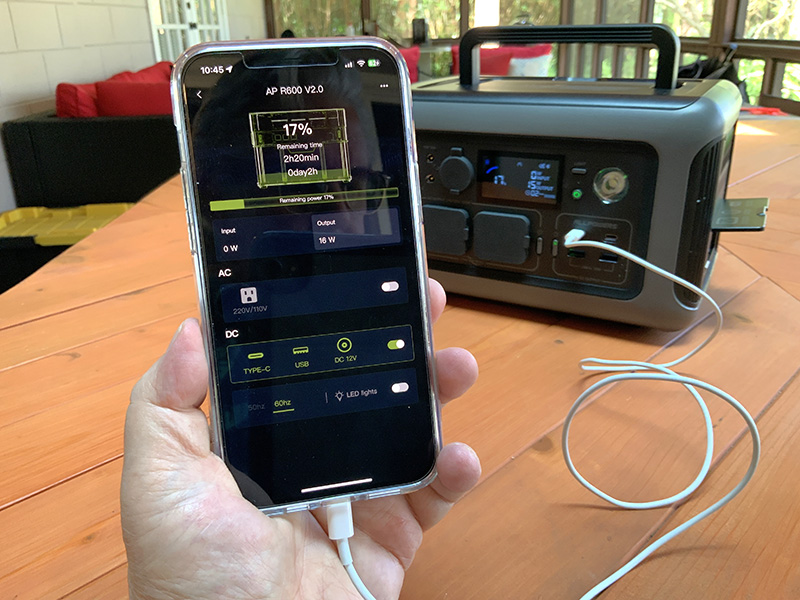 Then there's Bluetooth. The Allpowers R600 Portable Power Station has Bluetooth capability to be controlled via its app (iOS and Android). Although the Bluetooth range is a short 10 yards, at least you won't have to get out of your camping chair to change its settings. From the app, ports can be turned on and off. Plus ECO mode can be invoked, and a timer can be applied to the unit. This can be useful if you want to fall asleep to music but you don't want the R600 running all night.  

What I like
It recharges fast via a wall outlet

 

It charges devices quickly
Many useful ports
Solar charging available
Built-in light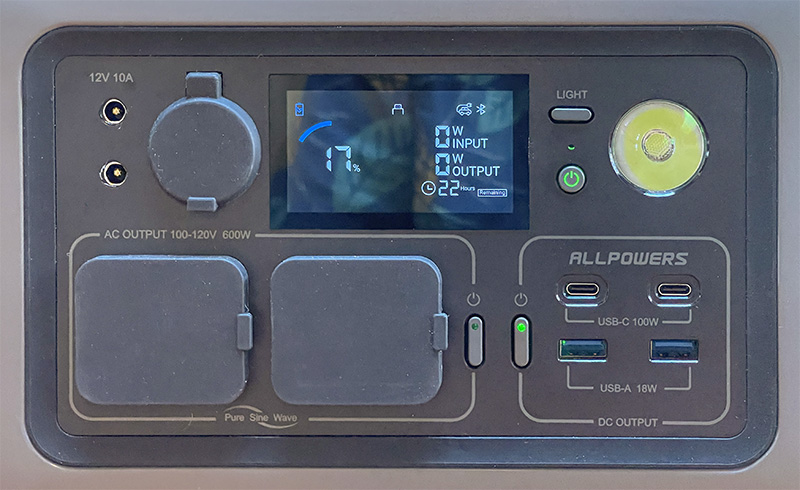 What I'd change
Devices won't charge unless connected after R600 is turned on

 

USB ports are not protected as AC outlets are.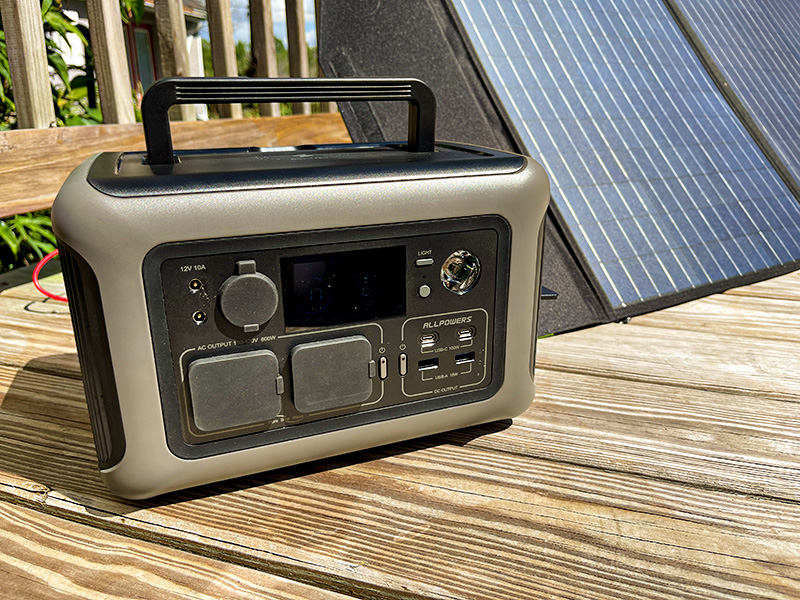 Final thoughts
As more and more power stations become available, features go up while costs come down. If you find yourself in need of a power station or two, shop around first. Prices can be all over the map. The Allpowers R600 and the SP027 solar panel fits into that sweet spot of price vs. power vs. function. That's a lot to like at not much cost.
Allpowers also makes other, larger battery power stations.
Price: $215.20 US.; 100W Solar panel: $135.99
Where to buy: Allpowers ( save 30% by using the code TG30 ) and Amazon
Source: The sample of this product was provided by Allpowers.