We use affiliate links. If you buy something through the links on this page, we may earn a commission at no cost to you. Learn more.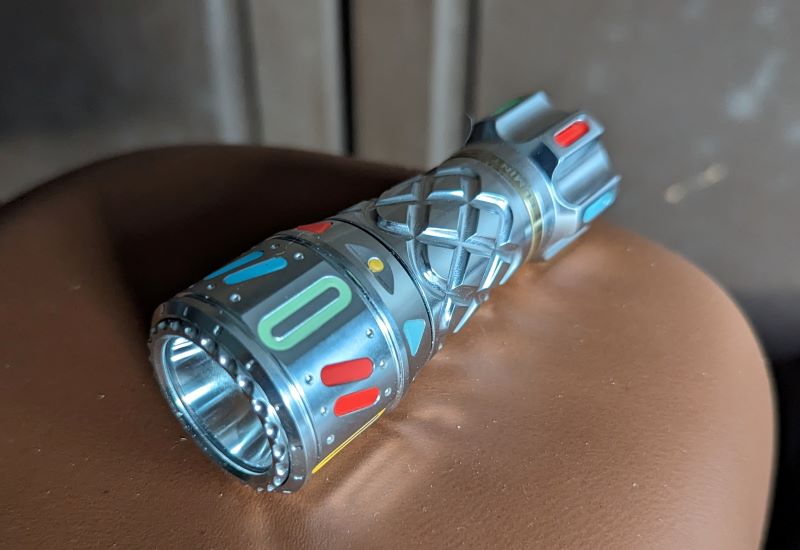 REVIEW – The Lumintop Thor1 Spin Gyro LED flashlight is certainly the flashiest, most unique flashlight I've ever laid my hands on. I mean, look at it. If a flashlight and a disco ball had a baby, it would look just like this. It's silver, it spins, it lights up, and even glows in the dark. So how well does it work? Is it worth the asking price? Does your EDC need a little over-the-top bling? Read on if you're curious to know what this flashlight is all about.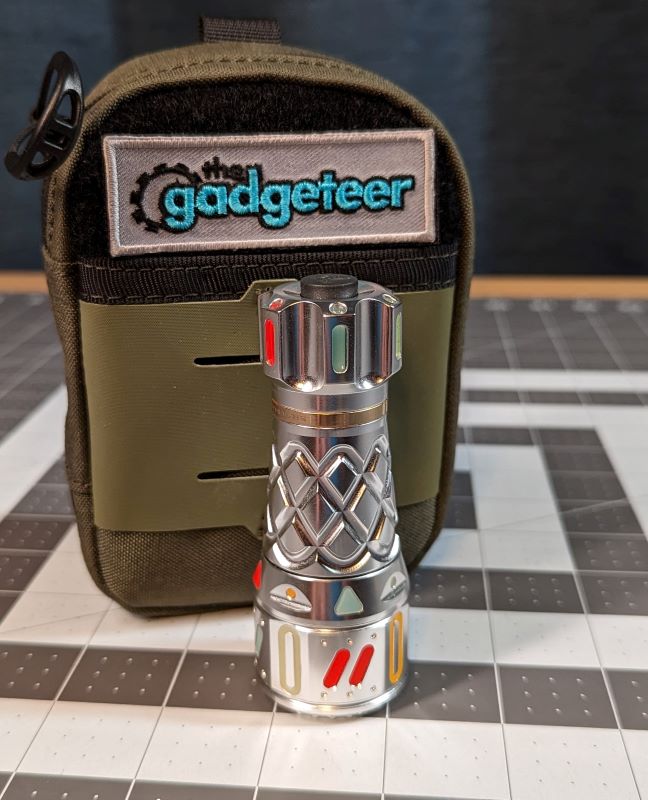 What is it?
The Lumintop Thor1 Spin Gyro is an LED flashlight with a built fidget spinner and glow-in-the-dark features with an IPX-8 waterproof rating.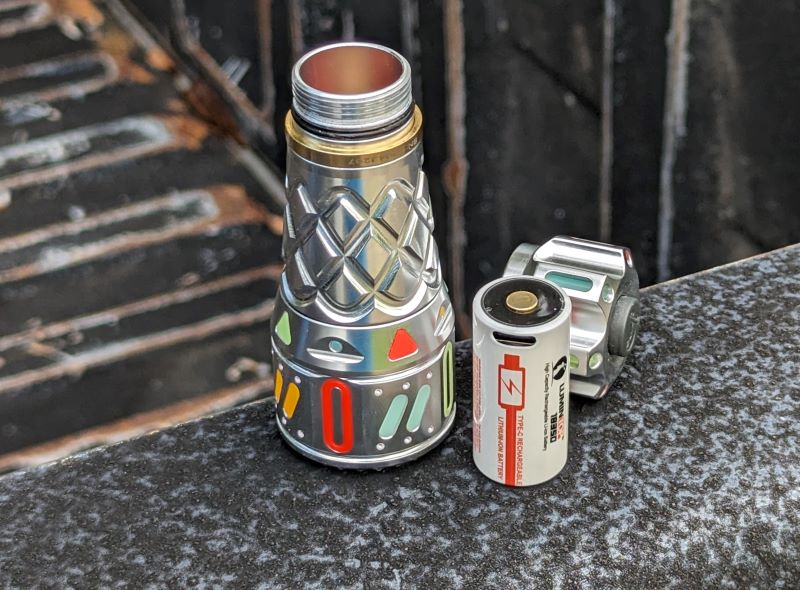 What's in the box?
Lumintop Thor1 Spin Gyro LED flashlight
Lumintop 18350 Li-ion battery
Extra O-rings
User guide
Hardware specs
Osram NM1 LED with a 50000-hour lifespan
Two output levels with a max 480 lumens on High
Strobe and Police flash modes for emergencies
Spin gyro design
Clicky tail switch
Size: 3.78 in x 1.42 in x 1 in / 96 mm x 36 mm x 25.5 mm
Weight: 3.6 oz / 118 g without battery
Design and features
When I first saw the Lumintop Thor1 Spin Gyro LED flashlight, I was, how do I say this, in awe of the design choices implemented.  It is certainly eye catching, is it not? And it does have a few interesting features up its sleeves. Let's break those down.
The Gyro
The head of the Lumintop Thor1 Spin Gyro LED flashlight is actually a fidget spinner. Yes, you read that right. If you give it a little flick, the barrel will spin, quite smoothly might I add, and for a good amount of time. When the fidget spinner craze hit, I got a few to try out. Most of the ones are now either broken or taken by my kids but none of them were as smooth spinning as this.  I don't what kind of bearing is used but it's pretty good. There's no grittiness and it's fairly quiet.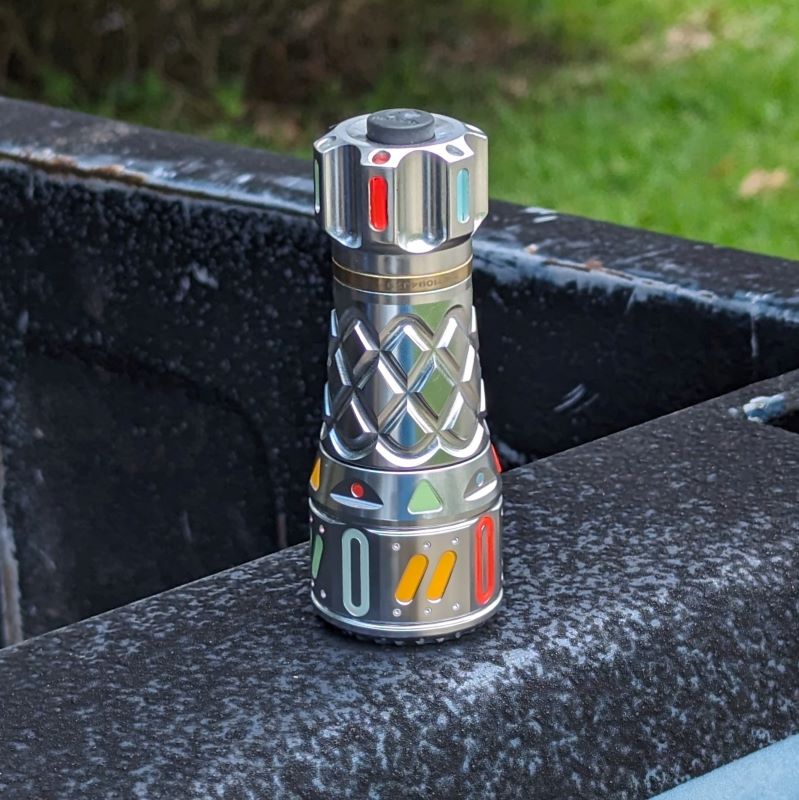 The Turbo glow bars
I think the term turbo "glow bars" is a bit misleading. When I first read glow bars, I thought they were like the tritium bars/inserts a lot of EDC companies use in their products nowadays. The glow bars are actually only in the tail cap and are some kind of glow-in-the-dark plastic as are the triangles.  The other shapes on the head are painted.  Needless to say, I was a little disappointed, but all the color bits do glow after being exposed to light.  One minor issue I have with the triangles? One is flush with the metal while the other three are proud of it in varying degrees. This may be nit-picky, but for the price, I expected it to be better in that respect.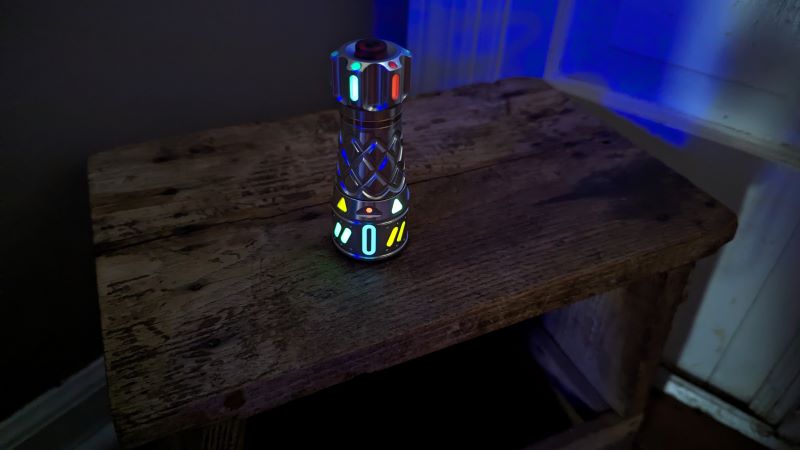 The Tail switch
The Lumintop Thor1 Spin Gyro LED flashlight has a rubbery, clicky, two-stage switch. One full press turns the flashlight on.  A half press will switch between low and high modes.  Two quick half presses activate strobe, while 6 half presses activate the police flash, which is two quick flashes, then a pause,  2 more flashes, and so on. The coolest feature of the switch, though, isn't even mentioned on the Lumintop website.  With the flashlight off, there's a spinning color wheel inside the tail switch. It's one of those things you don't immediately notice but cool nonetheless.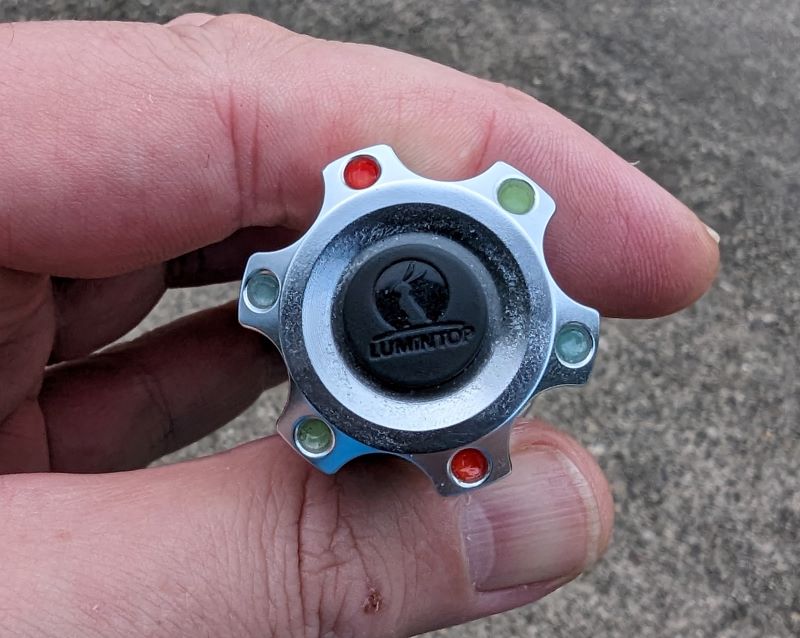 The Build
The Lumintop Thor1 Spin Gyro LED flashlight is built of aircraft-grade aluminum. It also has an aluminum reflector and looks to be highly polished.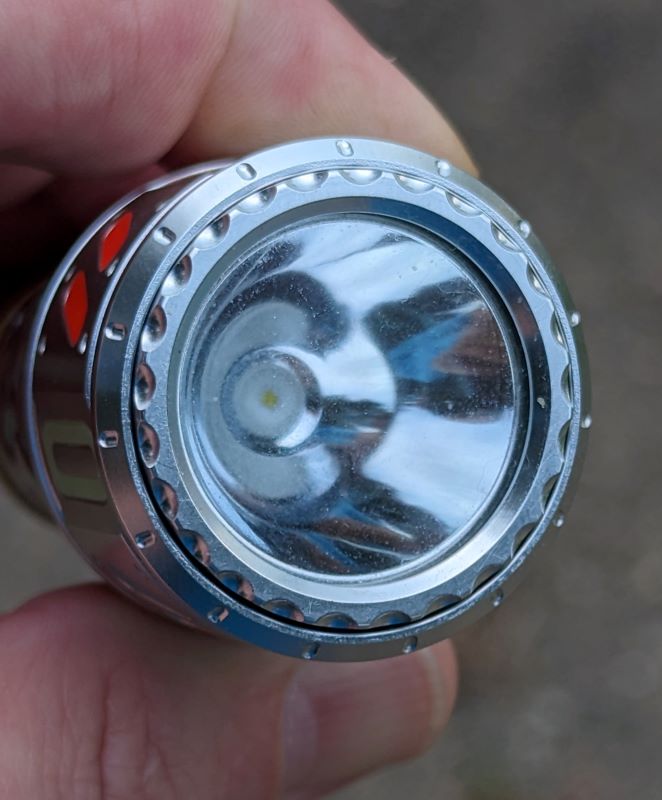 Lumintop says the  Thor1 Gyro has an IPX8 rating making it waterproof up to 2 meters. Now what that will do to the bearing for the spinning feature I don't know.  I can't find a way to access to clean or oil it in case that was to happen.  It has an Osram NM1 LED, which according to an internet search is a "compact light source with isolated heat sink for improved heat dissipation and high current chip technology for increased light output".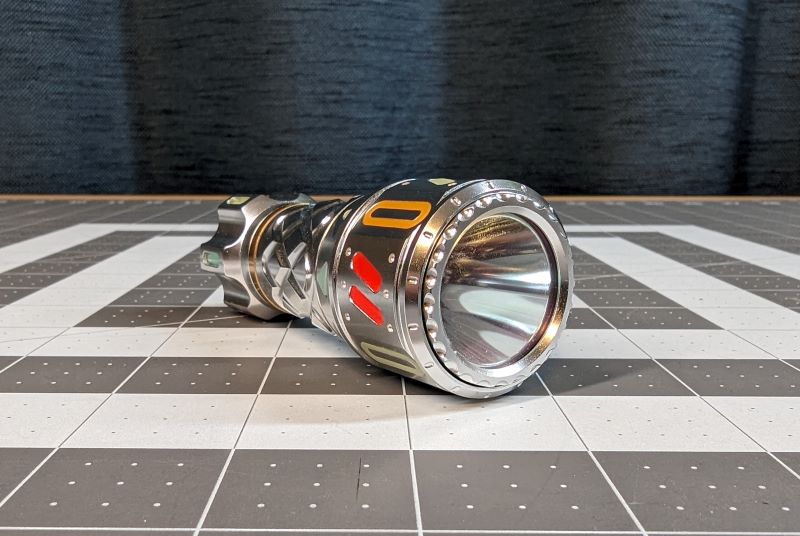 Performance
The flashlight performs like any other 480-lumen flashlight. It's bright enough for any of your around-the-house everyday needs.  I got about 1 hour of run time on high before it switched to low mode. It ran about another half an hour before flashing to tell me the battery was getting low.  It does get warm on high when running but not uncomfortably so. I don't need gloves to use it on high for extended times, so that's a plus. I have to admit I use it more as a fidget toy than a flashlight.  I have it on my desk and will play with it while on Teams calls, which can be a good thing. I'll know where it is every time I need a flashlight.
Low mode –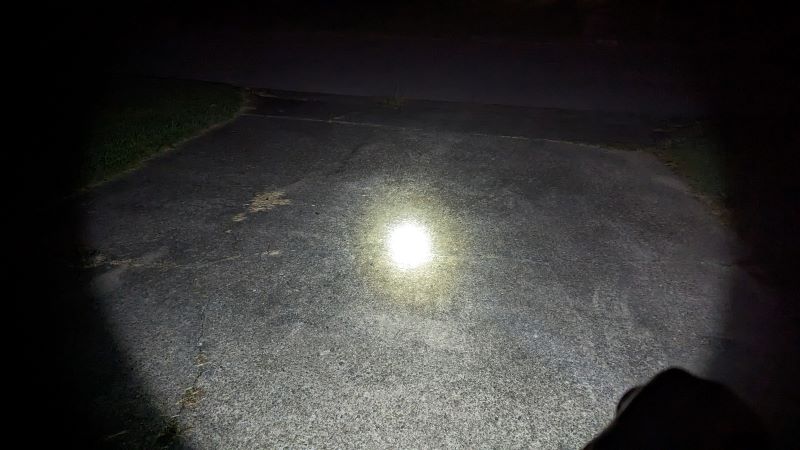 High mode –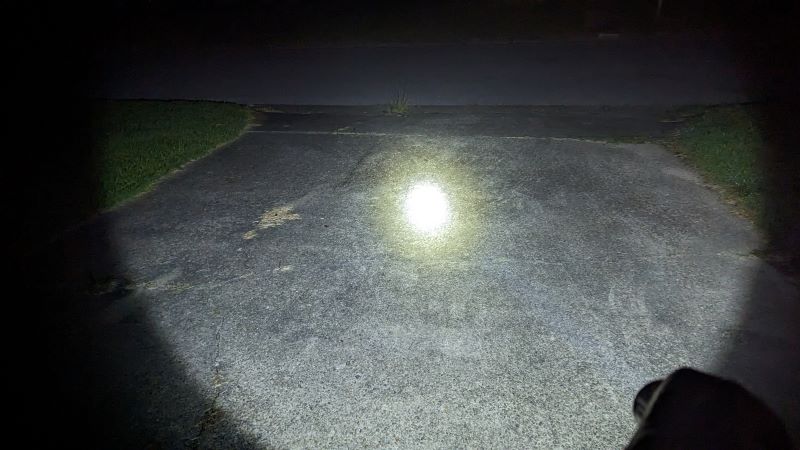 If you want to see the tail switch and spinner in action, well here you go!
What I like
Good build quality
Fidget friendly
What I'd change
Better fitting triangles. It bothers me, OK?
Expensive for what it is
Final thoughts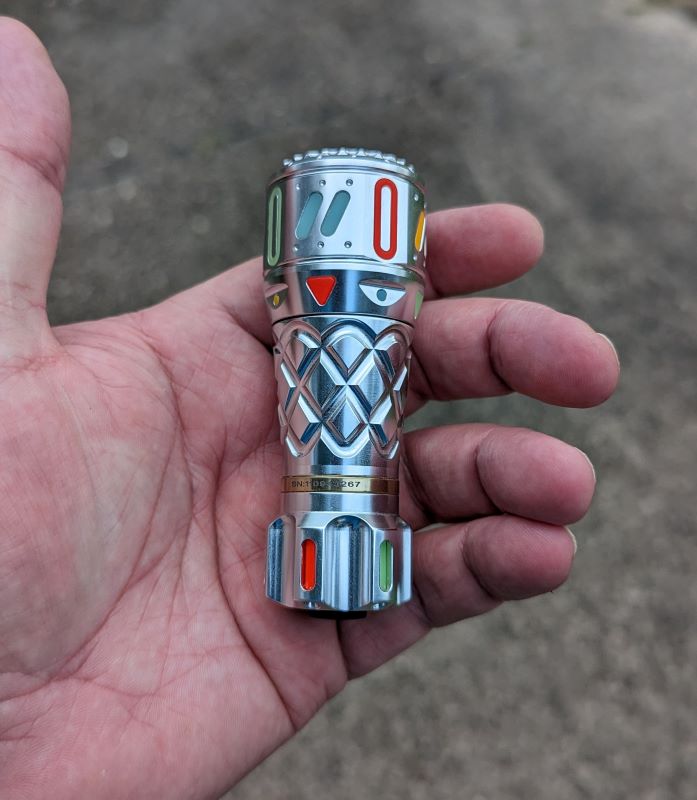 The Lumintop Thor1 Spin Gyro LED flashlight is certainly a unique bit of kit.  I've never seen a flashlight quite like it. It's not what I would call pocket-friendly but put in a bag and you should have no trouble finding it. I know it's not everyone's cup of tea but it's fun. I think it's pretty cool a company would make something like this albeit at a higher sticker price than what I'd be willing to pay.
Price: $119 with battery
Where to buy:  Flashlightgo
Source: The sample of this product was provided by Flashlightgo.