We use affiliate links. If you buy something through the links on this page, we may earn a commission at no cost to you. Learn more.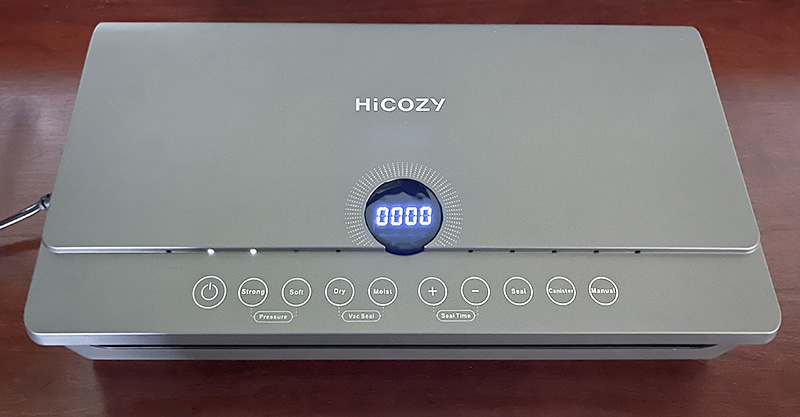 REVIEW – A few years ago, a friend gave me a FoodSaver vacuum sealer she never used. I barely knew what one was, but accepted it anyway because it is a . . . gadget. I am glad I did. If you aren't familiar with what a sealer can do, it literally sucks the air out of a bag containing food, both sealing and protecting it a bit longer in the refrigerator and a lot longer in the freezer. For our family, vacuum sealing has always been a great money saver. Today, there are many competitors making vacuum sealers, so brands and price ranges vary. HiCOZY is one I have never heard of, but when it was offered for review, I was curious how it would compare to my old, but reliable FoodSaver. Is the HiCOZY Vacuum Sealer a keeper, or do I retrieve the FoodSaver from the pantry? 

What is it?
The HiCOZY Vacuum Food Sealer Machine (their words) is exactly what it says. It vacuum seals food inside bags (as long as it fits) that trim and automatically seal in the process. 
There are settings that can control both strong and soft suction, as well as dry, moist, seal, canister, manual and dual-suction. There is a built-in cutter and sealer, plus there is space to store a roll of vacuum bags that can be cut to almost any size.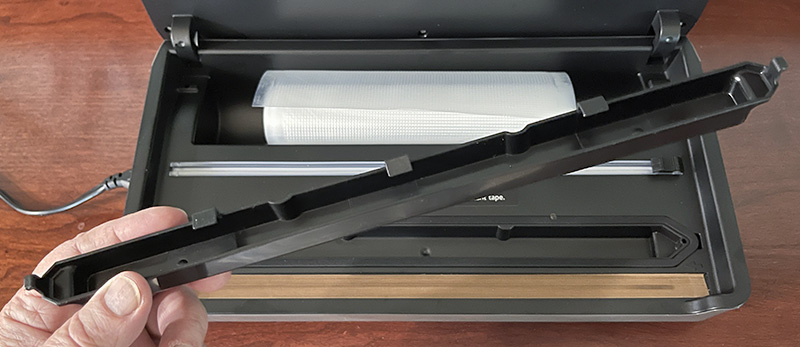 Like other sealers, The HiCOZY food sealer comes with a removable drip tray for safe cleaning. Also included is an 8 in. X 16 ft. sample roll of bag material along with a vacuum hose for attaching to vacuum canisters. Note that I do not own any vacuum canisters, so the hose was not tested.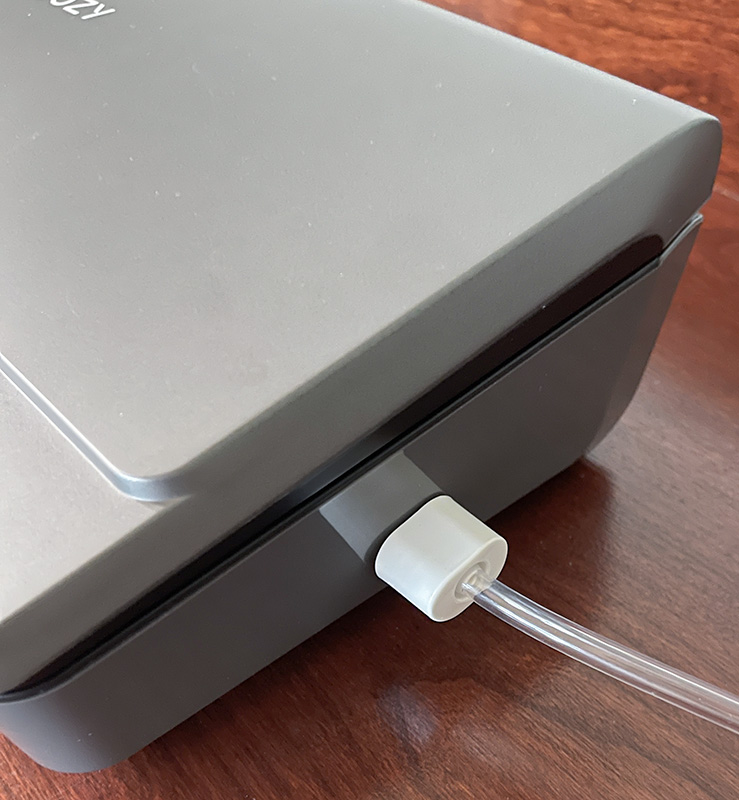 Vacuum sealers are popular for sous vide cooking—which we don't do.

Hardware specs
Color: Metallic gray
Dimensions: 14.76 x 2.56 x 6.1 inches
Weight: 4.5 lbs.
Wattage 110 Watts
Voltage: 110 Volts

Design and features
The HiCOZY Vacuum Sealer is certainly more sleek-looking than my older FoodSaver machine. There are also more options, although after using them, I began to wonder how necessary some of these options are. While it is a good-looking vacuum sealer, we still hide it when not in use. Available counter space in our home is a premium, so portable appliances stay in cabinets until needed no matter how sleek they may be.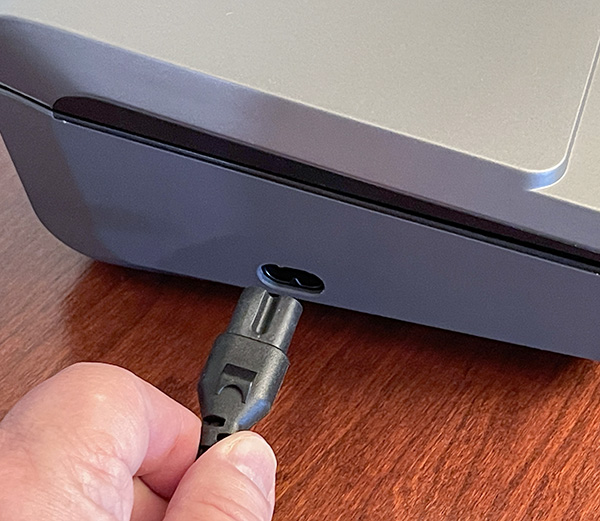 Using the HiCOZY Vacuum Food Sealer is fairly straightforward. It may take a few tries to become comfortable with the steps, but after that, it all becomes second nature and easier to use.
The auto "Seal" button is available for only sealing and no vacuum. The machine is supposed to know when to stop sealing and give two beeps when done. Occasionally, after the two beeps, the seal is not as airtight as it should be and needs to be repeated. While this is rare, it has happened.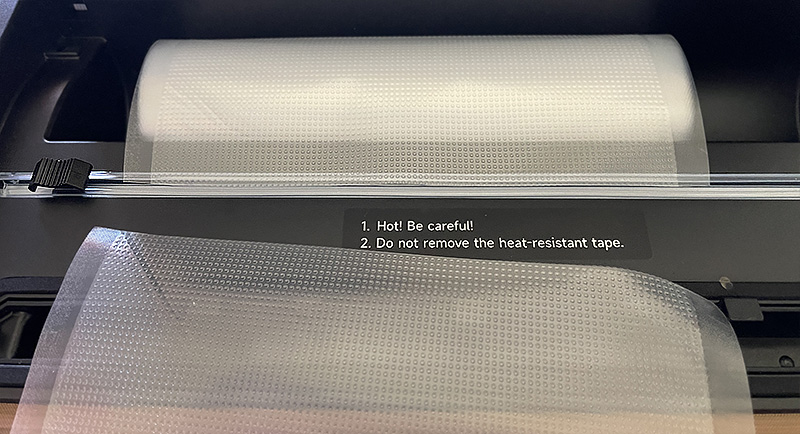 The Seal button needs to be used to "start" a bag. Once the bag size is determined, it must be trimmed using the internal manual trimmer. This trimmer makes me miss the FoodSaver trimmer—a more elegant—though separate—solution. Oh, well.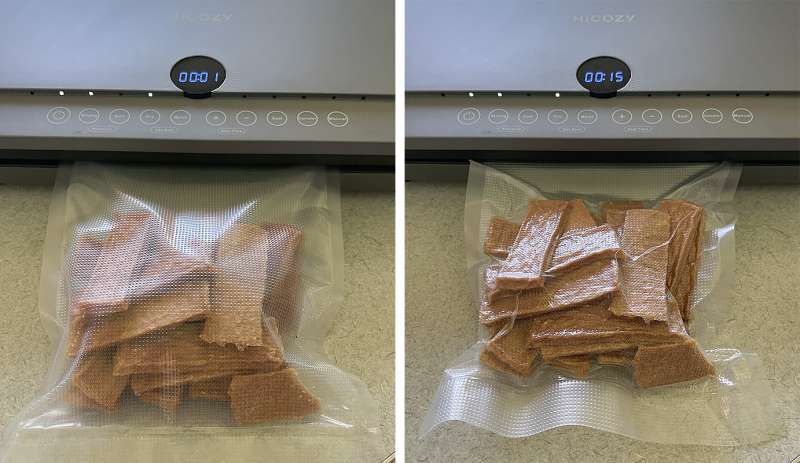 Once the food is placed in the bag, the open end must be fitted into the vacuum channel which houses the removable drip tray. With the open end in place, close the lid and press either Soft/Strong followed by Dry/Moist and wait. The vacuuming and sealing will take place (it's fun to watch) and beep twice when done. That's it! 
We use the sealer primarily for meat we buy in bulk and then separate into individual bags to be sealed. As I said, it's a money-saver over time. You can even name and date the bags with a permanent marker.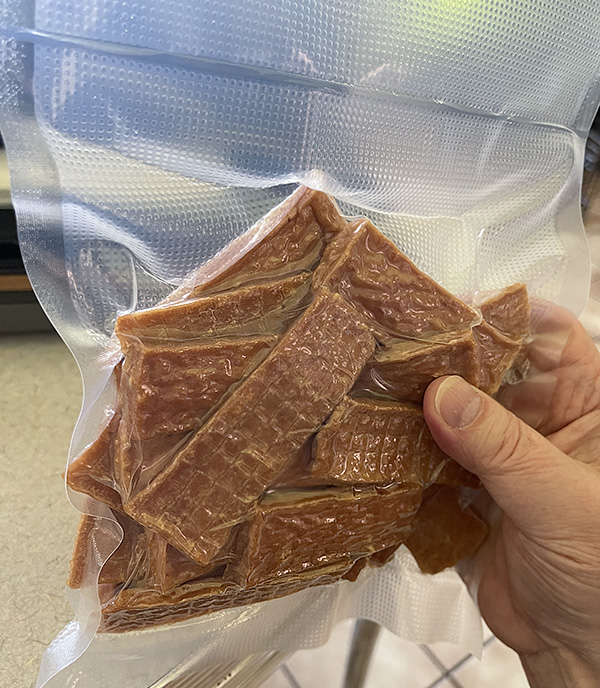 The HiCOZY food sealer is also great at dividing almost any food bought in bulk—such as dog treats shown in the photos.
I generally don't vacuum seal anything fragile (such as chips), so I usually use the Strong setting. I also mostly use the Moist (I hate that word) button over Dry. However, I'm not convinced there is enough difference between the Strong and Moist selections to matter much. 
The HiCOZY Vacuum Sealer has a lone Manual button that will vacuum as long as it's pressed. Once the button is released, the sealing begins.

Different-sized bag rolls—as well as individual bags—can be purchased. I still use a leftover box of FoodSaver bags. Any brand of bags/rolls should work as well.

What I like
Works well
Stylish (for a vacuum sealer)
Affordable

 

What I'd change
Bags are a recurring cost

 

I wish they offered a more manual version
Final thoughts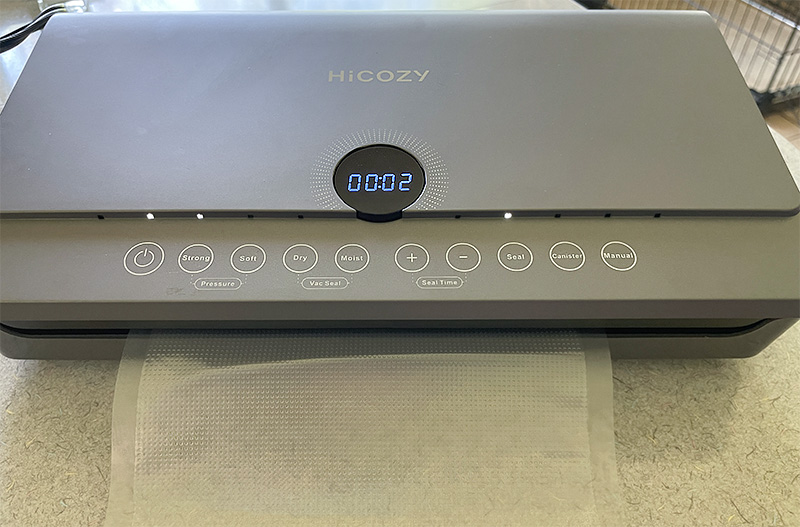 The HiCOZY Vacuum Sealer Machine does one thing and it does it well. While I would have preferred a more manual approach, I understand why the different selections are appreciated. It is also well-priced, with replacement bags being the more expensive part over time.
Price: $76.99
Where to buy: Amazon
Source: The sample of this product was provided by HiCOZY.