We use affiliate links. If you buy something through the links on this page, we may earn a commission at no cost to you. Learn more.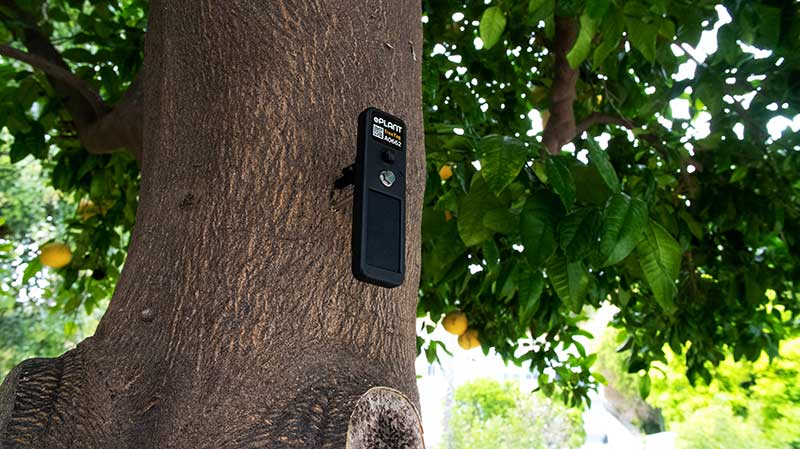 NEWS – When I was first approached by a PR person about the ePlant, I had to check my calendar to make sure that I hadn't traveled back in time to April 1st. Although it sounds like a joke, the ePlant TreeTag is a real product that can help track the health of the trees in your yard using AI.
The weatherproof and solar-powered ePlant TreeTag easily installs on a tree and then pairs with an app on your mobile device to wirelessly relay real-time health measurements like growth, contraction, irrigation, lean, stress, temperature, light, carbon capture, and humidity. This sensor helps your tree "tell" you what it needs to keep it healthy.
We all have the best intentions when planting and maintaining trees, but most don't have a green thumb. We water too much or too little, plant with too much sun or not enough, and never know when to fertilize or prune it. Nothing we do ever seems quite right, which is why up to 50% of urban and household trees can die by age 7. That's a loss for the tree, our property values, and the planet. Keeping trees alive can feel like a full-time job, and it shouldn't – it should be a joy to help them and interact with them. Now it is, with ePlant.
For a limited time, you can lock in the early access price of $149 which is $100 off the full price of $249. ePlant's TreeTags will ship beginning in November 2023. Visit eplant.com for more information and to order.
What do you think? Are sensors like this silly or important? As a self-defined tree hugger, I'm definitely curious. They promise to send me one to review when they become available. My problem will be picking which of the hundreds of trees that are on my property to test with the ePlant sensor, Hey, shouldn't it be called the eTree? 🙂