We use affiliate links. If you buy something through the links on this page, we may earn a commission at no cost to you. Learn more.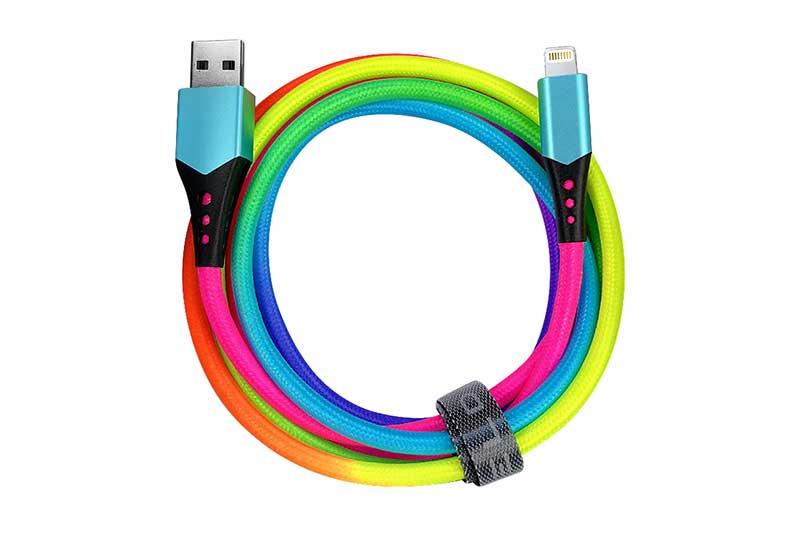 DEAL NEWS – Get both function and flash with this fun MFI-certified rainbow Lightning cable two-pack, now at a Deal of the Week special price of just $39.97.
Charging cables are like doing the laundry. Or taking out the recycling. They're functionaries. They're a means to an end. They're how you make sure your all-important phone or tablet stays juiced enough to do the wondrous things you expect it to do all day long.
You don't think about charging cables. They're white. Sometimes, they're black. Very occasionally, they're blue, green, or some other more adventurous color. But with this MFI-certified Lightning cable two-pack, you get charging cables flush with style and color — an entire rainbow of color, in fact.
This eye-catching multi-color explosion definitely won't get mistaken for anybody's else boring old charging cables. Fortunately, they aren't just a pretty face, serving up power-conducting goodness with 3A charging speed and a 480 Mbps data transmission speed. That means it's perfect for syncing data when you're transferring music or image files at the fastest possible speeds. Plus, they're MFI-certified, so they are compatible with your iPhone and other Lightning-equipped Apple devices.
And unlike many other charging cables that are so flimsy that they're practically disposable, these cables are built to last. Constructed with a bulletproof fiber core wrapped in a braided, shielded nylon exterior, your cables will not only look spectacular, but they'll work like a boss well beyond the lifespan of many competitors.
On top of all that, these cables are also one of our Deals of the Week, available in both USB-A and USB-C varieties.
Right now, you can score a two-pack for a special price through June 11 at 11:59 p.m. PT in the following options:
• 2-Pack of MFI-Certified Rainbow USB-A Cables for 39.97 (reg. $59)
• 2-Pack of MFI-Certified Rainbow USB-C Cables for 39.97 (reg. $59)
Prices subject to change.