We use affiliate links. If you buy something through the links on this page, we may earn a commission at no cost to you. Learn more.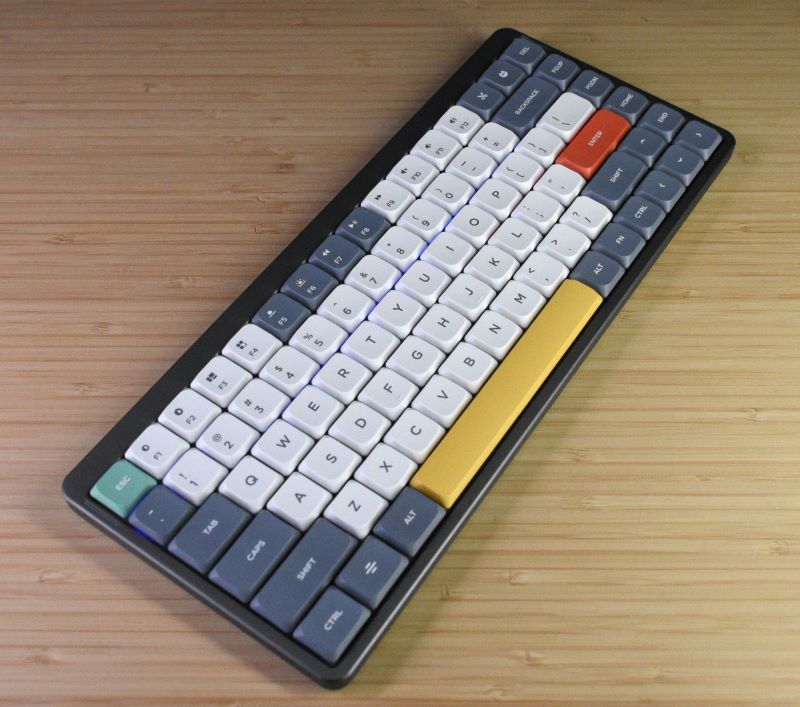 REVIEW – It's your friendly neighborhood keyboard nerd again. Recently, Julie, our Gadgeteer Guru, got the chance to review the NuPhy Air75 wireless mechanical keyboard and of course, I was jealous. Now Julie is a Mac user, but I don't hold that against her, and while she was using the Air75 she noticed she had issues with 3 key macros not working.  So being the generous soul I am, I offered to take it off her hands and see how it performed in Windows.  Funnily enough, she said yes and I'm happy she did.
What is it?
The NuPhy Air75 is a very low-profile wired or wireless mechanical keyboard with a 75% layout and uses low-profile switches.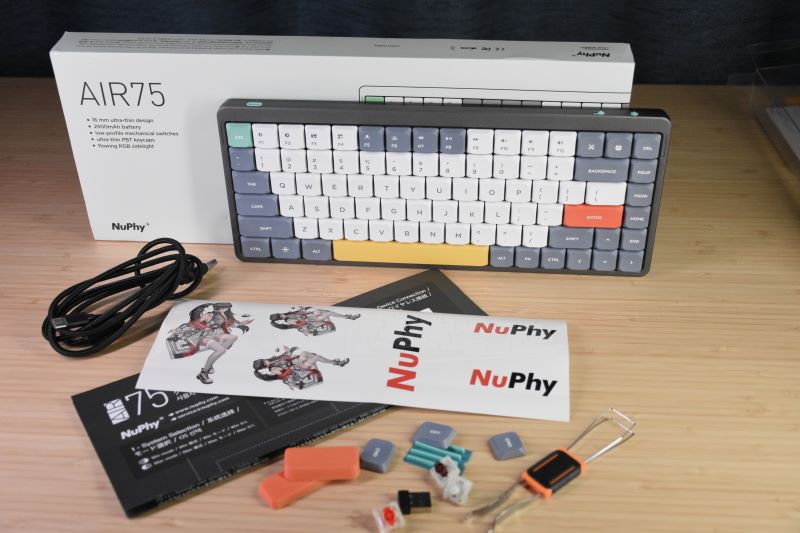 What's in the box?
NuPhy Air75 wireless mechanical keyboard
1 – USB C to USB A cable
2.4 Ghz USB receiver
2 – magnetic feet
3 – keycaps for Mac users
3 – extra switches
Switch/keycap puller
Sticker sheet
Quick guide/poster
Hardware specs
switch type: low-profile Gateron mechanical
layout: ANSI 75%
number of keys: 84 keys
hot-swappable support: yes
n-key rollover support: yes
backlight & sidelight: RGB-LEDs
backlight modes: 21
sidelight modes: 4
mode: 2.4G wireless, Bluetooth 5.0, or wired
battery capacity: 2500mAh
working time: up to 48 hours (lab test result)
connection type: USB type-c
compatible system: macOS/windows/android/ios
angle: 3.5º/ 6.5º with magnetic foot
operating environment: -10 to 50℃
frame: aluminum
bottom case: ABS
keycap: PBT
dimensions

12.4 inch x 5.2 inch x 0.63 inch
315.7 mm x 132.6 mm x 16.0 mm

weight: 1.16 pound / 523 grams
Design and features
The NuPhy Air75 wireless mechanical keyboard offers the user a multitude of ways to connect to their devices.  There's the wired USB, connection, the 2.4 GHz connection via the included USB adapter, and Bluetooth 5.0 for up to 3 devices and they all work well.  I had no problems connecting to my laptop or phone while using the Air75. It's almost as simple as a flip of a switch.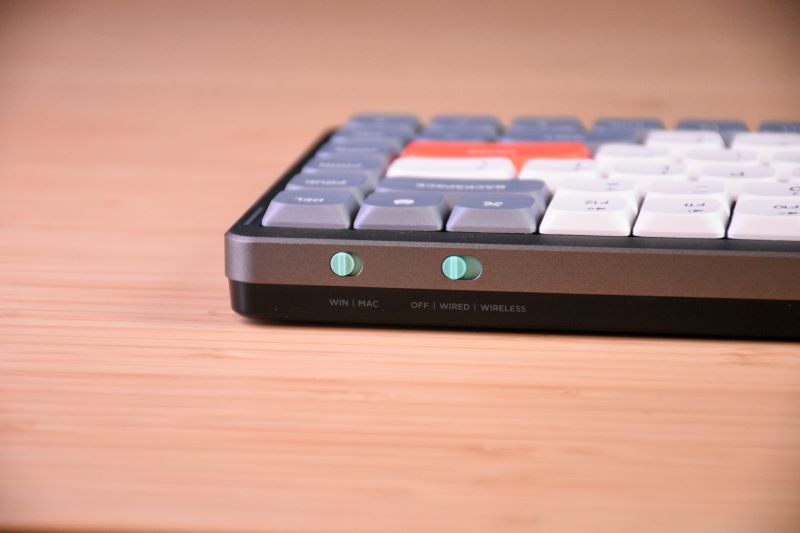 With the switch on the left, just set it to your preferred OS while on the right choose whether to use it wired or wireless. If you're going wireless, you then press the Fn key and 1 through 3 to set up a Bluetooth connection or 4 to choose the 2.4GHz dongle. My laptop had no problems seeing the Air75 regardless of the method, which is saying something when I had to request my IT department to install the software so I could use my Logitech mouse.  It was great to just be able to plug it in and go.
The coolest feature of the NuPhy Air75 wireless mechanical keyboard is definitely its low profile.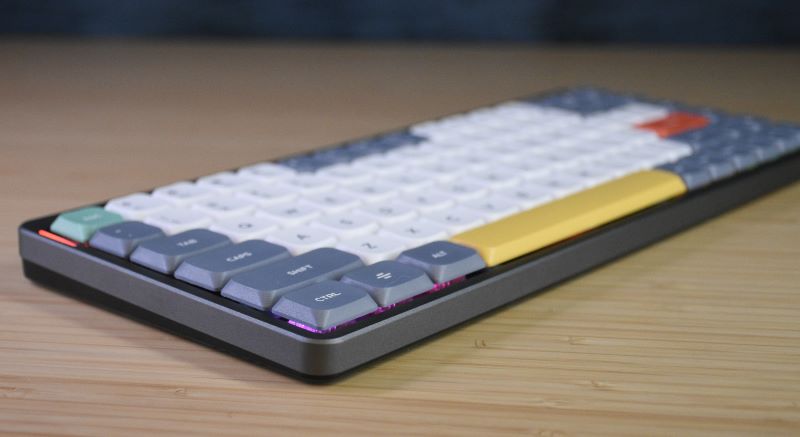 Look how thin this thing is.   Sure, there are other keyboards out there as thin or thinner but they use those gross, squishy membranes as switches. The Air75 uses low-profile Gateron hot-swappable mechanical switches.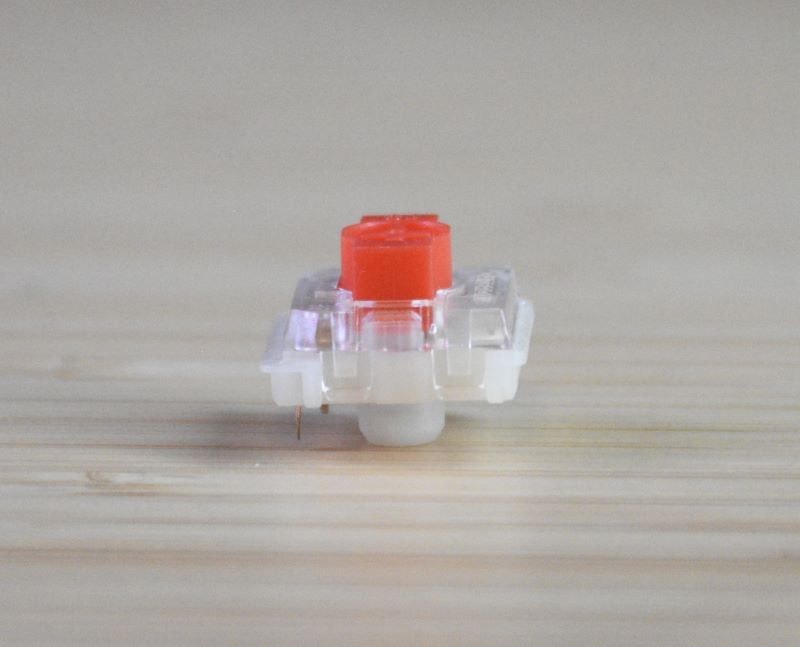 These types of switches have been around for a while now, but this is the first time I've gotten to use them.  I was really impressed with the feel and sound of them, considering there isn't much room for travel or actual body to resonate.  My Air75 cam with Gateron reds.  I do not typically care for linear switches least of all reds. They actuate too soon for my taste. But, because there's physically less room for travel before bottoming out, I found myself actually liking them.  I'm still a tactile guy myself.  I like the bump. So, I'd be really interested to try some tactile low-profile switches in the NuPhy Air75 wireless mechanical keyboard to see what that's like.  If I can ever catch them in stock, I plan to purchase some of Nuphy's own Wisteria switches so I can do just that.
Thankfully NuPhy uses a USB C connector for the Air75, no prehistoric USB micro cables here.  This means fewer cables to carry when I travel with it. Yes, I will travel with it.  It's so light and thin.  The top half of the case is aluminum while the bottom is ABS plastic, so it's barely there. I always miss my mechanical keyboards when I travel for work, but now the Air75 will take care of that.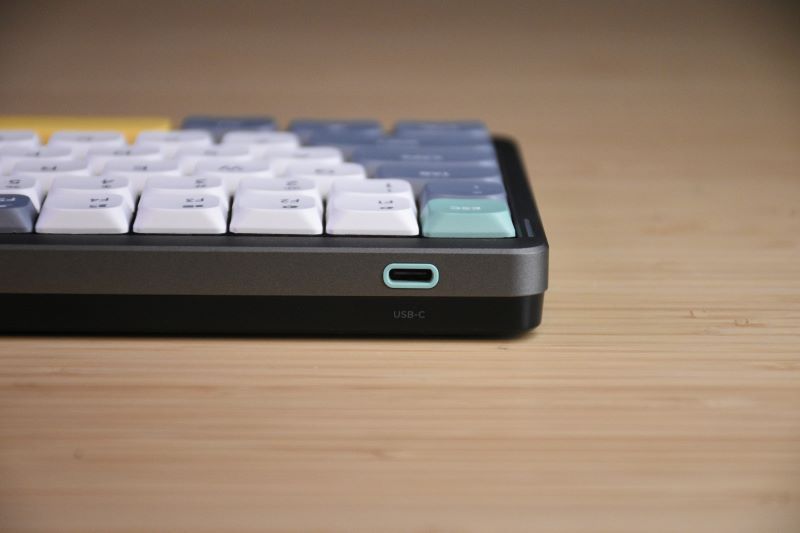 The keycaps are PBT so you know they feel nice when typing and they won't develop the dreaded shine. Along with that, they use dye-sublimation so the legends should pretty much last forever.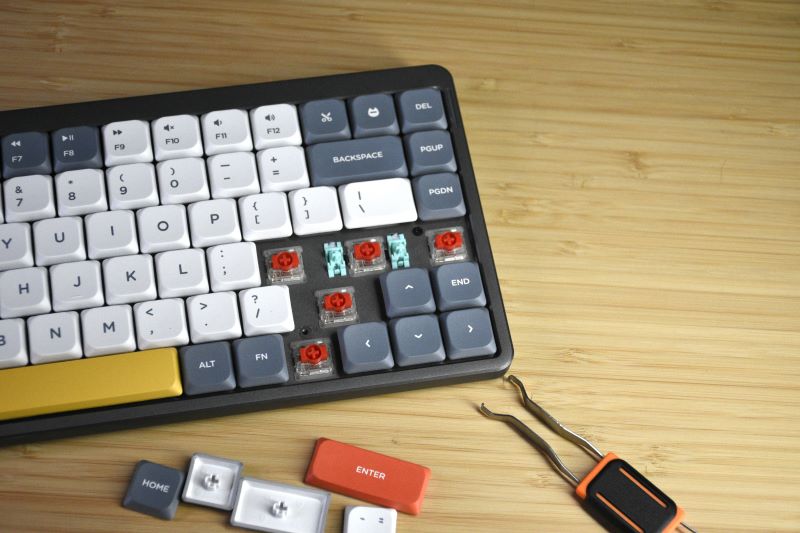 I love the keycap profile is really nice too.  NuPhy describes it as an "ergonomic spherical" design.  Whatever you call it, it looks great.  I'm not sure what kind of stabilizers they use but they do come pre-lubed.  I didn't notice any rattle from them whatsoever.
On the back, the NuPhy Air75 wireless mechanical keyboard has thin rubber strips for feet to keep it from sliding around. They don't look like much but do fine to keep the keyboard in place.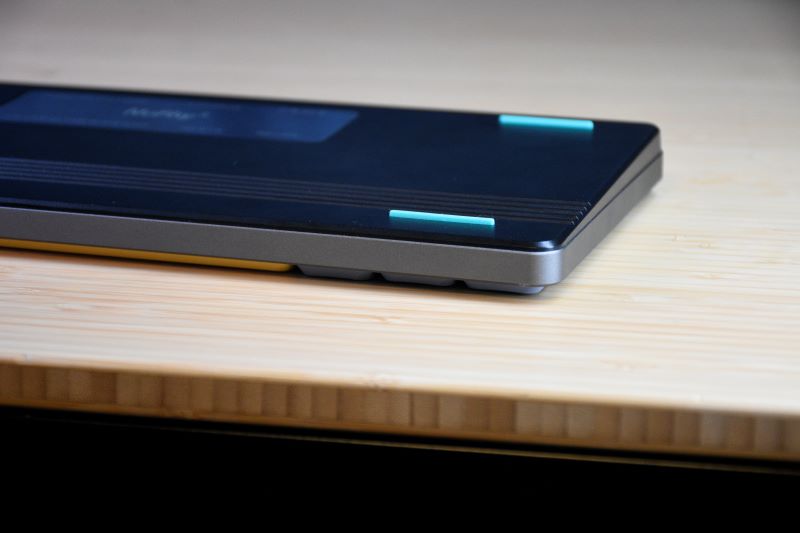 And should one come off, Nuphy included 4 extra ones in the box.
If the default angle of the Air75 is too low for you, Nuphy has you covered.  They included 2 magnetic feet.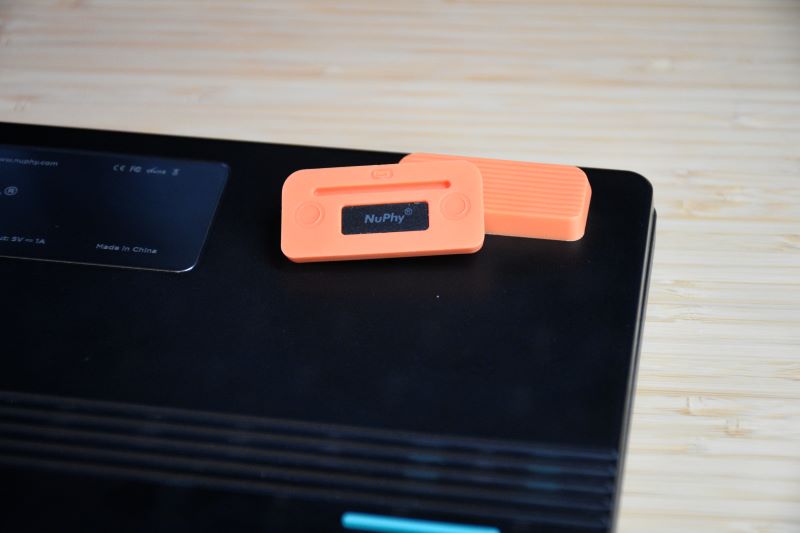 Notice the slot above the black rectangle? That fits over the rubber strip, then magnets inside the case keep them in place.  I used them pretty much the entire time I used the Air75.  They offer pretty much the perfect angle for a keyboard so slim. And while we're talking about the back, Nuphy has a mirror finish metal plate in the back., though admittedly my photography skills failed to show it off.

Like almost every electronic device available now, there are RGB LEDs with multiple settings to change like brightness, color, modes, you name it.  I'm not a huge fan of a light show while typing but do appreciate a solid color, dim backlight and I was able to have it. NuPhy provided the keyboard shortcuts to change all those settings in the manual/poster included in the box. If you want even more control over the LEDs, you can download the Nuphy Console. Now, I'm not exactly sure why the poster has a picture of an anime character but here she is along with some stickers of her as well.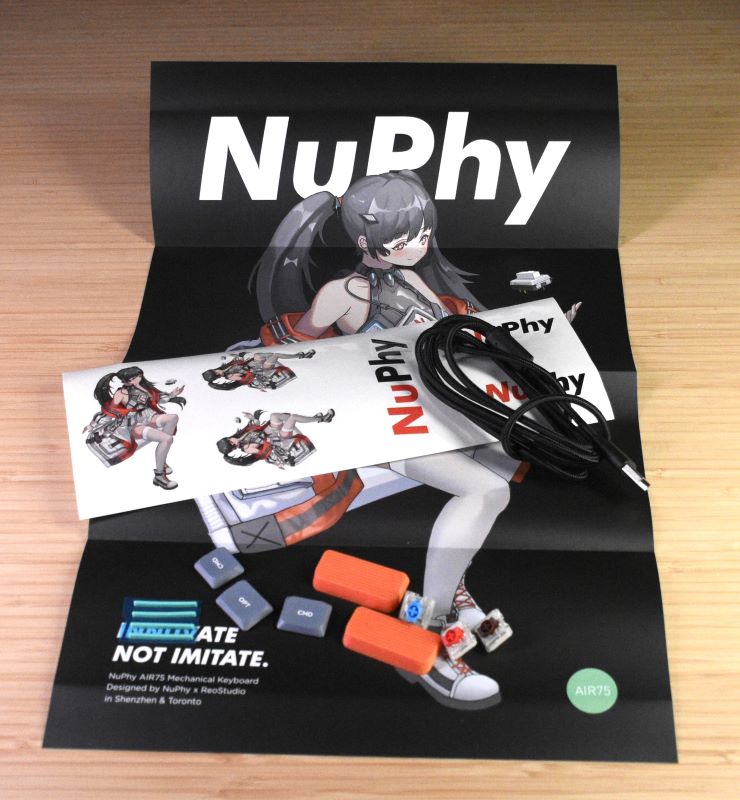 I don't know.  This just doesn't seem to fit with the look of the keyboard but to each their own.
The NuPhy Air75 wireless mechanical keyboard houses a 2500 mAh rechargeable battery. NuPhy doesn't say what type of battery but I'm going to assume it's lithium-ion, so I'll need to remember to keep it in my carry-on next time I fly with it. NuPhy says it can provide up to 48 hrs of battery life, enabling a whole week of use before needing to recharge it. I'd say that's pretty close.  I didn't measure it specifically but I was able to get a work week's and a little more out of it before needing a charge.
Performance
The performance of the Air75 is really good.  I was skeptical of it when I first unboxed it.  Even though I really liked the looks of it, how could something that thin feel like a real mechanical keyboard? I have to say I love this thing.  It feels great.  The sound is deeper than I would've thought possible. It's also the perfect form factor for me.  A 75% keyboard is in that Goldilocks zone, not too big, not too small, it's just right. I'm currently reviewing a couple of other keyboards, so I was a little sad when I had to switch over.  I told you I'm a keyboard nerd. As I mentioned earlier, Julie had some issues with 3 key macros, but I had no problems whatsoever.  All the ones I normally use worked just fine.
If I have any nits to pick about the NuPhy Air75 wireless mechanical keyboard, it's there's no storage slot or case for the USB dongle or feet when they aren't in use. I'm paranoid that I'm going to lose the dongle and won't be able to use the wireless 2.4 GHz option.
What I like
Mechanical switches
Light and slim
Feels and sounds great
What I'd change
Storage for the magnetic feet and USB receiver
Final thoughts
I love the NuPhy Air75 wireless mechanical keyboard.  It's really well-made and thought-out. If you're looking for a mechanical keyboard to commute or travel with or just a low profile to match your desktop aesthetic, this may be the one for you. Now, I just have to hope after reading this Julie doesn't ask for it back!
Price: $109.95
Where to buy: NuPhy and Amazon
Source: The sample of this product was provided by NuPhy.