We use affiliate links. If you buy something through the links on this page, we may earn a commission at no cost to you. Learn more.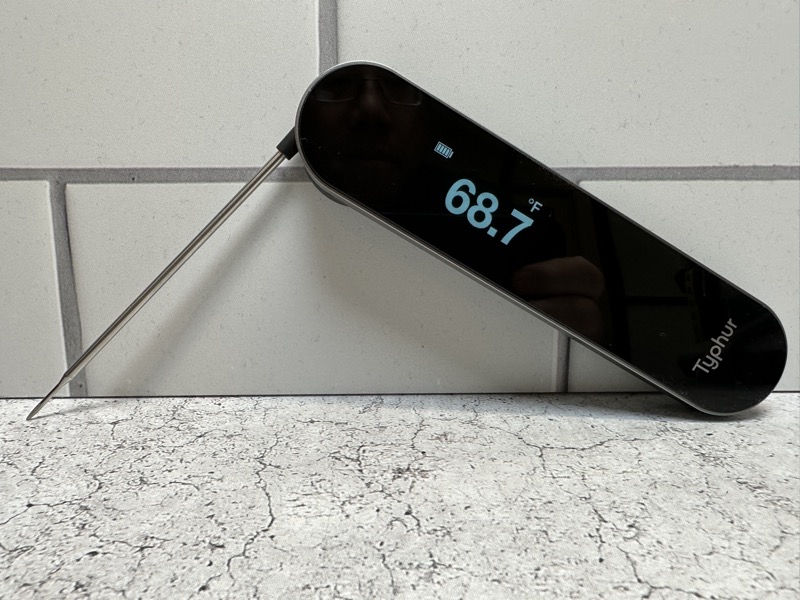 REVIEW – I cook with thermometers all the time because I don't trust my skills. One day, the sleek Typhur InstaProbe thermometer popped up in my social media feeds. It LOOKS pretty neat but is it good enough to dethrone my reliable Thermoworks Thermapen One?
What is it?
The Typhur InstaProbe is a battery-operated thermometer with an OLED display that boasts fast temperature read times and is rated IP67 waterproof.
What's in the box?
Typhur InstaProbe kitchen thermometer
two AAA batteries
Instructions
Hardware specs
According to the paper insert, the InstaProbe features the following:
Range: -58 to 572°F (-49.9 to 299.9°C)
Accuracy: ±0.5°F (±0.3°C) from -4 to 248°F (-20 to 120°C): otherwise ±1.8F (±1.0°C)
Resolution: 0.1°
Response time: Full reading in 0.75 seconds (0.15 seconds time constant. Response time defined as five time constants for 99.3% of actual temperature)
Probe: 4.3″ (L) x 0.12″ dia (reduces to 0.06″ dia)
Display: 0.87″ (H) x 1.65″ (W) (22 mm H x 42 mm W) OLED (white)
Operation Range: -4 to 122°F (-20 to 50°C) maximum ambient temperature of probe body
Sleep mode: 30 seconds
Water resistance: IP67
Battery: 2 x 1.5 volt AAA
Design and features
I had to get a photo of both my old Thermapen and the Typhur InstaProbe meat thermometer side by side. The differences are obvious. The InstaProbe has a sleek look where the OLED display hides underneath the glossy black finish.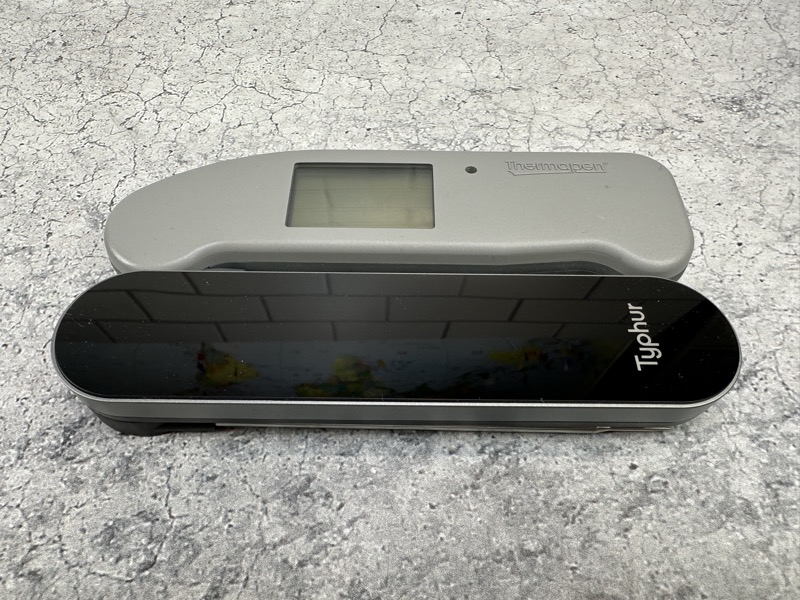 The Thermapen's LCD is backlit and controlled by a light sensor. The InstaPen also displays battery level. In this photo, the Thermapen is set to 1° resolution (no decimals) and is user-adjustable to 0.1°, whereas the InstaPen is fixed at the shown 0.1° resolution.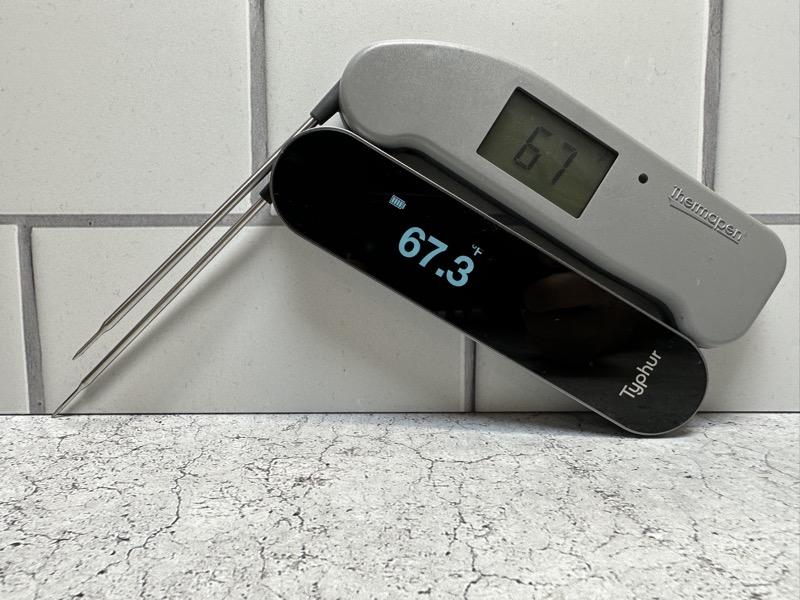 There are no external controls on the InstaPen. Here's a view of the back side.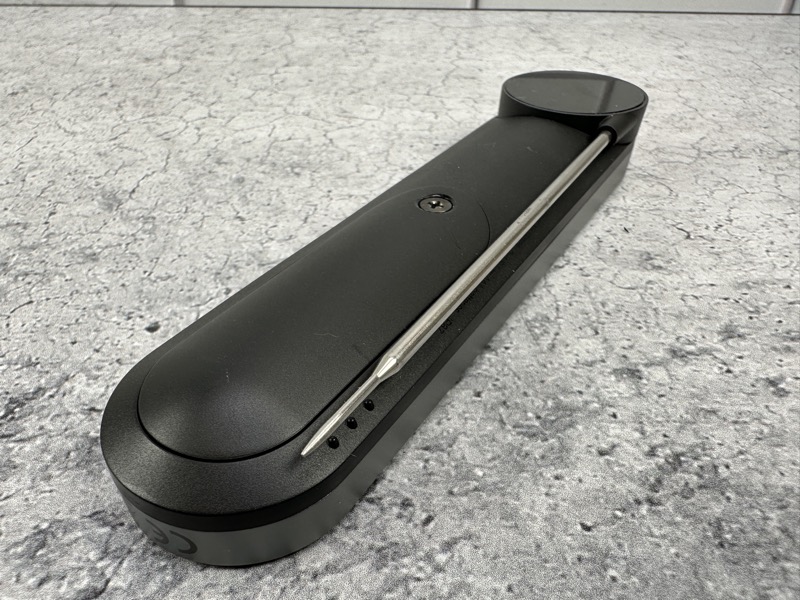 Both thermometers turn off when the probes are folded. The Thermapen (left) has a small notch which helps prevents accidental jabs. The Typhur InstaProbe kitchen thermometer (right) pointy end just rests against the body.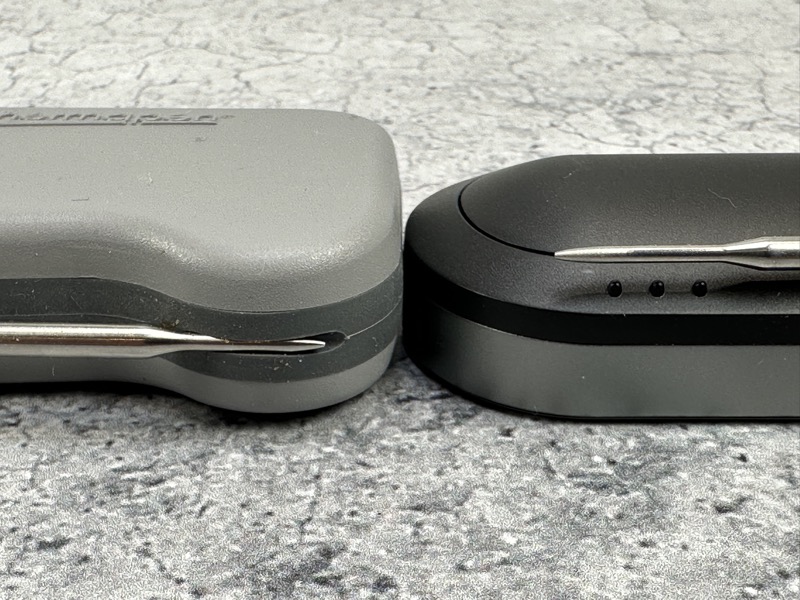 Unlike the Thermapen, the InstaProbe has built-in magnets. Here it is sitting on my fridge.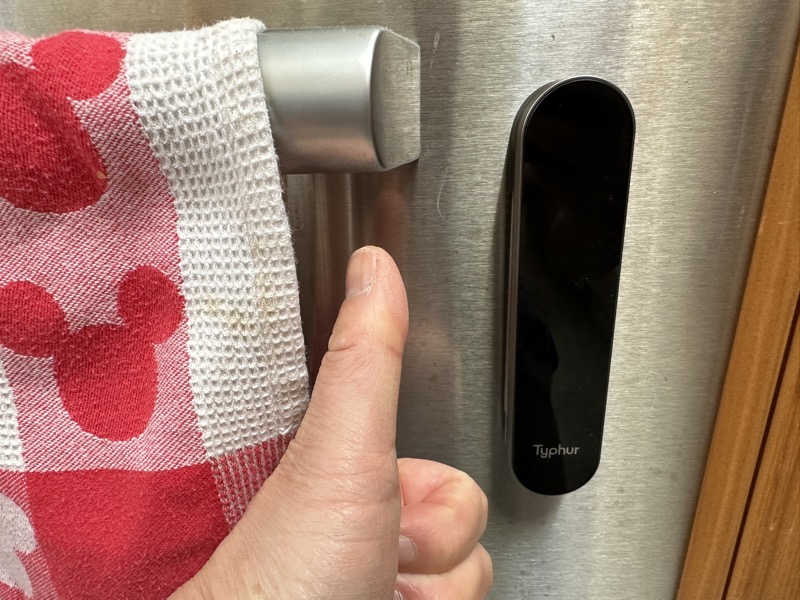 Setup
There was a stubborn sticker on the probe. I had to use rubbing alcohol to remove the residue.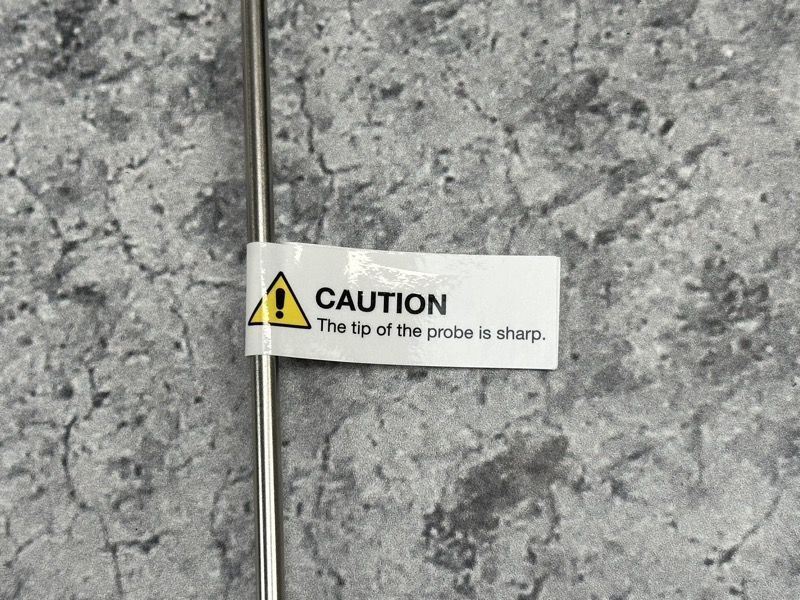 The battery cover removes with a Philips screwdriver. The screw is captive and won't roll away, which is a nice touch.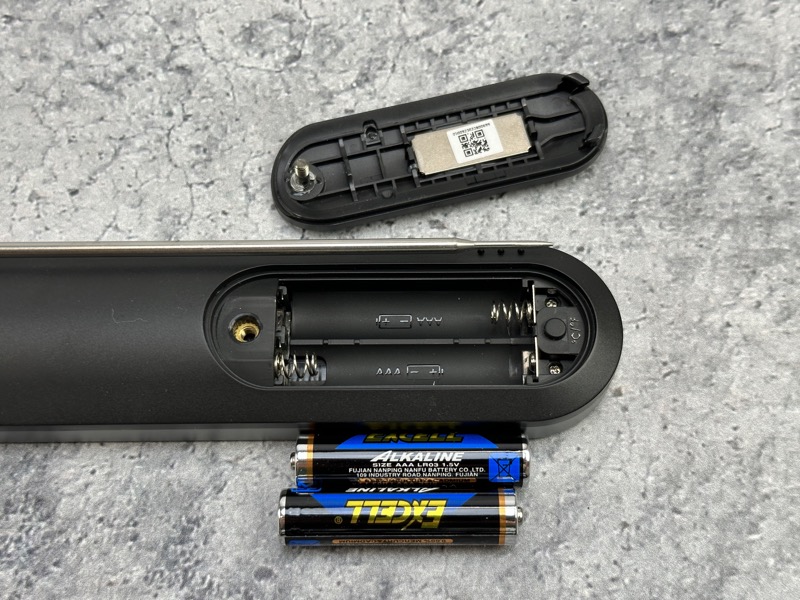 There is a single button on the bottom of the battery cover to switch between °C and °F.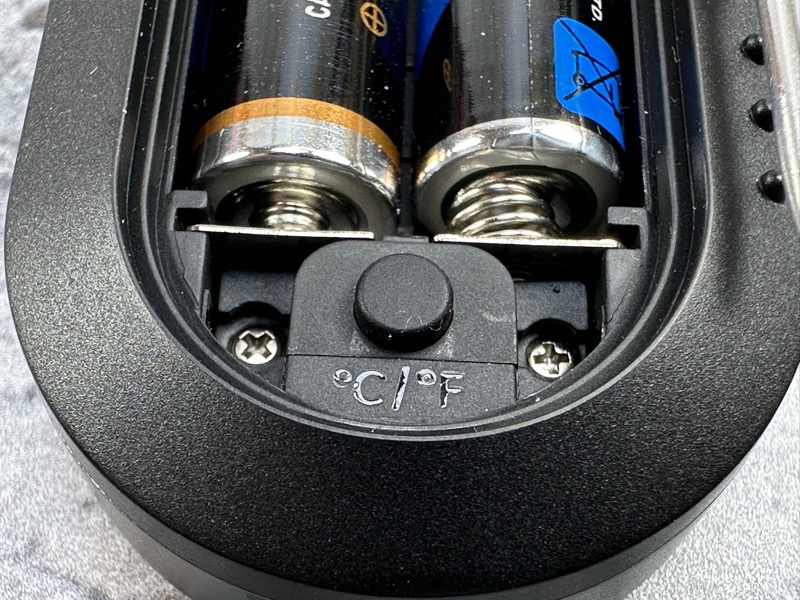 Performance
While both thermometers appear similar in function (both IP67 rated, the probes are the same size) there are a few differences:
Response Time: 
InstaProbe: Full reading in 0.75 seconds (0.15 seconds time constant)
Thermapen: Full reading in 1 second (0.2 seconds time constant)
Sleep Mode:
InstaProbe: 30 seconds
Thermapen: 10 to 180 seconds (user selectable, user reconfigurable to disable)
Display:
InstaProbe: OLED, 180° flip
Thermapen: Backlit LCD, 360° flip
In testing, I measured a boiling pot of water. The InstaProbe was the closest to 212°F.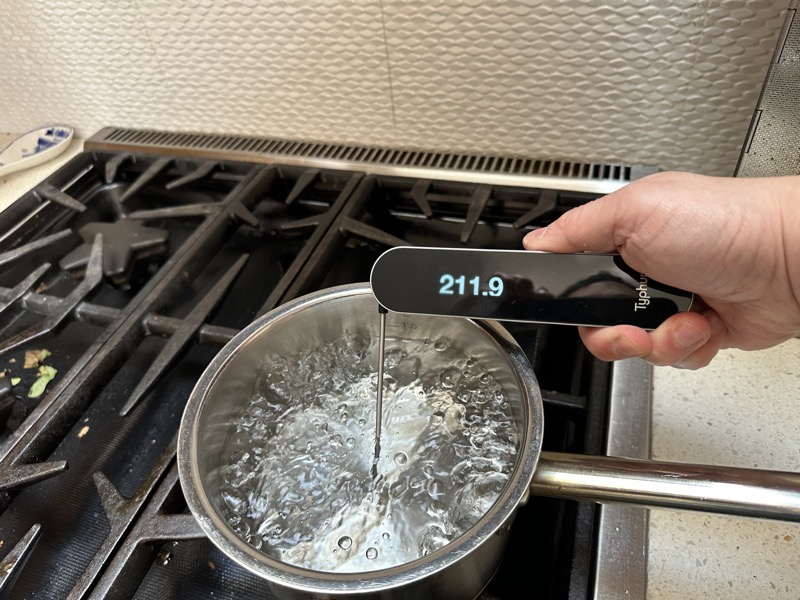 The Thermapen was a little low, just under 212°F. That said, there is a calibration process for the Thermapen if absolutely necessary. I did not see such a procedure for the Typhur InstaProbe kitchen thermometer.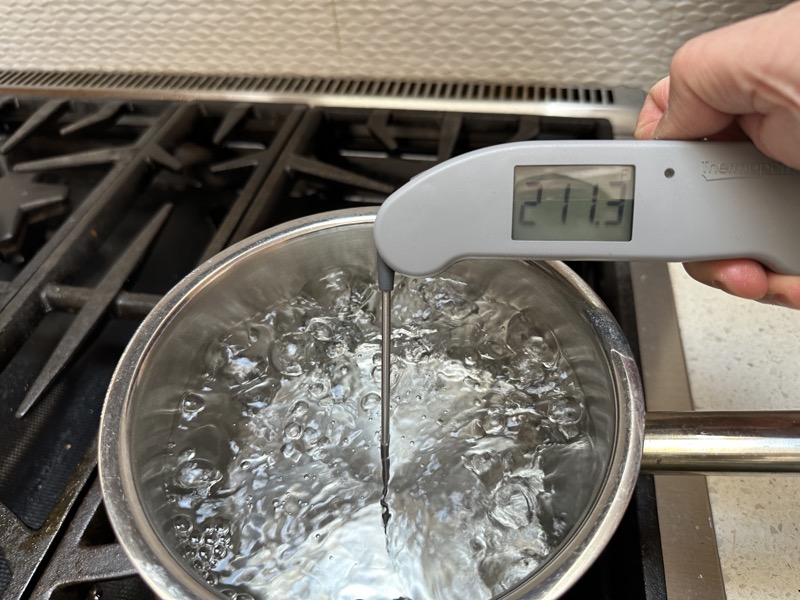 As for speed, they were pretty close. The InstaProbe DID appear to be a smidgen faster. Note that the Thermapen's LCD display rotated accordingly. The InstaProbe only flips the other direction.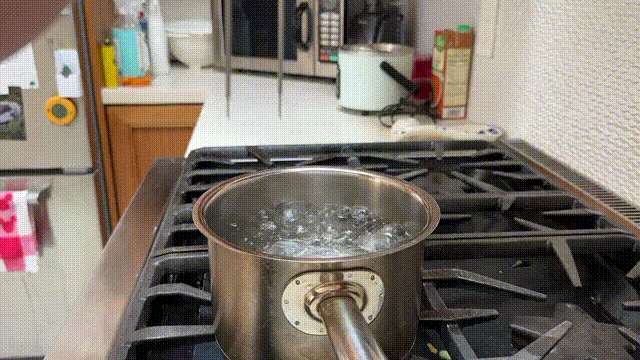 What I like
Crisp, clear OLED display
Battery level display
Built-in magnets
Fast and accurate
What I'd change
A slightly safer way to protect the probe tip from accidental jabs
Add an adjustable sleep timer and decimal place (accuracy) readout
The glossy finish is sleek but a fingerprint magnet
Final thoughts
If adjustable sleep times and the 360° rotating display found on the Thermapen doesn't matter to you, and you're careful not to jab yourself with the pointy probe, the Typhur InstaProbe kitchen thermometer is a high-performance kitchen tool that won't disappoint.
Price: $109.00
Where to buy: Typhur and Amazon
Source: The sample of this product was provided by Typhur.