We use affiliate links. If you buy something through the links on this page, we may earn a commission at no cost to you. Learn more.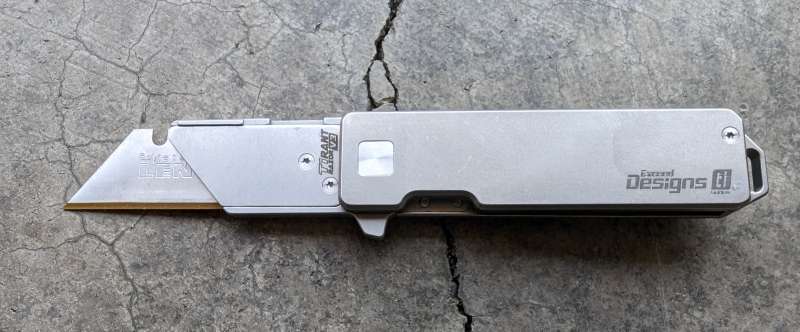 REVIEW – I've owned and reviewed oodles of knives but I always seem to use my $5 utility knife when opening boxes or cleaning up 3d prints or just whenever I need a super sharp edge. I was looking for a super small utility blade holder (I even 3d printed a few) and found the Exceed Designs TiRant Razor V3 and decided to take a chance. Let's see what it can do.
What is it?
The Exceed Designs TiRant Razor is a low profile titanium utility knife with a flipper opening and easy tool free blade exchanges. It accepts 99% of the trapezoidal blade styles whether 2, 3, or 4 notch and also comes in black or you can customize it with carbon fiber scales and an optional rear pry bar.

What's in the box?
1x Fully assembled TiRant Razor V3 with Lenox Gold bi-metal blade installed
1x Spare lock bar insert
1x Spare T8 center collar nut
1x Square center screw
4x T6 screw replacements
1x Exceed Designs Pro S2 MetalT6/T8 Torx tool
10x Generic razor blades
1x Instruction manual
Stickers
Hardware specs
Weight with Blade: 2.4oz
Handle Height: 0.88"
Handle Width: 0.40"
Handle Length: 3.42"
Total Length: 6.12"
Usable Razor Blade Length: 1.45" or 36mm
Lock Mechanism: Liner lock
Opener: Standard flipper
Pocket Clip: Stainless steel, 53mm, tip up
Handles, rear spacer, and optional rear pry bar are 6AL-4V grade titanium
Blade holder is high grade stainless steel (required for elasticity of quick release)
Design and features
I purchased the Exceed Designs TiRant V3 for personal use and had no intention of reviewing it. I actually tried to cancel the order because Amazon said there was a four week ship time and it was $85 which is a lot for a utility knife. However, Josh from Exceed Designs emailed me and said he had one ready to ship that day if I still wanted it. This was still $85 for a utility blade holder and thought I could just find something cheaper but decided to give it a try and boy am I glad I did. Check out my quick video review below.
When I first opened the package and picked up the TiRant Razor V3 knife I knew it was well worth the price and is even a deal considering how prices have gone up on everything.
The Exceed Designs TiRant Razor V3 is super lightweight owing to its skeletonized titanium handle and rear spacer. It is very slim and compact but still a usable and comfortable size in the hand.
I would expect this type of fit and finish from the higher end knife makers. There is no play in the blade or lock, there is near zero tolerance everywhere. I could not find a part that did not fit perfectly to the next. This TiRant Razor is version 3 so there have been improvements from the V1 and V2.
Some of which are dual caged ceramic bearings which is why it opens so smoothly. Dual notch high grade stainless steel blade holder mechanism has a slightly raised release button for easier blade changes. The stop pin diameter has increased from 1.84mm to 2.34mm. Custom CNC milled square pivot bolt for easier maintenance and dual screw locker insert for more solid lock up.
The more I handle the Exceed Designs TiRant V3 the more impressed I am with it. This is such a well thought out and designed blade holder that honestly I am surprised it hasn't been copied yet. It's the only titanium blade holder I could find that is a flipper, tool free blade changes, and has a pocket clip.
I did see some other retractable titanium sliders such as the James Brand Palmer (no pocket clip) or Aerocrafted Sideslip Utility Knife (not as much usable edge and $98) but they just didn't fit what I was looking for. If you are looking for a slider Exceed Designs has a new TiRant Razor-M 3.0 Maglock Utility knife that looks super cool and uses magnets to keep the blade locked so check that out here.
The Exceed Designs TiRant V3 also allows the use of over half the blade edge. Most other blade holders I found would only expose 10-15mm of the blade tip. Being able to use 36mm out of a 60mm blade maximizes every bit of edge so when you flip it around you will end up using the whole blade. Tool free blade changes allow increased flexibility as well based on the job. If I'm cutting a lot of zip ties I can swap the blade for a concave or hooked blade in seconds or another swap again for a serrated blade.
 What I like
Super high quality
Best combination of form and function
What I'd change
Add jimping to the flipper
Maybe add a thumbstud on version 4?
Instead of a pry bar maybe a bottle opener?
Final thoughts
Exceed Designs is a brand I will keep an eye on from now on. Especially as they are committed to improving their products which is evident in the TiRant V3. Maybe a thumbstud and bottle opener? And that's the best thing is that any future improvements are likely retrofit-able to your V3 and replacement parts are also available. They have created some very unique and extremely well made EDC tools. I love the TiRant Razor V3 and will have to get their new Razor-M 3.0 Maglock. I am still shocked at the quality and finish and how elegant they have made a utility knife look that functions even better. Exceed Designs may have made the most perfect EDC utility knife I have used yet so definitely check them out and I can't wait to see what they come out with next.
Price: $80.00
Where to buy: Exceed Designs website or $85 on Amazon
Source: The sample for this review was personally purchased by myself at full price.