We use affiliate links. If you buy something through the links on this page, we may earn a commission at no cost to you. Learn more.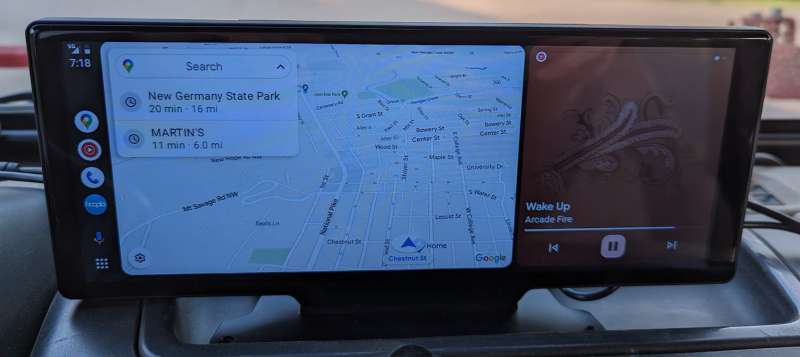 REVIEW – There are a few features that most new cars have that have arguably made driving more enjoyable and perhaps safer.  Those features are touch-screen displays that let you interact with your car in an efficient way, Android Auto and Apple Carplay, which mimic features of your phone on that touch screen for things like music and navigation,  back-up cameras that help prevent you from backing into things, and dash cams which capture traffic incidents for legal or insurance purposes. But on older cars, you're out of luck.  You could always add an aftermarket stereo, but that's expensive and difficult.  But now, with the Seicane 10.3 inch dash cam smart screen, you can have all of these features, plus a few more, for around $100!  That's honestly quite an amazing bargain.  And to top it all off, it actually does all this stuff quite well, and is easy to install and setup. 
What is it?
It's an aftermarket touch screen that mounts on top of (instead of in) your dashboard.  It includes a front-facing dash cam, an external camera that you could use as a parking cam on the front or a back-up cam, a DVR to constantly record those cameras,  and a touch-screen display that includes wireless Android Auto and Apple CarPlay. It's a lot packed into a small box!
What's in the box?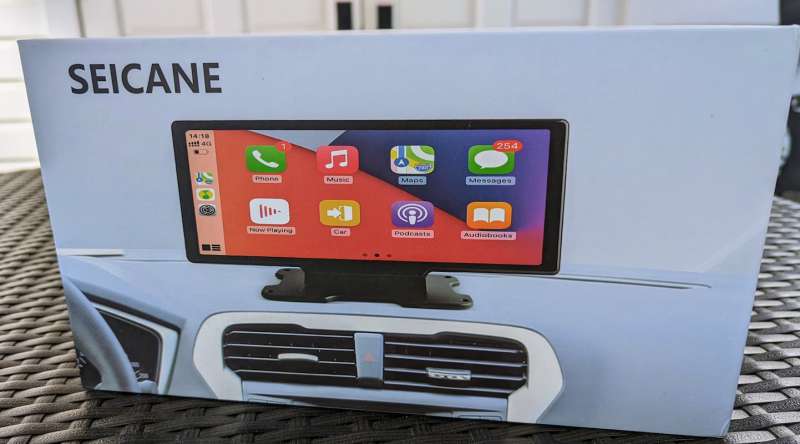 The display

Power cable (cigarette lighter to USB-C, that includes aux-out and USB-A in)

3.5mm to 3.5mm (headphone jack) connection cable

External (backup, or front parking) camera
Hardware specs
Main Chip:

Allwinner V535 Quad Core [email protected] RISC-V MCU@200MHz

Display:

MIPI 10.26 inches

Resolution:

1600*600

TP:

Support 10.26 inches capacitive screen

ROM:

2GB LPDDRⅢ

Flash Memory:

8GB

Loudspeaker:

Built-in (8ohm/2W)

Microphone:

Built-in -40db ±2db

Expansion memory card:

TF card capacity up to 128GB

Power supply:

Car charger 5V/3A

Front camera:

2093 6P 4K Ultra HD

Rear camera:

AHD 1080P HD camera

Bluetooth:

Support BLE 5.0, can support master and slave devices

FM:

Support 88-108MHz

GPS track:

Optional

WiFi:

Support 2.4G 802.11b/g/n

System/OS:

Linux

Language:

Support multiple languages (Chinese, English, French, German, Italian, Spanish, Hebrew, Japanese, Russian, Korean, Turkish, Korean, Polish, Arabic, Hungarian, Czech, Lithuanian)

Apple device:

Support Carplay Built-in wired and wireless compatibility

Android devices:

Support Android auto, built-in wired and wireless compatible

Mirror projection:

Supports Apple Airplay/Android Wireless Mirror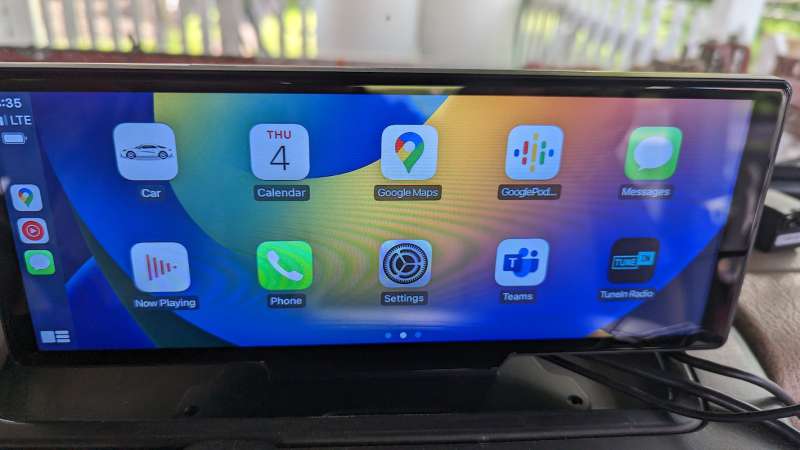 Design and features
This little screen does a tremendous amount for $100. Here's a list of all the things it does:
Front-facing camera

Rear-facing (or wherever you want to mount it) external camera

Recording of the camera video (when you install a micro-SD card)

Apple Carplay (wired and wireless)

Android Auto (wired and wireless)

Whole-screen mirroring through Apple Airplay and Android Mirror (movies on the road, anyone? Maybe not a great idea)

Wi-Fi video transfer to an app
It even has an internal battery, as I'm able to turn it on without it being plugged into anything.  That's interesting since nowhere in the documentation or the web page is an internal battery mentioned.  The screen has built-in speakers and a microphone, although you'd not really want to use those speakers for much.  It's designed to deliver audio to your car system through either an aux port (3.5mm headphone jack, included) or via a selectable FM frequency, which is a nice addition in case your car is old enough to not have an aux in port. 
There's an app (RoadCam) for downloading files from the Seicane dash cam.  It connects over a wifi signal from the smart screen, and downloads the files pretty quickly.  From there, you can share them from your phone just like any other videos.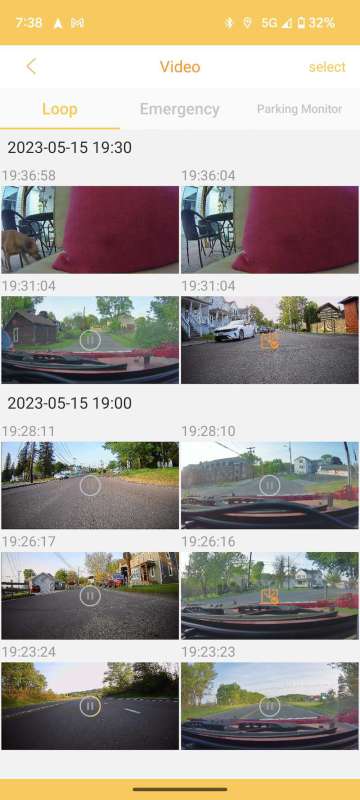 Installation and setup
Installation and setup of the Seicane dash cam is actually pretty easy, but don't plan to rely on the manual for much help.  Luckily, it's intuitive. You can power it using the included power adapter, but you can also power it using any USB ports that you may have in your car.  However, when setting up Android Auto the first time, you'll need to use the included power adapter since it also has a USB-A port that you'll have to plug your phone into (wireless Android Auto requires a wired connection the first time).  In terms of getting audio from the screen to your stereo, you have two choices.  You can use an FM frequency, or you can use the Aux output.  One important thing to note (that is not covered in the manual) is that the 3.5mm jack on the back of the screen is NOT for the Aux cable – it's for an optional GPS unit.  The Aux output is on the power cable.  For my setup, I used a simple USB-A to USB-C wire for power, and used the FM transmitter, avoiding an extra wire and the clunky power adapter.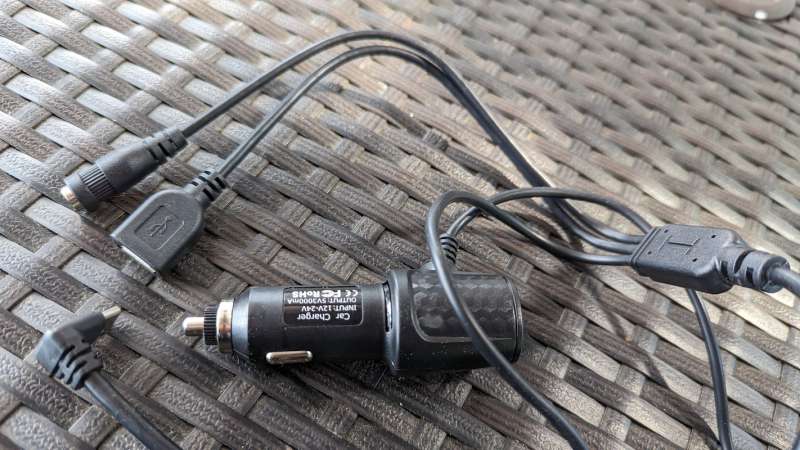 The secondary camera can be mounted anywhere you want – as a backup camera, a front parking camera, or even a rock camera underneath for off roading.  If you install it as a backup camera, you can connect it with the reverse lights so the comes on screen automatically when the car is in reverse – handy!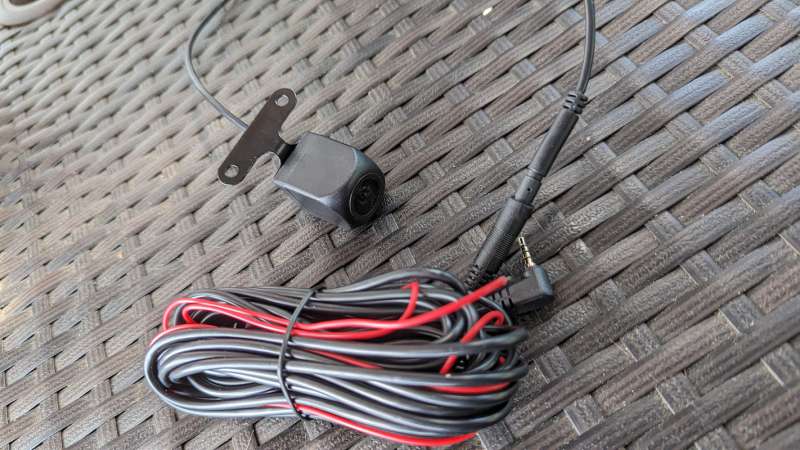 Once you have all the wires placed and plugged in, just peel the massive piece of 3M adhesive on the bottom and stick it to the dash somewhere!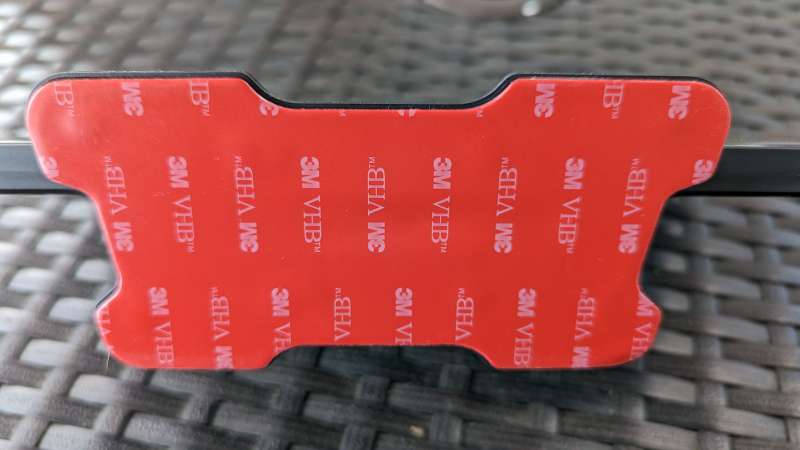 Once the physical installation has been completed, you just have to connect your phone.  But first, you have to tell the unit what kind of connection you'd like – Apple Carplay, Android Auto, or even Apple Airplay which just mimics your phone's entire screen. The manual is not helpful in figuring this out, but it's done using the "mobile link" button in the settings menu.  Once selected, you just connect your phone just like you'd connect it to a newer car stereo.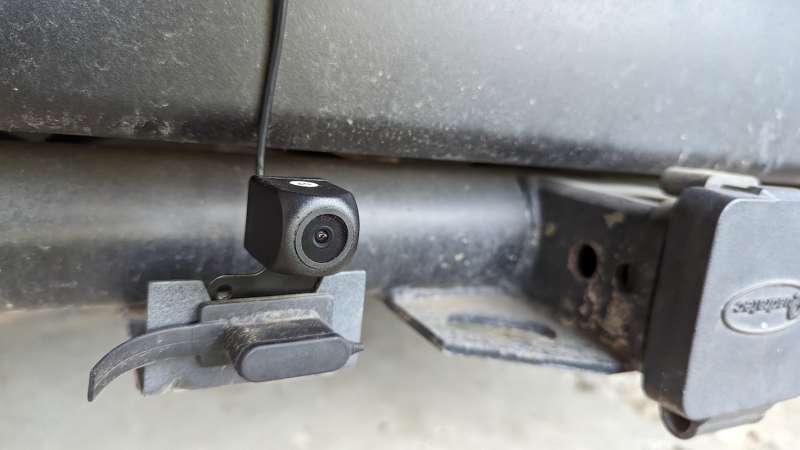 Performance
For $100, this is honestly quite amazing.  I have a 23-year-old Jeep Wrangler, which obviously does not have ANY modern infotainment features.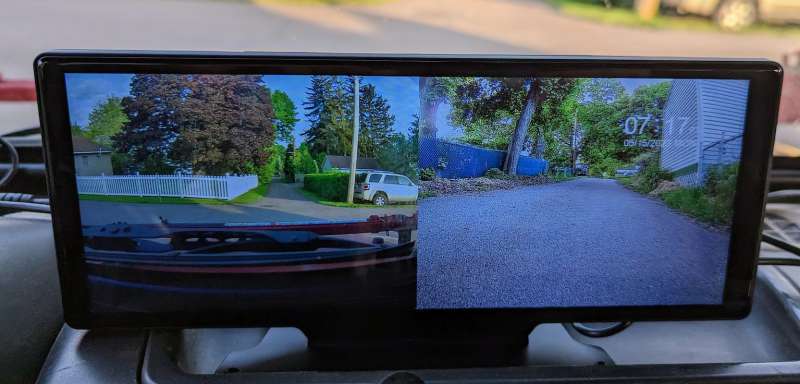 Adding this smart screen has, for $100, has given me more capability than my 2019 pickup with a large touchscreen.  The resolution on the cameras is not great, especially the backup camera.  You're not reading license plates off of the videos from these cameras, unfortunately.  And the front camera could really use some electronic stability control to smooth the image a bit.  Here's a sample video:
However, the real power in this is being able to have Android Auto or Apple Carplay, on a big screen, in any car with a cigarette lighter and an FM radio. Music, maps, apps, all at your fingertips.  And the microphone in the unit works great for phone calls placed and received through Android Auto or Apple Carplay.  I'm very impressed.  The screen is bright and responsive to touch, and very easy to see in full sun.  It does not automatically dim for night time, but changing the brightness is pretty easy.  In short, the Android Auto experience with this $100 screen is on par with that on the built-in screen in my much newer truck.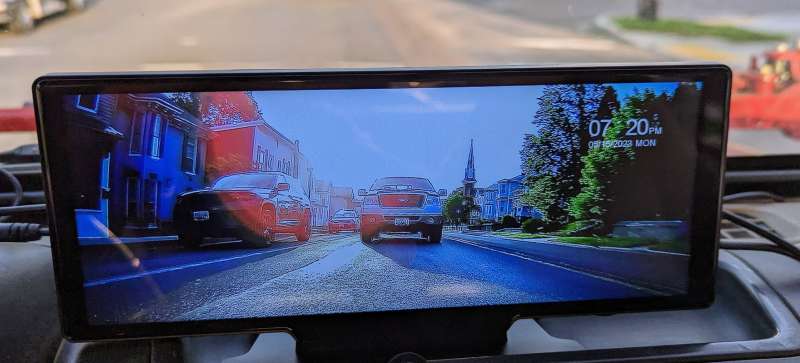 What I like
Amazing value

Installation is pretty easy, with options

Bright and responsive touch screen

Includes full Apple Airplay, which can actually let you watch movies in your car, which is probably illegal (if you're driving).
What I'd change
Auto screen brightness adjustment would be nice

A higher resolution front camera would be helpful – license plates are difficult to make out

Add the Aux audio jack to the unit instead of the power cord

Manual is not helpful – poorly translated, and not complete.  But also not necessary
Final thoughts
If you have an older car without the latest and greatest in infotainment, the Seicane Smart Screen is a quick and VERY cheap way to add some of these helpful tools to your car, in a single package, without ripping your dashboard apart.  And the fact that these tools are effective at this price point is even better.  
Price: $100
Where to buy: Seicane
Source: The sample for this review was provided by Seicane.