We use affiliate links. If you buy something through the links on this page, we may earn a commission at no cost to you. Learn more.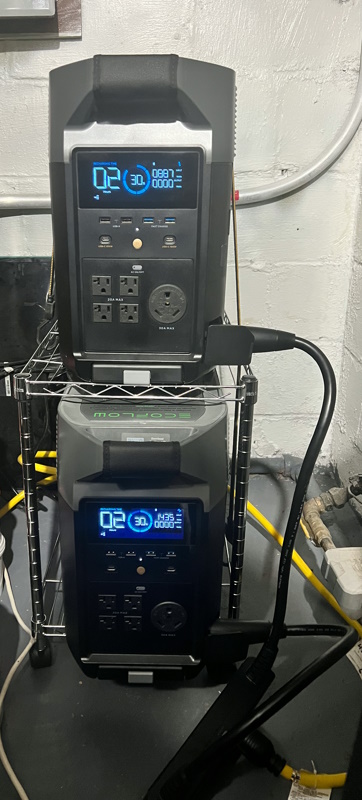 REVIEW – Do you remember Hurricane, Sandy? If you lived anywhere that experienced that incredible storm, I am sure that you do. At that time, I was living in an apartment in Queens, NY and I was without electricity for 14 days. 14 days of darkness and extreme cold because the building maintenance had to turn off the boilers as well as a precaution. Oh, how great it would have been if back then I had this EcoFlow Whole Home Backup Power Solution. I certainly could have used it completely off-grid, and with minimal and specific use, probably would have had power for most of the 14 days.
Once I purchased my own home, I wanted to ensure that I would always be prepared should I ever have to deal with another Sandy!! One month after I purchased my home, I had solar and a backup battery installed in my home. One of the main issues that we discovered during that solar installation was that the previous homeowner had upgraded the main breaker panel to a 200 amp panel but he did not add any new breakers. The entire house was connected to just a few 15 amp breakers, As time went by, I started redesigning and remodeling several spaces in my home and several new circuits were added. The new circuits are not a part of the initially installed solar system, and because of the limitations of how many panels are permitted on my roof and how much it would cost to have the solar company come back and rewire to accommodate several new circuits, I felt that I needed a separate system to backup what had become almost half of my home. Also, I was quite aware that since I am a gadget junkie with approximately 120 devices on my home network and a bunch of other gear always connected, the power needed for the newly added circuits is probably more than many entire homes. After all, the new circuits include the new home theater/entertainment space that also includes a bar with a wine fridge, etc., my office with all of the network equipment, the laundry room, and a few other outlets. In addition, I was hoping to be able to use my washing machine and possibly some other devices off the grid at all times to help to keep my electricity bill in check. I had previously reviewed several Power Stations from various companies that produced enough power but they did not seem to be the best option and solution for my needs. I did not want to have to go outside and start a generator, I did not want the noise of a generator and I wanted something that could be recharged via solar panels. Now we get to take a detailed look at the EcoFlow whole-home backup power solution!!
What is it?
The EcoFlow Whole Home Backup Power Solution is a sustainable and affordable whole-home backup power solution with an output power of up to 7200W using 2 Delta Pro Power stations, and via additional batteries can be expanded to provide up to 21.6kWh. It is designed to easily chain together two DELTA Pros using the Double Voltage Hub and plug into your breaker panel via an existing power inlet box or transfer switch. This solution provides a convenient home battery system without rewiring or running dangerous extension cables through your home.
What's in the box?
2 x EcoFlow Delta Pro Power Station
2 x AC Power Cord
2 x DC Power Cord
1 x Power Inlet Cord
1 x Voltage Hub
2 x Power Station User Manual
1 x Voltage Hub User Manual
Hardware specs
99lbs / 45kg
25 x 11.2 x 16.4 inches / 63.5 x 28.4 x 42cm
3600Wh capacity LFP battery
Output: 4x 230V/16A AC outlets (EU) or 4x 120V/20A AC outlets and 1x 120V/30A (US); 3600W total (surge 7200W)
Output: 2x USB-A 12W max per port and 2x USB-A 18W (fast charge) max per port
Output: 2x USB-C, 100W max per port
Output: 1x 12v car socket, 126W max
Output: 1x 12.6V/30A Anderson Port, 378W max
Output: 2x 12.6V/3A barrel plugs, 38W max
Input: 1x 8A car charging with support for 12V and 24V batteries; 1x 11-150V/15A max solar charging, 1600W max
Input: AC charger. 120V/1800W max, 240V/3000W max
Wi-Fi, Bluetooth, and Ethernet connectivity
Design and features
Installation-free: Forget expensive and complicated systems, it's easier than ever to prepare for blackouts with a plug-and-play design. Simply connect to your breaker panel via a power inlet box or transfer switch for instant home backup.
Clean home backup alternative: Exchange noisy, high-maintenance gas generators for quiet and reliable home backup and convenient EV charging.
Power almost everything: Already have two DELTA Pros? Get an extra Double Voltage Hub now and pair two units to hit the massive 7200W and 240V output to power your entire home, including high-wattage ones.
Up to 1 week of power: Expandable capacity from 7.2 to 21.6 kWh with extra batteries, store energy, and keep your critical circuits running for up to a week.
Fast recharging between outages: With the signature X-Stream technology, ideal for fast charging between short outages.
The EcoFlow Whole Home Backup Power Solution is made up of 2 Delta Pro power stations and a Dual Voltage Hub to provide 240 volts. There are ports on the front, back, and side and there is also a telescopic handle and wheels to transport these heavy devices.
The following video provides a detailed tour of the Delta Pro and its features:
Installation
Here is the list of equipment/parts that I purchased to design my control board for this system:
1 x 2′ x 4′ plywood board. Mine is 1/2′ thick and painted with high-heat black paint
1 x Homeline 100 Amp 6-Space 12-Circuit Indoor Surface Mount Main Lug Load Center with Cover
1 x Kasa Outdoor Smart Plug, Smart Home Wi-Fi Outlet with 2 Sockets
1 x Cablectric 25 Ft Outdoor Extension Cord – 10/3 SJTW 10 Gauge Lighted Electrical Cable with 3 Prong Grounded Plug
1 x Leviton 5369-CA 20 Amp, 125Volt, Connector, Industrial Grade, Straight Blade, Grounding, Angle
1 x Houseables Generator Cord 30 Amp 4 Prong, Generators Extension, 25 Ft, 125-250v, 7500-watt max Rating, UL CUL, NEMA L-14-30P, Rubber, 10 Gauge, Heavy Duty, L14-30, Transfer, Power Cable, Locking
1 x Leviton 20-Amp, 120 Volt, Toggle Pilot Light, Illuminated On, Neutral Single-Pole AC Quiet Switch
1 x EZ GENERATOR SWITCH – The Original, Patented, UL/CSA Approved Manual Transfer Switch
1 x Reliance Controls 30 Amp Power Inlet Box
1 x Kasa Smart Plug KP200, In-Wall Smart Home Wi-Fi Outlet
2 x EcoFLow Remote Control
Misc: Conduit, joints, 12/2 Romex Electrical Wire, wire clips, etc
Here are some photos from my installation process: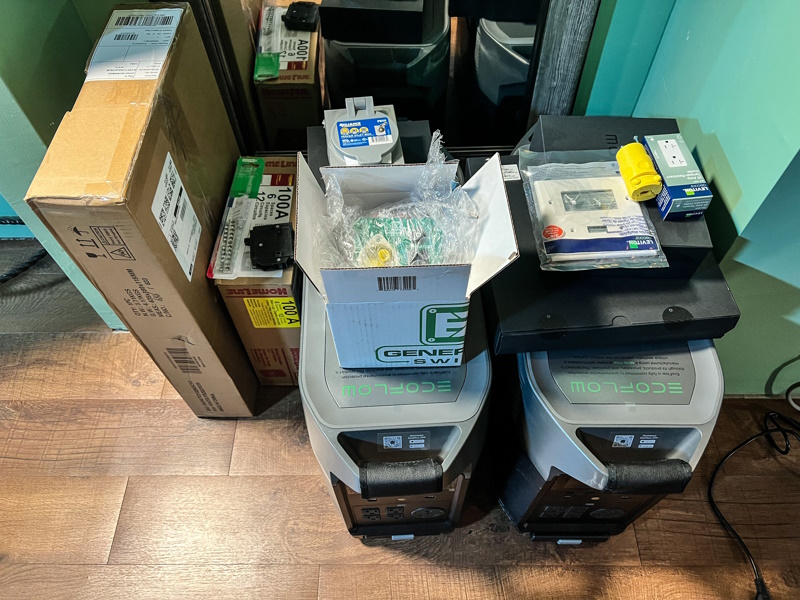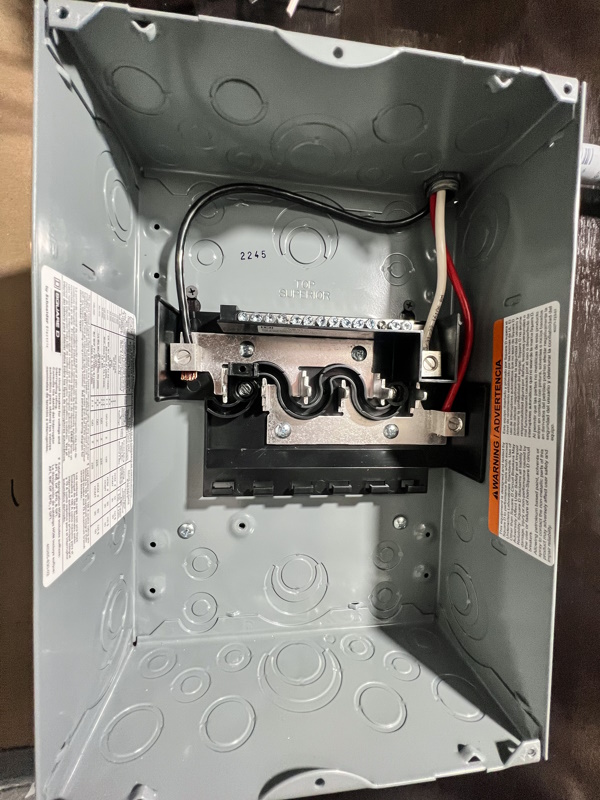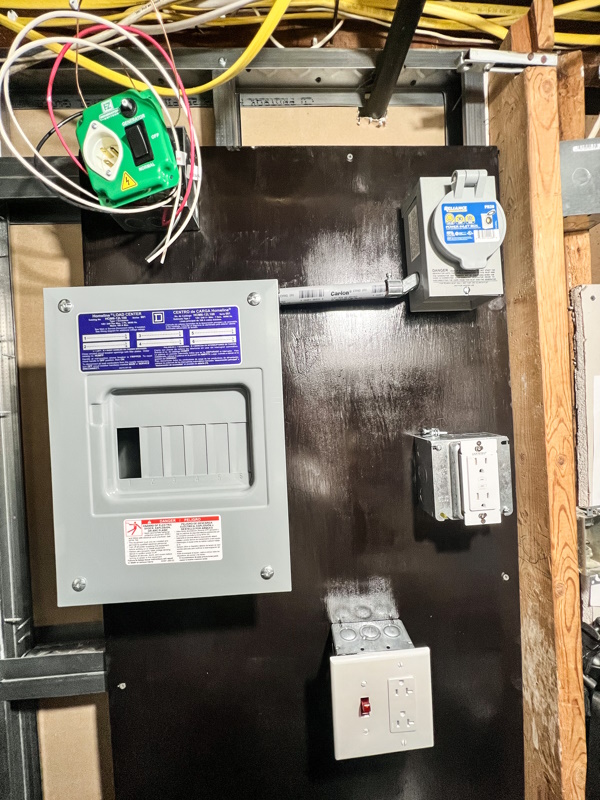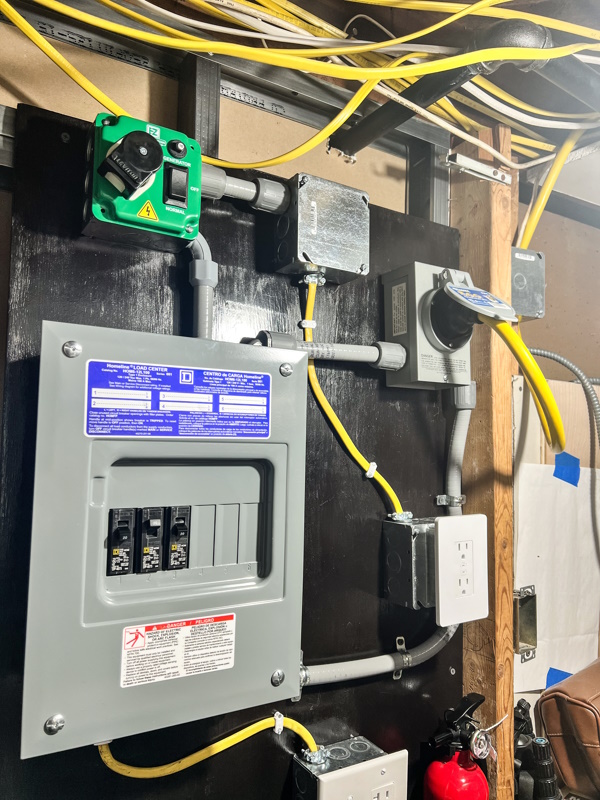 The following video is a more detailed account of my installation process. It is important to note that depending on how you want to install the system,  you need additional equipment like some type of transfer switch possibly like the EcoFLow Smart panel or a manual transfer switch, a power inlet box, and other accessories. For many people, it would be necessary to hire a professional to install the system even if you are installing it as a stand-alone system to provide independent off-grid power. However, if you have enough knowledge of electrical systems and if you are a capable DIYer, you can do the installation yourself.
App:
The following are screenshots from the EcoFlow app: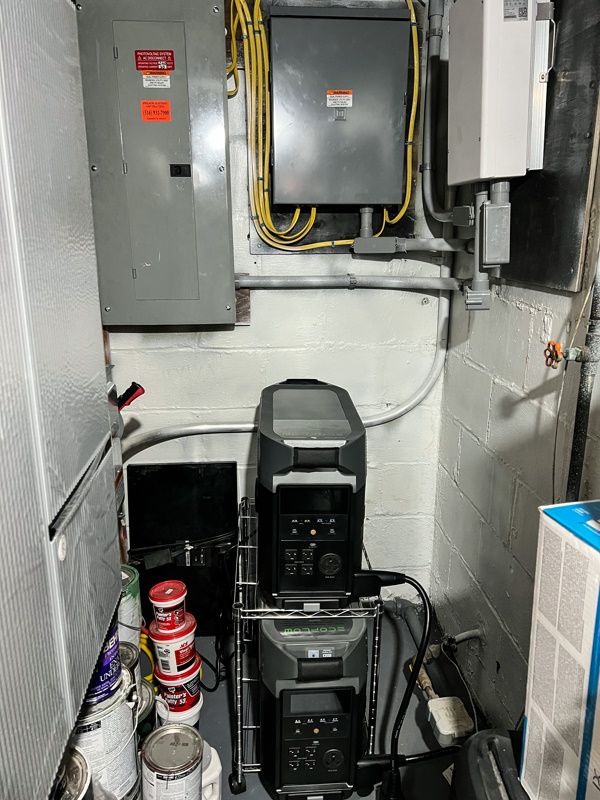 Performance
I performed two initial tests with this EcoFlow Whole Home Backup Power Solution. The first one was the switch over from the power grid to the Delta Pros using the EZ Generator Manual Transfer Switch and the process was flawless.
The next test was to power the washing machine off-grid with the intention of finding out if and how much money I could and would save.
When I reviewed my electricity bill, the first month of partial use of the EcoFlow system, I averaged a savings of $35. I calculated this average base on consistent usage and bills every month. The second month of using the system for washing for the entire month yielded $65 in savings. If I can get my hands on a couple of Solar panels, then the savings will be more because I would not have to use the power grid to recharge the Delta Pros.
Overall, the system performs flawlessly and as I mentioned, if solar panels are added the benefits would be really great. In terms of having the devices inside, the Delta Pros do produce some sound when they are being recharged but nothing that would disturb you if they are in a utility room or some sort of dedicated room. And unlike a generator, you would not have to go outside to manage them.
The app works well and provides updated device information but you cannot the Delta Pros on and off from the app. However, you can do so if you have the EcoFlow remote control. The best way to maintain a connection if using the remote control is to connect them via an ethernet cable that allows you to have control from a distance. I have tried both 25ft and 50ft ethernet cables with no issues. You can also control the Delta Pros via a USB-C cable or Bluetooth, but both of those methods have limitations in length and maintaining connectivity as you move further away from the units.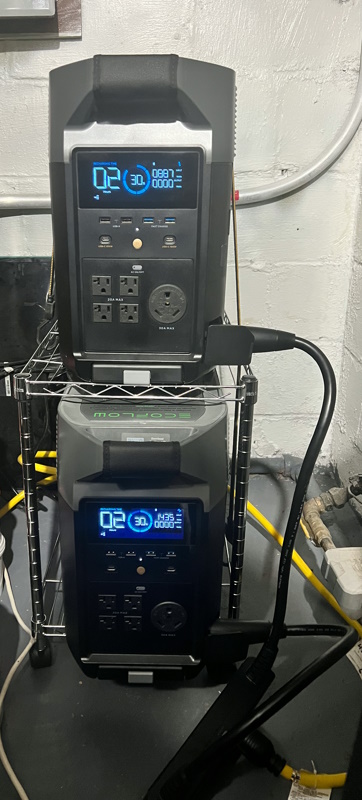 What I like
Nice appearance. Nice sleek design
Well built
Great power capacity
The wheels and retractable carrying handle
The recharging options and the fast AC recharge
The ability to add on extra batteries
The voltage hub creates 240 volts for connection to a breaker panel
The nice LED display
The connectivity options
The app allows you to monitor all of the EcoFlow Power Stations
What I'd change
There is currently no way to remotely turn on/off the Double Voltage Hub or even extend it further away from the location of the Delta Pros. The switch on the hub should be able to be controlled via the EcoFlow Remote Control otherwise in some scenarios the remote option is defeated
Final thoughts
The EcoFlow Whole House Backup Power System is IMO a well-designed powerful whole-house backup system, or even an independent whole-hose 100% off-grid power source. While it is costly and does require someone with good relevant knowledge to install and implement the system, the long-term benefit is both financial and supportive of responsible climate change initiatives. If you are a DIYer like me and you have enough knowledge of home electricity you can definitely install the system yourself and as I did, you can design your own implementation and how you use it. Take a look at the video above of my final thoughts on the EcoFlow Whole House Backup Power System.
Price: $6,999 – This configuration. (Other packages available)
Where to buy: EcoFlow website
Source: The sample of this product was provided by EcoFlow