We use affiliate links. If you buy something through the links on this page, we may earn a commission at no cost to you. Learn more.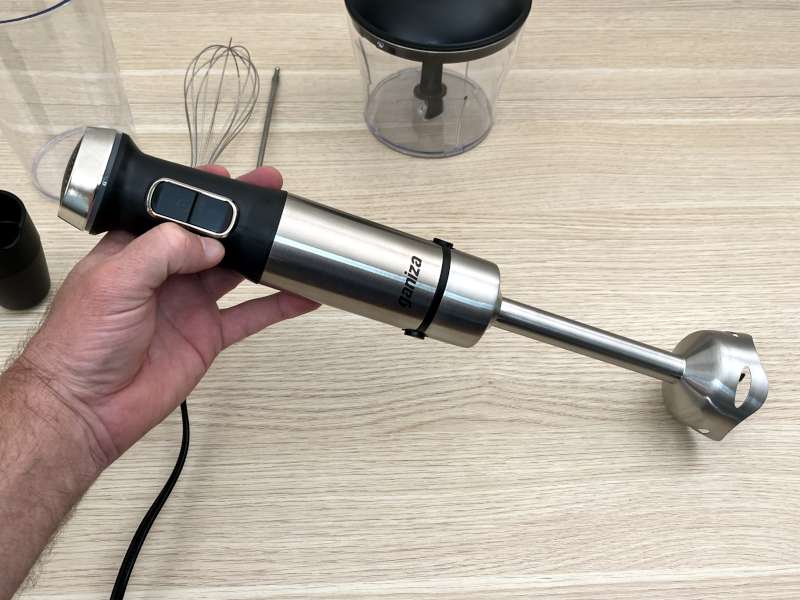 REVIEW – When it comes to serious blending of ingredients in our kitchen, there's no doubt that our Blendtec blender is the tool of choice.  There's no blending task that it can't handle.  Some recipes, however, don't really require that kind of power, and it would be handy to have a smaller, hand blender available.  In this review, I will be looking at the Ganiza 5-in-1 hand blender.
What is it?
Despite its misleading name, the Ganiza 5-in-1 is a set of four appliances built into one handheld gadget.  It's an immersion blender, a hand blender (whisker), a food processor, and a milk frother.  It features fifteen speeds and a turbo mode for extra power.  Some of the pictures on their Amazon page make it appear to be battery-powered, but it actually plugs into an output.  Ganiza is owned by Shenzhen Linkzone IoT Technology Co., Ltd., a Chinese company, and they are "an innovative company focusing on human health and wellness."
What's in the box?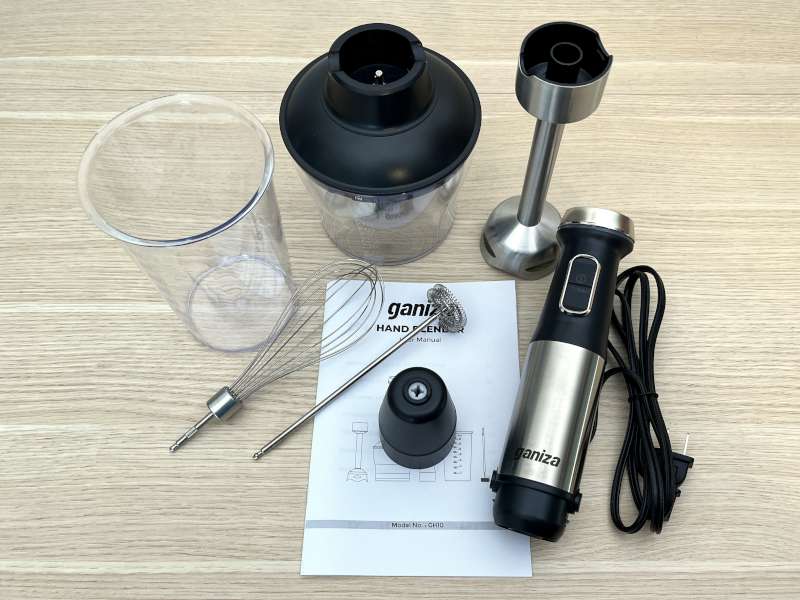 The motor and controls housing
The immersion blender attachment
The food processor attachment along with the blades and bowl
The whisk and frother attachment along with the whisk and frother
Measuring cup
Hardware specs
Dimensions:  7.5 x 2 inches (without attachments)
Weight: 3.6 lbs
Material:  Stainless steel and plastic
Bowl capacity:  800 ml
Food processor capacity:  600 ml
Control:  15 speeds plus turbo mode
Power:  800W motor
Design and features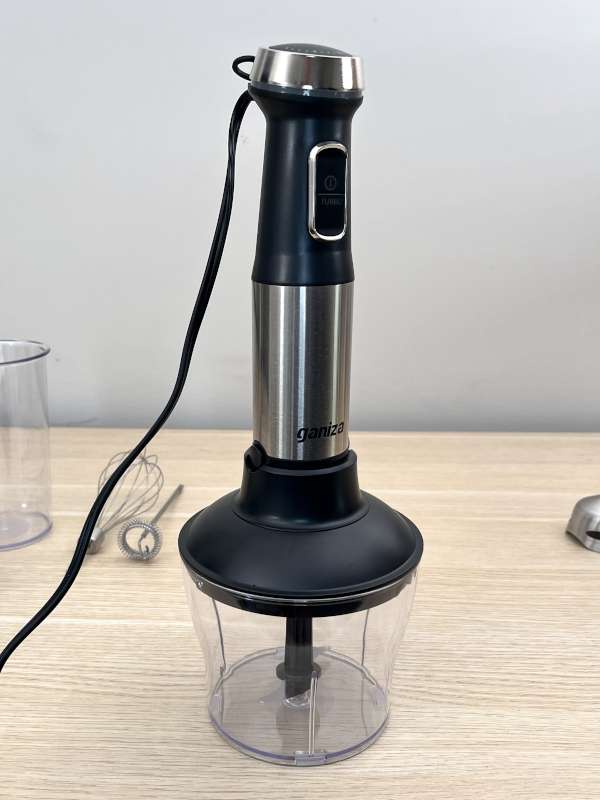 The Ganiza 5-in-1 Hand Blender looks a lot like other handheld blenders in this space.  It's a long cylinder with controls on one end and a place to add the attachments on the other.  The main body and the attachments are made of plastic and stainless steel.  The design is simple and straightforward, and it doesn't get in the way of using it.  Perfect.
Installation and setup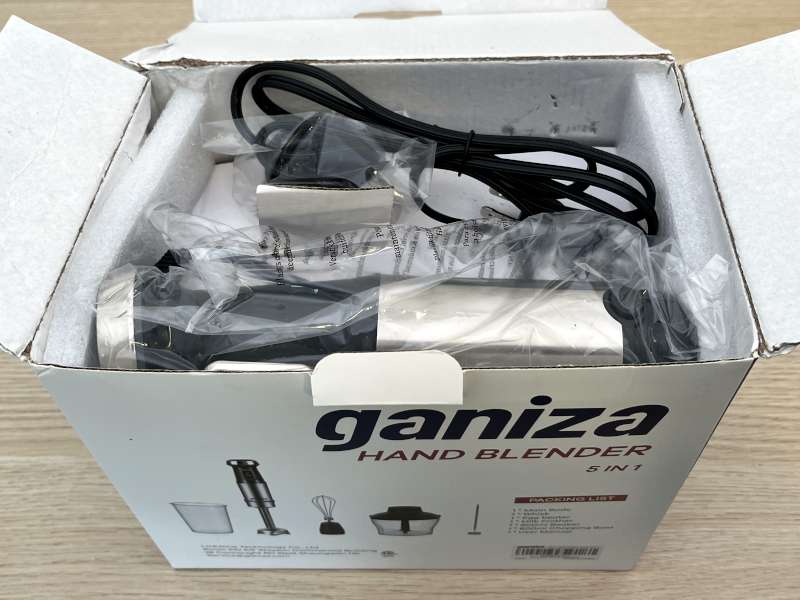 The Ganiza 5-in-1 Hand Blender arrived well-protected in a small box with foam inserts and cardboard.  I removed everything from its packaging and then washed the attachments.  It's ready to go!
Performance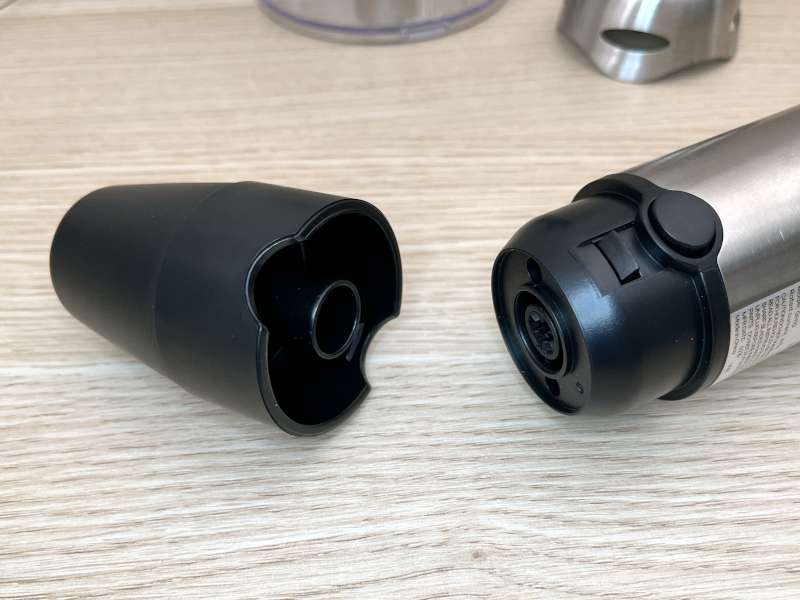 To use this blender, the first step is to attach whatever attachment is desired.  The whisk and the milk frother share this small black plastic attachment.  The immersion blender and food processor have different attachments (see the pictures above).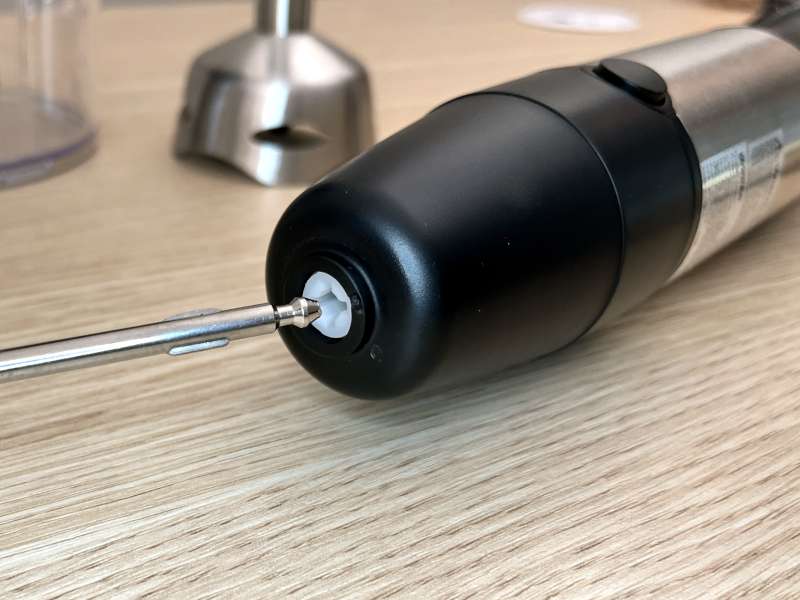 The frother and the whisk simply push into the end of it, but there's no locking mechanism.  This white housing is plastic, and I suspect it will wear out pretty easily.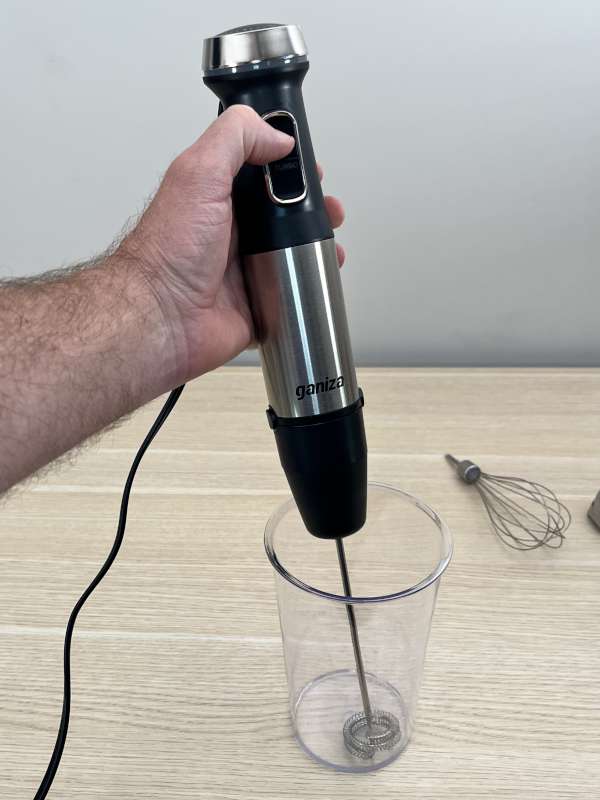 The frother can be used in this plastic measuring bowl, though any tall cup or glass would work.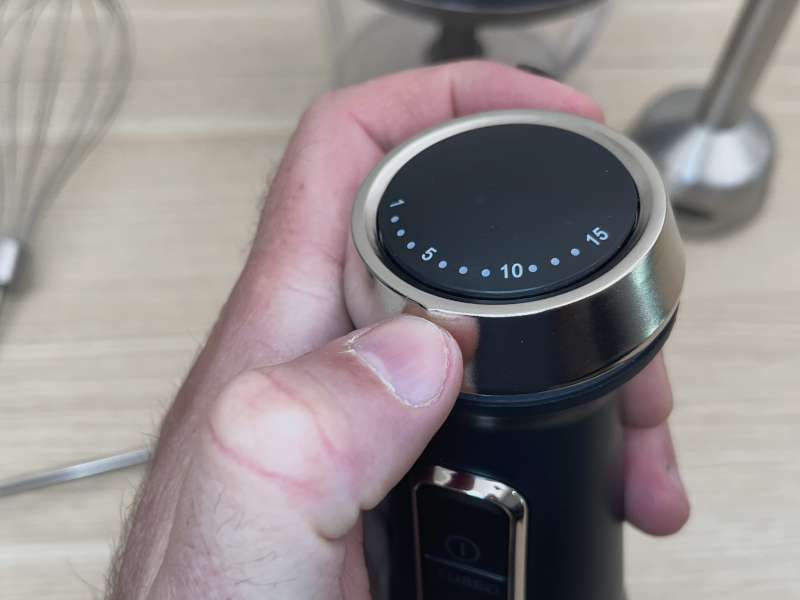 I adjusted the speed by twisting the knob on the top.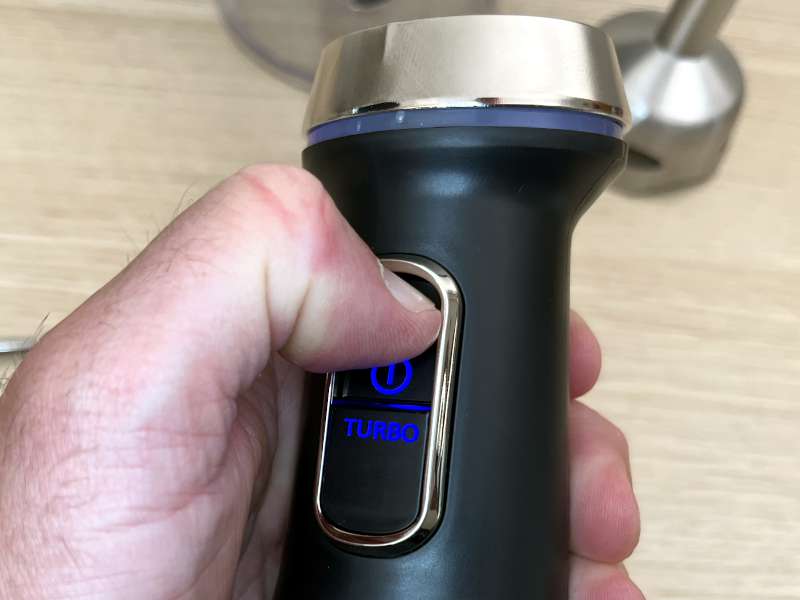 To use the Ganiza 5-in-1 Hand Blender, I simply pressed the power button.  The motor runs for as long as I continue to press the button.  If I need extra power, I can press the turbo button instead.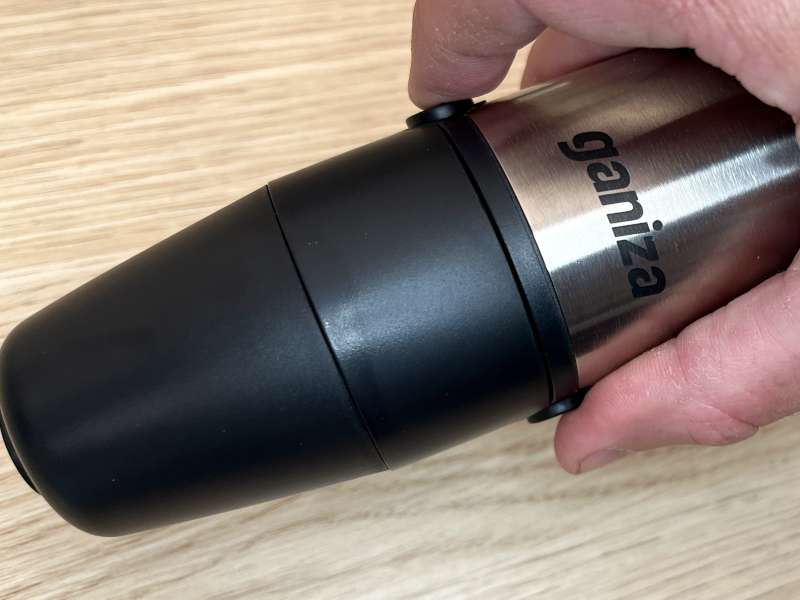 When I'm finished with the blender, I can detach the attachment by pressing these two buttons on the sides.
For this review, I decided to test each of the four attachments.  The first recipe that I tried was tomato soup from Taste of Home.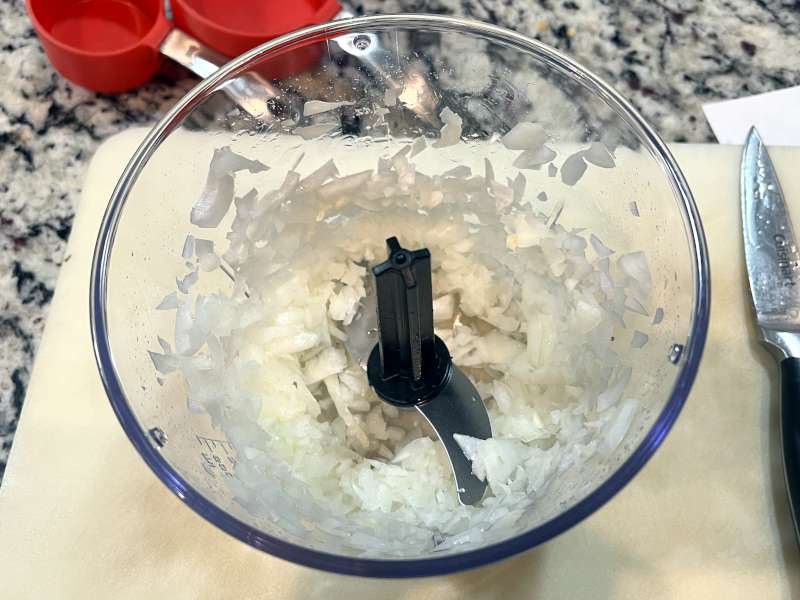 I used the food processor attachment to finely dice half a white onion.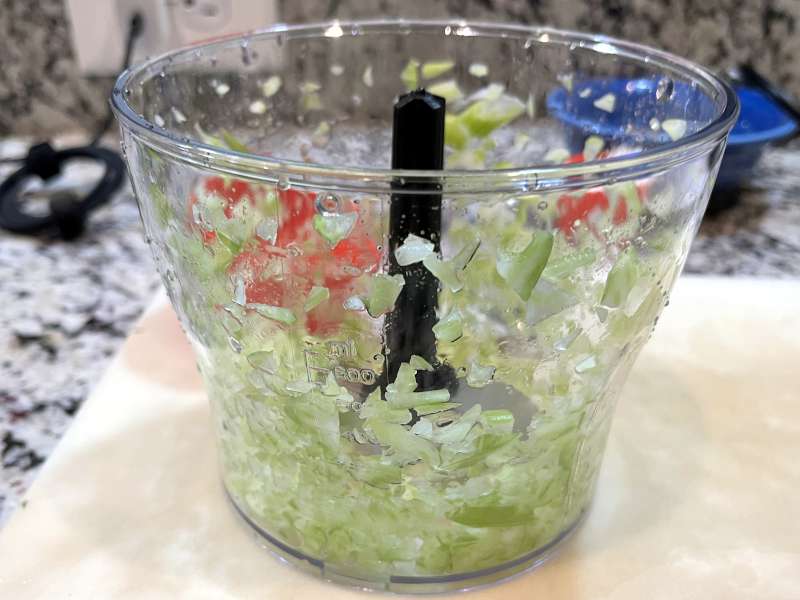 I also used it to dice a stalk of celery.  The processor cut through both of these quickly and easily, and it was able to cut the pieces very finely, perfect for the soup.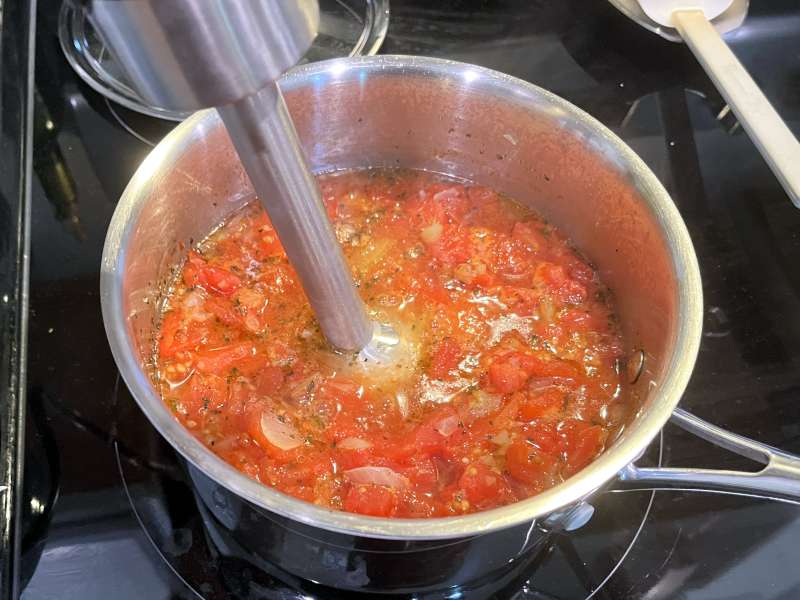 Once all the ingredients were mixed and had been simmering on the stove for a while, I used the immersion blender attachment to blend everything.  The trick is to keep the head of the blender submerged under the liquid—hence its name—until everything is as smooth as desired.  It's also worth noting that I had to be extra careful with the cord while blending on the stove, as it had the tendency to get close to the burner.  This is where a battery-powered mixer would have come in handy.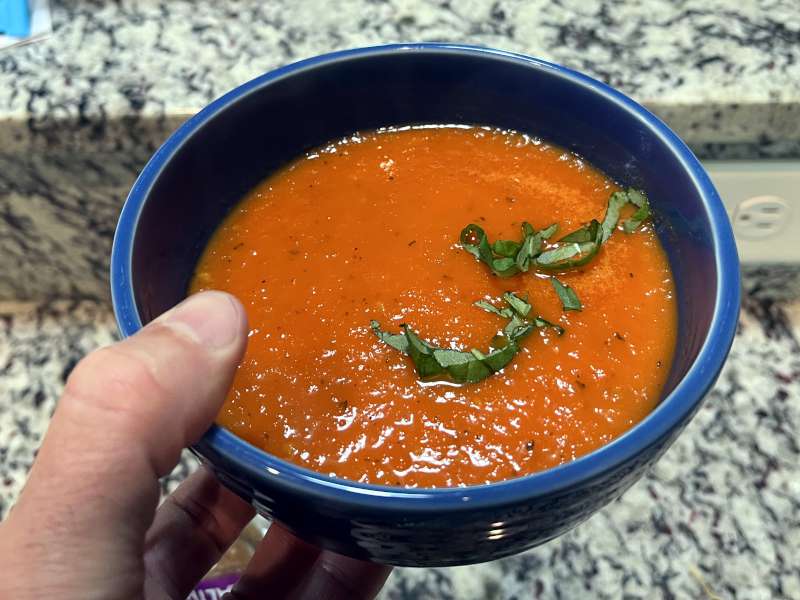 The result was some amazing tomato soup.  It was creamy yet still had some body from the onions and the celery.  The Ganiza 5-in-1 Hand Blender did a perfect job.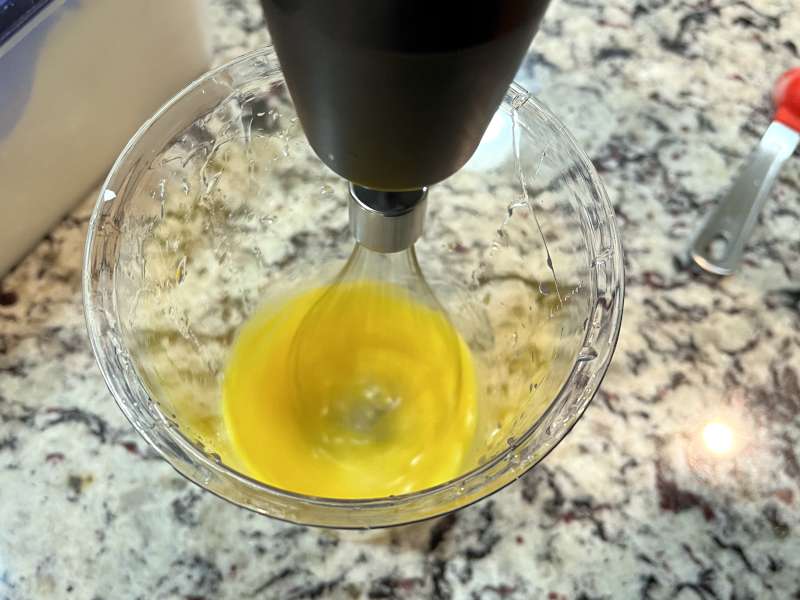 The second recipe was homemade waffles.  I used an old Betty Crocker recipe that does not appear to be available online.  One of the first steps is to beat two eggs, which will result in lighter, fluffier waffles.  I used the whisk attachment and beat them in the measuring cup, and it worked great.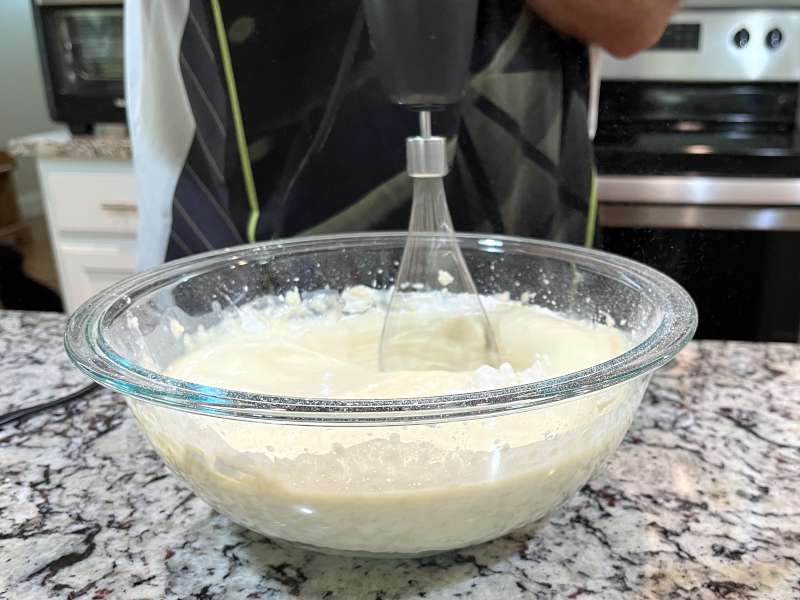 Once the dry and wet ingredients were together, I mixed them with the whisk attachment as well.  This obviously worked much, much faster than whisking it by hand.  Ganiza's blender excelled at removing all the lumps of flour to ensure consistent waffles.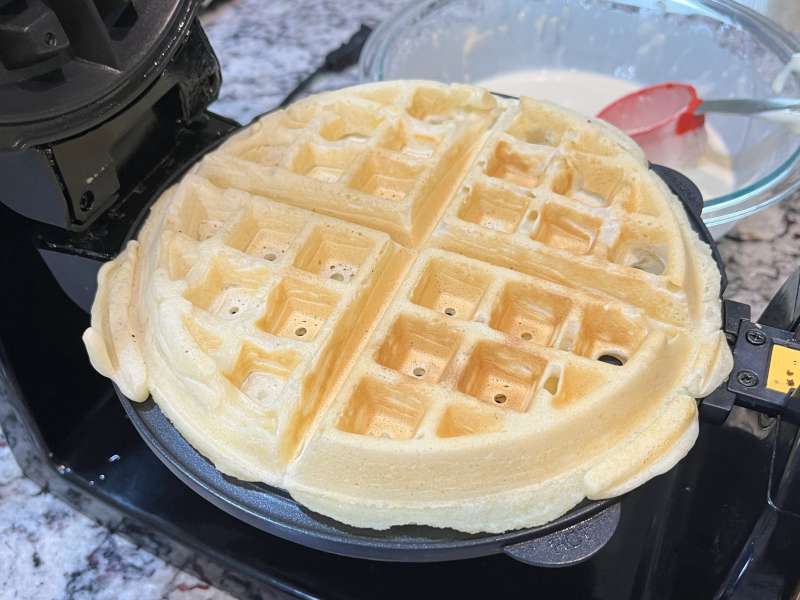 The result was a batch of light and fluffy waffles that looked perfect.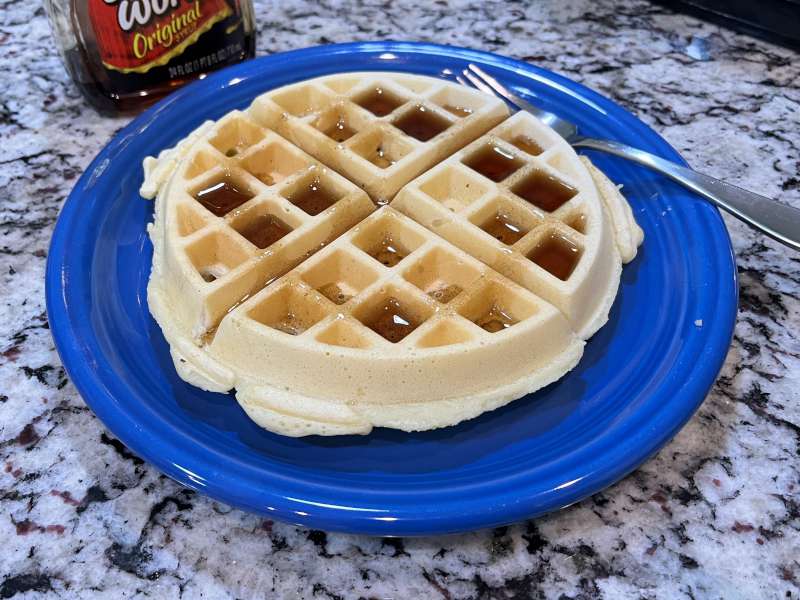 With a bit of syrup, they tasted divine.  Once again, the Ganiza 5-in-1 Hand Blender did a perfect job.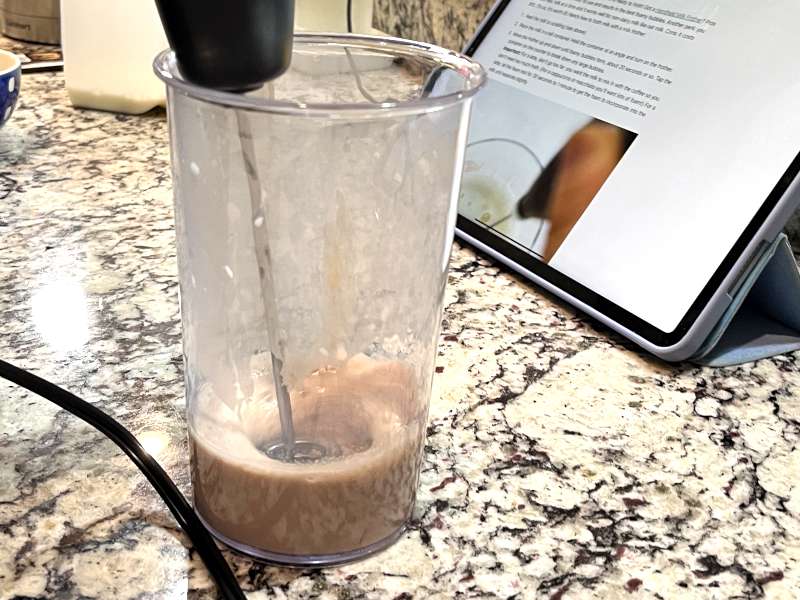 The third and final recipe was a mocha latte, following these instructions from A Couple Cooks.  I heated milk and chocolate syrup, then used the frother attachment to froth the milk.  Ganiza's blender did a fine job, and I think it would have frothed even better if I had followed the recommendations to use fresh, whole milk.  I also noticed that the frothing attachment is off-kilter, causing there to be a lot of wobbling as it's frothing.  This minor problem, however, didn't stop it from working.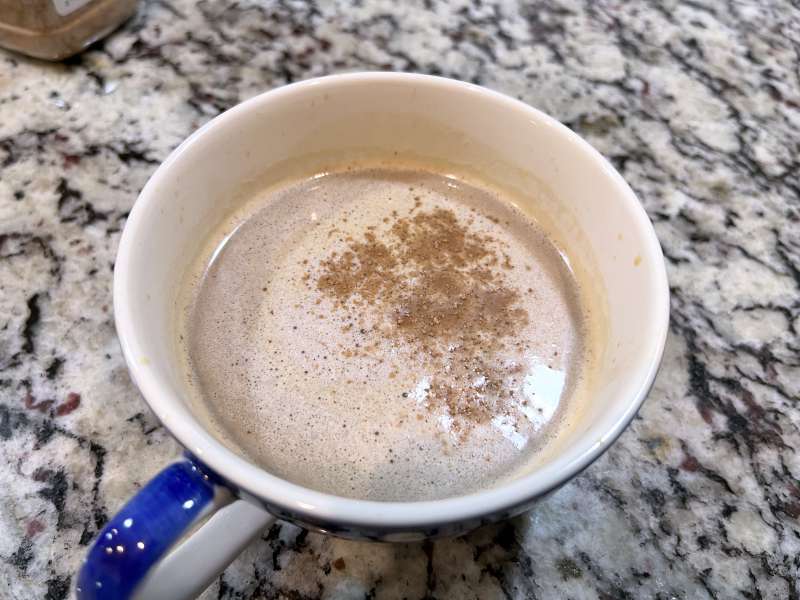 I made the espresso in our espresso maker, poured it over some chocolate, and then added the frothed milk.  I sprinkled a bit of Snickers powder on top, and the result was a lovely and delicious cup of mocha latte.
Extra Features
The English in the manual is pretty bad, so the instructions for cleaning the blender are unclear to me.  I think that only the whisk and the frother are dishwasher safe; everything else must be washed by hand, which is unfortunate.
The motor on the Ganiza 5-in-1 Hand Blender has some time limitations.  After blending for one minute, it must be turned off to rest for 30 seconds.  After five cycles of this, it must be turned off to rest for 30 minutes.  That means that for every 37.5 minutes, I can only use this product for five minutes.  Although that wasn't an issue in any of the recipes that I tested above, it could be a problem for other recipes.  If you expect to use the hand blender for longer periods of time, then you'll want to look for a different blender.  Some blenders do not have these restrictions.
What I like
Lots of blending power in a small package
Multiple attachments to handle various cooking needs
Simple and effective controls
What I'd change
Get a better motor, one that doesn't have the time constraints
Make the attachments dishwasher safe
Final thoughts
The Ganiza 5-in-1 Hand Blender combines an immersion blender, a hand blender, a food processor, and milk frother into one small kitchen gadget.  The electric-powered motor has plenty of muscle for smaller kitchen tasks, so long as it doesn't take very long to complete.  I tested the four attachments and found that each of them worked great.  For me personally, I think the immersion blender and the food processor will be especially handy.  The best part is that the small form factor of this little appliance means it can easily be tucked away in a drawer or put up into a cabinet, saving precious counter space.  If you're looking for an immersion and/or hand blender, you don't anticipate running it for long periods of time, and don't mind washing by hand, then I think you should take a look at Ganiza's blender.
Price:  $49.99
Where to buy:  Amazon
Source: The sample for this review was provided by Ganiza.