We use affiliate links. If you buy something through the links on this page, we may earn a commission at no cost to you. Learn more.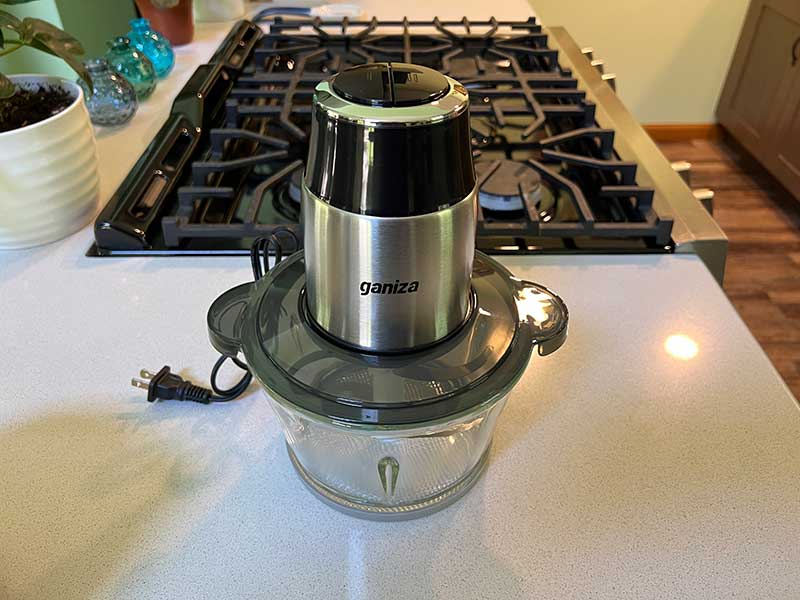 REVIEW – I've been looking for a replacement for an ancient Nutribullet blender and a large Ninja blender. When it was offered for review, I was curious if the GANIZA Food Processor could be my new small food processor so I said yes. Let's check it out.
What is it?
The GANIZA Food Processor is … well… an electric food chopper/processor!
What's in the box?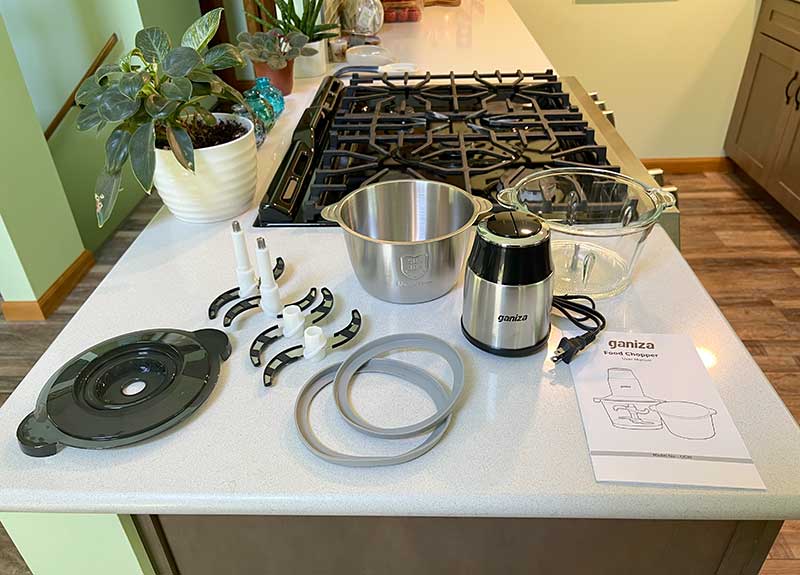 GANIZA motor
8 cup glass bowl
8 cup stainless steel bowl
2 non-slide bowl rings
Bowl cover
2 sets of chopping blades with protective blade covers
User manual
Design and features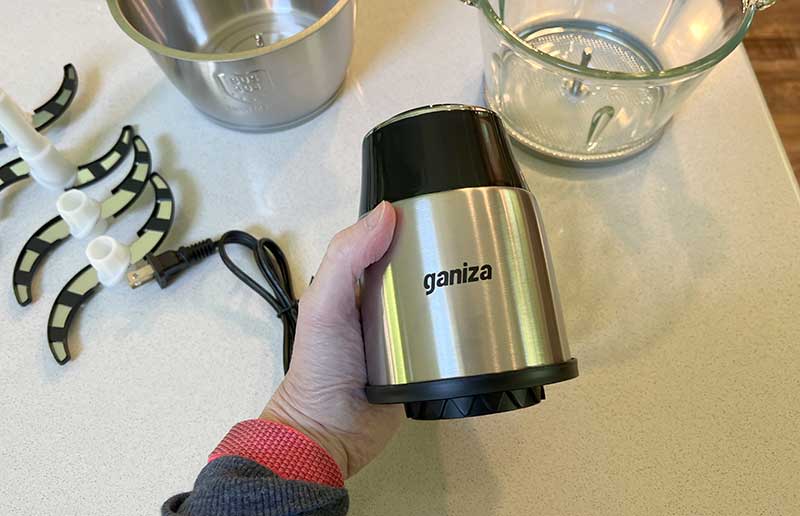 The GANIZA Food Processor has three main parts. There's the 450 watt motor (which I'm holding in the image above).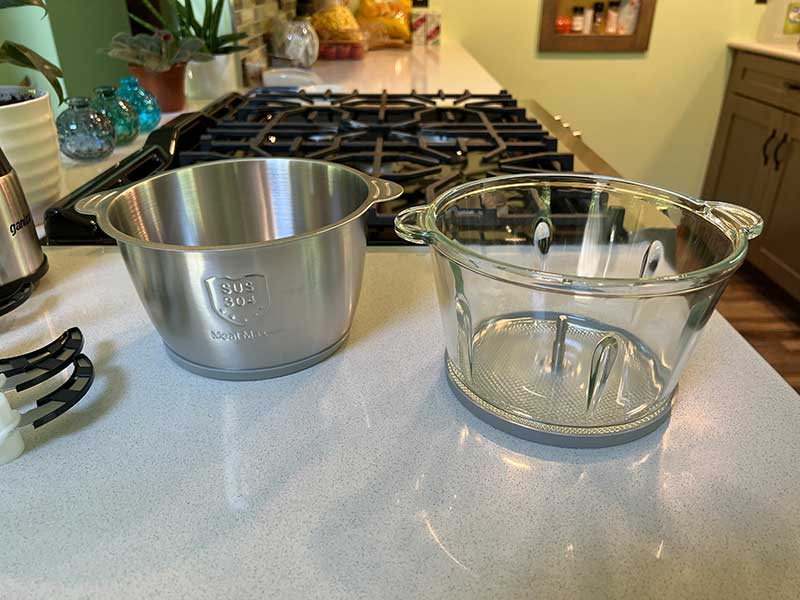 Then there's the bowl. The GANIZA Food Processor comes with a stainless steel bowl and a glass bowl. Yay, no plastic! Both bowls have an 8 cup capacity.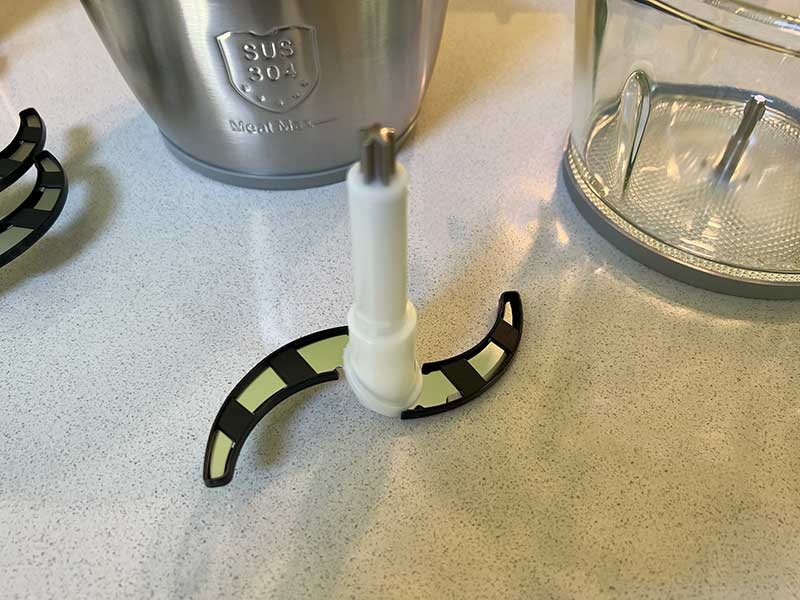 Last, but not least, there are the blades. There are four sets of blades are included in the package. Each set has 2 blades.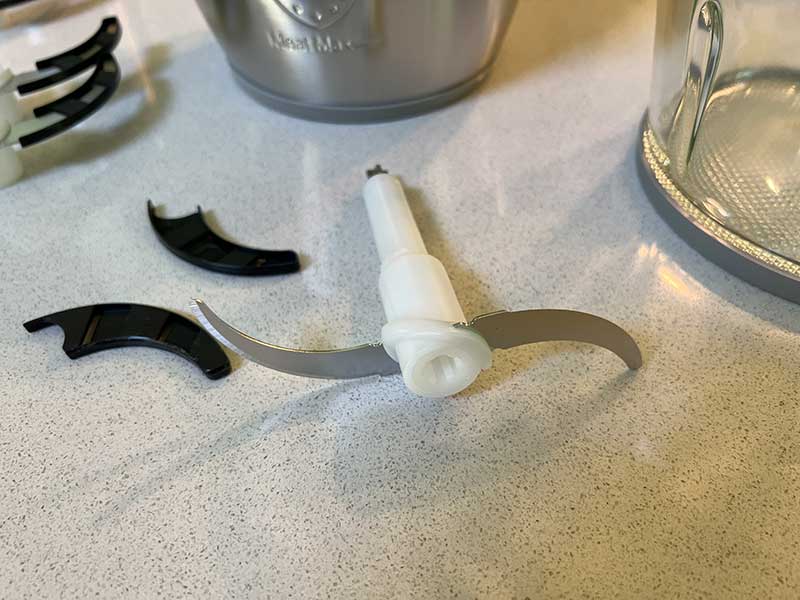 Each blade comes with a protective cover that you need to remove before you use the food processor. Be careful when you pull off these covers because it is relatively easy to cut your fingers while doing so. I'm not even sure why they included the covers…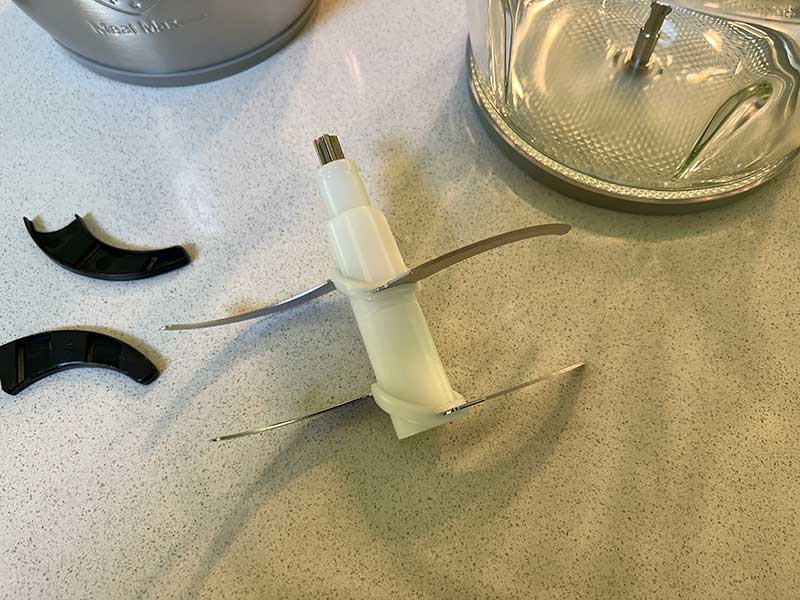 In addition to removing the protective covers, you also need to combine the blades so that there are four blades per spindle.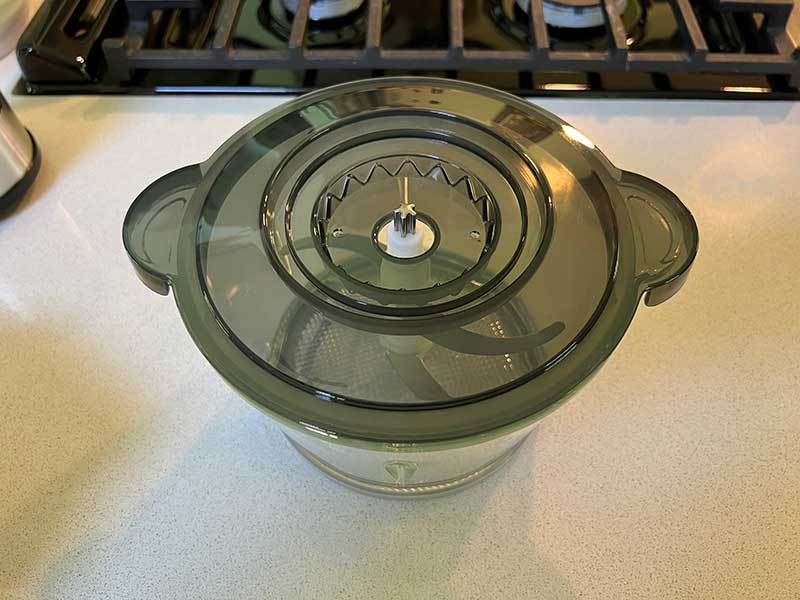 The blade assembly rests on the post at the bottom of either bowl. Then you can position the plastic lid on the top of the bowl. I was really bummed to realize that the lid doesn't snap in place but just rests on top. I was hoping to use the bowl as a container to hold the chopped food. It's possible to do this, but the lid can be knocked off and there's a hole in the center.
The hole in the lid is how the motor attaches to the blade assembly. All you have to do is just set the motor on top over the blade post, plug in the motor using the attached cord and you're ready to chop and blend some meat, veggies, etc.
Let's chop and/or blend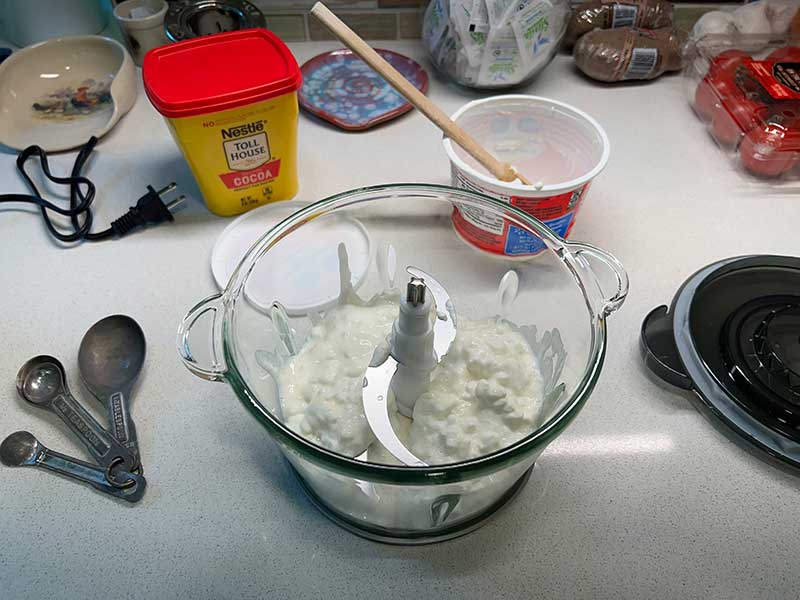 As I mentioned at the beginning of the review, I really wanted to use this processor to replace my old Nutribullet, and my first test was to try to do the viral cottage cheese ice cream hack that I've been seeing on my favorite Keto-friendly recipe channels. I figured if the GANIZA Food Processor could chop/blend soft cottage cheese, it would obviously not have problems with meat and other tougher foods.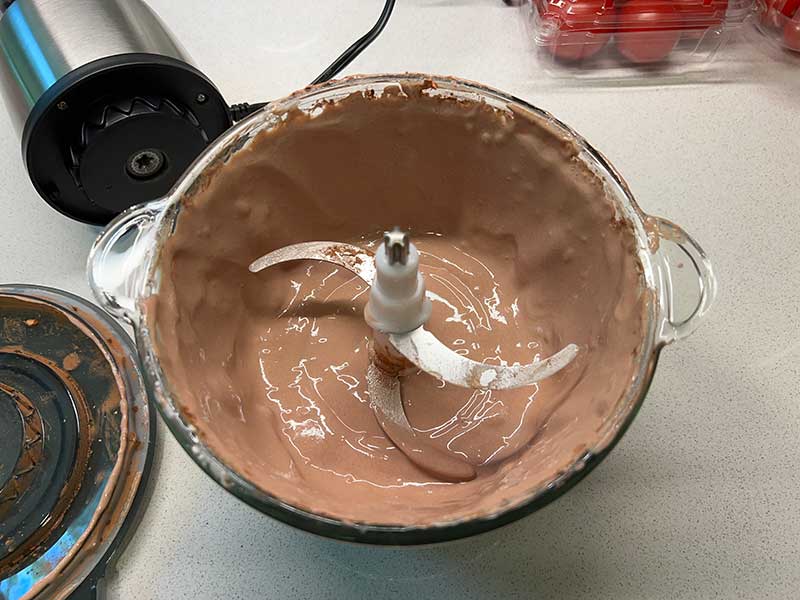 This is what it looked like after I added some cocoa to the cottage cheese and then pressed the II button to blend the ingredients. The GANIZA has two speeds, I and II. It worked great and made a smooth mixture. I can't say the same about the actual taste of the cottage cheese ice cream. Ugh. Not my thing. Too tangy!
I also used the GANIZA food processor to grind up some ham for ham salad. I'm not sure if ham salad is just an Indiana thing, but it's a sandwich spread that is made from ground-up cooked ham, pickles, and mayo. It worked very well.
It also did a good job of chopping onions which is a happy alternative to chopping by hand and ending up with tears streaming down your face.
What I like
Includes bowls
Includes 2 sets of blades
What I'd change
Include 2 real lids for food storage
Final thoughts
If you're looking for a small food processor/food chopper that won't break your bank account, the GANIZA food processor is a great choice. I like that it has a powerful motor and that it comes with 2 bowls so you can chop/blend two different ingredients.
Price: $39.99
Where to buy: Amazon
Source: The sample for this review was provided by GANIZA.