We use affiliate links. If you buy something through the links on this page, we may earn a commission at no cost to you. Learn more.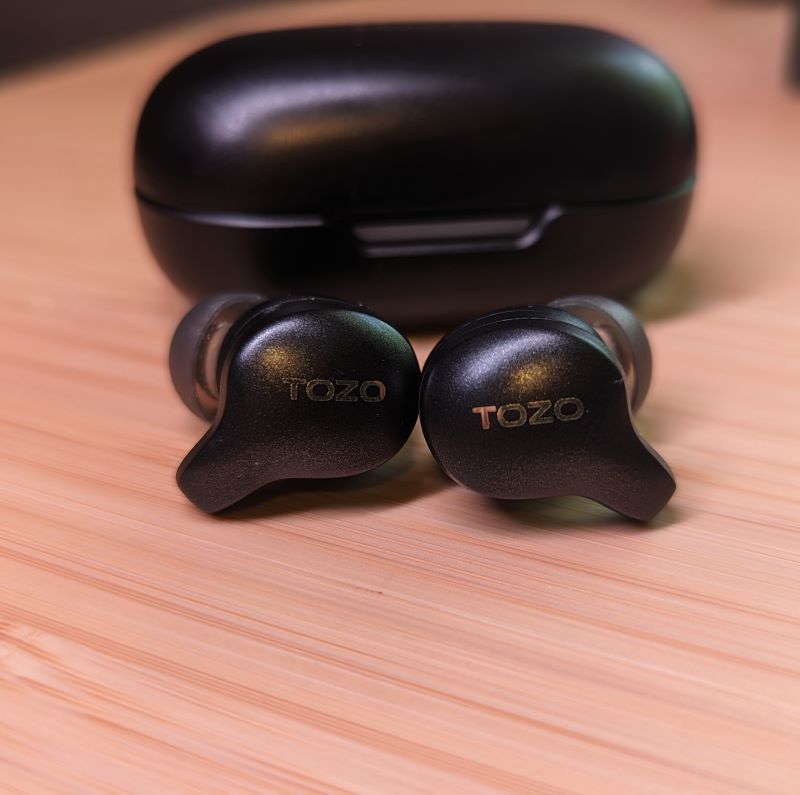 REVIEW – I've been in search of a set of wireless earbuds that provide a good seal in my apparently weirdly shaped right ear for quite some time. I tried several pairs from different OEMs and never got one to seal properly. So, I missed out on any fullness of sound they had to offer unless I bought 3rd party ear tips. And I didn't want to spend more on a set of custom molds that cost more than the buds themselves. With absolutely nothing to lose, I opted to review the Tozo Golden X1 wireless earbuds in hopes they would do the trick.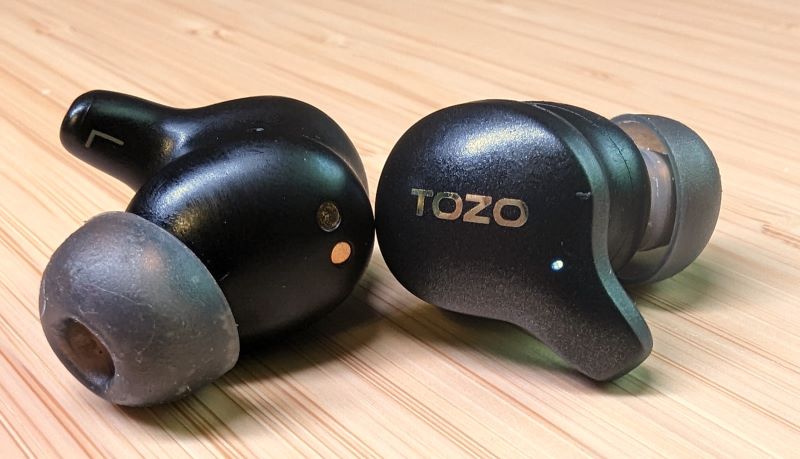 What is it?
The Tozo Golden X1 wireless earbuds are Tozo's newest offering to tickle your earholes without tying you down with cables.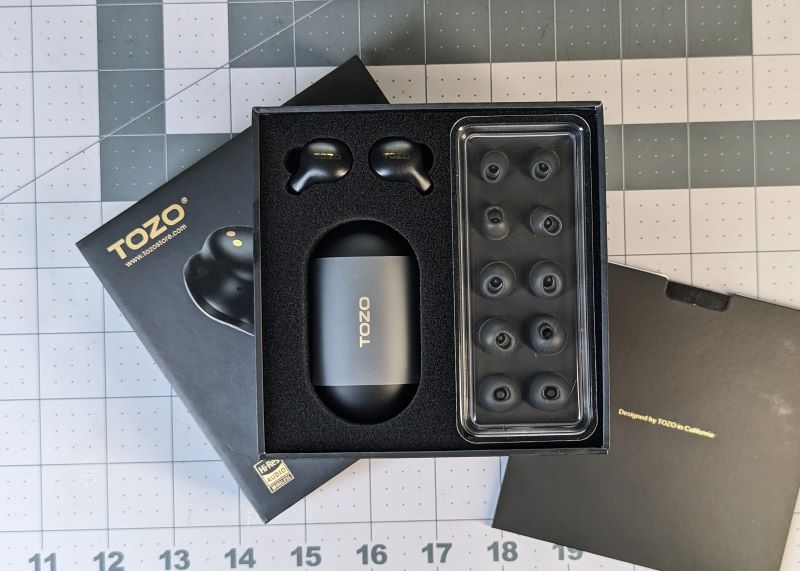 What's in the box?
You can remove this heading and section if it doesn't apply to your review.
Tozo Golden X1 wireless earbuds
6 sets of earbud tips
USB A to USB C charging cable
Charging case
User guide
Quick start guide
Hardware specs
Active Noise Cancellation: 35db
Impedance: 28 ohms
Frequency range: 12Hz – 44.1KHz
Battery capacity: 55 mAh x2
Case battery capacity: 500 mAh
Bluetooth version: 5.3
Charging time of earbuds: 1.5 hours
Charging time of case: 2.5 hours
Music play time with ANC OFF: 6 hours
Music play time with ANC ON: 4.5 hours
IPX6 Waterproof protection
12mm Dynamic driver
Knowles balanced armature
Design and features
The very first thing I noticed upon opening the Tozo Golden X1 earbuds box was the shape of the earbud tips.  They're oval, not circular and there were 6 different sizes. surely one of these had to work with my oddball ear. I chose the largest size in the set and lo and behold, I actually got a good seal! I did have to choose a smaller size for my left ear but that was no surprise.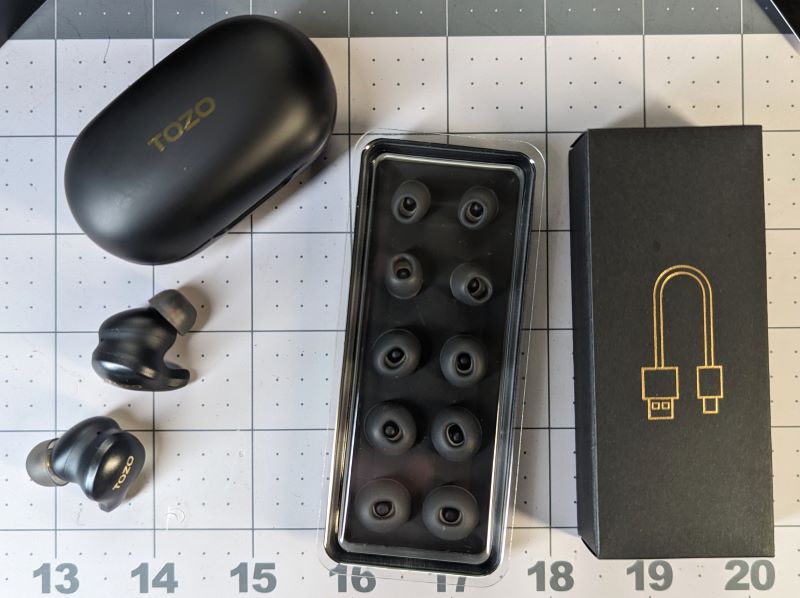 The black pill-shaped charging case is tastefully adorned with the company logo in gold. And why wouldn't they be?  These are the Golden X1s!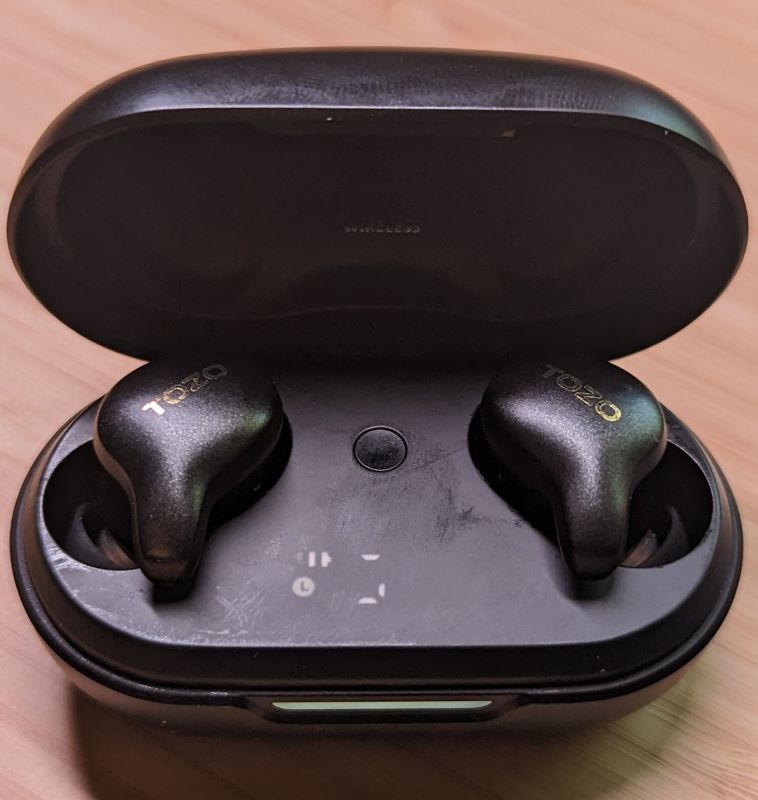 The case even has a display inside that shows the current charge the case has along with symbols indicating the charge level of the earbuds.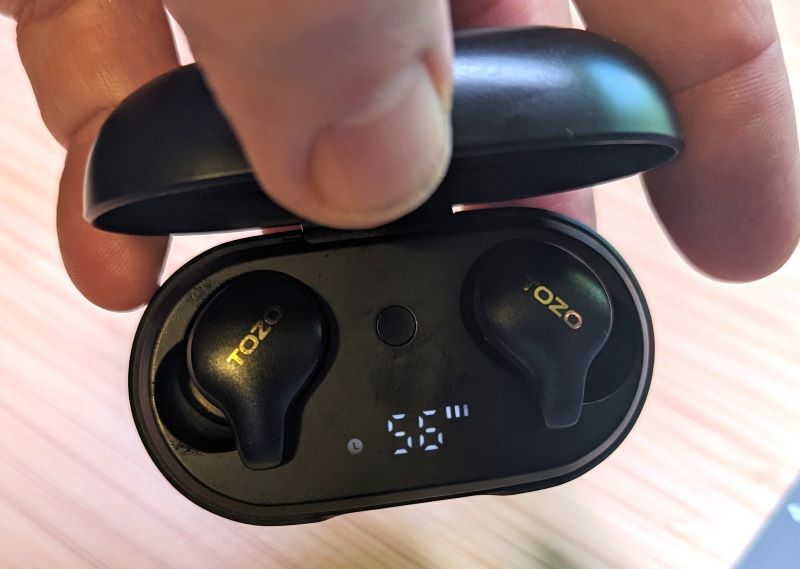 I wasn't able to get a great picture of it due to its refresh rate, but I hope you get the point. It looks fine in real life. The charging case can be charged using the included cable but it's also wireless charging capable.  I placed it on a wireless charger to test, of course.  It works, but the case got really hot, so I wasn't comfortable leaving it to finish and stuck to the cable from then on.
Setup
The setup of the Tozo Golden X1 earbuds all depends on what you want to get out of them. I mean you can take them out of the box, charge them up, pair them to your phone, and go. But to get the most out of them, you'll want to download the Tozo app. You'll still need to pair them to your device but after that open the app and let it connect to the earbuds. Here's what you'll see each time you start the app.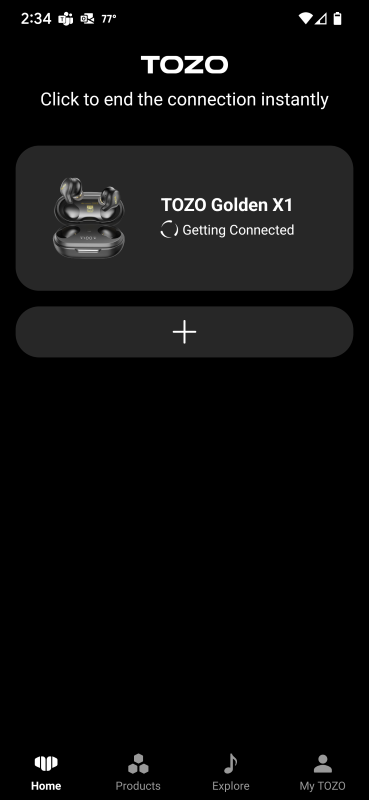 When it works correctly, the app only takes a few seconds and connects.  Then you'll see a screen similar to this.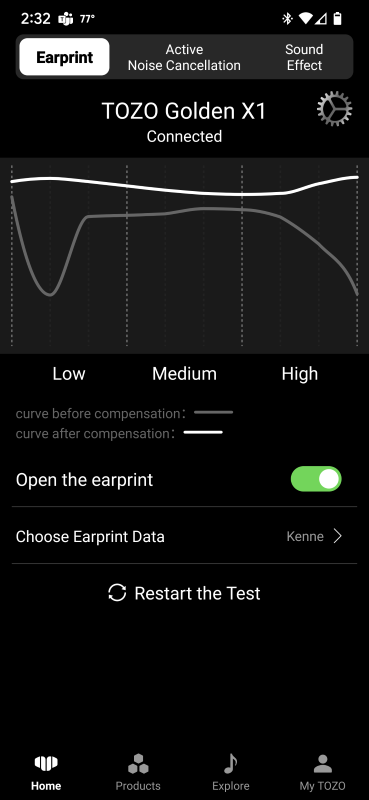 The problem I ran into after a few days of using the app is I constantly got this screen.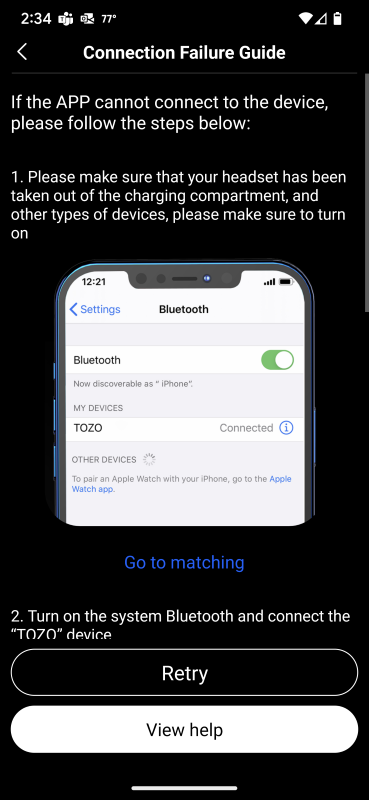 I followed all of the tips. I cleared the cache and storage of the app, rebooted my phone, and uninstalled and reinstalled the app.  I could no longer get the app to see the earbuds. What I finally did was click on the + on the home screen like I was adding a new device. The Tozo Golden X1s were seen there so I clicked on them to connect. It worked!  Now I could get access to my personalized ear print, ANC settings, and different EQ settings. Here you can see there are 6 different ANC selections with one being Normal which is basically ANC off.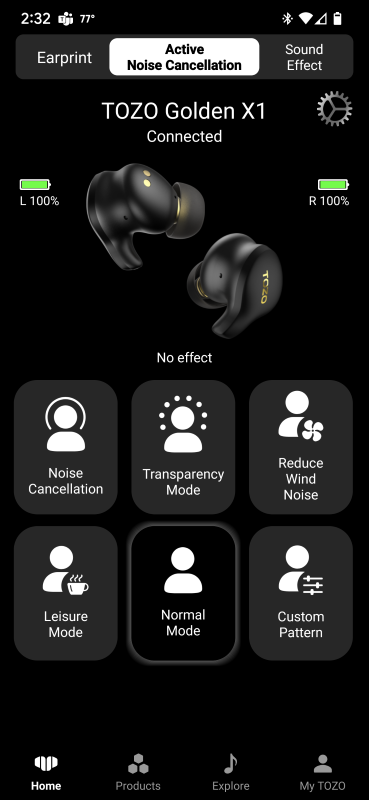 I recommend going through the hearing test and getting your personalized ear print. After going through it, it can determine where some of your hearing deficiencies lie and can modify the EQ to make sure you hear everything you're supposed to.
There's also a Sound Effects tab which really should be renamed to EQ, I mean, that's what it is.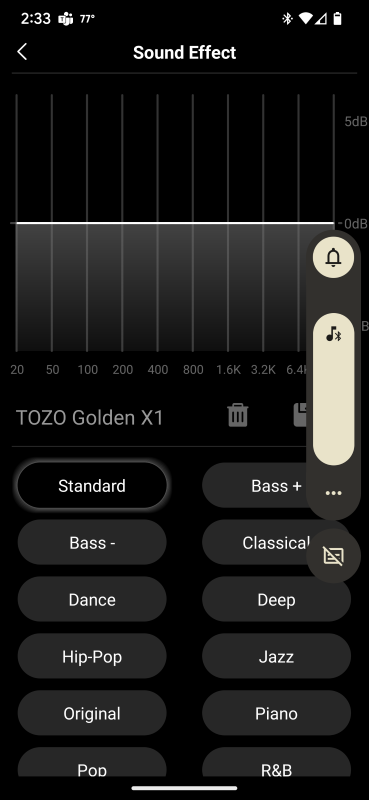 If you click the gear on the home screen, it'll take you to the settings where you can edit the touch control settings.  That is a killer option.  Wireless earbuds pretty much all have multiple presses to perform different tasks and it's hard to remember them all.  Here, you can set them up the way you want to.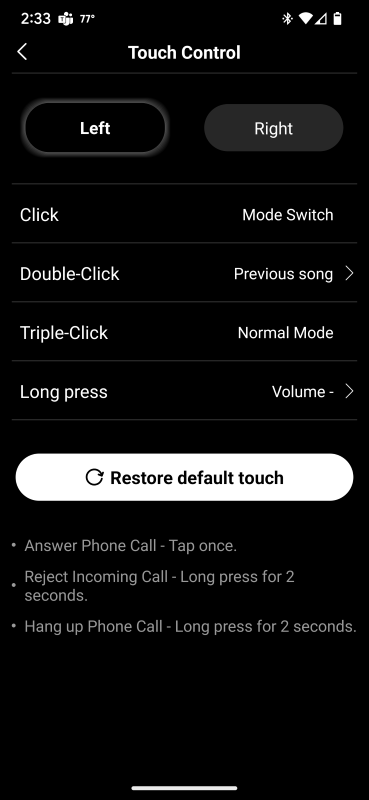 Performance
Let me tell you, I was so happy to find I could get a good seal in my right ear with the Tozo Golden X1 earbuds.  I wasn't getting ambient noises from leakage while using them with ANC on.  I could hear my music the way it was meant to be heard.  After getting my personalized earprint loaded, I was quite happy.  The sound stage isn't huge but it's great for earbuds at this price, in my opinion. Highs are nice and crisp without being tinny.  Mids are right where they should be, easily heard, and not too far back in the mix. Lows are good without being boomy.  Audio wasn't muddy at all. I could hear every instrument clearly enough. If it helps, I listen to rock, country, r&b, soul, funk, blues, etc. and they all sound great.
The one drawback I found was battery life. I work from home and listen to music all day while in front of my PC.  I also have the usual Teams meetings, conference calls, or just the one on one Teams calls with coworkers. I found that putting the Tozo Golden X1s in around 8 AM, I consistently got about 4 hours of runtime. I found this very confusing since the Tozo website says music playtime should be 32 hours.  How can that be? I tried turning off ANC and still got about 4 hours. I then turned off ANC and my earprint and got about 6 hours. Then I broke out the manual and found that it states music playtime with ANC ON is 4.5 hours and with it OFF is around 6. I can only assume that there was a mistake made on the website.
What I like
Plenty of different sizes of earbud tips
Really good sound for the price
The display inside the charging case
What I'd change
Final thoughts
I really like the Tozo Golden X1 wireless earbuds at their current price point of $149.99.  They fit and sound great. They have some of the best noise canceling I've experienced.  That's probably due to getting the right size and shape ear tip to fit. I just wish I could get a few more hours out of them.  I would like to get away from my wired headphones with an add-on mic, but they would have to last through a normal workday for that.
Price: $149.99
Where to buy: Amazon or Tozo
Source: The sample of this product was provided by Tozo.