We use affiliate links. If you buy something through the links on this page, we may earn a commission at no cost to you. Learn more.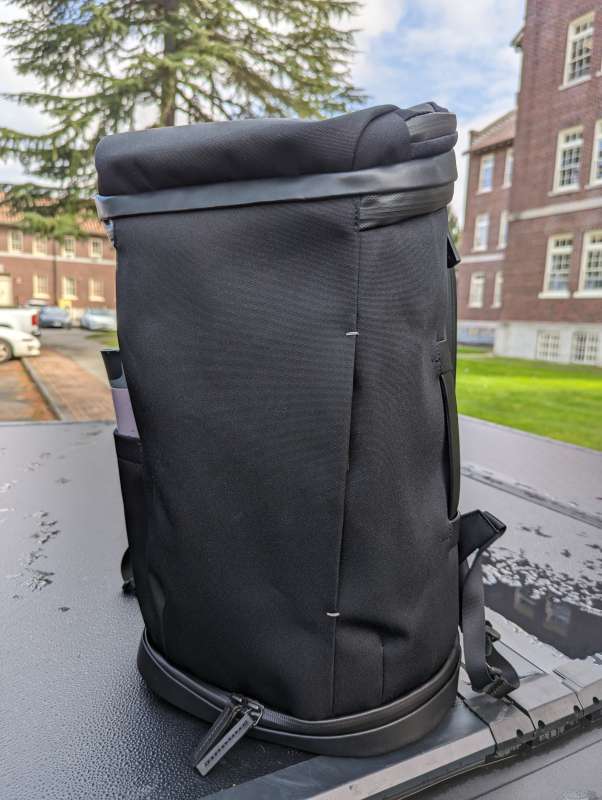 REVIEW – I have a laptop bag from back when you could only get laptop backpacks at an electronics store so it isn't the most fashionable or practical for day-to-day use. When Troubadour Goods offered their sleek and classy-looking Aero Backpack for review I couldn't say no. Let's see what the Troubadour Goods Aero Backpack has to offer.
What is it?
The Troubadour Goods Aero Backpack is a 34L medium-sized backpack that fits up to a 16″ MacBook or 15″ PC. It comes in black or navy and features a zip top opening that folds away as well as a bottom shoe pocket with waterproof, breathable, and antimicrobial lining.
What's in the box?
Troubadour Goods Aero Backpack
Hardware specs
Model: Troubadour Goods Aero Backpack in black
Weight: 2.75 lbs; 1.25 kg
Capacity: 34 L
Dimensions:  20in H x 13.4in W x 7.9in D; 51cm H x 34cm W x 20cm D
Laptop Pocket: 14.2in x 10.2in; 36 x 26 cm
Fits up to 16in MacBook/15in PC
Materials: Recycled polyester fabric, recycled polyester lining, vegan leather trim
Five year guarantee
3D top pocket for easy access to essentials
Zip-top opening folds away for easy access to your gear
Dedicated shoe pocket with waterproof, breathable & antimicrobial lining
Separate laptop section with side access on the back
Breathable back panel & ergonomic padded shoulder straps for comfort
Detachable chest strap & vegan leather grab-handle NOTE: a chest strap is NOT included, it is a $10 extra option
Waterproof fabric & zippers
Trolley sleeve slides over a suitcase handle
Design and features
The Troubadour Goods Aero Backpack comes in at a svelte 2.75 lbs and features a 3D top pocket for easy access to essentials. I like top pockets because I can access it by swinging the pack around to my front with one strap still on or when in an airplane's overhead bin and I need to get my charger or forgot my headphones.
The zip top opening folds away for easy access to the main compartment. I particularly like that the zippers close in the back to avoid anyone from opening your pack while you are wearing it. The main zipper is also lockable which is a nice feature.
The separate laptop section has side access in the back and has plenty of room and padding to protect my 12" laptop. There was enough room for the power adapter as well although the zip top is also a natural spot to keep it.
The back panel is breathable and well padded for your back and the shoulder straps although thin looking were actually pretty comfy. The vegan leather grab handles on top and on the side give you a couple of convenient one-handed carry options.
The Troubadour Goods Aero Backpack uses recycled polyester fabric that is waterproof along with waterproof zippers. The zippers also feature vegan leather pulls which make them easy to use and are a lot classier than the typical nylon pulls. The side water bottle pocket is big enough for a travel mug or small water bottle. Larger 1 liter Nalgene size bottles won't fit.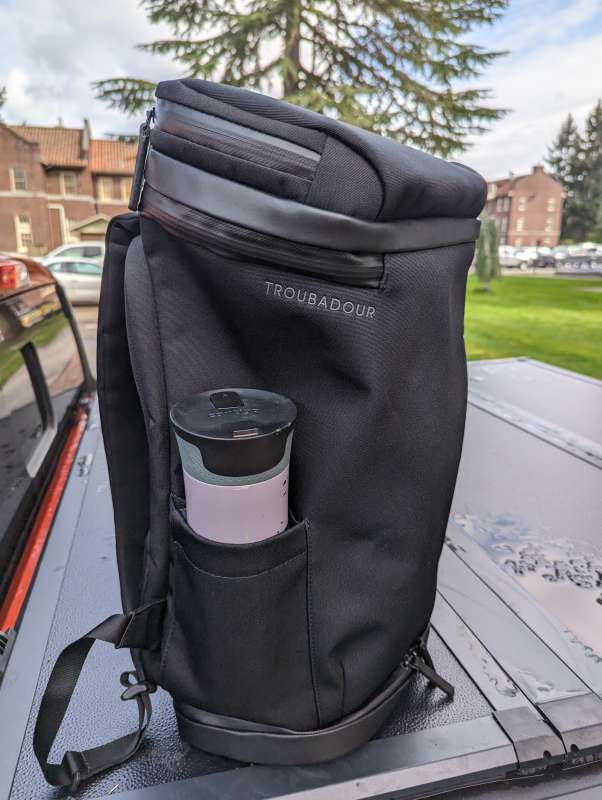 The main compartment is spacious and easy to get to since the top folds completely out of the way. There are two slots, one zippered, to keep a notebook and pen.
The bottom zips open to reveal a separate compartment to keep shoes in without mixing with the items loaded from the top. The lining is waterproof, breathable, and antimicrobial with two large grommets in the bottom for extra air flow so no need to worry about shoe funk getting to your other items.
There is a convenient luggage handle sleeve in the back and a hidden pocket right above for your passport or other items you need to retrieve quickly.
There is also a pocket on the front of the Troubadour Goods Aero Backpack for keys or other small items.
On my 8-year-old son, the bag looks a little big but he really likes it and wants to take it to school. On me, it's a perfect size for my daily needs and for when I travel so I think my son will have to wait a while before he gets it.
What I like
Stands up on its own
Quality materials and craftsmanship
What I'd change
Include a chest strap, $10 extra for it on a $295 backpack seems silly
Final thoughts
I love it! At $295 it isn't cheap and the chest strap isn't included but you can instantly tell the Troubadour Goods Aero Backpack is a high-quality, well-made item that will last a long time. It looks great and is a perfect size for travel with a well-thought-out design and features. If you are looking for a simple yet stylish high-quality laptop or day use backpack then look no further than the Troubadour Goods Aero Backpack.
Price: $295.00.
Where to buy: Troubadour Goods website and you can find some of the backpacks on Amazon
Source: The sample for this review was provided by Troubadour Goods.