We use affiliate links. If you buy something through the links on this page, we may earn a commission at no cost to you. Learn more.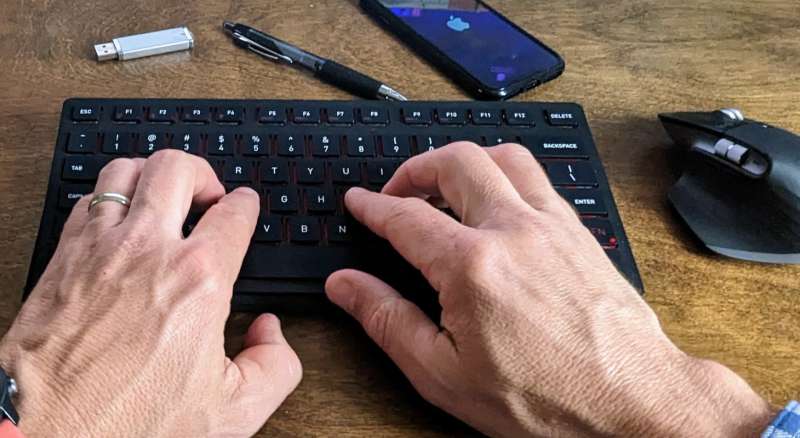 REVIEW – Keyboards are becoming an increasingly personal choice.  Apple almost lost a generation of laptops because of keyboards that customers hated!  When thinking about keyboards, there are two big factors that influence choice.  First, is the keyboard feel.  How does it type?  How does it sound?  The second is connection.  There are three main ways to connect a keyboard to a device – old school with a USB cable, Bluetooth, and wirelessly with a USB dongle.  The Cherry KW 9200 Mini Wireless Keyboard gives you all three!  
What is it?
The Cherry KW 9200 Mini Wireless Keyboard is a mini-keyboard (no number pad) that connects to just about any device, using your choice of a removable USB cable, Bluetooth, or wireless USB dongle.  
What's in the box?
Cherry KW 9200 Mini Wireless Keyboard

Wireless dongle (in a cool little magnetic storage place on the keyboard)

Manual in many languages

Storage and Transport pouch made of neoprene

USB-A to USB-C Cable
Hardware specs
Operating System: 

Windows 7 or higher.  Also works with Mac, iOS, Chromebook etc, but not optimized

Dimensions:

5.1 x 11.8 x 0.6 inches

Weight:

16 oz

Bluetooth: 

2 Bluetooth 5.0 low energy channels

Wireless:

2.4Ghz with a USB-A dongle (included)

Battery: 

Lithium Ion rechargeable, lasting weeks

Battery charging:

USB-C

Keyboard lighting:

No

Adjustable feet:

Integrated

Key Technology:  

Scissor

Range:

Bluetooth and Wireless both 33ft.
Design and features
The Cherry KW 9200 Mini Wireless Keyboard itself is a black MS Windows keyboard, although it does work with a Mac, but with the normal caveats that exist when using a Windows keyboard with a Mac.  It also works with Chromebooks, tablets, phones, etc.  It's a mini keyboard, so there is no number pad, but the rest of the layout is as you would expect.  The keys are not backlit, but a few of them have built-in LEDs that indicate a variety of things.  The keyboard does "look" backlit under normal light due to the red coloring that exists under the keys.  It's powered by a USB-C rechargeable internal lithium-ion battery, which should last several weeks under normal use. There are a few rubber feet on the bottom of the keyboard, as well as two support feet that raise the back of the keyboard about a centimeter.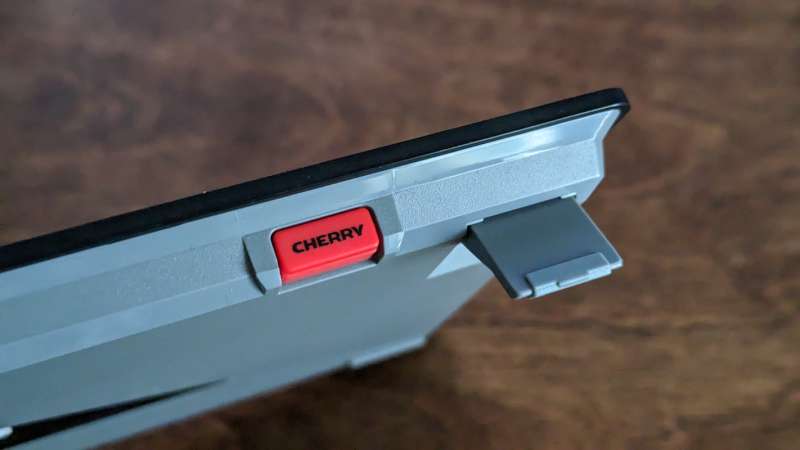 Perhaps the most interesting feature of the Cherry KW 9200 Mini Wireless Keyboard is that you can choose between any of the three common connection mechanisms – cable, wireless dongle, and Bluetooth.  This lets you use this keyboard with just about anything, and with multiple devices too.  Connection type is changed using the secondary functions on the function keys across the top of the keyboard. My favorite feature is the magnetic "dongle keeper" that exists on the back of the keyboard – no more losing the dongle!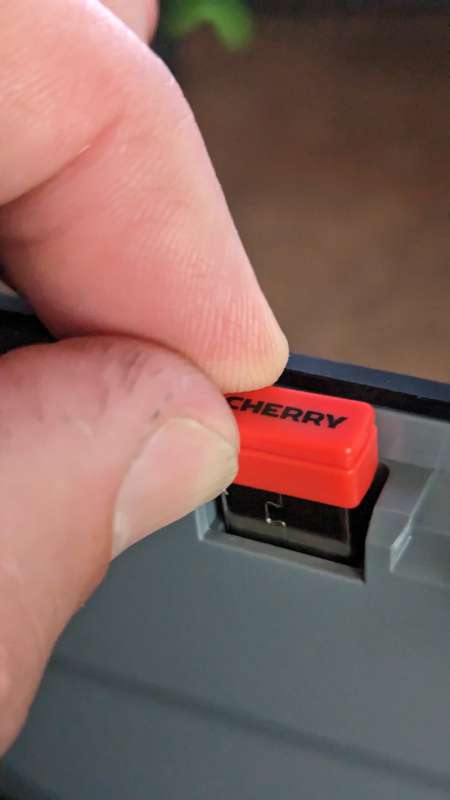 The Cherry KW 9200 Mini Wireless Keyboard feel is a pretty personal thing.  Some prefer the very minimal travel of Apple's newer keyboards, while others prefer the long travel of a super clicky mechanical keyboard.  The Cherry KW 9200 is somewhere in the middle, but definitely toward the Apple end of the spectrum.  The scissors mechanism is responsive and light to touch, but not so light that I find myself making mistakes (I'm now realizing how hard it is to describe keyboard feel!). Additionally, it's pretty quiet.  I have a lot of video meetings and no one likes to hear a keyboard clicking in the background, so I appreciate that. 
Performance
Typing performance is very nice, but as I mentioned previously, it's personal.  I really like the Cherry KW 9200 Mini Wireless Keyboard's feel – even better than my previous go-to keyboard, an Apple Magic Keyboard.  It's just as responsive, but a bit "softer."  It doesn't look as cool on my Mac-based desk, but that's OK.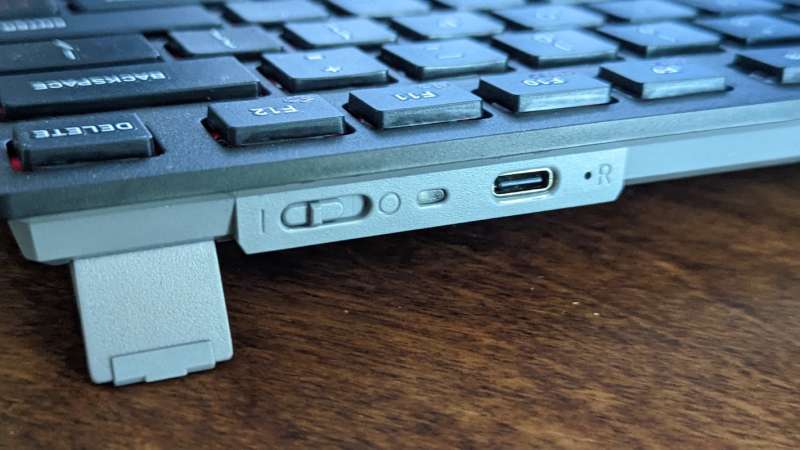 I tried all of the different connection types with multiple computers.  Bluetooth works flawlessly, as does the cable connection.  Unfortunately, the wireless dongle connection is not flawless.  This is unfortunate since this is the connection type I was most excited about.  It was the first connection type I tried, and thought the keyboard was just bad.  I was getting dropped letters, repeated letters, and occasionally, "stuck" letters that would fill the page until I hit that key again.  This was all very frustrating, but could not have been due to interference since the dongle was literally 2 feet from the keyboard.  I charged the battery, reset the keyboard, and reset the connection.  Then I tried the cable and Bluetooth connections and realized that it was not the keyboard itself that was causing the problems, but the wireless connection type.  For whatever reason, the wireless connection does not seem ready for prime time.  This is unfortunate since my plan was to plug the dongle into a docking station that lives in our family room, allowing anyone to plug their laptop in and access a workstation.  The cable and Bluetooth connections work fine, but takes a bit more effort to switch devices.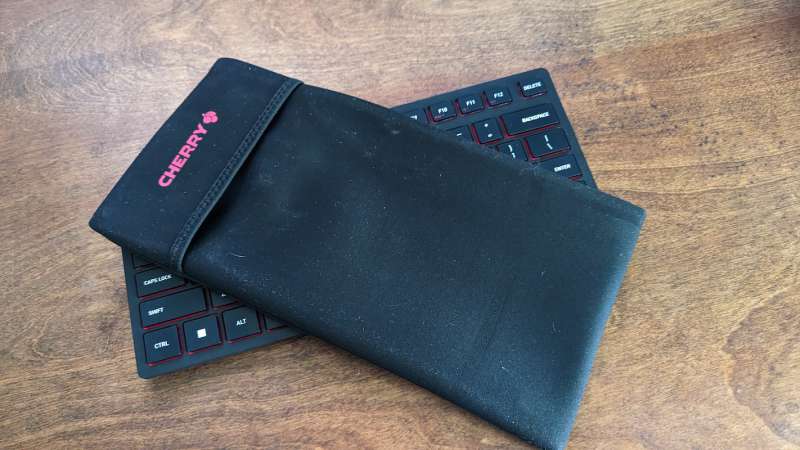 What I like
Great feel to the keyboard

Multiple connection options

Can connect to two different Bluetooth devices

Awesome magnetic dongle storage

Nice that a neoprene sleeve is included

Light and portable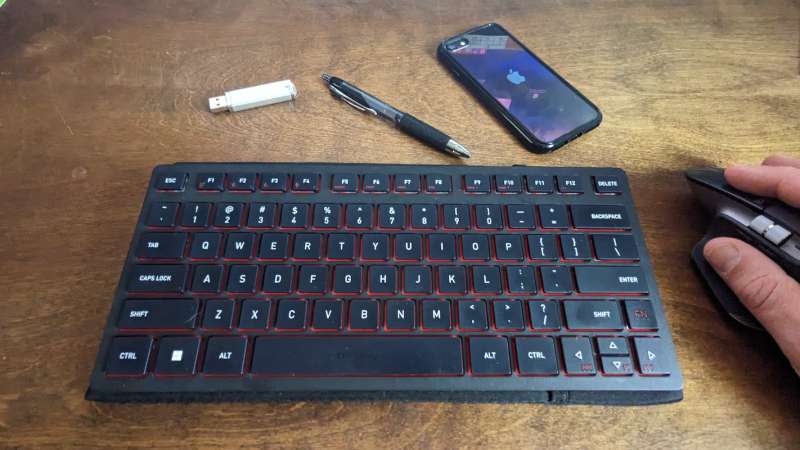 What I'd change
Wireless connection type makes you think you're bad at typing

Red secondary function text is hard to see on the black keys

Make one with a Mac layout!  
Final thoughts
The Cherry KW 9200 Mini Wireless keyboard has a great feel to it, quiet keys, and many different ways to connect to your devices.  Unfortunately, not all of those ways work equally well. 
Price: $79.99
Where to buy: Cherry or Amazon
Source: The sample for this review was provided by Cherry.