We use affiliate links. If you buy something through the links on this page, we may earn a commission at no cost to you. Learn more.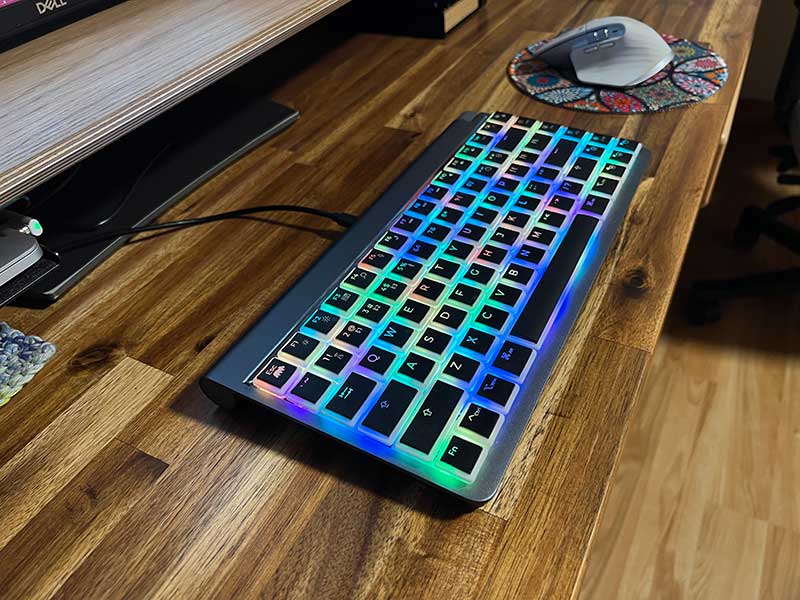 REVIEW – As a long-time macOS user, I'm always eager to try Mac-centric accessories and peripherals. Today I want to tell you about my experience using the Wombat Coleus mechanical keyboard.
What is it?
The Wombat Coleus is a low-profile mechanical keyboard that has been designed for Mac OS users but it can also be used with Windows, Linux, iOS, and Android devices as well.
Hardware specs
84-key US layout
Compatibility with Windows 8/10/11, macOS 11/12/13, Linux, Android, iOS
Triple interface support Bluetooth 5.0, RF2.4GHz and USB 2.0 communication
BLE, Bluetooth 5.0 ready
Powered by a built-in 1000 mAH LiPO rechargeable battery
RGB-backlit, Good wear-resistance PBT keycaps with dye-sublimation legends
With Noise and Vibration absorption mat
Factory pre-lube stabilizers
10 Macros available for programming
Size: 12.4″(31.5cm) W x 6.1″(15.5cm) D x 1.10″(2.8cm) H
Weight: 0.8kg(1.36lb)
What's in the box?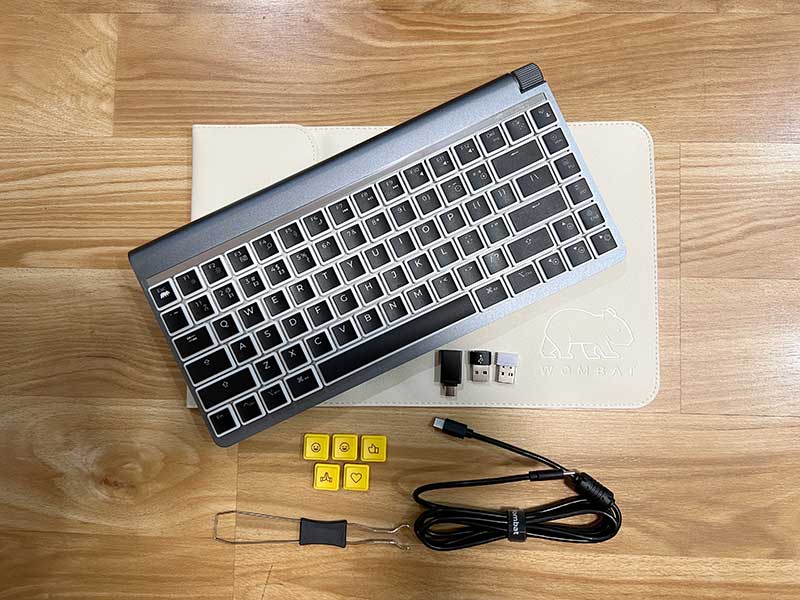 Wombat Coleus mechanical keyboard
USB Type C cable
Type A RF dongle
Type A – C adaptor
Type C – A adaptor
User manual
Design and features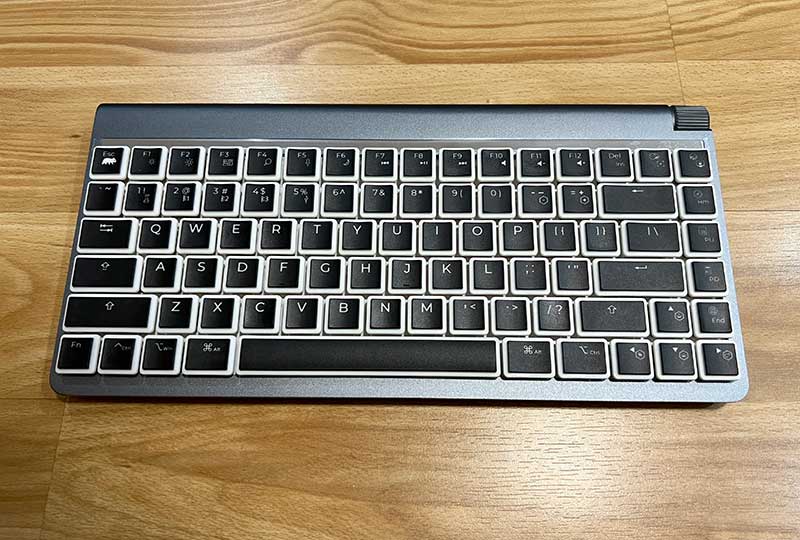 The Wombat Coleus mechanical keyboard features a 75% size/84-key layout with a dedicated row of function keys/Mac hotkeys.
This keyboard has a top frame made of aluminum and is available in 5 colors including the space gray version that was sent to me.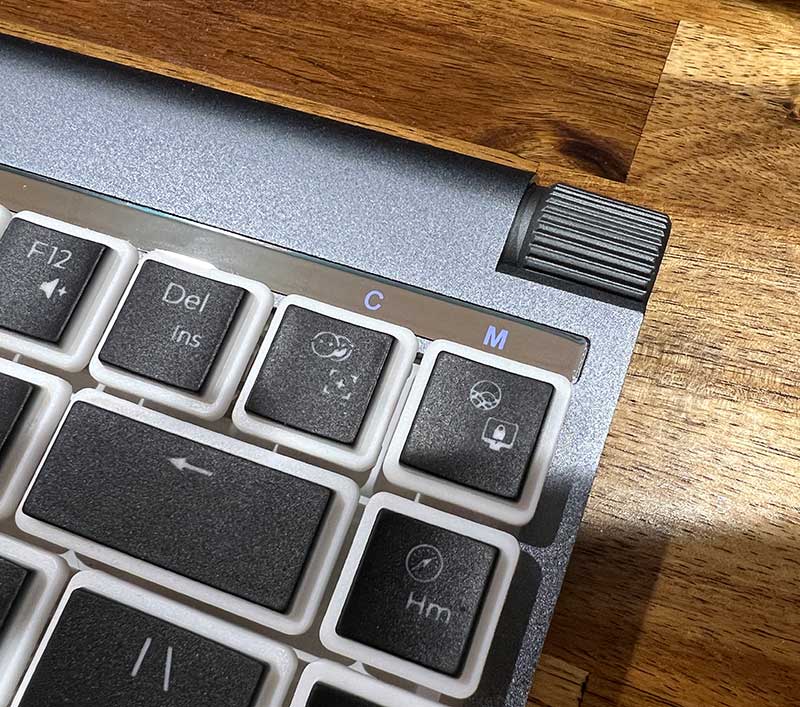 Above the function keys is a chrome bar that has status LEDs. In the image above you can see a C and an M. The C stands for capslock and the M glowing white means that the keyboard is in Mac mode. If the M was light blue, that would mean that the layout would be in Windows mode. Other status indicators which aren't shown in the image above include Bluetooth and RF connections.
In the image above, you'll also notice that there's a knob in the upper right corner of the keyboard. This is the Media Wheel which functions as a volume adjustment knob. I really like this feature compared to using function keys to change the volume. With an analog knob, you don't have to look for the keys. You just rotate the knob forward to increase the volume, backward to decrease it, and press it in to mute. This knob is programmable if you want to assign a different function to it. More about that later.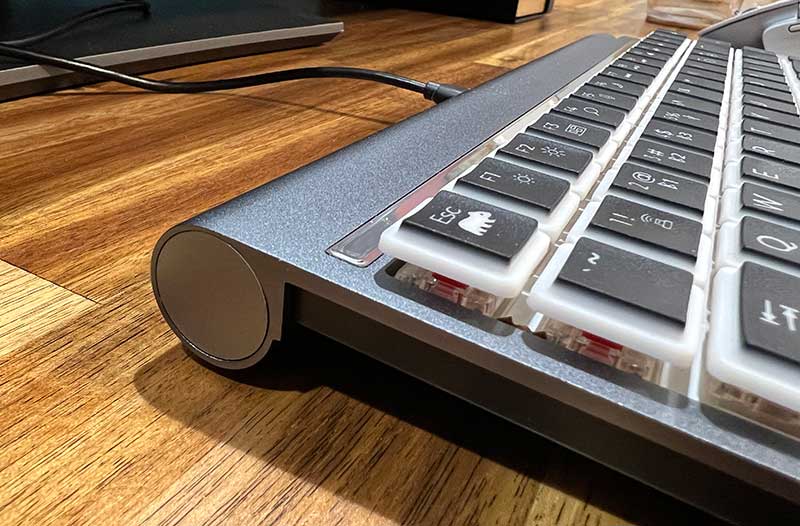 The left corner of the Wombat Coleus mechanical keyboard has a button that reminds me of the original Apple Magic keyboard. This button will let you toggle the power on and off.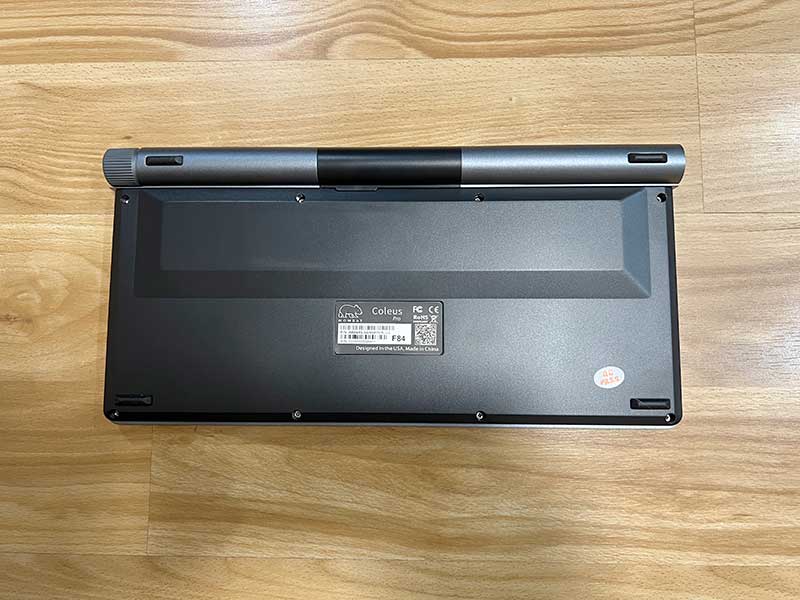 When you turn the keyboard over, you see that it has 4 rubber feet that help to keep it from sliding around on your desk. The Wombat Coleus has a decent weight, so it does stay where you want it on your desk without any problems.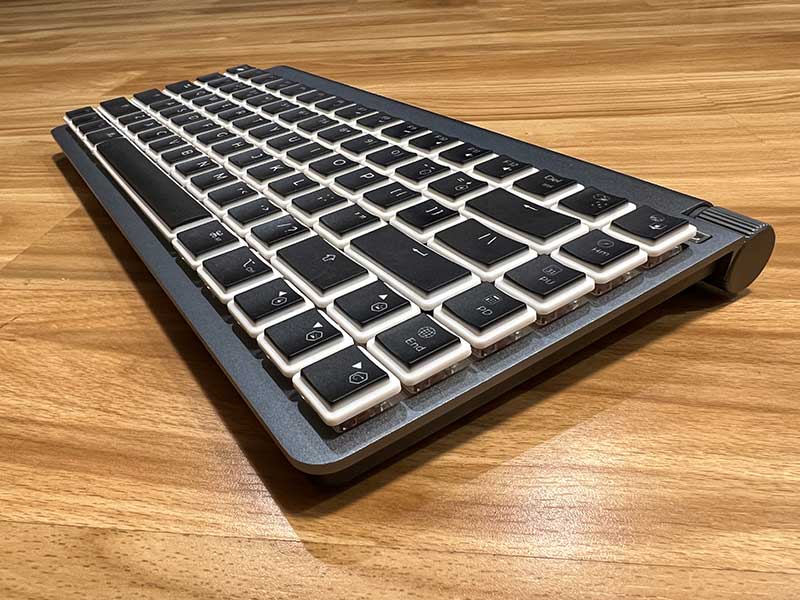 This keyboard can be paired to 3 different devices via Bluetooth, another device via the RF dongle, and yet another device in USB wired mode. I did 90% of my testing in USB wired mode to my 13 inch MacBook Pro.
Switches, keycaps, and typing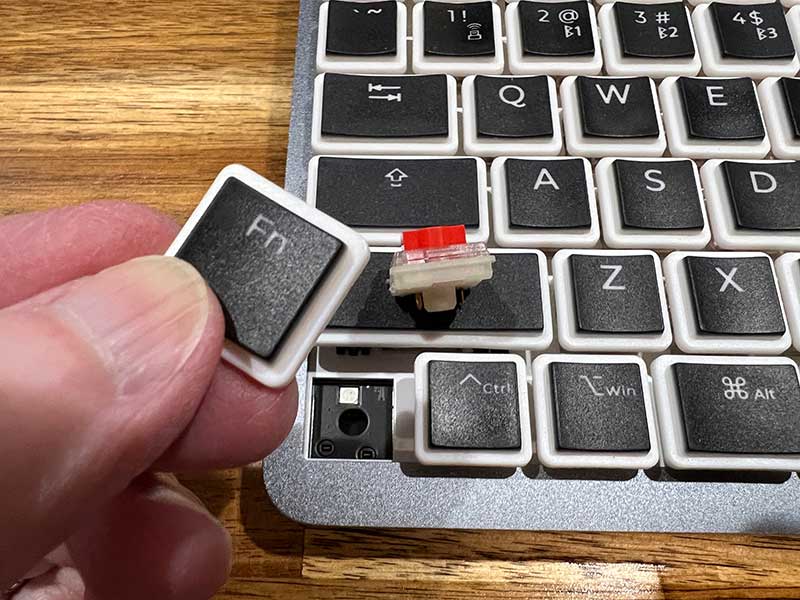 The Wombat Coleus mechanical keyboard is available with replaceable low-profile Gateron linear red or brown switches and low-profile PBT keycaps with dye-sublimation legends. To me, the keycaps on this keyboard have a texture that looks like they've been 3D printed. At first, I thought it might be the way all PBT caps are, but I've reviewed the Wombat Ginko keyboard and its PBT caps don't look and feel like these keycaps.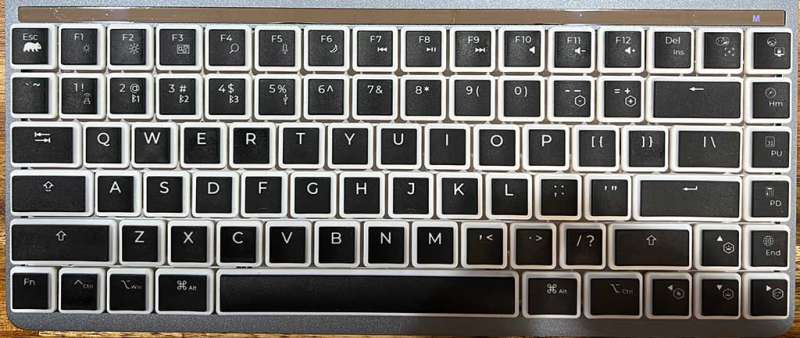 You can click the image above for a large view of the keyboard layout.
Typing on this keyboard has been very enjoyable. The switches have just the right amount of clickity clackity goodness without being too loud and with the low-profile switches and keycaps, my fingers don't get fatigued after long typing sessions.
I also like that there's a dedicated row of function keys that have quite a few Mac functions like search, media keys, screenshot, lock the screen, and more.
The Wombat Coleus mechanical keyboard also features RGB backlighting with several effects and you can program the lighting effects if you want full control. You can see the various lighting effects in the video below.
See it in action
Customization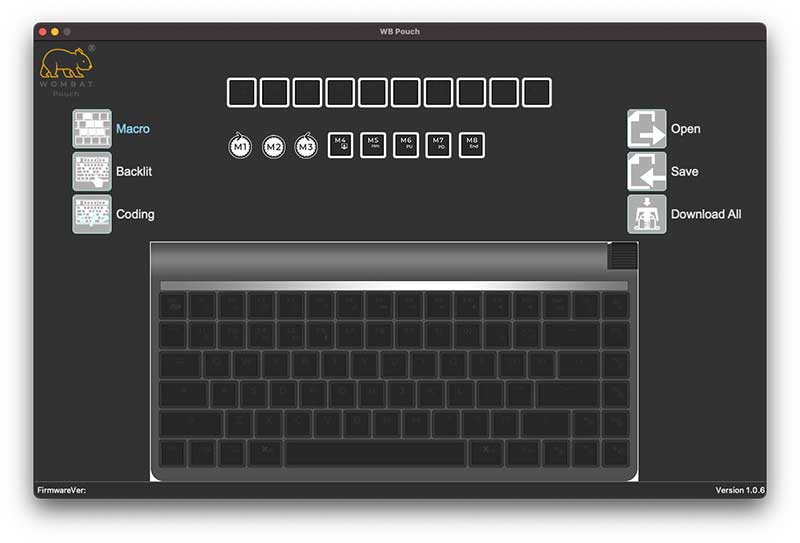 One of the more interesting features of the Wombat Coleus mechanical keyboard is the ability to customize it by programming macros, emoji hotkeys, and RGB lighting effects. You will need to install two apps on your Mac to customize the keyboard. I show one of those apps above. I tried to test the macro recording feature but the app would not recognize that I had the keyboard plugged in. If I'm able to get this feature to work, I'll update the review at a later date.
What I like
Compact form factor
Analog dial
Programmable (If it actually works…)
Swappable switches and key caps
What I'd change
Improve customization apps
Final thoughts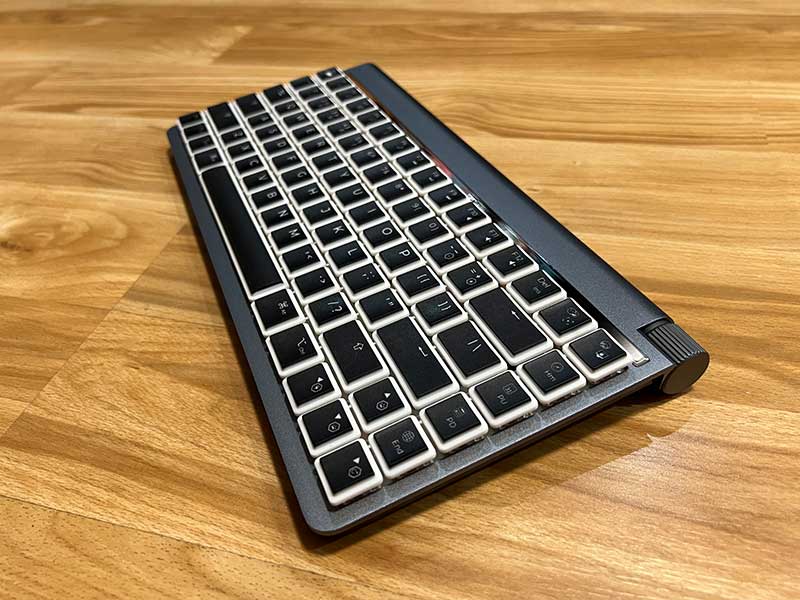 I used the original Apple Magic Keyboard for many years and the Wombat Coleus mechanical keyboard reminds me of that keyboard only, it's a LOT better than the original Magic keyboard. The Wombat Coleus mechanical keyboard offers many features in a compact form factor. It's well made, comfortable to type on and customizable. Although I was unable to test the programming feature, I have no problems recommending this keyboard to anyone who loves mechanical keyboards and also has a Mac.
Price: $144.99
Where to buy: Wombat
Source: The sample for this review was provided by Wombat.