We use affiliate links. If you buy something through the links on this page, we may earn a commission at no cost to you. Learn more.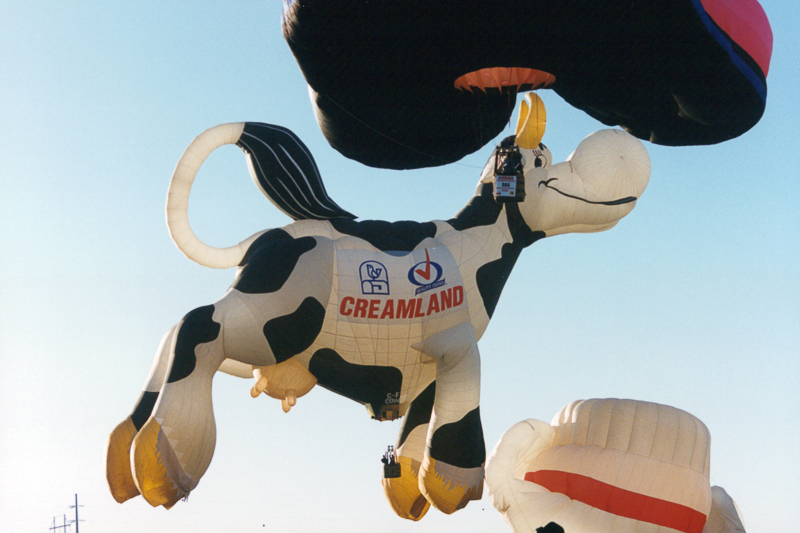 REVIEW – The first thing I bought way back when I got my first job at 15 years old was a camera.  I have always loved photography.  I have over 1300 paper photos, 90% are mine, and the rest were taken by my or my husband's parents.   About ten years ago, I had many of them scanned by another service to preserve long-term memories.  The company did an ok job, but in the back of my mind, I wanted to get them scanned again with the available newer technology.  ScanMyPhotos offers a digital photo scanning service with high DPI and photo-enhancing software options.  Read on to see how well they did.
What is it?
ScanMyPhotos dot com offers photo, slide, negative, and film/VHS scanning to digital media.  They offer picture-by-picture scanning and single and multiple-priority mailbox scanning of thousands of photos.  They provide a link to the final scanned pictures and options to receive DVD or thumb drives of your photos.
Setup
I started the process by going to ScanMyPhotos.com and ordering the photo scanning box.  This lets you put as many photos as possible in a priority mailbox.   Their website states that it can hold about 1800 photos.  Your pictures must be free of any sticky elements and have no extra stuff on them.  Things like Post-it notes and other items placed on the front of the photo will get scanned in and ruin the picture.  The default resolution is 72 DPI for $240 a box (there are coupons, so don't worry!).   A higher DPI results in better resolution and more pixels per picture.  That way, if I wanted to crop a photo, I could still print a larger picture with the cropped photo.   They offer 150, 300, and 600 DPI scanning.  Even though the picture below shows 300 DPI, I opted for the higher 600 DPI scans.  That made the base cost of the box $460 instead of $240. (again, do not freak out, there are coupons.)
One thing I did not like about their service was what they offered to do with your photos after the scan.  They could dispose of them for you for $32.95 or return them to you for $39.95.  I opted to have them returned to me, which they did via Fed Ex next-day service.  I thought it was a rather high price to pay to get my pictures back.  I would have been happy with a lower-cost ground service to get them back.
Next, you had to pick your online availability option.   The cheapest option was the 5-day availability for $5.95.  You could not choose to have any online availability.  I would think that with the box's cost being what it was, the five-day option should have been included free.  They also offered one, two, and six-month options and a full year.   I chose to pay for a thumb drive and kept the low-cost five-day option.
Finally, I opted to pay extra for their 'Photo Soap'  software processing.   Many of my oldest pictures seem to have been taken hurriedly by our busy parents trying to capture rambunctious kids.  They were often not in focus and were pretty faded.  I hoped the software could resurrect some of the detail of the pictures.
As you can see in the photo below, I used a 45% off coupon which gave me a much more realistic price. I noticed a 45% coupon was still floating around out there, along with a 30% coupon.  Be sure and do your research before checking out your cart.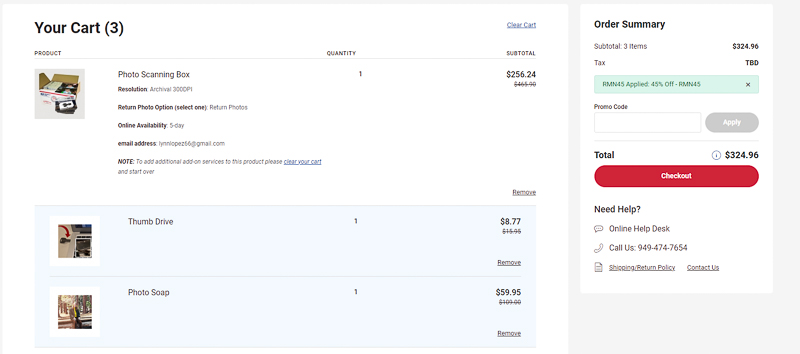 I placed the order on March 17 and received the shipping box and instructions on March 22nd.   The picture below shows the priority mailbox with a shipping label already on it on the other side.  There were packing instructions and a copy of my order.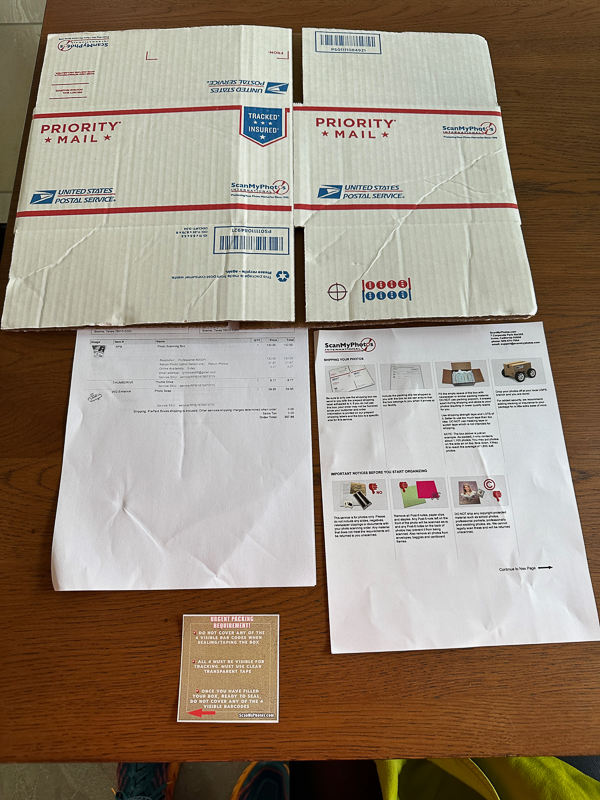 The instructions emphasized you needed the photos to be as clean as possible.  They should not be sticking to one another.  They want you to group the same size pictures and bundle them up in groups of about 100 pictures or an inch thick.  The rubber bands keep the pictures from sliding around.  You also had to be careful that all the pictures faced the same direction.  If that is too much work for you, they offer an option of paying $109 for them to auto-rotate the photos for you.  You can also pay extra to have the photos scanned in order.   Here is a picture of my box loaded up with pictures.  I crumpled up some paper to fill in the bit of extra space.   They will take photos sized from 3×3 to 8×10.  They will not scan professional watermarked photos unless you have documentation from the photographer that it is ok to do so.  I also placed two 5×7 and one 8×10 on top of the pictures and the copy of my order.  I had just over 1300 pictures in the box.
I dropped the box off at the post office on March 24th.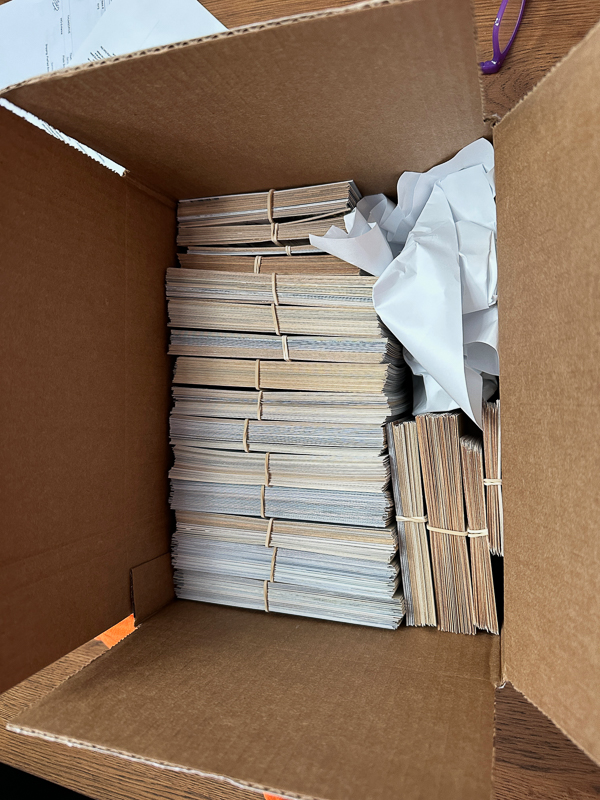 Performance
I received an email from ScanMyPhotos on March 27th that my order was received.  On the 28th, I got another email saying my order was being scanned.  Later that same day, I got an email from Fed Ex saying I had a shipment coming from ScanMyPhotos.  I also received another email from ScanMyPhotos with the link to download my pictures.  The Fed Ex box was a priority overnight box, and I received my pictures, and the ordered thumb drive the next day.
I was really happy with the way the pictures turned out.  I had bundled my pictures together in groups that made sense to me.  Even though I did not pay to have the pictures scanned in order, I can tell they scanned each bundle as a group in the order the bundle was made.  The image sizes ranged from just under 1 MB for the tiny 3×3 photos to 4 MB for my 4×6 to 9 MB for the 8×10.  I knew there was no way they could sharpen some of the older pictures much, but the Photo Soap software did a good job of bringing out more detail and enhancing the color of the images.  The two pictures below are a perfect example of this.   This picture was taken at least 50 years ago.  The first image is the original picture.  The second is the scanned image.  The colors of the scanned image look great, and you can see a bit more detail in the faces.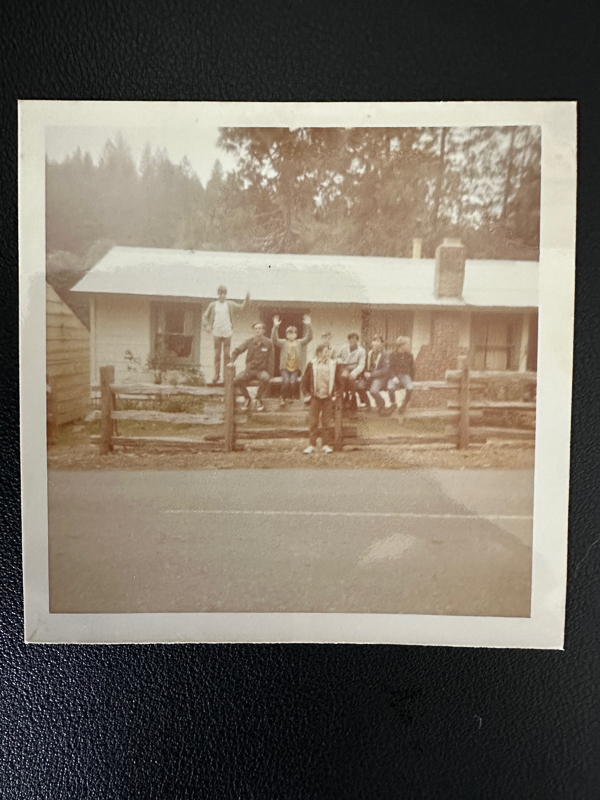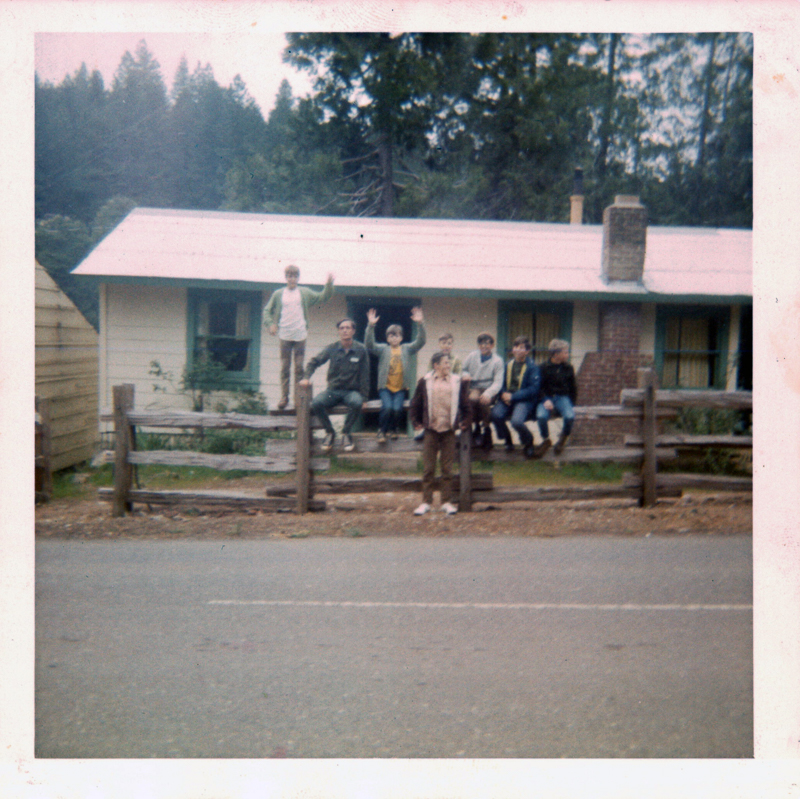 This next image was also taken about 50 years ago in black and white.  The original is the first picture, and the scanned image is the second.  There is a little correction in the scanned image, but the colors are darker.  It looks much better than my scanned image of it from 10 years ago.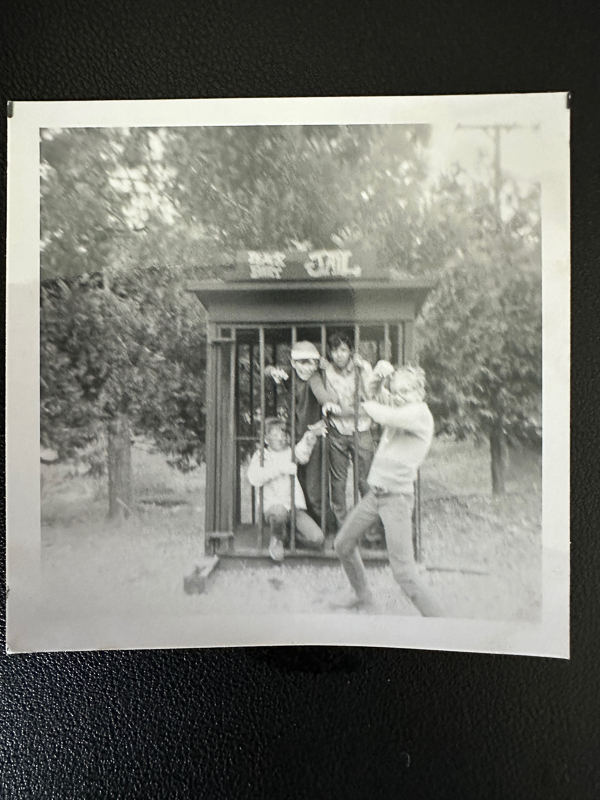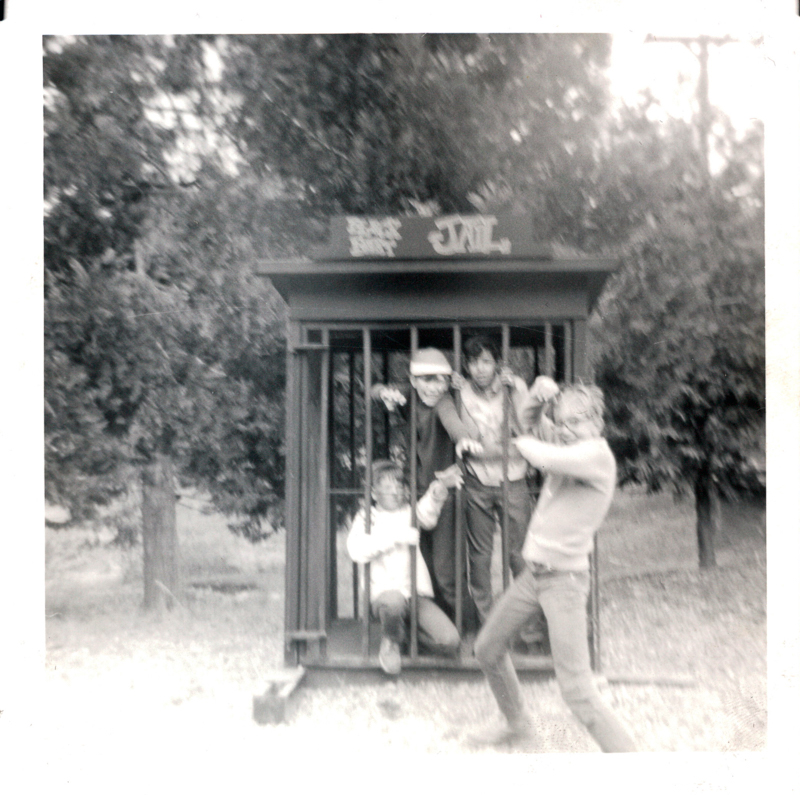 This next picture was taken by me back in middle school.   I hate to say this, but it was probably around 1979.  The color is much more consistent across the entire picture, especially in the top part of the picture.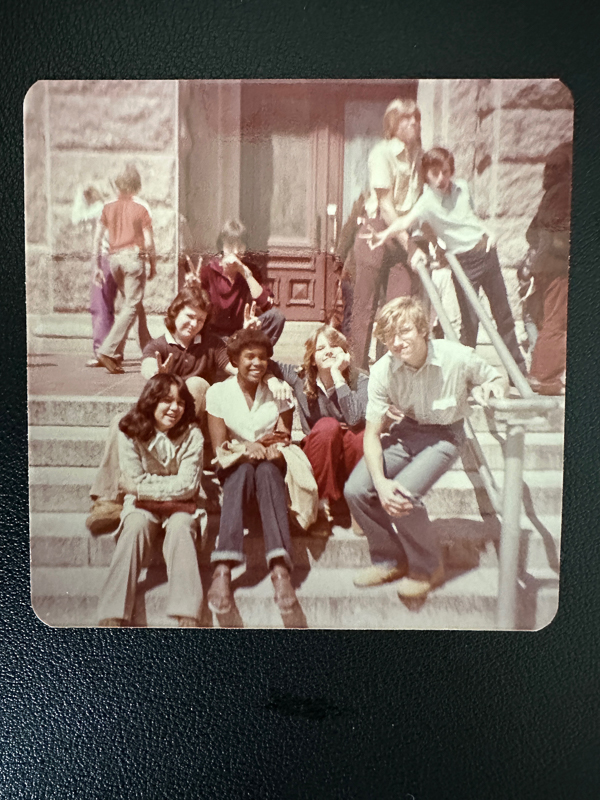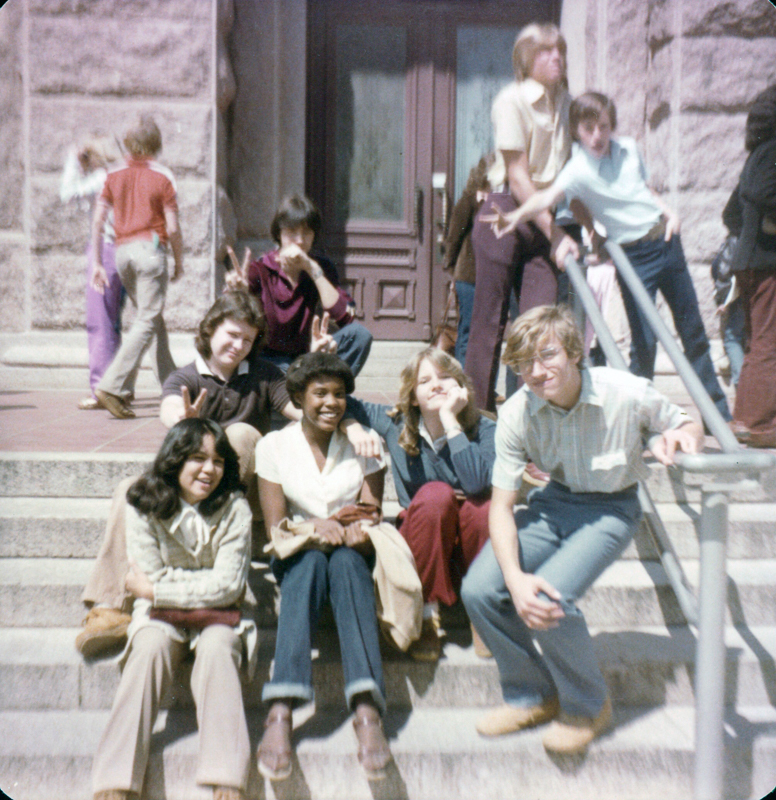 These last images were taken at the Albuquerque Balloon Festival in the mid-90s.   There are some reflections in the original picture because it was printed on glossy paper.  The scanned images made the sky bluer, and the colors pop more.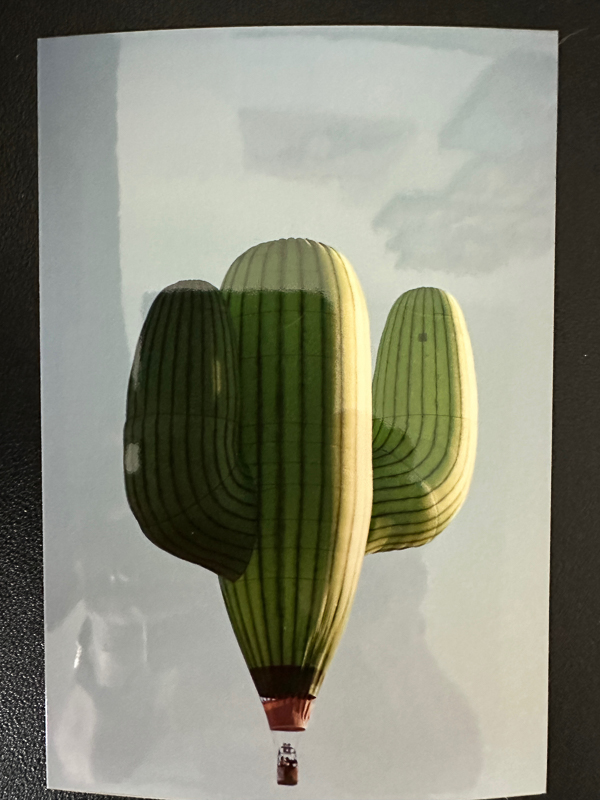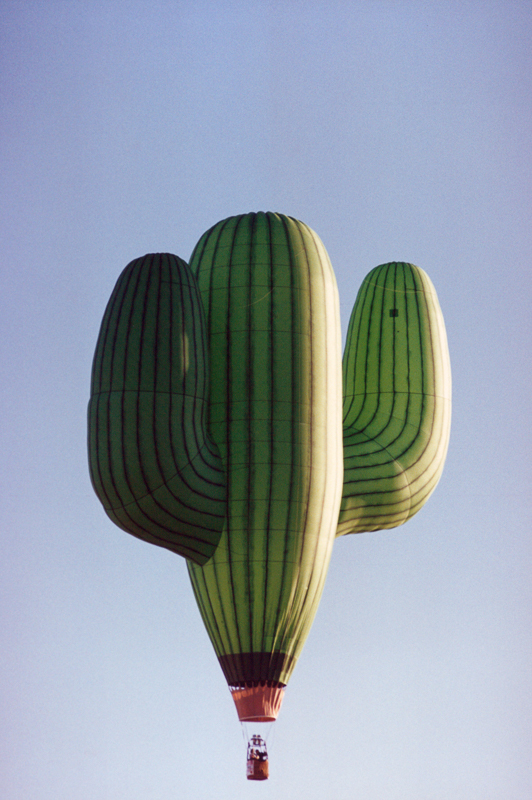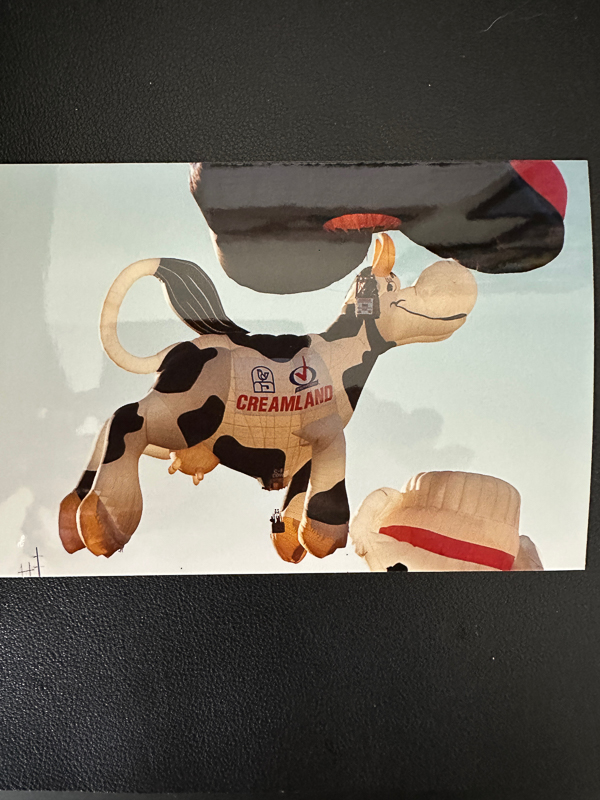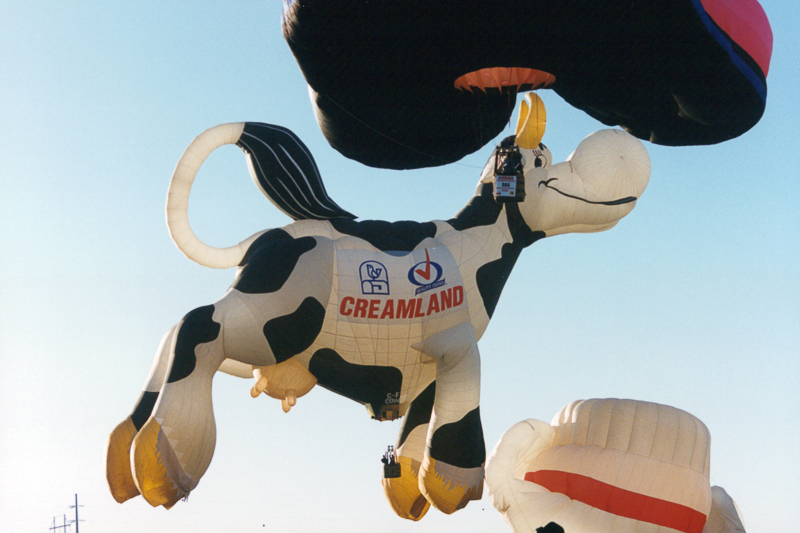 A nice surprise in my box from ScanMyPhotos was this hardcover book with a small image of every scanned photo.  I did not pay the normal $225 that would have included this book and auto image rotation, but it was a special they were offering the day I ordered.  I found out they try to include a surprise in every order.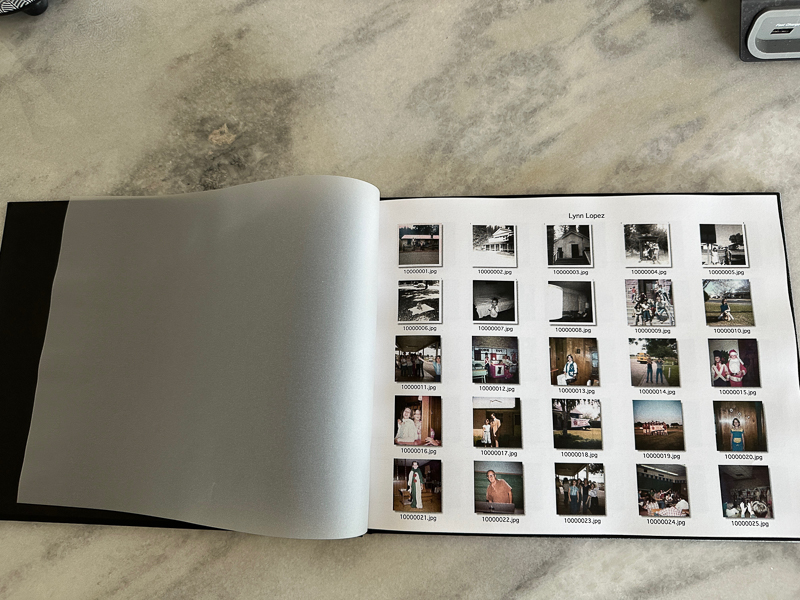 This was the thumb drive I ordered.  It came in a nice box.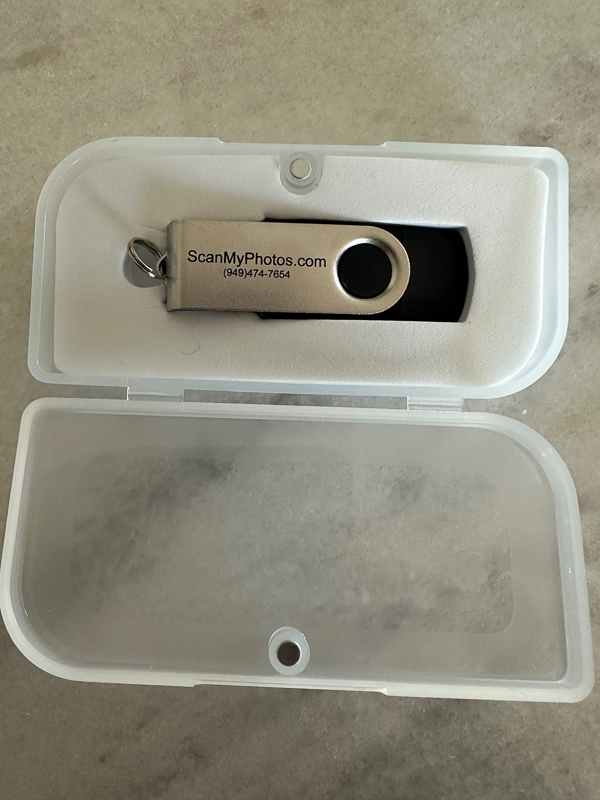 What I like
Very fast service
Emails letting you know where they are in the process
High DPI scan options
Photo software to clean up the image
Great results
What I'd change
The base cost of the box should include a picture return and 5-day online storage.
Charge what the coupon price should be.  I hate having to look for coupons.
Final thoughts
I think ScanMyPhotos did a great job of digitizing my old photographs.  They were very fast and communicated during the entire process.  They nickel-and-dimed you on the various options, though.   Make sure you find the coupons available, and I think this is a great service to get your photos scanned.
Price: Starting at 12¢ per scan – $240 per box
Where to buy: ScanMyPhotos
Source: The sample of this product was provided by ScanMyPhotos.