We use affiliate links. If you buy something through the links on this page, we may earn a commission at no cost to you. Learn more.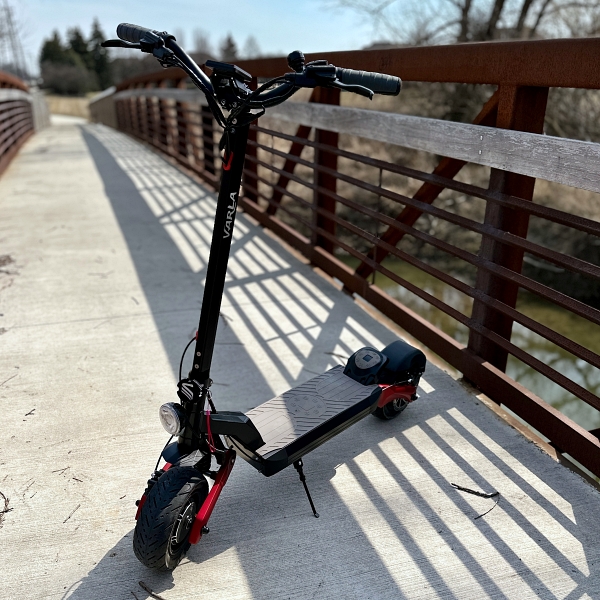 REVIEW – Can an electric scooter really go 45mph? That was my first question when I was asked to review the Varla Eagle One Pro All Terrain Electric Scooter. But, after receiving it, I quickly learned that there was more to this E-scooter than just speed. So let's check out what else makes it unique. Don't worry. I fully intend to find out how fast this thing really goes.
What is it?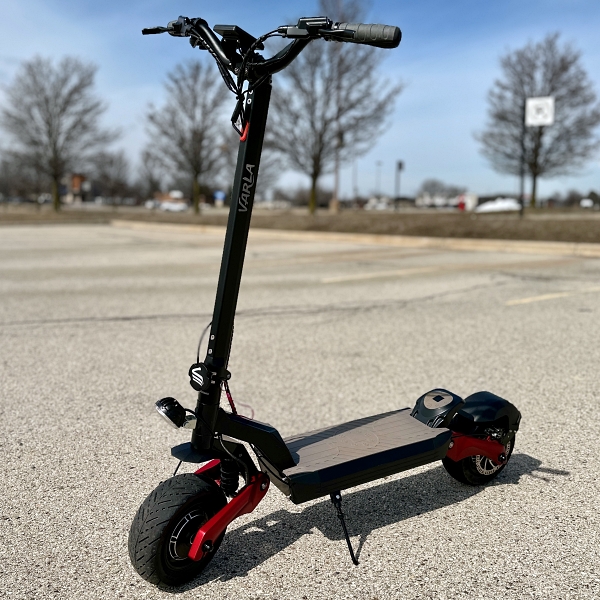 The Varla Eagle One Pro is a dual-motor, multi-terrain electric scooter. The scooter features 11-inch air tubeless tires, dual shock absorbers, dual hydraulic brakes with ABS, and a fully charged top-end speed of 45 mph.
What's in the box?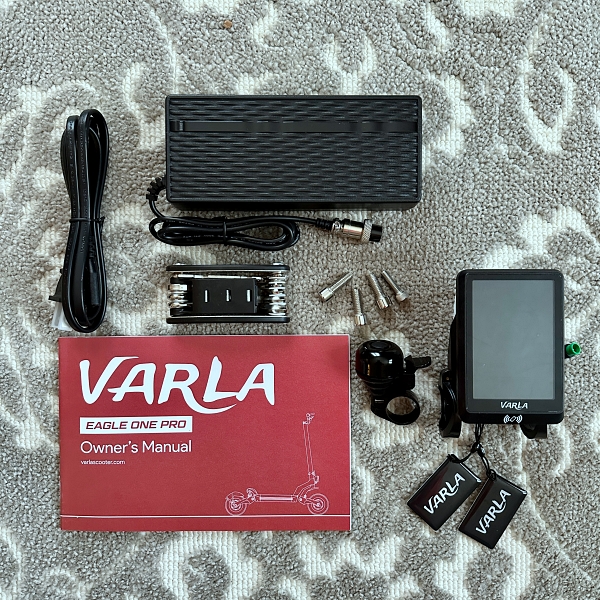 Varla Eagle One Pro electric scooter
Battery charger
2x NFC lock cards
16 in 1 multi-function repair tool
Users manual
Hardware specs
Motor – Dual Hub Motor, 1000W x2
Battery – 60V / 27Ah lithium-ion battery
Brake – Dual hydraulic brake + ABS
Max Range – Up to 45 miles
Top Speed – Reach up to 45 mph when fully charged
Climbing Angle – 35+ degrees
Tire – 11-inch air tubeless tires
Display – 3.5-inch LCD display
Weight – 90 Ibs
Payload – Max. 330 lbs / Recommended 250 Ibs
Frame Material – 6061 aluminum alloy
Light – 10W front light / Rear red LED light
Charging time – 13-14h (single charger) / 6-7h (two chargers)
Throttle – Thumb Throttle
Key – NFC Card
Suspension – Dual hydraulic suspension
Deck Pad Material – Silicone
Recommended Height – 4'5′-6'11"
Design and features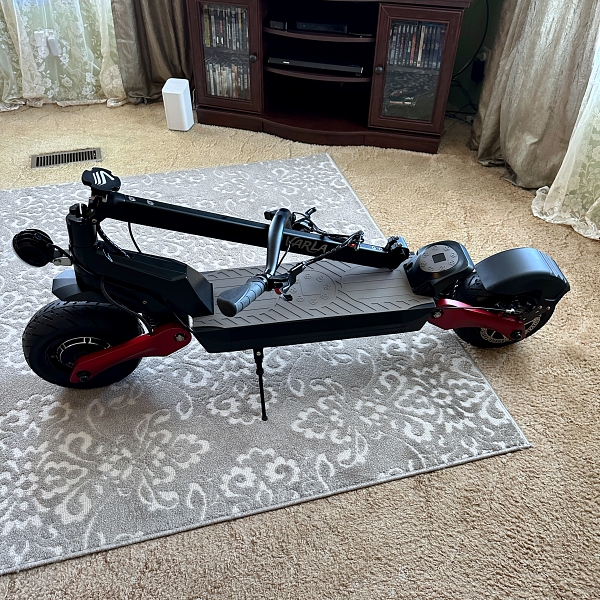 The Varla Eagle One Pro electric scooter arrives pretty much preassembled. All I had to do was unfold it, attach the handlebars and the LCD display, and connect a couple of plugs. Varla was nice enough to include a compact 16-in-1 multi-tool, making the process even easier.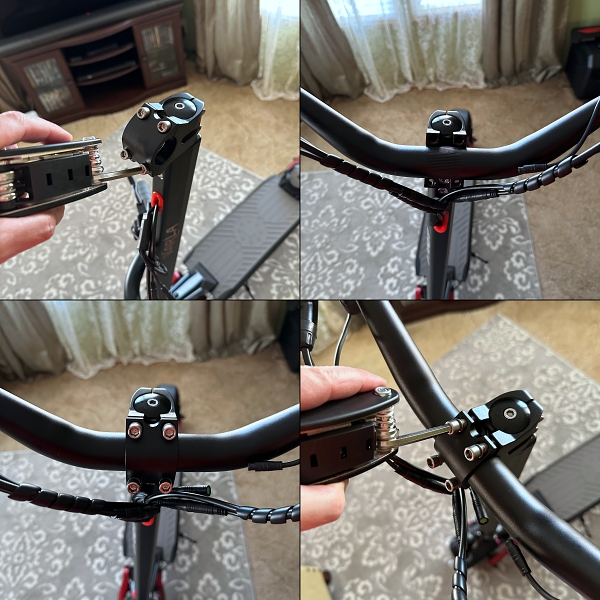 Before doing any assembly, I had to unfold the scooter and lock the steering bar into place. The steering bar is secured using a large disc lock that is hand tightened. An assurance pin slides into place at the back of the steering bar for more security.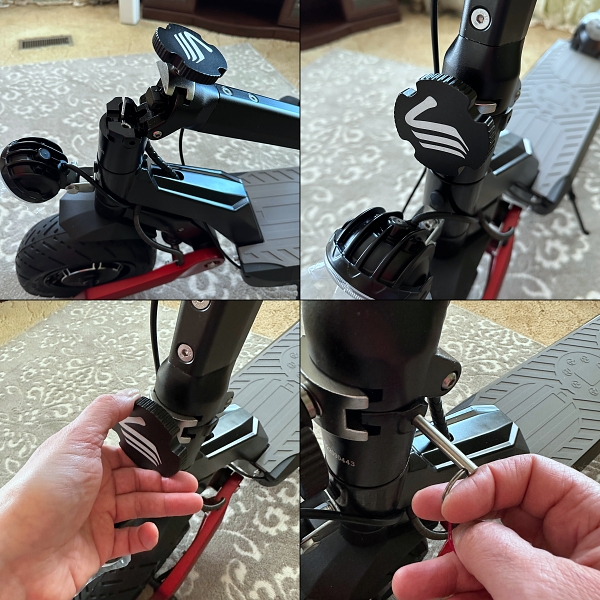 The Varla Eagle One Pro electric scooter is not your typical E-scooter. This thing is built like a tank from its aluminum alloy frame to the heavy-duty injection molded plastic fenders. It weighs 90 pounds, nearly twice that of a typical e-scooter. It's also taller and longer, with an overall height of 52.4 inches and an overall length of 53.1 inches.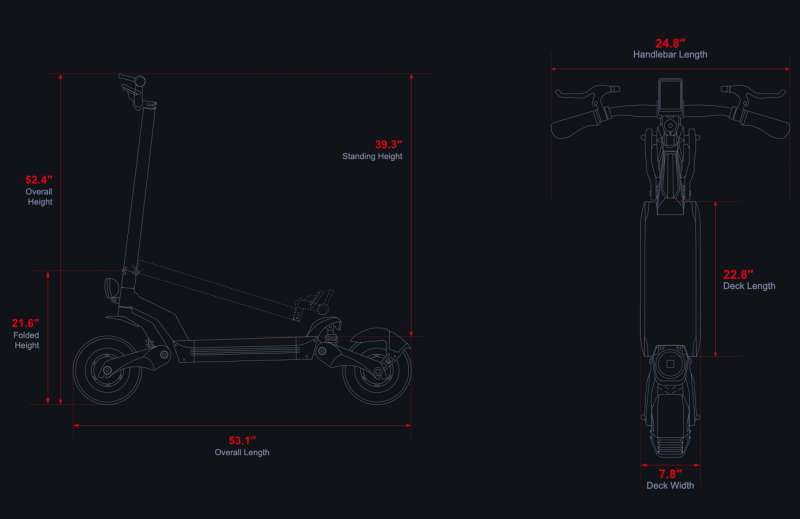 Almost everything on the Eagle One Pro is supersized, including the tires, which are 11 inches in diameter and 4 inches wide. They reminded me of the tires on Batman's motorcycle in The Dark Knight.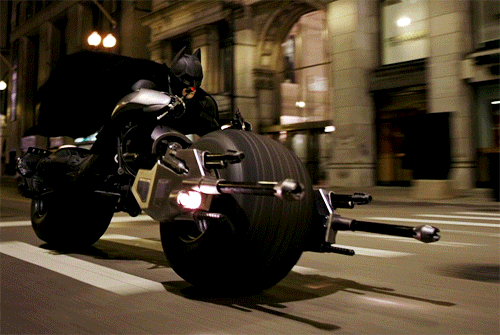 The tires are made of durable rubber material and have a deeply grooved surface. They are tubeless but do require air. And they are explosion-proof and pressure resistant.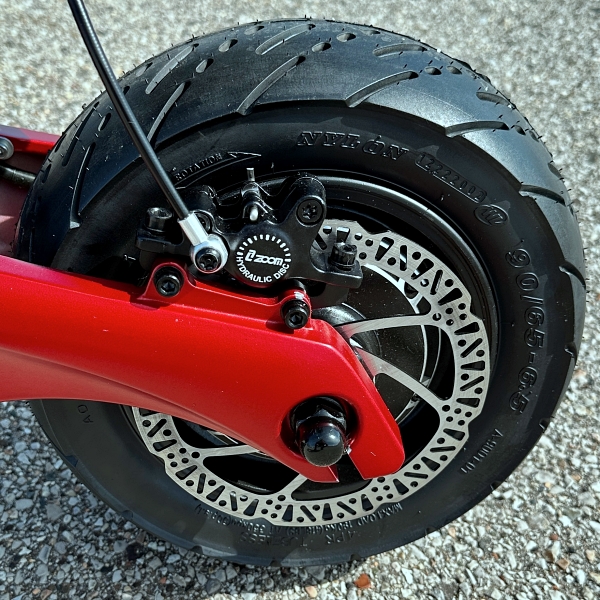 The valve stems stick out slightly, making filling the tires to the recommended 50 PSI with my portable electric pump easy. You also get a glimpse of the 1000W hub motors inside each wheel.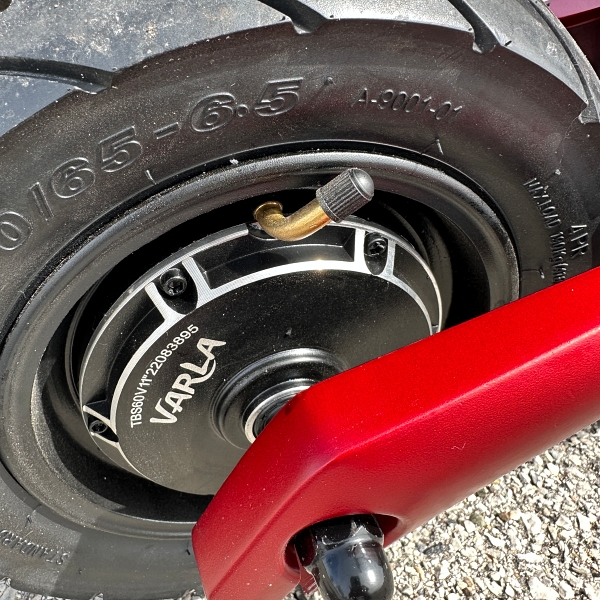 The Varla Eagle One Pro electric scooter's dual hydraulic brakes are visible on each tire's side.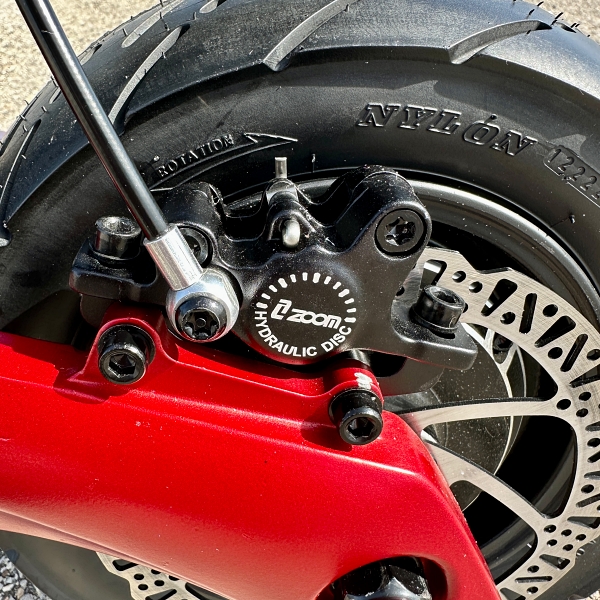 Durable injection molded plastic front and rear fenders provides protection against splashback while riding.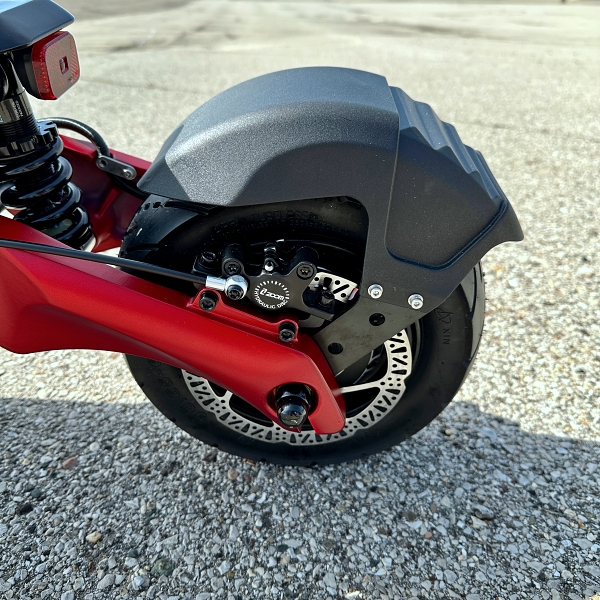 The Eagle One Pro has an independent suspension with dual shock absorbers on the front and back. They are highlighted by their candy apple red paint job, which really pops against the matte black color of the scooter. This gives the Eagle One Pro a unique and stunning look.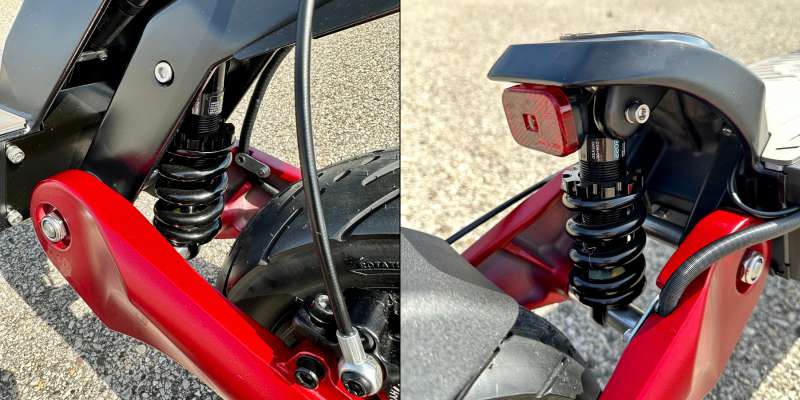 The scooter's standing deck is 23 inches wide and covered with a non-slip silicone pad.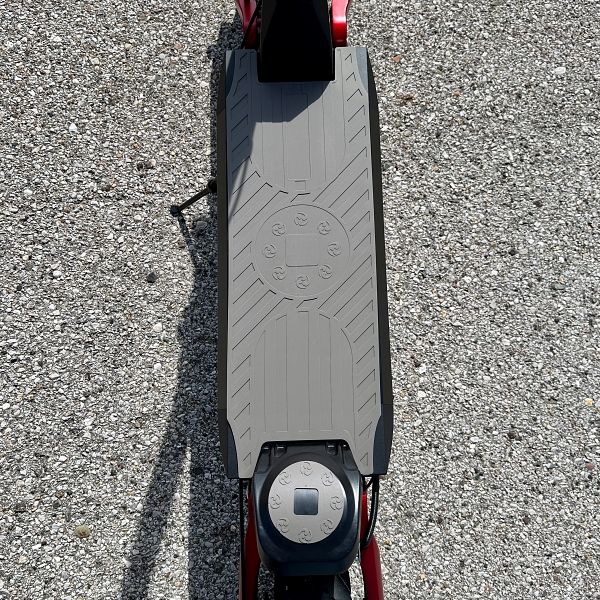 There is a kickstand on the bottom left side of the deck.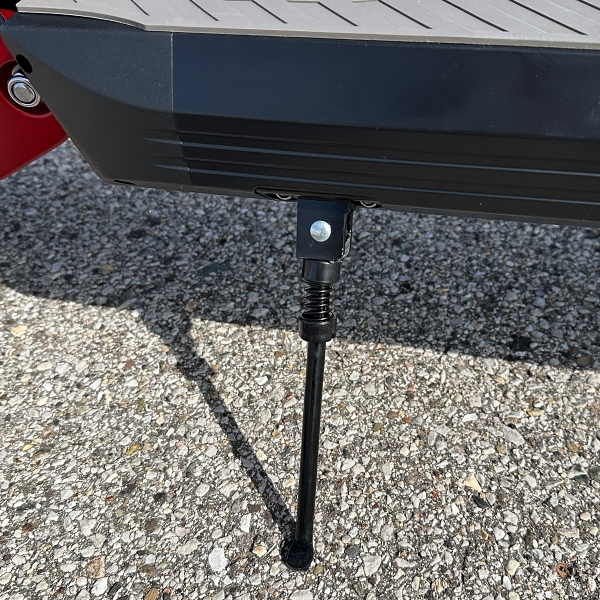 The Varla Eagle One Pro electric scooter 's dual charging ports are on the right side of the standing deck near the back. The ports are protected by silicone covers.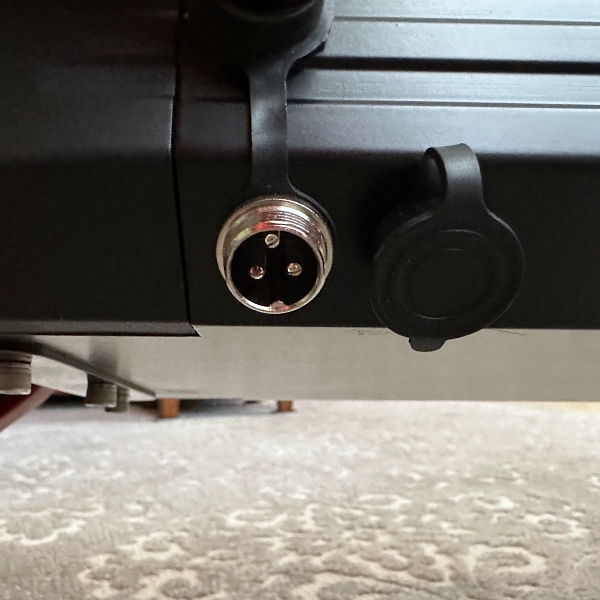 The taillight is at the back of the standing deck, and a headlight is mounted just above the front fender. The headlight is intensely bright and does a great job illuminating the path before you. More importantly, the lighting will make you visible to motorists if you ride at night.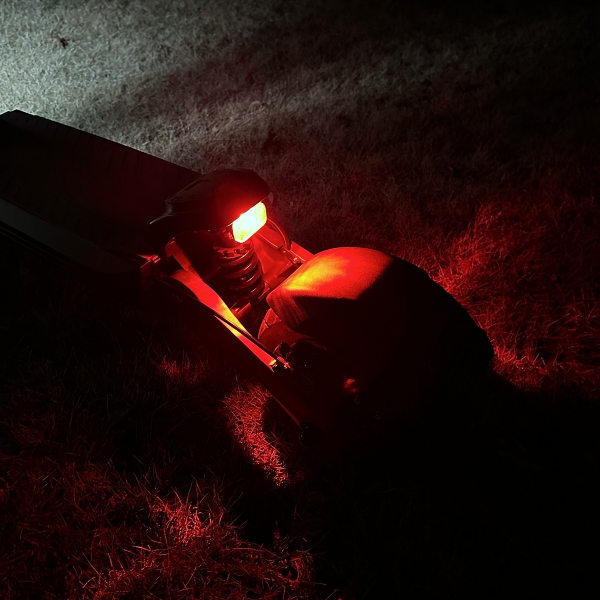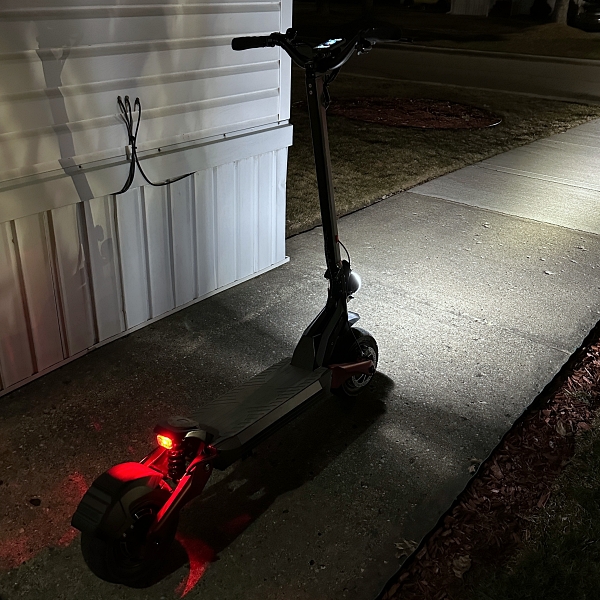 The handlebars are not the usual straight type that you find on most e-scooters. These curve upward more like bike handlebars, which I like. And they are wider, measuring 24.8 inches.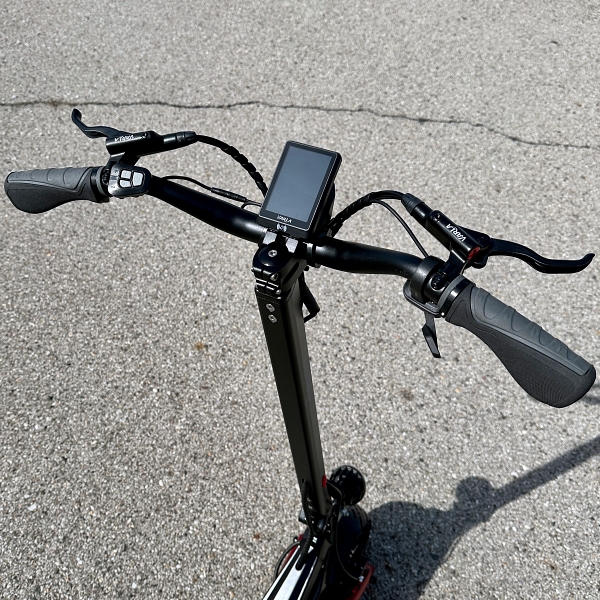 The left handlebar features the front brake, LCD display control pad, and a small bell. The right handlebar holds the rear brake and thumb throttle.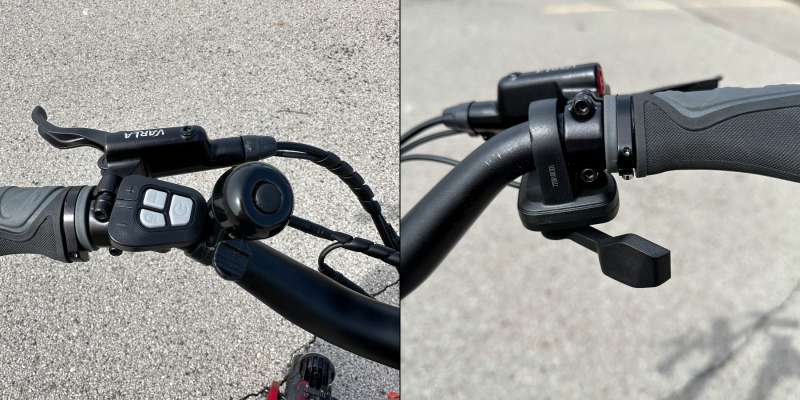 The handlebars also have a contoured rubber grip making them comfortable and easy to hold onto.

Let's talk about the display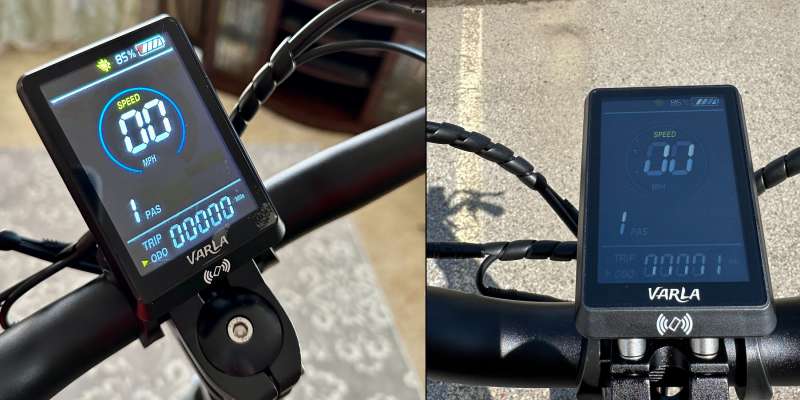 The LCD Display allows you to view the primary state of the Varla Eagle One Pro electric scooter , including speed, gear, power, mode, and so on. You can toggle through different settings using the buttons on the control pad. The display is rather dim, making it difficult to see in bright conditions. I found that adjusting it at an angle did help. However, seeing the smaller display icons remained an issue.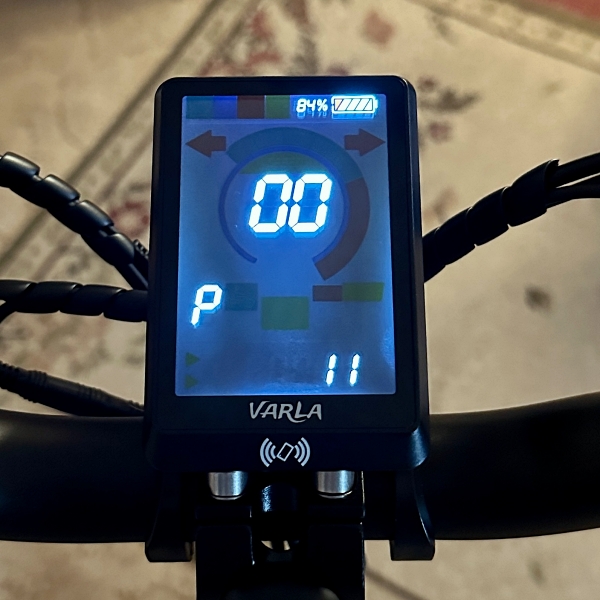 A sub-menu gives you access to more settings. P-settings, as referred to in the manual, include cruise control, power level, brake level, and more. There are 11 settings in all. They are numbered without words; unless you have the manual, it's hard to know which are which. This is where I feel the Eagle One Pro could have significantly benefited from having an app. In fact, I was surprised it didn't, considering they are available on most of today's E-scooters. This would have made viewing and changing settings much more user-friendly. Varla definitely dropped the ball here.
One thing Varla got right with the display is the NFC safe lock feature. To ride the scooter, you need its specific NFC keycard to unlock the display. The Eagle One Pro comes with 2 cards. You can also use your phone if it supports NFC. Unfortunately for me, it doesn't support iPhones.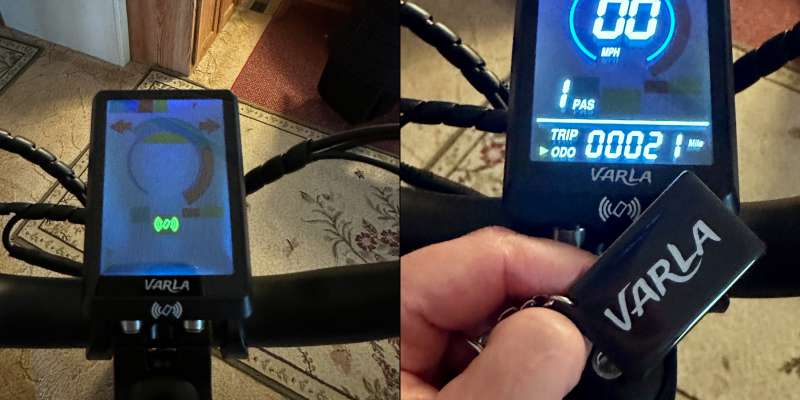 Unlocking the scooter is done by holding the power button down until the NFC card logo flashes on the screen. From there, a simple card tap unlocks the display and allows the scooter to be driven. This won't stop a thief from taking your scooter, but without the NFC key, they will have is a large brick on wheels.
Battery
Before riding the Varla Eagle One Pro electric scooter, you must charge the 60V/27Ah lithium-ion battery. The Eagle One Pro has a range of up to 45 miles, depending on the rider's size, speed, and road conditions. It takes approximately 13-14 hours to fully charge. Charging time can be cut in half using the extra charging port and charger. Unfortunately, the scooter only comes with one charger, but you can purchase an additional charger from Varla for $49.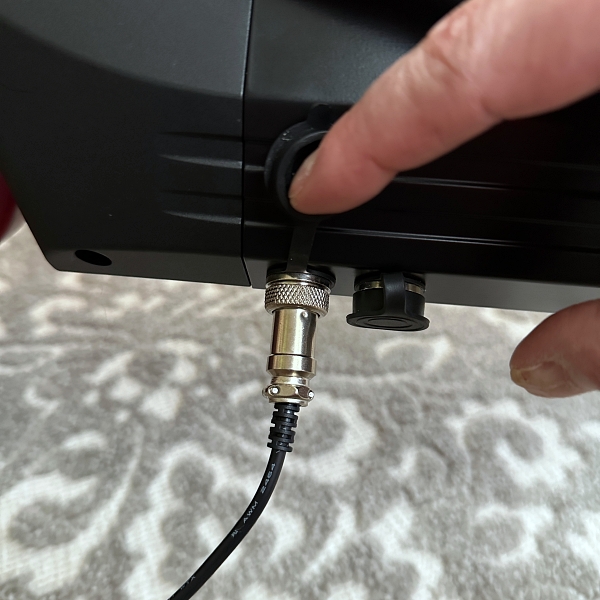 Charging is complete when the indicator light on the charger changes from red to green.

Dual Hub Motors
The Varla Eagle One Pro electric scooter is powered by not one but two 1000W hub motors. The motors are housed inside each wheel and are capable of providing a peak power output of 3600W. The scooter can be driven in single or dual-motor mode. To change between the two modes, press and hold the "+" button for 2 seconds. When in dual-motor mode, the indicator light will show on the screen.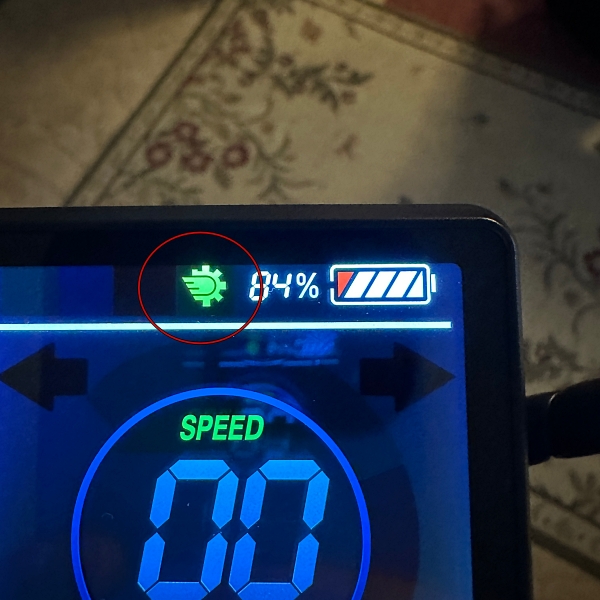 The Eagle One Pro has three operational or PAS modes. PAS 1 caps the scooter's speed at 15mph, PAS 2 at 25mph, and PAS 3 allows the scooter to reach up to 45mph when fully charged.
Performance
Since I have never ridden an E-scooter, I wanted to get used to riding it before going around my neighborhood. So, I loaded the Eagle One Pro into the back of my crossover and took it to an empty mall parking lot. It took some getting used to as it's different from riding my TurboAnt Thunder T1 E-bike. But, after just a few minutes, I found myself quickly tooling around the parking lot.
The real test of the Varla Eagle One Pro electric scooter was driving it in and around my neighborhood. This was the first time I could feel the true power and speed of the scooter. Acceleration off the line was great, and getting it up to 35mph for the first time was exhilarating, to say the least. But the thing I was most impressed with was how smooth the ride was. The Eagle One Pro's dual shocks handled cracks and bumps like a champ. And as you can see from my videos, the path I have to ride on is far from smooth.
I also loved how well it handled. The Eagle One Pro is well-balanced, and the expansive standing deck provides a sturdy base to ride on. The design and width of the handlebars made it easy to control, especially at higher speeds.
Climbing hills or inclines can be troublesome for many E-scooters, but not the Varla Eagle One Pro electric scooter . It handles them as if they are not even there. The video below illustrates what I'm talking about.
As promised, I tested to see just how fast the Eagle One Pro is. I got the scooter up to 43mph using the dual motor mode and PAS 3. And honestly, it was both exhilarating and terrifying. I think I could have gotten it up to 45mph if it wasn't for that tree branch.
Cruise control
The cruise control feature can be enabled in the P-settings menu. It automatically engages when you maintain a fixed speed for over 8 seconds. When engaged, it works great. But, for me, the problem was holding a set speed for 8 seconds. Especially if you aren't riding on a completely smooth surface. And the only indication that it's engaged is a small icon, which is hard to see on the dim display. Adding an audible sound or a more prominent icon would have made it more user-friendly.
Brakes
The Varla Eagle One Pro electric scooter is equipped with front and rear hydraulic disk brakes. These are significant upgrades over mechanical brakes. And quite honestly are necessary on a scooter with this much speed. The brakes do a great job of immediately stopping the scooter, even at speeds of over 30mph.
Battery Performance
Varla claims the Eagle One Pro's battery has a range of up to 45 miles on a single charge. However, nothing in the manual or their website explains the parameters used. In my experience, battery claims are usually just that; claims. There are so many different variables that can affect battery range. Things such as rider size, weather, and terrain, to name a few. In my testing, other than my size (5'10" and 185lbs), the variables were all over the place. The weather here in Michigan has been cold and wet since receiving the scooter, so my testing was spread out over several days. I've put 20 miles on the Eagle One Pro, and the battery is 52%. I rode it mainly using the dual-motor mode with an average speed of approximately 16mph. I also pushed the scooter to its limits while testing it, which I wouldn't normally do.
There are ways to conserve battery, like operating the scooter in single motor mode. IMO, dual-motor mode is only essential when riding up inclines or hilly areas. For me, the sweet spot is single-motor mode using PSA 2. This gives me plenty of power and speed without overly taxing the battery.
I was satisfied with the Eagle One Pro's battery performance overall.
What I like
Quick assembly
Well constructed
Easy to fold down steering bar
Dual shock absorbers
Large, durable tires
Dual hydraulic disk brakes
Powerful
Fun to ride
What I'd change
The screen is too dim, hard to see in direct sunlight
Needs a phone app
The thumb throttle is a little sensitive
Cruise control needs to be more user friendly
Final thoughts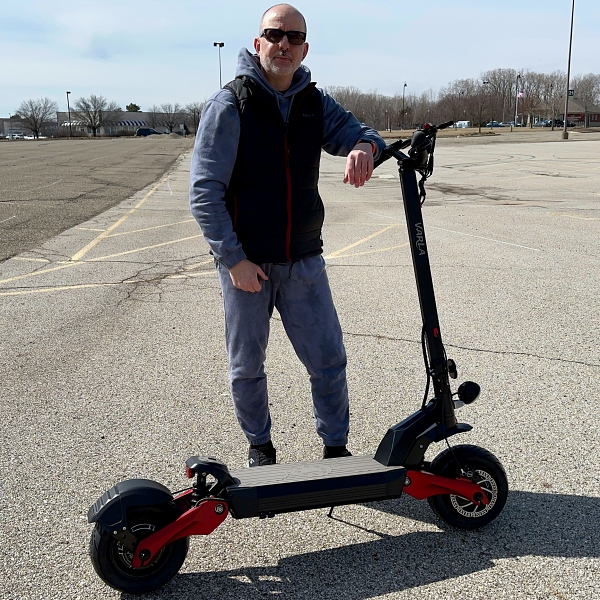 Overall, the Varla Eagle One Pro electric scooter checks many boxes regarding what I want in an E-scooter. It's well-built, powerful, fast(almost too much so), and an absolute blast to ride. It's not without issues, but none is big enough to be a deal breaker. So, I highly recommend the Eagle One Pro, whether you want to use it to commute or cruise around the neighborhood.
Price: $2099.00
Where to buy: Varla and Amazon 
Source: The sample for this review was provided by Varla.