We use affiliate links. If you buy something through the links on this page, we may earn a commission at no cost to you. Learn more.

REVIEW – The main level of my house gets chilly. It has a sunroom that's beautiful but not terribly insulating, and hard floors that get cold. My husband's office is in the adjoining living room, and he keeps a space heater under his desk just to make it bearable. When the TURBRO Inflame electric fireplace came up for review, I saw it potentially solving two problems: heating up the coldest part of our house and giving my decor a boost with a focal point that matches our modern-style home.
What is it?
The TURBRO Inflame electric fireplace (INF60W-3D) uses infrared quartz heating (1500W), which is more efficient than standard convection heaters. It operates via an app, touch-screen, remote control, Alexa or Google Assistant, featuring different sounds, colors and heat settings.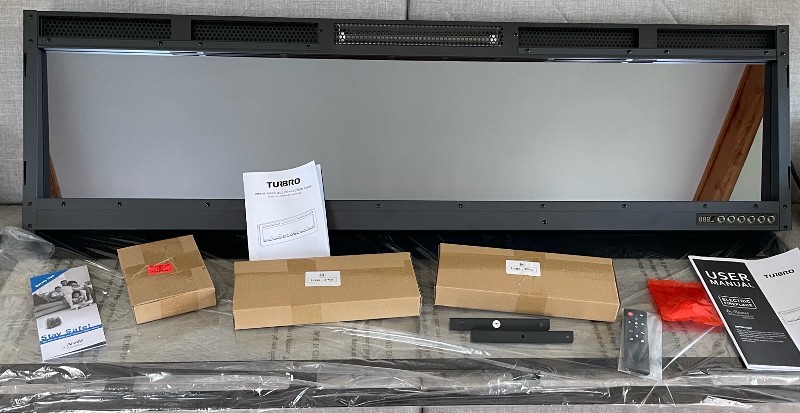 What's in the box?
TURBRO Inflame electric fireplace
Glass panel
Remote control
Ember bed strip
Mounting brackets and hardware
Acrylic crystals
Birch log
Hardware specs
Dimensions: 60"(L) x 18"(H) x 4.6"(D)
Weight: 47.6 lbs
Rated Power: 1500W
Thermostat: 60F – 99F
Noise level: ≤ 42 dB
Recommended use space: 400-1000 sq. ft.
Cord length: 5.9 ft
Works with Alexa: Yes
Works with Google Assistant: Yes
Supported wireless routers: Must have an available 2.4 GHz operating frequency
Standard: 802.11b/g/n bands
Supported systems: Android 4.4 or later / iOS 9.3 or later
Design and features
Setup
Before buying the TURBRO Inflame electric fireplace, make sure the dimensions, clearance, and power options match up to the space you'd like to put it in. You'll need a grounded 3-prong outlet or hard-wire connection, and the attached power cord is 5.9 feet long. The fireplace measures 60"(L) x 18"(H) x 4.6"(D). The fireplace should be at least 6 inches away from the floor and 8 inches from the mantel or ceiling bottom.
If you really like the TURBRO Inflame electric fireplace but are a little short on space, it may be worth considering the 50″ model.
The 60″ model we reviewed weighs 56.2 lbs and takes two people to install (we found it even easier with three people).
We were so excited when this arrived, we immediately installed the glass panel. Learn from our mistake! Wait to do this… or you'll have to redo it like we did.
Your first step should be to map out on the wall where you wanted it, which takes some effort, leveling, and math. Helpful hint: The math was easier using metric if you have a metric measuring device.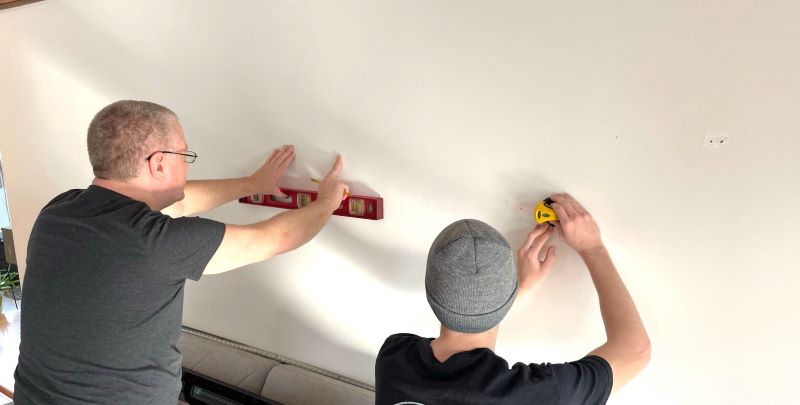 Then we fixed the mounting brackets at both sides with three small screws on each side. Using a 1/4 inch drill bit, we drilled holes and installed the large screws into the wall anchor (wall anchors are not required if installing directly to studs; it's recommended to install the mounting brackets into as least one stud).
Once you've installed the brackets and mounted the TURBRO Inflame electric fireplace to the wall, you need to insert the ember strip (after removing the paper/sticker) and then arrange the crystals and logs on the carbon bed strip.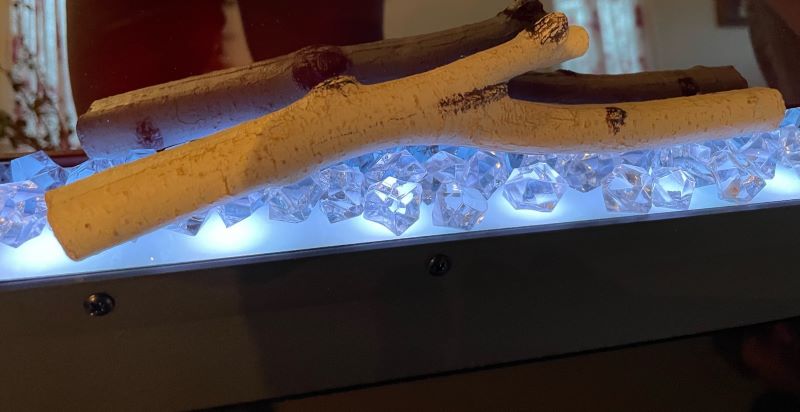 Then you carefully place the glass panel, ensuring the upper and lower hooks are lined up on both sides. Then you install two small screws to complete the installation.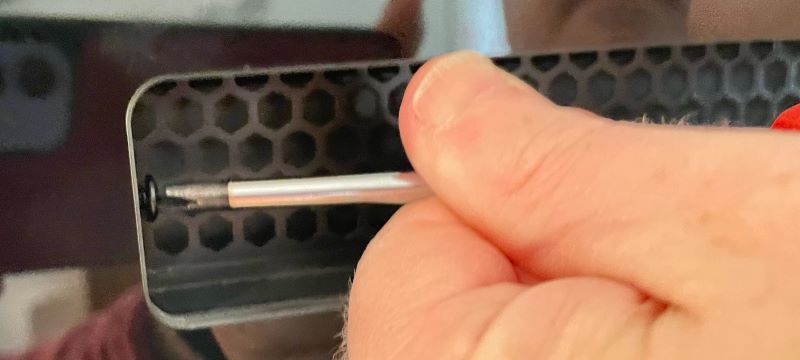 Performance
Once the TURBRO Inflame electric fireplace is installed (and plugged in) the fun part begins!
The little flame button lets you change the flame to 12 different colors.
The button that looks like two little logs lets you switch among 13 ember-bed colors for the strip along the bottom.
The little speed button lets you adjust the flame speed from one to five.
The plus or minus lets you adjust the brightness at five different levels.
The sound button lets you adjust the crackling to three levels or turn it off.
You can turn a child lock on or off.
You can turn the heater on or off, and adjust the temperature from 99 degrees F (37C) to 60 degrees F (16C).
You can also adjust a timer anywhere from 30 minutes to 12 hours.
Some people may find the cracking noise soothing. Maybe it's because my house is already loud enough with pets and teenagers, but I prefer the volume turned off completely.
The pink and orange flames are my favorite, but I was surprised at how much I also like the blue flames, especially for a more relaxed vibe at night. In fact, I found all of the color settings to be really beautiful. This is certainly a focal point of our home now, a statement piece.
You can find much of the same functionality from the remote control on the app. Mason tested the app (AIRIA) and really liked the interface.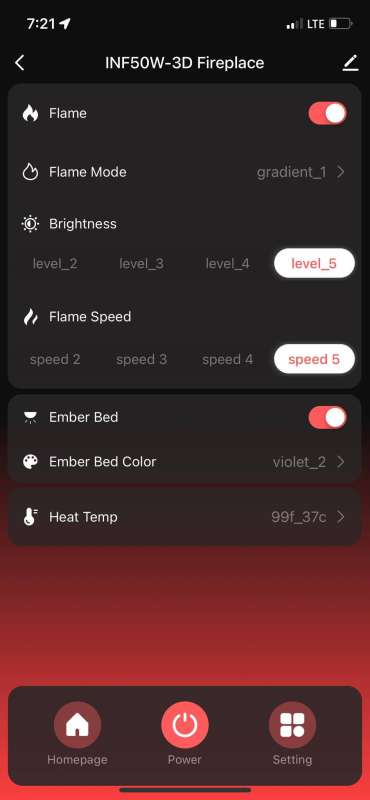 One benefit to having the app would be if you leave the house and accidentally left your fireplace on, you could turn it off remotely. Or, when you're heading home on a cold evening, you could turn on the heater to make your home nice and toasty when you arrive.
As for functionality, the heating system works great. I was a bit skeptical when it said it could heat from 400 to 1,000 square feet, but our tests confirm that it's accurate. In fact, we confidentially got rid of the space heater.
The TURBRO Inflame electric fireplace looks really sharp. And works well. My only complaint is very minor, and that is to have a white cord instead of a black one so that it's less noticeable running down your wall.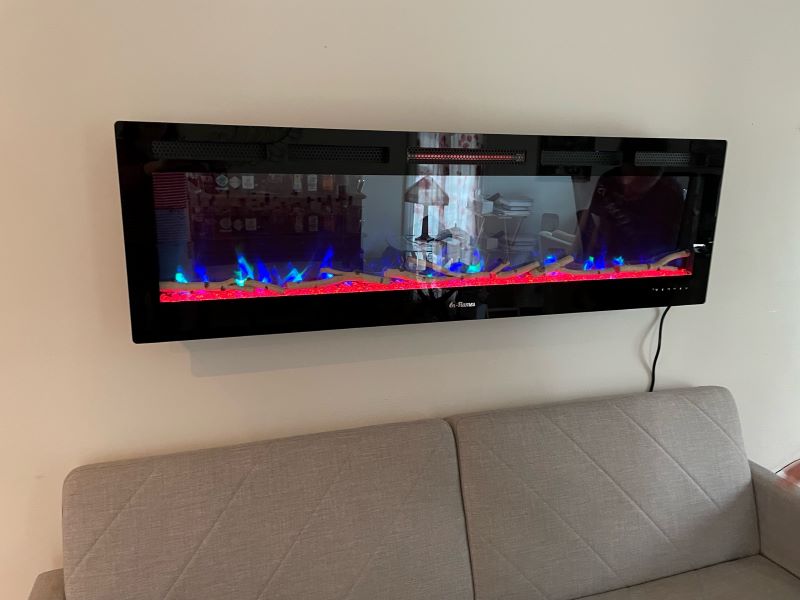 See it in action
What I like
Heats well
Looks beautiful
Fun to play with
What I'd change
White cord instead of black
Final thoughts
The TURBRO Inflame electric fireplace did everything I hoped it would: heated my home and looks amazing!
Price: $469.99 for the 60″ model;  $409.99 for the 50″ model
Where to buy: TURBRO and Amazon
Source: The sample of this product was provided by Turbro.