We use affiliate links. If you buy something through the links on this page, we may earn a commission at no cost to you. Learn more.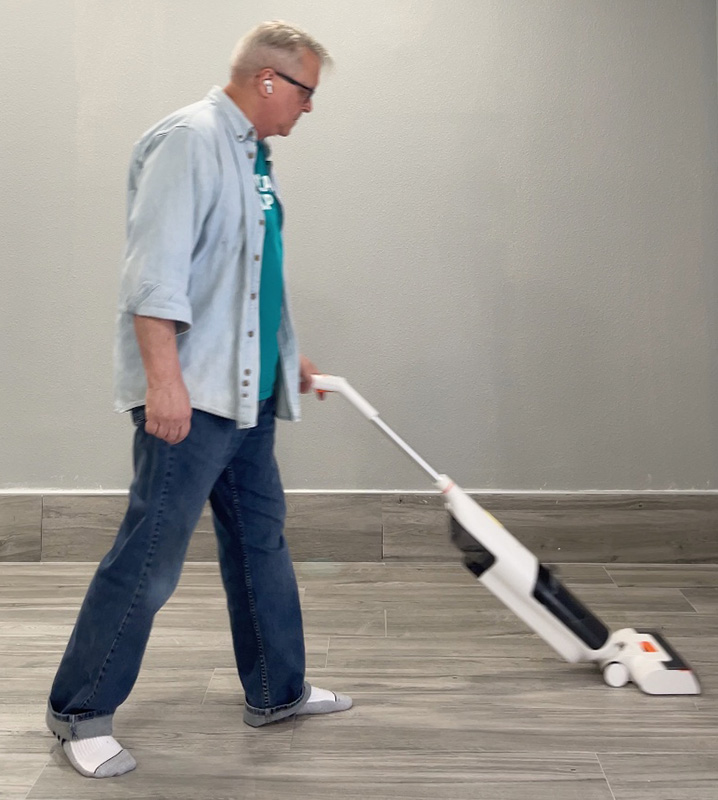 REVIEW – There are now enough wet/dry vacuum cleaners available today that you can decide which one to choose based solely on how it will be used. Case in point: The iLife W90 Cordless Wet Dry Vacuum Cleaner and Mop. This handy wet/dry vacuum suits apartments or smaller homes best.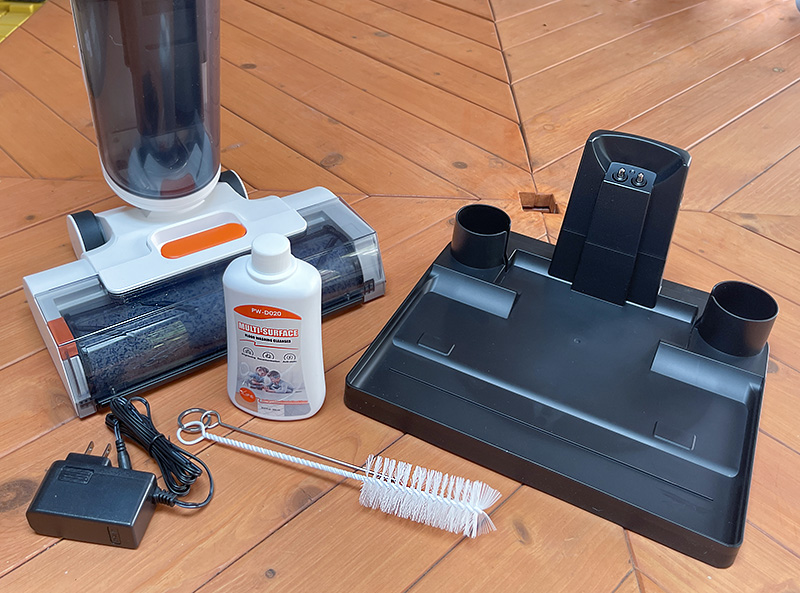 What is it?
The iLife W90 Cordless Wet Dry Vacuum Cleaner and Mop is what it says. It will vacuum up messes on hard floors—tile, wood, laminate, or marble. It is self-cleaning (more on that later), cordless, and uses voice prompts indicating various functions/warnings.
The W90 uses two tanks—3-cup clean water and a 2-cup dirty water tank. The W90 uses a single roller rather than two opposing rollers as many other wet/dry mops use. Battery life is rated at 30 minutes run time before recharging. Charging is done through a stand that also allows self-cleaning of the roller.
Along with the on/off switch, the W90 has a separate physical trigger pressed to dispense water, so the user can determine how much or little water is used to clean up messes or for routine cleaning.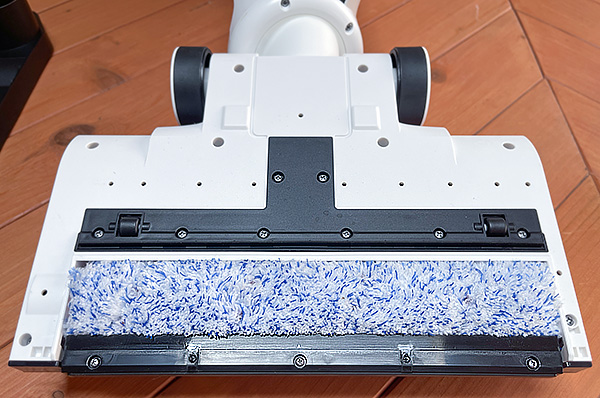 Hardware specs
3-cup clean water tank
2-cup dirty water tank
6000Pa suction
30-minute runtime
Voice and light bar prompts
Self-cleaning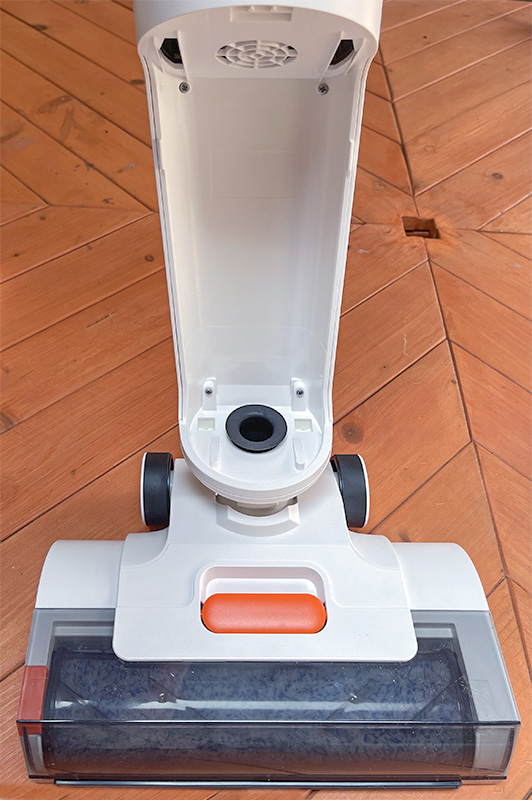 Design and features
After using both the Roborock Dyad (it broke after one year) and the Tineco iFlow 3 (purchased at Costco), I was pleasantly surprised at how easy it was to maneuver the W90 through our home. The trigger water dispenser did take some getting used to. The other wet/dry mops automatically dispense water while vacuuming. With the W90, I had total control over how much water was used. I'm not convinced that's a good thing, because it was easy to use too much water. Our tile floors can handle this, but I am hesitant to recommend the W90 for laminate or hardwood floors that can be damaged by becoming too wet.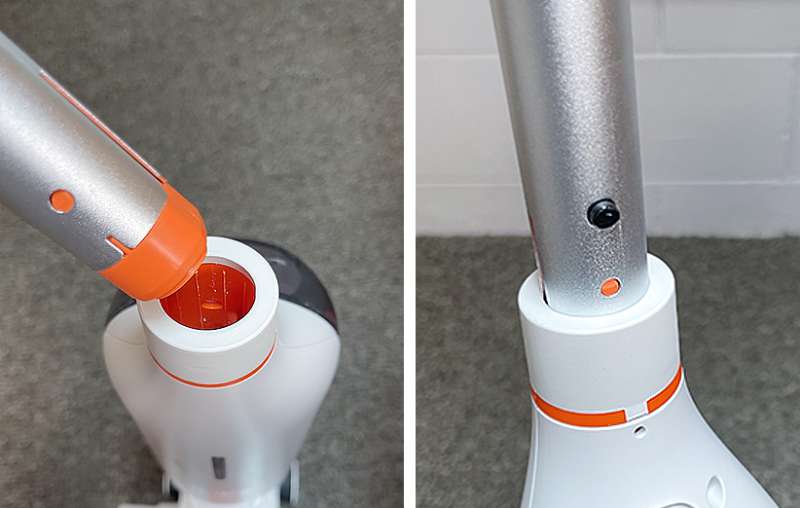 Unboxing and setting up the W90 was super simple. After inserting the handle, the W90 was ready to clean the floors—after fully charging the battery, of course. The battery is not removable, so you are locked into appx. 30 minutes of use. This is an issue for our semi-large house. However, after this review, I plan to keep it in my studio building once it's ready after a hurricane flood last year. The W90 is perfectly sized for that.
Using the W90 was easy and drama free. I say drama free because as good as the (now deceased) Roborock Dyad was, it only lasted one year and could be temperamental. 
I appreciate how the W90 is lightweight and easy to use around furniture and legs. Plus, the head is narrow enough to fit in tighter areas that our Tineco cannot reach.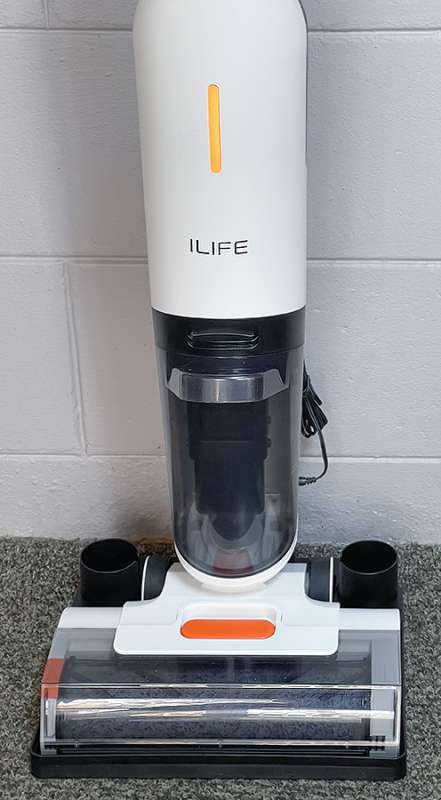 The included stand is useful for both charging and providing a base for the W90's self-cleaning mode. The W90 will even stand upright by itself—something the Roborock would not do. Charging is indicated by a "light bar" at the front of the unit. Red is for low battery; Orange means the W90 is either becoming low on power or charging. Green is fully charged.
Noise is not much of an issue. Since the W90 only has one speed, the noise is the same throughout its cleaning mode. Power also remains at full until the battery is drained. Suction does not rival a regular stick vacuum—I never expected it to. I wouldn't recommend using a wet/dry vacuum in place of a dedicated vacuum.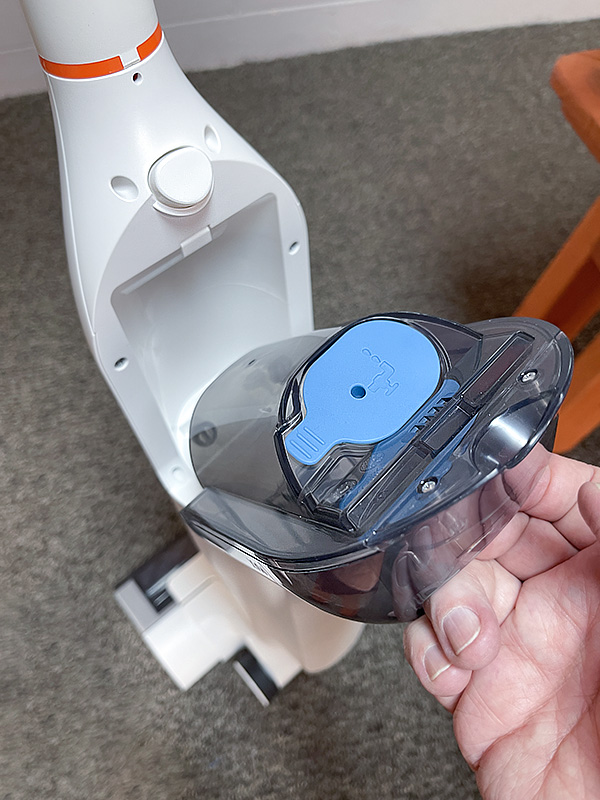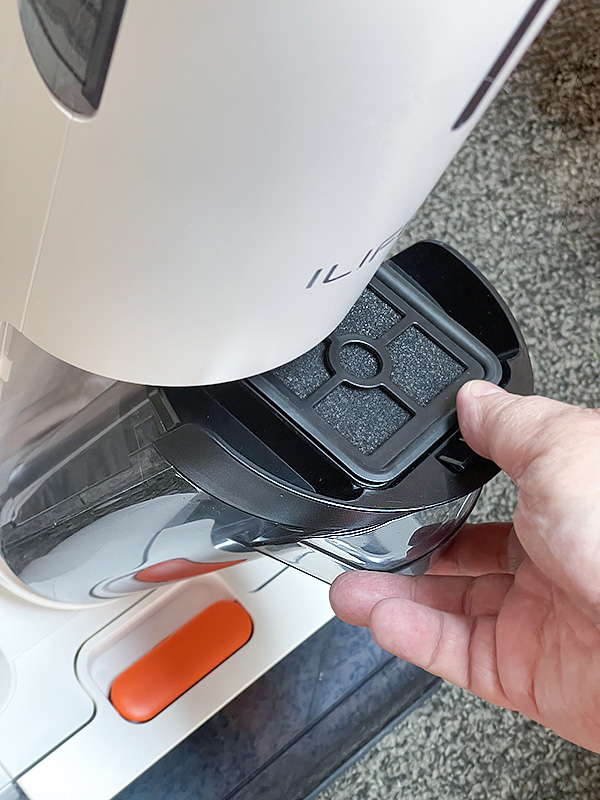 Both tanks are clear and easy to see water levels. If you don't pay attention to the tanks, the W90 will give you a (loud) voice prompt. I wish there was a way to either lower the volume or turn off the prompts altogether. At least there are no beeps to learn.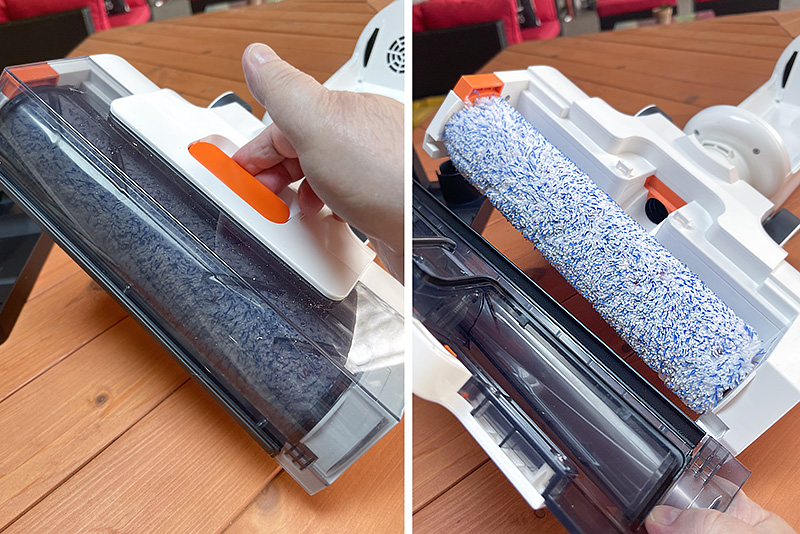 The W90 has a single roller. That was a surprise because I'm used to dual rollers. I still think dual rollers are a better solution—but again, if you live in a small house or apartment, it's not that important. Like most wet/dry vacuums, the W90 is self-cleaning in its stand after each use. Here's a dirty (pun intended) little secret about self-cleaning mops: It's still a good idea to manually clean the rollers and head unit after each use. Gross, I know but if you rely solely on self-cleaning, it will be much more gross later. The dirty water tank comes apart for easy cleaning and drying.
iLife has included a brush tool for cleaning inside the head unit. Both the roller and filter are removable and washable. The stand included places for both parts to dry. Unfortunately, iLife does not include an extra roller or filter in the box—both are often included with other wet/dry vacuums.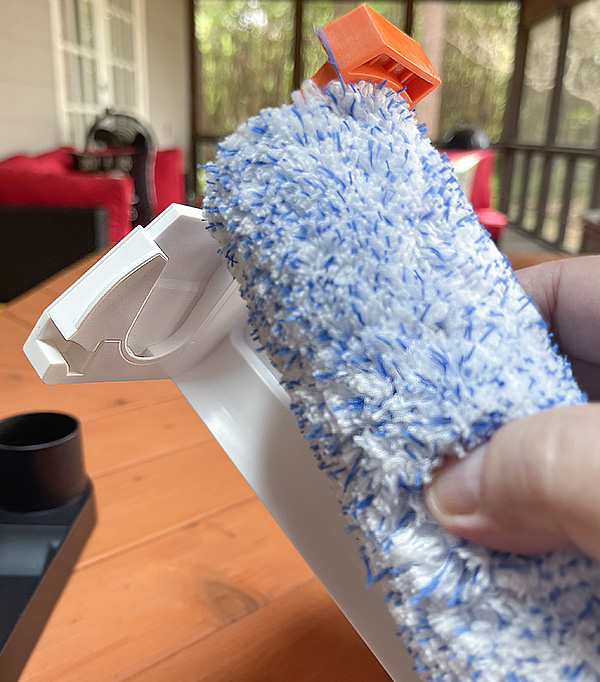 What I like
Easy to maneuver
Lightweight
Easy to clean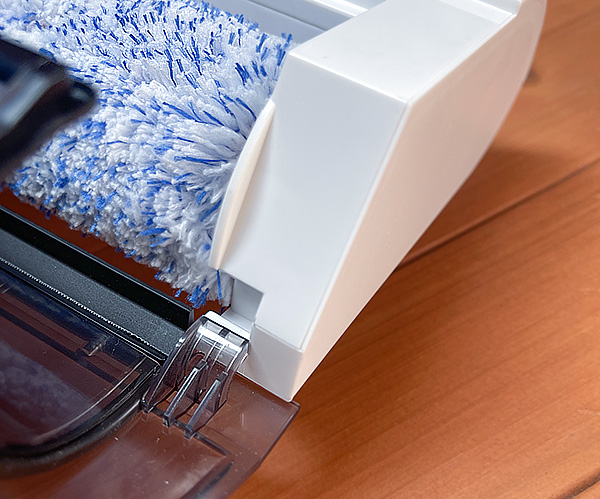 What I'd change
Removable battery
Extra rollers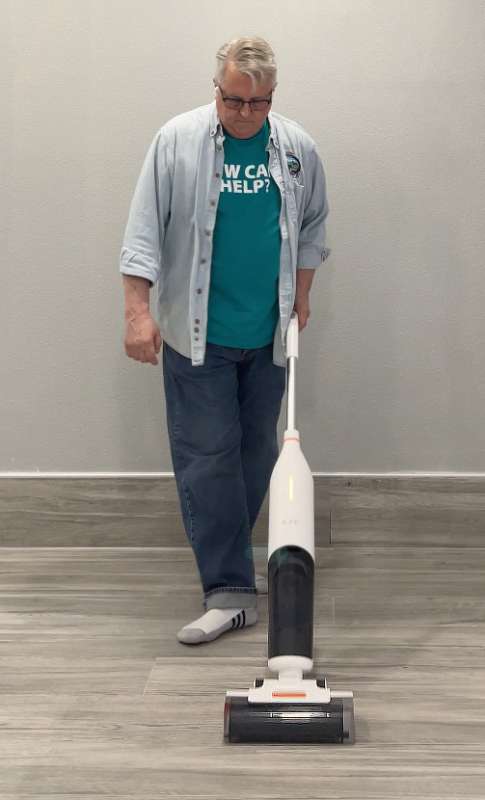 Final thoughts
The iLife W90 Cordless Wet Dry Vacuum Cleaner and Mop is not cheap at $250. However, it is priced fairly for what it does. I would think about the iLife W100 as an alternative. The W100 has two cleaning modes and an LED screen that provides all the information you need without relying on voice prompts. And it is only $50 more expensive. Note that the W90 is often on sale.
Price: $249.99 US.
Where to buy: Amazon
Source: The sample of this product was provided by iLife.