We use affiliate links. If you buy something through the links on this page, we may earn a commission at no cost to you. Learn more.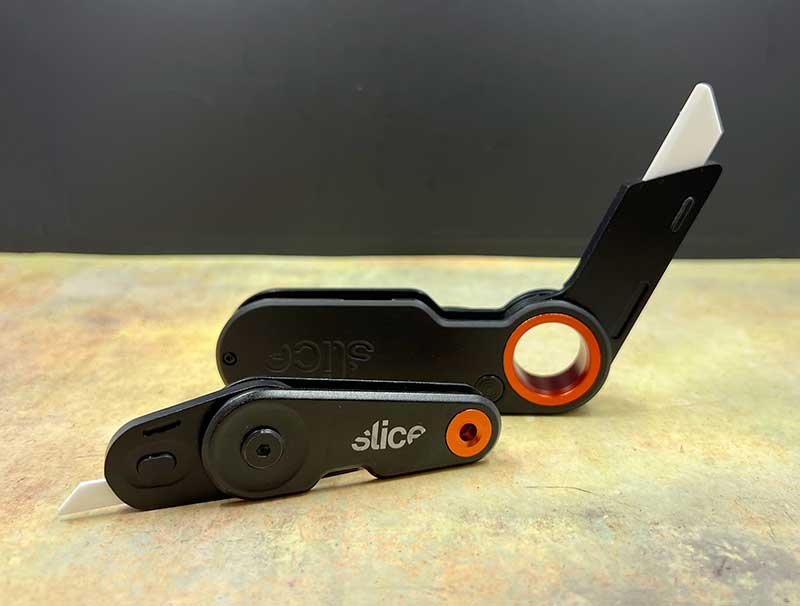 REVIEW – As you can probably imagine, a lot of packages get delivered to Gadgeteer HQ (aka my house). That means I need to open those packages which requires a knife. I have a handy dandy utility knife that works great, but is there a better/safer alternative to an ultra-sharp box cutter? Slice offered to send me two of their folding utility knives which they claim are finger-friendly. Let's take a closer look.
What is it?
Slice folding utility knives are heavy-duty cutters that use ceramic blades instead of stainless steel blades.
Slice sent me two of their folding utility knives. I'll talk about each one individually even though they are pretty much the same thing, just different sizes.
What's in the box?
Slice Folding Utility Knife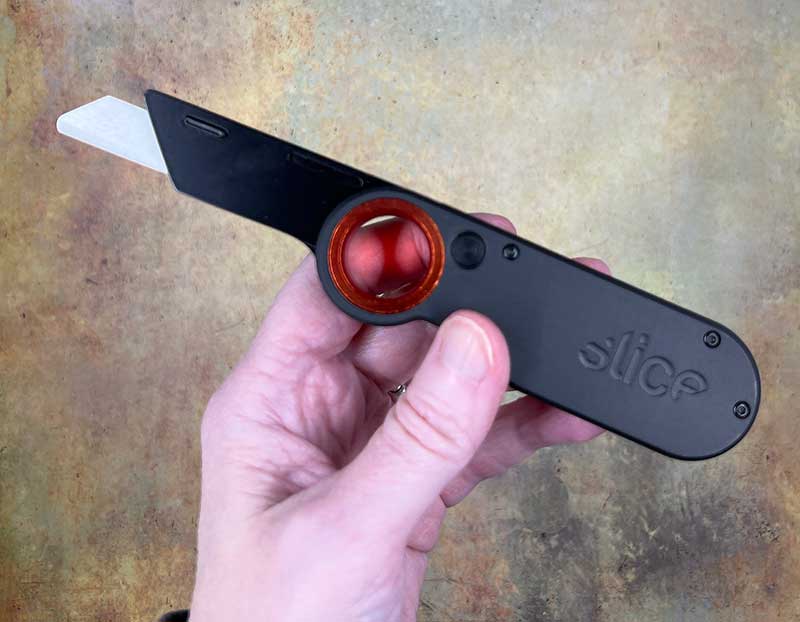 Slice Folding Utility Knife
Design and features of the Slice Folding Utility Knife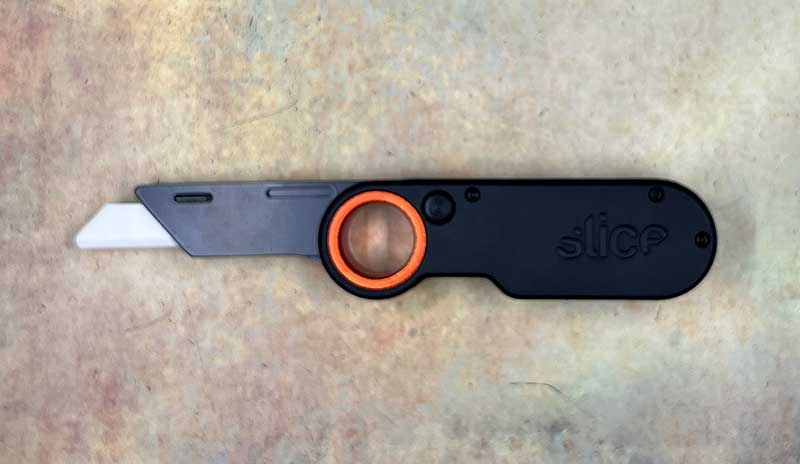 The Slice Folding Utility Knife is the larger of the two knives that Slice sent to me to review. This one is a little over 7 inches long when fully opened. It's also pretty hefty for a utility knife at 0.44 lb.
The knife has a large handle with a hole for your finger that is supposed to provide more grip.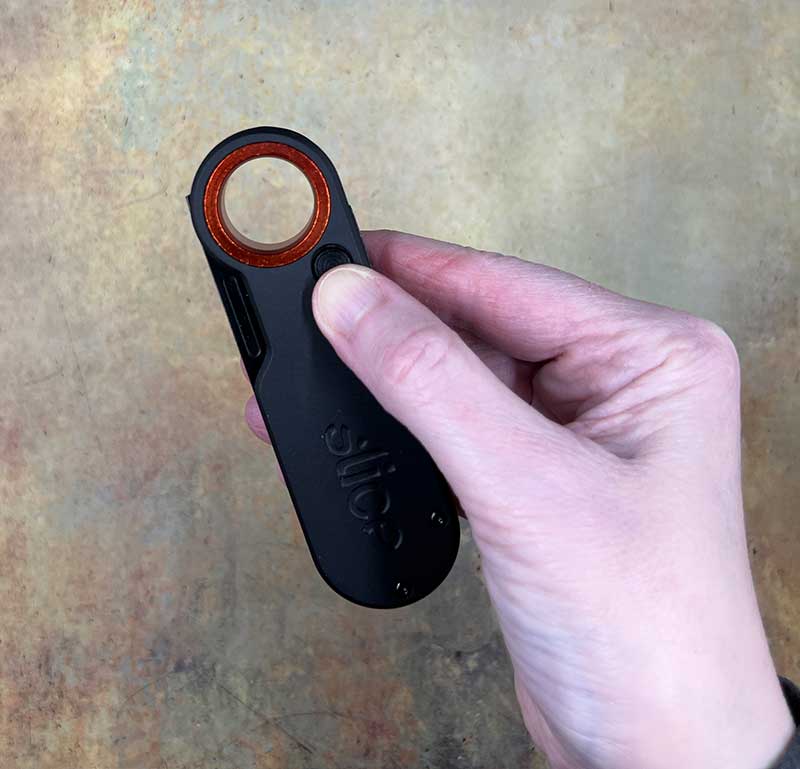 When the knife is closed, it can fit in your pocket, but you're definitely going to notice it due to the weight.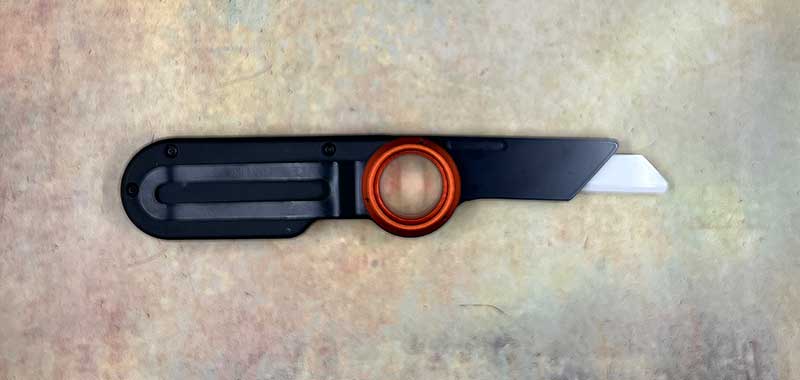 Thankfully, Slice put a large metal clip on one side of the Folding Utility Knife, so you can clip it to your belt or pocket.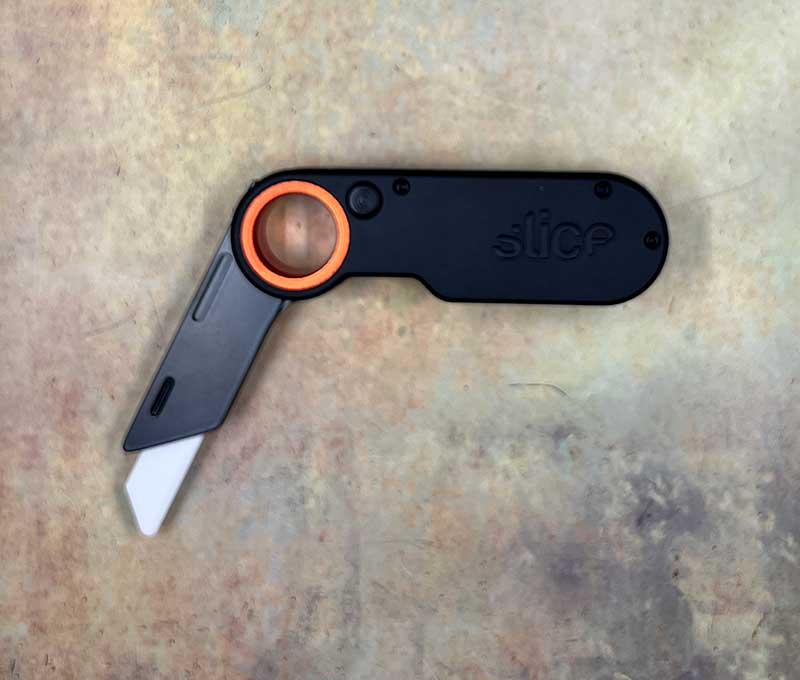 The Slice Folding Utility Knife has a locking mechanism to keep the blade secured when it's not being used and also when it is being used. However, there's a weird "feature" that allows the knife to lock in the position that you see above. I find this to be pretty strange and annoying. Every time I want to open the knife to break down some boxes, I have to remember to keep the locking button depressed until I fully unfold the blade. Otherwise, it locks in place halfway opened. The same thing applies when closing the blade.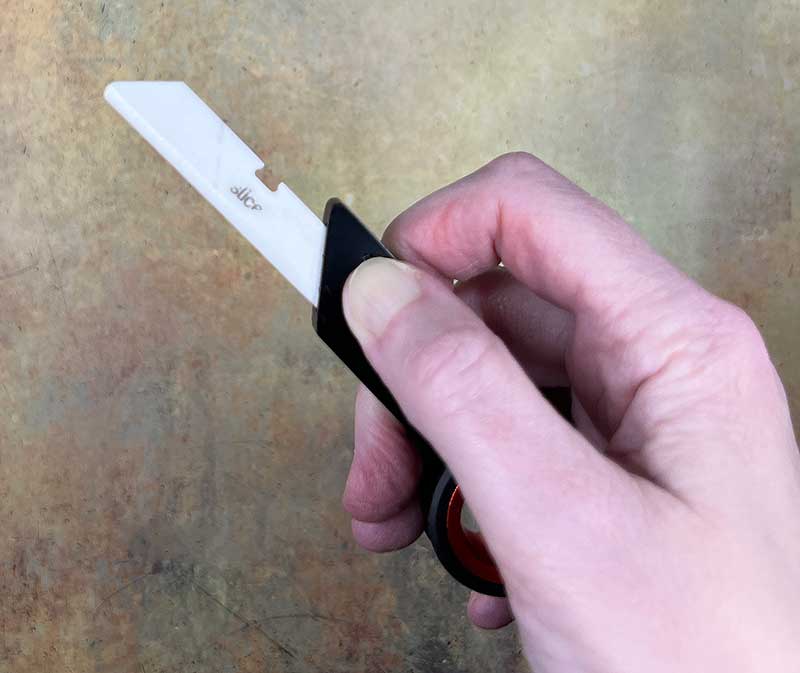 What makes the Slice knives special is their 100% zirconium oxide blades that are sharp enough to slice through cardboard, plastic, tape, vinyl, and more and are supposed to last over 11x longer than traditional metal blades.
Replacing the blades is easy as there's a small release button near the blade that you can press to then pull out the used blade.  Note that the blades have two ends, so you can flip them around for more use before needing a new one.
What's in the box?
Slice EDC Folding Knife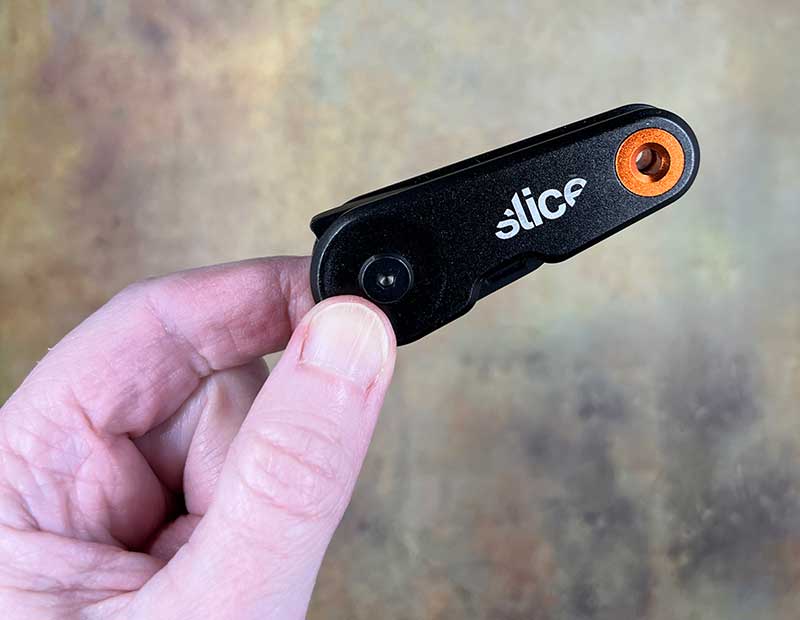 Design and features of the Slice EDC Folding Knife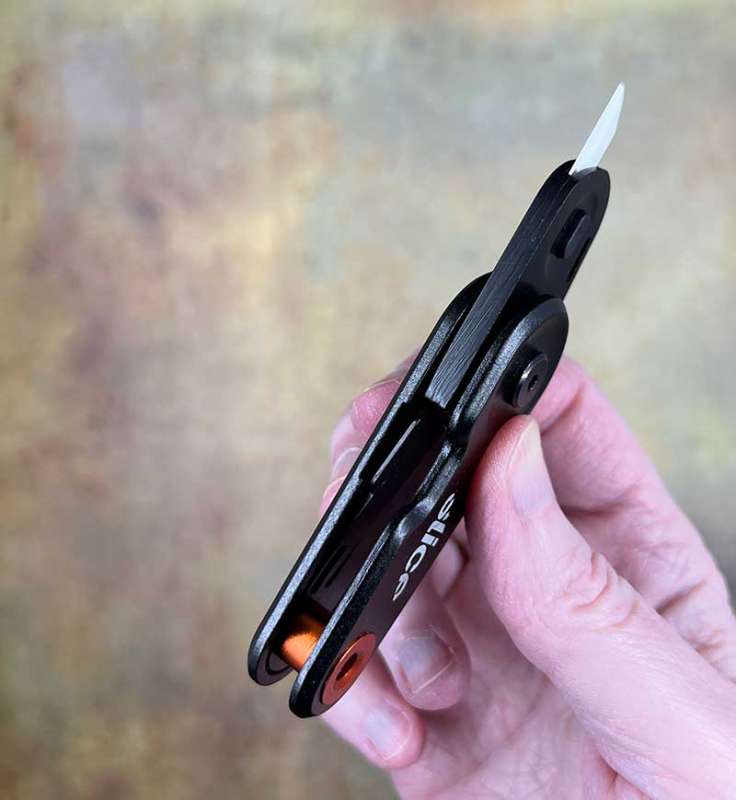 The Slice EDC Folding Knife is considerably smaller and lighter than the Slice Folding Utility Knife. At 3.94 in when unfolded at 0.17 lb, it's more pocket friendly which is good because this one does not have a pocket clip.
It also doesn't have a locking button that secures the blade in place when it's not in use and is in use. Instead, there's a liner lock that secures the blade while it's deployed.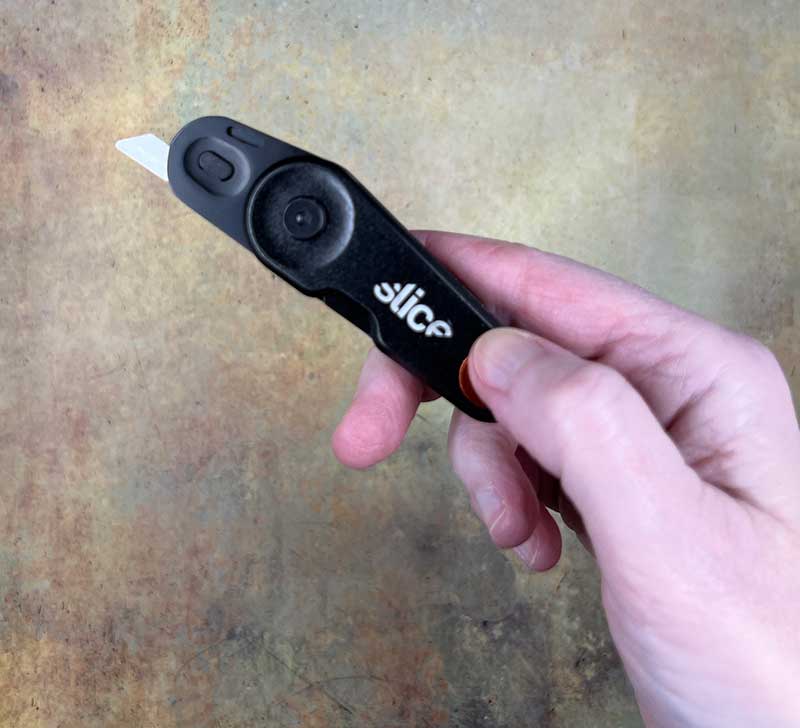 The Slice EDC Folding Knife uses smaller blades compared to the Folding Utility Knife.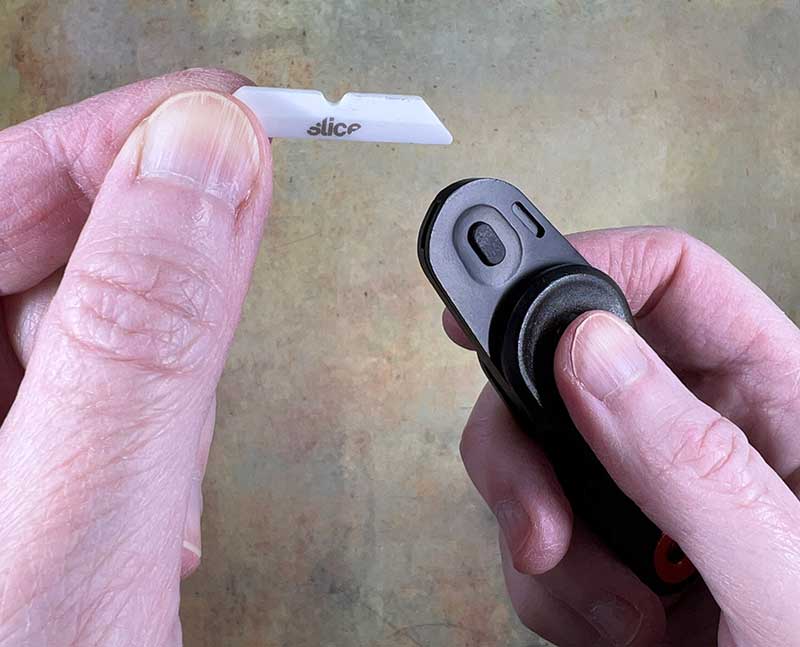 But just like its larger sibling, the Slice EDC Folding Knife features no-tool blade replacement.
If you are paying attention to the images, you'll notice that both knives come with blades that aren't pointed at the tips. Slice sells replacement blades with and without pointed tips. This seems like another safety measure, which is fine, but I soon realized that traditional box cutters and utility knives have pointed blades for a reason…
Ok, that's enough about what the Slice knives look like, let's go cut some stuff!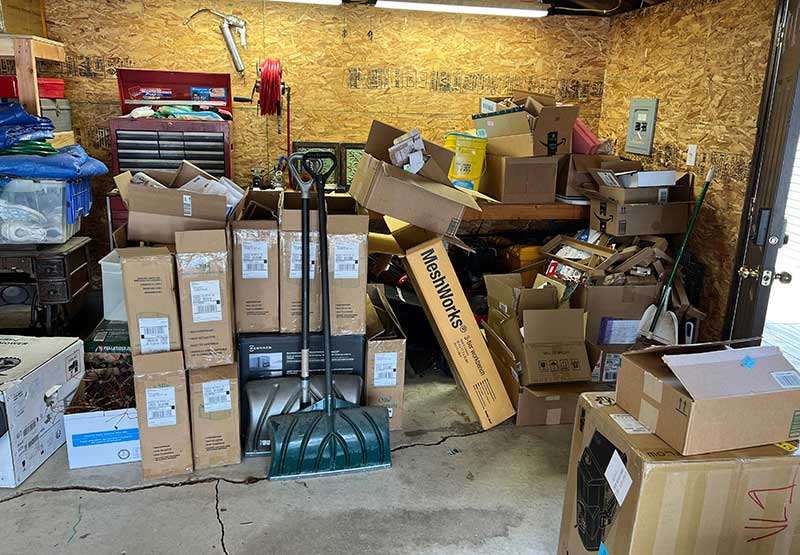 And boy do I have a lot of stuff to cut! Boxes, boxes, and even more boxes! As you will notice, Jeanne and I let our recyclables get way out of hand. Usually, we like to take recyclables every other weekend, but it's been over a month since we cleaned out the garage due to the weather and having other weekend plans. As you can see, the cardboard has piled up due to a big garden project that Jeanne has in the works and my usual review sample packaging. All of these boxes need to be broken down, which was the perfect real-world test for me to see how well the Slice utility knives work compared to traditional box cutters/utility knives. I gave one Slice utility knife to Jeanne and one to me and we got busy…
See it in action
The clip above was me cutting down one box using the Slice Folding Utility Knife. Very quickly into the process, I missed my standard box cutter and so did Jeanne. The Slice utility knives work fine for slicing through tape, but for actually cutting down boxes like you see me do in the short video above, Slice knives don't compare to using a regular utility knife.
I'm not saying that the Slice knives won't cut through thick cardboard, because they will. But it takes more effort and more time. Both of which I have little patience for. In the end, Jeanne switched over to a generic box cutter just a few minutes into the task and I stuck with the Slice utility knife for a half hour before my hand got fatigued from the extra effort and then I also switched to using a regular utility knife. One big reason was the rounded tip blades make it really hard to stab and slice through thick cardboard compared to pointed tip blades.
What I like
Rugged construction
No-tool blade replacement
Blades are sharp without being dangerously sharp
Blades designed to last longer than standard metal utility blades
What I'd change
Make the knives lighter weight
Include an extra blade with each purchase
Include blades with pointed tips
Final thoughts
I have mixed feelings about the Slice utility knives. Yes, the blades aren't as sharp as standard utility blades, so they could be considered safer in that regard. But, I think if you are trying to use them to cut through thick cardboard and accidentally slipped and got your hand in the way, it's still possible to be injured by the blades.
The Slice knives are well constructed, I have no complaints there. And according to Slice, the blades should last longer than standard utility blades, but unless you're ONLY going to use them to slice through tape, I will reach for a regular utility knife or box cutter when I have a lot of cardboard to break down. I've actually never cut myself (knock on wood) with a box cutter, so I rather use a sharper knife to make a chore easier instead of using a so-called safer knife to make the task harder and longer IMHO.
Price: $29.99 – $39.99
Where to buy: Slice and Amazon
Source: The sample for this review was provided by Slice.