We use affiliate links. If you buy something through the links on this page, we may earn a commission at no cost to you. Learn more.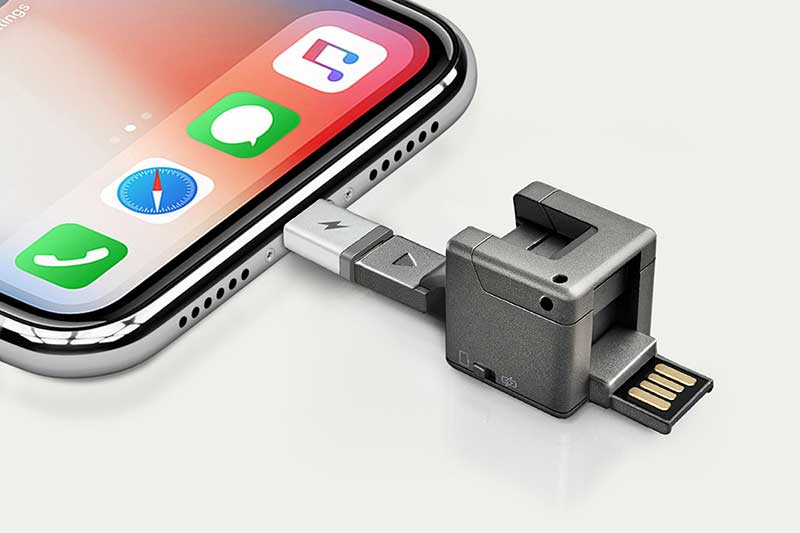 NEWS – TL;DR: Combine a whole bunch of gadgets into one with the WonderCube Pro, which features lightning, USB-C, and MicroUSB connectors, as well as a microSD card reader, flashlight, and more — all for just $39.95.
For everyday-carry gadget fans, one is never enough. In fact, the philosophy of the true tech nerd is often the more cool time-saving, efficiency-improving, life-enhancing devices, the better. Of course, that leads to an inevitable problem — with pockets bulging with devices, tangled cables and more, how the heck are you going to carry around all that cool stuff?
Consolidation is key. The WonderCube Pro is all about helping the EDC addict clean out their lives, an ultra-resourceful device that deftly handles more than a half-dozen different smartphone-related tasks in a tidy cubic inch of space.
The device Forbes called "clean, minimalist and timeless," the WonderCube Pro clips easily to any keyring or travel bag for supreme on-the-go preparedness.
The one-inch cube folds out to reveal a host of different connection options, including Apple Lightning, USB-C, and MicroUSB connectors. The USB outlet even features gold-plated connectors to ensure the fastest possible charging for any Apple or Android phone.
If you don't have a power source, you can even attach a 9-volt battery to the WonderCube to supply a solid 2 to 3 hours of phone talk time during an emergency.
When your phone's storage starts to tap out, the WonderCube features a built-in microSD card reader to support up to 128GB of flash memory. Meanwhile, the device can also be configured to serve as a phone stand, using micro-suction cups to easily secure it to a phone back panel.
The WonderCube is even rocking a nifty LED flashlight to help cut through the darkness when you're in a pinch.
Regularly $70, the WonderCube Pro is on sale now at over 40% off, just $39.95.
Prices subject to change.