We use affiliate links. If you buy something through the links on this page, we may earn a commission at no cost to you. Learn more.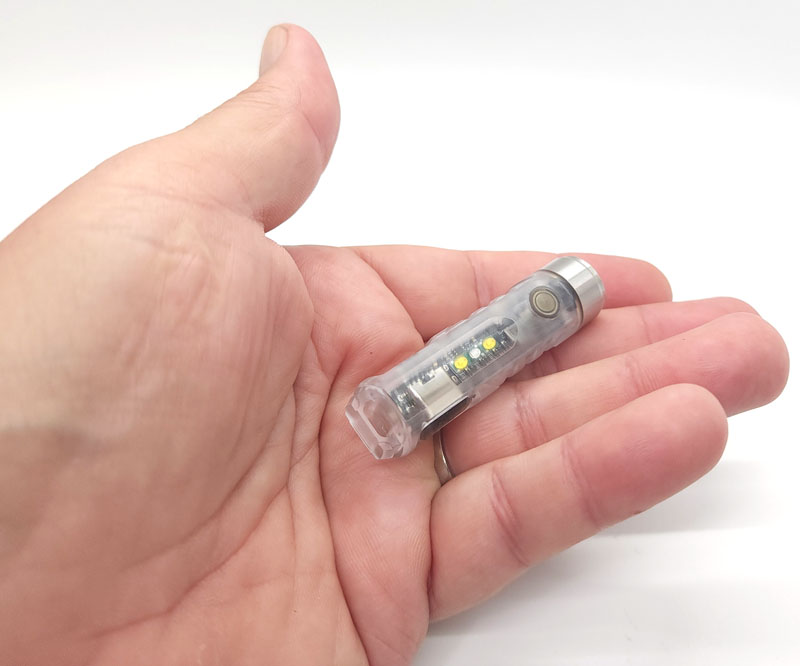 REVIEW – How do you create a perfect EDC flashlight?  The list of items I would want include a decently bright main light, several other intensity levels, small size, light weight, and durability.  If we could throw in rechargeability rather than needing batteries and good battery life, that would be a big plus.  And, besides being a traditional flashlight, if it could also double as a wide-angle task light, that would be great.  Well, the new Aurora A8 EDC flashlight from RovyVon has all those things plus a UV light as a bonus.  Is it the perfect EDC flashlight?  Let's see!
What is it?
The RovyVon Aurora A8 is an everyday carry (EDC) flashlight.  It has a main light as well as a sidelight and offers multiple lighting intensities, two color temperatures, and UV lighting in a small UCB-C rechargeable, IPX6 waterproof package.
What's in the box?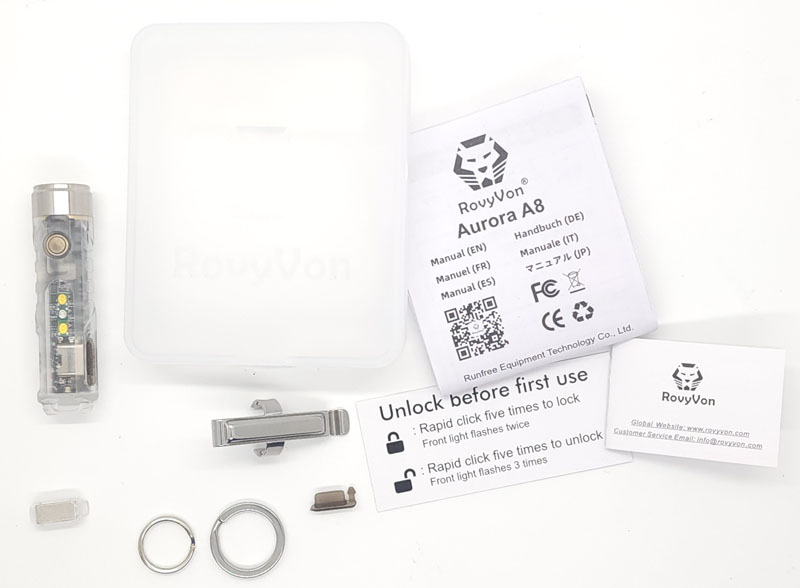 RovyVon Aurora A8 flashlight
EDC Organizer box  – this was also the packaging
Magnetic pocket clip
Magnetic tail base
Keyring (two different sizes)
Extra USB-C port cover
User manual
Warranty card
Lock/unlock instructions card
Hardware specs
Material: Polycarbonate (body), stainless steel (bezel)

Dimensions: 60.5mm (length) x 15.6mm (diameter)

Weight: 17.6g
Battery capacity: 330mAh lithium polymer
Charging: USB-C, 5V/0.35A, 1 hour
Operating modes:

Main momentary (high-only)
Main on (four intensities)
Sidelight on (two intensities)
Sidelight flash
Sidelight ultraviolet

Main light: SST-20 LED, 6500K cool white – moonlight 0.5lm, low 25lm, medium 200lm; high 650lm
Sidelight: 4000K warm white – low 0.1lm, high 20lm, flash 20lm; 365nm ultraviolet
Indicator LEDs: LED #1 – low battery: red; LED #2 – charging, breathing blue; charged, green
Water resistance: IPX6 – able to withstand powerful jets of water for at least 3 minutes
Impact resistance: 1.5m
Runtimes:

Main high 650lm: 1 minute + 1.5 hours (stepped down to 80lm)
Main medium 200lm: 1 minute + 2 hours (stepped down to 80lm)
Main low 25lm: 8 hours
Main moonlight 1lm: 72 hours
Sidelight low 1lm: 12 hours
Sidelight high 20lm: 3 hours
Sidelight UV: 100 minutes
Design and features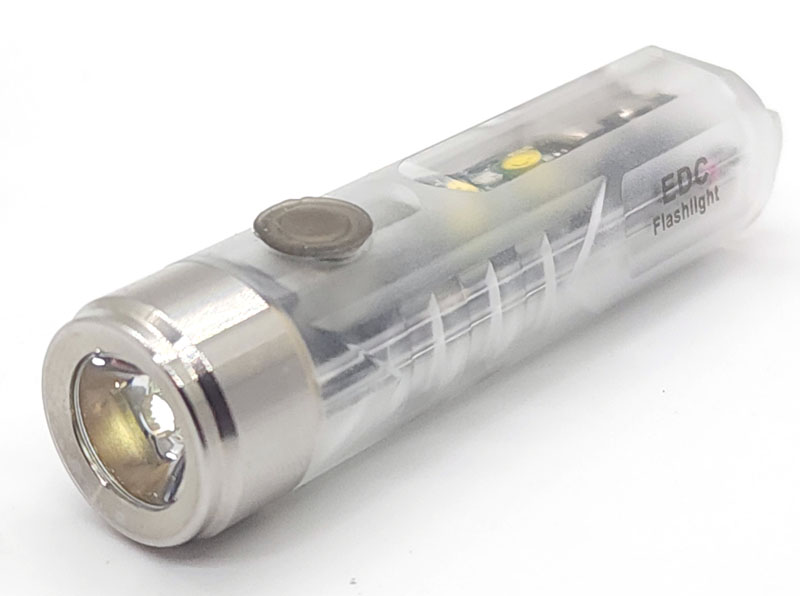 The RovyVon Aurora A8 (A8 for short) has a body made of translucent polycarbonate, giving it a neat, high-tech look.  The single push button is located on the top of the body near the stainless steel bezel.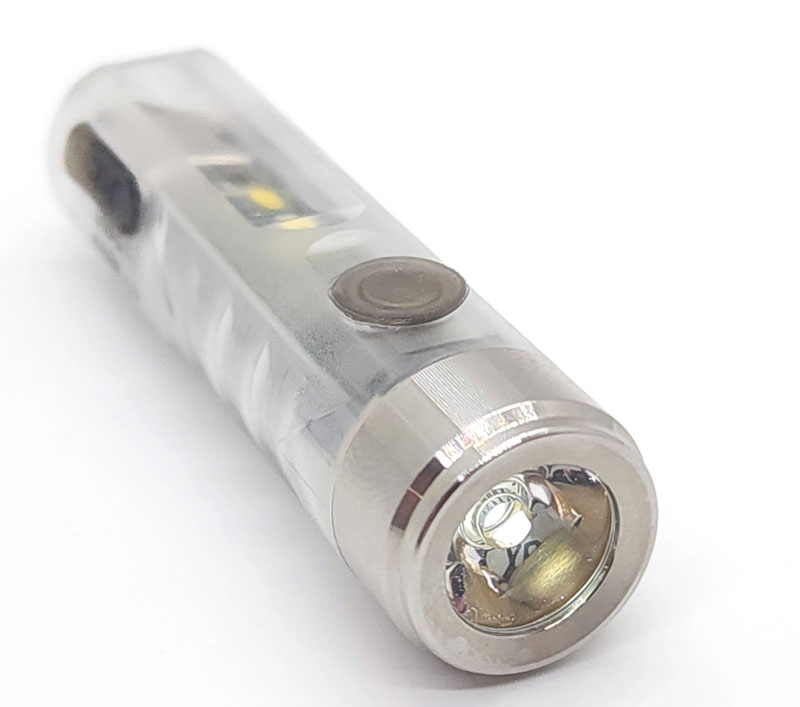 The single SST-20 LED sits in the middle of a polished reflector.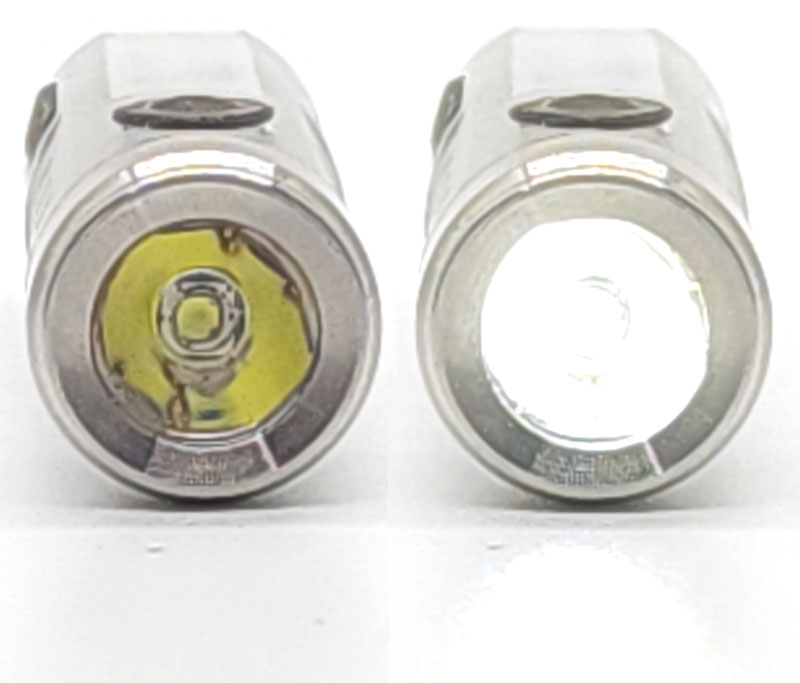 The USB-C charging port sits on the right side of the body.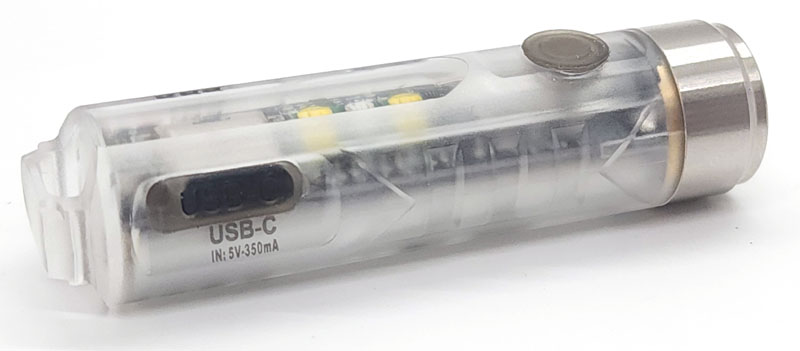 The rubber cover pulls out easily.  RovyVon thoughtfully included a second cover in case this one wears out.

The rear of the RovyVon Aurora A8 flashlight has a tab where one of the two included keyrings can be installed.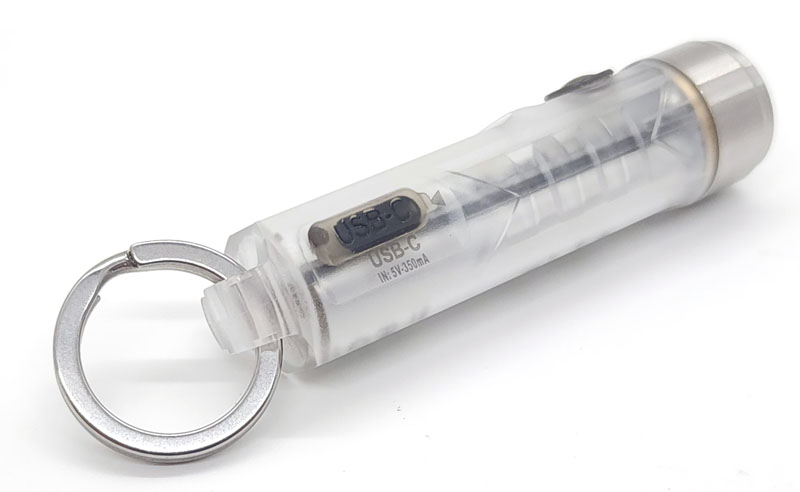 RovyVon also includes a snap-on magnet that clips over the rear end. You can see in installed on the left.

The agent is strong enough to hold the light securely from an overhead magnetic surface. The RovyVon Aurora A8 flashlight is so light that the small magnet will also hold it horizontally.  I didn't install the pocket clip.  The magnet on the clip is much stronger.
The bottom of the case is printed with the usual logos and warnings.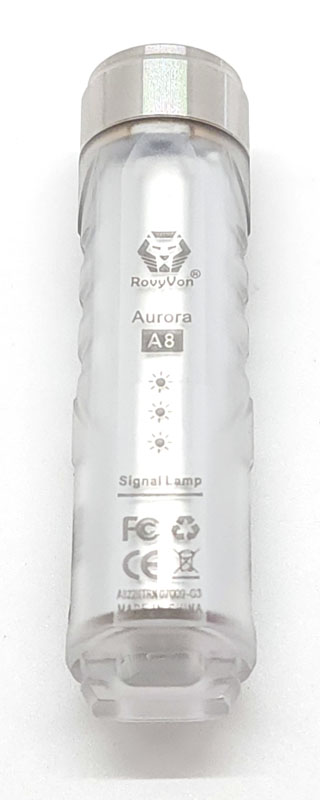 When charging, a status LED lights "breathing" blue – meaning a slow fade-up/fade-down flash.  The LED glows green when the light completes charging.  If you try to turn the light on when the battery is below acceptable voltage, the LED lights red.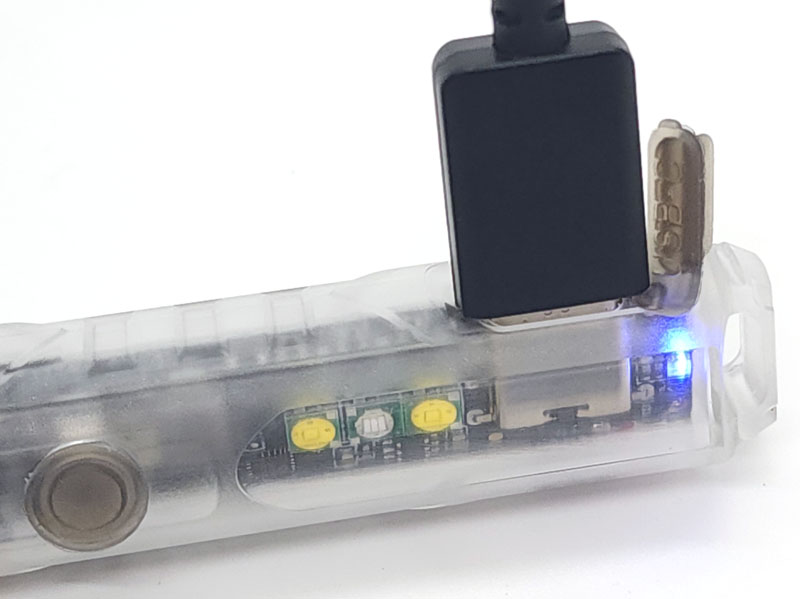 I did try charging with both a USB-A to USB-C cable and a USB-C to USB-C cable.  Both charged the light perfectly.  That three-LED circuit board you can see in the photo above is the sidelight.  This can provide two levels of diffused, wide, warm-white light as well as ultraviolet (UV) light.  The 365nm wavelength is generally considered to be the generic blacklight wavelength. UV light can be used to help identify legitimate currency and find "eww" things like bodily fluids or fingerprint residue, and make fluorescent things glow.  Groovy, man.
Setup
The setup involves charging the RovyVon Aurora A8 flashlight until the indicator LED turns green.  The other step is to unlock the light.  It ships in a locked mode so the light cannot be accidentally turned on. Five quick presses of the button unlocks the light and flashes the main light three times to confirm.  When unlocked, five more quick presses of the button locks the light and flashes the main light twice to confirm.
Performance
Before we get into the performance, let's go over how this thing works.  Remember, it has a main light with four intensity levels, a sidelight with two intensity levels and flashing, and a UV mode, also on the sidelight.  All of this is operated with a single push button.
Lock/unlock
Lock: with the light switched off, rapidly click 5 times, and the front light blinks twice
Unlock: with the light switched off, rapidly click 5 times when the light is locked, and the front light blinks 3 times
Primary Light
Momentary on: with the light switched off, press and hold for High mode, and release to turn off
Constant on: rapidly double click to turn on from the memorized mode – to memorize a mode, turn on that mode and leave it on for three minutes – this part is cumbersome

click to cycle through Moon-Low-Med-High modes
press for 0.5s to turn off
Sidelight
White: rapidly triple click to turn on from Low mode,

click to cycle through Low-High-Flash
Turn off: press for 0.5s

UV: rapidly click five times to turn on, then click or press for 0.5s to turn off
To quickly summarize:
Hold while off gets you momentary high mode
Two clicks to turn on the main light and single clicks to change intensities
Three clicks to turn on the sidelight and single clicks to change intensities
Four clicks to turn on the UV sidelight
Five clicks to lock/unlock
Whew!
Let's take a look at the relative differences in light intensity between the different modes.  From upper left, left to right, moonlight, low, medium, high.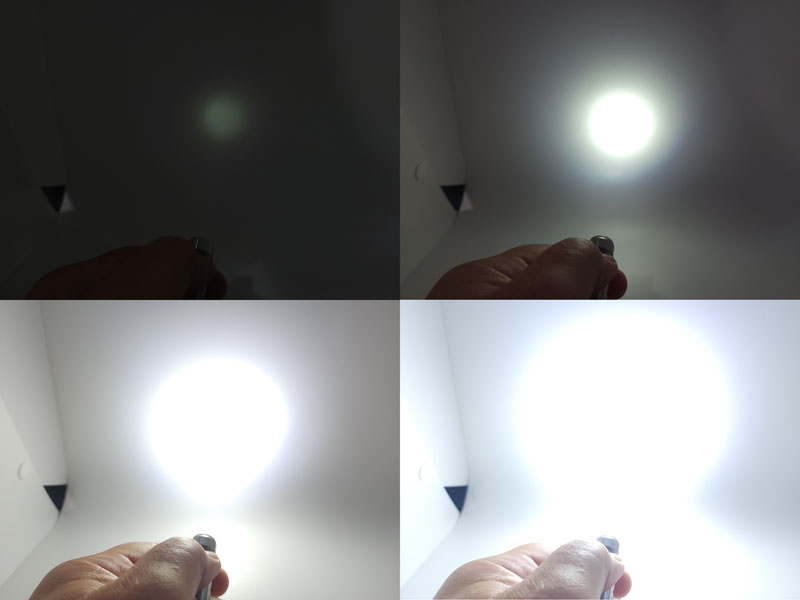 Moonlight is great for a nightlight.  Low is plenty bright to see a menu in a dark restaurant.  Medium is a good, general-purpose flashlight.  High is surprisingly bright for such a little flashlight. The beam is well-focused and can shine a long way at its brightest.
Here is a look at the RovyVon Aurora A8's sidelight. The sidelight is more diffused and wide.  It is designed to illuminate an area rather than just a spot.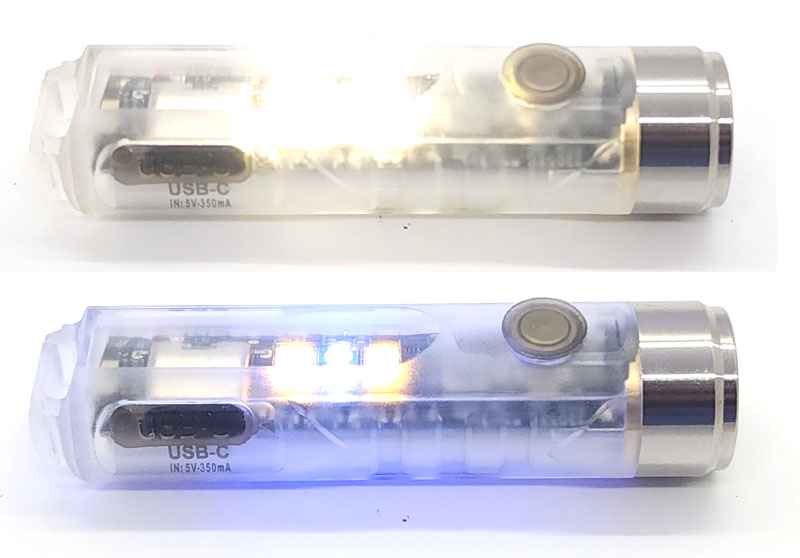 Unlike the cool white main light, the sidelight in the top photo shines warm white.  The lower image shows the UV mode. Here is the sidelight in low, high, and UV.

I charged up the RovyVon Aurora A8 and turned it on in high mode.  After about a minute, it started dimming as expected but still remained plenty bright for general use.  The bezel gets a little warm but not uncomfortable.  I set the timer and went about doing other things.  The documentation said I should get one minute at high plus another 90 minutes at reduced brightness.  After about 75 minutes, the red LED came on indicating that the light's internal voltage was low.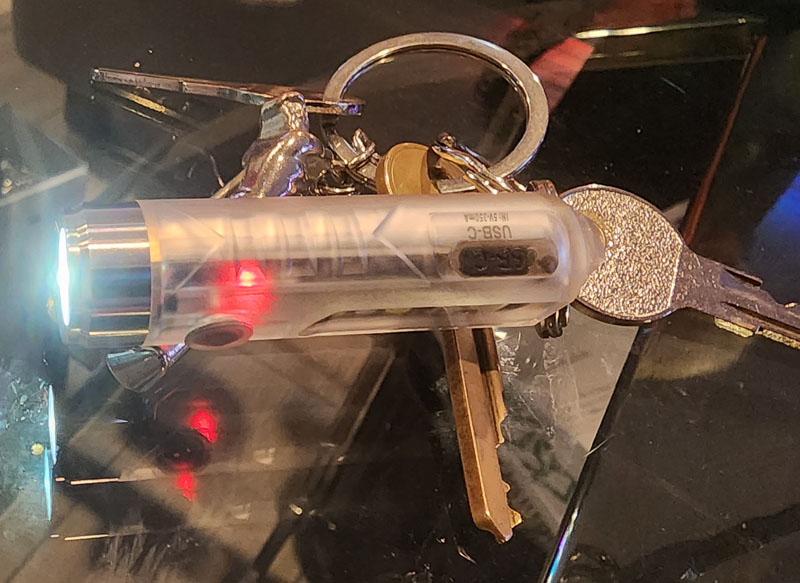 A couple of minutes later, the light shut off.  That's not exactly the 90-minute total expected runtime, but it is close enough for me.  They claimed a one-hour charge would completely recharge the light.  I plugged in the light and in only 45 minutes, the charging LED went from breathing blue to green.  Nice!
Next up, I tested the UV output.  Just because it looks purple-blue doesn't mean it is actually UV.  First, I grabbed a Benjamin.  Sure enough, the security strip showed up plain as day.  This was also done in daylight.  The UV is bright enough that you don't need a darkened room to use it.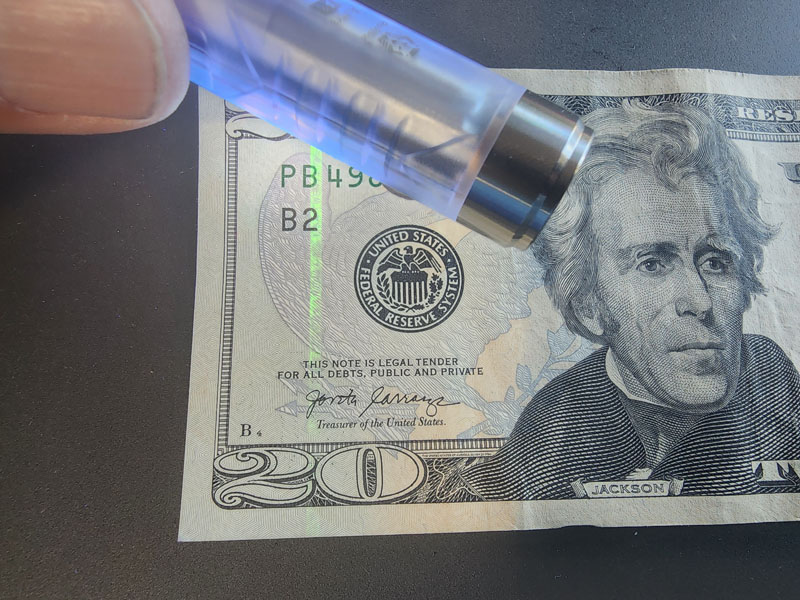 Next up was my Florida driver's license. All of the UV security features showed up clearly.  The green "FL" diagonal stripes in the upper left and lower right, green and blue FL with state outlines, the blue UV rendering of my face (looks like Brad Pitt, right?), and the blue GK59 above the small portrait.  Again, this was taken at 10:15 AM in my dining room with the north and west-facing windows wide open on a cloudless central Florida day.  There was plenty of ambient light in the room.  The RovyVon Aurora A8 flashlight put out more than enough UV to make the features jump right out.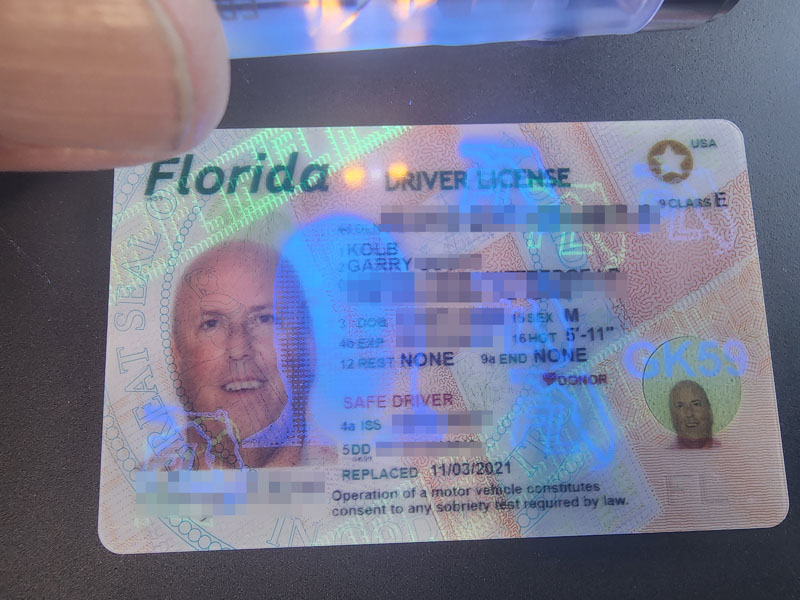 One thing I noted was that the multi-function button didn't have much "feel" to it.  It worked just fine but there was no positive feel when I clicked the button.  I'd like a little more tactile feedback to know that my clicks are working.
What I like
Nice, high-tech design
Great selection of operating modes
Excellent light output
Solid construction
A lot of options in a little package
Decent battery life
Fast USB-C charging
What I'd change
I would like a faster way to save a favorite mode
A button with a more tactile feel would be nice
Final thoughts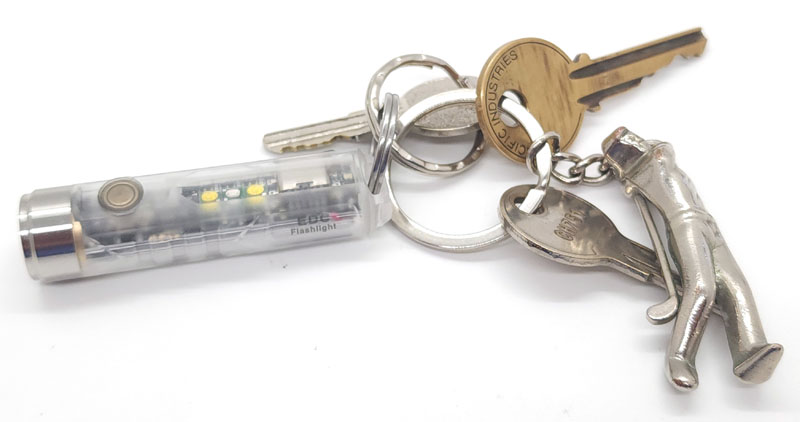 There is a lot to like about this little light.  Small in size, big light, lots of lighting options, all in the palm of your hand, clipped to your pocket, or on your keychain.  Its magnet base option and magnetic pocket clip add mounting options. Couple all that with the fact that it has geeky good looks, recharges quickly via USB-C, is water-resistant, can take a 1.5m drop, and has a handy bright UV light and we might possibly have the perfect EDC flashlight in the RovyVon Aurora A8. It now has a permanent home on my golf cart keychain.
Price: $46.95
Where to buy: Amazon; RovyVon
Source: The sample of this product was provided by RovyVon.