We use affiliate links. If you buy something through the links on this page, we may earn a commission at no cost to you. Learn more.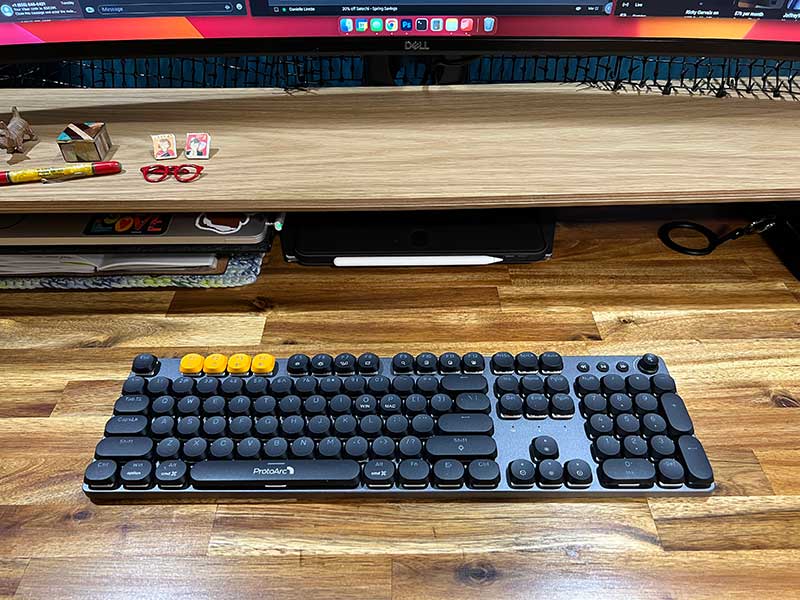 REVIEW – Do you ever fixate on a certain tool, accessory, etc, and find that you want to try every version available to find the perfect one for you? That's what I'm going through right now with keyboards. I've been using Logitech keyboards for years, but recently I become interested in mechanical keyboards and well… I now have a problem because I want to try them all! So today, I bring you the ProtoArc MECH K300 mechanical keyboard. It sure looks great, but does it feel great? Let's find out!
What is it?
The ProtoArc MECH K300 mechanical keyboard is a full-sized low-profile style 104 key mechanical keyboard.
What's in the box?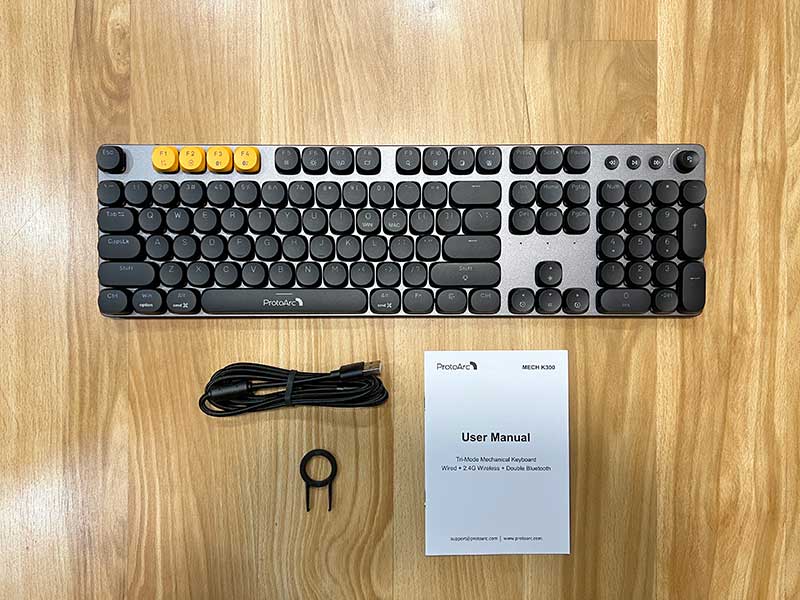 ProtoArc MECH K300 mechanical keyboard
USB cable
Keycap pull tool
User manual
Design and features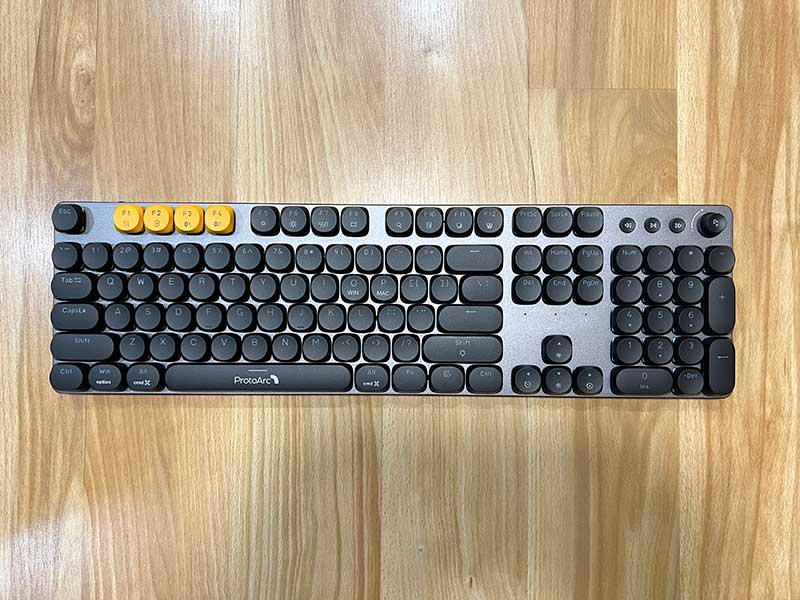 The ProtoArc MECH K300 mechanical keyboard is a full-sized keyboard. That means it requires a bit more desk real estate than an 80%, or 65% sized keyboard. I usually like an 80% sized keyboard because I don't use a numpad very often, but I do like a dedicated function key row. The ProtoArc has dedicated function keys as well as PrtSc, ScrLk, Pause, and media control keys.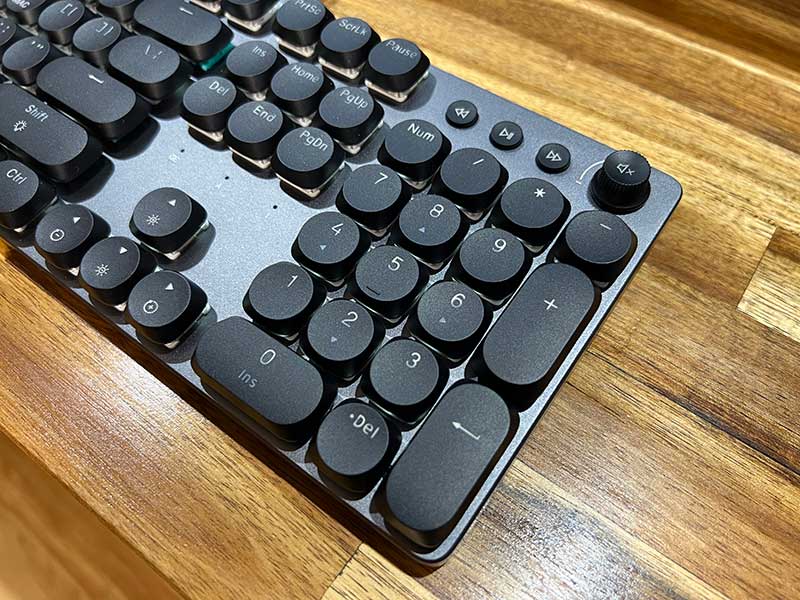 In the extreme top right corner of the keyboard, there's a cool little volume level adjustment knob. This knob is tactile in that you can feel each level adjustment "bump" as you turn it. You can also press it to toggle muting on and off.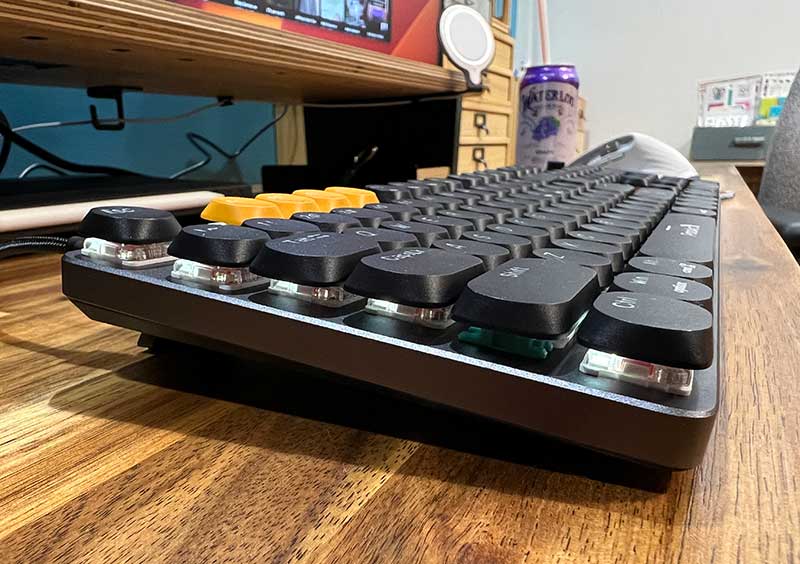 As already mentioned, the ProtoArc MECH K300 mechanical keyboard has a low profile design. That means that the keycaps are not as tall as regular keycaps. You'll also notice in the images above, that the keycaps have round tops.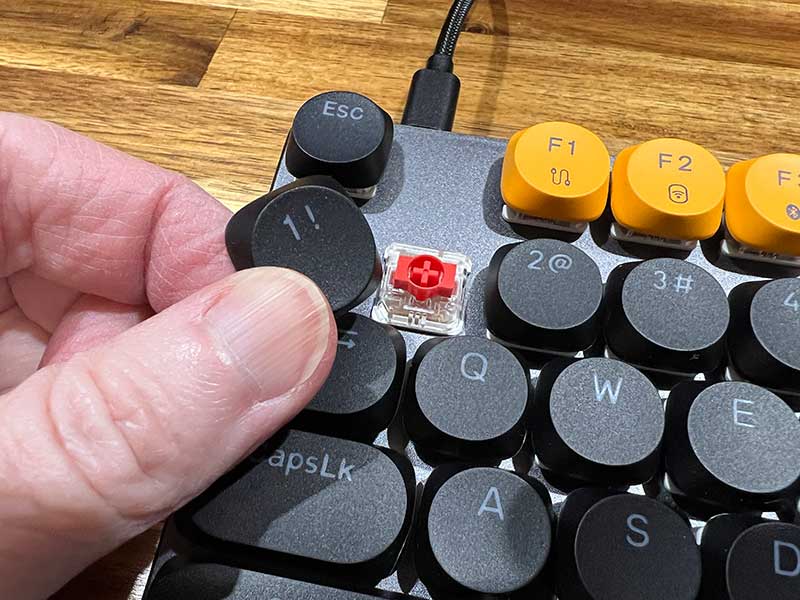 All of the letters, numbers, and function keys have a very shallow dip in the top of the keycap, but the tab, caps lock, shift, ctrl, Win, alt, and Fn keys have a slight dome shape to the top.
The keys are also backlit and the keyboard has 14 lightning effects to choose from that I show in the video embedded below along with a clip of me typing on it so you can hear the sound of the keys.
The switches are also low profile red switches. Compared to other mechanical keyboards that I have with red switches, the ProtoArc is quieter and seems to require a softer touch since you don't have to press down as far to register a key press.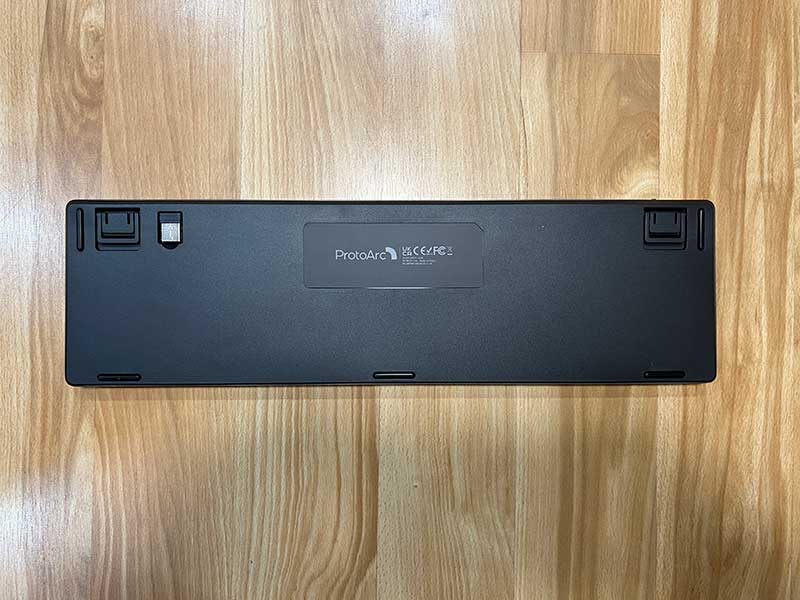 If you flip the ProtoArc MECH K300 mechanical keyboard over to view the bottom, you'll see that it has 2 flip-out feet to raise the back of the keyboard in your choice of two level heights for better ergonomics.
You'll also notice the USB dongle housed on the back of the keyboard. You can use the dongle if you want to use the K300 as a wireless keyboard. The other option is to pair the keyboard with your computer or another device via Bluetooth. You can also use it as a wired keyboard which is what I prefer to do so I won't have to deal with low batteries or latency.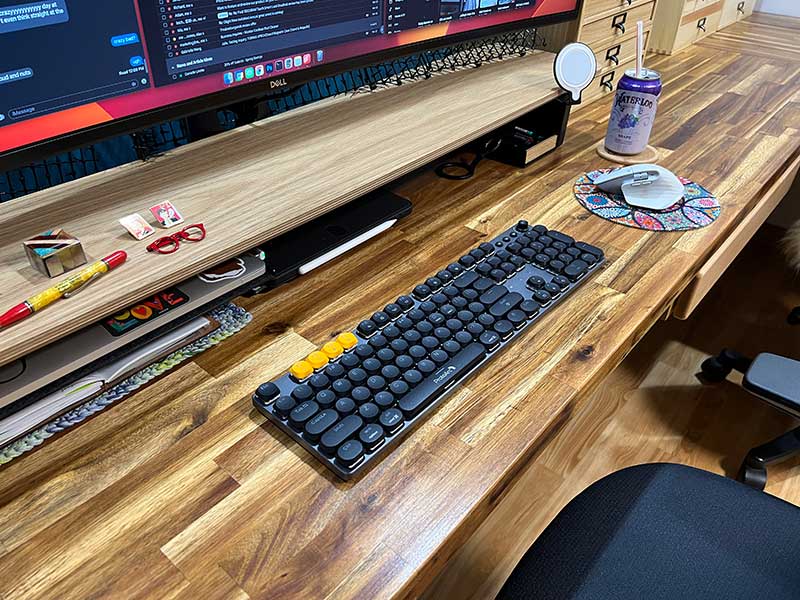 I think that the ProtoArc MECH K300 mechanical keyboard looks really nice on my new butcher block desktop. I also like the lack of the frame around the edges of the space grey metal base which gives it a more modern vibe.
I used this keyboard for a week or so with my MacBook Pro and had no issues with it and have really enjoyed using it.
If you're a Windows user, you can download an app to let you set up macros. As far as I could tell, this functionality isn't available for macOS users like me.
See it in action
What I like
Great looks
Quiet
Can be paired with up to 4 devices
Media control buttons
What I'd change
Provide more switch options
Final thoughts
If you want a full-featured full-sized keyboard that looks as good as it feels, then the ProtoArc MECH K300 mechanical keyboard is a keyboard that I don't have any issues recommending. I love the little analog volume knob and the large round keycaps look and feel comfortable to type on. Another plus is that the price is affordable.
Price: $99.99
Where to buy: Protoarc and Amazon
Source: The sample for this review was provided by ProtoArc.