We use affiliate links. If you buy something through the links on this page, we may earn a commission at no cost to you. Learn more.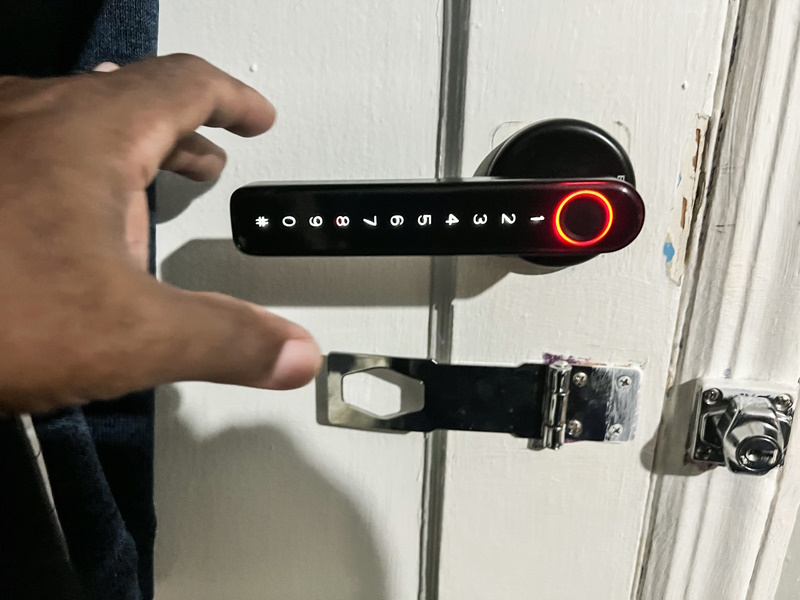 REVIEW – A few years ago I installed smart locks on the 2 doors in my office. One on the main door and one on a closet door in the room. I really like the lock on the door in the office, but it has a unique cylindrical design and now that I have developed arthritis in my dominant right hand, it is painful to open. So now I am looking for a replacement smart lock that works like t conventional door handle. Enter the Elemake Bluetooth Smart Biometric Door Lock with Keypad.
What is it?
The Elemake Fingerprint Door Handle with Keypad is a Smart Biometric Door Lock with access via Fingerprint, Bluetooth, Keys, and an APP. It is also Auto-Locking.
What's in the box?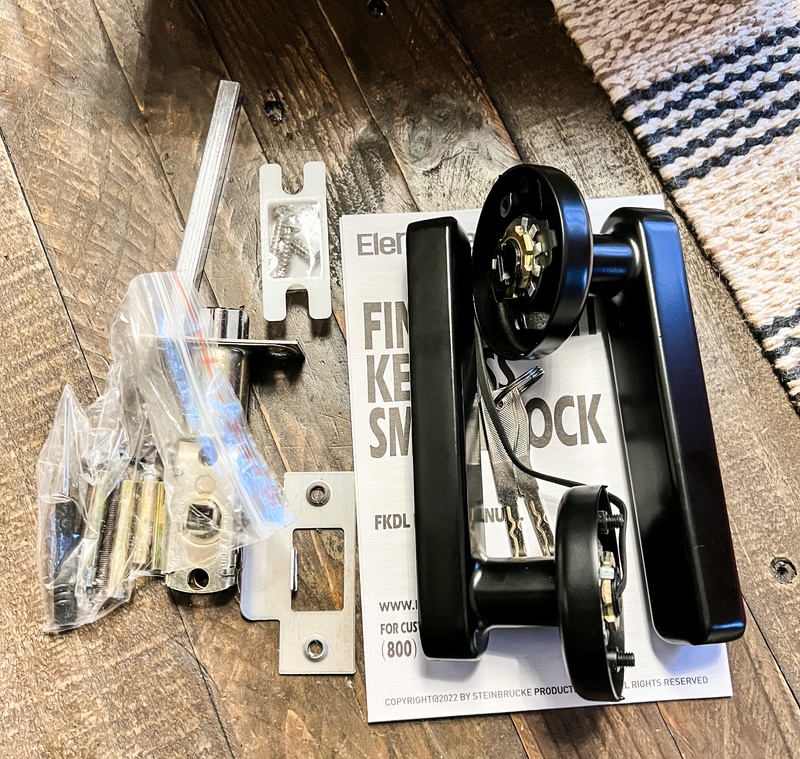 1 x Elemake Bluetooth Smart Biometric Door Lock with Keypad
1 x Hardware Mounting Kit
1 x User Manual
Design and features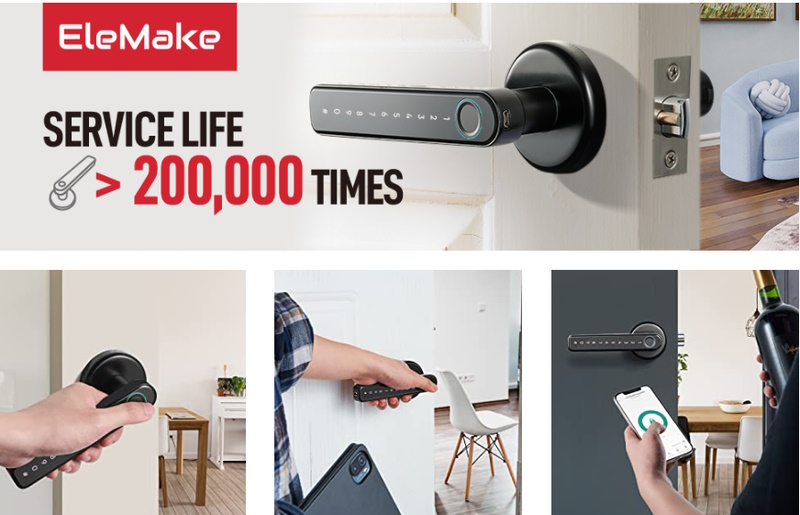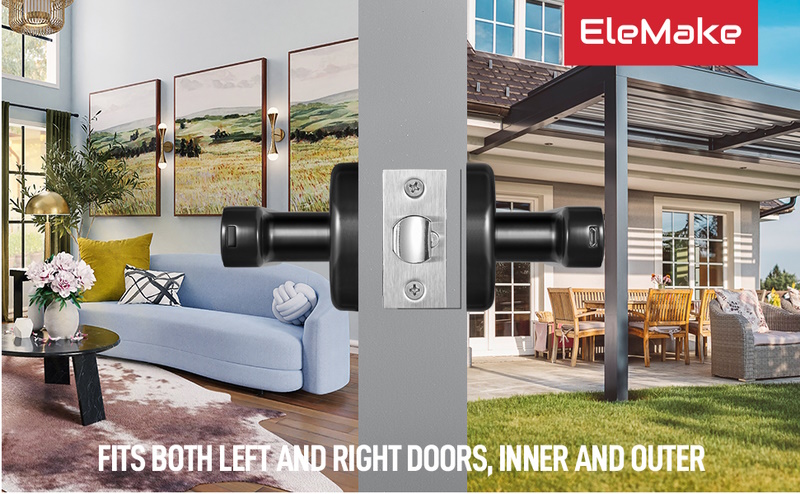 Multiple Ways To Unlock: Advanced 4-in-1 Keyless Entry Smart Door Lock: Fingerprint + Password + App + Key (2 included). One Touch Fingerprint Access reads your fingerprint and unlocks your door. Auto relock function.
USB + Backup key, Never Get Locked Out: Low battery alarm on Tuya(Free APP, with emergency power interface and backup key. When the power is critically low or the battery is completely drained, don't worry, use the backup key to open the door, micro USB power bank also can serve as a temporary power supply.
Applicable Range and Use: The adjustable deadbolt has a size between 2-3/8″(60mm) or 2-3/4″(70mm), and is suitable for doors with a thickness of 1-1/2″(38mm) to 2″(50mm). Simple door handle settings, suitable for various scenarios, replace standard single-cylinder U.S. door locks and fit both left and right doors, inner and outer. Easy to install in minutes by following a short installation video.
Tuya App Control: The smart fingerprint door lock handle supports IOS and Android devices. The free Tuya App lets you set and share temporary eKeys with friends, visitors, or housekeepers. The App records who comes and goes, and allows for real-time automatic locking and passage mode settings, bringing you both security and convenience.
High Security and Privacy Protection: This smart lever door lock is made of corrosion-resistant zinc alloy with a sleek, modern, simple, stylish, and bold look. It is ideal for homes, offices, apartments, garage entrance doors, storage rooms, warehouses, basements, bedrooms, etc.
The Elemake Bluetooth Smart Biometric Door Lock with Keypad is made of metal and has a touch keypad and biometric touchpad on the outer handle. There is also a micro USB port on the edge of this handle to provide power from a USB power bank should the installed batteries die. On the inner handle, there is the battery panel and the unlock button. There is also a hole for pin reset. The connectivity wire runs through the center of the lock.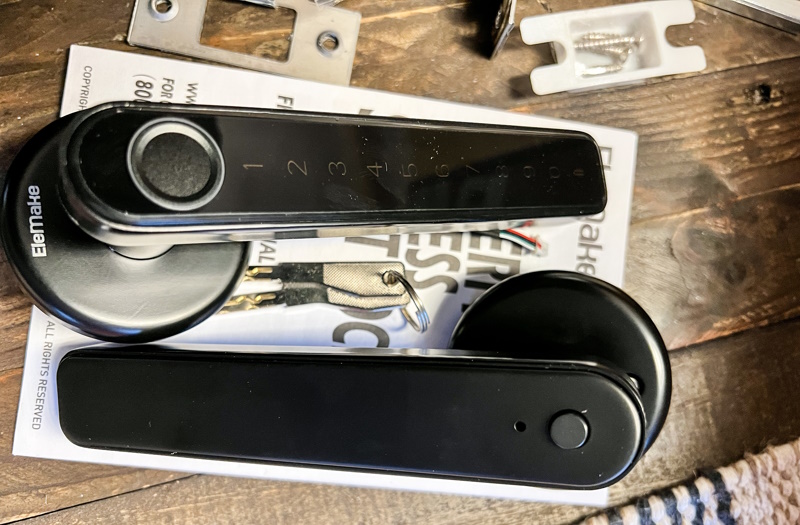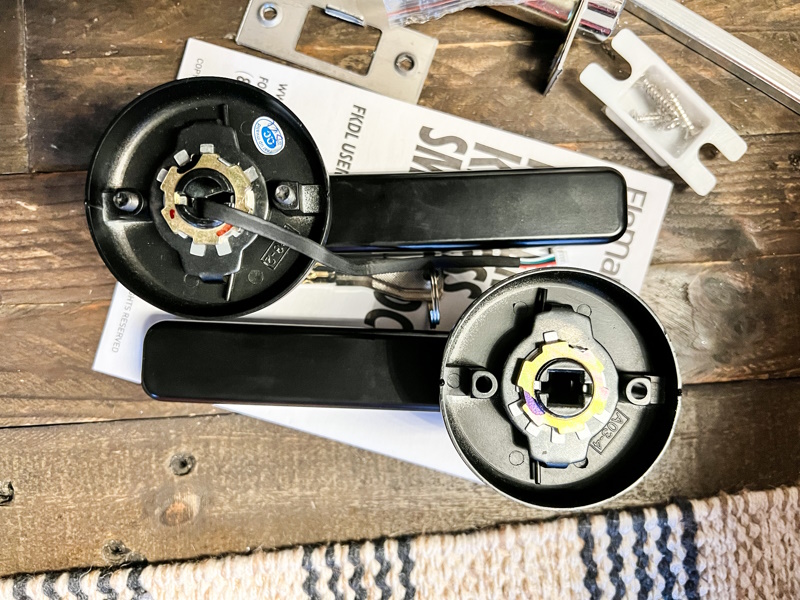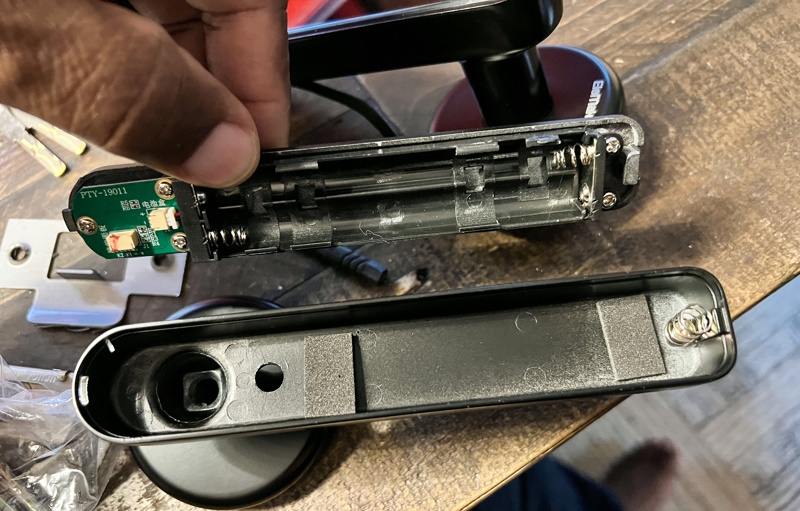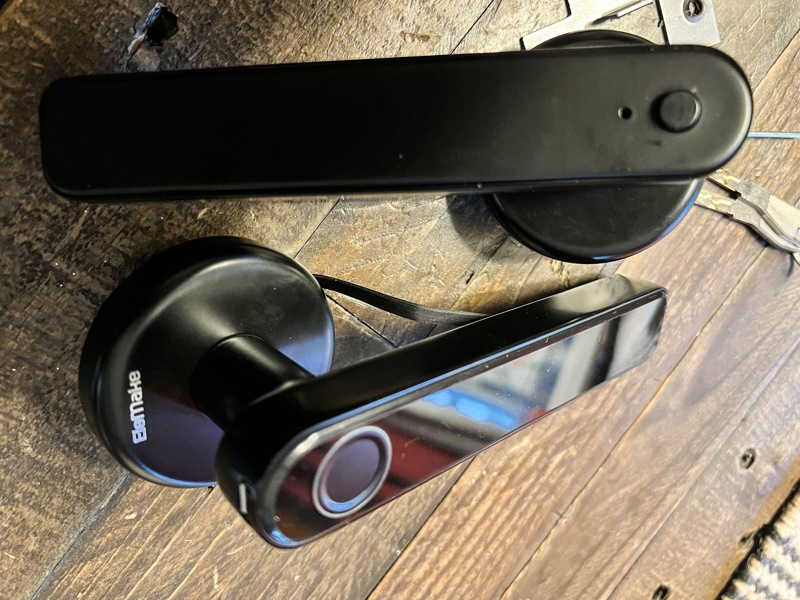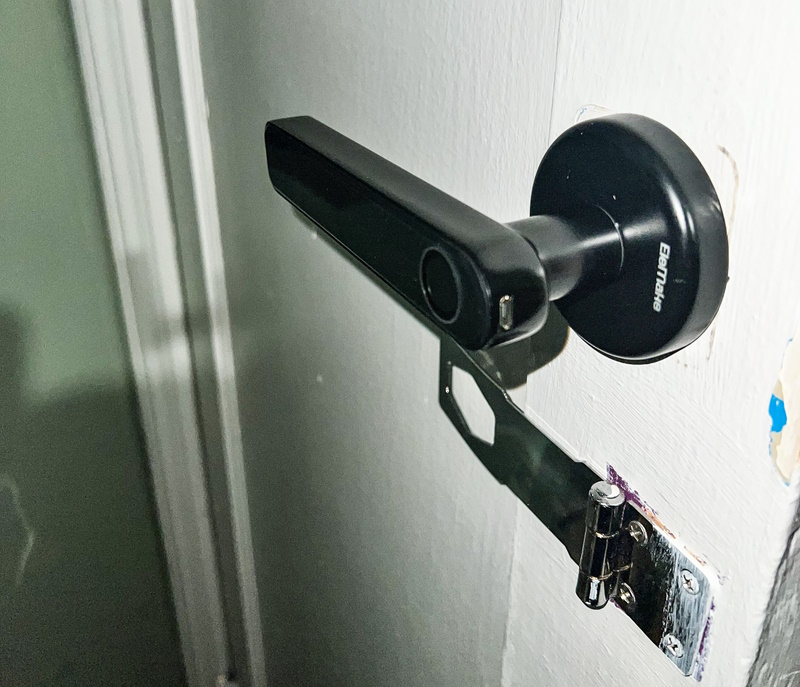 Installation
The installation of this Elemake Bluetooth Smart Biometric Door Lock with Keypad is very easy and the process is just like any conventional lock. Here is how the process went: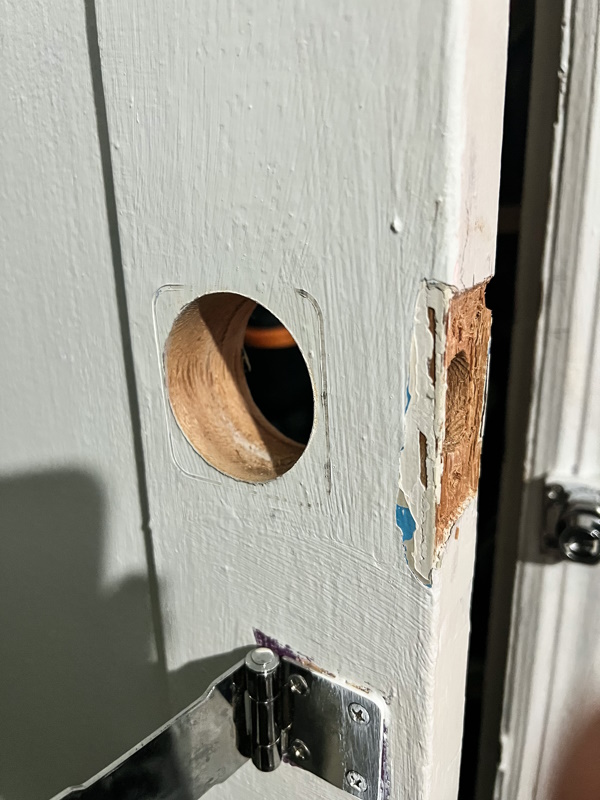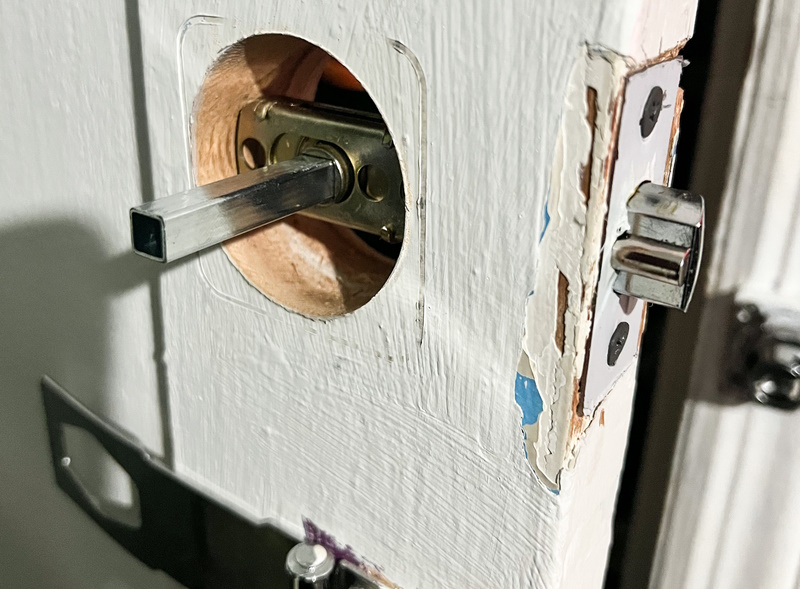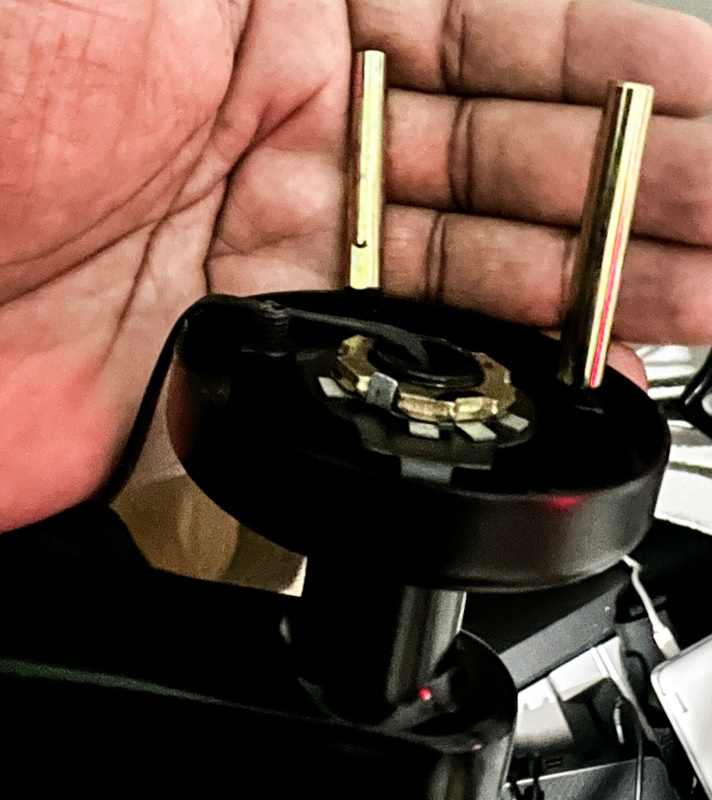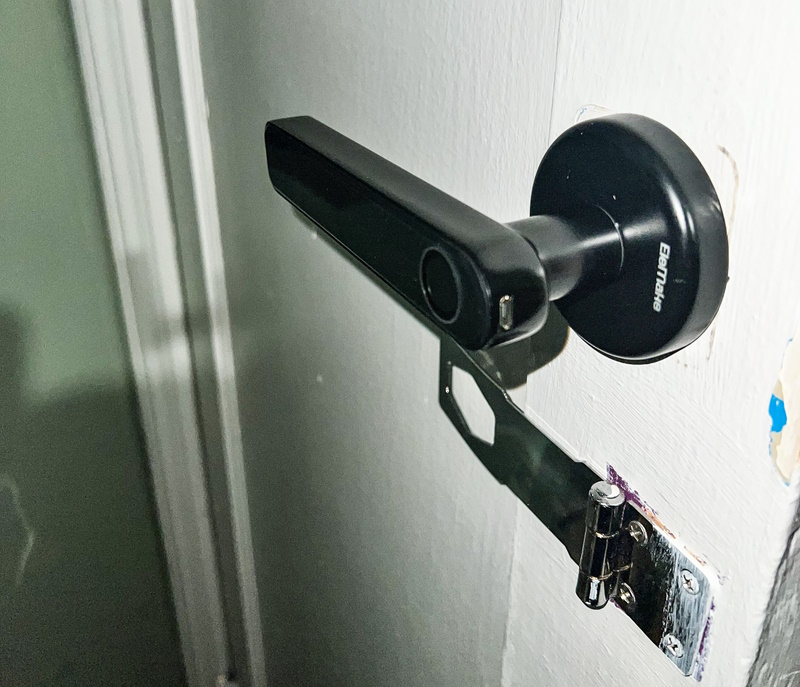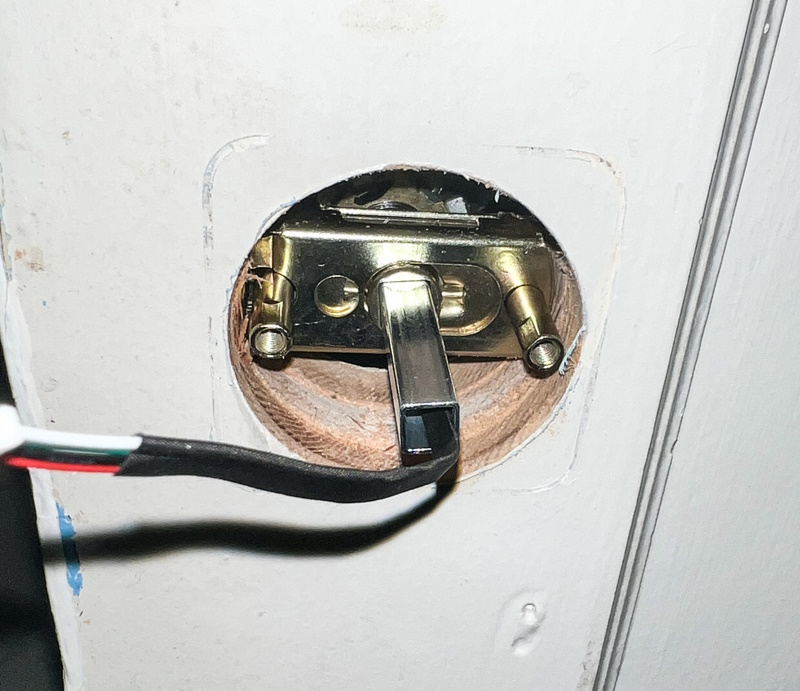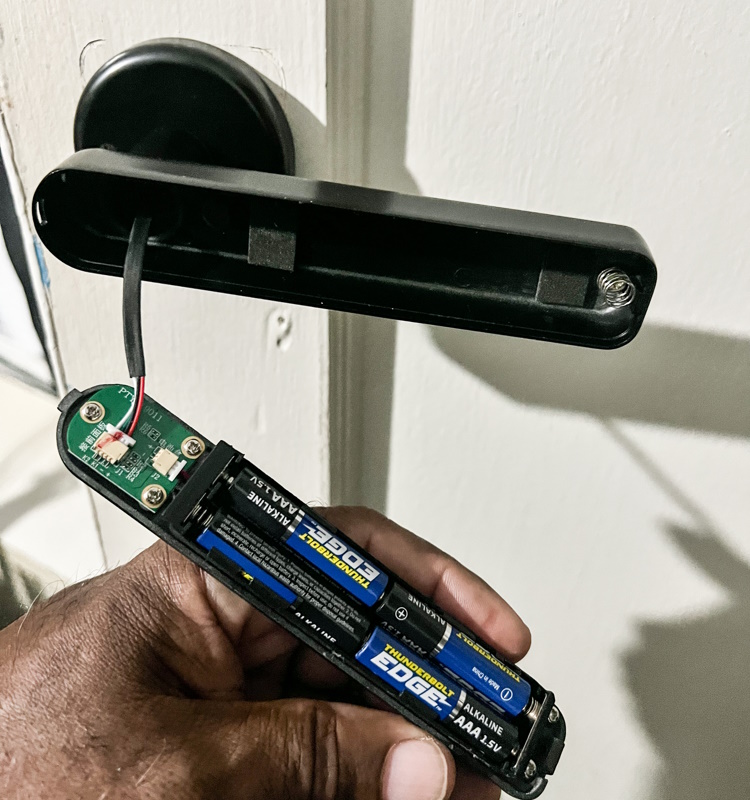 Performance
This Elemake Bluetooth Smart Biometric Door Lock with Keypad performs very well. All methods of access work well and provide quick access. The lock is solid and the movement is fluid. The blue light is the "ok" indicator and the red light is the "denied/timeout" indicator.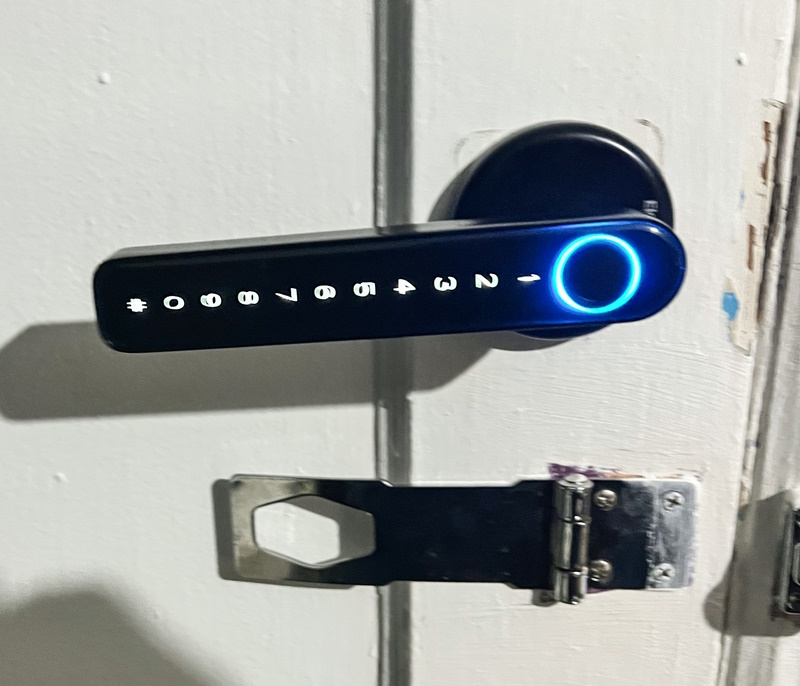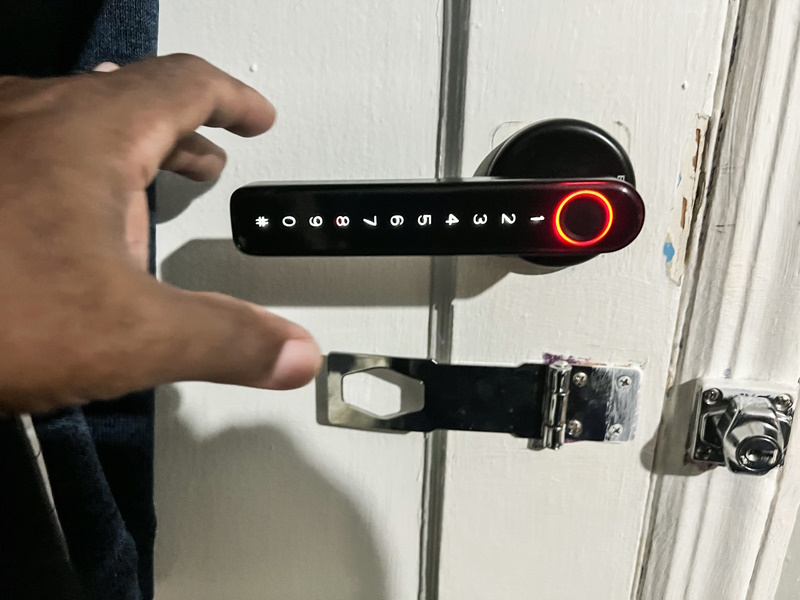 Smart Life App:
What I like
It is sold and well built
It really is a smart but conventional design
The multiple ways to open the lock
IMO it is attractive
Easy to install
Adding the lock to the app and programming is the simplest I have ever experienced.
What I'd change
Nothing to really complain about other than the small writing in the manual
Final thoughts
The Elemake Bluetooth Smart Biometric Door Lock with Keypad is a really nice smart lock that is well-built and just works well. It offers multiple ways to open it and is really convenient and secure. I am not using it outdoors so I can't speak about its durability when left to the mercy of the elements. From my experience, I give this smart like a well done!!
Price: $76.99 – Elemake Locks; $75.40 – Amazon
Where to buy: Elemake Locks website, Amazon
Source: The sample of this product was provided by Elemake Locks