We use affiliate links. If you buy something through the links on this page, we may earn a commission at no cost to you. Learn more.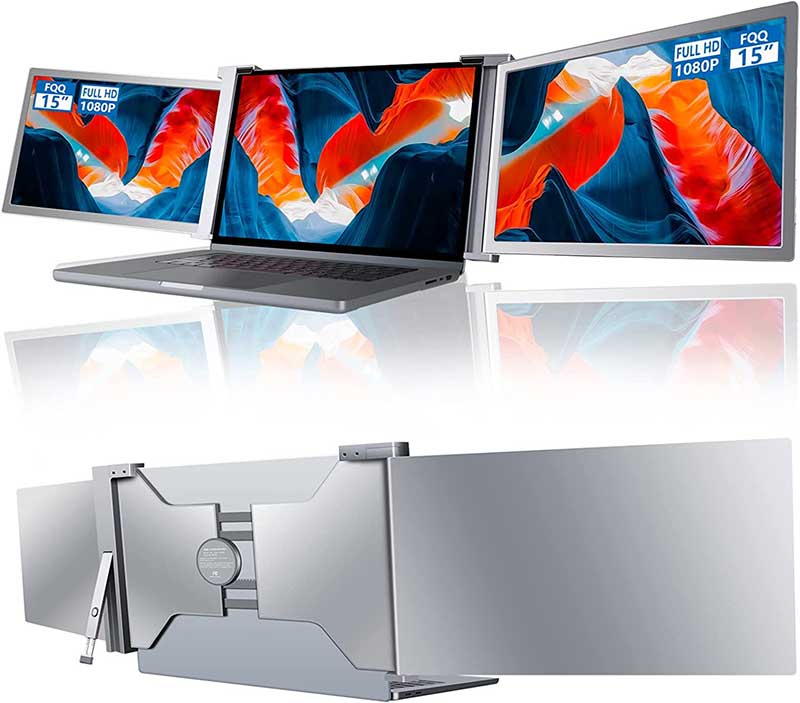 DEAL NEWS – Laptops are great because we can take them with us where ever we go. When I travel, I take my MacBook with me and miss not having as much screen real estate as I do when I'm home connected to my massive 49-inch monitor. With an FQQ 15-inch triple monitor, it's possible to take your productivity setup with you where ever you go. FQQ 15-inch triple monitors feature dual 1080P FHD monitors that attach to your existing 15-17 inch laptop's display to give you a huge amount of space for your apps. Be sure to read product details because the FQQ 15-inch triple monitors are not compatible with M1 and M2 MacBooks, Microsoft Surface series of laptops, and Chromebooks. This setup is pretty expensive, but right now you can save $100 – $150 on three different models.
.
Where to buy: Amazon
Regular Price: $689.99
Final Price: $585.99
Discount: 10% code + $35 Coupon
Code: 7CFHBZ7W
Expiration Date: 2022/3/31 23:59 PST
.
Where to buy: Amazon
Regular Price: $649.99
Final Price: $549.99
Discount: 10% code + $35 Coupon
Code: 7CFHBZ7W
Expiration Date: 2022/3/31 23:59 PST
.
Where to buy: Amazon
Regular Price: $699.99
Final Price: $594.99
Discount: 10% code + $35 Coupon
Code: 7CFHBZ7W
Expiration Date: 2022/3/31 23:59 PST