We use affiliate links. If you buy something through the links on this page, we may earn a commission at no cost to you. Learn more.
REVIEW – Fitness wearables are all the rage, and the accuracy of and amount of data they provide is ever-increasing.  Most of these wearables come in the form of a watch, like those by Apple or Garmin.  But what if you don't want a big clunky watch on your wrist?  Or, what if you want the simplicity of a classic analog watch but still want a ton of health and fitness data?  And what if you want that health and fitness data to be exceedingly accurate because it's coming from a medical-grade suite of sensors? Then the CardioMood is for you.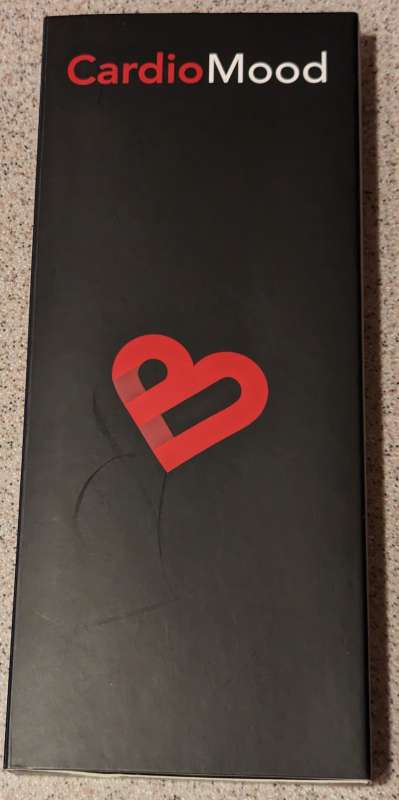 What is it?
It's a health and fitness wearable that can track steps, sleep, heart rate, heart rate variability, and body temperature. It can use all this information to give you a "readiness score" which indicates your body's level of recovery from previous workouts and readiness for new efforts.
What's in the box?
CardioMood Tracker

Silicon Band

USB-A Charger

Quick-start guide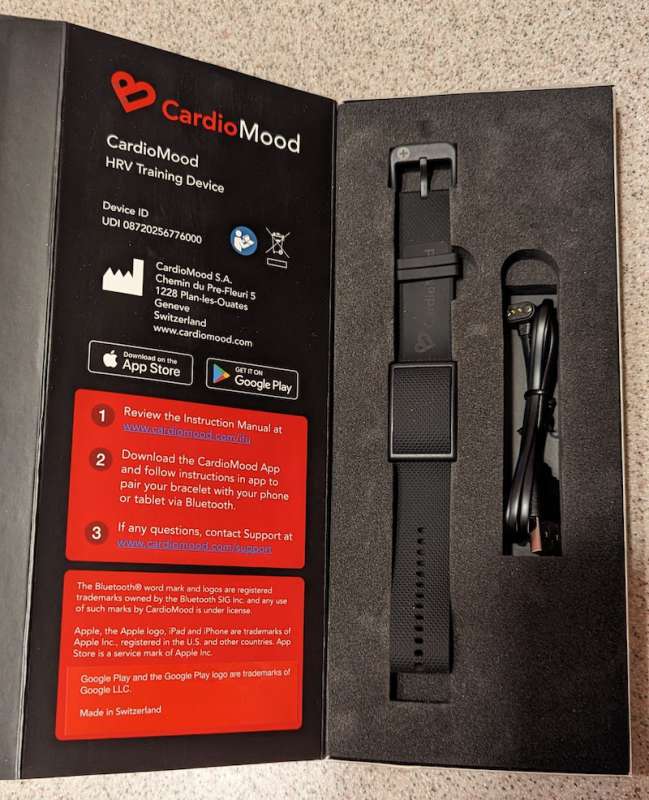 Hardware specs
Tracks:  Sleep duration, sleep quality, sleep timing, heart rate, heart rate variability, movement (steps), body temperature variation, respiration rate, 

Optical Sensors: 2 single channel optical wave PPG sensors (up to 525 nm, 19 bits)

Motion Sensors:  3-axis motion sensor (acquisition noise 1.3 mg RMS, range ±16 g full scale)

Battery:  around 7 days between charges

Water Resistance:  IP66 water resistance (not salt water resistant)

Dimensions:  25mm x 37mm x 9mm

Connectivity:  Bluetooth 5.0

Manufactured: Switzerland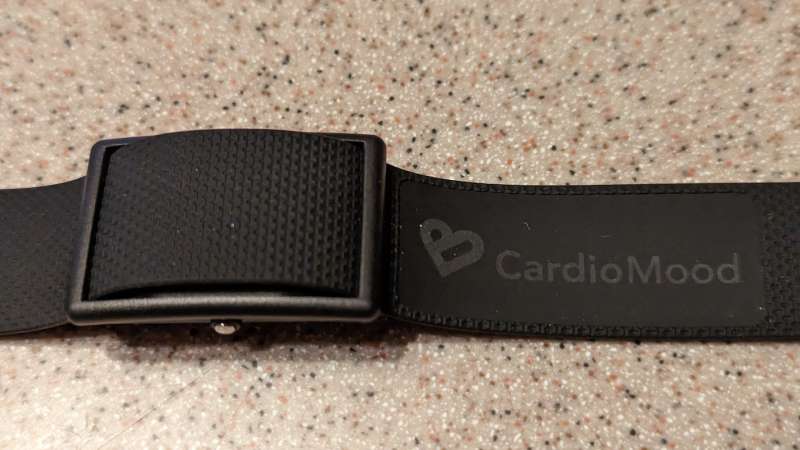 Design and features
The actual CardioMood device is an unobtrusive piece of black plastic with slots at either end that the band passes through, a small silver button on the right, and the sensor suite on the bottom.  It's worn like a watch, but I found it worked better if worn a bit tighter and higher on my wrist than a watch.  It includes a black silicon band, but any continuous 20mm NATO band will work.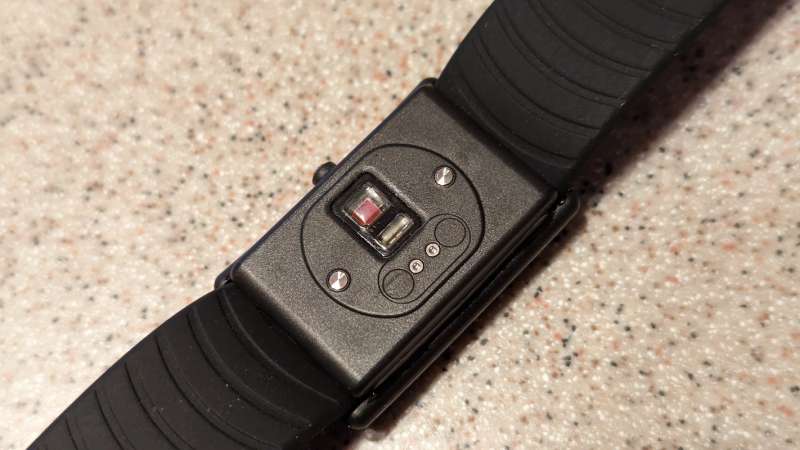 Most interactions with CardioMood will be through the app (Android and Apple) or through their web portal.  The same basic information is available in both the app and web portal. Oddly, the one metric that CardioMood seems to focus on, the readiness score, is only available in the app and not the web portal.  This may be because the origins of CardioMood come from Corsana Health, a company that uses a very similar device in a health setting for health professionals and scientists.  Both the app and the web portal have this medical legacy, but it is more prevalent on the web. 
The app has five different screens.  The first is a dashboard with summary information for all of the parameters, and you can tap into details about those parameters by either tapping the summary data or the icon at the bottom.  The app is responsive and easy to use and absolutely loaded with data.  If you're a data geek, this is definitely your thing. 
Performance
The setup of the CardioMood was pretty straight forward.  It connected via Bluetooth easily. However, the verification email I received was from "SwissCloud" and did not reference CardioMood anywhere.  While I was able to figure it out, this was odd.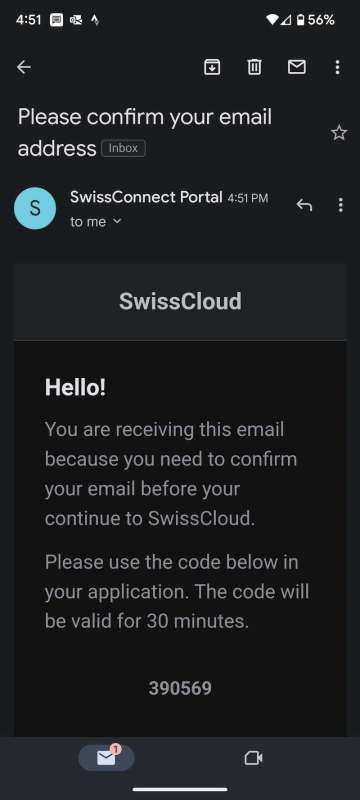 When discussing the performance of the CardioMood, it's important to remember its origins as a regulated medical device for cardiac monitoring. So it should come as no surprise that it's a better heart rate monitor than activity tracker. The sleep tracking and readiness scores are the high points. It struggles a bit with workout tracking and activity tracking.  
We'll start off with what it's like to wear it on a regular basis. The included band is a black 20mm silicon strap which fits nicely and is of a high quality.  The only issue I had with it was that the silicon is very "grippy" and likes to grab at clothing.  I had to be careful when putting on jackets.  Because the strap passes over the top of the CardioMood, this "grabbing" is enhanced.  When I swapped the silicon strap for a slightly stretchy fabric strap, this issue went away and the bracelet was much more comfortable.
I've been wearing a Garmin watch which tracks many of the same parameters as the CardioMood for years.  When I do a running or cycling workout, I also wear a heart rate monitor chest strap, which is quite accurate.  So I know what my data should look like and how my body feels under certain conditions. High points of the CardioMood are resting heart rate, sleep tracking, and respiration rate. These parameters all felt very accurate and reflected what I know are my norms.  This is important because the key indicator of the device is the "readiness score" which is calculated using these parameters.  Basically, it measures what your body is doing while sleeping, compares that to a rolling 60 day average, and comes up with a number (0-100) indicating your rest and recovery level.  This part all works really well and is actually quite useful.  (One note on the readiness score – you won't see it until the Cardiomood has at least 7 days of data.  This isn't explicitly stated anywhere and can be confusing when you don't see the key value for a week).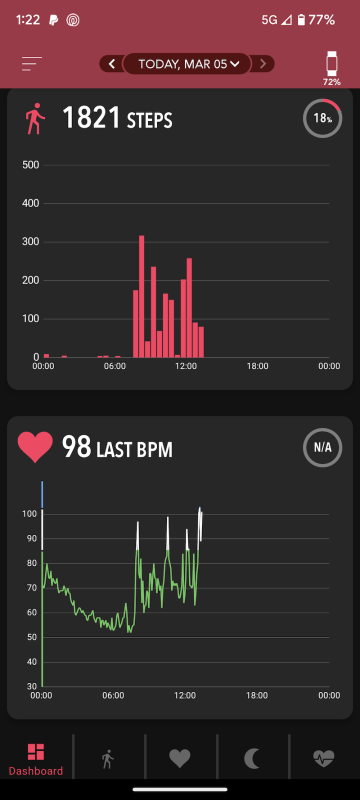 Where the CardioMood struggled a bit was in workout HR monitoring and activity tracking.  My workout heart rate would fluctuate between 40 and 210 BPM – both well outside my normal range for a workout, and quite different when compared with data reported from my chest strap.  This is likely due to movement of the sensor on my wrist during activity, and may be remedied by the available bicep strap, but I wasn't able to test that.  Also a bit disappointing was the activity tracker.  My Garmin watch seems to provide very reasonable "step" data and has a good algorithm for filtering out movement that is not steps.  My CardioMood daily step count was often a few thousand steps higher than that measured by Garmin.  One particular issue was that the CardioMood would report thousands of steps occurring during a bike ride (0 actual steps).  This may be intentional, with "steps" serving as an analog for any athletic movement, but if that's the case, it's confusing.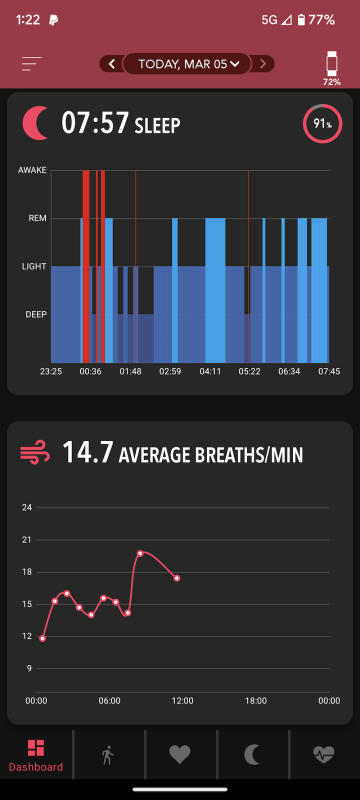 Another issue with workouts is the actual workout tracking in the app. You can use the app to start and stop workout tracking, and when doing so, it brings up a map interface. The map never gets past "getting GPS signal" even though the app has location permissions.  Additionally, the app has the ability to sync workouts to Strava, the primary tracking and social app for athletes.  However, the setup for this never worked and I was unable to log my workouts on Strava.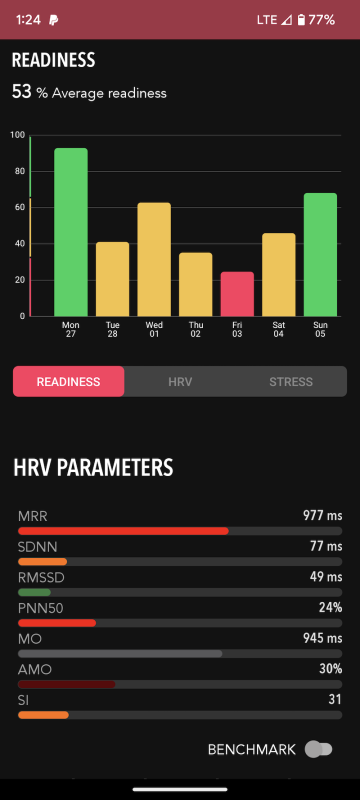 The only real competitor for CardioMood currently is the Whoop Strap. While they have similar features, the workout tracking in Whoop is much more mature. However, the most significant difference between the two is the pay model.  Whoop charges a monthly subscription for the ecosystem, and the band is free.  CardioMood has a one-time charge for the device, with lifetime access to the ecosystem.  Personally, I greatly prefer the CardioMood pay model.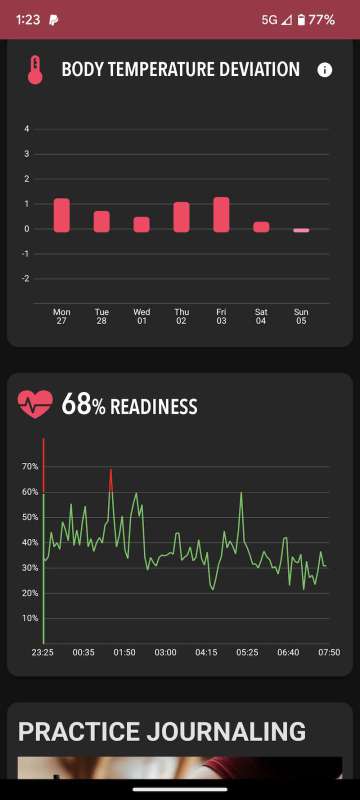 Battery life on the CardioMood is quite good.  I'm currently sitting at 39% with 5 days of use.  I can usually get between 7 and 8 days before charging, and the app provides a notification when you need to charge.  The included charger is magnetic, but the magnets are pretty weak and it's easily dislodged, so pay attention when charging.  Charging is slow, taking a few hours, but the app gives you another notification when the bracelet is fully charged. 
While performance is a mixed bag, I like and use the CardioMood for what it was designed for – providing an indication of my body's readiness to take on the day and all that comes with it. Because those values are largely measured at night, I may just wear it then and see what happens.  During the day and while exercising, it's largely redundant with devices I already have. But the sleep and readiness information has proven to be useful and I look forward to seeing accuracy increase as more data is collected.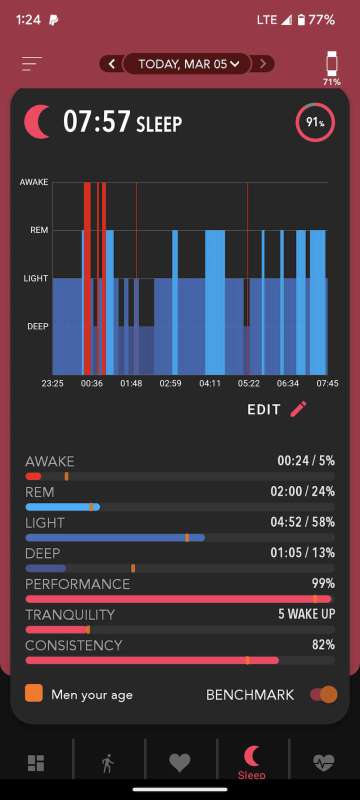 What I like
Small, light, long battery life

Bands are easily replaceable and easy to find

Sleep and readiness information are very accurate and useful

"Pay once" pay model
What I'd change
HR during workouts not accurate while worn on the wrist

App and web portal are still very "medical"

Activity tracker not good at filtering out "non-step" movement

GPS and Strava integration doesn't work

Charger magnets are not strong

Standard silicon band is very grabby with clothing
Final Thoughts
The CardioMood bracelet expands on a medical device designed for cardiac studies, and excels at determining your body's readiness for activity based on parameters measured while asleep.  It falls a little short at quantifying that activity, but other devices are available for that and are probably a better choice.  If you are interested in making data-informed decisions about your workouts and training, the CardioMood may be for you!  
Price: $296.00
Where to buy: CardioMood
Source: The sample for this review was provided by CardioMood.