We use affiliate links. If you buy something through the links on this page, we may earn a commission at no cost to you. Learn more.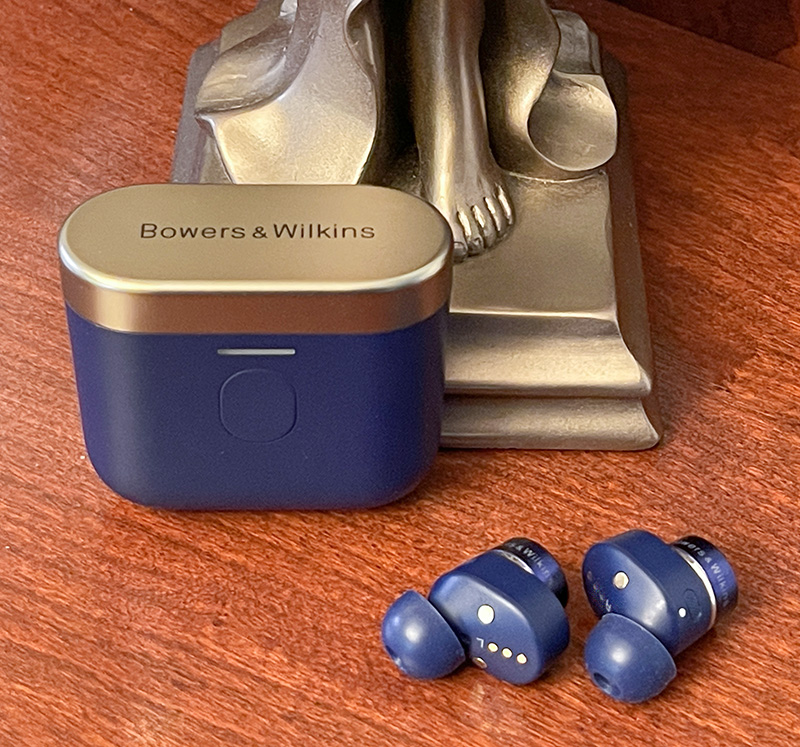 REVIEW – In audio (as in life), there exists what is called the law of diminishing returns. This law simply states that the more expensive products get, the difference in improvements of features and quality diminish. For instance, a $300 pair of earbuds will sound much better than a $100 pair. However, a $500 pair may only sound a little better than a $300 pair—a not-as-dramatic difference. But this law is most apparent when a product undergoes an upgrade, like the Bowers & Wilkins Pi7 S2 True Wireless Headphones. Does this upgrade uphold that law or break it?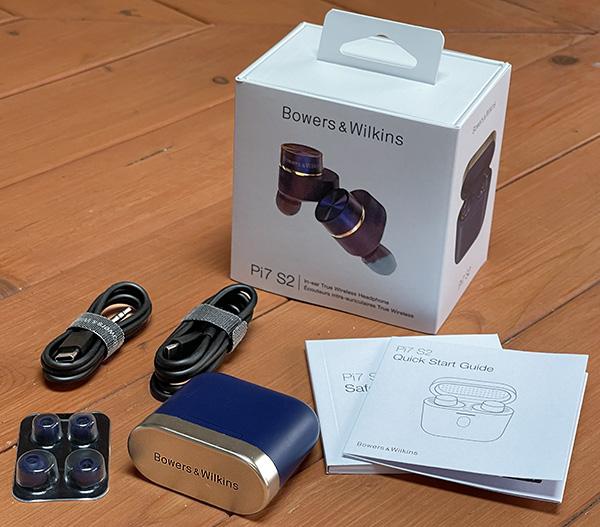 What is it?
The Bowers & Wilkins Pi7 S2 In-ear True Wireless Headphones (earbuds) are an incremental upgrade to the original Pi7 earbuds released in 2021. They feature Qualcomm aptX Adaptive Bluetooth, hybrid drivers with individual amplifiers, adaptive noise canceling (ANC), call quality using six mics, and a smart charging case with wireless charging that doubles as an audio retransmission system (more on that later).
There are three sizes of ear tips and a new color available. Midnight Blue is now available as well as the original Pi7's Satin Black and Canvas White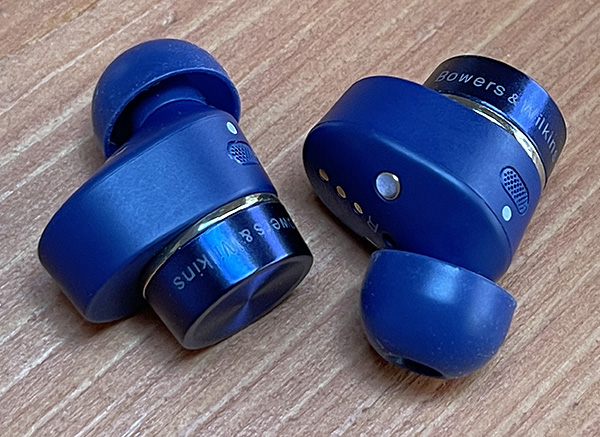 The Pi7 S2s are a hybrid speaker design earphone—a single dynamic speaker paired with a single balanced armature driver. What's the difference? A dynamic speaker looks like any speaker, only a tiny version. A balanced armature speaker comes from the hearing-aid industry and looks nothing like a traditional speaker. While armature speakers tend to accentuate higher frequencies, dynamic speakers are usually more "bass-friendly". Pairing them together results (theoretically) in the best of both worlds. Note that either speaker design can be tuned to sound good to great individually, but when both are paired each speaker approach balances the other's strengths and weaknesses.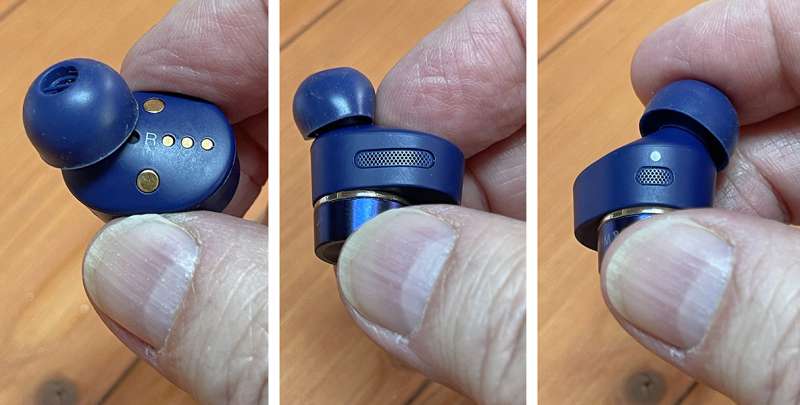 Specs
Weight: Earbuds: .25 oz.
Charging case: 1.65 oz.

 

Case dimensions: 2.4 in. (w) x 1.1 in. (d) x 2.2 in. (h)
Colors: Satin Black; Canvas White; Midnight Blue
24-bit audio connection

 

2-way drive unit design

 

Digital signal processing (DSP)

 

Bluetooth 5.0 with adaptive aptX

 

Adaptive ANC

 

Audio retransmission from the charging case

 

Wireless and USB-C charging

 

9.2mm dynamic speaker with balanced armature speaker
Three microphones per earbud
Battery life: 5 hours for earbuds (with ANC off); 16 hours from charging case; 15-minute charge provides 2 hours of playback
IP54 water resistance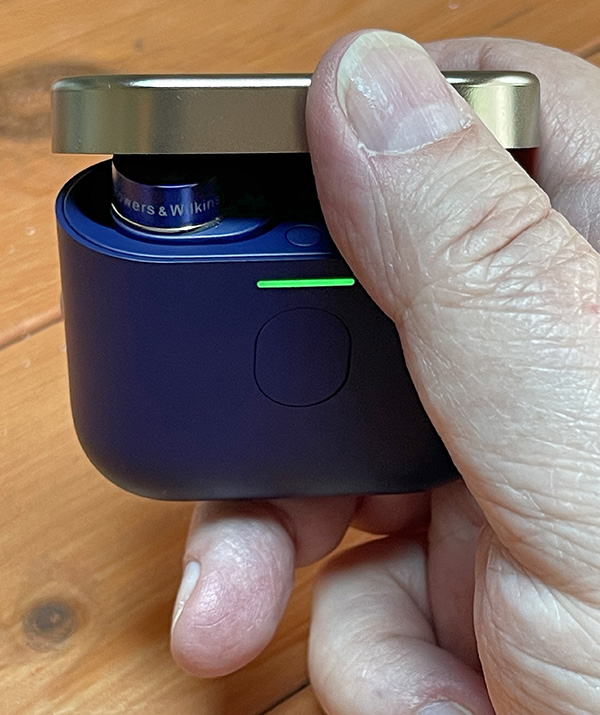 Design and features
The Pi7 S2 earbuds are visually identical to the original Pi7, except for the Midnight Blue colorway—the color used in this review. The case is the same blue with a gold flip-lid. The lid can be opened one-handed, but not easily—the plastic can be a bit slippery feeling.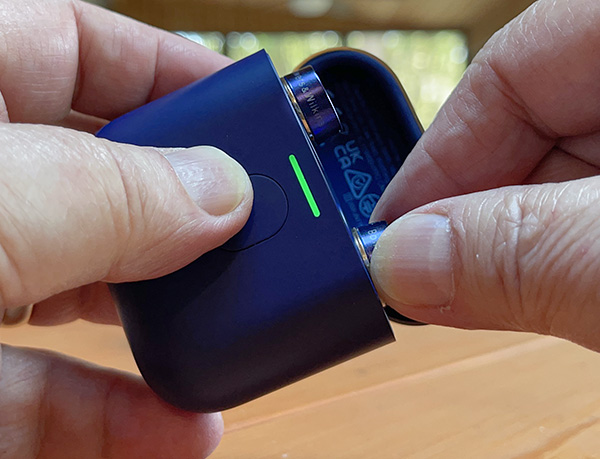 The earbuds magnetically snap into the case. The seal is tight enough that it's sometimes difficult to remove them. Again the material is not as easy to grip as—say—the Apple AirPods Pro earbuds.
The plastic materials used in the Pi7 S2 earbuds feel premium. Fit is excellent. There's no slipping once seated in the ear and they stay in place, even while moving about.
I assume the reason the Pi7 S2 earbuds weren't called Pi8 or something is that the differences are subtle. These main differences are increased battery life—5 hrs. vs 4 hrs.—and a Bluetooth range of over 80 ft. The fit is the same and they sound the same to my ears. That's a really good thing.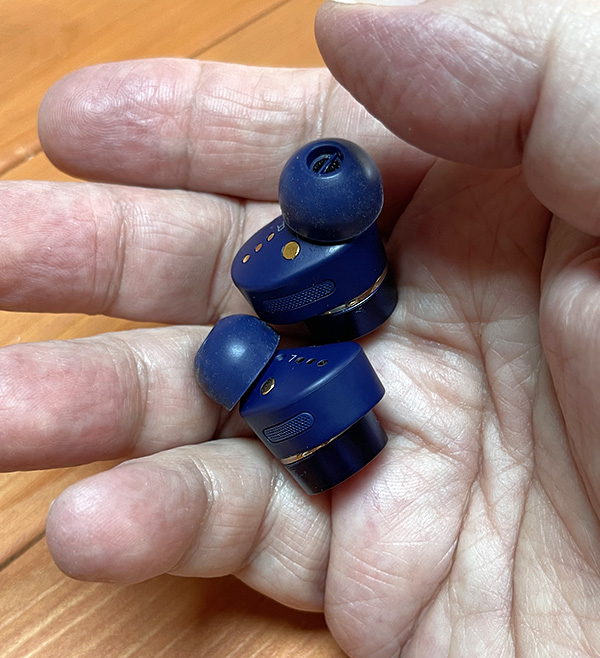 Bluetooth pairing is easy. Just open the case and my iPhone saw them. And as usual, once paired, my smartphone didn't have to be reminded to reconnect. It was immediate.
Understand that when I say the Pi7 S2 earbuds sound the same as the originals, I am going from memory. Ordinarily, I would compare the two Pi7 versions side-by-side, but all of my headphones and earbuds are in storage while my studio is being rehabbed due to flood damage from last year's hurricane Ian.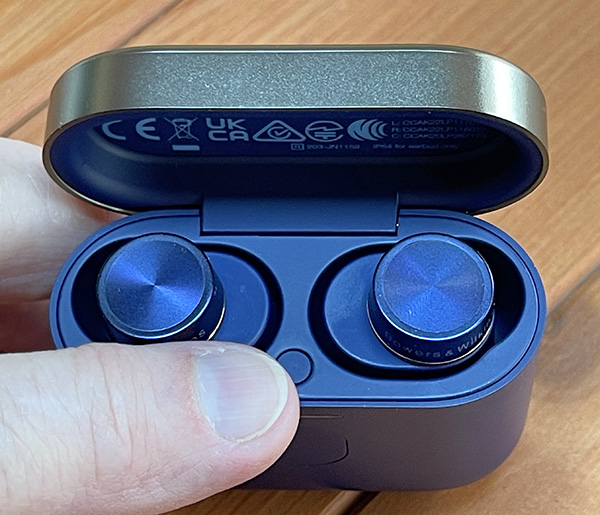 Not having the originals available turned out to be a blessing in disguise. I could review the S2 version for what they are, not compare them against what they were. Also, because of the subtle improvements made, I can't imagine many owners of the original Pi7 earbuds will choose to upgrade. So, I'm approaching this review as a first-time Pi7 S2 user.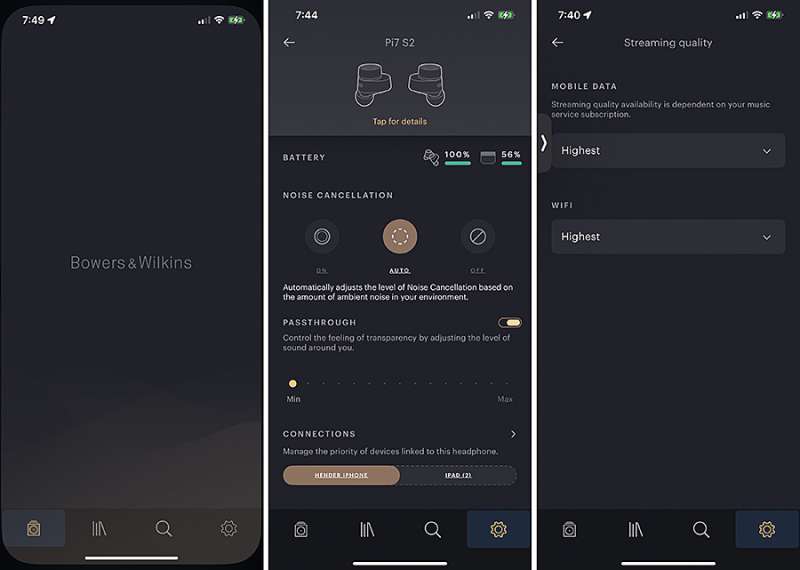 Once unboxed and paired with Bluetooth, the Pi7 S2 earbuds can then be connected to the Music/Bowers & Wilkins app (iOS and Android). This app was originally developed for B&W's Formation wireless home smart speaker system. I can see why the app would help control these speakers, but it feels like overkill for the Pi7's.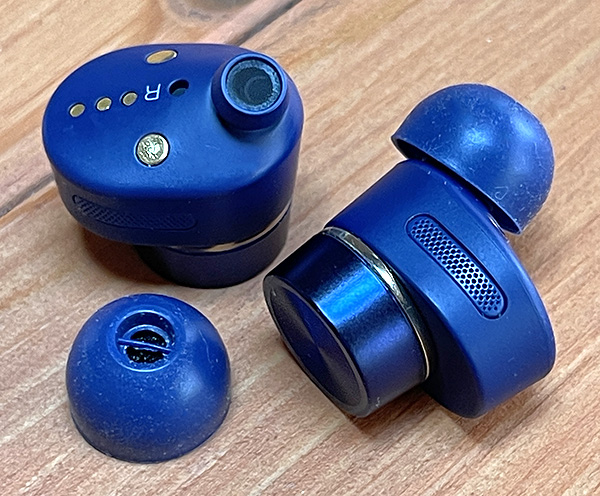 You can access hi-res music services like Tidal and Deezer as well as radio stations around the world using the B&W app. Being a fanboy however, I prefer Apple Music. They now offer hi-res and Dolby Atmos, which (in my iOS world) makes these other streaming services redundant. Lovers of music can argue the point, but I'm happy with Apple Music along with my collection of ripped albums stored on my iPhone. Listening while wireless may not be true audiophile quality, but Bluetooth never is.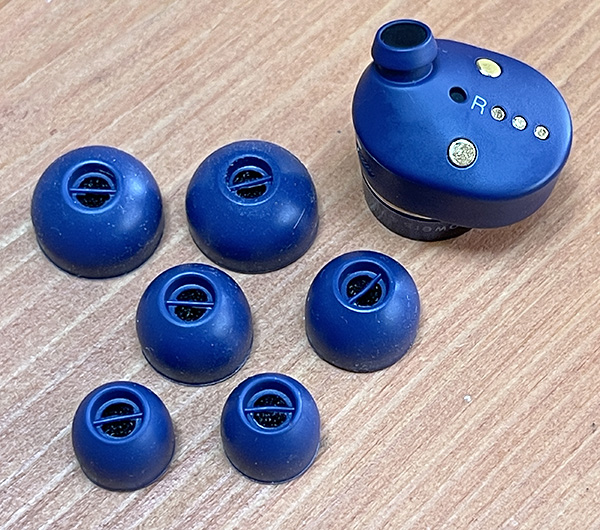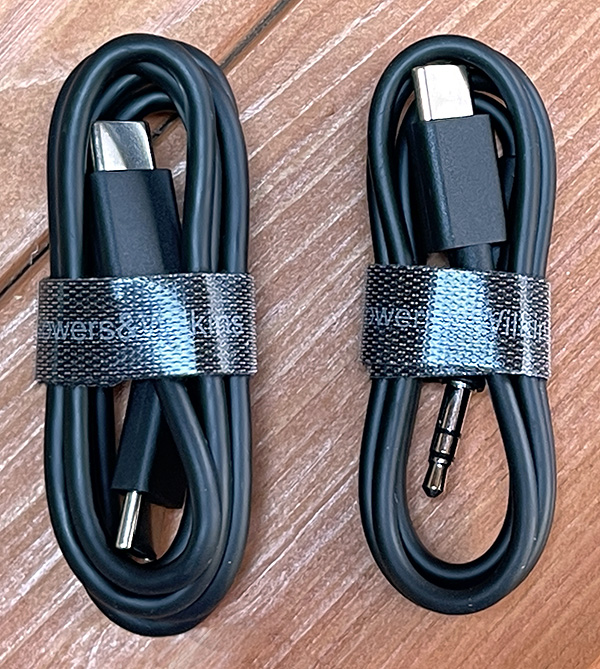 The Pi7 S2 earbuds feature Bluetooth 5.0 with aptX Adaptive technology. This is a higher-resolution Bluetooth, available only on Android devices. Apple mobile devices do not support aptX of any kind. Apple uses AAC—as well as the newer lossless and Atmos. I'm happy with AAC—I better be, because the Pi7 S2 earbuds will not play lossless. Here's a dirty secret—NO Bluetooth anything will play lossless. Lossless requires hard wiring.
Sorry for getting a bit lost in the weeds there with lossless and all, but understand that B&W makes Bluetooth sound as good as it can on the Pi7 S2 earbuds. Audiophiles may turn their nose up at wireless Bluetooth, but I have listened to these earbuds for hours straight while working and enjoy them immensely.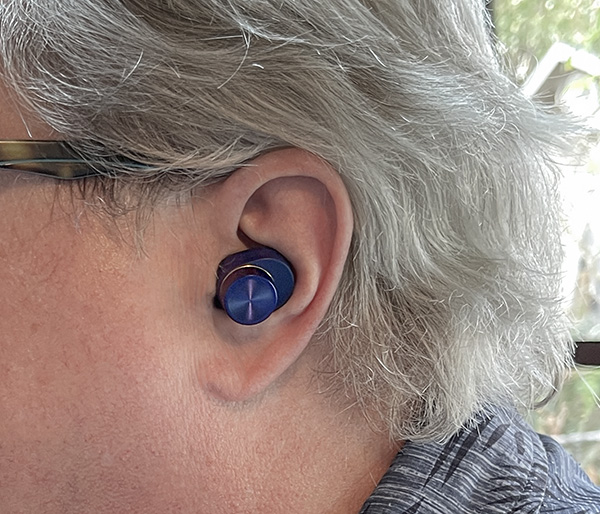 Let's talk about Dolby Atmos. What is it? Atmos is the new "thing" in immersive audio. Apple Music offers it and it's kinda cool. It sounds almost perfect for movies, but many music albums are now mixed using Atmos. It's more than just stereo. Remember that Atmos was developed for 5.1 surround sound in home theaters, but Dolby has performed magic applying it to "regular" headphones and earbuds. "More Than This" by Roxy Music from "The Best of Roxy Music" was remastered in Atmos. All I can say is, "Wow"! When compared to the regular stereo version, there—well—is no comparison. The Pi7 S2 earbuds play this out wonderfully despite it being faux surround.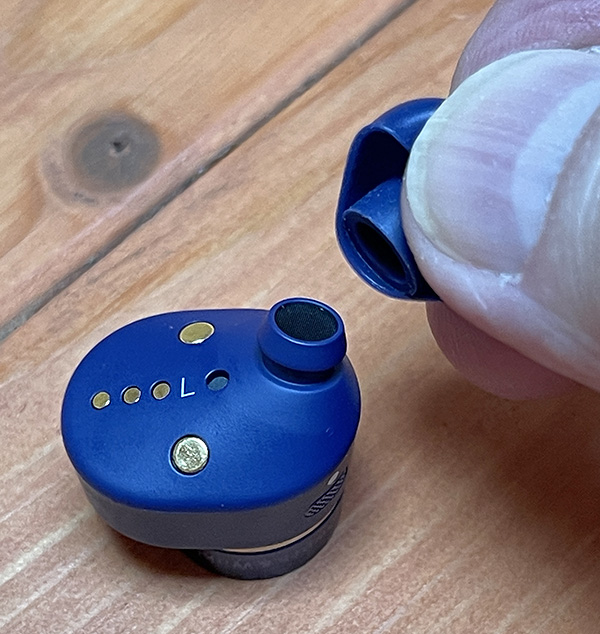 B&W has adaptive active noise canceling (ANC). It supports the usual ANC features: On/off and Passthrough. Passthrough is adaptive—it can be set for how much background you want to "slip through" the noise canceling. I prefer to set it to Minimum or off allowing the most amount of background noise in. Otherwise, it sounds like it's struggling to be ANC. It's an awkward mix in my ears. However, some may appreciate the ability to dial in—or out—how much noise canceling they prefer.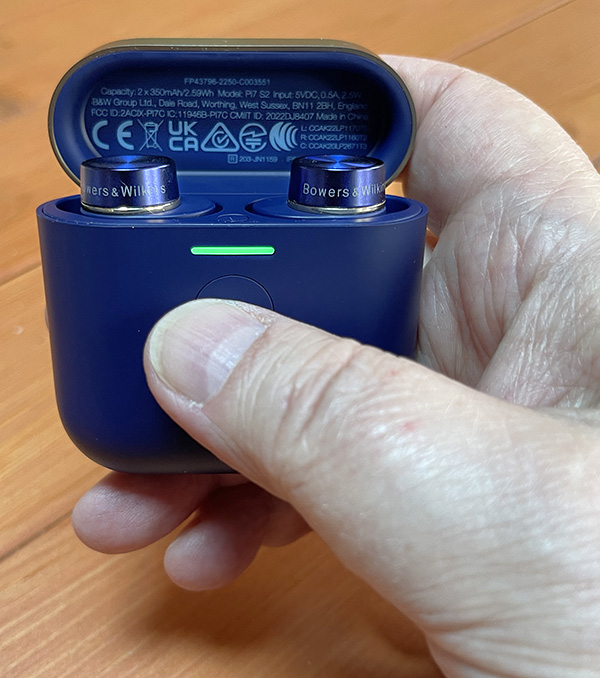 I've saved the best for last. B&W has made the Pi7 case into an audio retransmission system. B&W developed this system for commuters by allowing the listener to connect a cable to an airplane seat port—either USB or those weird two-prong audio plugs (not supplied)—and make it wireless. However, I discovered in my review of the original Pi7 that I could also connect the case to my old iPod Classic in the same way. I was able to listen to music wirelessly from my iPod! That's when it became a game-changer for me.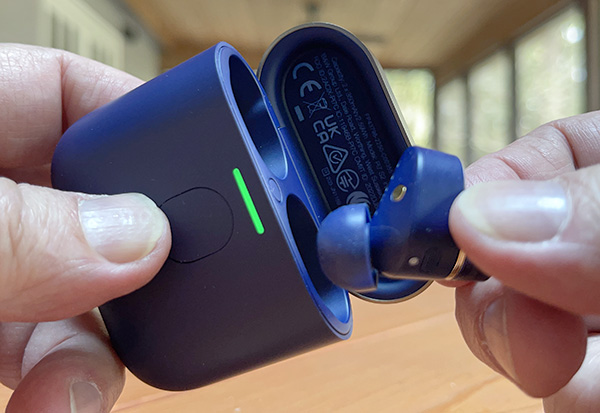 What I like
Excellent audio quality
Has updated features vs the original
Comfortable
Good ANC
What I'd change
Expensive
Give the case and earbuds a bit more grip
The app is not as developed as it could be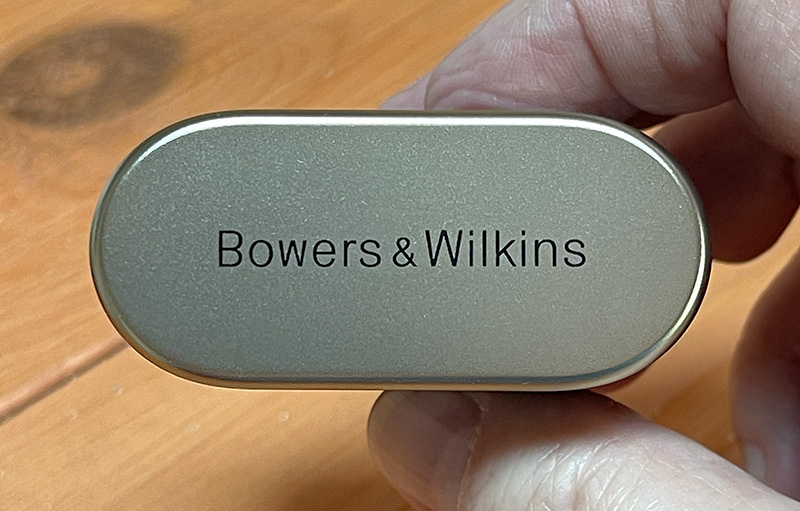 Final Thoughts
If you are still using earbuds you got for $50-$100 a few years ago, the Pi7 S2 earbuds will simply blow you away. They sound that good. However, if you have the original Pi7 earbuds, the subtle improvements are not enough to justify purchasing again. 
Are the Bowers & Wilkins Pi7 S2 earbuds worth $399? Yes, they are worth it if you value sound quality above other wireless features. Are they worth upgrading if you own the original Pi7 earbuds? No, I wouldn't recommend it. The subtle improvements don't justify it. But if you haven't yet heard B&W earbuds, you're in for a treat.
Price: $399 US
Where to buy: Bowers & Wilkins and Amazon
Source: The sample of this product was provided by Bowers & Wilkins.