We use affiliate links. If you buy something through the links on this page, we may earn a commission at no cost to you. Learn more.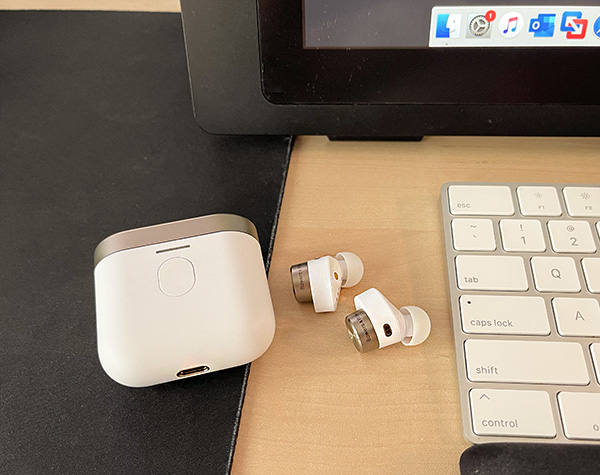 REVIEW – Ten years ago (has it been 10 years?), I reviewed Bowers & Wilkins first earphones—the C5. They sounded good but were not comfortable for my ears.  I couldn't really enjoy them for more than an hour. Fast forward to now—B&W has come out with their first wireless earphones, the PI5 and PI7 (reviewed here). Oh man, what a difference 10 years can make.

What is it?
The PI7 in-ear true wireless headphones are Bowers & Wilkins' premium earphones. White or charcoal colors are available— both with gold accents. They are called true wireless meaning that there are no wires connecting them to each other. The earphones feature a 24-bit design with Qualcomm aptX Adaptive (more on that later), hybrid drivers with individual amplifiers (more on that later, too), adaptive noise canceling (ANC), call quality using six mics, and a smart charging case with wireless charging. There's a lot to unpack here and I will go into each feature throughout the review. A choice of 3 sizes of silicone ear tips is included.
Specs
Adaptive noise canceling
Hybrid (armature and dynamic speakers) drivers
Hi-res 24-bit audio with aptX Adaptive
Excellent call quality
An app for various settings and firmware upgrades

Design and features
When the Bowers & Wilkins PI7 earphones arrived, I just knew they would sound good, given my history with their headphones. However, I did not know how much of a revelation they would be. Spoiler alert: I love these things.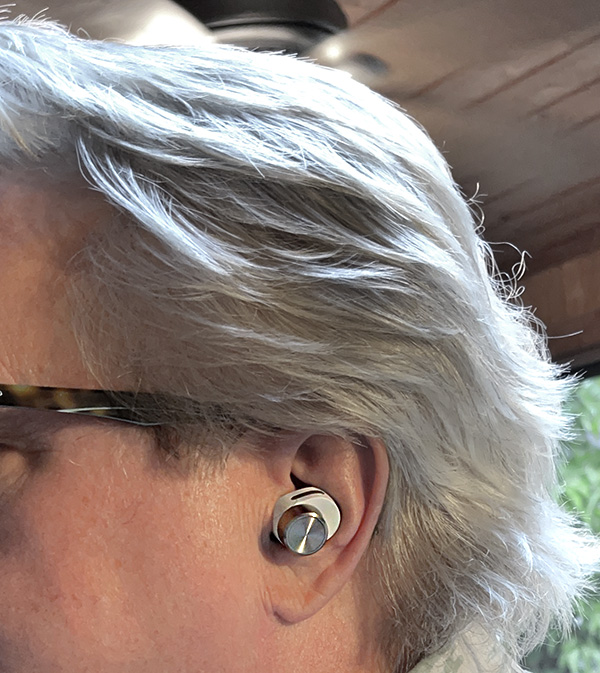 Let's start with the fit. The PI7 earphones are as comfortable for me as the original C5s were uncomfortable. I have worn these for many full workdays with no discomfort, not counting removing them for meals and breaks. B&W only supplies three sizes of silicone ear tips, but one fits perfectly in my ears—unusual for me. Just push into the ears and twist a bit until the earphones feel secure. Once inserted, they never felt loose or that they needed constant adjustment. If you do have to adjust, be careful to not touch the outer circular surface of either earphone which are multi-function buttons that can inadvertently skip a track, turn off ANC, or activate a voice assistant.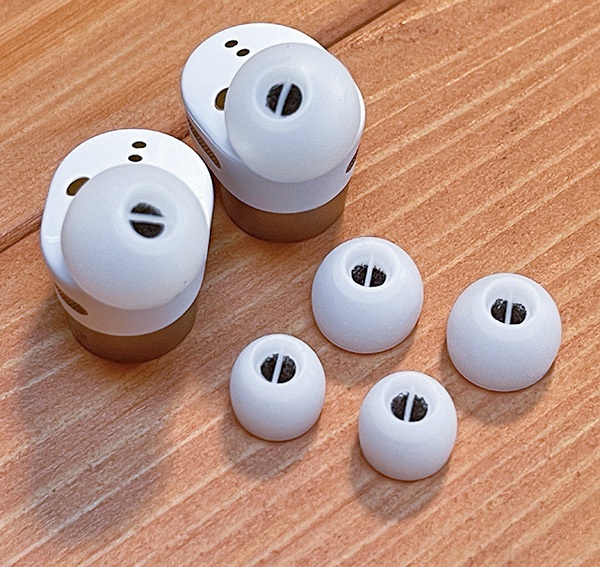 These multi-function buttons are touch-sensitive and perform various functions, depending on how the PI7 earphones are being used. Unfortunately, they cannot be customized or turned off (my preference). 
The PI7 earphones are terrific for phone calls. Each earphone has 3 mics (six total) used for both call quality and noise canceling. Many higher-end earphones fail on call quality—not these. People I spoke with said my voice sounded clear and distortion-free.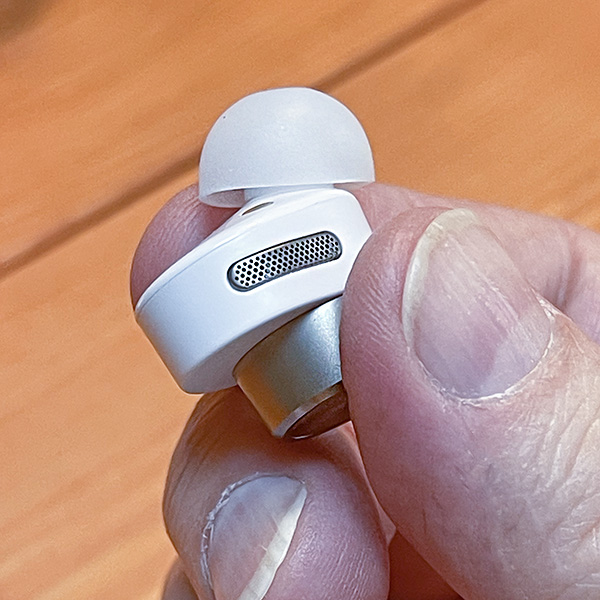 Build quality superb—typical for Bowers & Wilkins products. The earphones are lightweight plastic with aluminum trim. I have the white earphones, so time will tell if they can stay clean. They feel solidly built, but surprisingly, the case feels a bit wanting. While the earphones magnetically snap securely into the case with a satisfying clicking sound, it does not feel quite as well-built as the earphones themselves. At this price, while I would have preferred a metal case, I suspect it is made of plastic for one game-changing reason: Audio re-transmission.
What the heck is audio re-transmission?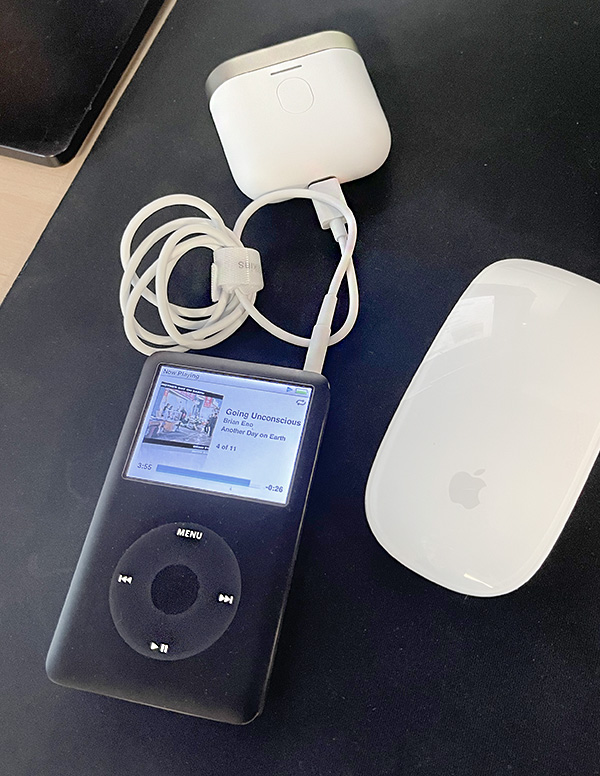 Bowers & Wilkins has done something I don't recall anyone else doing. When the case is hard-wired to any audio source via its USB-C to mini-plug AUX cable, it uses Bluetooth to re-transmit music wirelessly to the PI7 earphones. While it's primarily designed for use on an airplane to wirelessly connect to the airline's audio system (a great feature), I discovered another use. I thought, "What if I connected my old iPod Classic I haven't used in years to the PI7 case? So I did. I plugged the mini-plug end of the cable into the headphone jack of the iPod Classic and the USB-C end into the case. In seconds, I was listening to music from my iPod Classic using the PI7 earphones!
So how did it perform? Perfectly, with one downside. I had the iPod's volume set to max and it wasn't loud enough for my tastes, but that's me. The upside is that I was listening to long-forgotten music wirelessly from the iPod's ancient playlist. I am in awe of this feature.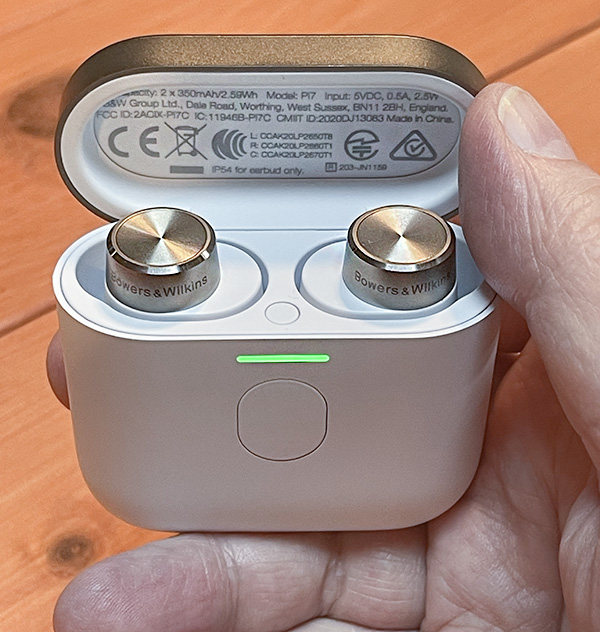 The case can be charged either wirelessly (Qi standard) or by using the supplied USB-C to USB-C cable for even faster charging. Personally, I hardly ever charge anything wirelessly, but it's good to know it's there. The case has a single light source that shows different colors signaling what's going on regarding what B&W calls the "operational state" of the case. I won't go into all the different indicators, but the colors show info regarding charging, pairing, and hardware resets, if necessary. Battery life is adequate, but not great. The earphones are rated at 4 hours per earphone with 4 case recharges for a total of 16 hours before the case needs recharging.
The case is a good size for pocketing without too much bulge. The flat sides make it easy to grip while one-handedly opening the lid.
If you are an Android user, B&W provides Google FastPair. This allows the PI7 earphones to almost instantly pair just by opening the case lid. It's similar to how Apple first pairs with their AirPods Pro. Unfortunately, my iPhone doesn't have Google FastPair, but the connection was still quick and easy, and solid.
The PI7 earphones' adaptive noise canceling (ANC) is some of the best I've heard. It's as good or better than Apple's ANC used in their AirPods Pro earphones (high praise, because Apple's implementation of ANC is first-rate). ANC usually stands for Active Noise Cancelling, but B&W has taken it a step further by making it "Adaptive". 
Historically, ANC is usually on/off and sometimes paired with an ambient setting—audibly bringing in surrounding noises so you can remain in the world while enjoying your music. Ambient is great for carrying on a conversation while still wearing the earphones. B&W has magically combined ambient background with noise-canceling allowing you to enjoy total silence from any drone-like background din, yet still be able to hear voices and traffic noise for safety. They call it Ambient Pass-through. You have to hear it to appreciate it. It's flat-out amazing.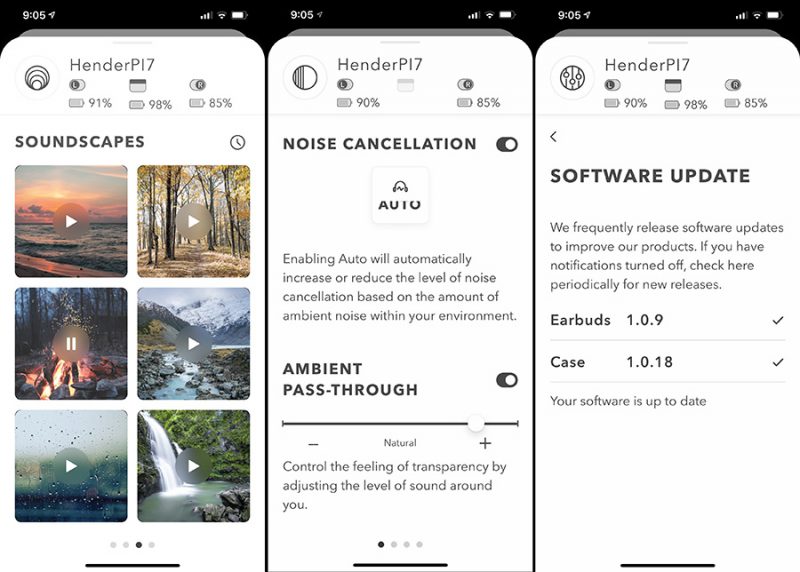 The degree of isolation you desire using Ambient Pass-through can be adjusted via a slider in the downloadable B&W Headphone app (iOS and Android). There is also an auto noise-canceling switch in the app. This switch will automatically raise or lower the level of ANC based on how much environmental noise is going on around you. It's yet another nice feature not available on most (or any) other high-end earphones.
Speaking of environmental noise, the B&W Headphone app supplies six different audible nature backgrounds for a calming effect that can be dialed up anytime—perfect for a hectic day. These sounds can be set to a timer. Yeah, it's a gimmick, but it's a cool gimmick.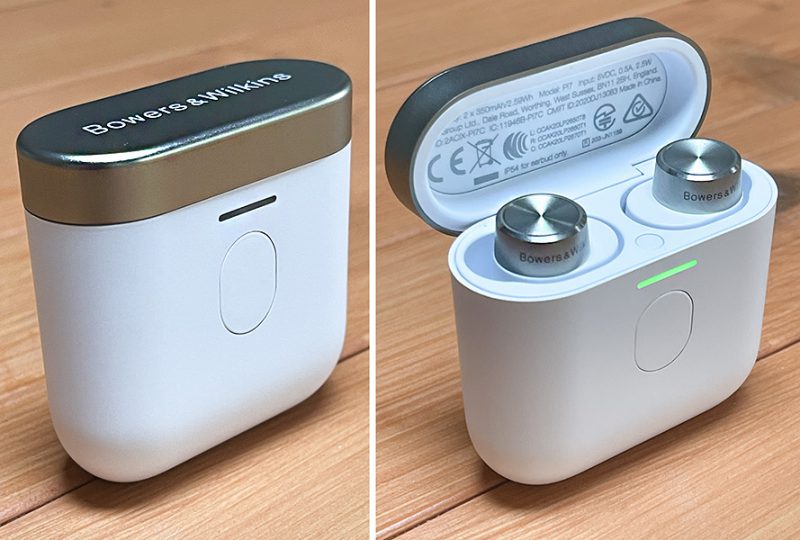 Now we get to why people buy expensive earphones in the first place—audio quality. In a word: Amazing. Bowers & Wilkins may not have been the first to enter the wireless earphone arena, but they were obviously watching and learning as others made mistakes. The PI7 earphones are one of the best earphones I've used, regardless of price. 
They come with 24-bit Qualcomm aptX Adaptive audio support, as well as SBC and AAC. aptX Adaptive is the newest and highest resolution Bluetooth codec available. Keep in mind that aptX must be available on both the music source and headphones/earphones to work properly. It supports a resolution of up to 24-bit resolution and 48kHz sampling. However, Apple uses what they call AAC (their version of higher resolution Bluetooth). AAC delivers up to 16-bit resolution and a 44kHz sampling rate.  This is close enough in quality to the slightly higher resolution of aptX that I have no complaints about how my music sounds using the PI7s on my iPhone 12 Pro Max. Note that 16-bit resolution is NOT the rate Apple streams wirelessly from Apple Music—that's much lower. The bottom line is that all my music sounds great on the PI7s—no matter the source.
There are a couple of reasons for the audio quality you get with the PI7 earphones. First is B&W's use of a hybrid speaker setup. Inside each earphone is a dynamic speaker combined with an armature speaker. Dynamic speakers look like tiny versions of speakers you see anywhere. Their strength is a fuller bass. Armatures don't look anything like a traditional speaker. They are derived from the hearing aid industry and are excellent with mid to upper frequencies. This explanation is very simple but gives an idea of the pros and cons of speaker design regarding earphones. Secondly, each individual earphone comes with a dedicated amplifier—per speaker. That's 2 amplifiers in each earphone!
The combination of dynamic with armature is not new or innovative, but B&W has managed to bring out the best of both. The middle and high frequencies of the armature speaker combined with the bass of the dynamic speaker provide an aural experience that can be enjoyed for hours—over many days. They seem to sound better and better over time.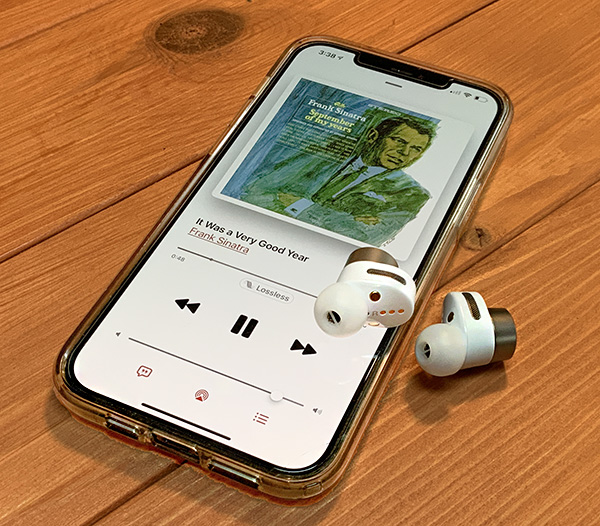 My eclectic musical tastes run from Abba to Sinatra to Eno—usually, all mixed together. Frank Sinatra was fanatical about good sound quality and his 50s-60s albums still sound better than most modern music recorded on better equipment today! Hearing his voice on the PI7s places him in the room with you. Yeah, that's hyperbole, but the soundstage is terrific for a closed-back earphone shoved deep into your ear. That's not an easy feat to accomplish. Say what you will about Abba, but their recordings are pristine and some of the cleanest you will ever hear. Listening with the PI7 earphones brings out the best Abba has to offer. "Knowing Me, Knowing You" has a kick to the gut that you seldom hear on other headphones. Music is the main reason anyone buys headphones and earphones and the PI7 earphones are obviously made for music.

What I like
Audio re-transmission
Adjustable ANC
Terrific audio
Clear phone quality
What I'd change
Expensive
The case doesn't feel as solidly built as the earphones

Final Thoughts
It's an overused cliche, but Bowers & Wilkins hit a home run on their first try with the PI7 in-ear true wireless headphones. Yes, they are expensive, but if you want some of the best audio available in an earphone with great call quality, long-term comfort, ANC, and that fantastic audio re-transmission feature, then the price seems more reasonable. My friends are getting tired of hearing me rave about these earphones. That's how much I like them!
Price: $399.99 US
Where to buy: Bowers & Wilkins and Amazon (PI5)
Source: The sample of this product was provided by Bowers & Wilkins