We use affiliate links. If you buy something through the links on this page, we may earn a commission at no cost to you. Learn more.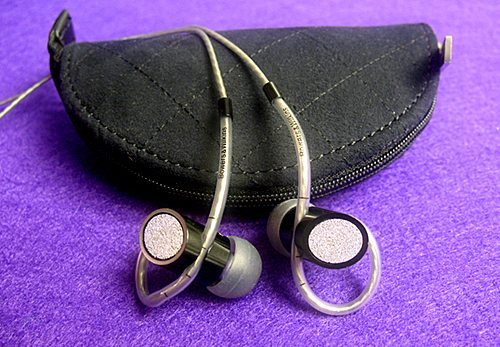 People don't usually associate Bowers & Wilkins name with reasonably priced audio. Yes, they make killer products, but affordable? Not for the average Joe with little knowledge of how good audio can and should sound. Well, B&W have come out with a pair of earphones that – at least in B&W's universe – are very affordable. The C5 In-Ear Headphones look nothing like any earphone you have seen before. At first glance, you may not realize they are earphones; they're that different.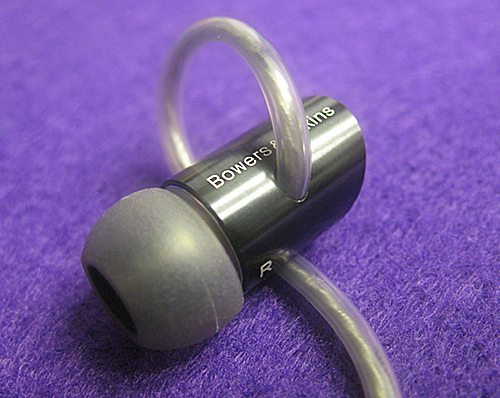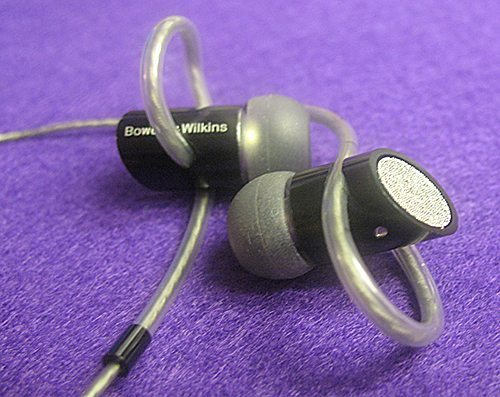 The C5s don't even fit your ears in the traditional way. When I first tried them out, I had to look at a diagram to get the fit right. B&W say that this design – along with gravity – helps them stay in place no matter how much you move about. They explain that the earphones are weighted so that gravity helps hold them in place. The C5s use a small, adjustable loop that fits into the concha part of the ear (look it up). Once fitted properly, they aren't going anywhere. The fit is that snug.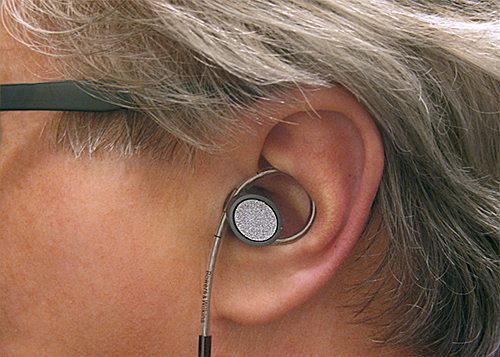 However, in my ears, the fit is also not the most comfortable I have ever used. For the first hour or so, everything is fine. Then the pressure caused by that same loop holding the C5s in place becomes irritating. I've had to let my ears rest after long-term use. Since I test earphones and headphones while I work at a desk, I sometimes wear them for 4-8 hours straight. I can't do that with the C5s. Which is a shame, because the C5s sound really good. They exhibit an openness lacking in many other earphones, no matter the cost. That openness is due to B&Ws Micro Porous Filter which is somewhat similar to an open-back design on a headphone. The drawback – or advantage in an urban setting – is that outside noise can be audible. But the big advantage is that with some songs, you can almost point to where each musician is in relation to the others in a three dimensional space. That's called soundstage. Ironically, B&W's own on-ear headphones, the P5, have a closed back design and don't sound this airy. Usually it's the other way around. Music on the C5 just sounds a bit less claustrophobic.
There is minimal microphonics (a thumping or rustling sound as the cable is tapped or scraped on clothes). It's there, but not distracting.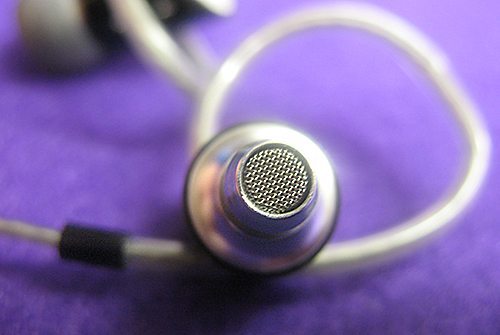 With this type of design, the bass is not as pronounced as with other earphones. On some less expensive brands, that's a good thing, because bass done wrong will overpower and distort everything. Also, with better earphones, like the Westone 4, Grado GR10 (full review soon) and the custom JH Audio 13/PRO, the bass can have more prominence, but also have a near-perfect balance with the mids and highs. That's not saying the C5s are better or worse, it's just a different approach. Some music benefits from a more subtle bass, some not so much. It comes down to what you like to listen to.
I auditioned the C5s with various songs and genres of music to see where they excel or come up short. I decided to connect the C5s to an external digital to analog converter rather than directly in the headphone port on my Mac. Using a DAC to bypass the computers inferior soundcard can make a noticeable improvement.
One of my all-time favorite songs is the jazz/bossa nova influenced "The Girl From Ipanema" by Stan Getz and Joao Gilberto. I downloaded this 1964 gem in ultra high resolution from HD Tracks and despite some analog hiss in the background, the sound on the C5s is extraordinary. Getz's smoky sax begins so subtly that I almost missed it. I always thought it appeared a few seconds later in the song. Then Gilberto's wife, Astrid starts intoning her now iconic vocals and it becomes magical. This song is recorded somewhat heavy on the bass, but the C5s prevent it from becoming too much. It's admirable how the C5s can tame bass without squashing it.
A classical piece of music, "Das Rheingold: Vorspiel" from Wagner's "Das Rheingold (The Ring)," begins with what sounds like instruments being tuned up before a performance. Then, ever so slowly, the volume picks up and a wonderful, transcendent cohesion takes hold and then, it just … stops. Like all good music, you are left wanting more. I was able to distinguish separate instruments among this perfect aural blend. I did expect a larger, more defined soundstage, but it just wasn't present in this piece.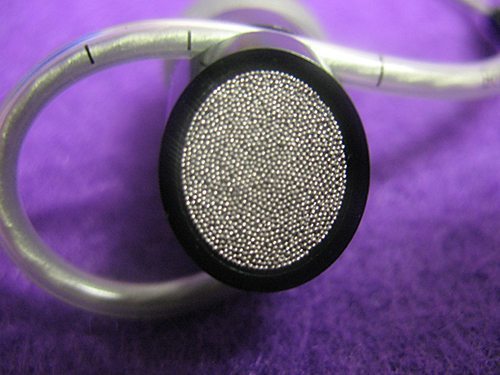 Talk about soundstage: "The Wind," a binaural recording by Lenny White, Jamey Haddad and Mark Sherman from the album, "Explorations in Space and Time," has a fascinating collection of percussive sounds emanating from every direction. The C5s built-in porous filter bring out this song's sense of space. Plus, being a binaural recording, the listener is placed right in the center of everything. It's an amazing experience.
Philip Glass's "It Was Always You, Helen," from "The Candyman" soundtrack plays like a long forgotten choral piece in a dusty, abandoned ballroom. The broad soundstage and slight reverb on the piano and vocals highlight the song's eeriness which the C5s exhibit quite well, resulting in a haunting, yet beautiful composition.
Speaking of reverb, Paul McCartney's 50s-tribute screamer "Oh! Darling" from the remastered Beatles "Abby Road" album is loud, rude and fun to listen to at full volume. There is a lot going on in this song between McCartney's vocals and a searing lead guitar from George Harrison. The C5s prevent any muddiness from creeping in and everything remains clear and sharp – if a bit dirty – as The Beatles had intended.
An obscure David Bowie song, "The Width of a Circle," from "The Man Who Sold the World" predates his Ziggy Stardust era by a few years, but you can hear the influence quite clearly. The soundstage on this song has many layers of depth. The C5s let you hear all of Bowie's guitar strumming; the tone combined with ambient string noise. And this is played behind Mick Ronson's powerful lead guitar with some up-front bass and drums. You can hear through multiple layers of sound. This is a song made for earphones.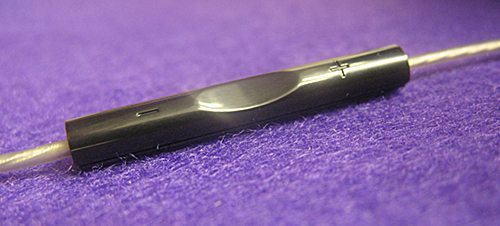 The C5s come with the usual array of add-ons: 3 sizes of tips and a classy, but frustrating leather clamshell case. The tips are okay, but I've used better. I got the best seal from the largest size. I wanted to try some tips from other earphones (I do that a lot), but the C5s have a unique size, so trying different tips wasn't an option. As nice and cool as the C5 case looks, it's almost totally useless. There is a hard panel in the middle with two holes for holding the earphones securely. However, it's cumbersome and a pain to deal with. If the case were larger, it wouldn't bother me as much, but it isn't and it does. The case is so small and tight, that it sits in the box unused. It's a shame that such a simple thing as a case is over-designed. Also included is an Apple-approved remote control and mic, so you can make calls, control the music and switch between the two without losing your place. Making and receiving calls is easy enough to do and the quality is good. Mics are becoming almost necessary in the crowded earphone market.
Because there are metal parts, sometimes you can get a little static shock while wearing the C5s. In no way does this harm you or the earphones, but it can come as a little "shock" when it happens (bad pun, sorry).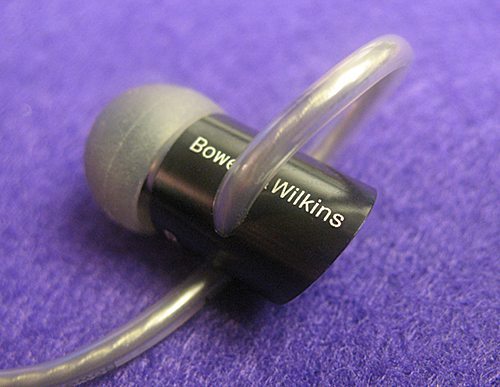 As you can see, I really like how the B&W C5 earphones sound. They are warm, very balanced and just plain refined, both in sound and build quality. They also make quite a design statement. My main gripe is that within an hour or two, they become uncomfortable. Keep in mind that I can only speak about my ears. I have seen other reviews that are very complimentary on the fit and comfort. I just don't agree. So, if you want to try B&W's C5 In-Ear Headphones, make sure you get a return policy if they don't quite fit as you had hoped. If you find that the fit is perfect for your ears, then you will be in for a sonic treat.

Product Information
Price:
$179.95 US
Manufacturer:
Bowers & Wilkins
Requirements:
Pros:

Large soundstage.
Reasonably priced (for B&W).
Solid build quality.
Balanced bass.
Sound good with different genres of music.

Cons:

Fit can irritate after a couple of hours use.
Over-engineered case.
Remote/mic only work with Apple.