We use affiliate links. If you buy something through the links on this page, we may earn a commission at no cost to you. Learn more.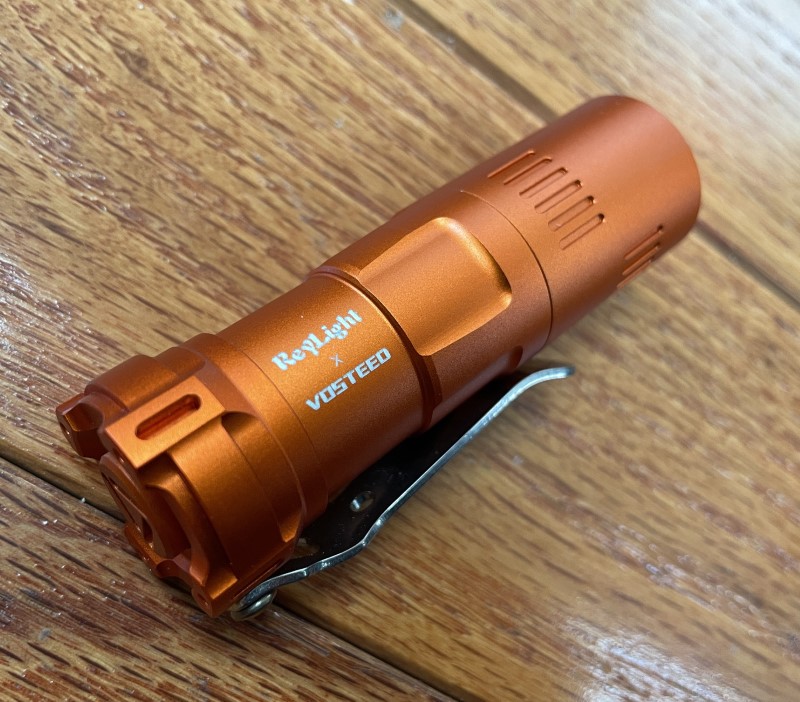 REVIEW –  Wallet, Leatherman multi-tool, phone, and flashlight. I check my pockets for them every time I set foot out of my house. I'm a flashlight geek and over the years, I've learned that a good one is worth its weight in gold. Ok, not literally, but having one like the Vosteed Reylight Rook Flashlight should always be on your EDC checklist.
What is it?
The Vosteed Reylight Rook Flashlight is a pocketable variable brightness, rechargeable,  flashlight.
Hardware specs
Model: Reylight X Vosteed Rook
Material: Aluminum
Emitter(All): 3* Nichia 519A (4000K)
Emitter (Orange Rook): Cree XPL HI (6000K)
Lens: Sapphire
Optics: TIR Optic Lens
Body Colors: Blue, Orange, Red, Black, Grey
Power Source: Battery Powered
Max Output (Nichia): 1800 lumens
Max Output(XPL): 3000 lumens
Light Source Type: LED
Battery Cell Composition: Li-ion
Weight: 3.5 oz(100g) with battery
Dimensions: approximately 80 x 25mm
Cell: 1 * 18350 1100mAh 3.7V Rechargeable Battery (included)
Batteries Included: Yes
Temperature control system: As a safety feature, if the temperature reaches 55°C brightness is automatically decreased
Reverse polarity protection
Low voltage protection prevents the battery from over-discharging.
Double springs prevent the battery from bouncing and damaging the internal components.
Gold-plated springs for increased conductivity and corrosion resistance.
One-handed intuitive operation
What's in the box?
Vosteed Reylight Rook Flashlight
18350 rechargeable battery
USB-C charging cable
Two spare o-rings
Reylight and Vosteed vinyl stickers
User manual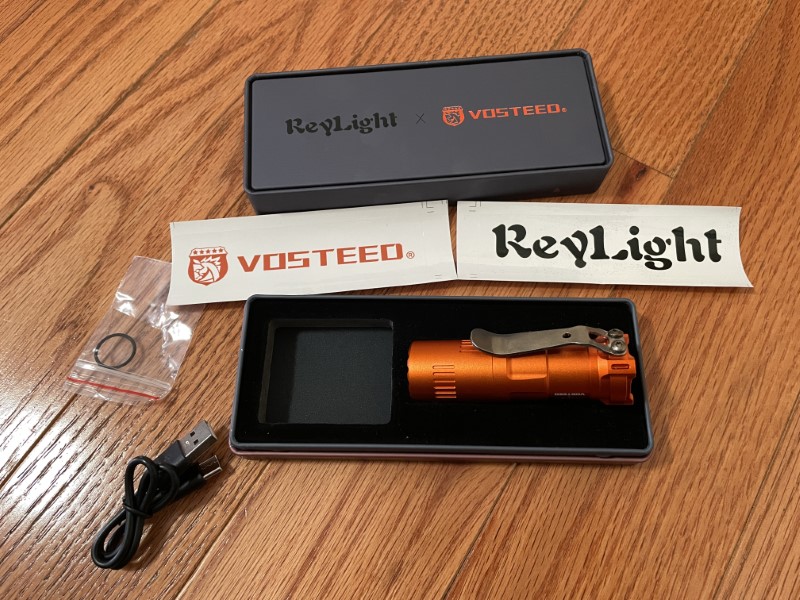 Design and features
The Vosteed Reylight Rook Flashlight arrived in an elegant metal box. Very cool! Inside the parts ride in sophisticated foamy comfort.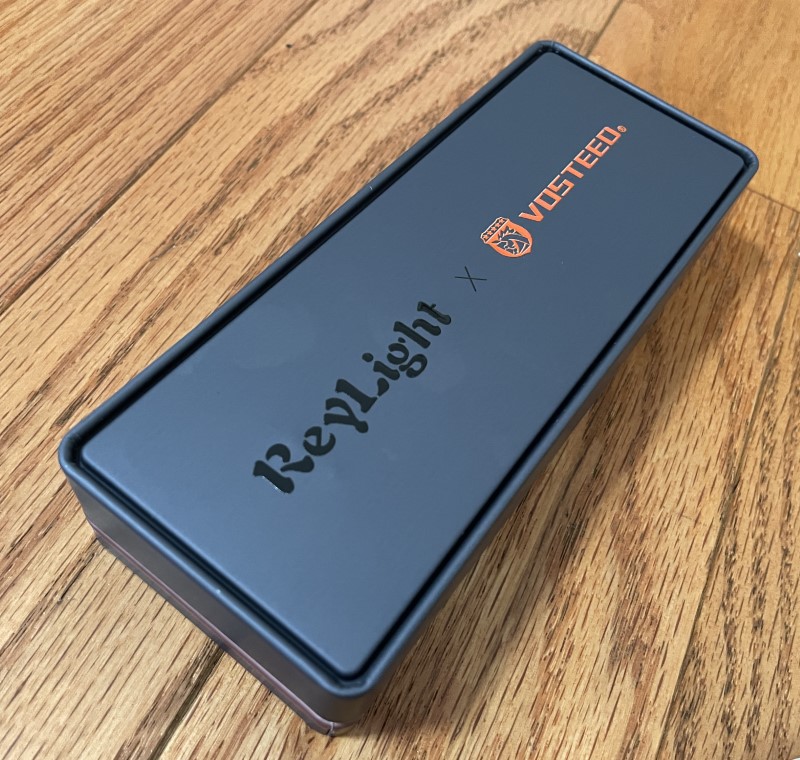 First impression: This thing is built like a tank. It feels solid. Several colors are available. In my case, the sample is orange.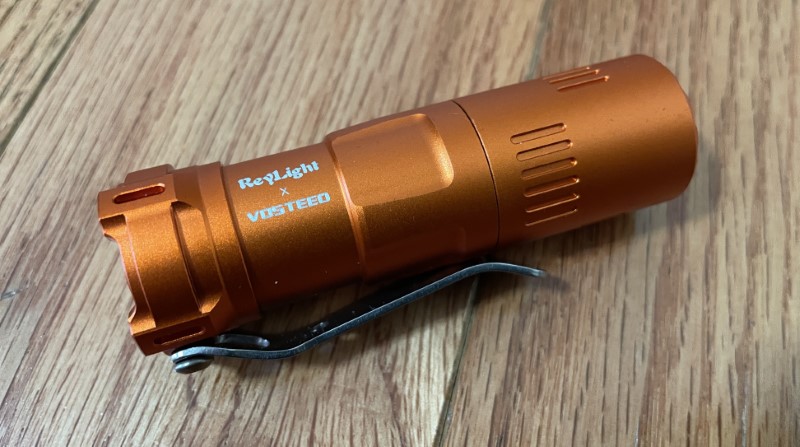 The size is comfortable and easily pocketable.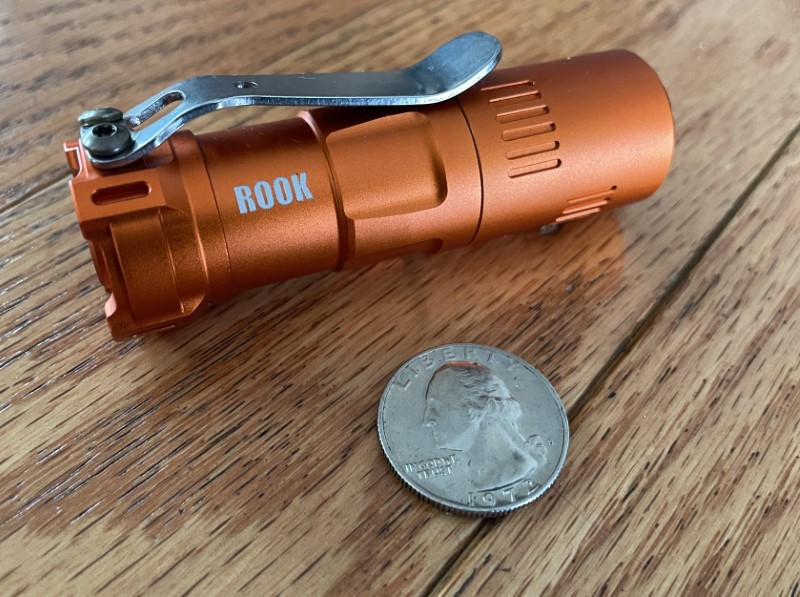 The first step – charge that battery. To do this the flashlight screws apart. The threads have a smooth feel and there was no grittiness or binding.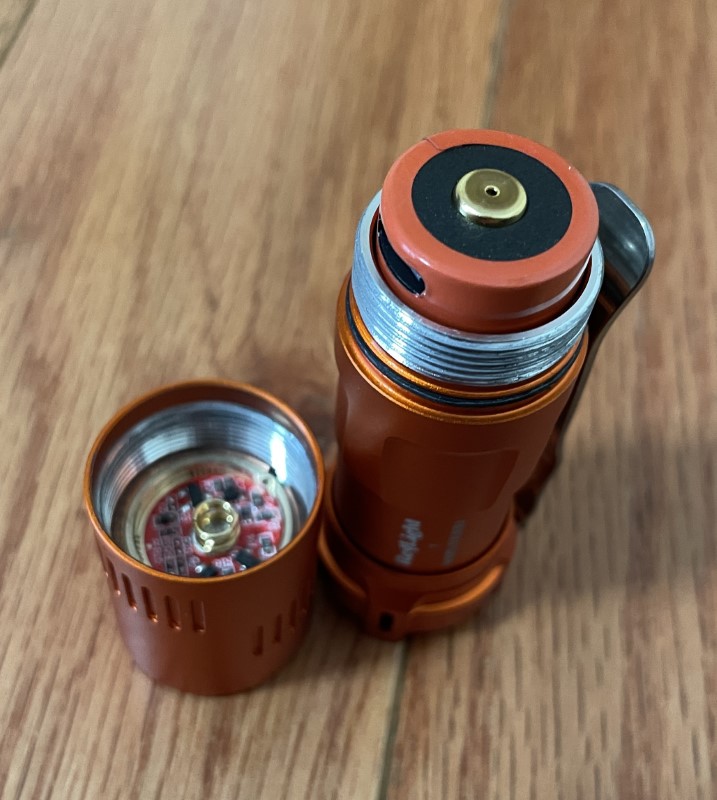 A strong, removable clip is attached to the tail.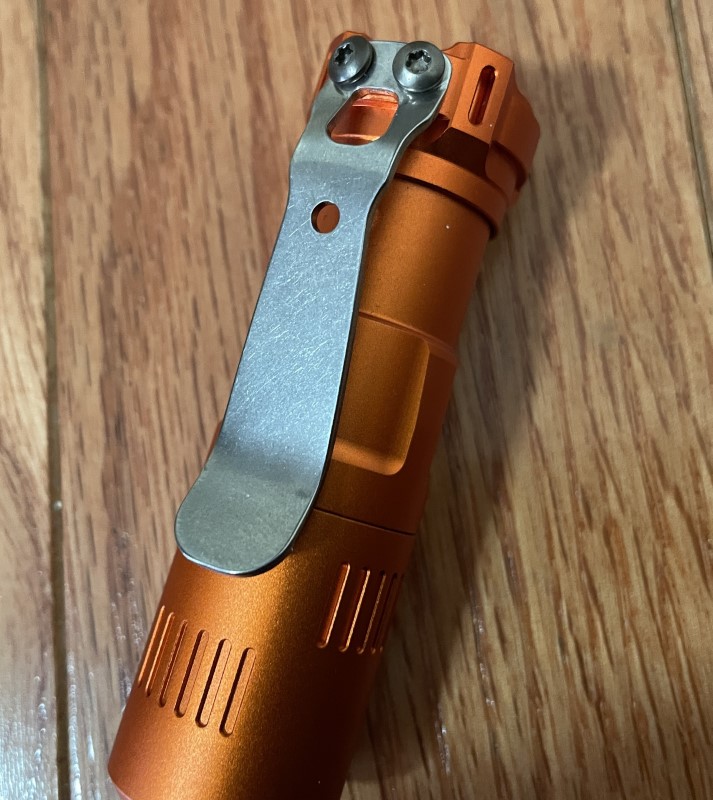 Interestingly, the o-ring fell apart as soon as I opened the light. No big deal as Vosteed includes two spares. I have no doubt this was just a fluke because one of the new ones popped on with no trouble.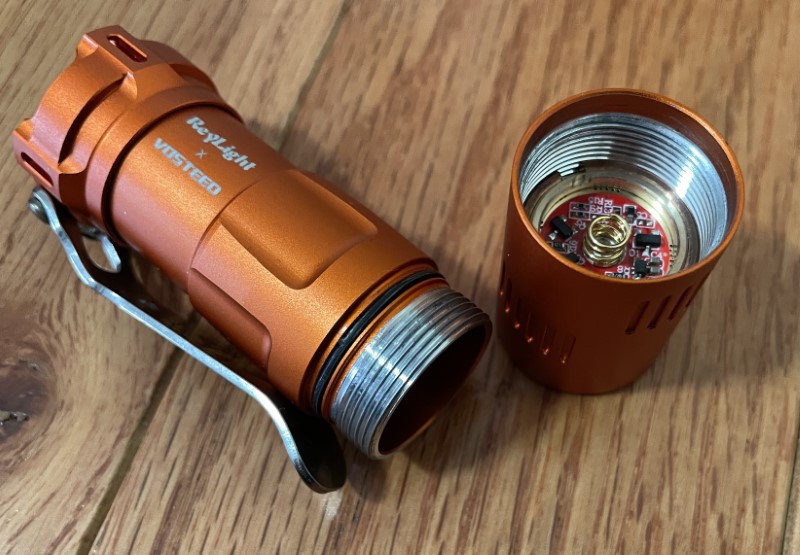 Inside the battery compartment and head are springs to ensure secure contact with the battery. They're strong enough to eliminate battery rattle. Because they make such good contact, there is no "battery lockout," a technique that some flashlights use that disconnects the battery from the electrical contacts by slightly unscrewing the base to prevent accidental activation while being carried in a pocket or backpack.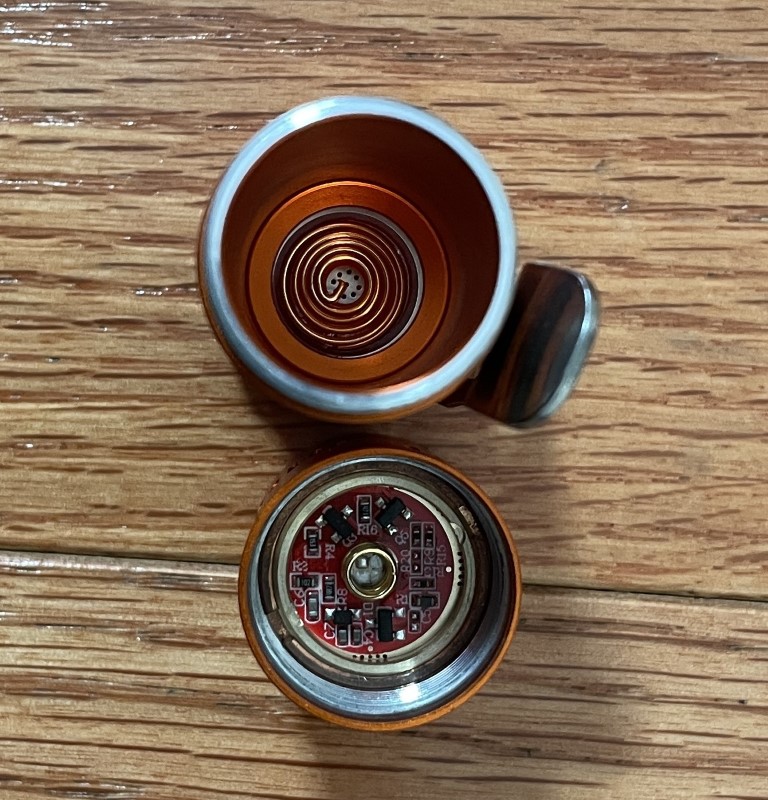 A short USB-A to USB-C charging cable is included with the Vosteed Reylight Rook Flashlight. The battery needs to be removed from the flashlight for charging. A USB-C port is built in. I was safely able to charge using a high-current USB-C charger and cord.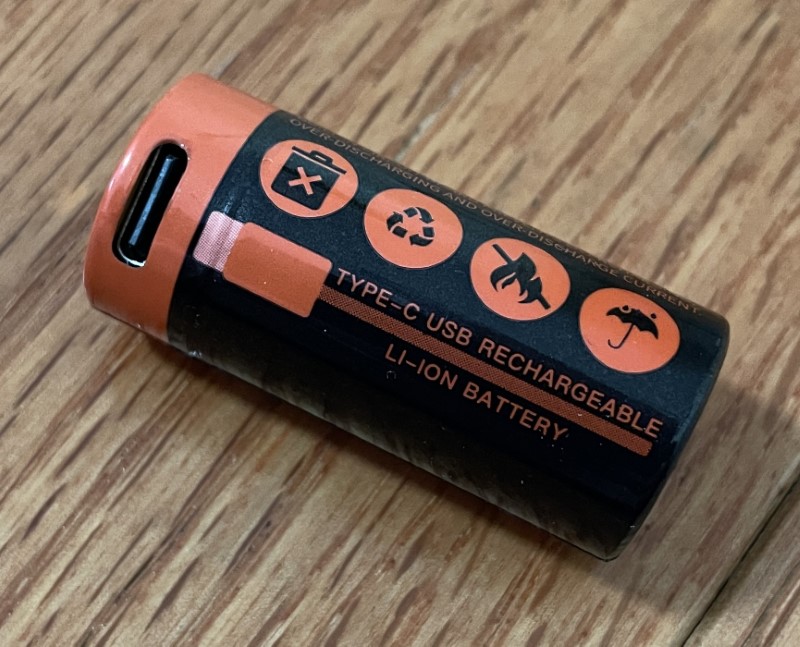 A cheery LED in the positive battery tip indicates the charging status – red during charging and blue when complete).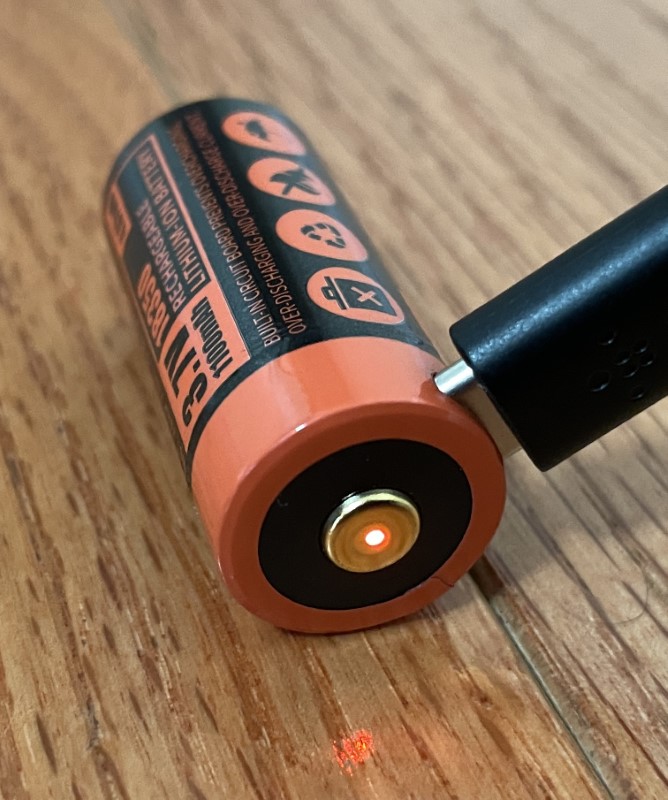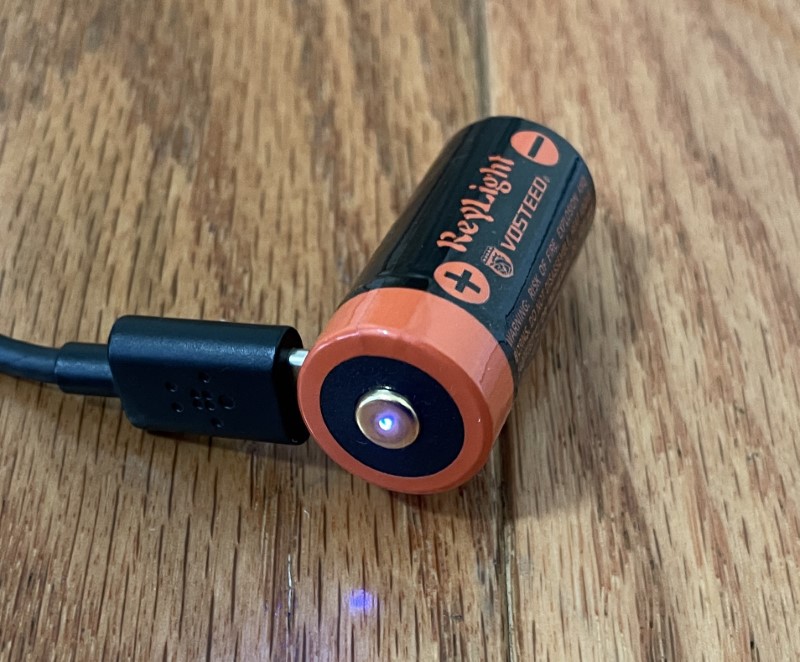 The business end of the Vosteed Reylight Rook Flashlight has, count um', three LEDs. A sapphire glass lens protects the inner components.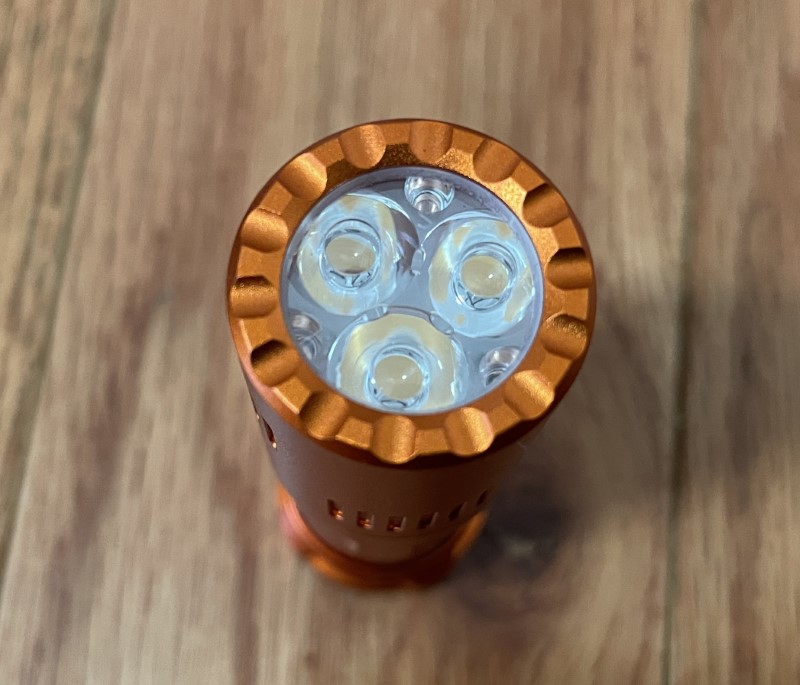 The Rook's tail sports a recessed reverse-clicky button. When the button is pressed, there is a satisfying click. When the button is released, the light activates. Operation is smooth.  Should you desire to add some dazzle, there are three slots for fitting tritium vials (not included).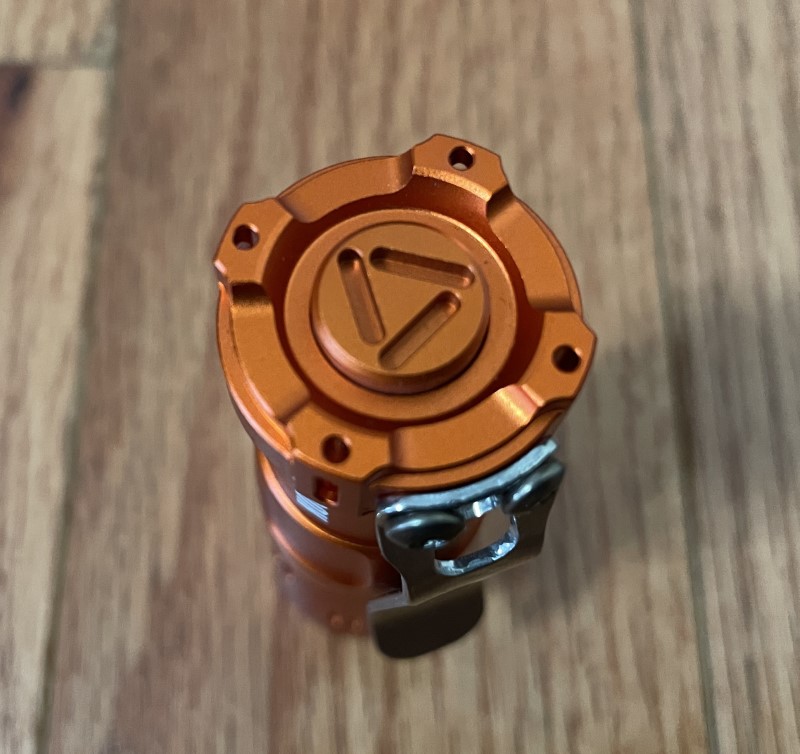 To add even more zip to your zapper, four more tritium vial slots are available surrounding the tail.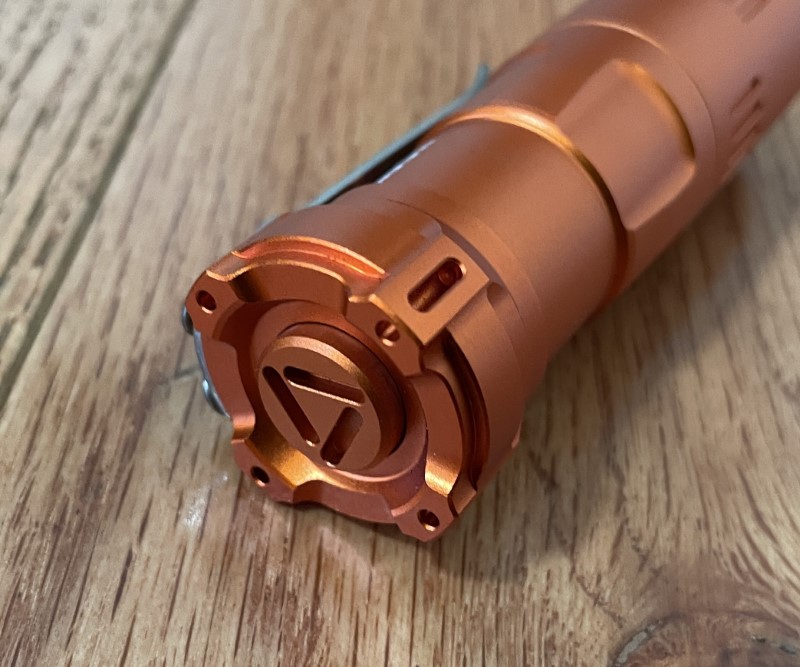 I only had one tritium vial that was the correct size to fit into the Vosteed Reylight Rook Flashlight's button but I have a Reylight LAN I bought several years ago with a few installed. Tritium vials contain a radioactive isotope of hydrogen that has a half-life of about 12 years which makes them glow. Don't worry, fellow Gadgeteers. The radiation isn't energetic enough to escape the glass so they pose no danger.  They are available in several colors, beautiful to night-adjusted peepers, and make it easy to find the flashlight in the dark. The vials don't create much light so they are difficult to photograph without professional equipment, so please excuse the blurriness of the long-exposure photo.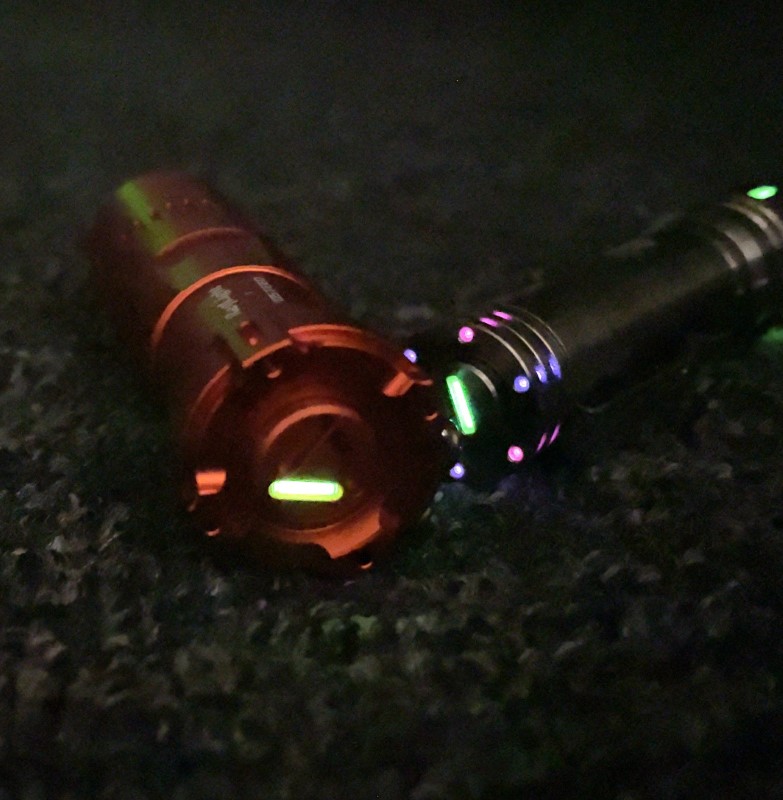 Speaking of glow-in-the-dark. Vosteed packed an Easter Egg! For a while after the light is used and then turned off, a photo-luminescent material glimmers green around the lenses (it's not visible with the lights turned on). Marvelous!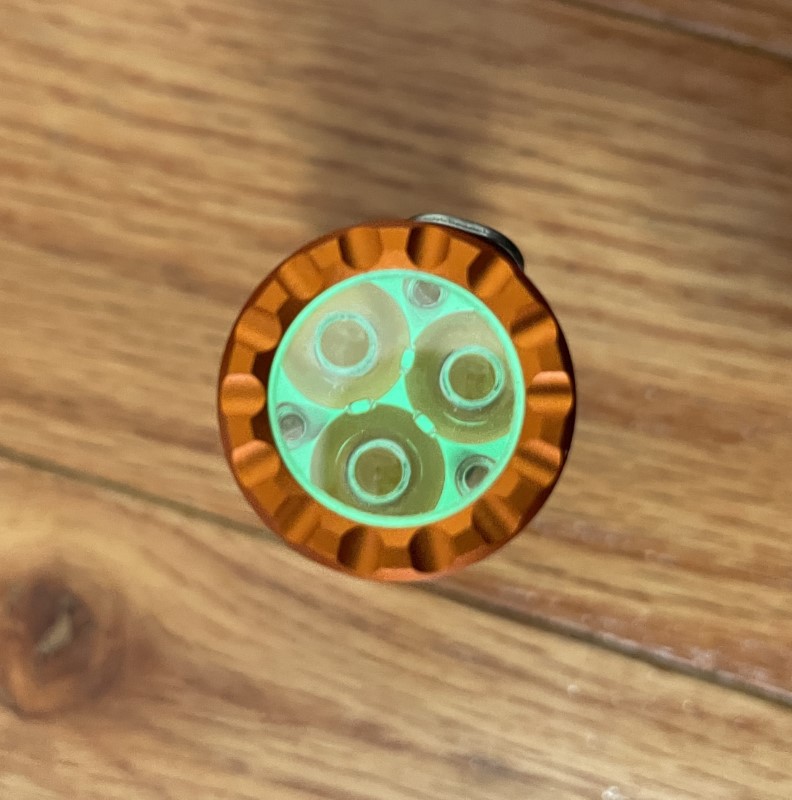 Out of the box, pushing the button until it clicks and releasing it turns the Rook at the lowest brightness level. Another full press turns the light off

When it's on, a "half press" steps through three more levels (defaults are "moonlight," 2%, 20%, and 100%) then it cycles back to the lowest again. If you prefer different levels, clicking the button eight times enters "configuration mode" where the following list of level modes (groups) can be selected. I like the default settings so I didn't feel the need to fiddle with them.
Group1=1st blink: (Moonlight)-2%-20%-100% (default)
Group2=2nd blink: (ML)-10%-40%-100%
Group3=3rd blink: (ML)-2%-10%-50%
Group4=4th blink: (ML)-50%-100%-strobe-SOS
Likewise, personal preferences can be chosen.
Mode memory. Enabled or disabled (default, remembers the previous brightness between power cycles)
Moonlight mode. Enabled (default) or disabled
Mode order. Low-Mid-High (default) or High-Medium-Low
The three Nichia 519A LEDs emit a warm, yellowish light that renders colors well. The lens arrangement provides a smooth, wide, artifact-free beam.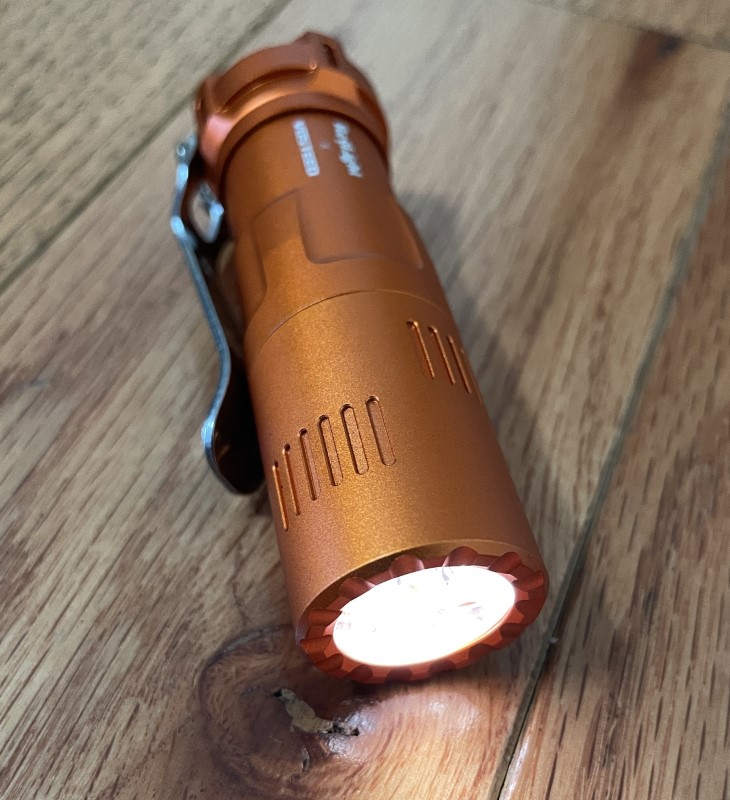 The brightness range of the Vosteed Reylight Rook Flashlight is impressive. "Moonlight" mode is dim enough to preserve night vision for darkness-adjusted eyes up to a blazing 1800 lumens that's enough to bathe my entire backyard in photons. Whoa! The photos are 2%, 20%, and 100% using my phone's 26mm lens at f1.6 and the trees are about 50 yards away. Moonlight mode was too dim to capture at that distance, but was enough for "don't trip over the cat" light on the way to the bathroom at 3:30 in the morning.
One caveat – at 100% the Rook's housing gets hot quickly, but internal protective circuitry will dim the beam if the temperature hits 55°C (131°F). It's toasty, but not to the point that I felt the need to bury my hands in the snow.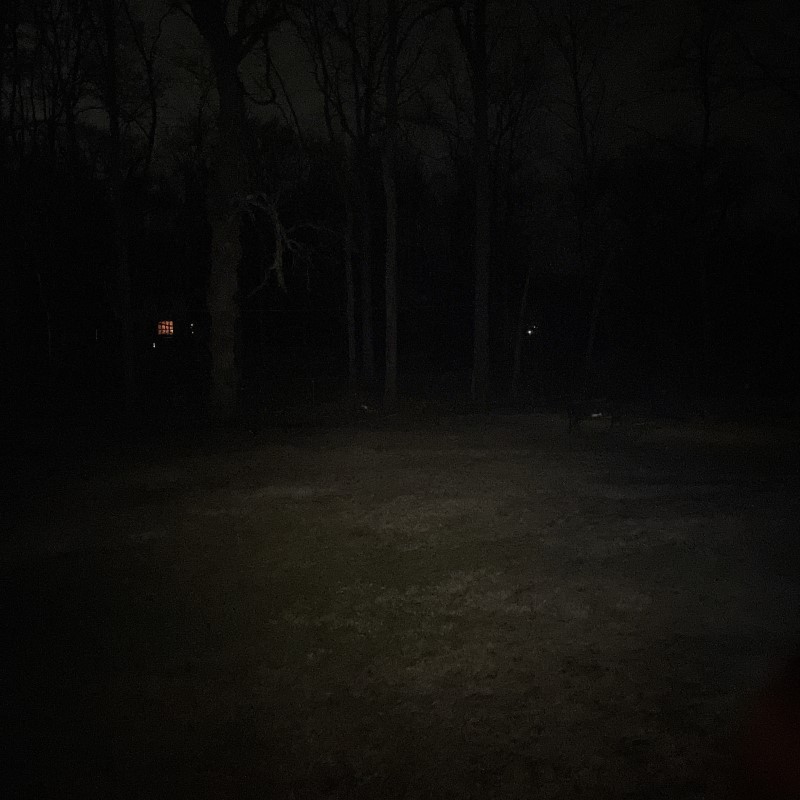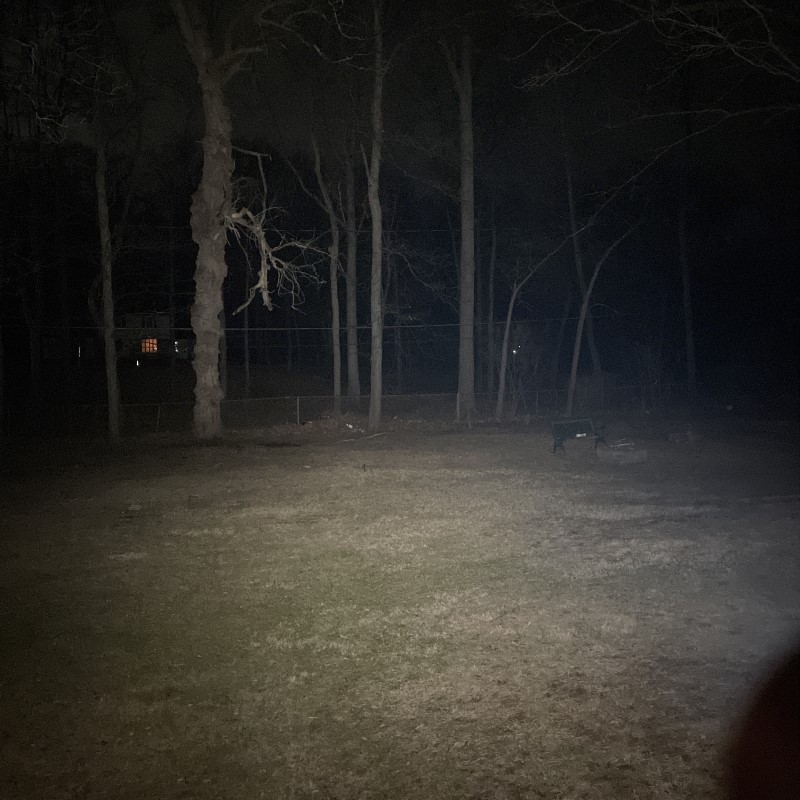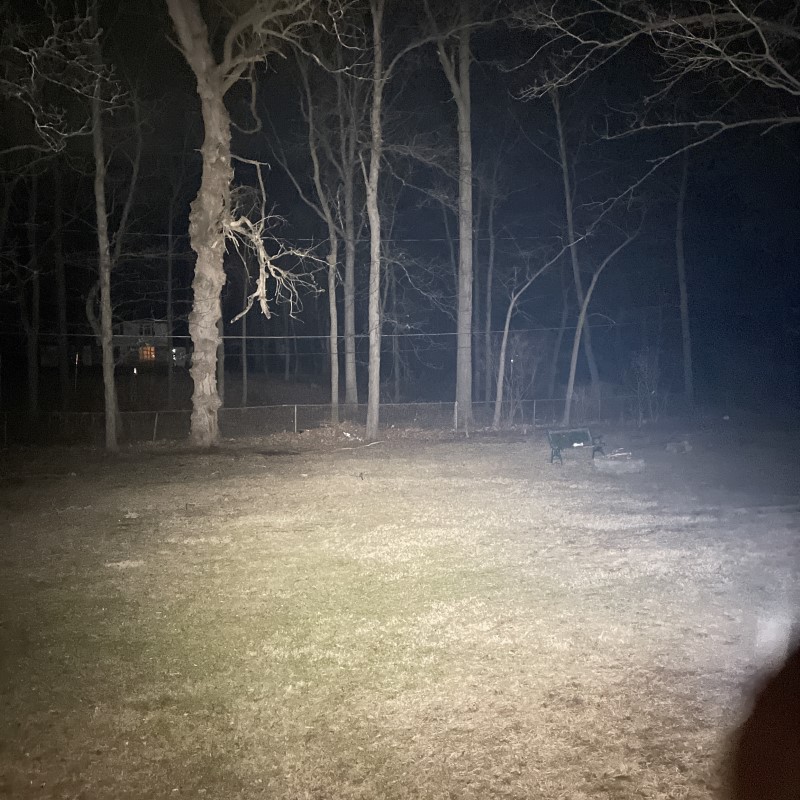 And another set looking for Mothman in an oak tree 🙂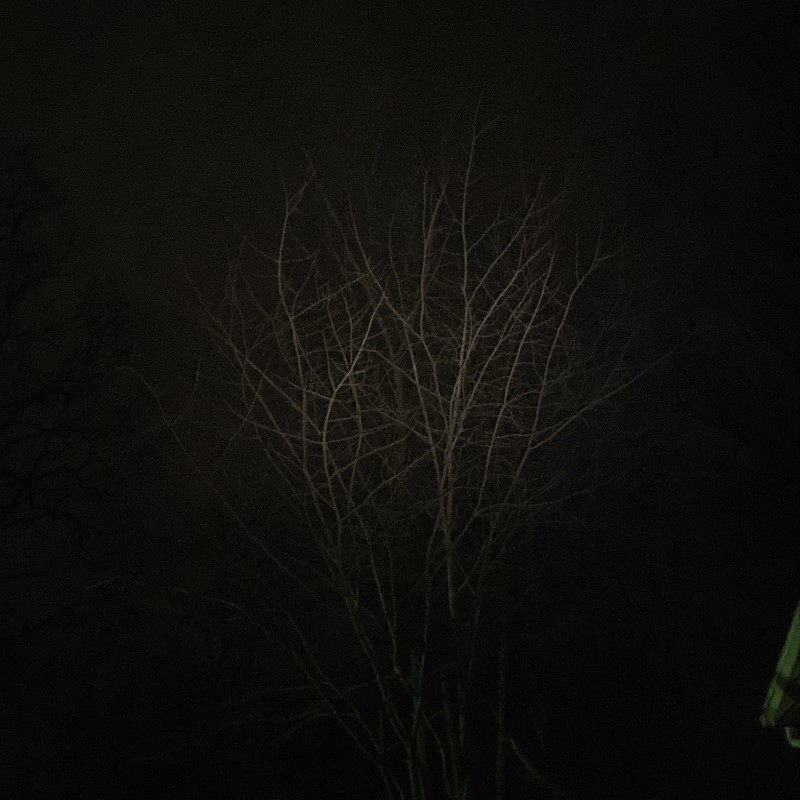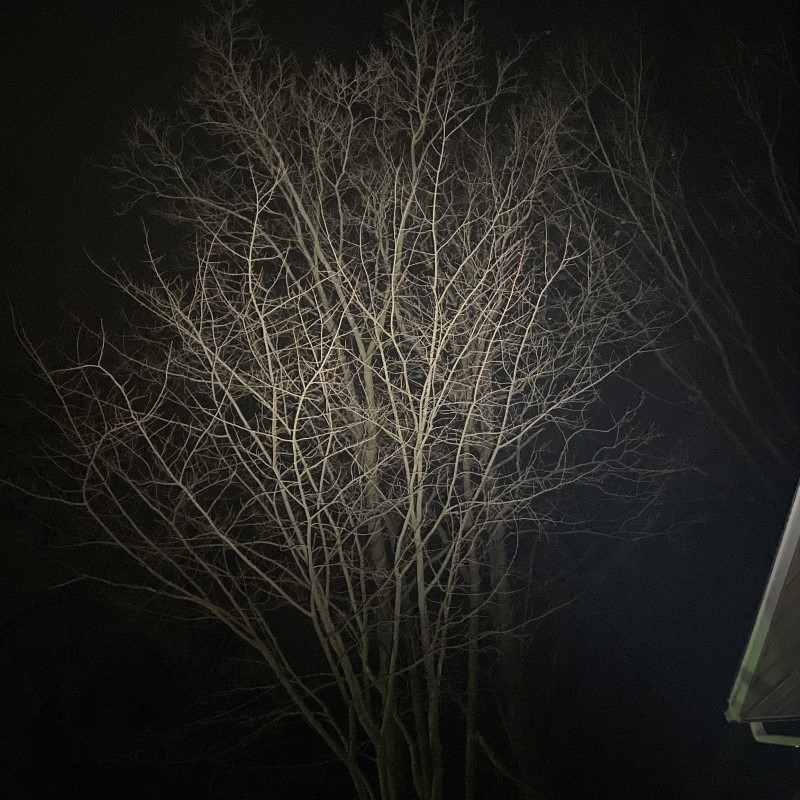 What I like
Very bright, smooth beam
Pocketable size
Lots of user configuration optionsGreen afterglow
What I would change
Final thoughts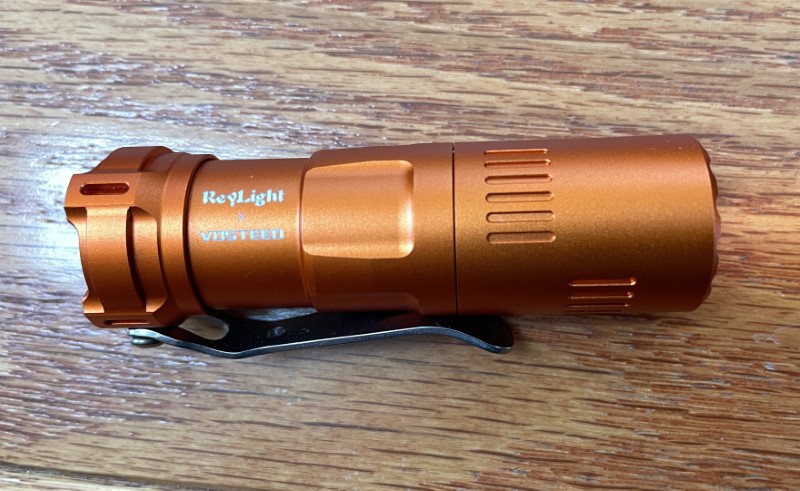 I remember when 500 lumens meant a bulky backpack behemoth that felt like it consumed enough batteries to spawn lightning and cost more than a used Subaru (I'm not kidding).  Now, $70 will buy a Vosteed Reylight Rook Flashlight that can throw enough radiance to erase the shadows. I loved the pocketable size, brightness, and impressive build quality. Thank you so much, Vosteed!
Price:   $69.00
Where to buy: Vosteed
Source: The sample for this review was supplied by Vosteed.