We use affiliate links. If you buy something through the links on this page, we may earn a commission at no cost to you. Learn more.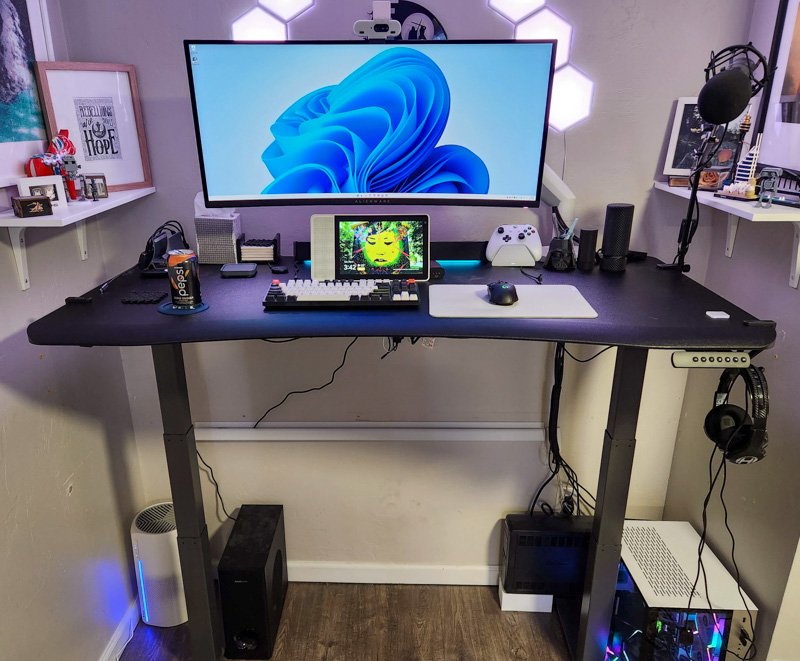 REVIEW – Do you ever try a new product with low expectations, only to be surprised that it has a feature or characteristic that you now can't live without? This was the case with the Vari Curve Electric Standing Desk: I expected a minor upgrade over my previous $200 standing desk, and ended up realizing I now can't live without a curved-edge desk. I thought my previous standing desk was fine, but I had to position myself in a way that avoided my wrists or forearms digging into the hard edge along the front, and it didn't raise quite high enough to ergonomically use my treadmill.
What is it?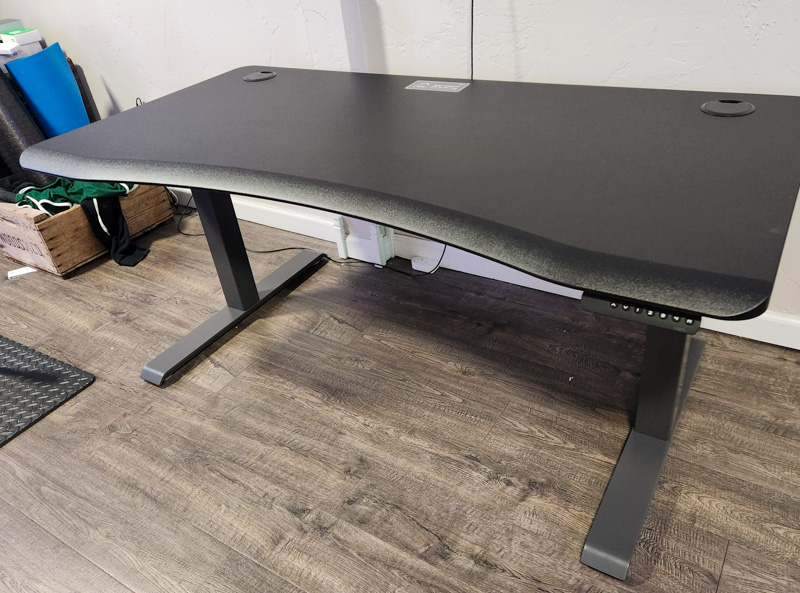 The Vari Curve Electric Standing Desk is a premium standing desk (electronically adjustable for both sitting and standing positions, and anything in between). This particular model is fairly large (60 inches by 30 inches) and has a curved and rounded front for comfort.
What's in the box?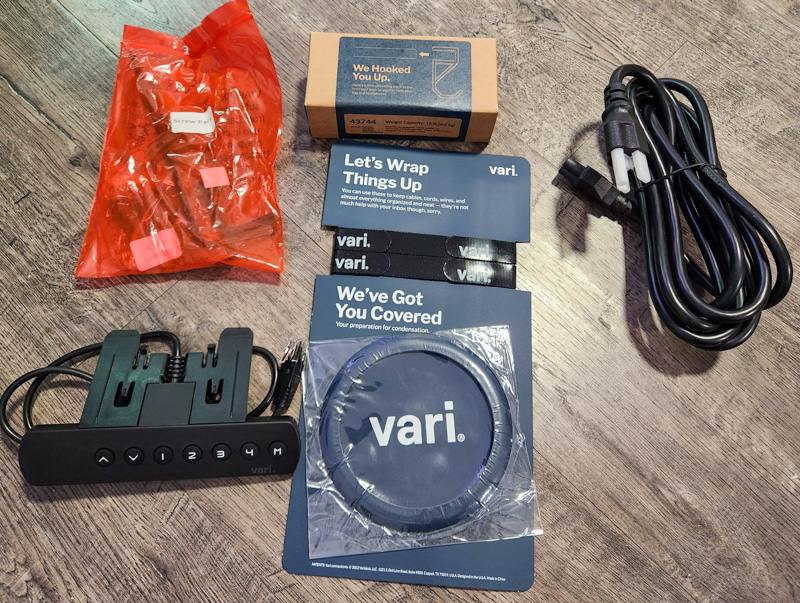 Vari Curve Electric Standing Desk
Front control panel
Coaster
AC power cable
Cable wraps
2 x hooks (for bags or headphones, etc)
Installation hardware (bolts and tools)
Hardware specs
Curved and rounded front edge
60 inches wide by 30 inches deep
4 programmable height settings
2 x cable canagement grommets (3″ circles with covers)
T-style legs
1.25″ desktop thickness
Height adjustable from 25″ t0 50.5″ (measured from floor to desktop surface
Supports 200 lb
UL 962 listed, UL Certified to BIFMA Standards
Greenguard and GreenGuard Gold certified
Design and features
The Vari Curve Electric Standing Desk has a classic standing desk design, with a harder-to-find curved and rounded front edge. The top is a textured durable laminated surface, with a control panel at the front right, and two cable routing holes at the back corners.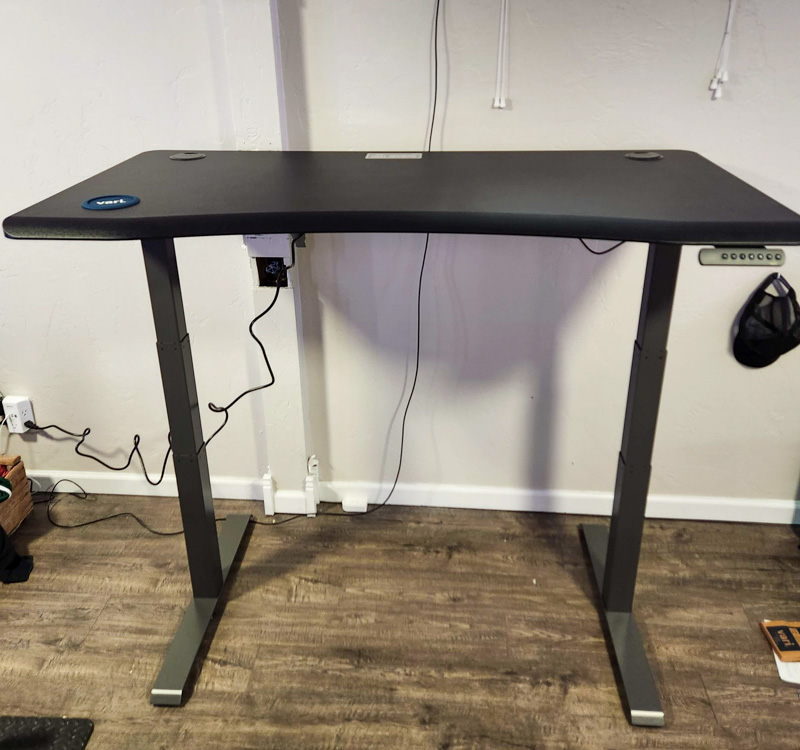 The desk raises to a generous maximum height of 50.5″, which is a couple of inches higher than two previous standing desks we've owned. As a 6'4″ person, this extra height is appreciated. It lowers even lower than other models I've used as well, down to 25 inches.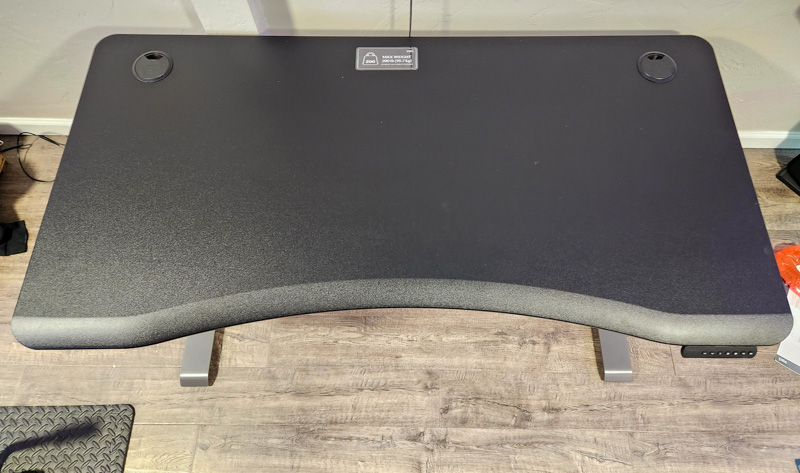 Above is a top down view to show the layout and cable routing options. The curved and rounded front made more of a difference than I expected: it greatly increased comfort while typing and sitting for long sessions of work or play, and was especially nice as an arm rest while using my walking treadmill.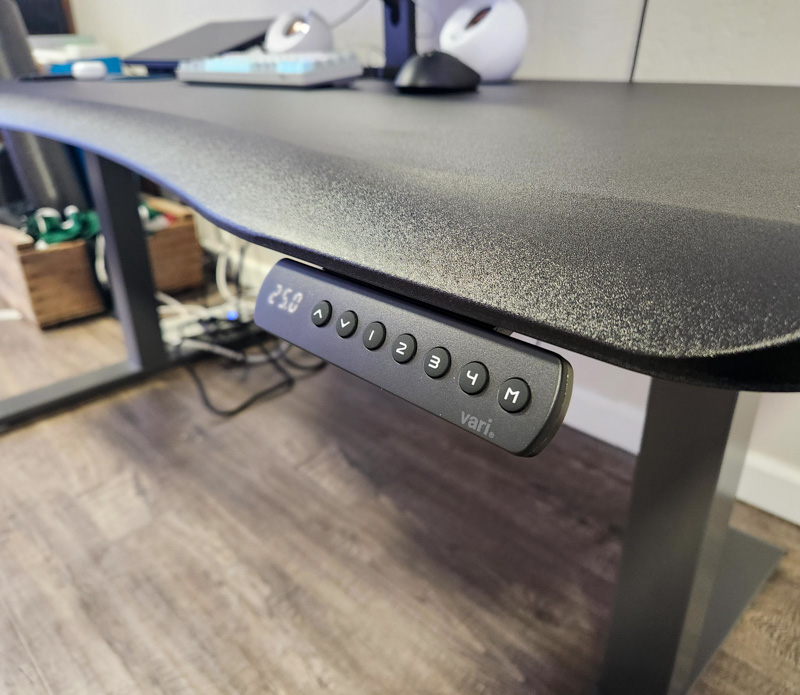 The control panel is at the front right, and pushes back under the desk if you want it out of the way when you don't need it. My only complaint here would be that sometimes pressing a button also pushes the panel back under the desk so it's harder to see, even if that wasn't your intention. An LCD screen shows your desk height in inches when used. The up/down buttons do as advertised, and there are 4 memory positions that can be customized.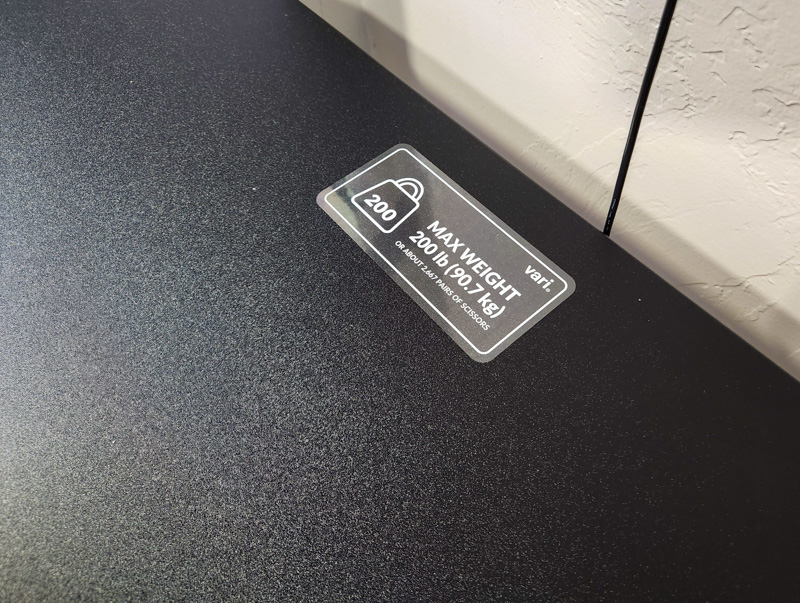 The max weight supported is 200 pounds, which is generous for a standing desk. You could mount multiple huge monitors and other equipment without worrying about damage to the desk or lifting motor.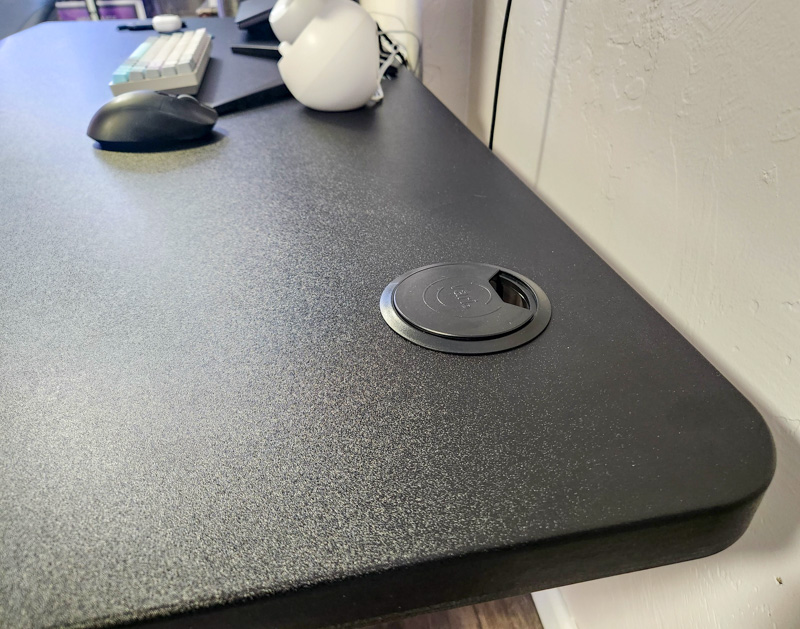 The two cable routing holes are generous 3 inch openings where you can route whatever cables you'd like for a clutter-free desktop. Included grommets cover up the empty space and can be rotated to any direction.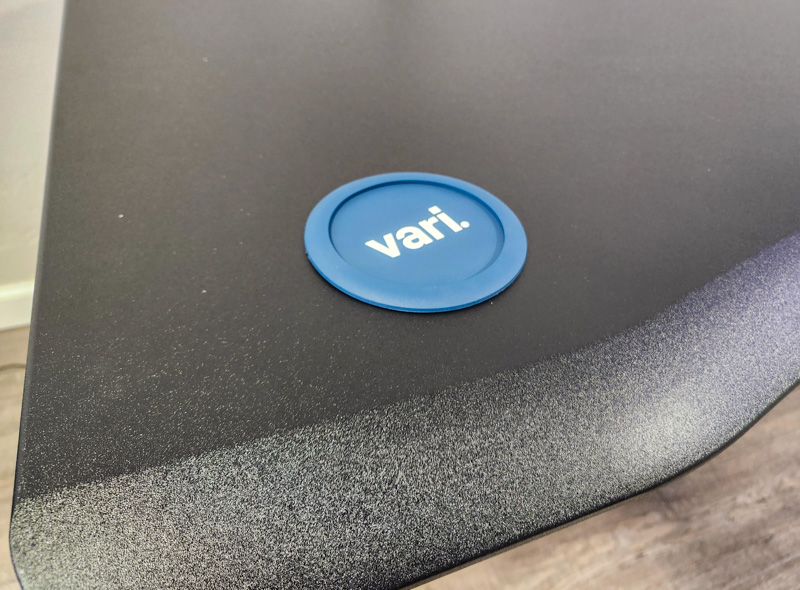 Vari's free coaster they included is a nice touch, it appears to be made of silicone and prevents your beverage or food from slipping.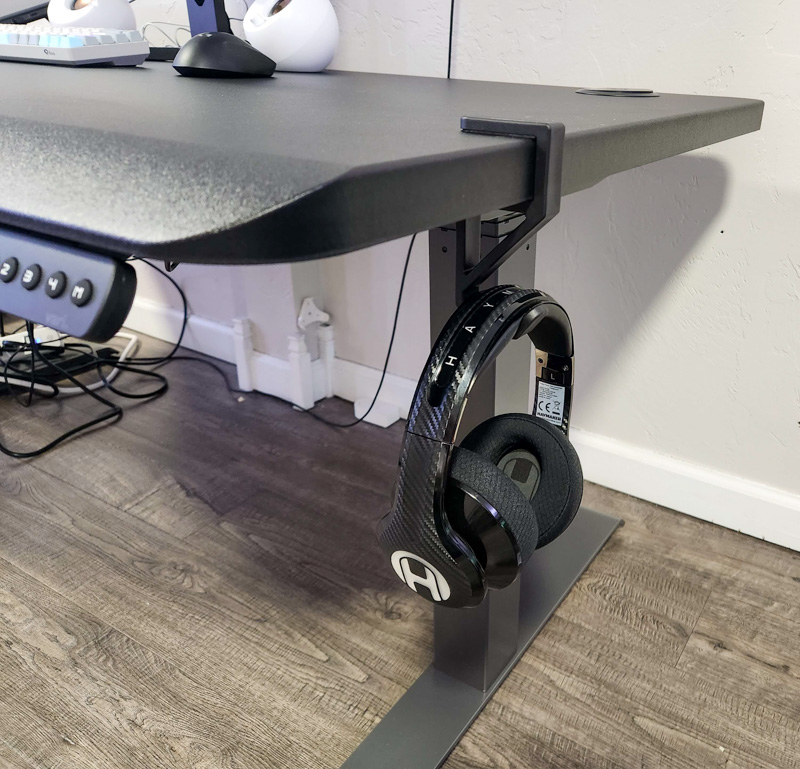 Vari also includes two hooks that are quite sturdy, you could hang bags or headphones on either side of the desk, or you could use these to help route cables under the back of the desk.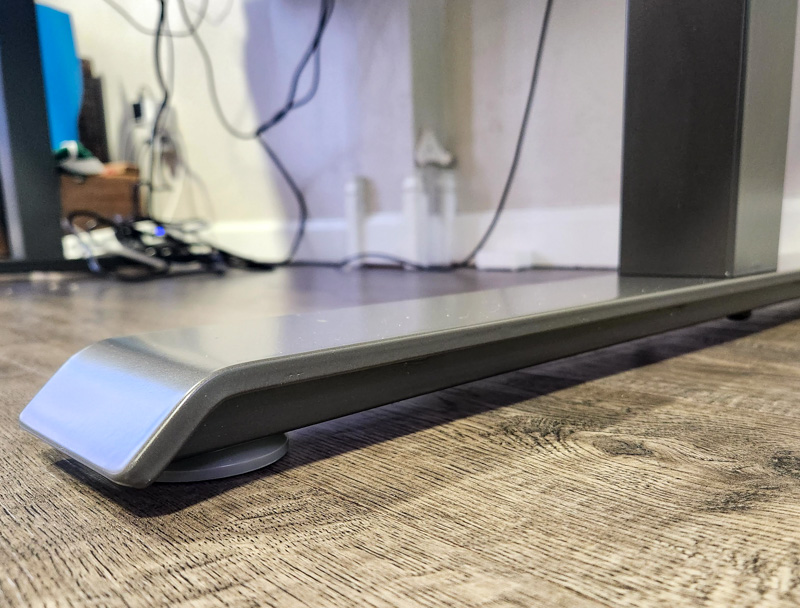 The "T-style" legs are very solid and stable, and hide the lifting motor. The feet are adjustable so if your floor is slightly uneven you can compensate for it.
Setup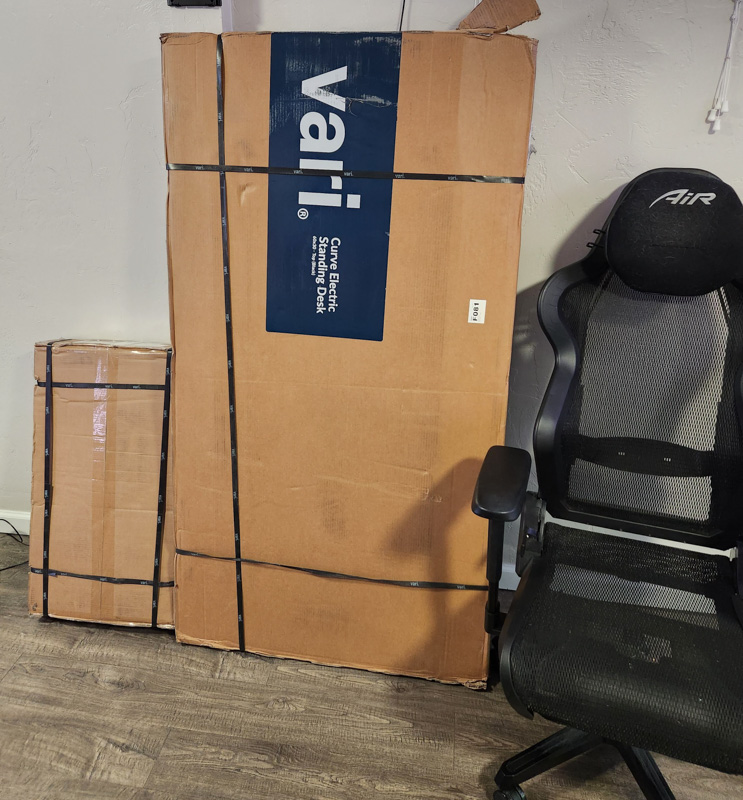 The Vari Curve Electric Standing Desk comes in two large boxes, and it's definitely going to be easier to set it up with two people, though I managed it in about an hour solo.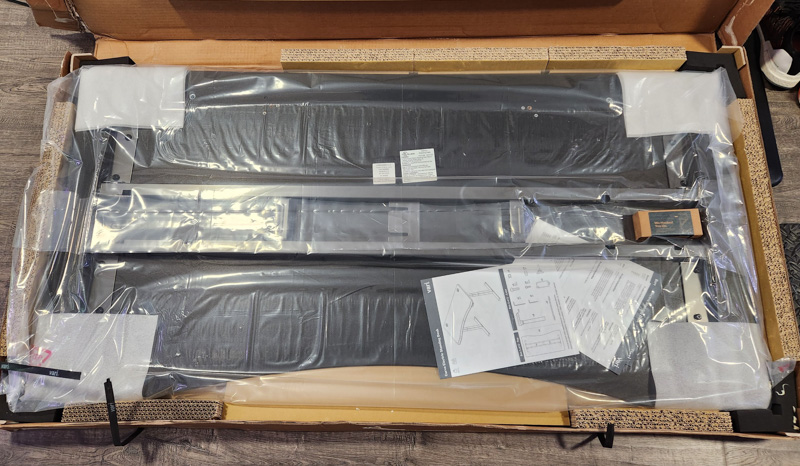 Everything is well packed, and even though the outside box had gouges and dents, the contents were unharmed.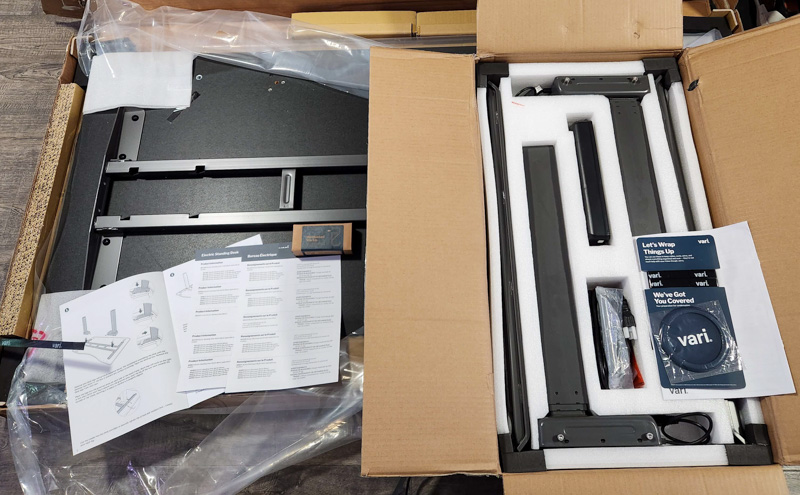 Assembly involves placing the desktop upside down, then attaching the legs. These slide in and lock into place, which is much easier than the usual "attach and tighten 2-4 bolts per leg" that previous desks have required.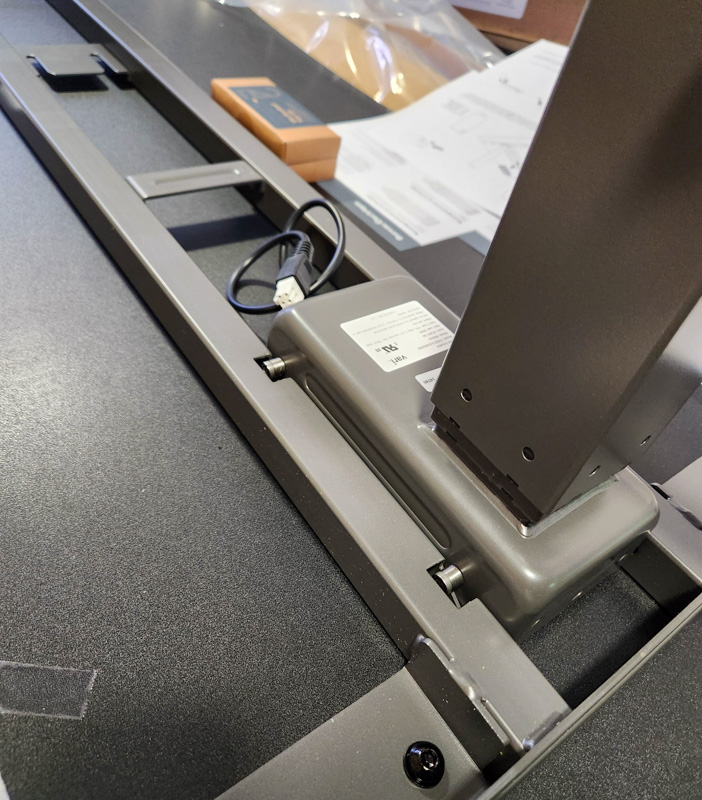 The feet are then attached to the legs to form the T-shape, and these do require 2 bolts each.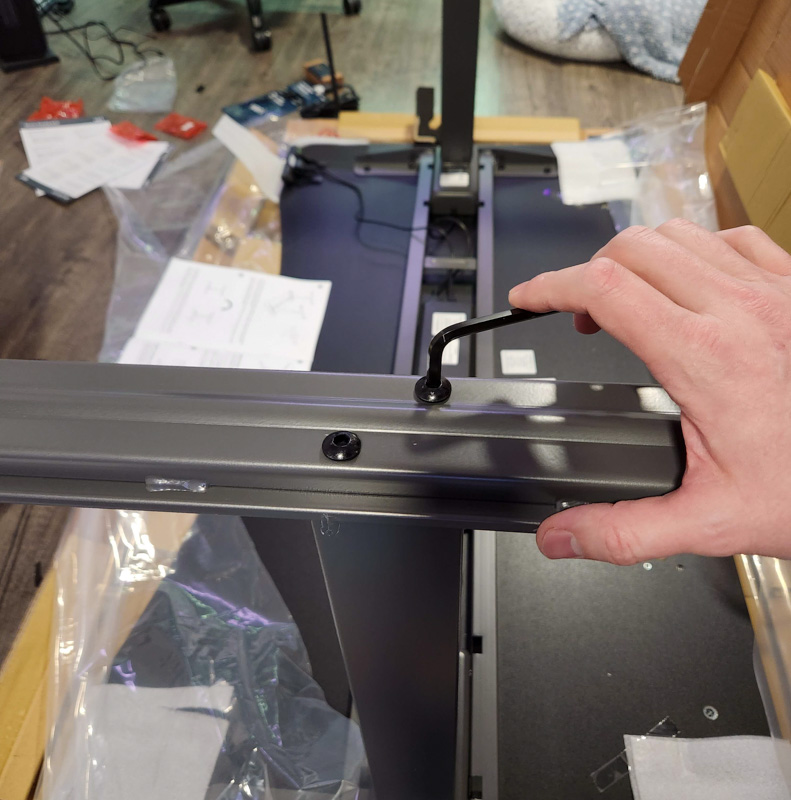 The included tools were high quality and this step was quick and easy.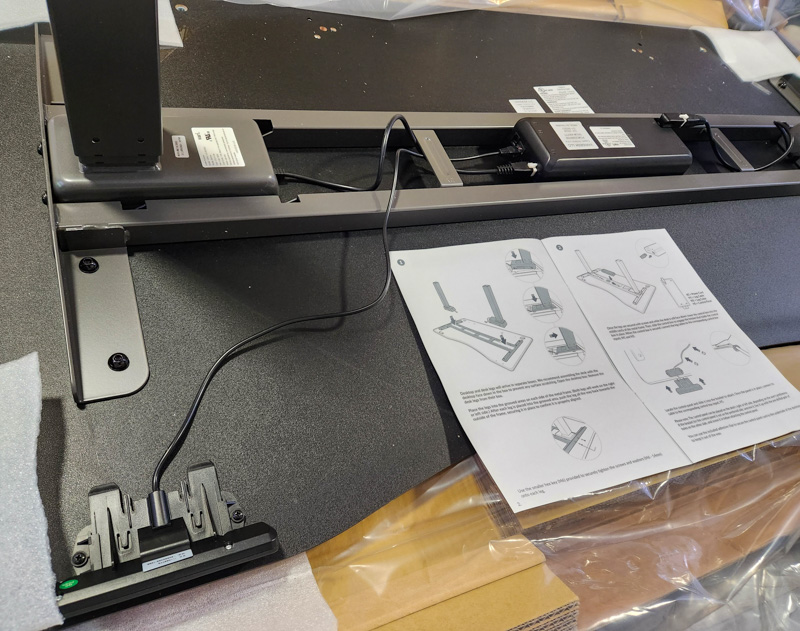 Finally, you plug everything into the main central box, including the control unit, and flip the desk over. This part would DEFINITELY have been easier with two people, it's a heavy desk.
Performance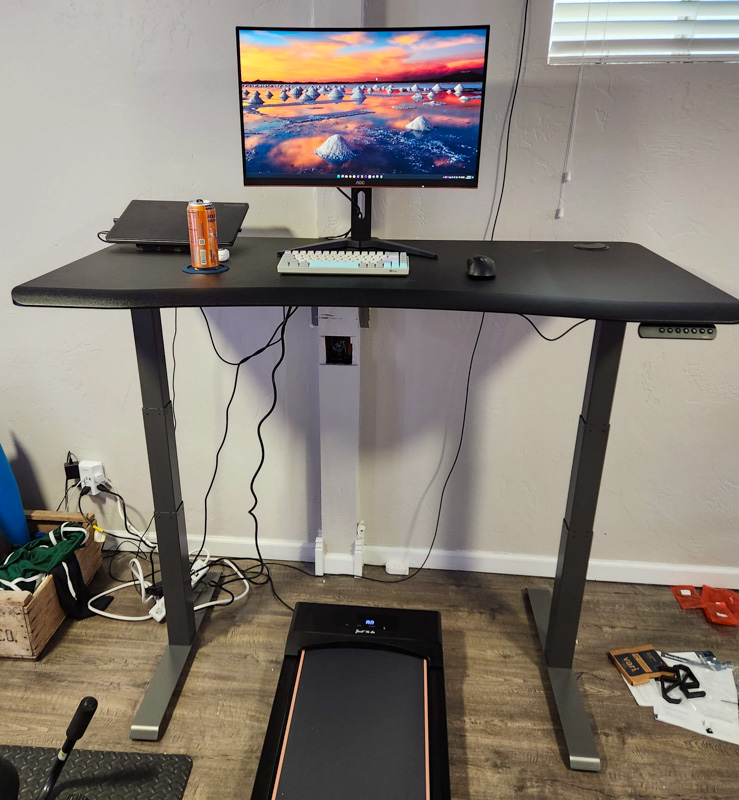 I tested out the Vari Curve Electric Standing Desk for two weeks at my treadmill-desk station, then ended up liking it so much I replaced my main workstation setup with it for the last 2 weeks of the review period. I used the desk standing, sitting, and walking extensively. The first thing I noticed was the premium feel and finish, everything just seemed smoother and nicer than the cheaper ones I'd been using.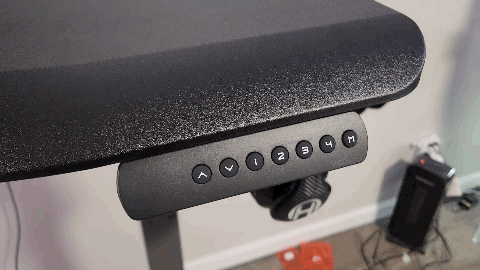 As shown above, the memory setting is easy to program, simply adjust the desk to your desired height, hit the "M" button, then the chosen number button for that height. From then on, hitting that button will set the desk to that height. This allowed me to have a seating position, seated-with-lap-dog position, standing position, and treadmill position (a few inches higher than standing). It would also work well if you're sharing the desk and want a standing and sitting position for two users.
Finally, I wanted to mention that it has a safety sensor that works very well: if I placed new objects on the desk or brushed the underside of the desk while it's raising or lowering, it instantly stops. I had my microphone stand too far to the side when raising it once, and it lightly touched my decorative shelf (installed with drywall anchors and quite fragile with keepsakes on top) and stopped immediately with no damage. My previous desk would have torn that shelf right off the wall (as it did with one of the lower identical shelves previously).
What I like
Curved and rounded front
Smooth and powerful motors
Premium finish
What I'd change
At this price, include the "optional" cable management tray – or at least a cheaper version to tuck cable mess away.
Pressing buttons sometimes pushes the control panel back to its hidden position, it would be nice if it took just a little bit more force to change it from hidden to accessible positions.
Final thoughts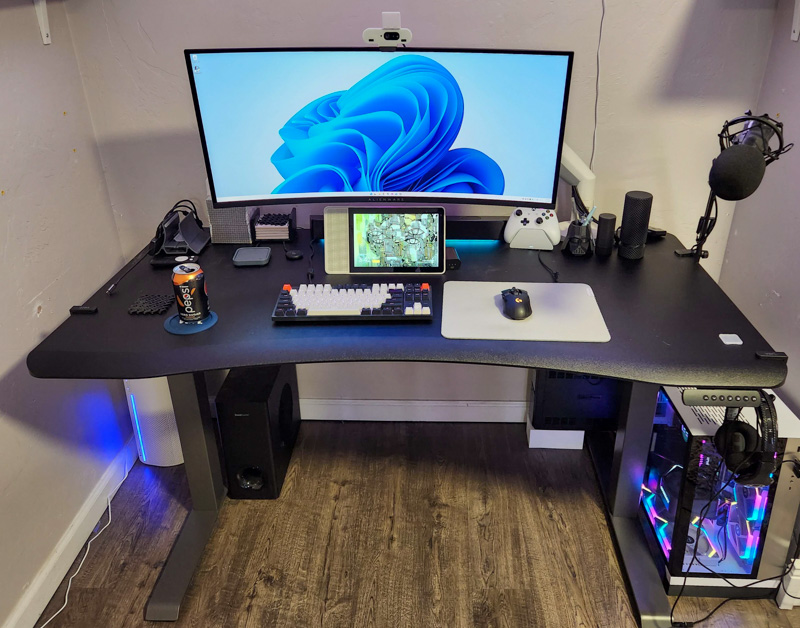 The Vari Curve Electric Standing Desk is the premium curved-and-rounded-front desk I didn't know I needed before I used it. The build quality and finish seems like it will last for years, the safety features have already saved a keepsakes-shelf from destruction, and the wide range of adjustable height has allowed me to consolidate two workstations into one do-it-all workstation.
Price: $875.00
Where to buy: Vari and Amazon
Source: The sample of this product was provided by Vari