We use affiliate links. If you buy something through the links on this page, we may earn a commission at no cost to you. Learn more.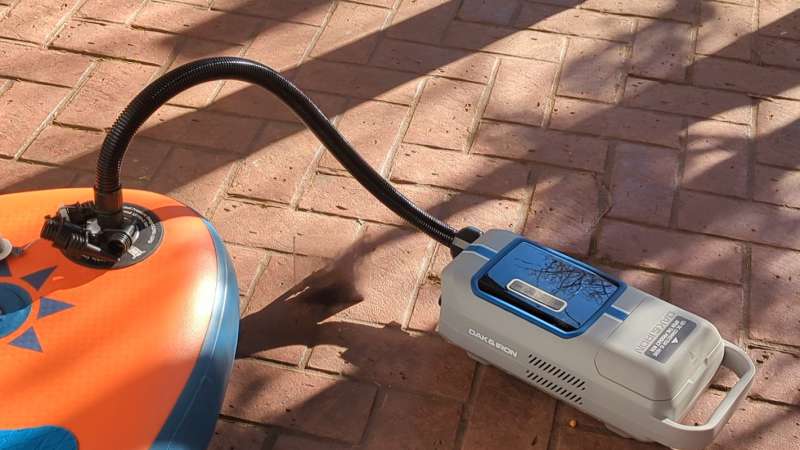 REVIEW – Summer is almost here, which means it's time to break out the inflatable paddleboards, inflatable kayaks, air mattresses for camping, and all those inflatable beach and pool toys!  Like most parents, I've had my share of lightheadedness at the pool after blowing up dragons, mermaids, and donuts.  And I've spent what seems like hours with a hand pump inflating our stand-up paddleboard.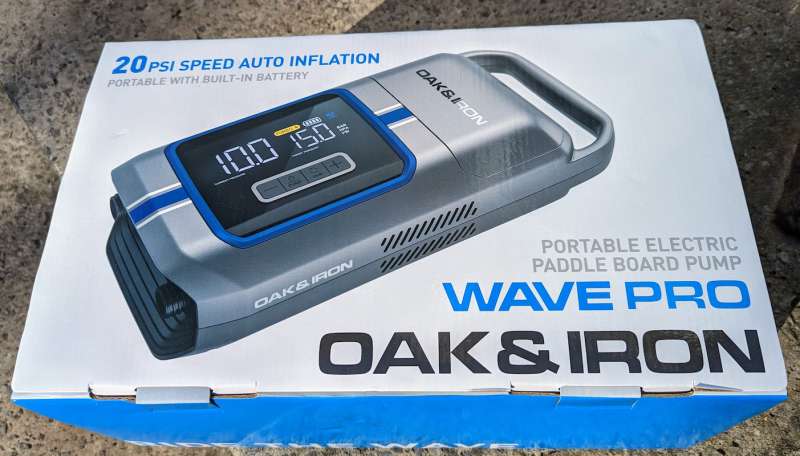 The Oak & Iron Wave Pro portable inflator solves this problem, with a huge screen that makes it really easy to use!  It can inflate just about anything under 20 PSI.  It's cordless, having its own 66Wh battery.  Even if the battery dies or you forget to charge it, you can plug it into the 12V socket on your car or boat. So be ready this year with the Oak & Iron Wave Pro!
What is it?
The Oak & Iron Wave Pro portable inflator is a portable and cordless inflator that can handle inflatable paddleboards, kayaks, air mattresses, and pool toys.  With a huge screen!
What's in the box?
Oak & Iron Wave Pro portable inflator

Air hose with a variety of adapters for different inflatable devices

A few silicon washers to help get a good seal

Attached 12V (cigarette lighter) cable

USB cable for recharging the battery

Manual, quick-start guide, and some stickers
Hardware specs
Inflation pressure range:  0.5 – 20 PSI / 0.03 – 1.37 Bar

Battery Capacity: 66Wh (enough for about 3 paddleboards)

Turbo Mode Speed:  350 L/Min

High-Pressure Mode Speed:  70 L/Min

Pressure Sensor Accuracy:  +- 0.5 PSI

Input Voltage:  12-14.4 V

Charging:  Max 18W

Rated Power:  110 W

Air hose length: 74 cm (29 in)

Dimensions:  34 x 16 x 12 cm

Weight: 2.4 Kg (5.3 lb)
Design and features
The Oak & Iron Wave Pro portable inflator has a very simple design that makes it very easy to use.   It's basically a large plastic rectangle with a sturdy comfortable handle on the top.  On the front panel is the large display with four simple buttons.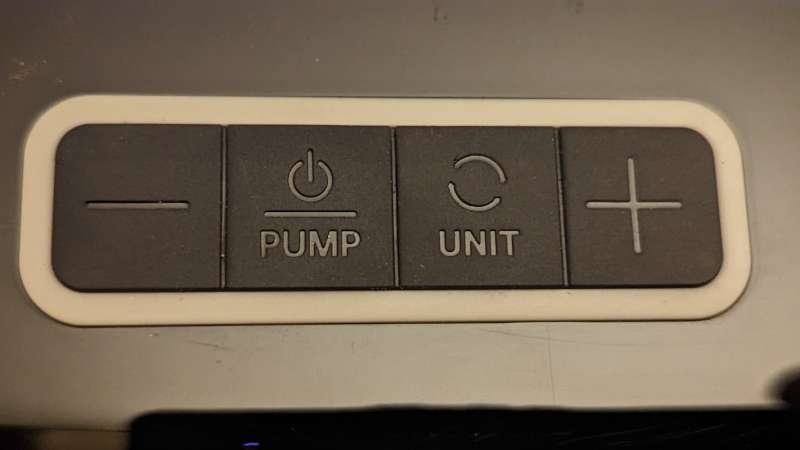 Next to the display is the storage box for the electrical cables, and on the bottom is where the air hose attaches.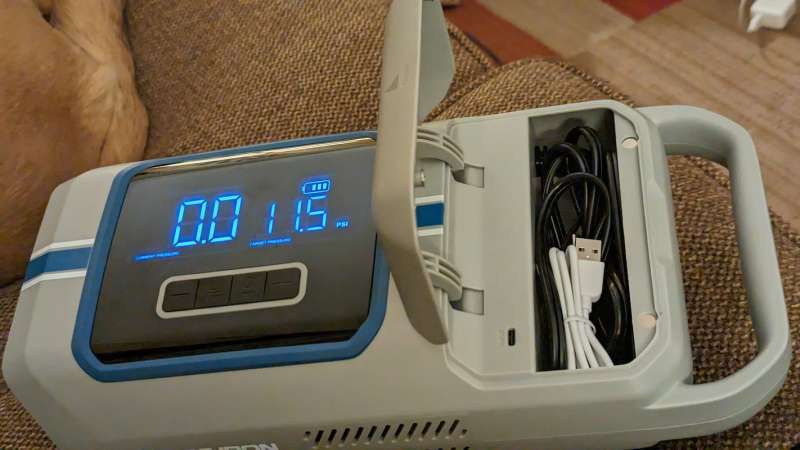 On the end of the air hose are a variety of couplers and adapters, to fit just about anything.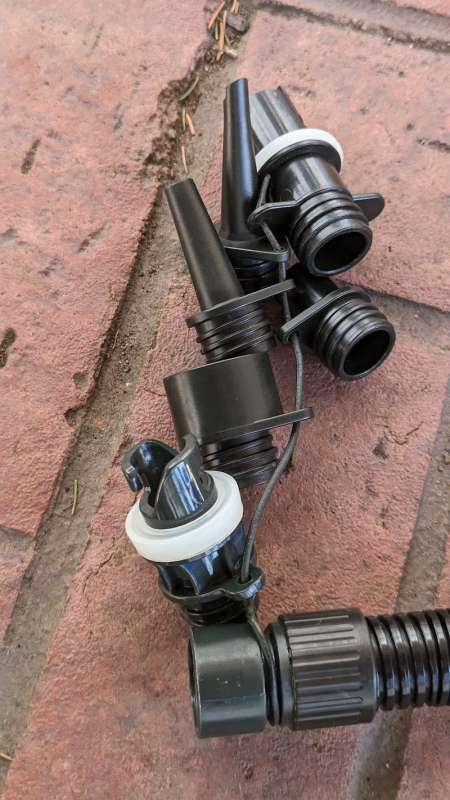 The bottom of the wave pro has two ports where the air hose attaches – one to inflate, and one to deflate.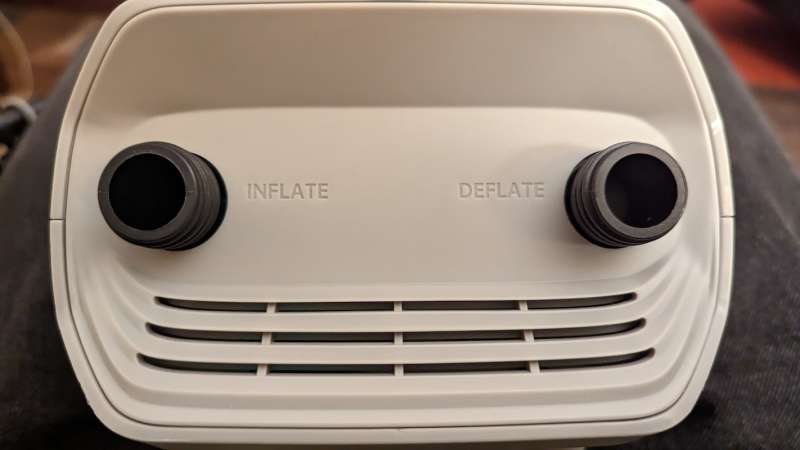 The air hose has a swivel on the pump-end to make attaching it to the pump easy.  The Wave Pro features four large rubber feet so it doesn't dance around while inflating.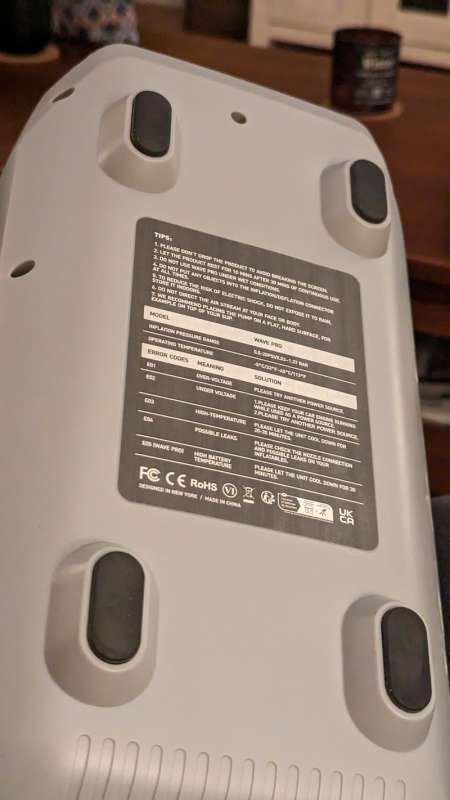 The display is one of the highlights of the Oak & Iron Wave Pro portable inflator.  It's huge!  It's also very bright, so even in bright sunlight, you can see what is happening.  The main part of the display features the current pressure, and the target pressure, which you can set with the + or – buttons.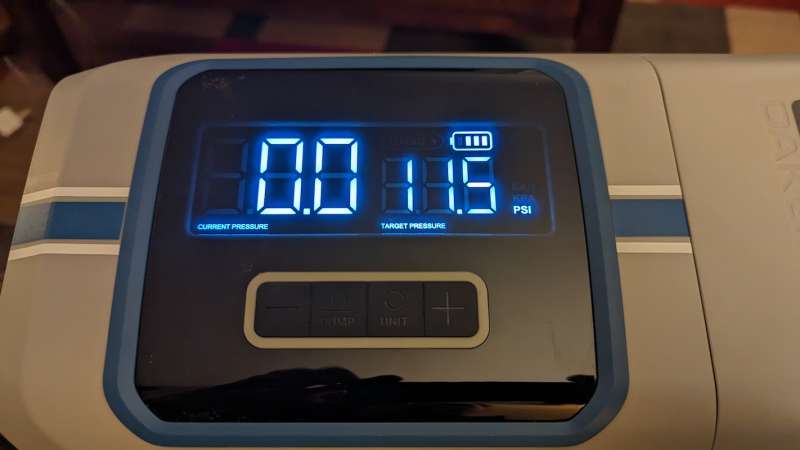 The display also shows battery status, when you are in turbo mode (more on that below), and an icon showing if it's plugged into a 12V socket. The other two buttons on the display are a unit button, to switch between PSI, Bar, and KPa, and a power button which turns the unit on and off, and also starts and stops inflation.  Inflation will also stop automatically when the target pressure is reached, or if an error occurs. 
Inflation has two modes, turbo, and high-pressure. Turbo mode moves a lot of air, but at low pressure. This is used when pressures are under 1 PSI and is FAST!  Turbo mode is basically a powerful fan.  Once the 1 PSI threshold is crossed, the compressor kicks on and pressure builds fast, up to 20 PSI.  You can tell the compressor kicks on because the unit gets much louder.  All compressors are noisy, and this is unfortunately no exception. 
The battery charges with the included USB-C cable, but no charger is included (a phone charger works fine, but it takes a few hours – plan ahead)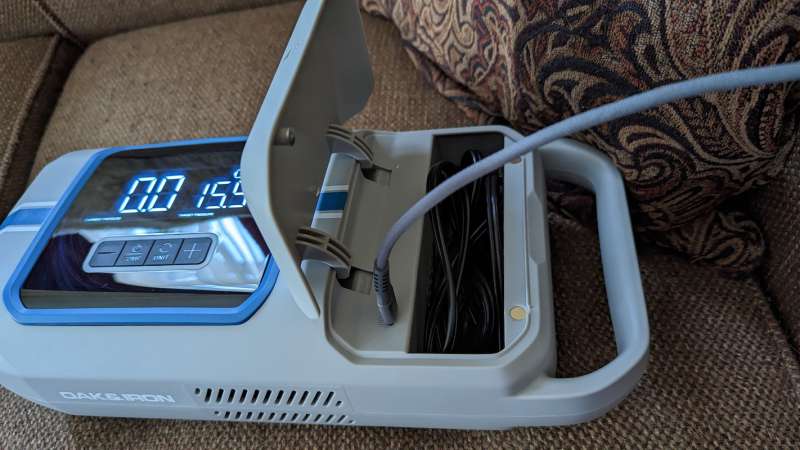 Performance
I was pretty impressed with the Oak & Iron Wave Pro portable inflator.  I inflated a large stability ball and two stand-up paddleboards and still had 3 of the 4 bars of battery.  It took 2 minutes to inflate the stability ball to 2 PSI, and about 10 minutes to inflate a paddleboard to 12 PSI.
The directions say to attach the hose to the pump, and then to the paddleboard, but I found it was much easier attaching the hose to the pump last, since the swivel on the hose is only on the pump-end.  The assortment of connectors attached to the air hose was adequate for my quiver of kayaks, paddle boards, air mattresses, and pool toys.  The air hose is pretty stuff so it can be hard to get a solid attachment to whatever you're inflating, and I found that you need to check it a few times, especially once inflation starts and the items begin to move around.
At one point, my paddle board felt like it was taking forever to inflate.  And then I got an error code – E04. I checked the error code explanations on the bottom of the pump, and it said E04 means check for leaks.  Sure enough, the connection between the hose and the paddleboard had become loose as the board moved during inflation.  As soon as the pump cut off, I could hear the leak, but the noise of the pump made discovering it while pumping impossible.  So I'm glad the pump realized I had a leak and let me know!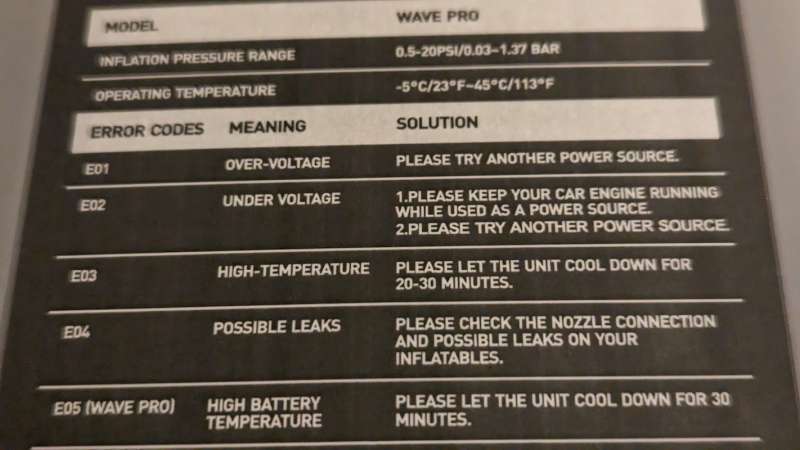 The Oak & Iron Wave Pro portable inflator can also be used to deflate items, which is really helpful for getting all the air out so you can roll or fold your SUP, kayak, or air mattress up to the smallest package possible. 
What I like
Long battery life

Turbo mode, quieter

Big and Clear display, very easy to use

Error codes!  It told me there was a leak

Compact – fits in a paddleboard bag

Fast – 11 minutes to 12 PSI
What I'd change
When charging via USB, you can't close the hatch cover.  Moving the charging port slightly would fix this

Air hose is a bit short, and very stuff
Final thoughts
If you have a lot of things to inflate this summer, or even if you have one thing and don't like doing it by hand, consider the Oak & Iron Wave Pro.  It does a great job in a simple and easy-to-use package, that is nothing like the cheap pumps I've used to this point. If you want a portable inflator for your tires, check out Julie's Oak & Iron ONE smart portable tire inflator review.
Price: Starting at $199 for early bird pledges
Where to buy: Kickstarter
Source: The sample for this review was provided by Oak & Iron.